There is no stopping this incredible actress as her career continues to grow from strength to strength.
Florence Pugh first soared to mainstream fame in 2019 following her critically acclaimed performances in the folk horror film Midsommar and the coming-of-age period drama Little Women for which she earned an Oscar nomination for Best Supporting Actress.
Florence Pugh in a Pierpaolo Piccioli purple pleated ruffle dress at the 11th Annual Governors Awards at the Dolby Theater on October 27, 2019 (Credit: WENN)
She has received high praise from the likes of Scarlett Johansson, who co-starred with her in the 2021 Marvel movie Black Widow.
In a recent interview, Scarlett shared her experience, saying, "What was really noticeable to me about Florence, and why I think she represents her generation in such an iconic way, is that she really is in her own skin. She's incredibly grounded, but she's also just so self-assured."
She has been described as a fearless and versatile actress who immerses herself completely in whatever role she is playing.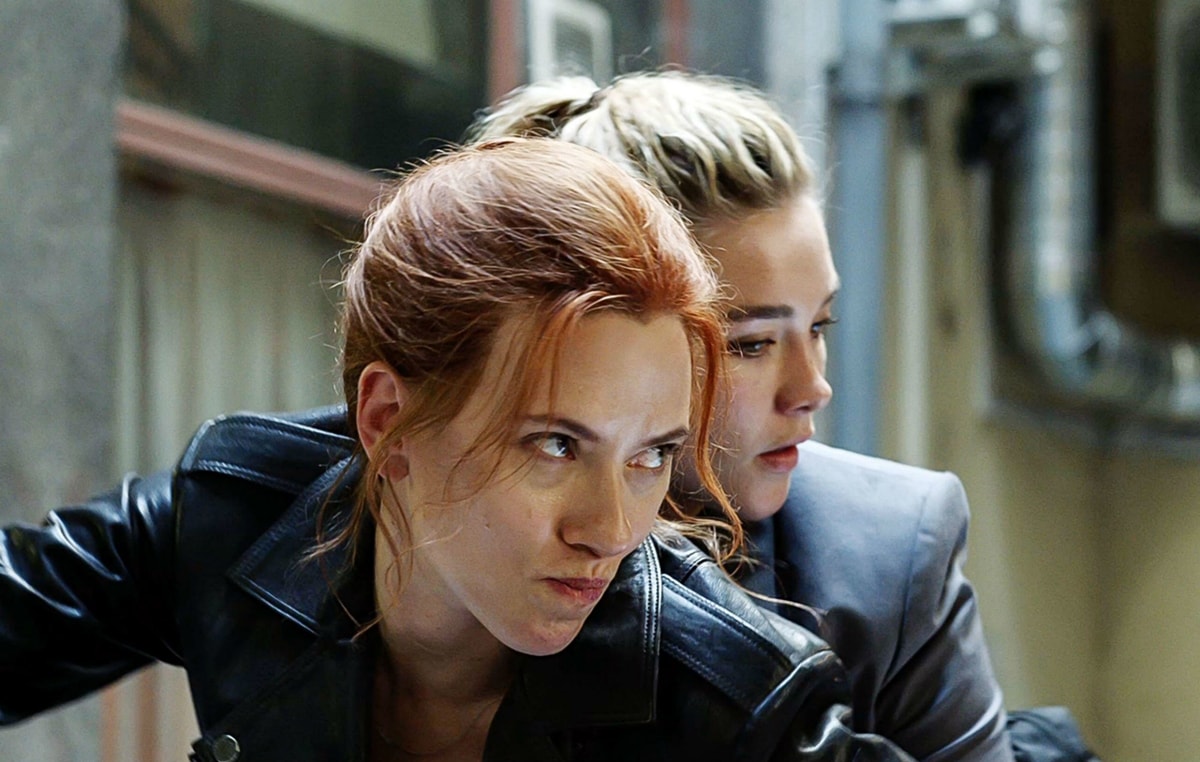 Scarlett Johansson and Florence Pugh formed a sisterly bond making Black Widow (Credit: Walt Disney Studios Motion Pictures)
When asked about her roles, Florence said, "I guess all of my movies have that element of women being forced into a corner, forced into an opinion, forced into a way of life. And then finally, something cracks."
And nothing could more be true when it comes to her portrayal of Alice Chambers in her latest movie, Don't Worry Darling, where she stars alongside Harry Styles in this R-rated psychological thriller.
In December 2019, the Associated Press named her one of its Breakthrough Entertainers of 2019. She also scored the cover of American Vogue Magazine's February 2020 issue.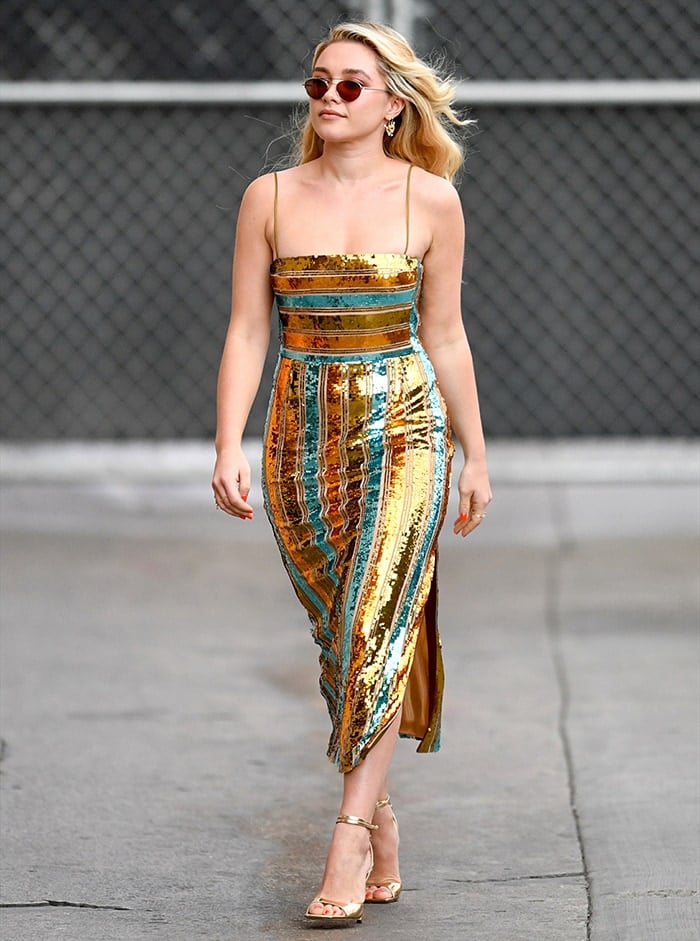 Florence Pugh in Galvan London striped sequin dress at Jimmy Kimmel Live on January 16, 2020 (Credit: WENN)
Who Is Florence's Ex-Boyfriend Zach Braff?
Zach has been in the industry since the 1990s, but it wasn't until 2001 that he became widely known for his role as J.D. on the TV series Scrubs. He also produced and directed several episodes of the medical comedy-drama, which aired until 2010.
For his role, he received a Primetime Emmy Award for Outstanding Lead Actor in a Comedy Series in 2005 and three Golden Globe Awards for Best Actor from 2005 to 2007.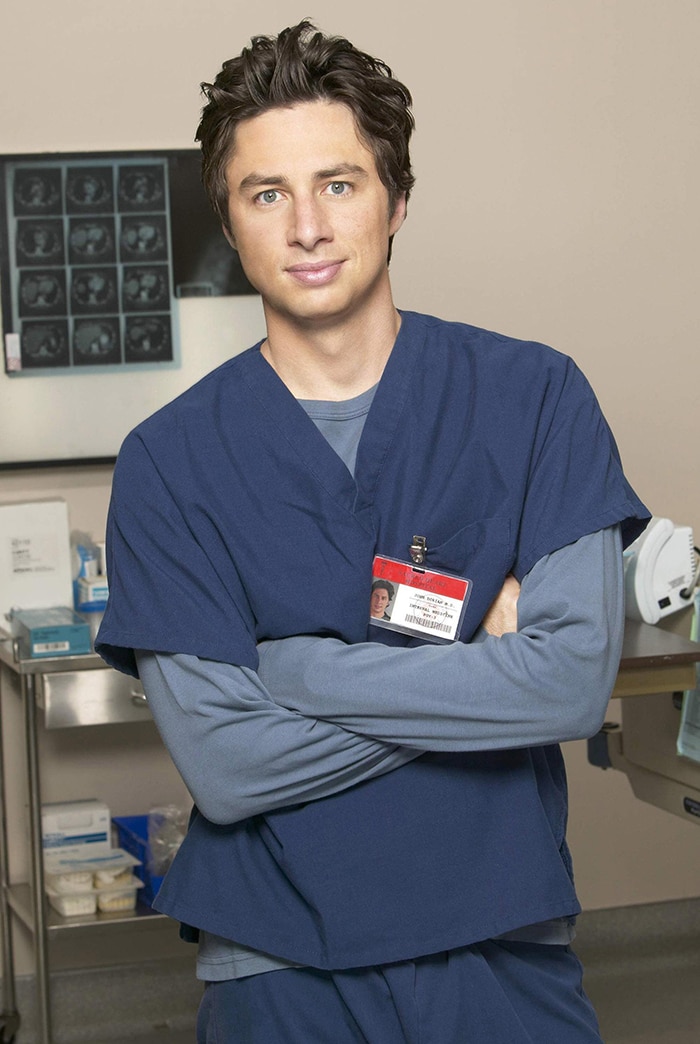 Zach Braff a.k.a. Dr. John 'J.D.' Dorian on Scrubs series (Credit: NBC)
In 2004, Zach made his directorial debut with the romantic comedy-drama movie Garden State with Natalie Portman. He also wrote and starred in the movie, which was based on his real-life experiences.
He received several awards and nominations for his work as a director and scored a Grammy Award for Best Soundtrack Album in 2005.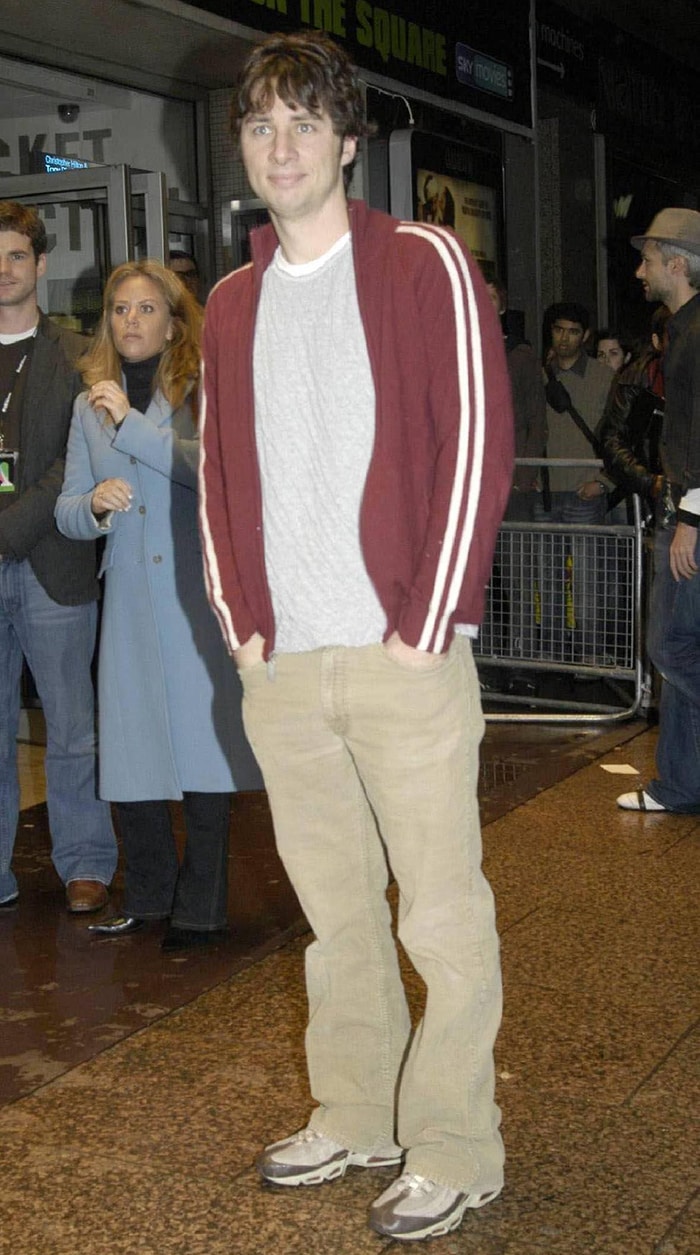 Zach Braff at the London premiere of his directorial debut Garden States on October 23, 2004 (Credit: WENN)
Ten years later, in 2014, Zach directed, wrote, and produced his second movie, Wish I Was Here, which received mixed reviews from critics.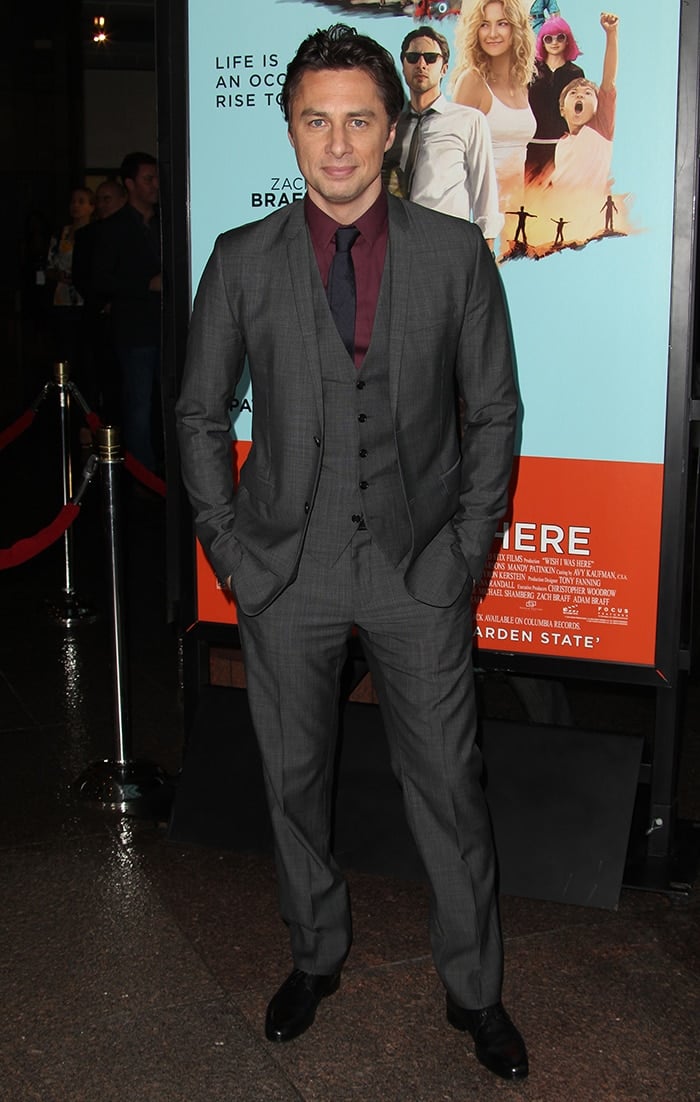 Zach Braff at the premiere of his movie Wish I Was Here in Los Angeles on June 23, 2014 (Credit: WENN)
After Scrubs, Zach had small acting roles in several TV series. In 2018, he had a starring role in the ABC comedy Alex, Inc., but the show was canceled after its first season.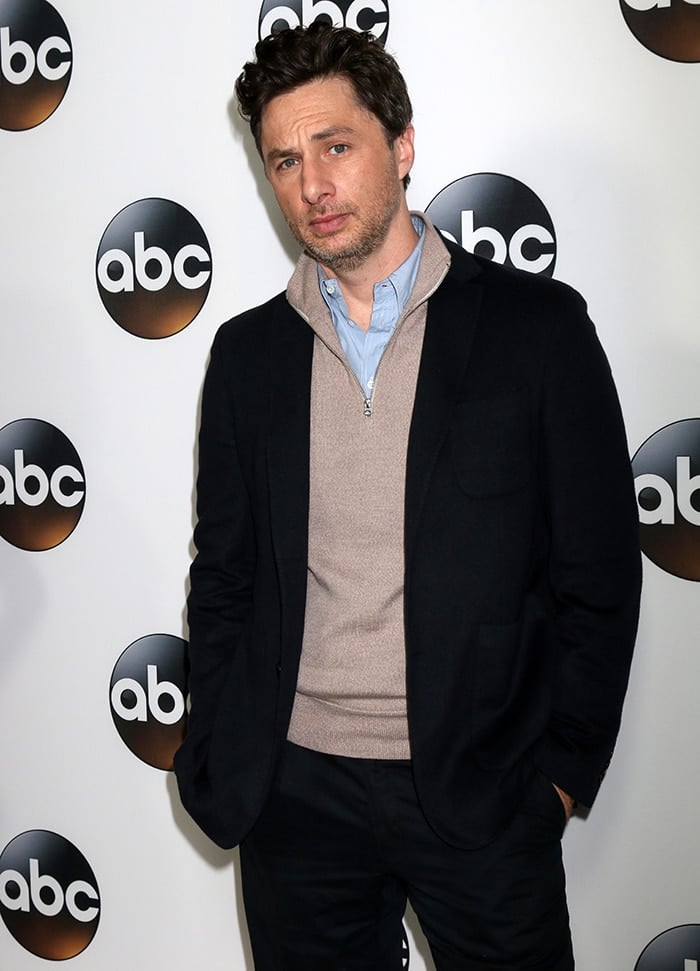 Zach Braff at the ABC TCA Winter 2018 Party in California on January 9, 2018 (Credit: WENN)
How Did Zach Braff and Florence Pugh Meet?
In March 2019, Florence starred alongside Alicia Silverstone in a short film, In the Time It Takes to Get There, which was written and directed by Zach.
There's no official report or confirmation of whether they first met on the set of the 11-minute film, but it appears it's where their romance started.
Cosmopolitan, however, mentioned that Zach has been liking Florence's Instagram pictures since 2018. In April 2019, Florence and Zach were spotted holding hands while on a shopping trip in New York City. The couple made their Instagram debut with Zach posting "Epic day at @disneyland #Disneyland #HappiestPlace."
Their 21-Year Age Gap
The couple initially kept their relationship low-key, but once it was public, they received a lot of pushback around their 21-year age gap.
Florence was quick to defend the bashing of their age gap with a quick come back "and yet he got it," in response to a follower who pointed out their huge age difference, saying: "you're 44 years old," after Zach left a princess emoji in the comments section of one of her Instagram posts.
"Whenever I feel like that line has been crossed in my life, whether it's paparazzi taking private moments, or moments that aren't even real, or gossip channels that encourage members of the public to share private moments of famous people walking down the street, I think it's incredibly wrong."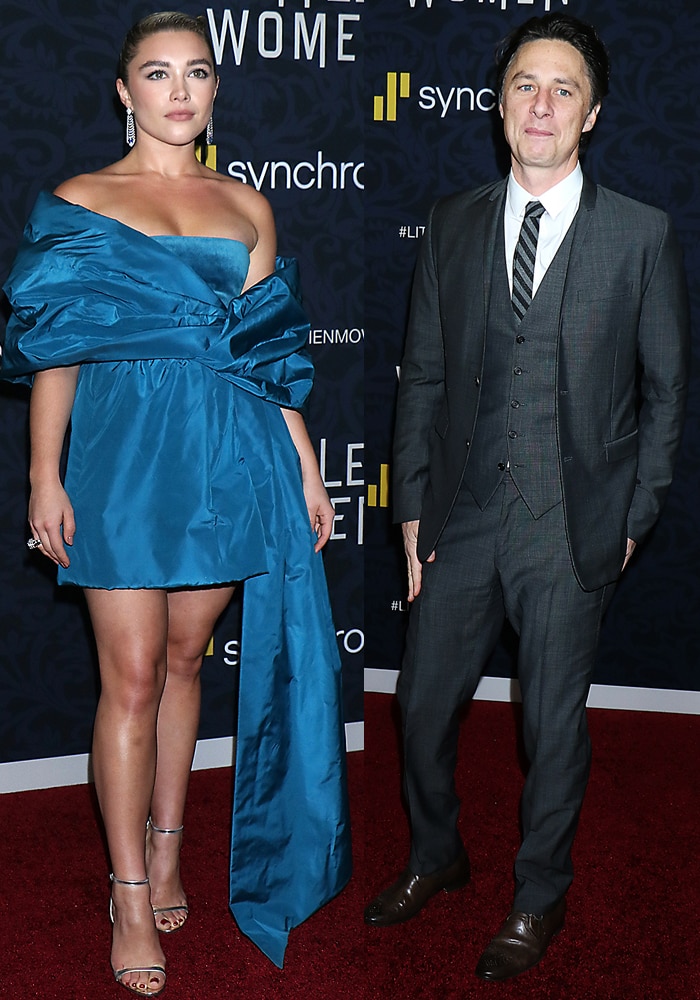 Florence Pugh in a Maison Valentino dress and Zach Braff in a three-piece suit did not pose together for photos at the Little Women world premiere in New York City on December 7, 2019 (Credit: WENN)
She went on to say (and we happen to agree with her), "I don't think that people, just because they have this job, that every aspect of their life should be watched and written about. We haven't signed up for a reality TV show."
They tried to keep their personal life out of the public eye, even choosing to attend events like the 2019 premiere of her film Little Women separately.
Saying in a 2020 interview with ELLE, "I know that part of being in the spotlight is that people might invade your privacy and have opinions on it, but it's bizarre that normal folk are allowed to display such hate and opinions on a part of my life that I'm not putting out there."
Florence also walked the 2020 BAFTA red carpet in London without Zach. The actress wore a bold fuchsia Dries Van Noten Spring 2020 tiered parachute cape dress, which was tied with black velvet ribbons down the front. She layered the striking number over a black mini dress that put her legs on display.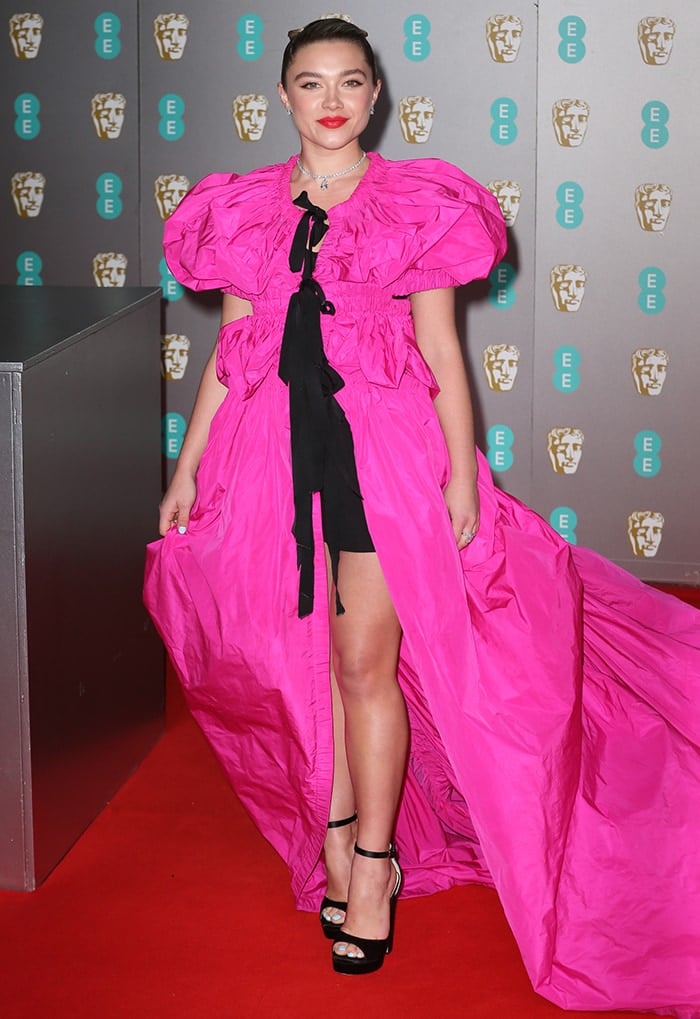 Florence Pugh in hot pink Dries Van Noten cape dress at the 2020 BAFTA in London on February 2, 2020 (Credit: WENN)
She paired the look with a diamond necklace, diamond earrings, and Jimmy Choo platform sandals.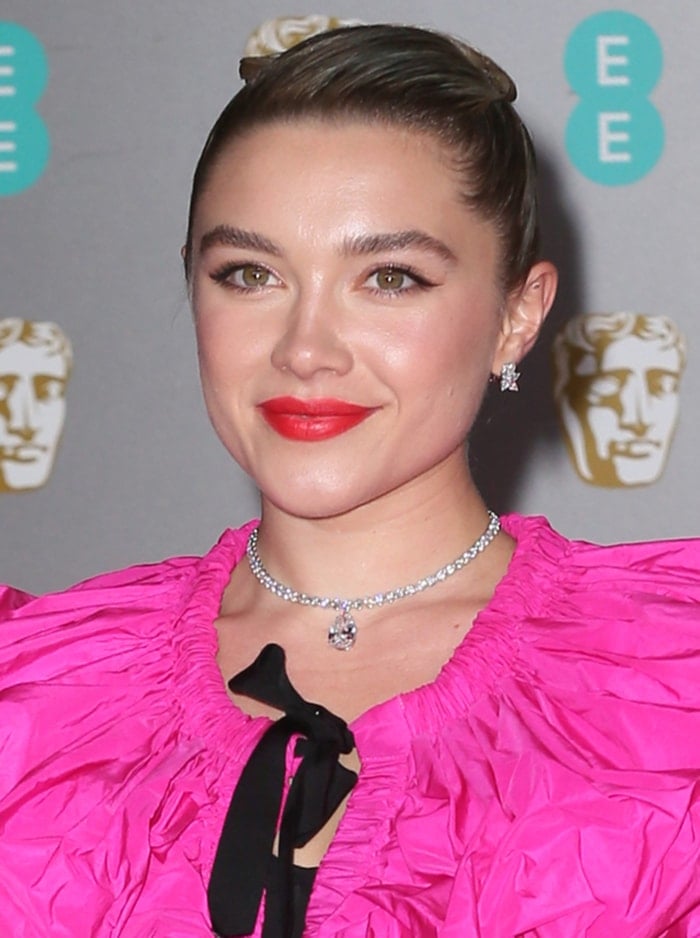 Florence Pugh wears a sleek updo with red lipstick (Credit: WENN)
Why Florence Pugh and Zach Braff Split After 3 years
Sadly, the couple ended their 3-year relationship in 2022, and in her Harper's Bazaar cover interview, Florence said, "We've been trying to do this separation without the world knowing because it's been a relationship that everybody has an opinion on"
She went on to say, "We just felt something like this would really do us the benefit of not having millions of people telling us how happy they are that we're not together. So we've done that. I automatically get a lumpy throat when I talk about it."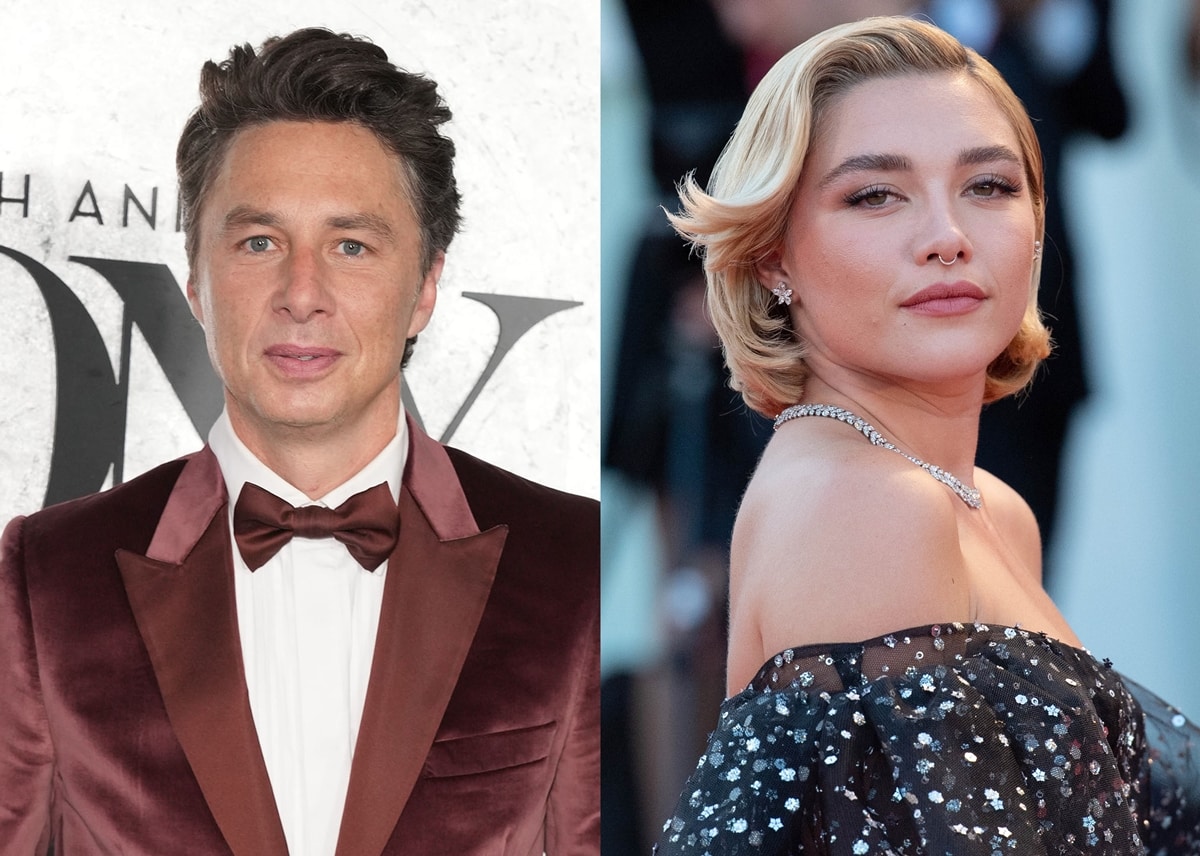 Florence Pugh and Zach Braff split in 2022 after dating for three years (Credit: Aurore Marechal / ABACA / INSTARimages /Cover Images / John Nacion / Startraksphoto)
Before their split, Florence and Zach collaborated on their upcoming movie, A Good Person, which is due out next year. The movie is about a young woman who has to recover after a sudden tragedy and was written by Zach with Florence in mind.
The movie has definitely made an impact on Florence as she shared, "The movie that we made together genuinely was probably one of my most favorite experiences. It felt like a very natural and easy thing to do."
It looks like the pair will continue to be friends, and we look forward to seeing what is in store for both of them in the future. We do not doubt that it will be exciting!!
Florence and Zach's Net Worth
New Jersey-born actor Zach Braff has been acting since 1993. Best known for his role as Dr. John Dorian on Scrubs, he has also ventured into screenwriting and directing, with his feature film, Garden State, earning over $35 million.
Zach reportedly earned $350,000 per Scrubs episode, which made him one of the highest-paid actors at the height of the series. Currently, he has a net worth of $20 million.
Meanwhile, his British ex-girlfriend Florence Pugh made her professional acting debut in the mystery drama The Falling in 2014.
Maisie Williams, Carol Morley, and Florence Pugh at The Falling screening during the BFI London Film Festival on October 11, 2014 (Credit: WENN)
Two years later, she starred in Lady Macbeth, for which she won a BIFA Award for Best Actress. In 2019, Florence had three major films under her belt: biographical sports movie Fighting with My Family, horror film Midsommer, and Little Women.
She was also praised for her performance as Yelena Belova in the 2021 American superhero film Black Widow. Her future projects include the upcoming American biographical film Oppenheimer and the American epic science fiction film Dune: Part Two.
Her estimated net worth is believed to be around $8 million. She was reportedly paid $700,000 for her role in the 2022 American psychological thriller film Don't Worry Darling.
Zach's Famous Exes
Zach is no stranger to being in a relationship with famous women who are significantly younger than him.
In 2004, he dated singer and actress Mandy Moore, but they ended their relationship in 2006 after two years of dating. She is nine years his junior.
Zach also had a long-term relationship with model Taylor Bagley that lasted for five years, from 2009 to 2014. He is 12 years older than her.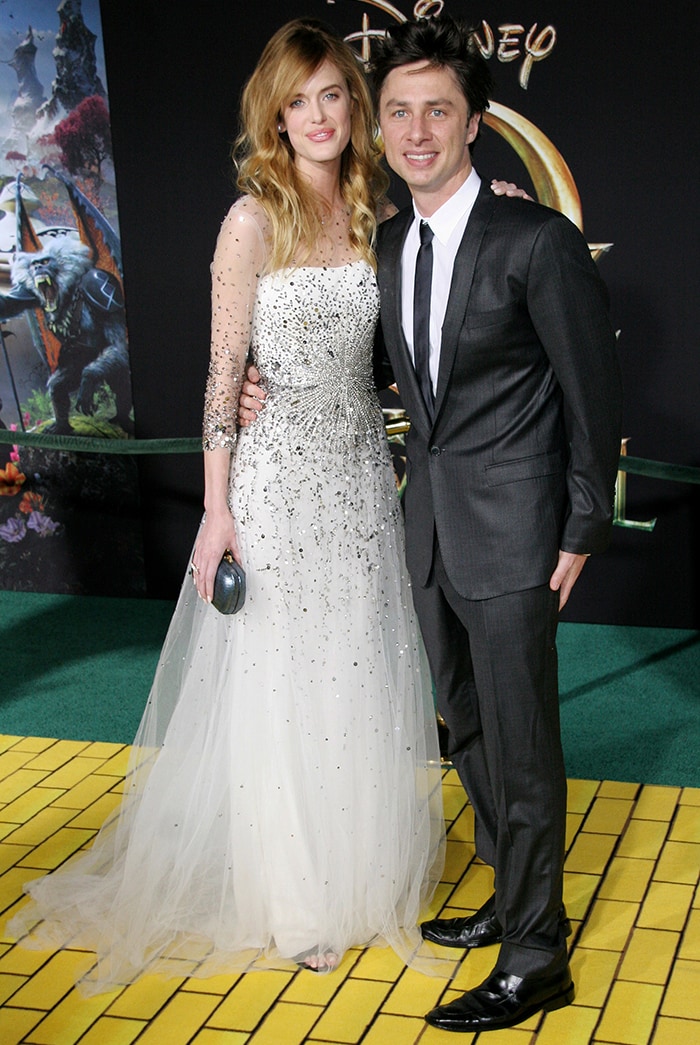 Zach Braff and then-girlfriend Taylor Bagley OZ The Great And Powerful LA premiere on February 13, 2013 (Credit: WENN)