Natalie Portman has been gaining more and more traction throughout her career, steadily rising in both fame and acclaim over the past couple of decades.
Constantly demonstrating her versatility and talent, the actress has appeared in a variety of movies, ranging from sci-fi blockbusters to understated indie films.
Natalie Portman made her acting debut at age twelve as the young protégée of a hitman Jean Reno as Léon in the 1994 English-language French action-thriller film Léon: The Professional (Credit: Gaumont Buena Vista International)
Despite her appearance in mainstream franchises like the Marvel Cinematic Universe, Natalie Portman has proved more than once that she has what it takes to stand with Hollywood's elite.
In recognition of the actress' most stunning and entertaining performances, we're listing off Natalie Portman's top 10 movies, ranked in order of their Rotten Tomatoes critics' score.
From her turn as a fierce teenage queen in Star Wars to her award-winning performance as a struggling ballet dancer, these are the films that best represent Natalie Portman's achievements in the world of cinema.
Before She Was a Star
Natalie Herschlag, better known as Natalie Portman, was born in the historic city of Jerusalem on June 9, 1981. After her birth abroad, Natalie's family moved to the United States and settled in Washington D.C.
However, the family relocated several times, moving to both Connecticut and New York before Natalie was 10 years old.
Growing up in Long Island, New York, Natalie was awe-struck by the performing arts and started dedicating herself to the craft early in her education.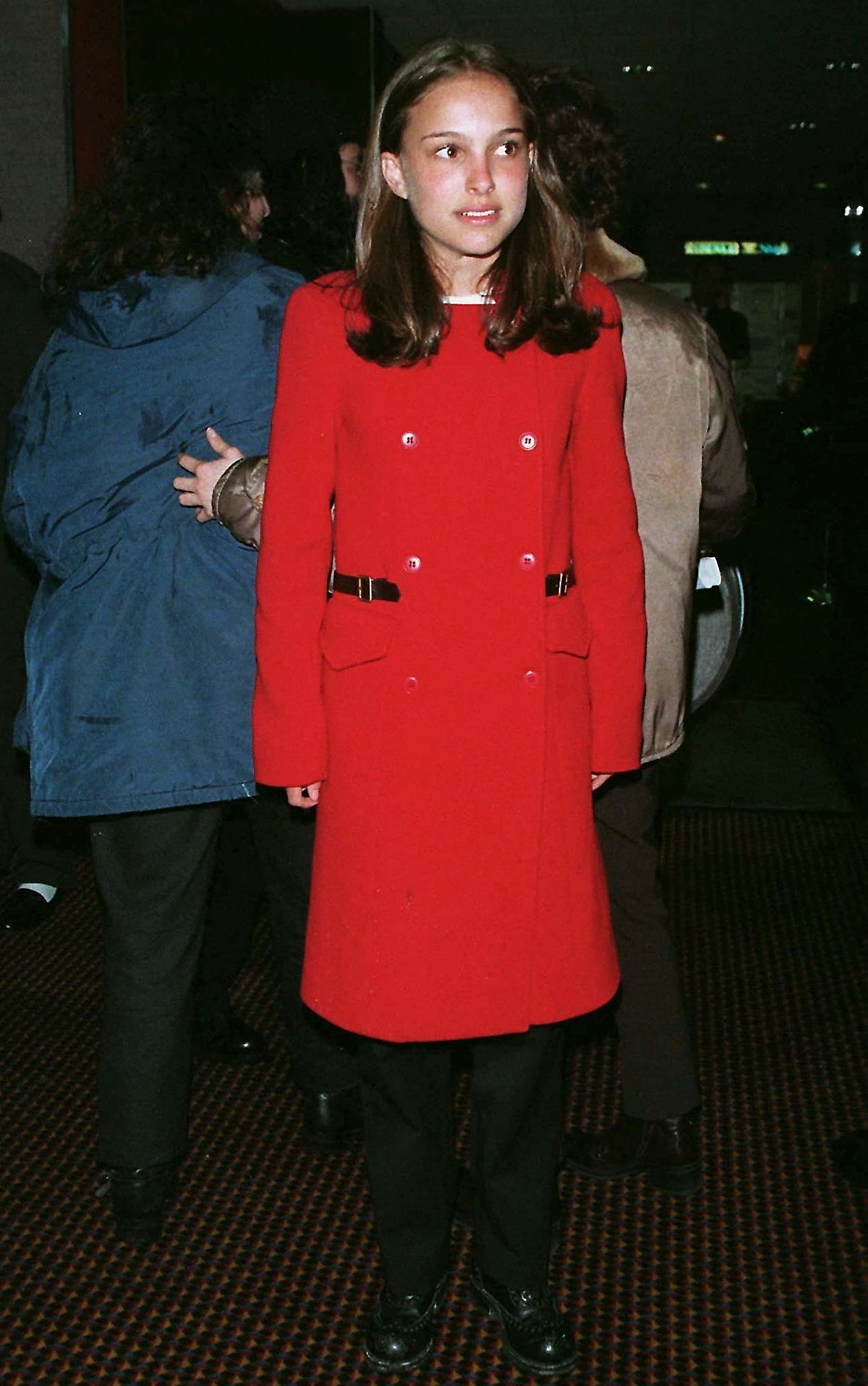 Natalie Portman in a red coat at the premiere of Inventing the Abbotts in Los Angeles on March 31, 1997 (Credit: Frank Olsen / Startraksphoto)
During elementary school, she studied multiple forms of dance while also spending her summers learning at a performing arts camp.
When Natalie was 10 years old, she was offered a chance to work as a child model but turned it down in favor of working with an acting agent.
After a handful of theatrical roles in New York, Natalie Herschlag adopted her mother's maiden name of Portman and made her feature film debut in the 1994 action-thriller Leon: The Professional at just 12 years old.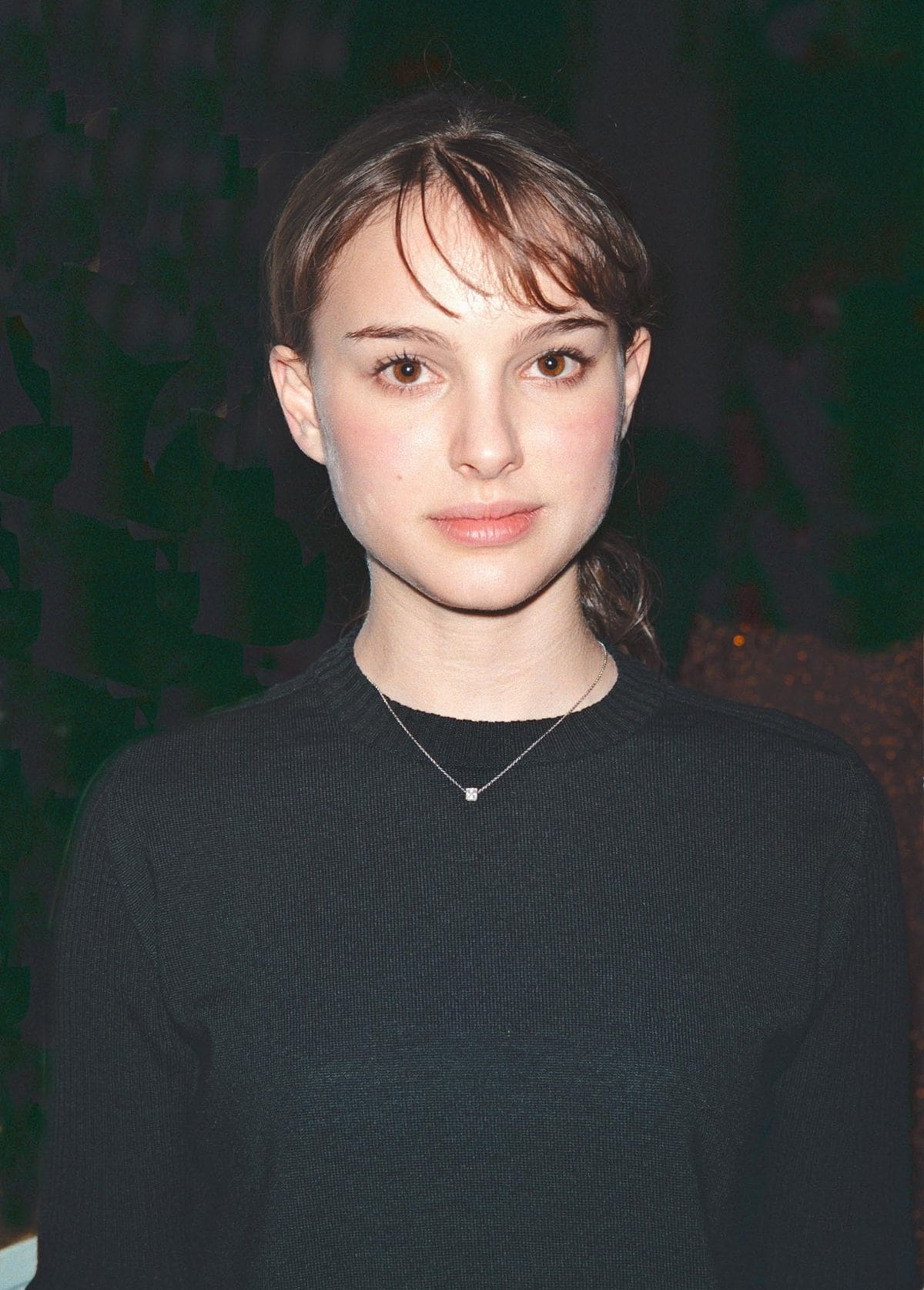 Natalie Portman could have become a model but decided to pursue a career as an actress (Credit: Albert Ferreira / Startraks)
From there, Natalie balanced her education while steadily picking up more work, slowly becoming a certified star in the following years.
10. V for Vendetta (2006) – 73% Score
Based on the 1998 comic series, V for Vendetta is a political action film directed by James McTeigue that follows a masked anarchist named V (Hugo Weaving) who attempts to overthrow a fascist government and free the United Kingdom from a dystopian fate.
Donning the now-iconic mask of Guy Fawkes, V carries out explosive acts of terrorism in hopes that his personal rebellion will spark a revolution among the people.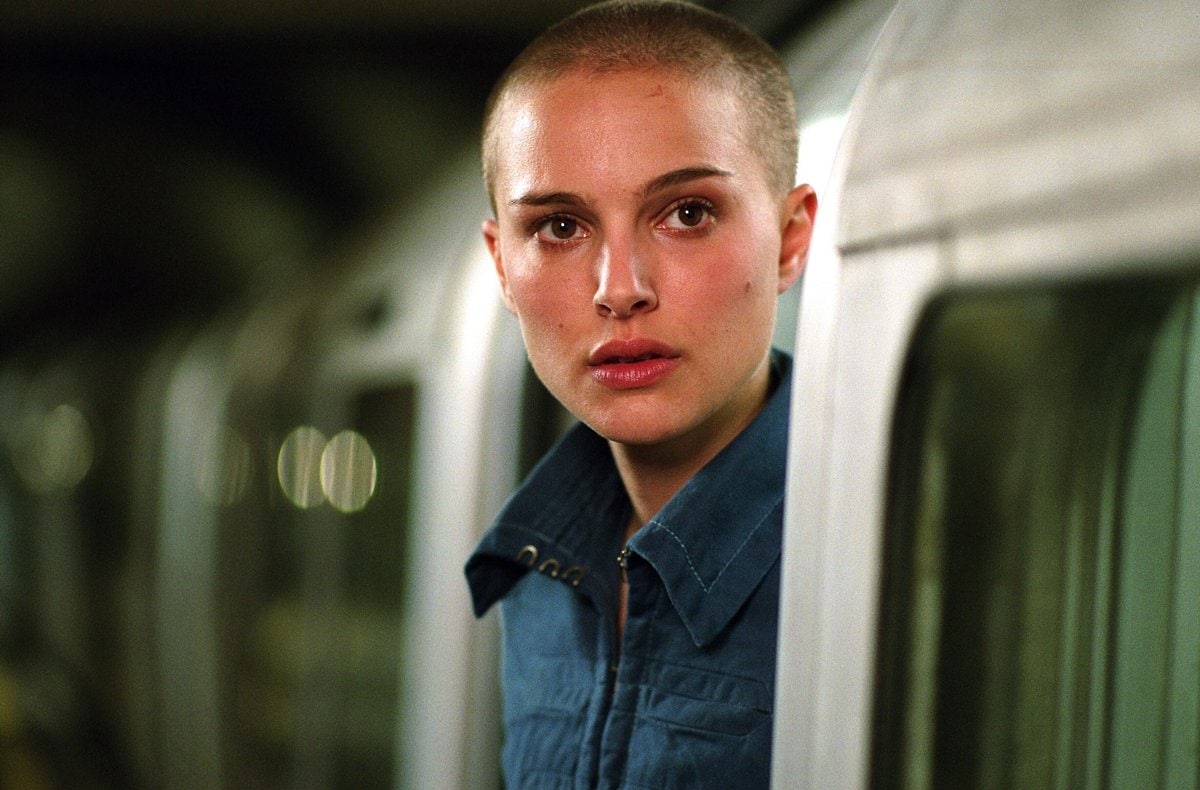 Natalie Portman as Evey Hammond Vendetta in the 2005 dystopian political action film V for Vendetta (Credit: Warner Bros. Pictures)
At 24 years old, Natalie Portman plays Evey Hammond, a loyal-to-the-state citizen who is saved by V when she is assaulted by a group of corrupt police in London. Though confused and conflicted at first, Evey soon becomes embroiled in V's plan as she starts to realize the gravity of her government's inhumane policies.
Eschewing the unassuming, girl-next-door image she had gained in the previous decade, Natalie Portman recalls her roots in Leon: The Professional for the role of Evey, becoming just as intimidating and influential as V.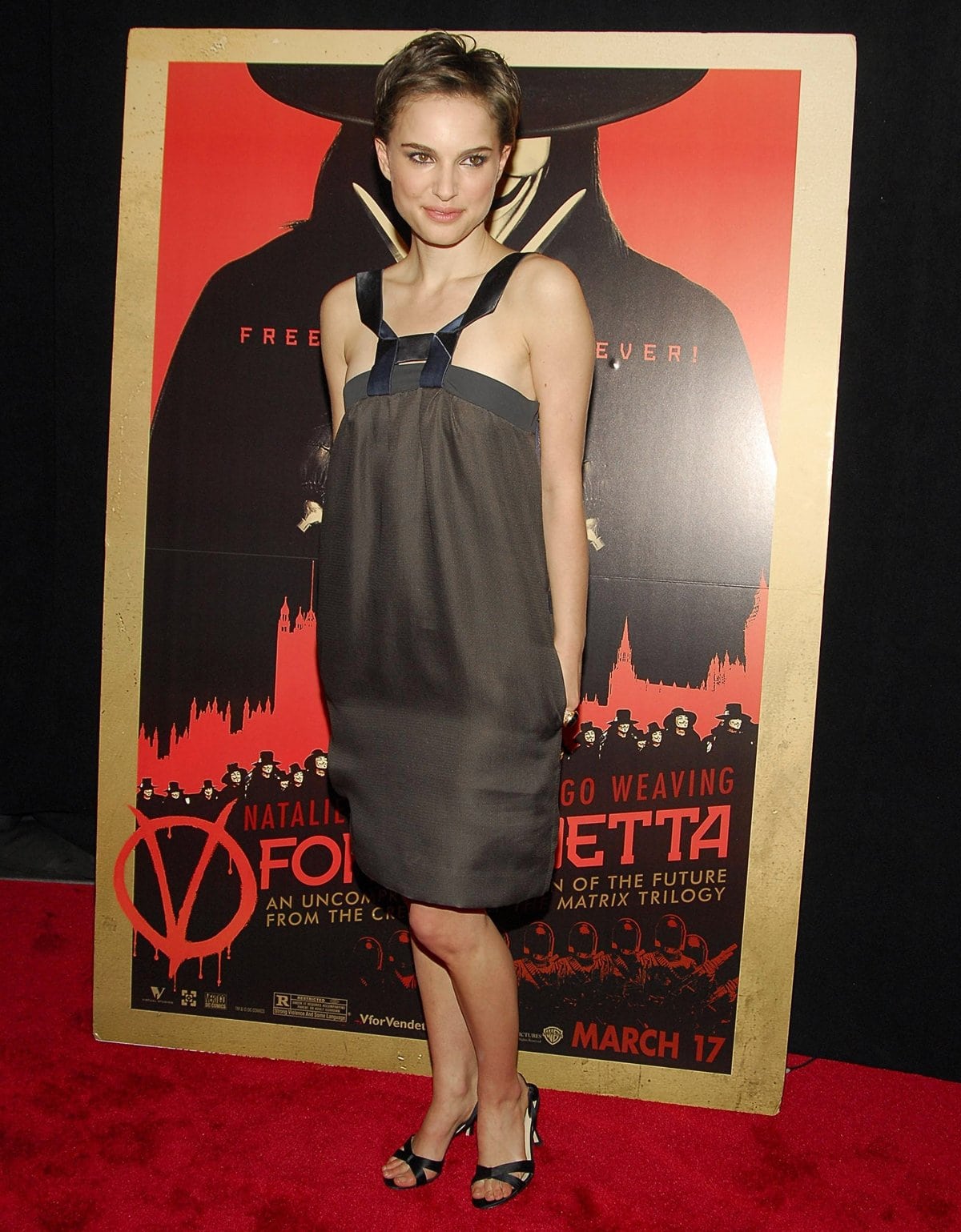 Natalie Portman in a black dress with matching sandals at the New York premiere of Warner Bros. "V for Vendetta" at The Rose Theater in Manhattan, New York City, on March 13, 2006 (Credit: Everett Collection / Shutterstock)
Reportedly, Portman was heavily invested in the role and even looked forward to shaving her head on-screen, stating that it was something she had wanted to do for a long time.
9. Beautiful Girls (1996) – 77% Score
Directed by Ted Demme and written by Scott Rosenberg, Beautiful Girls is a dramatic romantic comedy that centers on a jazz pianist named Willie (Timothy Hutton) who reunites with old friends during his 10-year high school reunion.
Appearing in the third motion picture of her career at just 14 years old, Natalie Portman plays the role of 13-year-old Marty, Willie's teenage neighbor.
Throughout the film, Willie and Marty become close despite their age difference, further complicating Willie's already troubled personal life.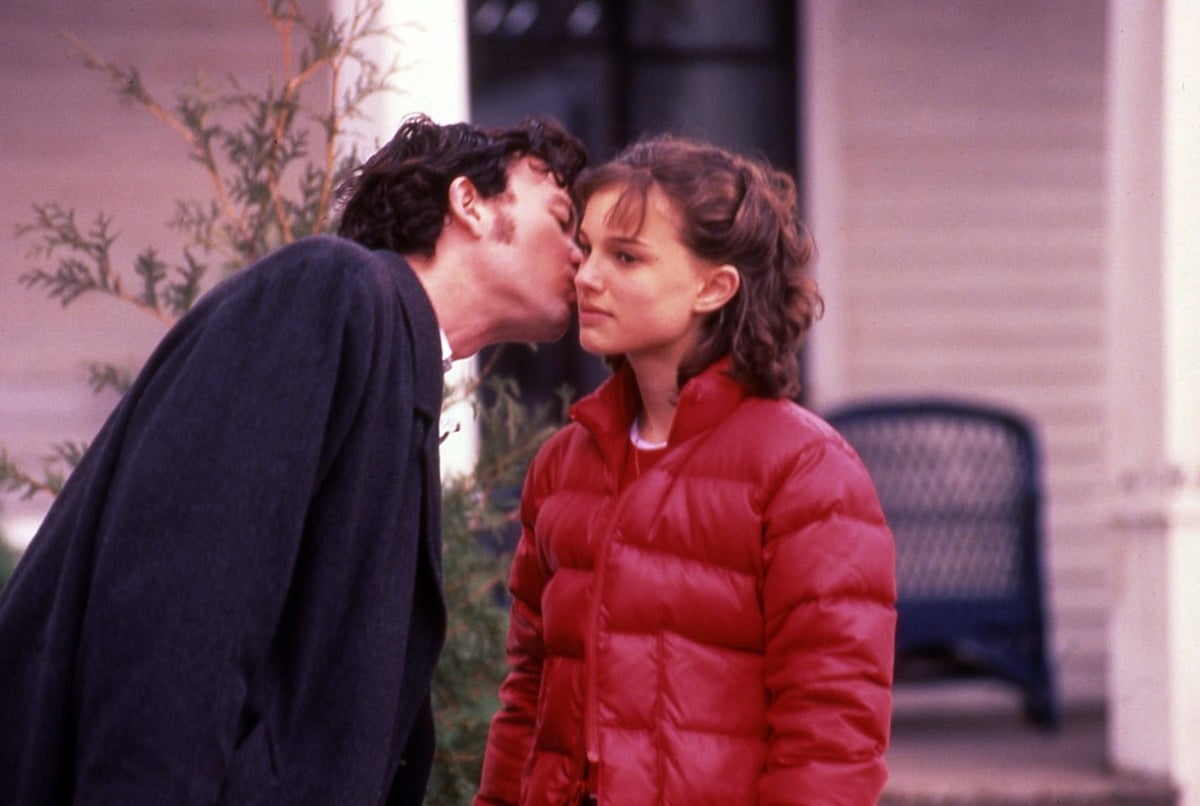 Natalie Portman as 13-year-old old soul Marty and Timothy Hutton as New York City pianist Willie Conway in the 1996 American romantic comedy-drama film Beautiful Girls
Although Beautiful Girls stands as one of Natalie Portman's most critically acclaimed films, the actress has been plenty outspoken about the highly sexualized nature of her role in recent years.
Ultimately, this film had a major influence on the movies that Natalie accepted moving forward, as she wanted to distance herself from similar roles.
8. Thor (2011) – 77% Score
Directed by Kenneth Branagh, Thor is an action film that details the story of a Norse god-turned-superhero that comes crashing down to Earth after being cast out of Asgard.
As part of "Phase 1" of the Marvel Cinematic Universe, this origin story further pushed the superhero genre into mainstream territory.
Riding a career-high at 29 years old, Natalie Portman plays the role of Jane Foster, an astrophysicist and storm-chaser who discovers Thor when he lands on Earth in the middle of New Mexico.
Chris Hemsworth as Thor and Natalie Portman as Jane Foster in the 2011 American superhero film Thor (Credit: Paramount Pictures)
As a stark intellectual, Jane must balance her belief in science with the appearance of a literal god.
Interestingly enough, Natalie Portman accepted the role of Jane Foster before she even read the script. As a fan of Kenneth Branagh, Natalie was interested to see what the actor/director could accomplish with a sci-fi film, given his relative inexperience in the genre.
7. Star Wars: Episode III – Revenge of the Sith (2005) – 79% Score
As the climactic film in the Star Wars prequel trilogy, Episode III – Revenge of the Sith sees the culmination of Anakin Skywalker's (Hayden Christensen) turn toward the Dark Side and his rise to power as the villainous Darth Vader.
While both Episode I and Episode II both received divisive reviews upon release, Episode III managed to please audiences and critics with its emotional story and flashy sci-fi action.
Natalie Portman as Padmé Amidala in the 2005 American epic space opera film Star Wars: Episode III – Revenge of the Sith (Credit: Lucasfilm / 20th Century Fox)
Appearing alongside the likes of Ewan McGregor, Christopher Lee, and Samuel L. Jackson, Natalie Portman puts in a stunning performance as Padme, Anakin's lover and fleeting link to the good side of life.
In one of the biggest roles of her career, Natalie delivers raw emotion as Padme must deal with abandonment and hate from the person she loves the most.
Although the 23-year-old actress was well known before the role of Padme, the Star Wars franchise raised her star status to international levels of fame.
Actress Natalie Portman attends the "Star Wars: Episode III – Revenge of the Sith" premiere during the 58th International Cannes Film Festival on May 15, 2005, in Cannes, France (Credit: Featureflash Photo Agency / Shutterstock)
Funnily enough, Natalie agrees with critics, citing Revenge of the Sith as her favorite of the three Star Wars films she has appeared in.
6. Black Swan (2010) – 85% Score
Even when compared to the rest of the filmography of visionary director Darren Aronofsky, Black Swan is easily one of his most respected and acclaimed films.
This award-winning drama follows Nina Sayers (Natalie Portman), a talented dancer who lands a role in the celebrated ballet, Swan Lake.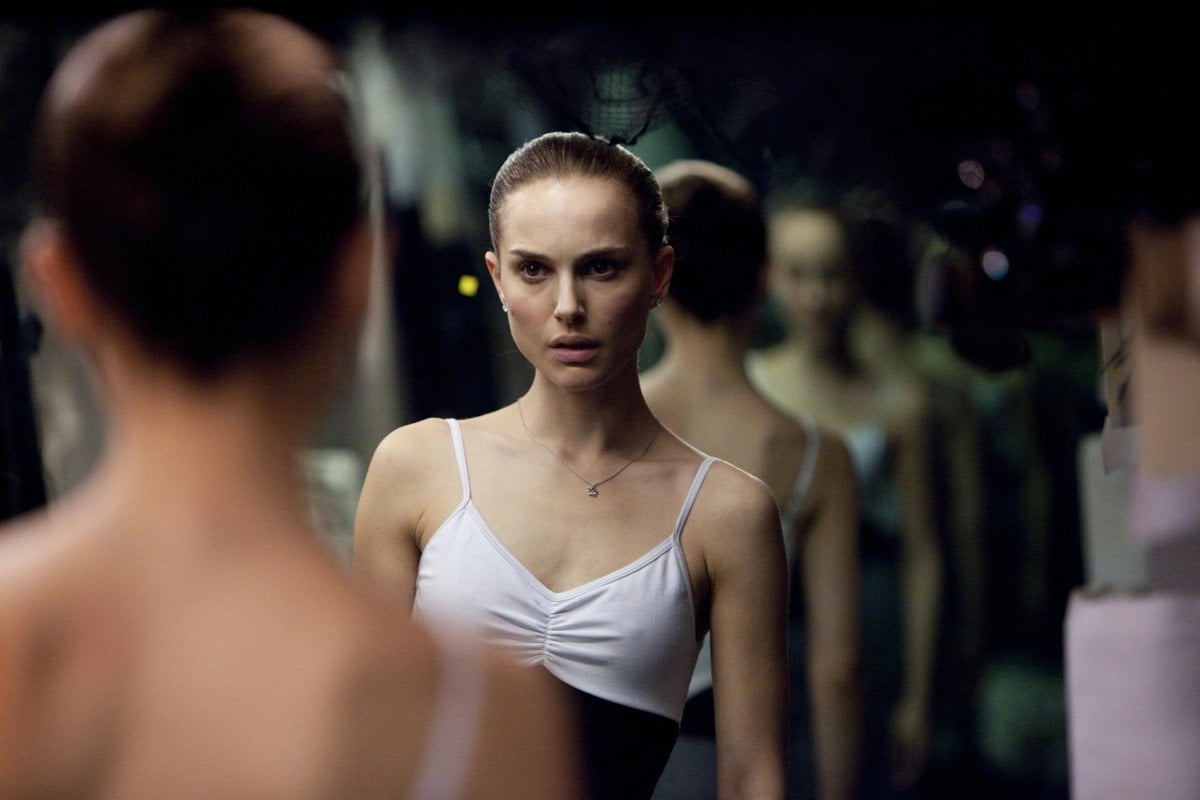 Natalie Portman as Nina Sayers/White Swan/Odette in the 2010 American psychological thriller film Black Swan (Credit: Fox Searchlight Pictures)
Commanding the screen in the lead role, Natalie Portman puts on a powerful performance as Nina Sayers, offering both incredible acting and demanding physicality. At 28 years old, Natalie's career received a big boost thanks to her dedication and perseverance.
Although the actress was nominated for an Academy Award six years prior, Black Swan resulted in Natalie's first trip to the podium, winning the award for Best Actress in a Leading Role.
Darren Aronofsky and Natalie Portman arrive at the AFI Fest 2010 Closing Night Gala Premiere of "Black Swan" at the Grauman's Chinese Theatre on November 11, 2010, in Hollywood, California (Credit: s_bukley / Shutterstock)
This was seen as a just reward, as Natalie went through a slew of training in preparation for the part, including extra ballet training, working with a vocal coach, and more.
5. Garden State (2004) – 86% Score
As the debut directorial effort from actor Zach Braff, Garden State is a dark romantic comedy that centers on Andrew Largeman (Zach Braff), an aspiring actor who reunites with his estranged family after his mother passes away.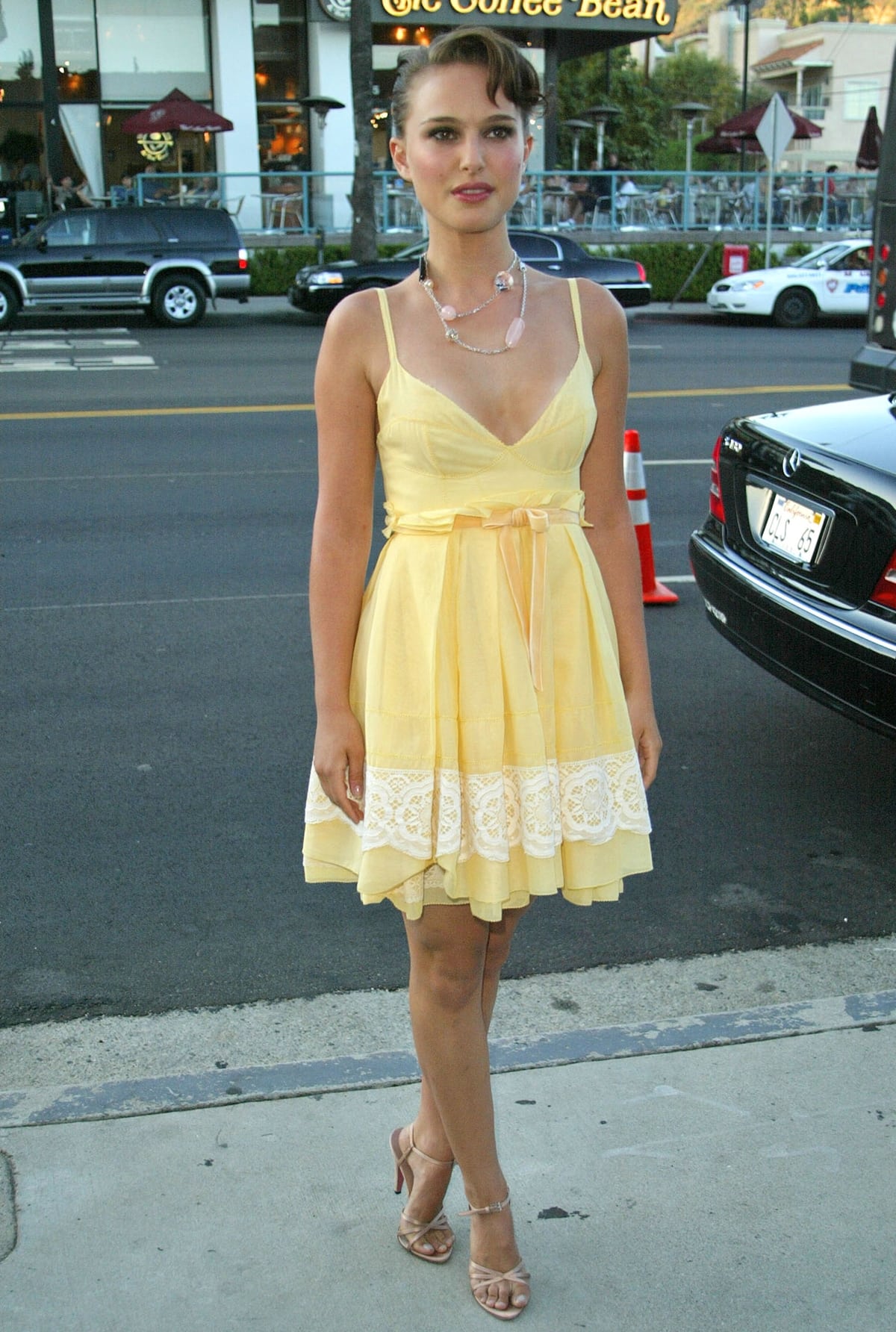 Natalie Portman flaunts her legs in a yellow dress at the premiere of "Garden State" at the Directors Guild of America on July 20, 2004 (Credit: Marty Hause / Startraksphoto)
In the movie, Natalie Portman plays the part of Samantha, a pathological liar who Andrew meets in the waiting room of his doctor's office. Drawn to each other, Andrew and Sam spark up a friendship as they come to terms with their tumultuous lives.
At 22 years old, Natalie absolutely nails the role of Sam, which makes sense, as she was Zach Braff's first pick for the part.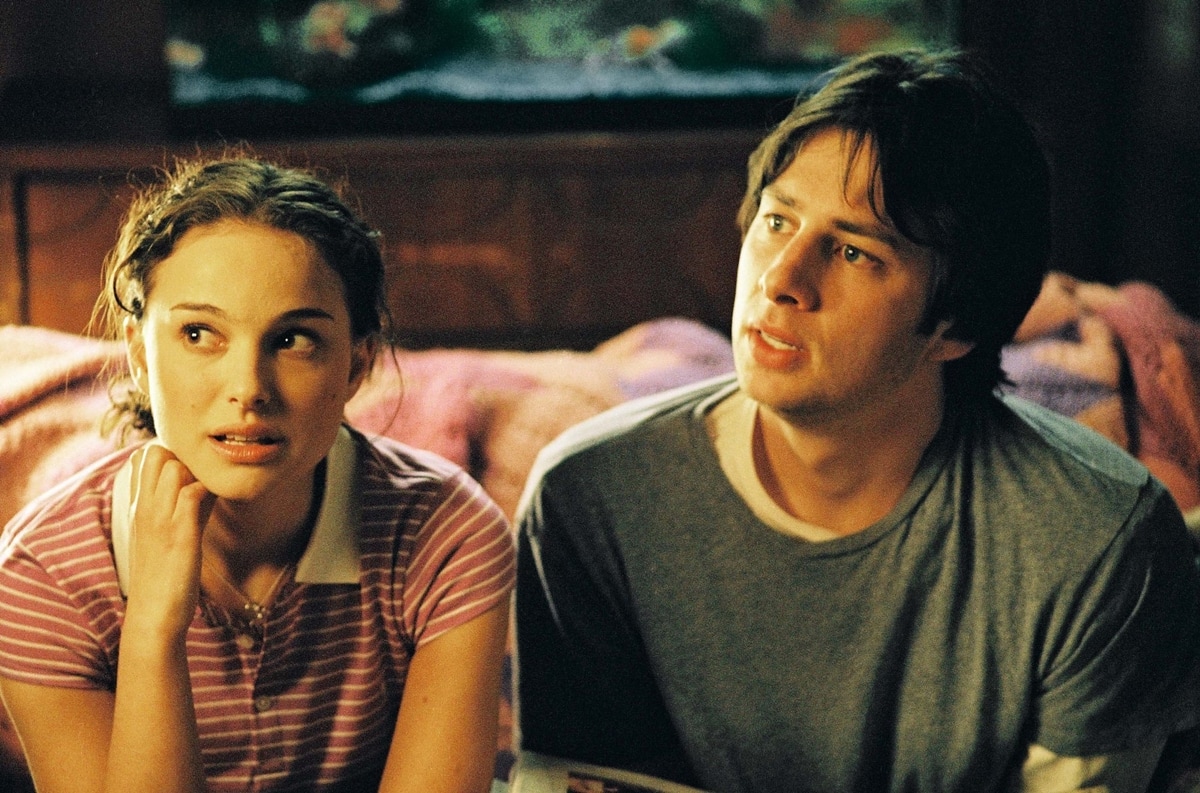 Zach Braff as Andrew Largeman and Natalie Portman as Samantha "Sam" in the 2004 American romantic comedy-drama film Garden State (Credit: Fox Searchlight Pictures)
While some of the actress' other films have permeated pop culture to a greater extent, Garden State remains a beloved indie flick and a highlight of Natalie Portman's career.
4. Paris, je t'aime (2006) – 86% Score
Paris, je t'aime is a dramatic anthology film that contains 18 self-contained short films, each one taking place in the romantic city of Paris, France.
With a hefty ensemble cast that includes a heap of top-tier international actors, the dozen-plus stories provide a mixed bag despite the undeniable talent.
Melchior Beslon as Thomas and Natalie Portman as Francine in the 2006 anthology film Paris, je t'aime (Credit: Canal+ / Victoires International)
Natalie Portman appears in the short film Faubourg Saint-Denis as Francine, an actress in a relationship with her blind boyfriend, Thomas (Melchoir Derout).
When Thomas mistakenly assumes that Francine has broken up with him, he reflects on the progress of their relationship.
At 24 years old, Natalie Portman continues to excel with roles that deal with the many woes of love, presented with a soft touch in Faubourg Saint-Denis. Despite her limited screen time, the actress makes an impact with her part, further solidifying her talent in refined cinema.
3. Heat (1995) – 88% Score
Written and directed by Michael Mann and starring Al Pacino, Robert De Niro, and more, Heat follows a group of professional thieves who slip up during a heist and are pursued by the LAPD. As the police inch closer, the crew must evade detection or lose it all.
In her second feature film at 13 years old, Natalie Portman plays the supporting role of Lauren, the stepdaughter of police lieutenant Vincent Hanna (Al Pacino).
Natalie Portman as Lauren Gustafson in the 1995 American crime drama film Heat (Credit: Warner Bros.)
Balancing his life of crime with the expected duties of a father, Vincent struggles to connect with his family, leading to Lauren's mental demise.
In the role of Lauren, Natalie Portman demonstrates her ability to portray deep emotional disturbance, which is doubly impressive given her age at the time. Acting alongside all-time great actors like Pacino, Natalie Portman proved early on that she was a force to be reckoned with.
2. Jackie (2016) – 88% Score
Based on the harrowing assassination of United States President John F. Kennedy in 1963, Jackie is a biographical drama that follows JFK's wife, Jacqueline Kennedy (Natalie Portman), as she deals with the fallout of the historic event.
Eager to portray the beloved First Lady with reverence and care, Natalie Portman worked hard to perfect her performance, including endless practice replicating Jacqueline's distinct voice.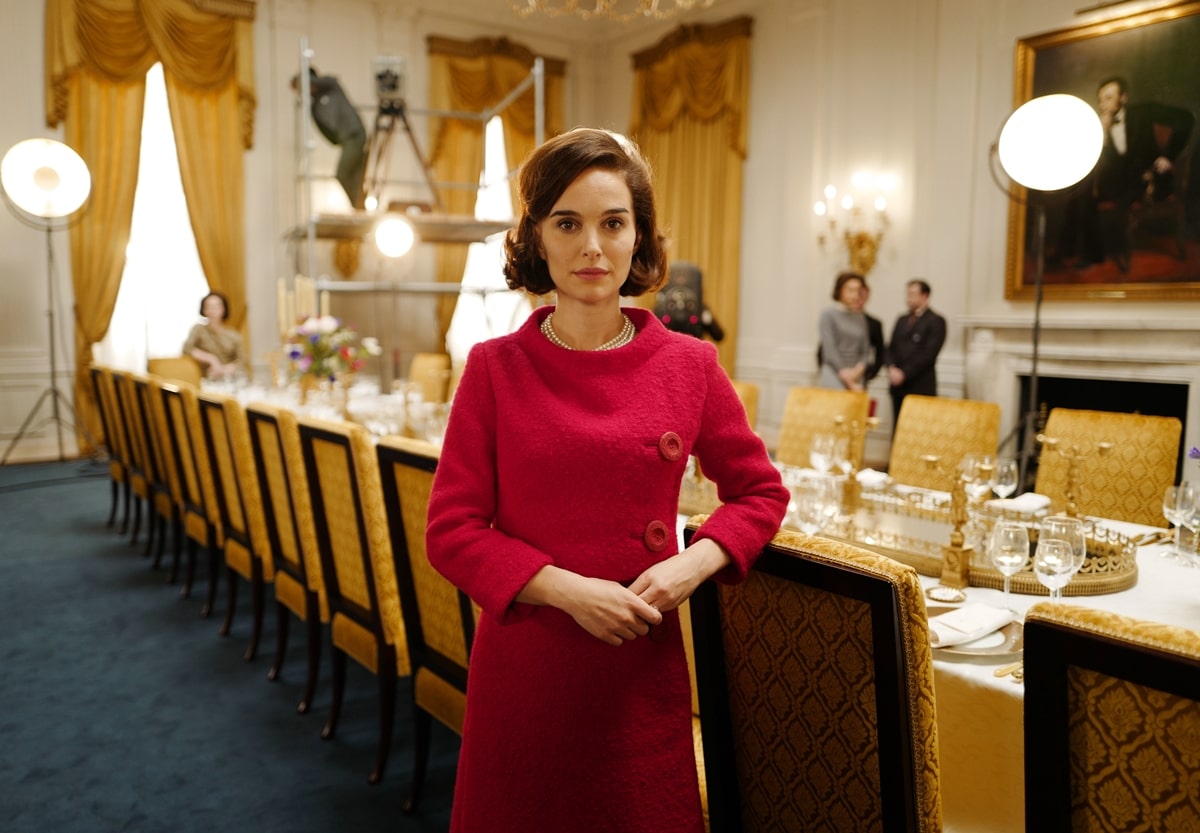 Natalie Portman as Jacqueline "Jackie" Kennedy in the 2016 biographical drama film Jackie (Credit: Fox Searchlight Pictures)
Interestingly, director Pablo Larrain was confident that Portman was the only choice for the role, as he refused to helm the film unless she was cast.
As expected, with Natalie Portman in the leading role, Jackie was an immense success with critics and was nominated for three Academy Awards.
Pregnant Natalie Portman in a tight-fitting gray dress at the "Jackie" premiere at The Newseum on December 1, 2016, in Washington, DC. (Credit: Olivier Douliery / Abacausa / Startraksphoto)
For her performance as Jackie Kennedy, Natalie also received dozens of nominations, including a BAFTA, the SAG award for Best Actress, and more.
1. Annihilation (2018) – 88% Score
Directed by Alex Garland and based on the 2014 novel by Jeff VanderMeer, Annihilation is a sci-fi horror film that follows a group of female scientists as they investigate a mysterious bubble known only as "the Shimmer."
As the squad explores the interior of the otherworldly space, they face danger and horror of unknown origin.
Natalie Portman as Lena in the 2018 science fiction psychological horror film Annihilation (Credit: Paramount Pictures)
In the film, Natalie Portman plays Lena, a biologist and former Army soldier who leads the team of researchers into the Shimmer.
Spurred on by the disappearance of her husband Kane (Oscar Isaac), Lena must solve the mystery of the Shimmer before it encapsulates the entire planet.
Surprisingly, Natalie Portman once stated that she had no interest in being in a horror film but made an exception as she was interested in working with Alex Garland.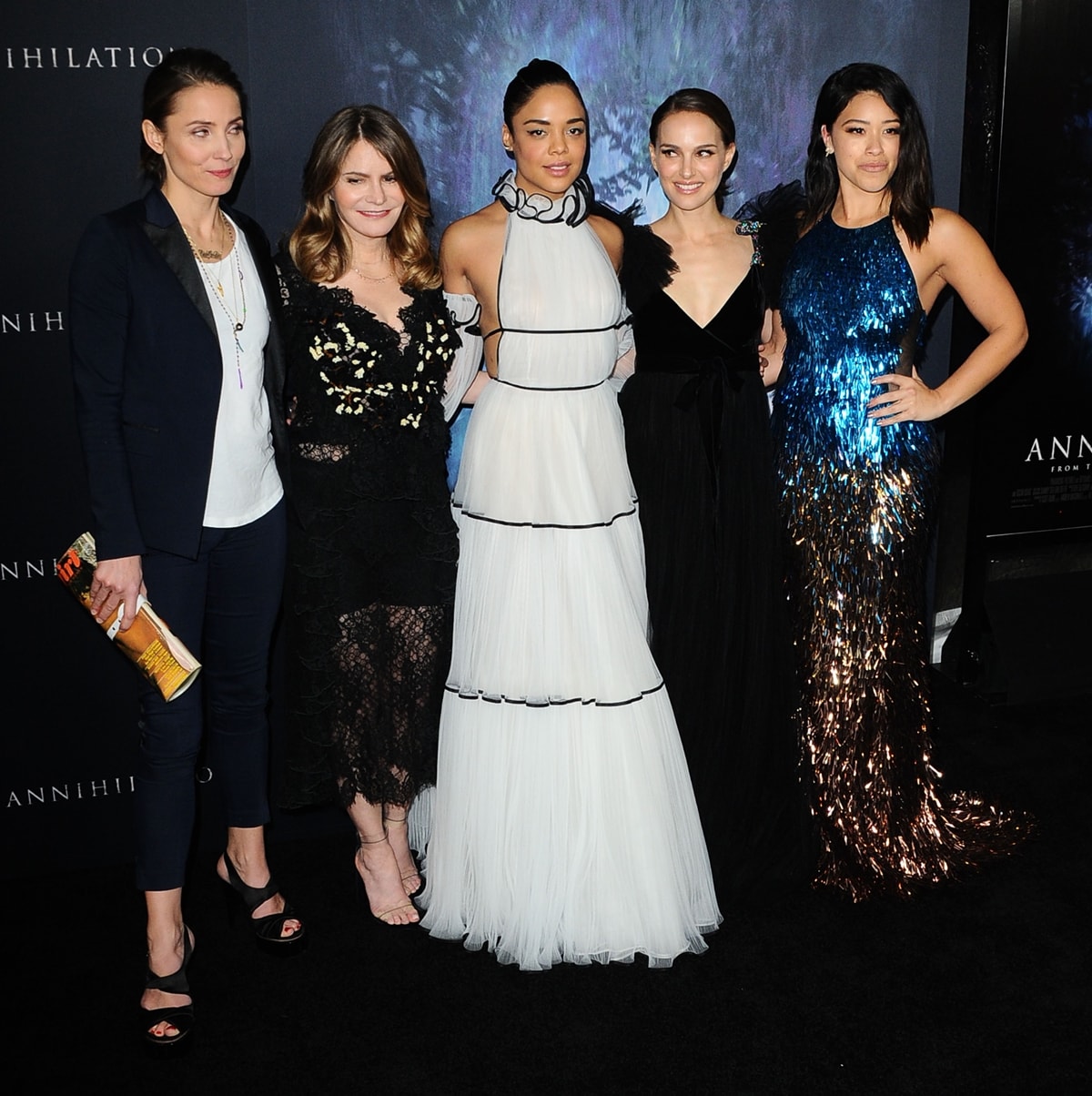 Actresses Tuva Novotny, Jennifer Jason Leigh, Tessa Thompson, Natalie Portman, and Gina Rodriguez attend the Los Angeles premiere of 'Annihilation' at Regency Village Theatre on February 13, 2018, in Westwood, California (Credit: Sara De Boer / Startraksphoto)
As it stands, Annihilation is one of the most engaging and mystifying horror films of the generation, due in no small part to Natalie Portman's excellent performance.