Though you may know her best as Lily from the AT&T commercials (and the severe harassment that she received because of them), actress Milana Vayntrub has been working on big things after leaving the super-small screen.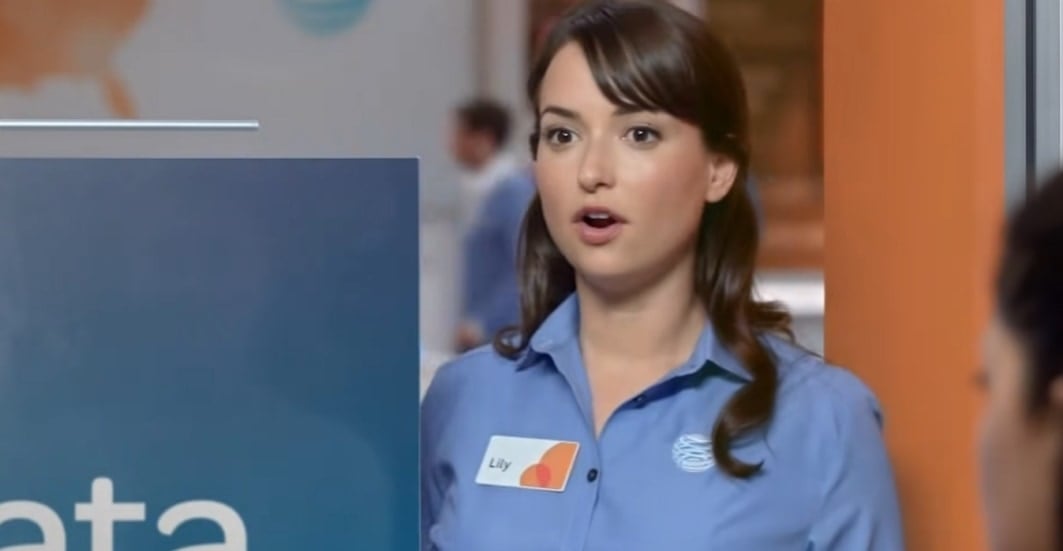 Milana Aleksandrovna Vayntrub has become famous for her appearances in AT&T television commercials as saleswoman Lily Adams (Credit: AT&T)
Since leaving her role as the AT&T salesman, 35-year-old Milana Vayntrub has worked on a number of titles, including the American family drama television series This Is Us.
More than just her acting career, Vayntrub has been working on social issues, a podcast, and more.
Milana Vayntrub as Sloane Sandburg and Justin Hartley as Kevin Pearson in the American family drama television series This Is Us (Credit: NBC)
Here's what Milana Vayntrub has been up to since you've seen her last.
Outspoken in support of abortion
Just months before the landmark leak of the United States Supreme Court decision to overturn Roe v. Wade, Milana Vayntrub penned a fervent essay for The Daily Beast about her own birth experience, urging readers to support the Women's Health Protection Act (WHPA).
In the essay, Vayntrub describes how traumatic the birth of her son was for her, explaining that she did her best to stay calm despite the fact that she was not able to have an epidural.
Though her labor was tough, she was happy and loved her child, and realized she was only able to bear the pain because it was her choice.
Actress Milana Vayntrub flaunts her boobs in a revealing navy blue cut-out dress at the 2015 TV LAND Awards at the Saban Theatre on April 11, 2015, in Beverly Hills, California (Credit: ACE / INFphoto)
"For me, birth was bearable because I had chosen it," Vayntrub writes.
"I could only manage the nausea, pain, and expense (financial and emotional) of pregnancy because I wanted a child. Now that I've experienced a full-term pregnancy and given birth, I find myself thinking about how imprisoning it would be to go through this if I didn't choose it. If I was forced into it because laws didn't give me any other option."
She continues: "Unfortunately—terrifyingly—this isn't some far-off dystopian thought experiment."
View this post on Instagram
Vayntrub then admits that she, too, had undergone an abortion procedure ten years prior, explaining that she was not in a position to care for a child.
"Over the past decade, I've hardly thought about my abortion, except for when I think of those who may not have access to one," Vayntrub writes.
"Becoming a mother has made me even more adamant about access to safe, legal abortions. I now know how hard it is to carry a bowling ball-sized human to full term. I know the back-breaking will it takes to give birth to a baby. I know the toll of sleepless nights and a torn body, the necessity of support, the pause it puts on your career, relationships, and goals. I cannot fathom the cruelty of enduring all this plus a lifetime of childrearing if you do not want it."
Milana Vayntrub has opened up about her abortion following the birth of her child (Credit: Sara De Boer / Startraksphoto)
Milana Vayntrub, both before and after writing her essay for The Daily Beast, has been fighting for the reproductive rights of people around the United States.
It's nice to see an actress—even one best known for her AT&T commercials—using her platform to talk about what she believes in.
Milana Vayntrub is lending her voice talents to Marvel Rising
Making the shift from the screen to behind the scenes, Vayntrub revealed earlier this year that she has been cast as Squirrel Girl in Marvel's storytelling podcast, Marvel Rising, in a six-episode SiriusXM podcast called Marvel's Squirrel Girl: The Unbeatable Radio Show.
Milana Vayntrub plays Squirrel Girl and the superhero's alter-ego, Doreen Green. The podcast, based on the comic book character of the same name, centers around Squirrel Girl as she navigates college and fights crime between exams.
Apparently, Vayntrub is a huge fan of the character.
"Doreen has an optimism that's not based in naiveté," the 35-year-old actress said in an interview with Variety.
Milana Vayntrub portrayed Christy in the American comedy-drama television series House of Lies (Credit: Showtime)
"Her optimism is grounded in fairness and trust and justice. I think she—like me and in a way, she's more of who I want to be like—really believes there is good in all people and that justice is not punishment, but justice is restorative and it's about people taking accountability and it's becoming better versions of themselves. People do harm because they are lacking in resources or in love in some way."
The podcast, which is out now on all podcast platforms, also features the voice talents of Crystal Lucas Peery, Leo Sheng, David Morales, Erica Shroeder, Tina Benko, and Peter Hermann.
Milana Vayntrub is branching out with new acting roles
Determined to shake off the AT&T image from her earlier career, Milana Vayntrub has found herself in a number of projects—some you may have heard about!
Following the success of her AT&T commercials, Milana Vayntrub was bombarded with messages about the size of her breasts (Credit: Famous / ACE PICTURES / INSTARimages)
In addition to her role in Marvel's Squirrel Girl: The Unbeatable Radio Show, Vayntrub reprised her role of Squirrel Girl in the TV show New Warriors.
She has also been a frequent collaborator with the long-running adult animated stop motion sketch comedy television series Robot Chicken.
In 2021, she scored the role of Cecily Moore in Werewolves Within, a film adaptation of the video game of the same name. The film also featured Veep actor Sam Richardson and Harvey Guillen, known for his role as Guillermo in What We Do In The Shadows.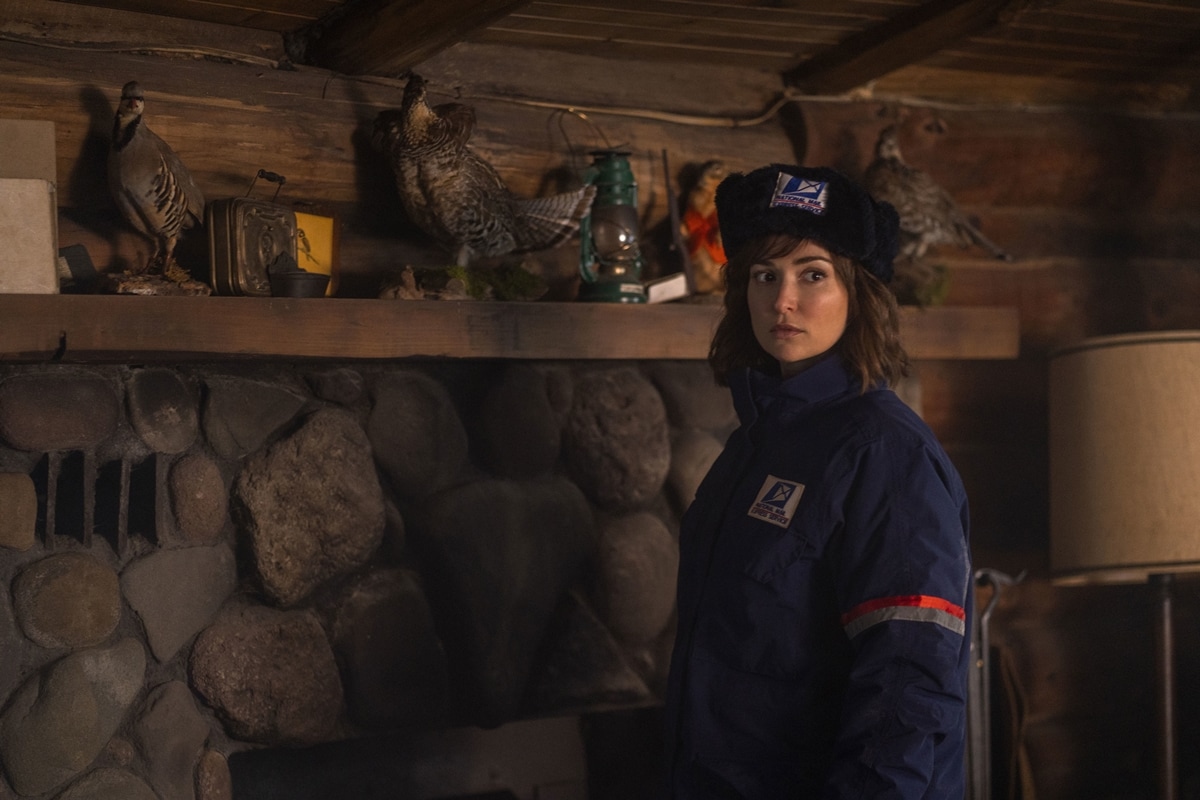 Milana Vayntrub as Cecily Moore in the 2021 American comedy horror film Werewolves Within (Credit: IFC Films)
Though video game film adaptations aren't usually considered the top tier of the silver screen (looking at you, Silent Hill movies), Werewolves Within premiered at the SXSW film festival and came out with relatively good reviews.
Vayntrub shared a screenshot of a Vulture critic review on her Instagram page, which declared that Werewolves Within "feels like a fun little genre comedy" with a "great critical score, and an impressive ensemble cast all doing their jobs just right."
View this post on Instagram
Not many actors can successfully shake off a well-known commercial persona and pivot into film and television, but Milana Vayntrub has managed to do so, all while making time to fight for what she believes is right.