When we say Chelsea boots, what brand automatically comes to your mind? For us, it's Dr. Martens.
The Chelsea boot style has been popular since the Victorian era. Farmers loved it for its durable yet comfortable slip-on function. But Dr. Martens gave it a whole new look about 50 years ago.
If you're ready to add these trendy yet durable boots to your wardrobe, we're here to help. Here's a guide on what real customer reviews say about the pros and cons of some of Dr. Martens' best-selling Chelsea boots that you can buy at Zappos and Nordstrom.
1. 2976 Smooth Leather Chelsea Boots – Recommended for Any Occasion
Style is the name, versatility is the game. These boots offer a smooth, clean style that works for any occasion.
Classic smooth leather Dr. Martens Chelsea boots with side elastic gusset for easy on and off (Credit: Dr. Martens)
Whether working in the yard, getting groceries in the snow, or taking on the town, They're made of tough leather and offer an easy slip-on function due to the elastic on the side.
PROS
There's no contrasting stitching here, making them work for casual and dressier occasions
Durable while still being stylish and sleek
True to size
CONS
Stiff and uncomfortable at break-in
What reviews are saying…
These are the perfect boots. A bit stiff and clunky at first. They are fitting better each day. I did see after I bought these that DM [Dr. Martens] has a soft leather version, which I think I would have bought instead.
– 4 stars, Christina on Dr. Martens

I ordered 5 different black Chelsea boots and this was the standout. It was the perfect mix of casual and dressier for what I needed. It wasn't the most comfortable pair out of the box but I've had Doc's before and I know they will break in. Definitely worth a try!
– 4 stars, Melissa on Zappos
2. Vegan 2976 Felix Chelsea Boots – Best Vegan Option
These Chelsea boots aren't your average Doc Martens. They're made from a soft, non-leather material.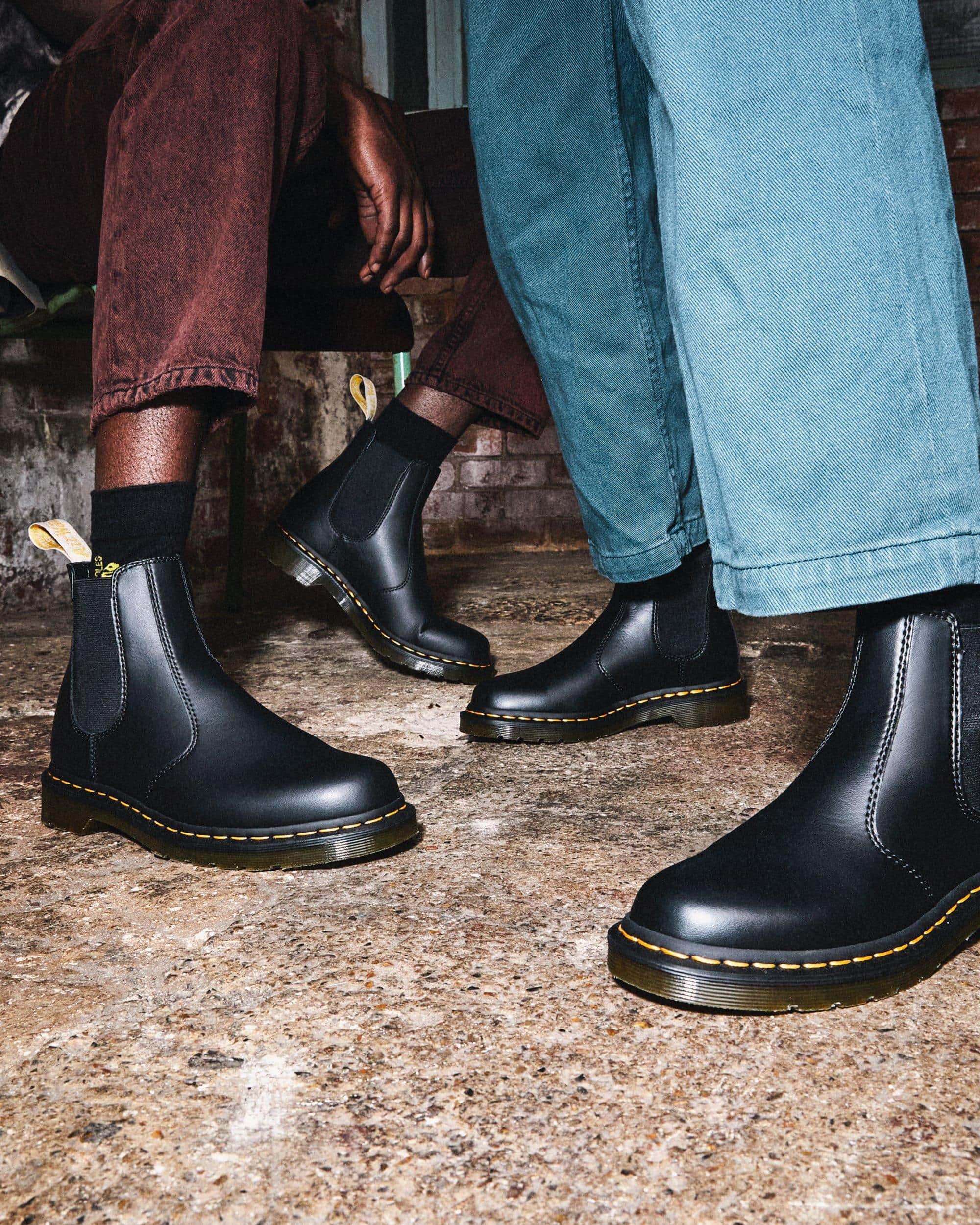 These vegan-friendly slip-on Chelsea boots are made from vegan compliant—no animal products (Credit: Dr. Martens)
There are no animal products used in the materials or process!
They are known to be quite comfier than regular Docs, but they can be a little less durable.
PROS
Softer and more comfortable
Easier to break in than traditional Doc Martens
Two-tone finish
No animal products used
CONS
Crease faster than regular Docs
Still resilient and high-quality, but might not last as long as authentic leather boots
What people are saying…
These are one of the most comfortable pairs of boots I have ever owned! They look hot on and go with anything!
– 5 stars, Patricia on Dr. Martens

I usually love the original Docs but they always maul my feet and give me blisters because it takes forever to break them in. But I heard with the vegan leather it isn't as bad and they're easier to break in and I have to say it's sooo true!!! The only thing I'd say that they crease faster because they're vegan but meh! Not that serious! Def recommend 💓
– 5 stars, Adrienne on Dr. Martens
3. 2976 Yellow Stitch Smooth Leather Chelsea Boots – Recommended for Casual Wear
Icon, coming through! This is the classic Doc Martens Chelsea boot.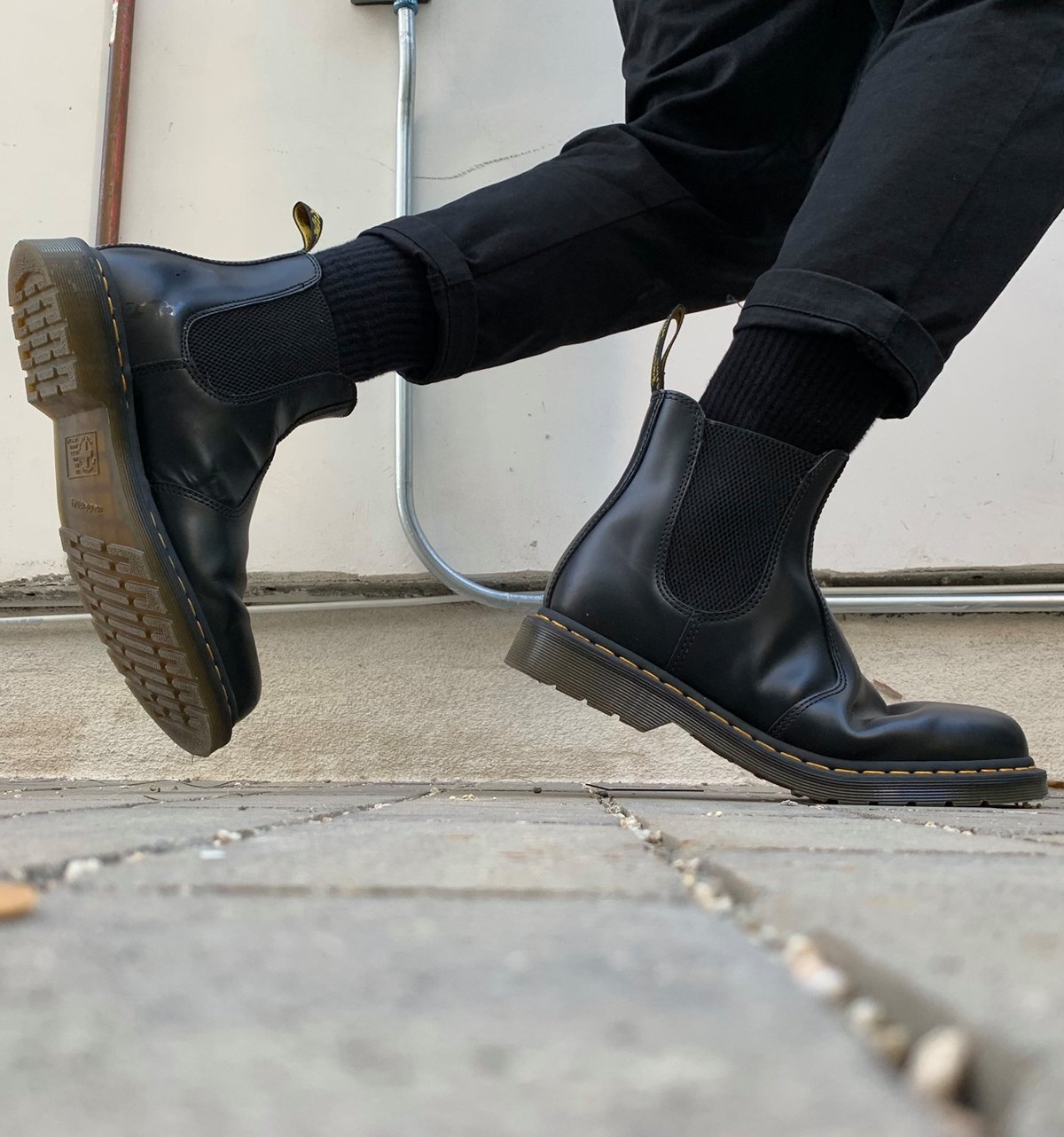 Introduced in the early 1970s, 2976 is the original Dr. Martens Chelsea boot with Victorian origins (Credit: Dr. Martens)
It is smooth and soft and complete with the iconic yellow stitching and heel loops.
PROS
Great reviews
Comfortable and durable
Iconic Dr. Martens look
CONS
Difficult to break in
Less versatile due to its yellow details
What the customer reviews are saying…
These are awesome and the perfect addition to my wardrobe. Only took a few wears to break them in and now they are my go! Highly recommend!
– 5 stars, Eleanor on Dr. Martens

These are beautiful boots, you can immediately tell how well made they are. However, I ordered my usual size nine and they are pretty big on me—because of this I have to wear 2 pairs of socks and they are creasing. Would recommend trying them on before buying.
– 4 stars, Lanie on Urban Outfitters
4. Rometty Women's Leather Platform Chelsea Boots – Recommended for a More Feminine Look
One of the most popular boots at Shopbop, these platform Chelsea boots are proof that femininity = strength. Take on the town in rugged strength and extra sleek length with a bold and chunky heel.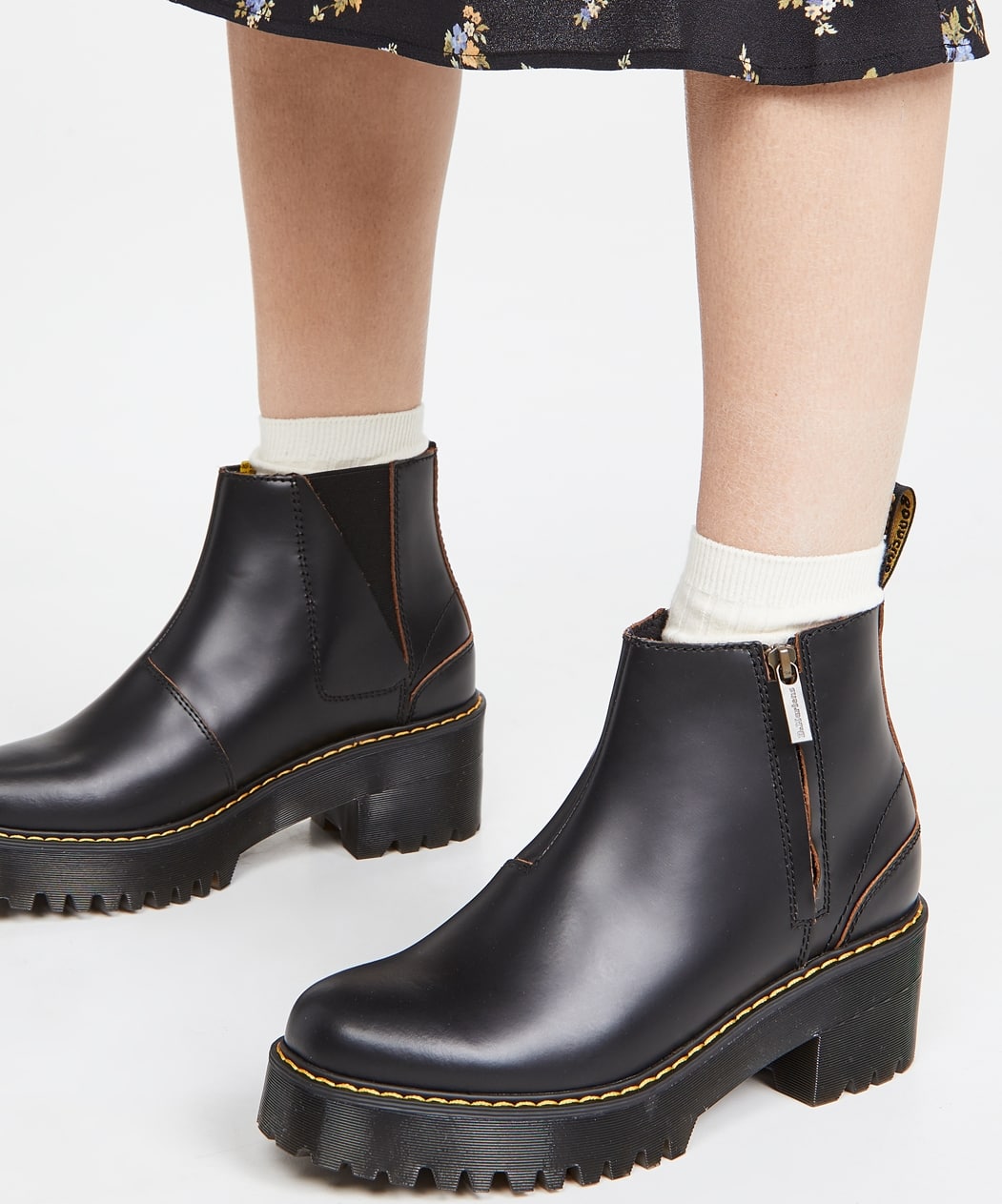 These black Dr. Martens boots feature a stacked platform and the label's signature yellow stitching (Credit: Shopbop)
*Platform height: 1 1/8 in; Heel height: 2 1/4 in
PROS
More comfortable and easy to break in than others
Offer a more show-stopping look thanks to the platform heels
Easy to stand and walk in
CONS
Might not like how on how tall and bulky they are
Run large
What people are saying…
I'm 5'0 and these boots make me feel so tall! I don't normally wear any heels at all, but these are actually incredibly comfortable and I can prance around in them all day! I was looking at these for MONTHS online before I finally decided to purchase them, and now they're my favorite shoes! I'm normally a 7.5, I ordered a 7 and they fit perfectly.
– 5 stars, Signe on Dr. Martens
5. 2976 Vintage Made in England Chelsea Boots – Recommended for Highest Quality
These boots were made for walking in premium style. These pairs are made in their original Dr. Martens factory in Wollaston and are an exact replica of their first pairs ever sold.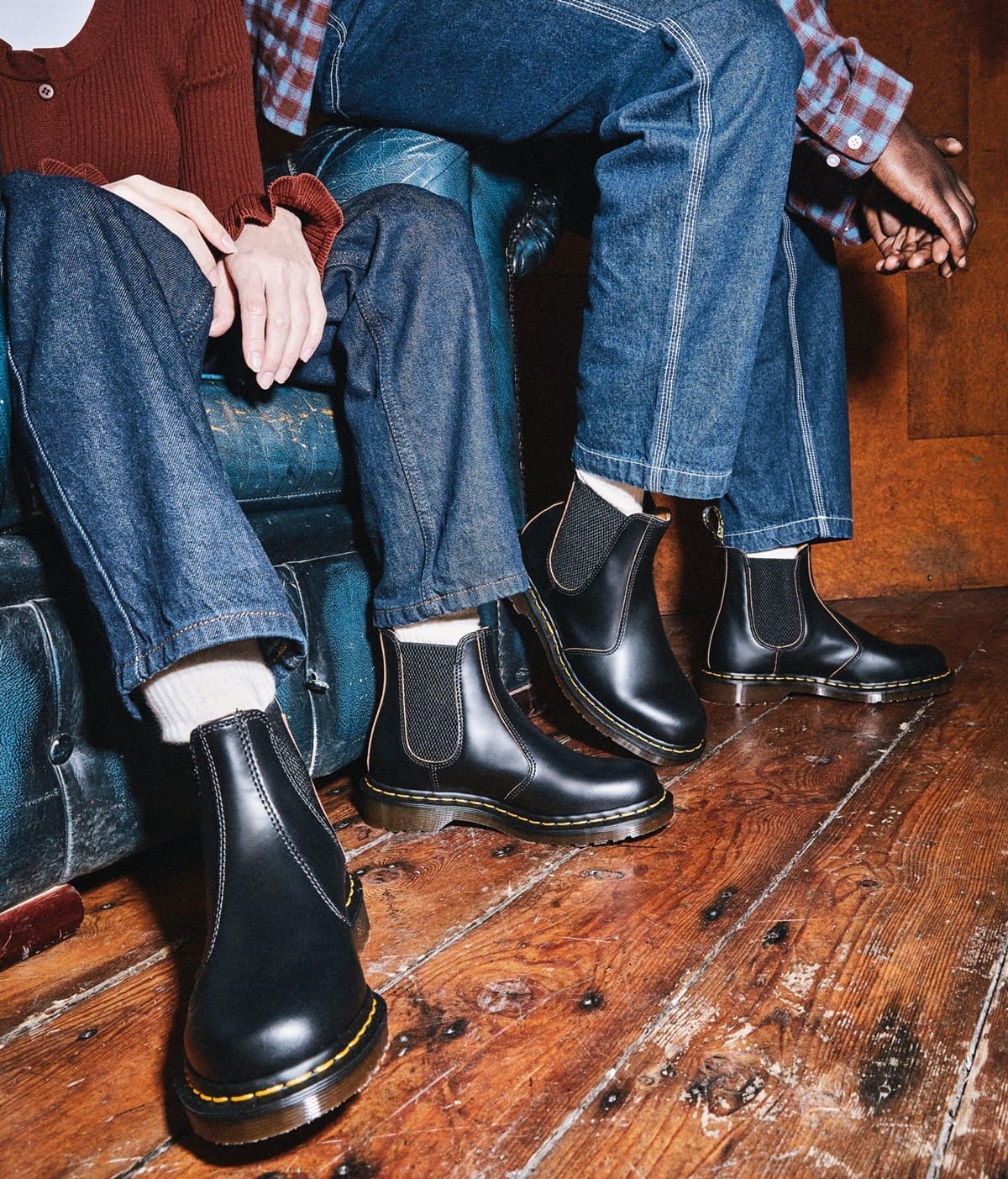 Made in England at the British shoe label's original Wollaston factory, they're a carbon copy of the first Docs ever produced (Credit: Dr. Martens)
They're marked at a higher price than the other pairs, but the value shows through the pros.
PROS
Highest-quality
Vintage feel
Easiest to break in (some reviews say there's no break-in period!)
Comfortable and stylish
CONS
More expensive than regular Docs
Can take a while to ship to the U.S.
What people are saying…
The 2976 MIE are the best pair I have purchased. There was no break in period. I have worn them almost every day since I received them, my other Dr. Martens are jealous. MIE is the way to go.
– 5 stars, Errika on Dr. Martens

…Very comfortable and worth every penny. In addition, I love the history behind my boots in that it's a vintage or old pattern. No regrets and worth the wait. I am a size 6 1/2 and purchased size 6.
– 5 stars, Amy on Dr. Martens