There are few boots as emblematic as Dr. Martens. The humble work boot has been around since the 1960s and has since undergone a long journey as a cultural icon for various groups.
From tradesmen to punks and supermodels, Docs have definitely made their mark on the world. Interested in investing in a pair? Make sure yours are real by following the tips below. Here's how to spot fake Dr. Martens and identify genuine ones!
1. Check the shoebox
Real Dr. Martens will come in a sturdy cardboard box that has a logo on the lid and the side of the box. Ensure the size, font, and placement of the logos are straight and look the same.
One side of the shoe box will have a white label that lists the shoe size, style, and color. Check your shoes to make sure that the details match; the size and product code will be inside the uppers of the shoes.
Dr. Martens shoe boxes have a white label sticker on one side, indicating the shoe size, style, and color of the shoe (Credit: AL Robinson / Shutterstock)
2. Look for the inspection sticker
New Dr. Martens usually have a yellow inspection sticker.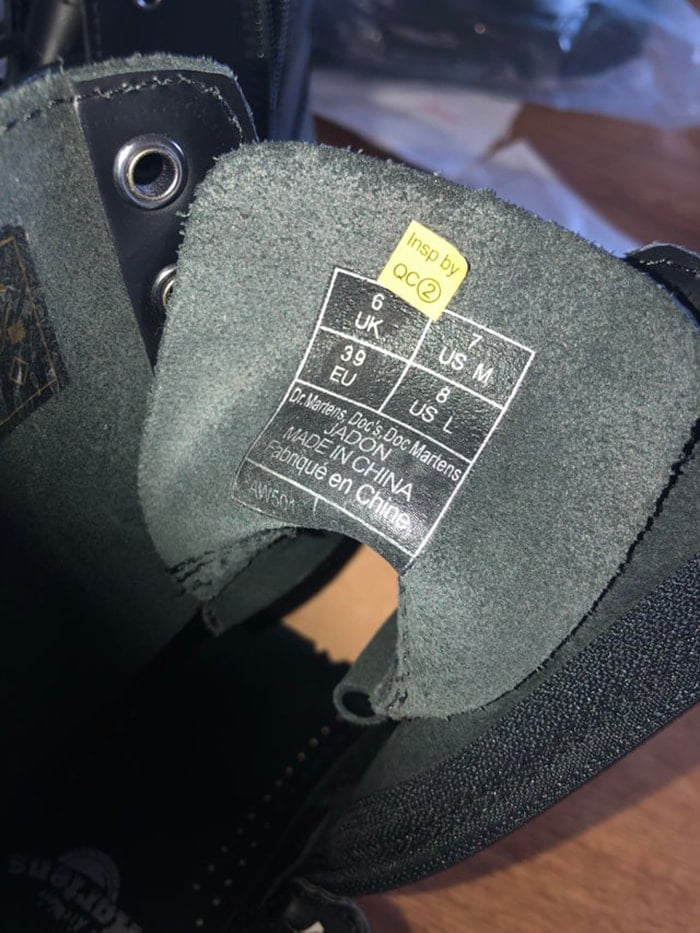 Dr. Martens shoe usually features a small yellow inspection sticker underneath the tongue (Credit: u / ManufacturerSea3373 / Reddit)
3. Check the insoles for the brand name and logo
Some styles may also have the words "Original", "Made in England", "Air Cushioned Sole", or "Bouncing Soles." Make sure that all the words are spelled correctly, and that the letters are evenly spaced.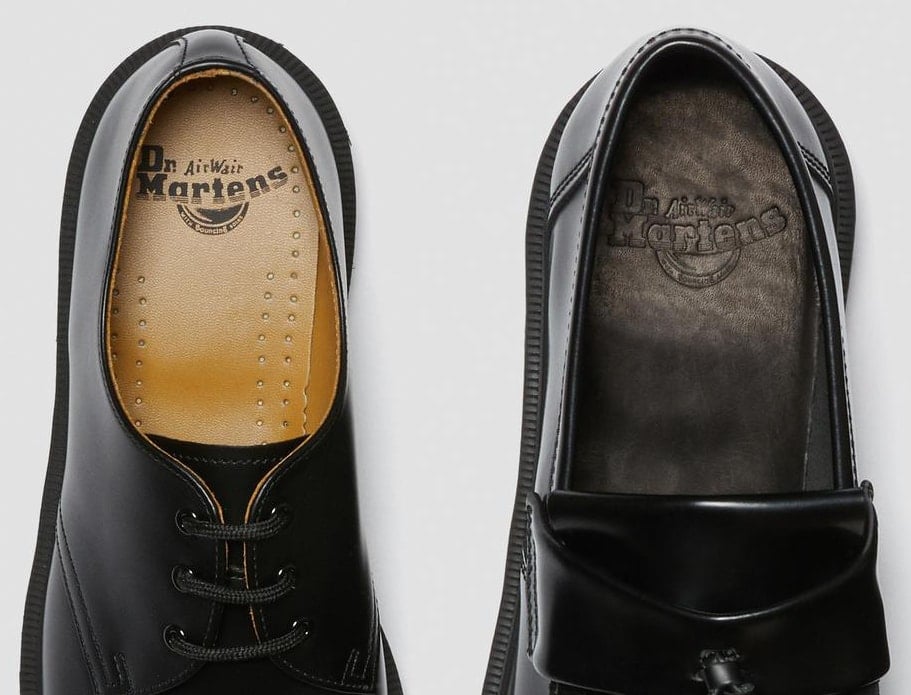 Dr. Martens' insoles should have the logo and some of the brand's signature branding, including "with Bouncing Soles"
4. Check the brand markings on the outsoles
Outsoles have brand markings with cleanly finished embossing. They should say "The Original," "Dr. Martens Air Cushion Sole," "Oil Fat Acid Petrol Alkali Resistant."
Dr. Martens' outsoles should have the signature markings "The Original," "Dr. Martens Air Cushion Sole," "Oil Fat Acid Petrol Alkali Resistant" (Credit: Seeshooteatrepeat / Shutterstock)
5. Inspect the stitching
Real Dr. Martens have impeccable, high-quality stitching. Every thread should be evenly spaced, straight, tight, and neatly finished.
Stitches should be evenly spaced, straight, tight, and neatly finished
6. Look for spare laces
Spare laces are kept in a branded plastic bag with a sealed top.
Dr. Martens are known for their excellent quality, so the details on your shoes should look flawless. Misspelled logos, uneven fonts, or poor stitching are telltale signs of fakes.
Where Are Real Dr. Martens Made?
Dr. Martens is often called a quintessentially British brand. Despite having German roots, the brand was acquired by a British shoe manufacturing company in 1960.
This acquisition shifted production to England, where the boots became wildly popular among workers and members of subculture movements alike.
Some Dr. Martens shoe styles are still manufactured in England, but many are now made in Asia (Credit: Mykolastock / Shutterstock)
The brand continued to manufacture its styles in England until 2003, when a period of slow sales prompted the company to begin offshore production.
Some styles are still made in the brand's English factory, but many are now manufactured in China, Vietnam, Bangladesh, Portugal, Thailand, and Laos. It's important to note that the Dr. Martens website only lists the origins of goods made in England.
Do All Dr. Martens Have Yellow Stitching?
Vibrant yellow stitching has become a signature part of the Dr. Martens aesthetic. The brand even trademarked yellow stitching in 2021 following a lawsuit against a Dutch shoe store that had been creating its own version of the iconic combat boot.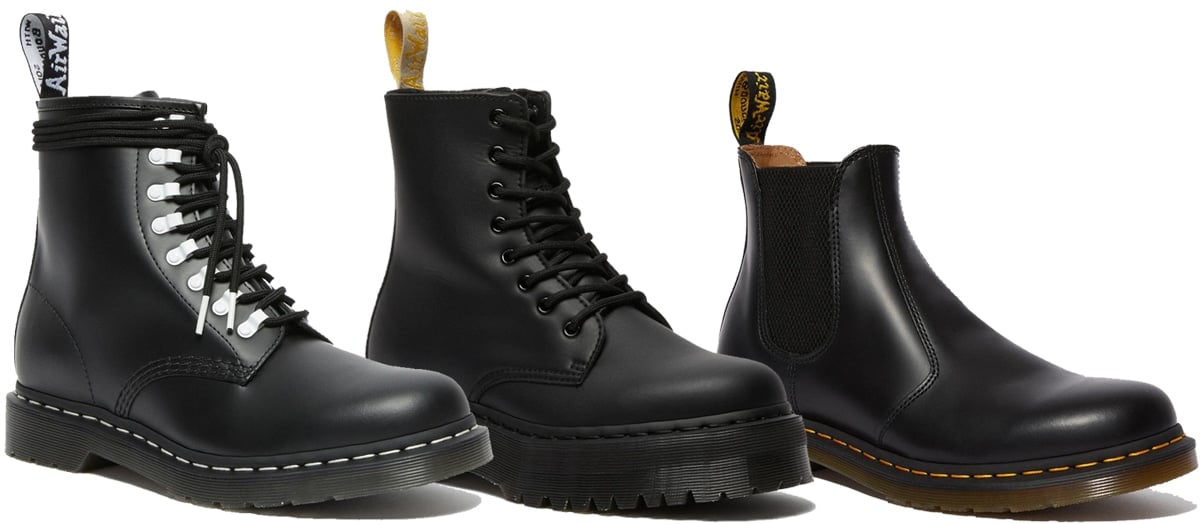 Aside from the signature yellow stitching, Dr. Martens also offer stitchings in black or white
Most Dr. Martens shoes do feature yellow stitching, but some have black or white stitching for those that prefer a monochromatic look.
What Types Of Leather Do Dr. Martens Use?
Dr. Martens is known for using high-quality leather that ages beautifully. The most distinctive type of leather used by the brand is Quilon leather, an ultra-smooth variety with a "haircell" finish. This gives the leather a fine, textured print that creates a unique surface appearance.
Quilon leather was developed in 2007 but was based on the traditional Dr. Martens leather used in the 1960s and 1970s. It has a slightly worn, vintage-esque appearance that is perfect for creating a grungy feel.
It's quite stiff and can take several weeks to break in, but the end result is worth it. Quilon leather is typically used in the brand's Made in England collection.
Although Quilon leather has become Dr. Martens' signature, they also use a wide variety of other leather types:
1. Aniline leather
Natural leather with a clear wax finish that displays the original grain.
The Spence Flared Heel Chelsea Boots in semi-aniline, natural-looking nappa leather with a smooth full-grain finish
2. Antique Temperley leather
Argentinian leather with a glossy, two-tone finish.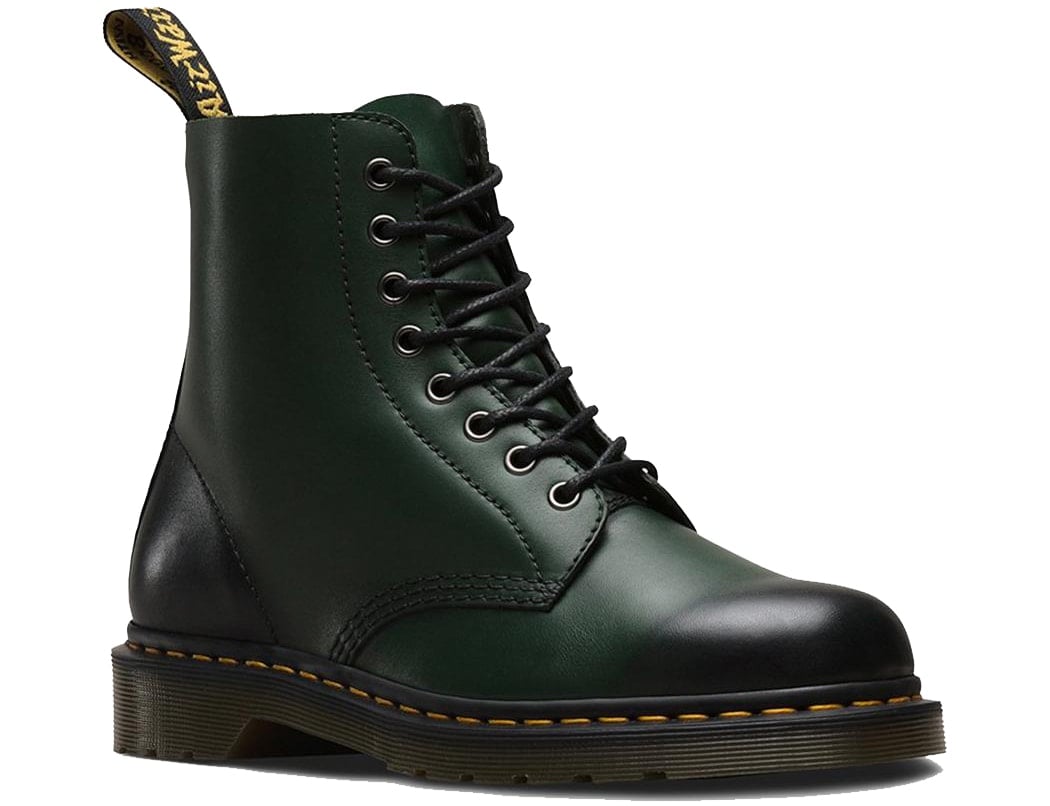 Dr. Martens 1460 boots in green Antique Temperley Leather
3. Boanil brush leather
Brushed, hand-applied, two-tone leather that creates an ultra glossy finish.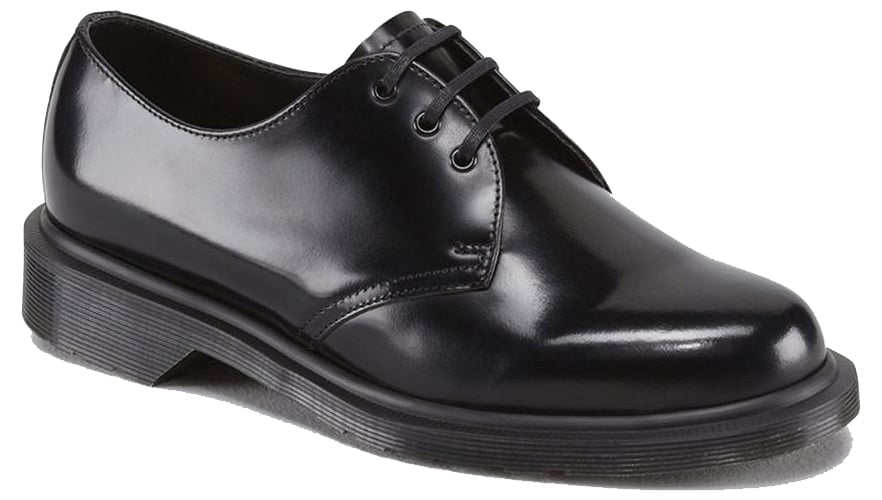 The 1461 loafers in Boanil Brush Leather
4. Brando leather
Waxy, full-grain leather that creates a vintage, worn-in look.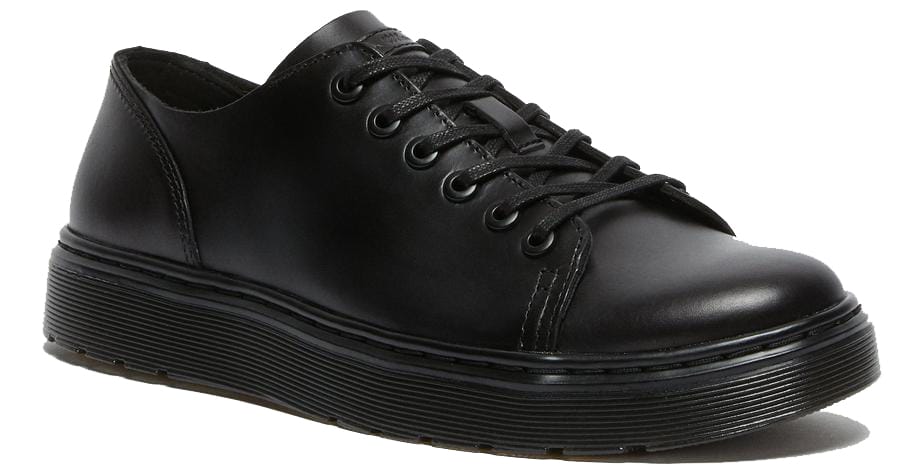 Dr. Martens' Dante leather lace-up shoes in Brando Leather
5. Burnished Servo leather
Natural leather with a clear wax finish. Can be burnished to create visual depth.
Dr. Martens Emmeline boots in gray Burnished Servo Leather
6. Carpathian leather
A soft, flexible full-grain oily leather with a naturally tumbled texture that needs regular conditioning.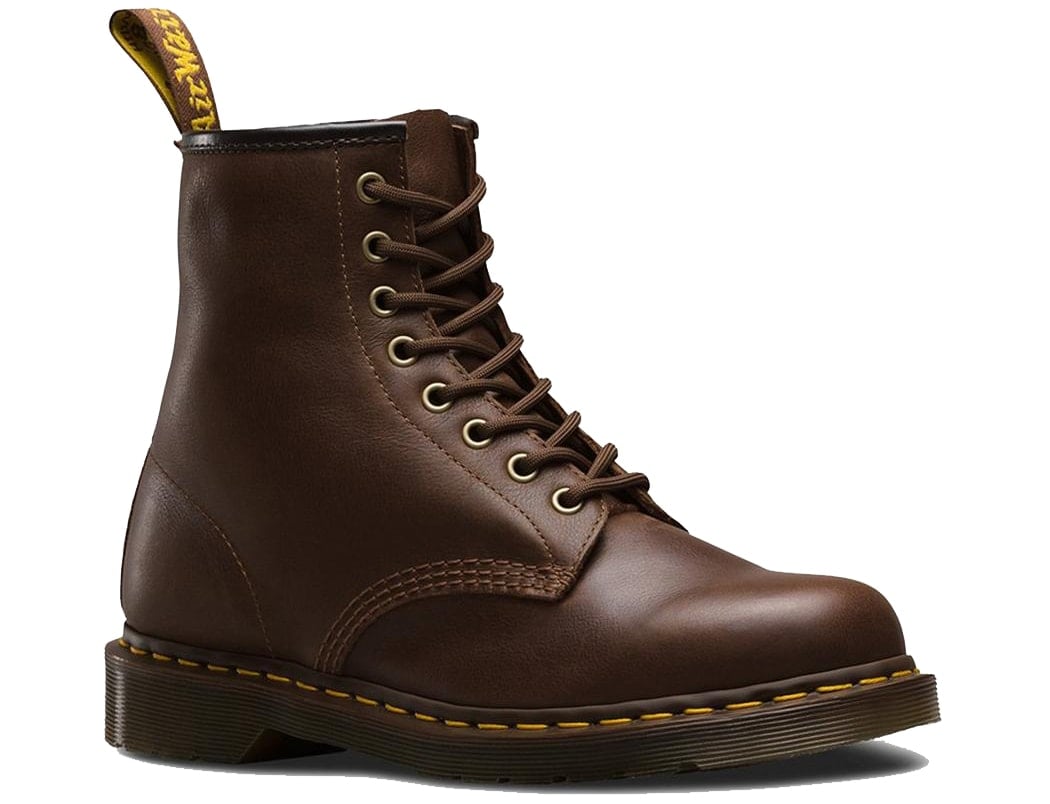 The classic 8-Eye 1460 boots in tan Carpathian Leather
7. Crazy horse leather
Heavyweight, full-grain leather that looks and feels worn in.
The Combs utility boots done in brown Crazy Horse Leather
8. Danio leather
Extremely soft nappa leather that is thin, pliable, and comfortable.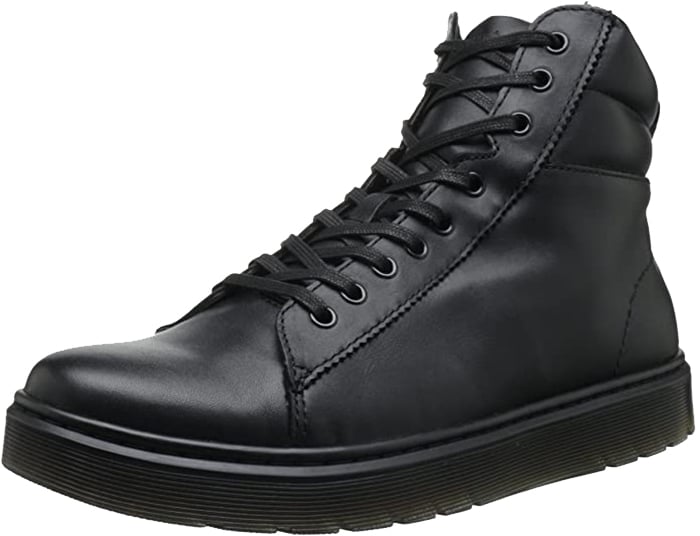 Dr. Martens Jered boots in black Danio Leather
9. Hardlife leather
Supple and extra-durable heavyweight leather created with waxes and oils.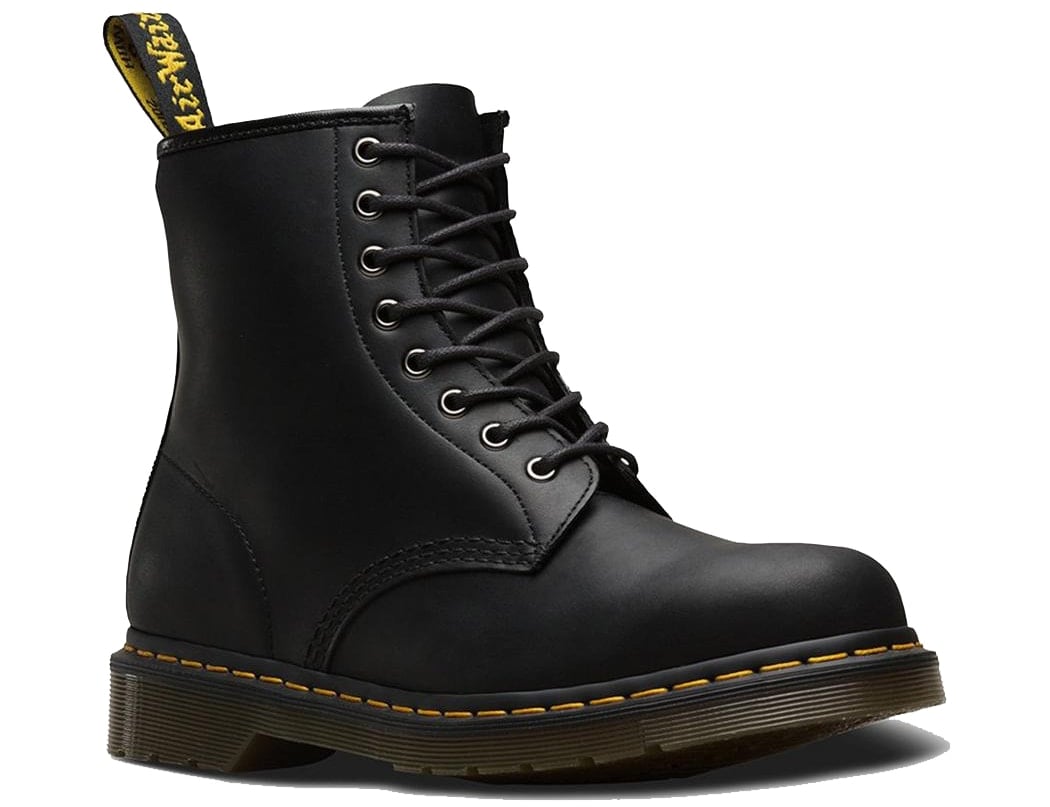 The iconic 1460 boots in black smooth Hardlife Leather
10. Kaya leather
Nubuck variety that leaves the small, natural fibers visible.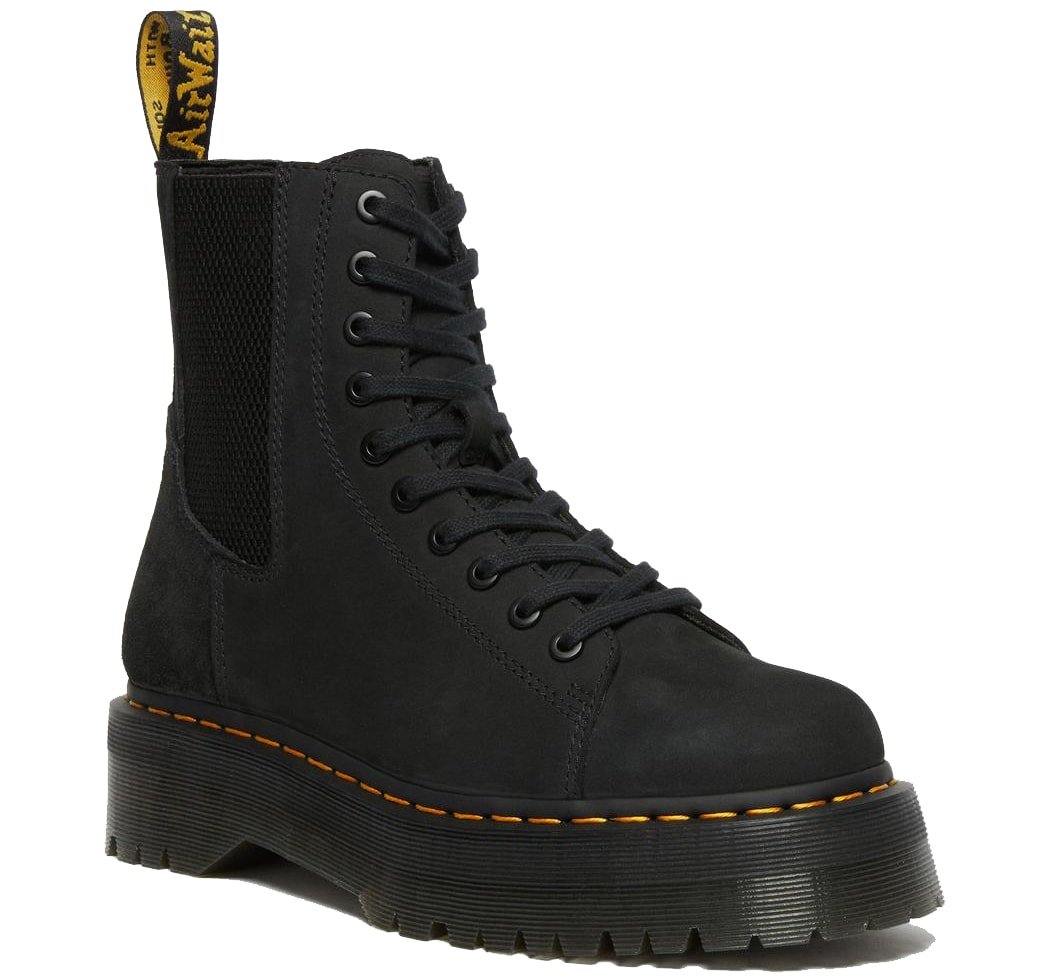 Dr. Martens' Jadon platform boots in Kaya Nubuck Leather
11. Patent leather
Leather with an extremely smooth and glossy coating.
The 1460 lace-up boots in Patent leather
12. Petrol leather
Italian-made leather with a finish that resembles oil floating oil water.
Dr. Martens Langston boots in Petrol Leather
13. Temperley leather
Unfinished Argentinian leather.
The Wilde boots by Dr. Martens in oak Temperley Leather
14. Tuscan leather
Unfinished, vegetable-tanned leather from Tuscany.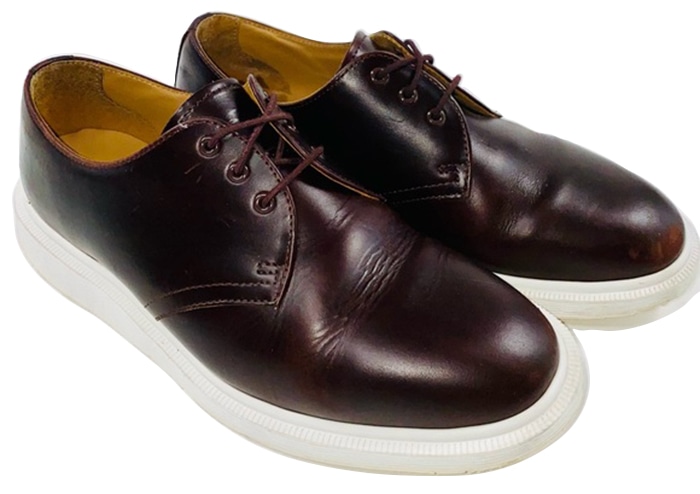 The Torriano oxfords in Tuscan Leather
15. Virginia leather
Napa leather with a milled surface finish.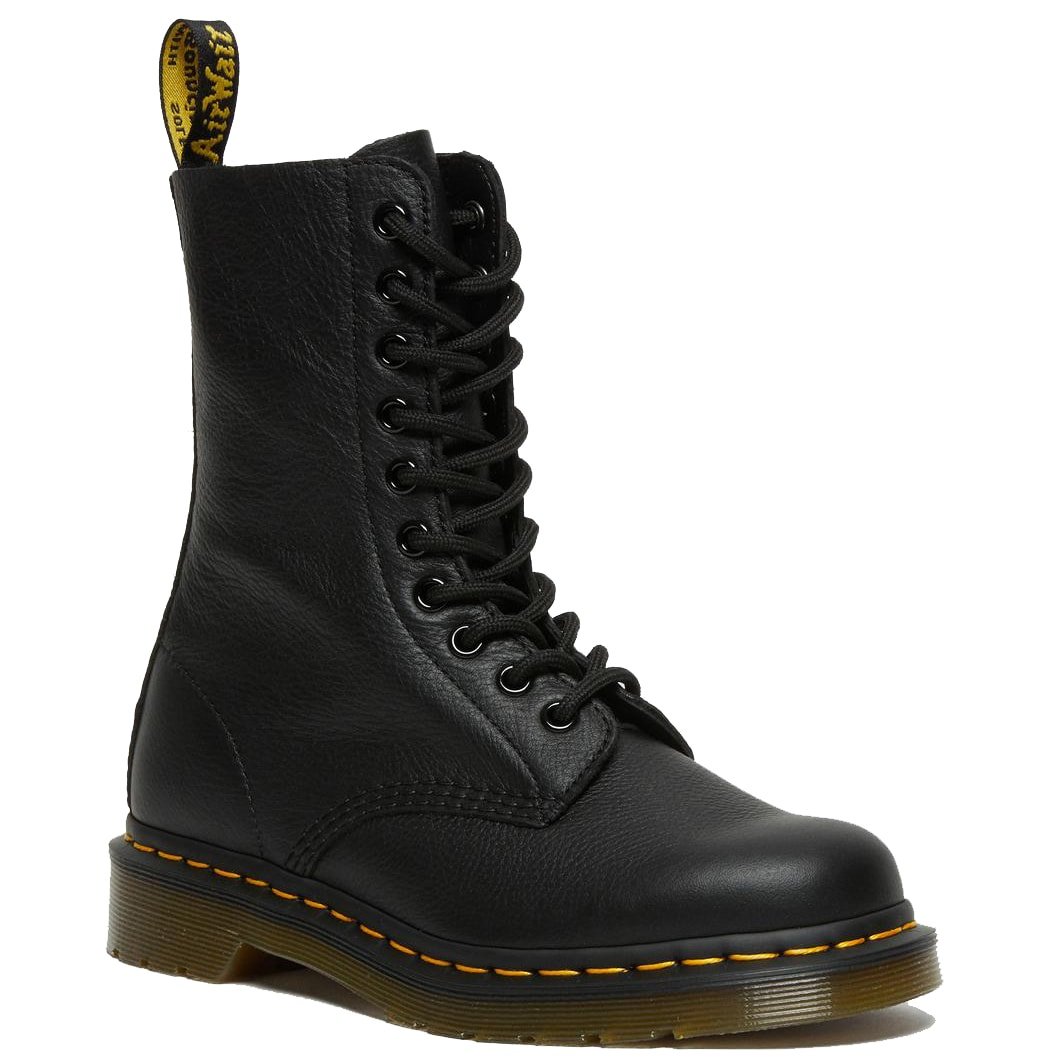 The 1490 10-eye boot crafted from Virginia Leather
Dr. Martens have also had a vegan range since 2011. They use a synthetic polyurethane material that is more breathable and less toxic to produce than PVC.
Doc Martens vs Dr. Martens
You might be wondering if there is a difference between the two names. Both are real; one is simply a nickname. Dr. Martens is the original brand name, derived from the founder Dr. Klaus Martens. Over time, the brand was playfully shortened to Doc Martens or simply Docs by younger fans.<
You can call the brand whatever you like, but genuine shoes will always have the full Dr. Martens logo on them.