These boots were made for walking. Few footwear brands have the influence of Timberland – the unisex label that reimagined workwear boots as an everyday style. If you don't own a pair of Timberland boots, you probably know someone who does.
Timberland boots are famous for their high-quality and attainable price point. They're boots you'll keep in your closets for years to come – without breaking the bank.
We're sharing the 10 most popular Timberland boots and answering the most common questions about Timberland.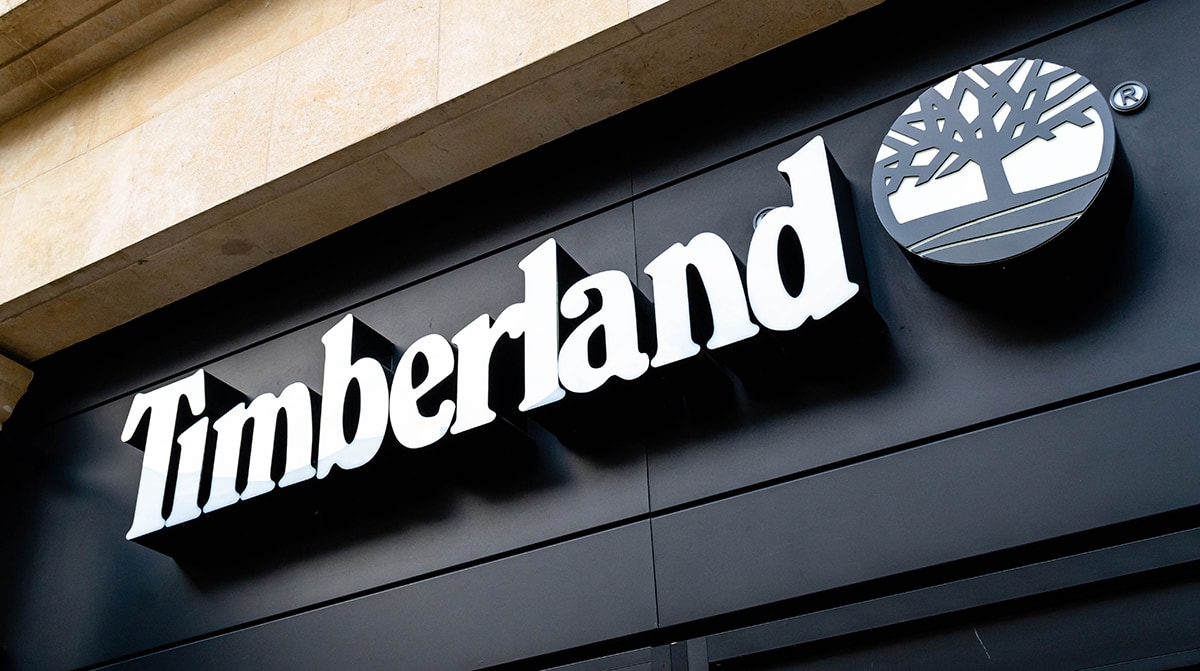 Timberland boots are known for its high-quality, unisex designs and affordable price tags (Credit: Red Confidential / Shutterstock)
Everything You Need to Know About Timberland
Timberland was founded in Boston in 1952 by Nathan Swartz as the Abington Shoe Company. Today it is owned by VF Corporation.
The iconic Timberland boot was launched in 1973 and became an instant hit, with the company being renamed The Timberland Company.
Founded in 1952 as Abington Shoe Company, Timberland is now owned by American global apparel and footwear company VF Corporation (Credit: Photodaria / Shutterstock)
Timberland Brand Collaborations
The brand is famous for its yellow boots, including its industrial styles. Timberland has collaborated with several fashion brands, including Off-White, Jimmy Choo, Tommy Hilfiger, and Supreme.
Timberland has collaborated with several famous fashion labels, including Off-White, Jimmy Choo, Tommy Hilfiger, and Supreme
It became popular within mainstream fashion in the 1980s and 1990s, effectively becoming the Air Jordans of boots. Timberland boots rose to popularity after appearing in music videos by rap artists like Jay-Z.
Are Timberland Boots Sustainable?
Most of its footwear is made using renewable, organic, and recycled materials.
The brand is continuing its focus on sustainability by launching its 'Timberloop' take-back program, inviting customers to return used footwear and clothing to be recycled or resold.
Timberland has launched the Timberloop program, where customers can return their worn Timberland footwear, apparel, and accessories to be recycled for resale (Credit: Timberland)
Where are Timberland Boots Made?
Timberland boots are made in several factories across the world, including the USA, India, Bangladesh, Turkey, and Cambodia.
The brand has over 3,000 factories in 30 countries. You can check the origins of your Timberland boots by checking the label on the inside of the boots.
Why are Timberland Boots Popular?
Timberland boots are popular for their innovative designs, with a unique molding technique that can withstand the elements.
These comfortable boots offer temperature regulation and have become a classic footwear staple. Most Timberland boots will last up to five years with regular wear, making them amongst the most durable styles on the market.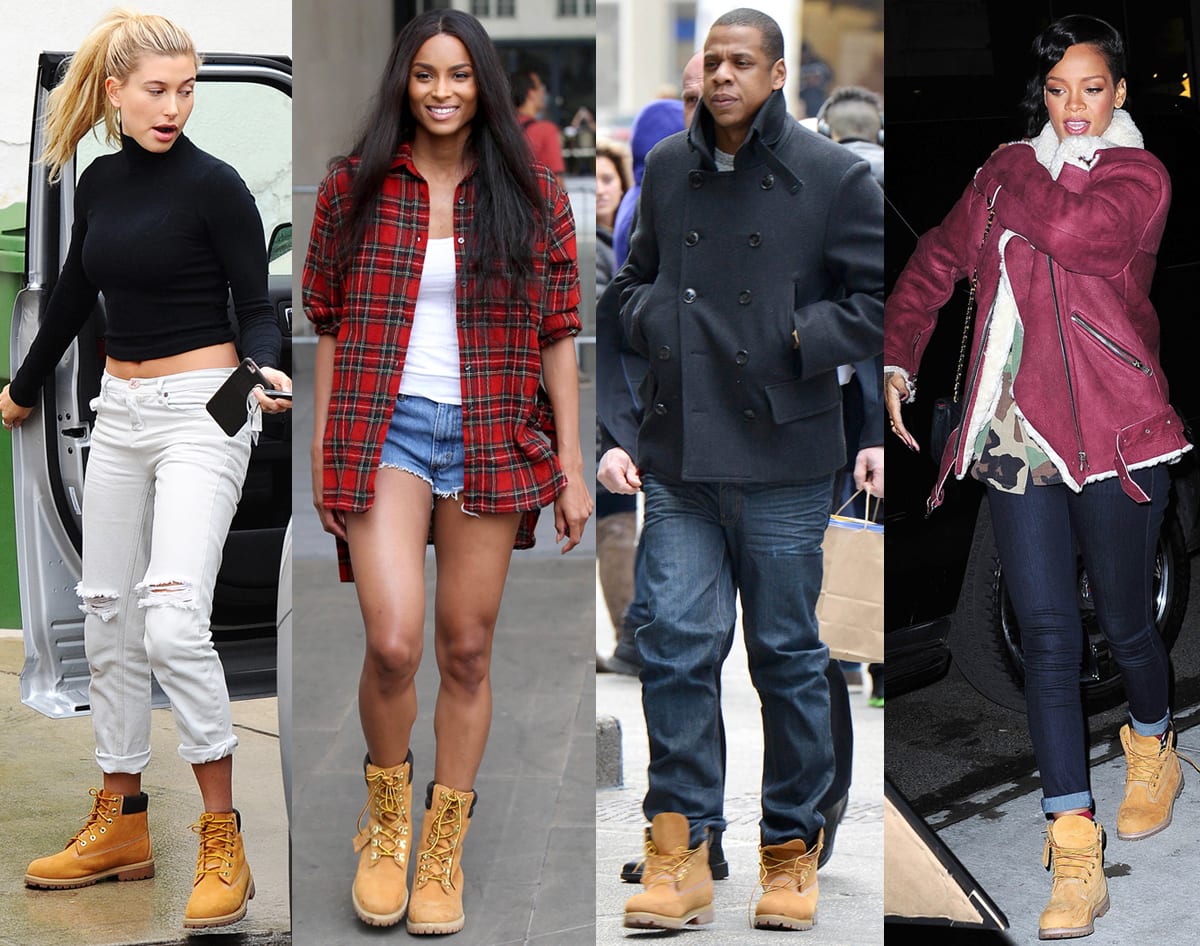 Celebrities Hailey Bieber, Ciara, Jay-Z, and Rihanna wearing Timberland's Original Yellow boots (Credit: Daniel Robertson / Beretta / Sims / Javier Mateo / Humberto Carreno / Startraksphoto)
How Much are Timberland Boots?
You can expect to pay an average of $150 for Timberland boots at full price. The price will vary depending on the style of boots, with some seasonal styles often going on sale for 20%.
The 10 Best-Selling Timberland Boots
Most Timberland boots are unisex, with silhouettes that blend classic trends with functionality. We're rounding up 10 of the most popular Timberland boots for men and women.
1. Men's Timberland Premium 6-Inch Waterproof Boots, $210 at Zappos and Nordstrom
This classic Timberland boot is inspired by the brand's original waterproof boot as an all-season style that is a must-have work boot. These boots feature Primaloft eco insulation and anti-fatigue technology to keep your feet warm through the winter.

The original waterproof boot, the Timberland Premium 6-inch waterproof boots feature 400 grams of warm, down-free PrimaLoft insulation, anti-fatigue midsole, and a rubber lug outsole
2. Men's World Hiker Waterproof Boots, $249.99 (from $280) at Timberland
Hit the trails with Timberland's waterproof boots that feature anti-fatigue technology and a rugged rubber outsole. These boots are made using ReBOLT fabric lining that contains at least 50% recycled plastic.
Designed for the toughest trails, the World Hiker waterproof boots feature a rugged rubber outsole, ReBOTL fabric lining, and anti-fatigue removable technology
3. Women's Timberland Premium 14-Inch Waterproof Boots, $169.99 (from $200) at Timberland
Timberland reimagines the equestrian riding boot with its unique yellow boot look. They're the super-tall version of its classic women's boot and are completely waterproof for wearing while exploring the outdoors, hiking, or running errands.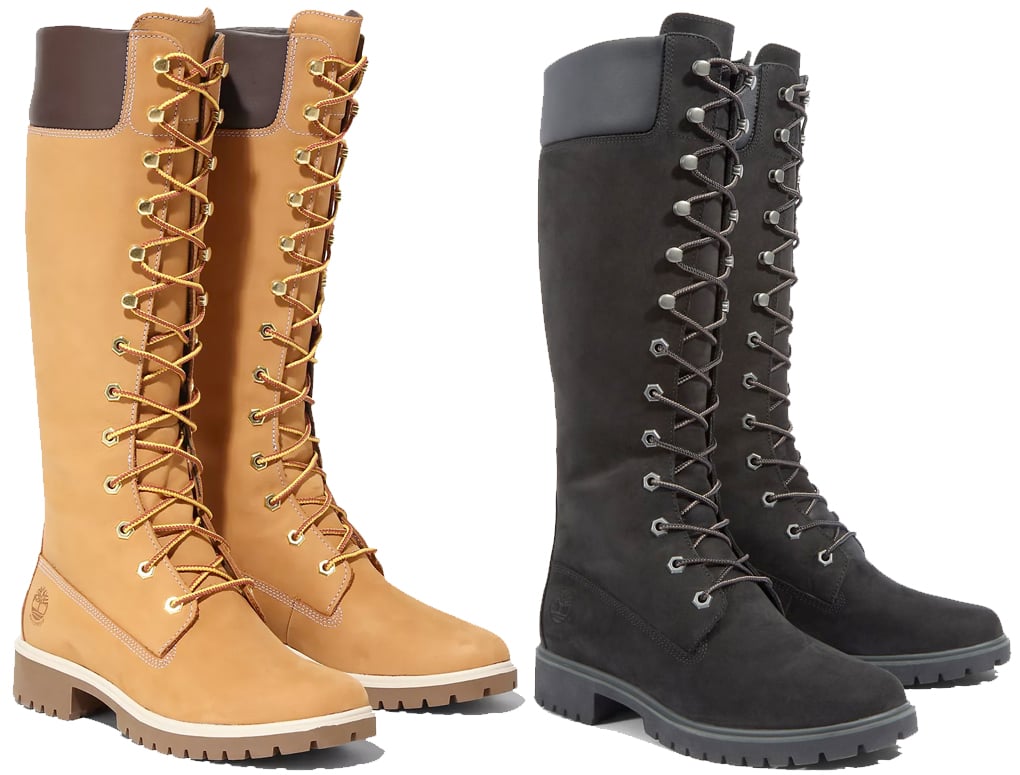 A super tall version of the classic Timberland boots, the Timberland Premium 14-inch has a vintage look, waterproof membrane, and EVA-blend foam footbeds and midsoles for all-day comfort
4. Women's Cortina Valley 6-Inch Waterproof Boots, $90 – $108 (from $180) at Nordstrom and Zappos
The 'Cortina Valley' is a subtle nod to Timberland's iconic yellow boot. This new style is made using eco-conscious materials with GreenStride comfort soles made with renewable bio-based materials.
These lace-up boots are fully waterproof and available in three neutral shades for ultimate versatility.

The stylish Timberland Cortina Valley is made from premium waterproof leather with eco-conscious GreenStride comfort soles made with renewable bio-based materials
5. Men's TBL 1973 Newman Waterproof Chukka Boots, $99 (from $150) at Timberland
One of Timberland's best-selling menswear boots, these durable boots are seam-sealed and made using leather created by tanneries who are audited for their environmental output.
The padded collar makes these sustainable boots an instant winner for construction workers, hikers, and agriculture workers.

This seam-sealed chukka boasts a durable, waterproof leather membrane, padded collar, nylon shank, and a direct-inject polyurethane outsole
6. Women's White Ledge Mid Waterproof Hiking Boots, $57 – $120 at Zappos and Nordstrom
Work boots aren't Timberland's only focus. The brand's design expansion includes a focus on hiking boots with silhouettes to support high-impact walking. These boots are available in medium and wide widths, running true to size.
The waterproof boots have an innovative design that includes shock-absorbing cushioning and a rubber lug outsole for extra traction. These Timberland boots will keep you on your feet for hours on end.

The White Ledge Mid waterproof boot can take you on any trail condition with its seam-sealed waterproof membrane, compression-molded EVA footbed, and B.S.F.P. motion efficiency system rubber lug sole
7. Men's Rugged Waterproof II 6-Inch Boots, $159.99 (from $185) at Timberland
Are you looking for a versatile boot that you can wear almost anywhere? Invest in these waterproof boots from Timberland.
They're made using responsibly produced leather and feature the brand's patented TimberDry waterproof linings made using 50% recycled plastic. The removable anti-fatigue footbed and rubber lug outsole add extra comfort and grip for icy conditions.
Chic, versatile, and comfortable, the Rugged Waterproof II 6-inch boots feature TimberDry waterproof linings made of 50% recycled plastic, ReBOTL fabric with at least 50% recycled plastic, and removable anti-fatigue footbed
8. Women's Kinsley 6-Inch Waterproof Boots, $149 at Farfetch
The Kingsley boots are specially designed for women's feet with a feminine silhouette that doesn't compromise functionality.
These boots are fully waterproof with comfortable underfoot cushioning and eco-conscious linings. The block heel on these boots makes them ideal for any season, whether you're styling them with jeans or a dress and tights.

The Kinsley boots have a feminine silhouette with seam-sealed waterproof construction, OrthoLite Impressions memory foam footbed, and EVA-blend foam midsole
9. Men's Timberland Premium 6-Inch Waterproof Boots, $179.99 (from $210) at Timberland
Give the classic Timberland boots a modern upgrade with this premium style. Timberland's original waterproof boot remains as much of a classic today as it was in the '90s. These boots feature 400 grams of PrimeLoft insulation with a padded collar for extra comfort. The contrasting laces add a pop of color to the boots.
Timberland's Original waterproof boots are given a modern upgrade with contrasting laces and padded collars
10. Women's Cortina Valley Chelsea Boots, $80 – $160 at Zappos, Nordstrom, and Farfetch
Timberland isn't all about work boots. The brand offers an array of other classic silhouettes, including Chelsea boots.
They're easy to pull on and off with eco-conscious materials that make these shoes a must-have for sustainable fashion fans.
The 'Cortina Valley' boots are one of Timberland's most understated and versatile styles, making a classic footwear staple more functional with a rubber outsole.

The Cortina Valley has a stylish round toe Chelsea silhouette, complete with Timberland's ReBOTL recycled lining and GreenStride sole made of 75% renewable bio-based materials
Elevate your wardrobe with boots that will work for you. Timberland has an unrivaled reputation as the leader in work boots. Give your feet the comfort they deserve with a pair of Timberland boots.