The fashion world is no stranger to the unexpected. At this point, the unexpected should be expected.
Last year, designer heel powerhouse Jimmy Choo and classic work boot company, Timberland, debuted their Jimmy Choo X Timberland collaboration. The collection, which features sparkly, elevated versions of a utilitarian classic, took shoe-lovers by storm.
Jimmy Choo is no stranger to collaborations, working with designers like YK JEONG and Marine Serre most recently. The brand always seems to jump at the chance to breathe new, Choo-esque life into interesting collaborations.
Jimmy Choo x Timberland wheat nubuck leather boots with gold glitter
However, the Jimmy Choo X Timberland collaboration may be one of the most unique. A brand like Jimmy Choo, known for its high-fashion, expensive footwear that has been seen on Princess Diana and Sex in the City alike, collaborating with a utilitarian workboot like Timberland has certainly led to some interesting creations.
However, was it really unexpected? As the street-style photos show, models like Kendall Jenner and Hailey Bieber have been moving away from painful, pointed-toe stilettos in favor of more utilitarian footwear like sneakers and work boots, and the rest of the fashion world has followed suit.
Jimmy Choo x Timberland boots with Swarovski crystals around the collar and welt
Timberland, though originally designed as a rugged outdoor boot in the 70s, it became popular in the New York hip-hop community in the 90s.
Since then, it has been a fashion staple in the streetwear community and has been seen on celebrities such as Rihanna, Pharrel, and Kanye West in recent years.
As the streetwear phenomenon marches on, Jimmy Choo made the right choice collaborating with a brand that helps them bridge the gap with a new audience.
"To collaborate with a brand like Timberland allows Jimmy Choo to explore a new avenue and take part in a different conversation," says Sandra Choi, Jimmy Choo's creative director.
"I love to mix it up by getting together with different creative minds combining our DNA to create a beautiful and surprising product with unexpected links to the roots of both our brands. Timberland's outdoor work heritage combined with our high fashion sensibility creates something really exciting and unique in the market."
This leather-lined sustainably-made boot is grounded with durable Vibram outsoles and sprayed with gold glitter
The Jimmy Choo X Timberland collaboration puts a glam and sparkly twist on the iconic silhouette of the Timberland boot. The collaboration features options for both men and women in sizing for both.
The first boot from the collaboration looks almost exactly like the original Timberland with some small (but fancy!) details. It comes with a wheat-colored nubuck leather upper that the website claims is "gold-rated tannery".
The boot features shiny gold laces and grommets, gold glitter, a golden embroidered Jimmy Choo logo on the ankle, and a leather hangtag also featuring a golden Jimmy Choo logo. It can be purchased for $595 at Jimmy Choo.
This boot also comes in a black version, where all of the gold detailing is now in a gunmetal finish. The black version is a bit more toned down than the wheat, but still features the sturdy craftsmanship and beautiful details both Timberland and Jimmy Choo are famous for. It is also $595 and can be purchased at Farfetch.
In black nubuck leather with shimmering detail, this sustainably made pair is a glamorous update of Timberland's heritage 6-inch style
The next boot adds even more sparkle to the original Timberland silhouette, featuring wheat nubuck upper, a Swarovski crystal welt and collar, and plenty of Jimmy Choo logos. While they are very sparkly, they are somehow not the sparkliest shoe of the collaboration. They can be purchased for $1,295 at Jimmy Choo.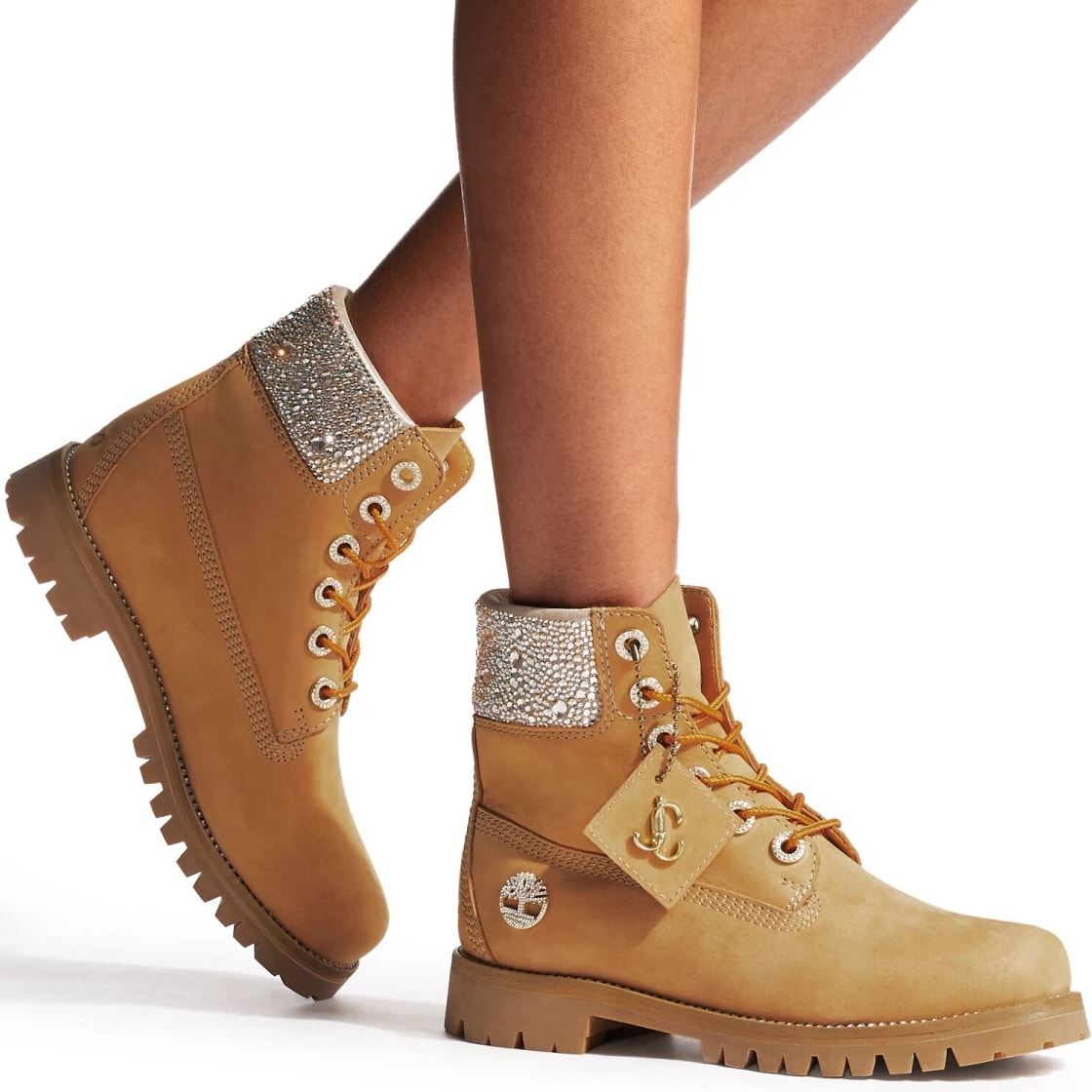 The Jimmy Choo x Timberland collaboration fuses the rugged appeal of Timberland with the inherent glamour of Jimmy Choo
Last, but not least, is the absolutely over-the-top, sparkly, shiny, and glittery shoe that can be expected in any Jimmy Choo collaboration. The boot features the classic Timberland silhouette in a golden mix shimmer suede, featuring hundreds of tiny crystals, and gold Jimmy Choo logos throughout.
It looks as if a disco ball threw up over a pair of Timbs and it is to die for. Unfortunately, this shoe is sold out, even with a hefty price tag of a whopping $5,500. However, you can still view the shoes in all their splendor.
Jimmy Choo x Timberland boots with all-over Swarovski hotfix crystals