Have you watched Kenya Barris and Jonah Hill's buddy comedy film You People?
From established Hollywood veterans to rising stars, this diverse group of actors brings their unique perspectives and experiences to the film, making for an unforgettable and relatable comedy about modern love, cultural clashes, and family dynamics.
Jonah Hill as Ezra Cohen and Lauren London as Amira Mohammed in the 2023 buddy comedy film You People (Credit: Netflix)
Directed by Black-ish creator Kenya Barris and co-written with 22 Jump Street star Jonah Hill, this Netflix movie is a sure hit with audiences of all ages.
Let's look closely at the incredible cast of You People and give you a glimpse of what they look like and how tall they are in real life. Get ready to be impressed by the talented actors who bring this film to life.
1. Jonah Hill (Ezra Cohen) – 5ft 6 ¼ (168.3 cm)
Ezra Cohen, a Jew in his thirties, is at a crossroads. After initially mistaking Amira for his driver, Ezra finds that he and Amira have a lot in common and hit it off almost immediately.
In the movie, Jonah Hill is seen wearing a shirt featuring Ice Cube. The two actors had previously collaborated in 21 Jump Street (2012) and 22 Jump Street (2014).
Jonah Hill, nominated for an Oscar twice, plays Ezra Cohen. Since he first gained widespread attention in Superbad, the 39-year-old filmmaker has never stopped making us laugh.
He's a versatile actor who has appeared in a wide range of genre films, from dramatic fare like Moneyball to black comedies like The Wolf of Wall Street and War Dogs to milder comedies like 21 Jump Street and Don't Look Up.
Jonah Hill as Ezra Cohen in the 2023 buddy comedy film You People (L) Credit: Hinton Jordan / ABACA / INSTARimages; (R) Credit: Netflix
After declaring that he would not be doing any press or walking any red carpets for his movies, the celebrity was notably missing during the black carpet premiere of his film.
"You won't see me out there promoting this film, or any of my upcoming films, while I take this important step to protect myself. If I made myself sicker by going out there and promoting it, I wouldn't be acting true to myself or to the film," Jonah Hill said in an open letter published by Deadline when "Stutz" was released.
2. Lauren London (Amira Mohammed) – 5ft 3 ½ (161.3 cm)
Amira, a laid-back, fashionable, easygoing costume designer, lives in Baldwin Hills as a "sort of Muslim." Lauren London describes her fictional persona as "a laid-back LA girl," which fits that description perfectly for herself.
In real life, Lauren London is half-Ashkenazi Jewish and was born to an African-American mother and an Ashkenazi Jewish father.
After performing in music videos for hip-hop singers like Ludacris and Snoop Dogg, the LA native decided to pursue a career in acting. I Love You, Beth Cooper, Tyler Perry's Madea's Big Happy Family, and The Perfect Match are just a handful of the films she has appeared in since her breakthrough performance in Chris Robinson's ATL in 2006.
A vision in pink, Lauren London attended the premiere of You People in Los Angeles, California on January 17, 2023 (Credit: Xavier Collin / ABACA / INSTARimages / Cover Images)
Lauren London donned a pink Alex Perry Barret turtleneck mini dress at the Los Angeles premiere of You People on January 17. The colorful clothing had a zebra print, was constructed of stretch Devore velvet and mesh, and had a fitted bodice, long sleeves, and thumbhole cutouts.
The Puma collaborator emphasized her outfit with diamond midi rings and enormous hoop earrings. She finished her attire with pink Femme LA The London Lace-Up sandals.
3. Eddie Murphy (Akbar Mohammed) – 5ft 9 ¼ (175.9 cm)
Amira's father, Akbar Mohammed, is a strict architect devoted to his Muslim beliefs. He's fought diligently to provide for his family and be the kind of role model they need, but as a prideful Black guy, he's careful to ensure they never lose sight of their roots.
Eddie Murphy is a well-known stand-up comedian who had already been performing as a teenager in New York City before joining the Saturday Night Live cast in 1980.
Eddie Murphy and Julia Louis-Dreyfus both performed on "Saturday Night Live" from 1982 to 1984. Murphy returned as a guest host in 1984 while Dreyfus was still a cast member.
The 61-year-old American writer, producer, and singer has also moved to movies, with roles in such classics as Coming to America, The Nutty Professor, Beverly Hills Cop, Shrek, and Dreamgirls for which he was nominated for an Academy Award.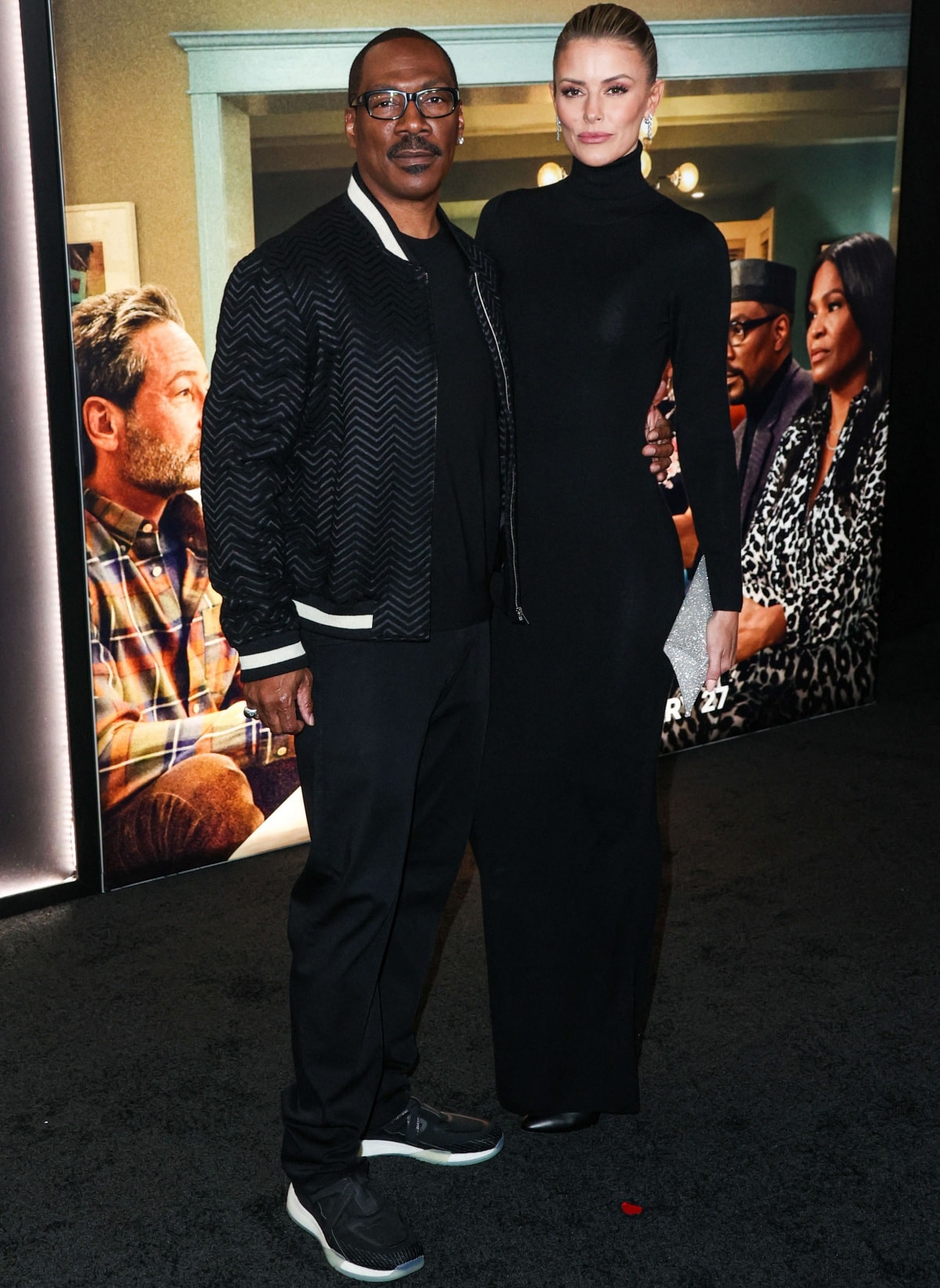 Eddie Murphy and Paige Butcher in matching monochromatic looks at the premiere of You People in Los Angeles, California, on January 17, 2023 (Credit: Xavier Collin / ABACA / INSTARimages / Cover Images)
At the movie's premiere, Eddie Murphy and his 43-year-old girlfriend, Paige Butcher, looked like a pair.
The actor and comedian looked casual and photogenic in a black patterned bomber jacket. The white stripes on the collar, cuffs, and hem stood out against the black background of the outerwear, and a center zipper added a decorative element. He wore all black, from his shirt to his jeans to his sneakers.
His partner, Paige Butcher, looked chic in a black turtleneck dress. Long sleeves, a form-fitting bodice, and a flowy skirt were all features of her outfit. She stepped up the glamour by adding a pair of pierced earrings, a diamond bracelet, and a square silver clutch.
4. Julia Louis-Dreyfus (Shelley Cohen) – 5ft 2 ½ (158.8 cm)
Ezra's mother, Shelley Cohen, is overjoyed that her son has found someone he loves, but she goes about showing her joy in the worst ways. She lavishes Amira with praises and statements that range from insensitive to offensive to demonstrate her admiration for Black culture.
Shelley, played by Julia Louis-Dreyfus, tells Amira, played by Lauren London, that she saw the 2009 film "Good Hair," directed by Jeff Stilson and produced by Chris Rock. Lauren London appeared as herself in the documentary film.
Julia Louis-Dreyfus has won 11 Emmys and been nominated for 9 Golden Globes, making her one of the most successful actresses in television history.
She has been at the center of critically-acclaimed works such as Seinfeld, Veep, and The New Adventures of Old Christine. The Seinfeld actress most recently played Valentina Allegra de Fontaine in Black Panther: Wakanda Forever.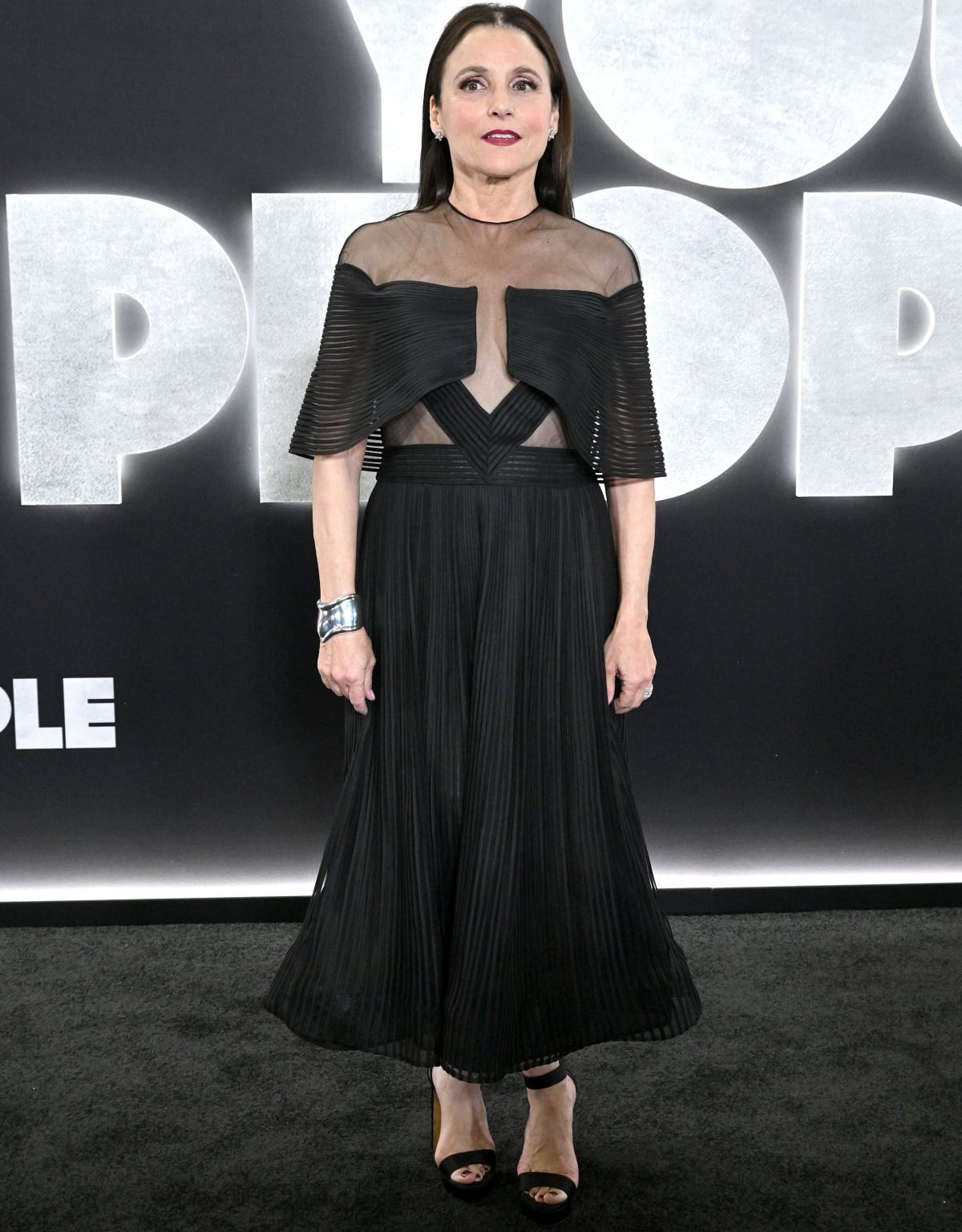 Looking elegant in Cong Tri, Julia Louis-Dreyfus stepped out on the black carpet at the You People premiere in Los Angeles, California on January 17, 2023 (Credit: BauerGriffin / INSTARimages / Cover Images)
This 62-year-old legend stunned in a black peekaboo gown from the Cong Tri Spring 2023 collection at the film's premiere. The dress featured see-through mesh detailing on the top, showcasing her cleavage and impressively toned midriff. Her tiny body was well highlighted by the emphasis placed on her waist.
To complete the look, she accessorized with stunning Tiffany & Co. jewelry, adding a touch of elegance and luxury to her already breathtaking ensemble.
5. Nia Long (Fatima Mohammed) – 5ft 2 (157.5 cm)
Nia Long portrays Amira's mother, Fatima, who shares her husband's apprehensions about her daughter marrying someone from a culture she doesn't know much about.
The 52-year-old actress has been through some intense emotional situations on screen, from her early TV role as Will Smith's girlfriend and fiancée Lisa in The Fresh Prince of Bel-Air to more notable shows like Netflix's Fatal Affair.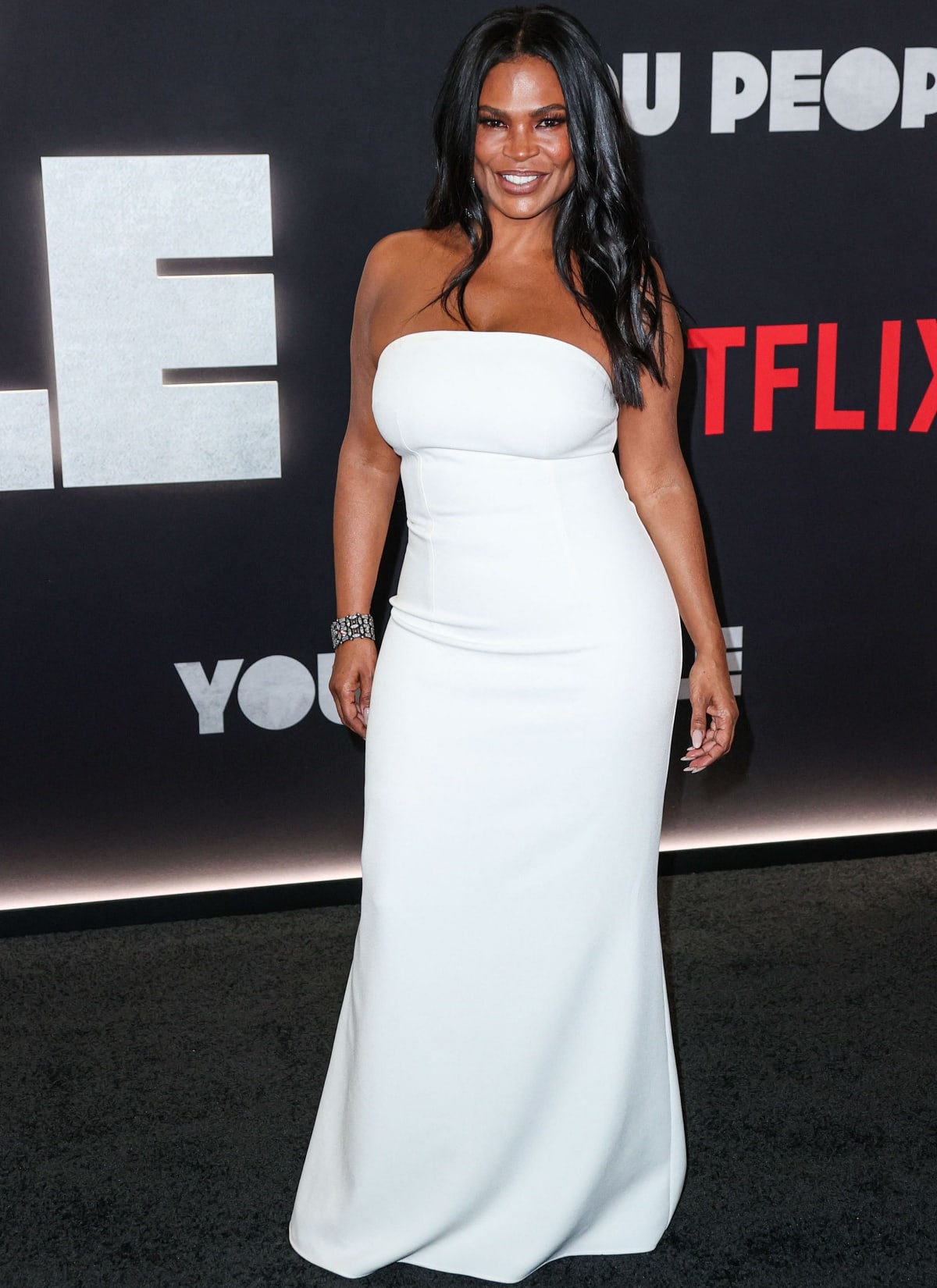 Nia Long stealing the spotlight at the You People premiere in Los Angeles, California on January 17, 2023 (Credit: Xavier Collin / ABACA / INSTARimages / Cover Images)
At the premiere of the Netflix film You People in Los Angeles, Nia Long turned heads in a sultry strapless Elizabeth and James Kendra gown. The outfit consisted of a tight corset top and a floor-sweeping skirt.
Nia opted for a goddess-like style, choosing natural but elegant makeup that was finished off with a seductive smoky eye. She wore glimmering earrings and a diamond bangle bracelet to finish her ensemble.
6. David Duchovny (Arnold Cohen) – 6ft ⅛ in (183.2 cm)
Arnold Cohen is Ezra's dad, a well-intentioned but overbearing father figure. Despite his best intentions, Arnold often finds himself in humorous and awkward situations due to his tendency to speak his mind without thinking about the consequences.
His character in the film appears to be slightly fixated on Xzibit, whom he previously co-starred with in "The X Files: I Want to Believe" (2008), but Duchovny didn't mention this connection to the filmmakers for fear they would alter his lines.
Unlike his fictional counterpart, David Duchovny appreciates the significance of language. The five-time novelist and Golden Globe winner has a Bachelor of Arts from Princeton University and a Master of Arts from Yale University in English literature.
In addition to his role as FBI agent Fox Mulder on The X-Files, the American actor is well-known for his role as writer Hank Moody on Californication.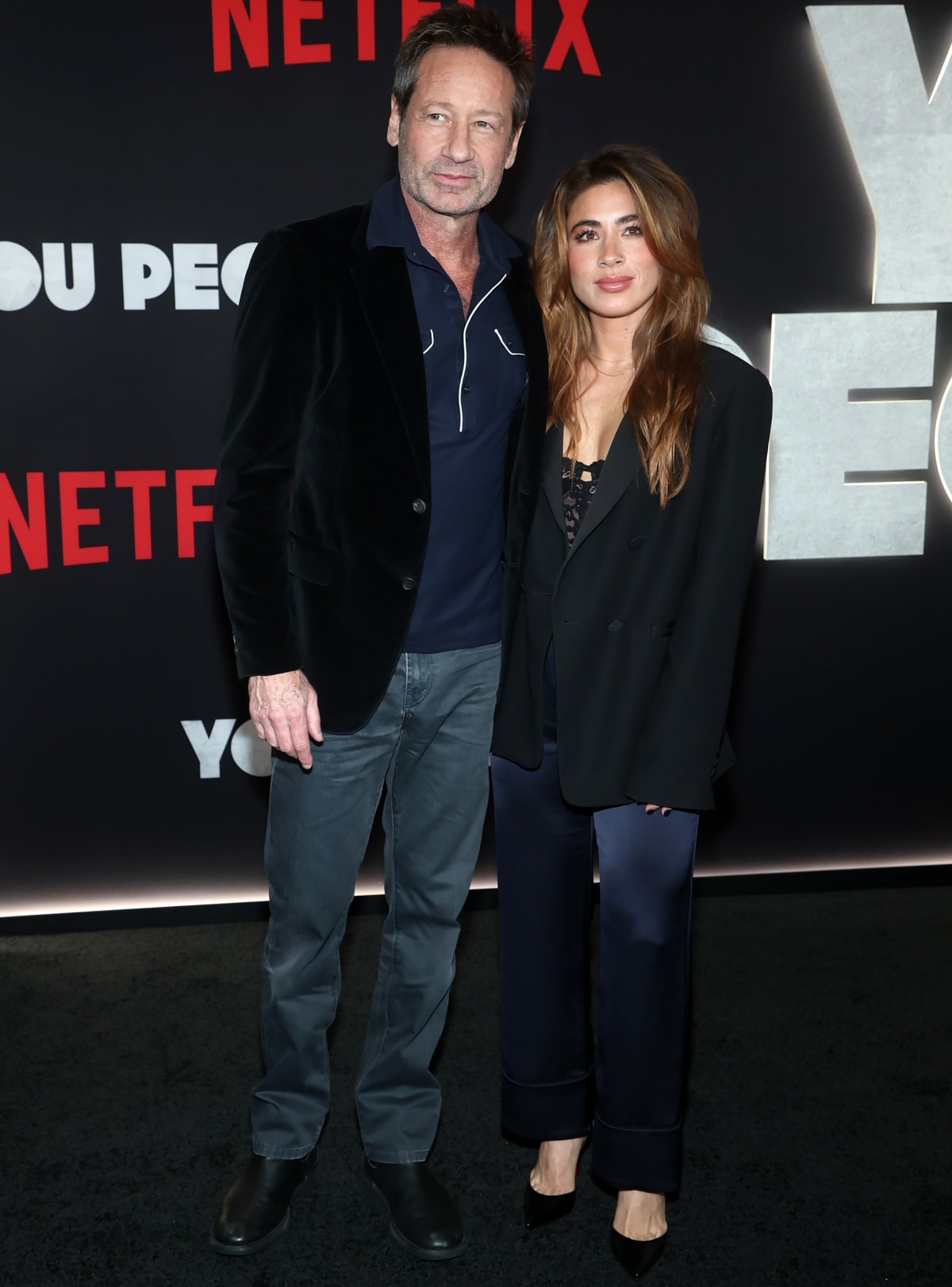 David Duchovny with younger girlfriend Monique Pendleberry at the premiere of You People in Los Angeles, California on January 17, 2023 (Credit: Faye's Vision / Cover Images)
On the black carpet, David Duchovny held hands with his 29-year-old girlfriend, Monique Pendleberry. The 62-year-old star donned a black coat over a blue shirt with white trim and grey pants. Monique, who is 33 years his junior, sported a black jacket over a black lace top, blue pants, and black shoes.
David and Monique have been dating since 2017. They are said to have met at SunLife Organics Juicery, owned by David's friend Khalil Rafati, where Monique worked.
From 1997 to 2014, the actor was married to 56-year-old actress Téa Leoni. The former couple has a daughter, West, age 23, and a son, Kyd Miller, age 20.
7. Molly Gordon (Liza Cohen) – 5ft 4 (162.6 cm)
Molly Gordon, who previously co-starred with Jonah Hill's real-life sister Beanie Feldstein in the film Booksmart, plays Liza, Ezra's on-screen sister, in the new Netflix film You People. Like her brother, she has a keen eye for fashion.
The 27-year-old American actress has starred in several popular films and television shows, including the drama series Animal Kingdom as Nicky, the comedy film Life of the Party as Maddie, and the adventure film Good Boys as Hannah.
Following Jonah Hill's footsteps, the Shiva Baby star is transitioning into directing. Theatre Camp, which Molly co-directed with Nick Lieberman, had its official launch at the Sundance Film Festival on January 21.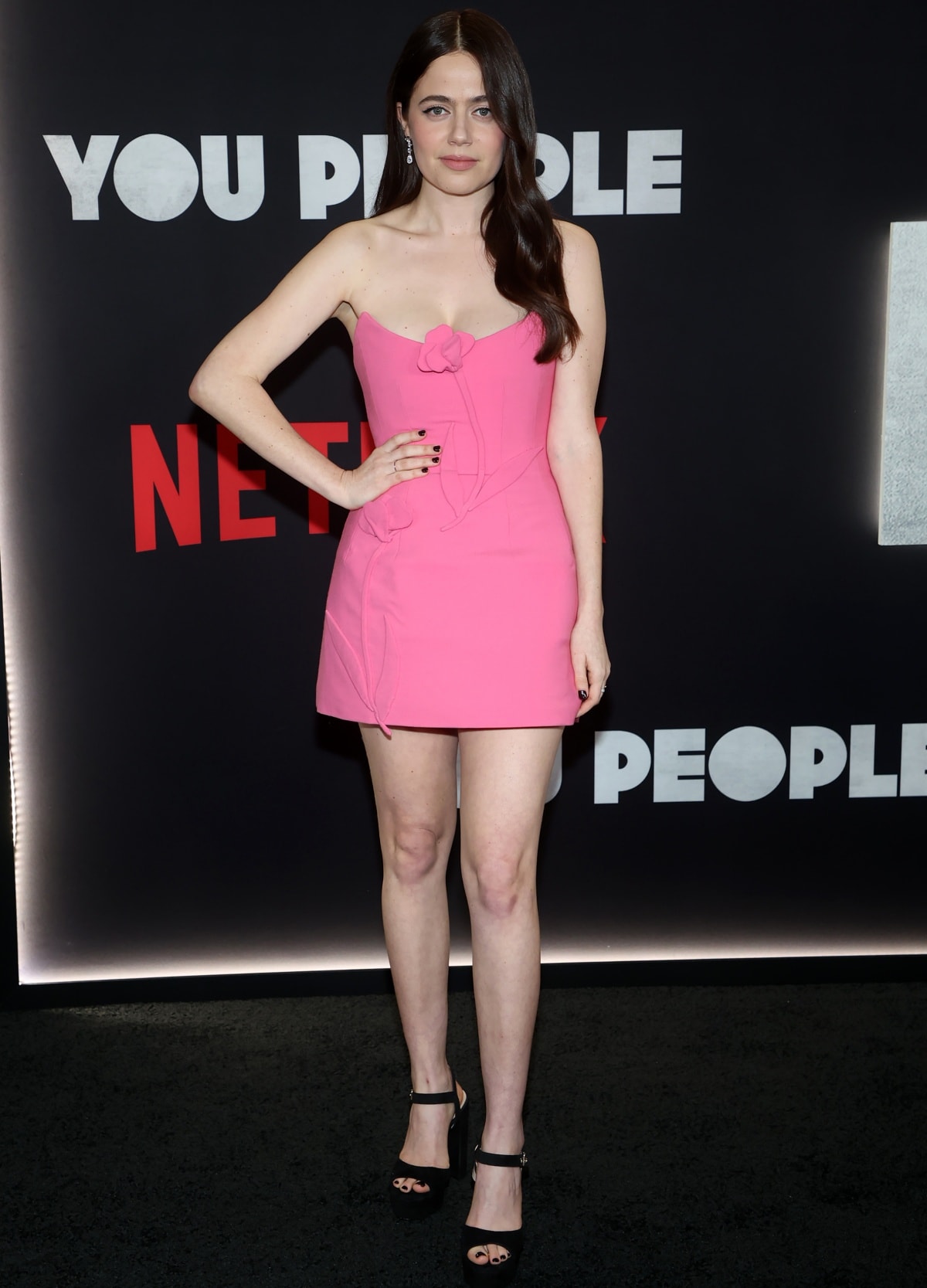 Pretty in pink, Molly Gordon made an appearance at the premiere of You People in Los Angeles, California on January 17, 2023 (Credit: Faye's Vision / Cover Images)
Molly Gordon exuded a lively and energetic vibe in a playful pink mini-dress at the You People premiere. The dress was perfectly paired with sleek black sandals, adding an element of sophistication to her overall appearance.
She chose sparkling earrings and black nail art to complete her look, adding elegance and edge. Combining the pink dress and black details created a visually striking and memorable outfit.
8. Travis Bennett (Omar Mohammed) – 6ft 1 (185.42 cm)
Odd Future's Taco portrays Amira's brother Omar Mohammed, who looks out for her.
After first coming to prominence alongside Tyler, the Creator, Travis Bennett shifted gears and began acting. The best friend of the supermodel and socialite Kendall Jenner first appeared in Dave, the critically-acclaimed comedy series by Dave Burd (Lil Dicky).
Travis Bennett was all smiles as he stepped out on the black carpet at the Los Angeles premiere of You People on January 17, 2023 (Credit: Faye's Vision / Cover Images)
The rapper-turned-actor made a bold fashion statement at the premiere of his latest film with his take on medieval chic. He sported a silky white tunic, reminiscent of the garments of royalty in the Middle Ages. The long sleeves added an elegant touch, while the black pants and shoes grounded the look with a modern edge. To add a personality to Taco's ensemble, he finished off his outfit with a beaded necklace.
Other You People Cast Members
You People has an all-star cast that is sure to entertain viewers. Aside from the Cohens and Mohammeds, the cast includes familiar faces and fresh talent.
The other cast members of Netflix's You People are:
Sam Jay (Pause with Sam Jay) as Mo, Ezra's friend
Mike Epps (The Hangover) as EJ Mohammed, Amira's uncle
Deon Cole (The Harder They Fall) as Demetrius
Rhea Perlman (Matilda) as Bubby Cohen, Ezra's grandmother
Andrew Schulz (Guy Code) as Avi Cohen, Ezra's cousin
Andrea Savage (Dog Bites Man) as Becca
La La Anthony (Think Like a Man) as Shaela
Jordan Firstman (Men Don't Whisper) as Danny
Bryan Greenberg (How to Make It in America) as Issac
Matt Walsh (What Is a Woman?) as Don
The star-studded cast of the 2023 buddy comedy film You People (Credit: Netflix)
This film also features impressive guest appearances from Anthony Anderson (Black-ish) and other well-known actors, including Elliott Gould (Friends), Hal Linden (The Samuel Project), Richard Benjamin (Goodbye, Columbus), Nelson Franklin (The Millers), Rob Huebel (Childrens Hospital), and Winnie Holzman (My So-Called Life).
With such a talented cast, You People will be a surefire hit, as it premiered on Netflix on January 27.
So, don't miss out, and give it a watch!