Kim Kardashian hosted Saturday Night Live over the weekend and the critics were not impressed by her performance.
Making fun of her sex tape, plastic surgery, O.J. Simpson, her divorce from Kanye West, her sisters, and much more in her monologue, the bland jokes did not make the critics laugh.
"I'm excited to be here tonight to show you guys that I'm so much more than just a pretty face… and good hair and great makeup and amazing boobs and a perfect butt," Kim said. "Basically, I'm just so much more than that reference photo my sisters show their plastic surgeons."
Kim Kardashian heads to the SNL afterparty at Zero Bond private members' club in New York City on October 9, 2021 (Credit: MEGA / WENN)
"I only had that one movie come out — and no one even told me it was premiering," Kim joked about her sex tape with Ray J. "It must have slipped my mom's mind."
"But the one thing I'm really proud of is that no one could ever call me a gold digger," Kim said about her mom's much younger boyfriend Corey Gamble. "Honestly, I'm not sure how you even become one. So I asked my mom's boyfriend Corey."
"I married the best rapper of all time. He's also the richest black man in America who gave me four amazing children," Kim said about her third husband Kanye. "So when I divorce him, that means it comes down to just one thing…personality."
Kim Kardashian styled a hot pink catsuit by Balenciaga with a luxurious ruffled coat (Credit: WENN / MEGA)
While making clear that Kim isn't funny, Vanity Fair gave one of the kindest reviews of her performance. "There's something so endearing, inspiring even, about how hard this woman works. She was in nearly every sketch, which in itself shows a sign of respect for the assignment. And my god, she is a good sport and had clearly told the writing staff to go ahead and take every shot."
"Her monologue was a tumble of self-roasting Kardashian jokes, indicating that the influencer and her like-minded but not quite as successful clan had collectively decided to get ahead of the wave by allowing Kim to read out some of the Saturday Night Live writers' moderately cutting one-liners," The A.V. Club wrote. "So why does it feel like it's we Saturday Night Live viewers who were the real butts of the joke?"
Kim Kardashian's skintight spandex bodysuit features attached pointy-toe heels (Credit: WENN / MEGA)
"Given that the days of shunting a non-acting host off-screen for most of the episode are long gone, this probably could have gone worse. But there was an air of Kardashian World insularity that hung over the episode; this felt like an episode for the Kim Faithful (and/or her friends and family) more than something for comedy fans," New York-based online magazine Consequence wrote in their review.
"It speaks to how little confidence the show's writers and producers had in Kardashian West that they needed to bolster this episode with so many celebrity cameos and cute animals. They weren't wrong to do so – while she wasn't a disastrous host, she was by no means good," The Guardian said in their scathing review.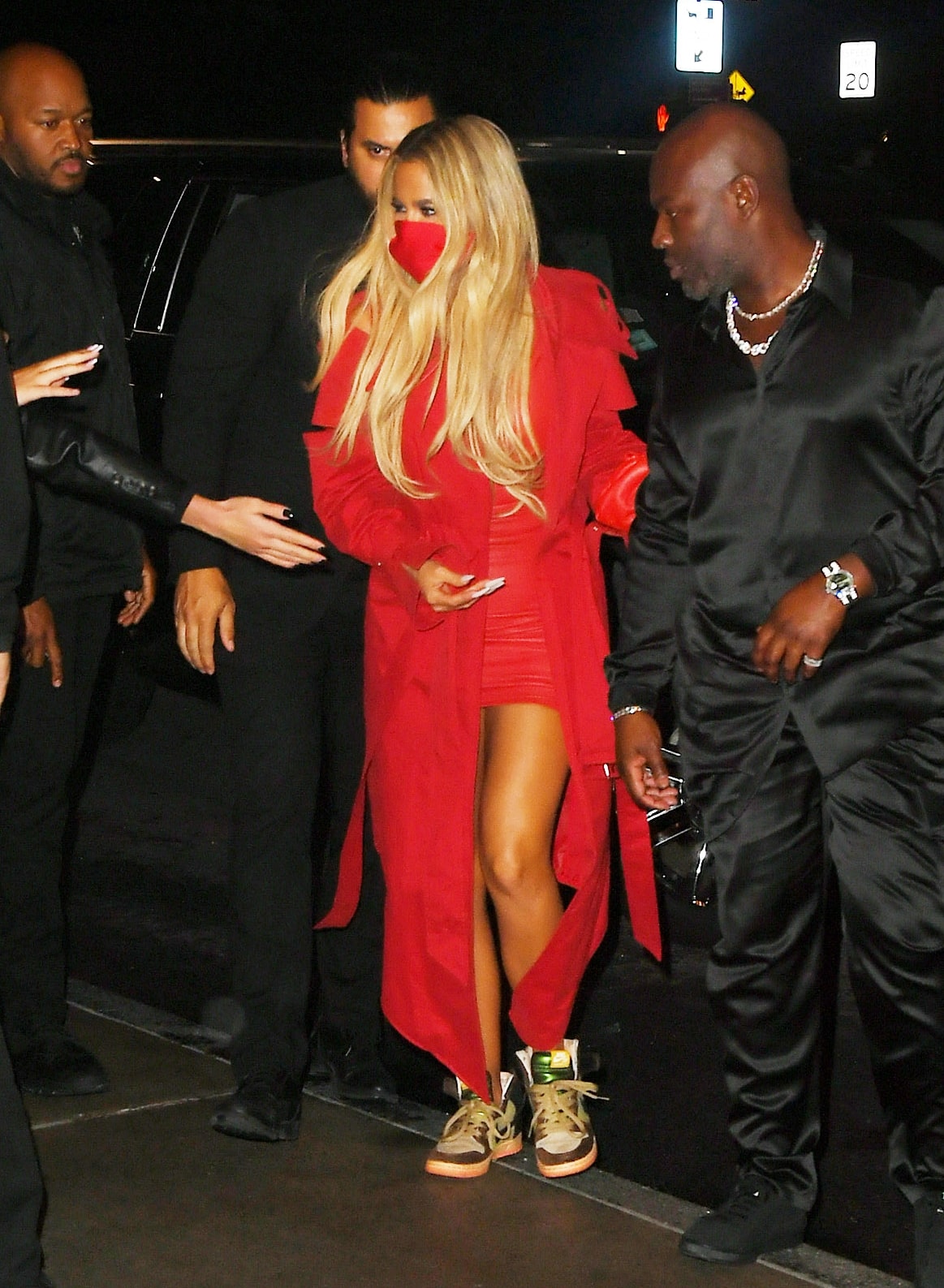 Joined by Corey Gamble, Khloe Kardashian wears a red LaQuan Smith dress and sneakers for the Saturday Night Live after-party on October 9, 2021, at Zero Bond in New York City (Credit: MEGA / WENN)
After hosting Saturday Night Live, the Skims founder was joined at the after-party at Zero Bond by Jesse Williams, Rami Malek, Chris Rock, sister Khloe Kardashian, mom Kris Jenner and her boyfriend Corey Gamble, Lala Anthony, Blake Griffin, SNL's Lorne Michaels, Gayle King, Amy Schumer, Aidy Bryant, Tyler Cameron, SNL producer Lindsay Shookus, Colin Jost, Michael Che, Heidi Gardner, Chace Crawford, Jonathan Cheban, Simon Huck, Harry Hudson, and Scott Disick.
In March 2016, Kim Kardashian made us wonder if pregnant women should stay away from tight leather dresses and high heels.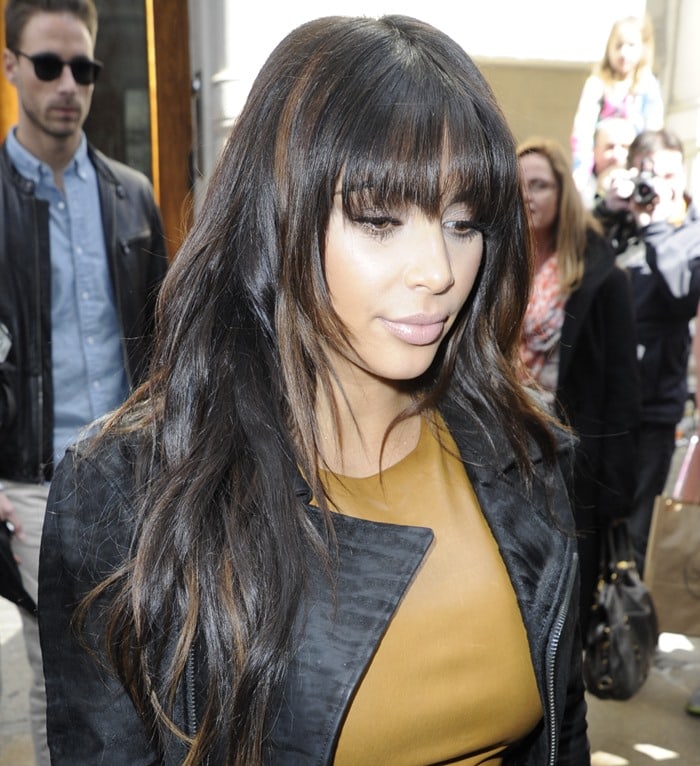 Pregnant Kim Kardashian wears a camel-colored leather dress in Soho on March 26, 2013 (Credit: TNYF / WENN)
While they may be cozy when it's cold outside, the tightness of Kim's camel-colored leather dress, which was designed by Kanye West, didn't seem to provide the right amount of space for her baby bump needs.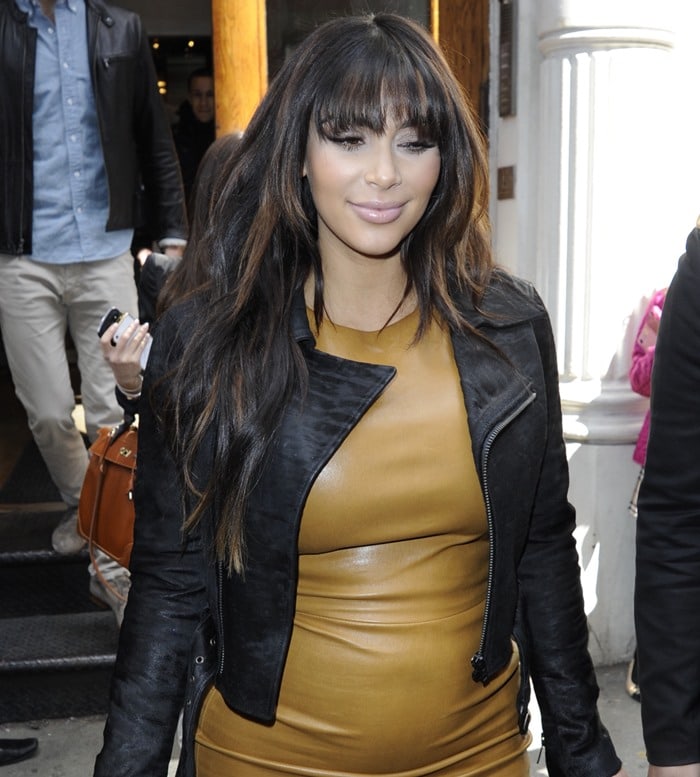 Kim Kardashian squeezed her baby bump into a leather dress (Credit: TNYF / WENN)
She even wore a leather biker jacket over the dress, also designed by her beau.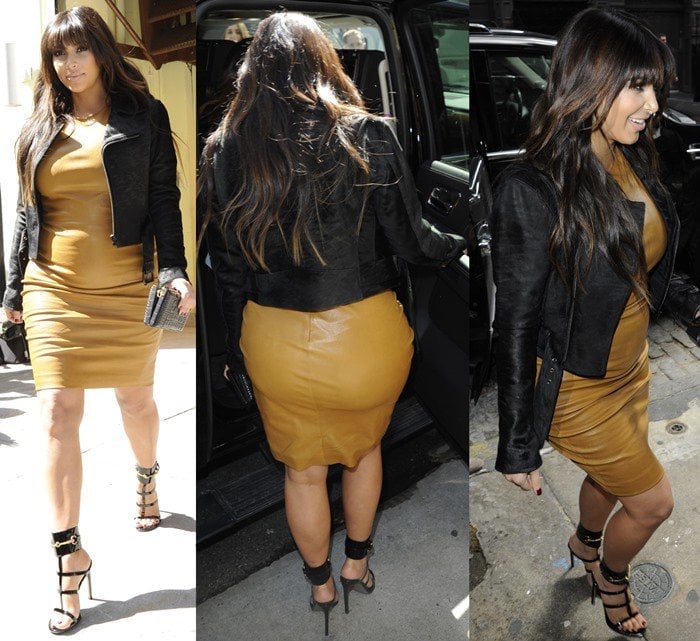 Kim Kardashian wore Spanx underneath a tight camel-colored leather dress (Credit: TNYF / WENN)
Apart from the leather dress, Kim Kardashian couldn't be stopped from wearing heels.
She was pregnant with North West, her firstborn daughter with Kanye West who was born on June 15, 2013, at Cedars-Sinai Medical Center in Los Angeles.
Not even pregnancy can stop Kim Kardashian from wearing heels (Credit: TNYF / WENN)
Pregnant women usually wear flats, but we love Kim for daring to be different.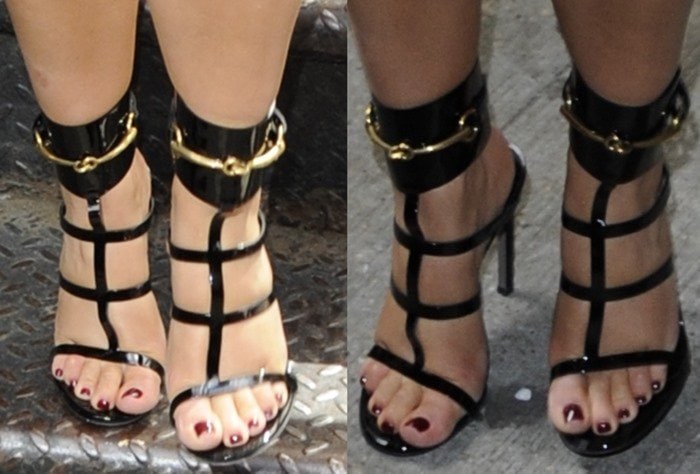 Kim Kardashian shows off her feet in Gucci Ursula heels (Credit: TNYF / WENN)
Let's leave the dress for now and focus on Kim's heels, which are from Gucci's Spring 2013 collection.
The sandals are made of patent leather and made in a cage silhouette. They feature thin straps and an ankle cuff that's a bit wider to give enough space for the iconic gold metal Horsebit detail.
I know many of you love black since it's a classic and versatile color, but Kim's sandals are available in several different color combinations at Bergdorf Goodman, Nordstrom, and Saks Fifth Avenue.
Gucci "Ursula" Sandals in Black, $850
Gucci "Ursula" Sandals in Cobalt, $850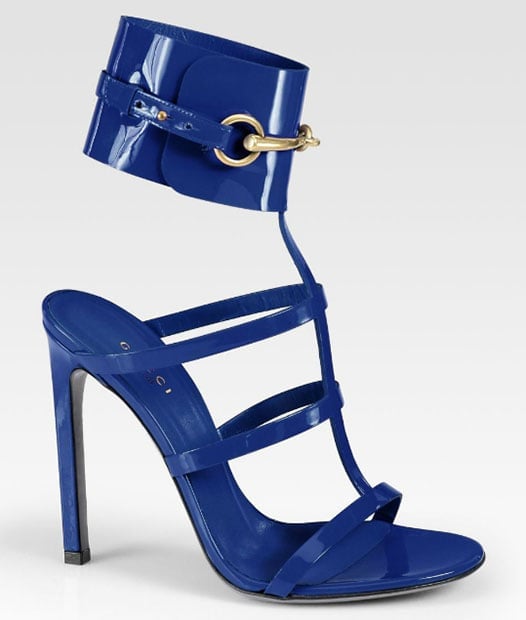 Gucci "Ursula" Sandals in White, $850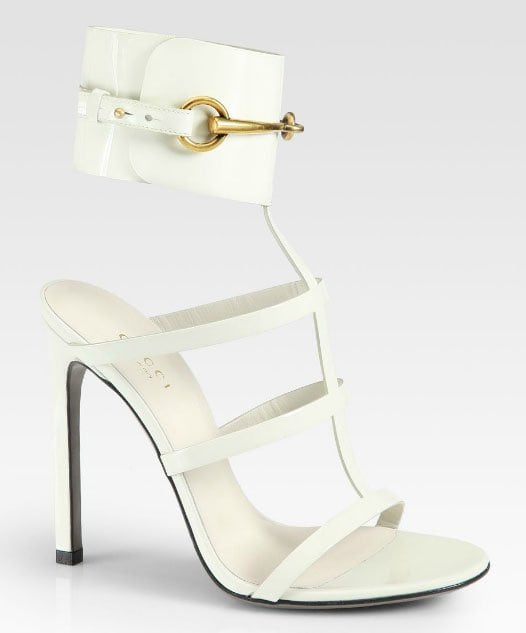 Gucci "Ursula" Sandals in Pink, $850