Just a few months after revealing shocking details about having 7 kids with different mothers, Nick Cannon opened up about dating Kim Kardashian back in the 2000s.
Meeting on the set of the American television sitcom Moesha, the Skims founder was Brandy's personal stylist and even dated her brother, Ray J, on and off from 2003 to 2006.
Nick and Kim dated around the time when her infamous sex tape with her ex-boyfriend Ray J was leaked in early 2007.
Nick Cannon and Kim Kardashian dated briefly in 2006 and 2007 (Credit: PNP / WENN)
"We were on the set of Moesha, and Ray J was with Kim Kardashian— and Kim was the stylist," Mariah Carey's ex-husband reveals in his mixtape, The Gospel Of Ike Turn Up: My Side Of The Story.
"I was like, 'Who's the stylist with all the ass?' Even when I was scheming on Brandy. But whatever Kim and Ray's situation was, she came up to me and asked, 'What's poppin?' I was like, 'Oh, let's go get something to eat."'
"People didn't know, they were like 'who's that chick with Nick? She's bad,'" he said on the "Drink Champs" podcast.
He added, "And then a year later probably when the tape came out, I believe the tape was made prior to me in my mind because it looks like to people I was with her first and then a year later or whatever the tape came out. But I think that tape was an older tape, but it looks to the public it was Nick, and then it was the tape."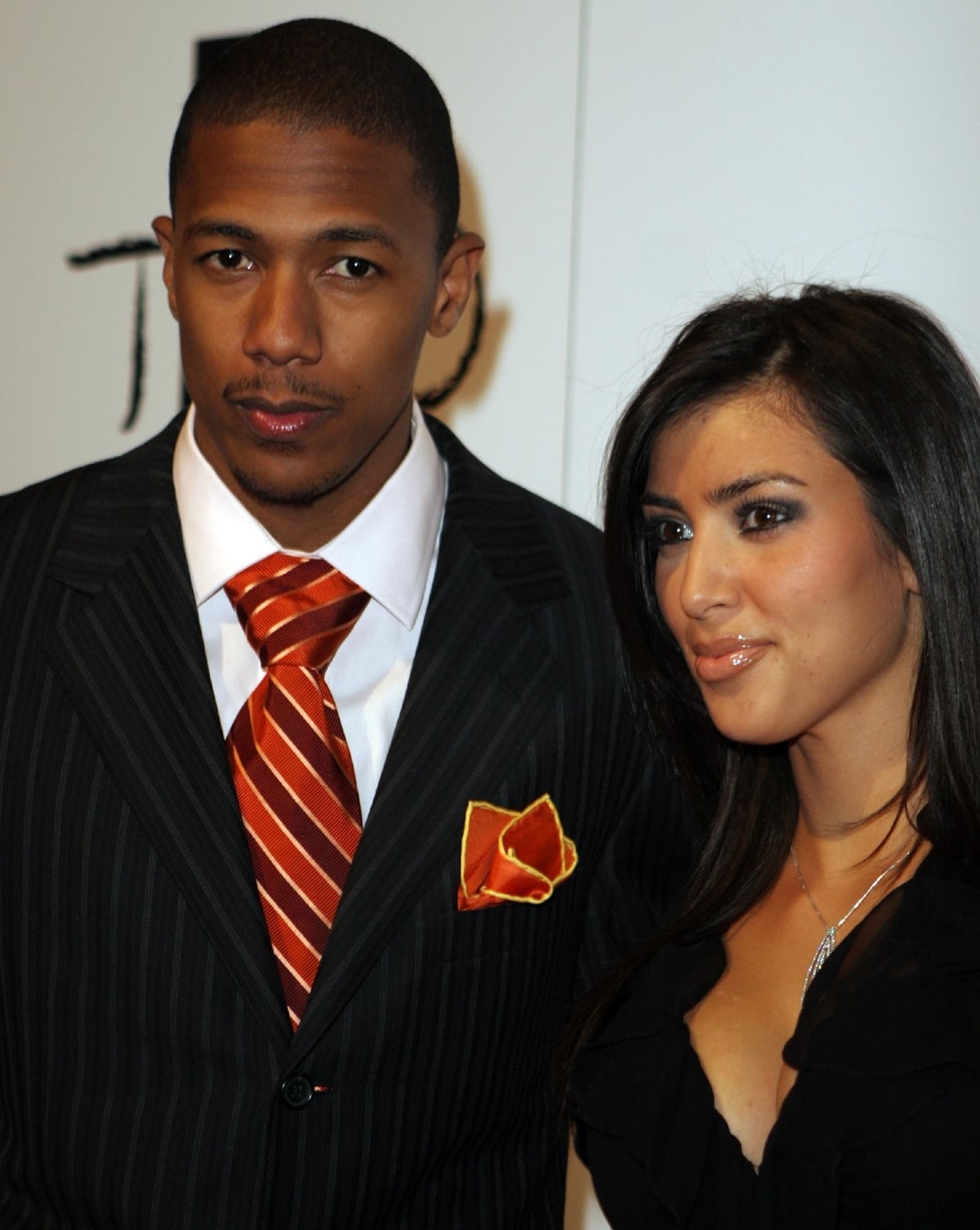 Nick Cannon says they split after Kim Kardashian lied to him about the existence of her sex tape with Ray J (Credit: Judy Eddy / WENN)
Nick continued, "I believe Ray J knew her before I did." Nick said he was serious about their relationship, "I was really into her, I was vibing," adding she is an "amazing person."
"She broke my heart," Nick emphasized. "Then, it started being these rumors going around that it was this tape." He explained, "When I asked her about it, she denied it. I knew that they messed with each other. I never watched the tape."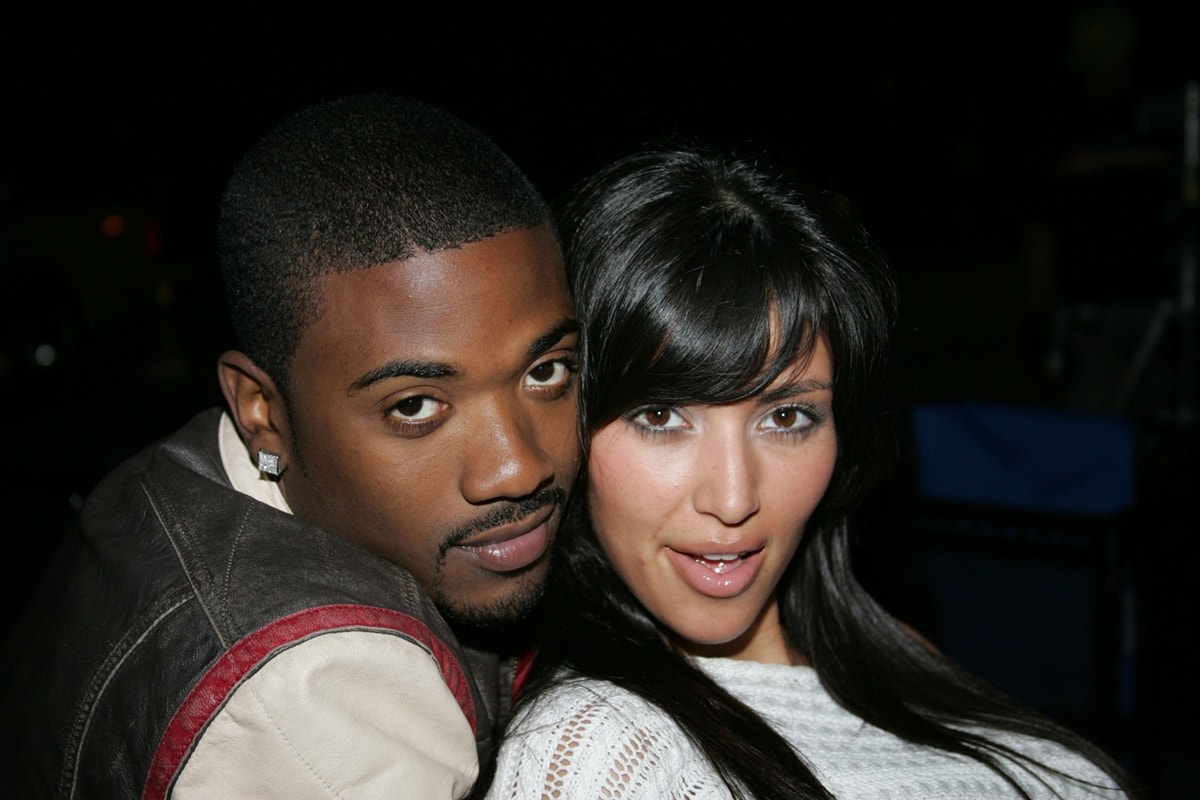 Kim Kardashian and Ray J dated on and off from 2003 to 2006 and their sex tape was released on March 21, 2007, by Vivid Entertainment (Credit: David Livingston / WENN)
"I did ecstasy once and I got married. I did it again, I made a sex tape," Kim admitted in a 2018 episode of Keeping Up With the Kardashians. "Like, everything bad would happen."
The 2007 pornographic film "Kim Kardashian, Superstar" features Kim Kardashian and singer-actor Ray J having sexual intercourse while on vacation in Cabo San Lucas, Mexico.
Mariah Carey and Daughter Monroe Turn Kids' Choice Awards Red Carpet Into a Family Fashion Affair With Matching Outfits
Mariah Carey flaunts her legs in a dark blue striped Adidas tracksuit minidress (Credit: Adriana M. Barraza / WENN)
In March 2017, Mariah Carey turned the 2017 Kids' Choice Awards into a fun-filled and stylish family affair as she attended the star-studded event with ex-husband Nick Cannon and their adorable twins, Monroe and Moroccan.
The family was dressed to impress in matching his and hers outfits while they worked the orange carpet.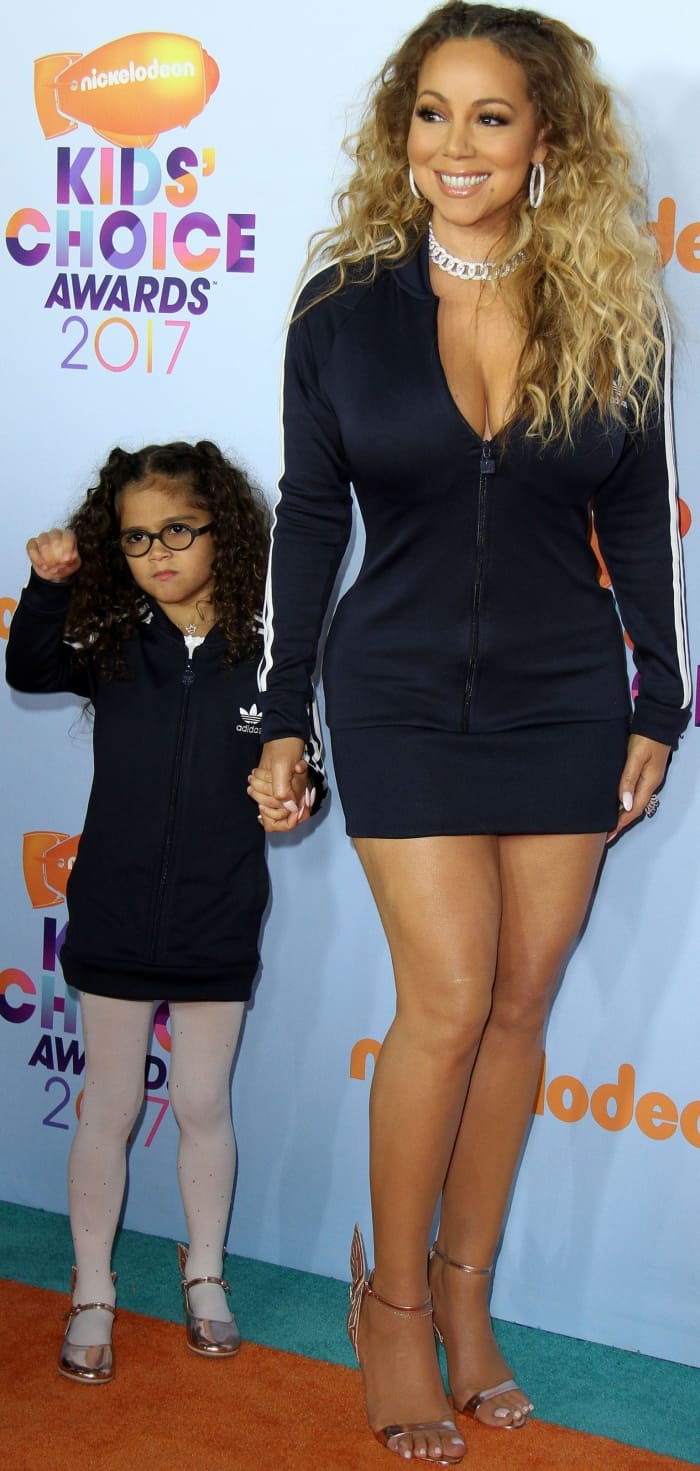 Mariah Carey and daughter Monroe wearing matching striped Adidas mini dresses and Sophia Webster "Chiara" rose gold shoes (Credit: Adriana M. Barraza / WENN)
The then 46-year-old superstar wore a dark blue mini dress from Adidas, which showed off her curves and plenty of cleavage.
Daughter Monroe wore a matching striped dress with white stockings, and both ladies styled their hair in loose curls with two braided pigtails on top.
Mariah Carey and daughter Monroe at the 2017 Kids' Choice Awards held at the USC Galen Center in Los Angeles, California, on March 11, 2017 (Credit: Adriana M. Barraza / WENN)
Mariah added a dose of glamour to her sporty look with a silver chain necklace, hoop earrings, and an assortment of rings.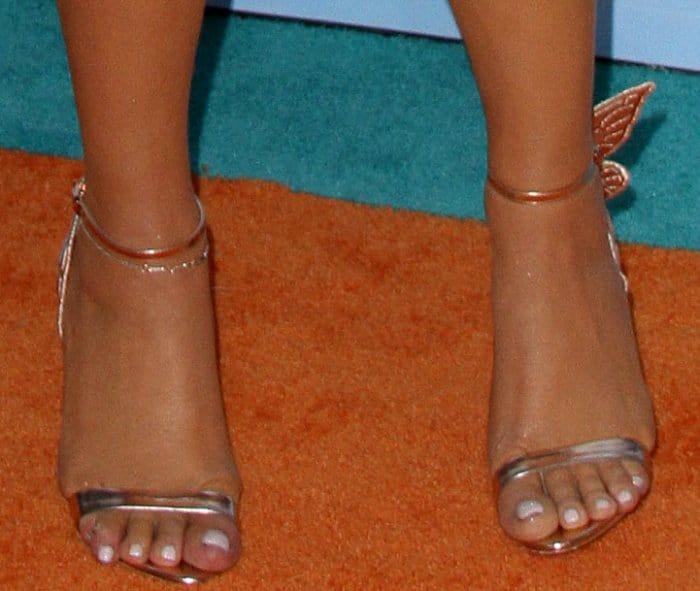 Mariah Carey displays her toes in Sophia Webster "Chiara" rose gold sandals (Credit: Adriana M. Barraza / WENN)
She completed her ensemble with updated "Chiara" sandals from Sophia Webster, while Monroe wore the "Chiara Mini" flats.
Mariah Carey shows off her feet in rose gold Chiara sandals (Credit: Adriana M. Barraza / WENN)
The updated "Chiara" sandals come in a rose gold-colored calf leather finish and have a d'Orsay silhouette, thin toe bands, adjustable ankle straps, and lacquered heels.
The embroidered butterfly wings jutting out from the scalloped heel counters are really what make these shoes stand out.
Moroccan Scott Cannon wears white stockings with flat Sophia Webster shoes featuring butterfly wings (Credit: Adriana M. Barraza / WENN)
You can buy the shoes from the popular women's shoe brand for $675 at Nordstrom. For other "Chiara" styles, check out Farfetch.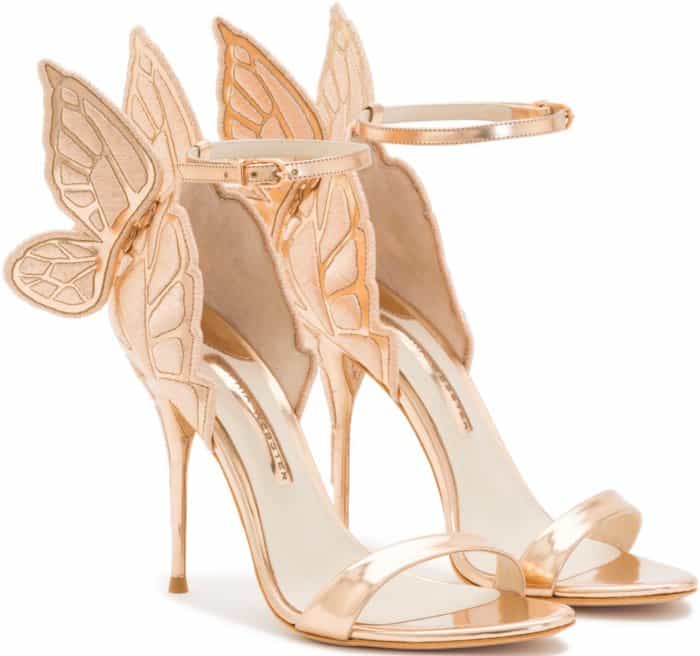 Sophia Webster Chiara Sandals in Rose Gold, $675
Monroe's "Chiara Mini" flats, on the other hand, featured rose gold mirror toes and rose gold buckles. They also have leather ankle straps and the same embroidered butterfly wings.
Sophia Webster "Chiara Mini" Flats $260
Meanwhile, Nick and his son Moroccan stepped out in matching orange ensembles. They wore sleeveless hooded sweatshirts and shorts. The boys also wore sunglasses and matching tan boots customized with the Nickelodeon logo.
Nick Cannon and his son Moroccan in matching outfits at the 2017 Kids' Choice Awards held at the USC Galen Center in Los Angeles, California, on March 11, 2017 (Credit: Adriana M. Barraza / WENN)