While both parties are currently saying the same tune, that the affair did not happen, the history between Kris Jenner and O.J. Simpson is a tale covered in rumors and gossip.
How Kris Jenner and O.J. Simpson Are Connected
Kris knew O.J. through her then-husband, Robert Kardashian Sr., and her friend Nicole Brown Simpson.
The two couples would spend time together on double dates before both sought to divorce in the early 90s. Robert was Simpon's attorney and long-time friend. O.J. was a former NFL player and actor at the time.
On a group vacation, O.J. Simpson and Kris Jenner allegedly had an affair. The 2019 crime documentary "Who Killed Nicole?" by Kyle Saylors describes a scene where Kris and O.J. were alone together in a Jacuzzi after Robert and Nicole had gone to bed.
Norman Pardo, the source of the information in the documentary, claims to be O.J.'s former manager, which O.J. denies.
The first thing I want to set straight is this story Pardo (who was not my manger) is talking about all over the media regarding me & @KrisJenner pic.twitter.com/tZ9EJd4qxF

— O.J. Simpson (@TheRealOJ32) June 17, 2019
According to the documentary, O.J. is said to have had sex with Kris in the Jacuzzi. She was allegedly later taken to the hospital for injuries sustained by his large penis. O.J. is said to have bragged about this incident to Pardo.
"'O.J. said he stood up, pulled his shorts down and, I'll give you exactly what he said: 'Her eyes bugged out of her head and I f–ked that B until I broke her,'" Pardo recounts on camera according to Page Six.
Pardo also claims this isn't the first time O.J. has bragged about his penis size, insinuating in one story that it was 12 inches long. These details are the most specific we have about the affair.
Now, what do Kris and O.J. say about the rumors of the hot-tub affair?
Kris Denies Affair with O.J. Simpson
During the 25th anniversary of Nicole Brown Simpson's murder in 2019, of which O.J. was tried and acquitted, Kris shared on Keeping Up with the Kardashians (KUWTK) that she still thought of her friend and how much love she had for her.
According to LMN's documentary The Secret Tapes of the O.J. Case: The Untold Story, Kris never got over the survivor's guilt that she felt over not speaking up for Nicole or asking how she was in the last days of her life and believes that O.J. was indeed the man behind her friend's murder.
"At the end of Nicole's life, I think she finally was at a place where she knew she had to be more vocal with what was going on and she was in trouble," Kris said in the interview that also aired as part of an episode of 20/20 on ABC.
"The one thing she would tell all of us by the time, you know, it got to that level was, 'He's going to kill me and he's going to get away with it.'"
She added, "I will always feel guilty that I didn't pay more attention and didn't speak up when I thought anything was wrong or asked her more, 'Do you want to talk about it?'"
"Her voice, pleading for somebody to come to her house because she thought he was going to beat the s— out of her, you know, I think that, that was so shocking to me because I had never heard that before," Jenner said about a phone call that Nicole Brown Simpson made to police about her ex-husband O. J. Simpson.
Photographed in 1998, O.J. Simpson denies he had an affair with Kris Jenner and claims he's not Khloé Kardashian's father
During the anniversary, speculation over the affair came back into the media. It was insinuated that Kris' daughter and fourth child with Robert, Khloé Kardashian, was actually the child of that affair.
"It's just lie after lie after lie after lie, and it's only so much that one human being can take," Kris said on KUWTK when she spoke to her daughter about her rumored parentage.
Kris insists it is not true and that Khloé's father is Robert, who passed away from cancer in 2003.
The rumors gained steam once again after O.J. gained parole in 2017 and left prison after serving a sentence for robbery. Rumors sprung up again after the birth of Khloé's daughter True.
Kris has denied the affair on multiple occasions and steadfastly held her ground over the paternity of her youngest daughter with Robert. After her divorce, Kris would marry former Olympian Bruce Jenner (now Caitlyn) and birth two additional daughters, Kendall and Kylie.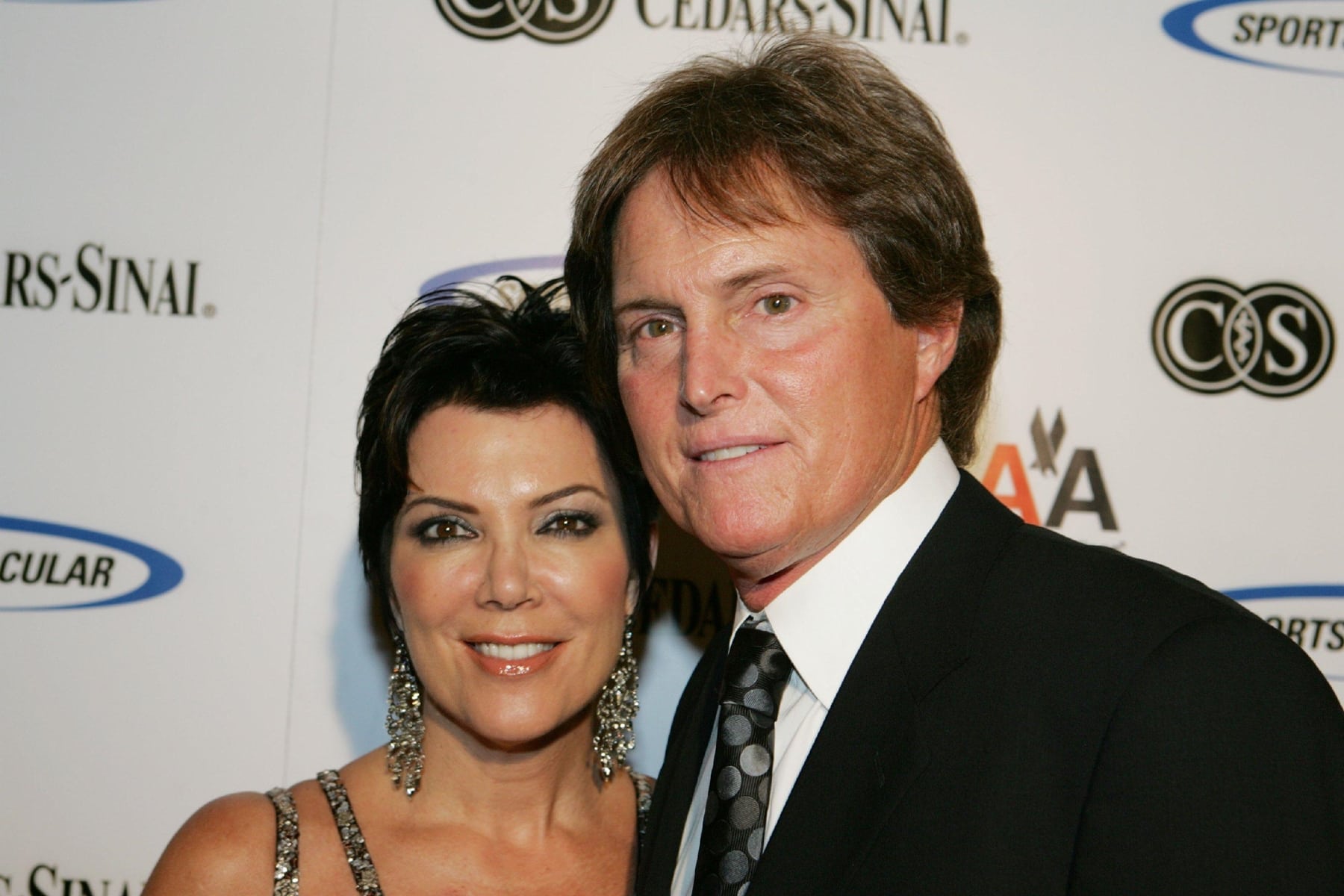 Kris Jenner and Bruce Jenner were married from April 21, 1991 to March 23, 2015
"I'm so over stupid rumors of things that never happened," she said during the KUWTK episode, remembering Nicole.
O.J. Simpson Clears up Affair Rumors
Kris says the affair did not take place, while Pardo claims O.J. boasted about it. What does O.J. himself have to say about the rumors that have been present in his life since the mid-90s?
O.J. joined Twitter in 2019 to clear up what has been said about him and hold people accountable for the rumors. His first task was to film a video about Kris and their rumored affair.
"Bob Kardashian, he was like a brother to me," O.J. begin, sitting Rober and Kris' marriage and later divorce.
He said in the video that not only did he have no romantic or sexual interest in Kris, but that Kris herself never had any interest in him either.
"…I want to stress never, in any way shape or form, have I ever had any interest in Kris romantically or sexually."
He also makes mention of Khloé and denies that they are related and says he is proud of his friend's children for all they have accomplished.
Kris responded to the Twitter video during that same November 2019 episode of Keeping Up with the Kardashians that she was glad he "set the record straight."
Is There Proof of an Affair?
No. There are no pictures, videos, or evidence other than the word of a few individuals, like Pardo, that an affair took place. O.J. denies the persistent rumor and so does Kris Jenner.
For now, we'll have to take their word for it. With fame comes the possibility of heightened judgment and rumors, of which the Kardashian and Jenner clan are used to with their growing presence each year.
What do you think? Did Kris and O.J. have an affair? Was it in the alleged hot-tub incident or something else? Could it have been more than one time?
All we can say for certain is that all parties are ready to move on.
In February 2016, Kris Jenner joined her fashion model daughter, Kendall Jenner, at the world premiere of "Zoolander No. 2" held Tuesday at the Lincoln Center in New York City.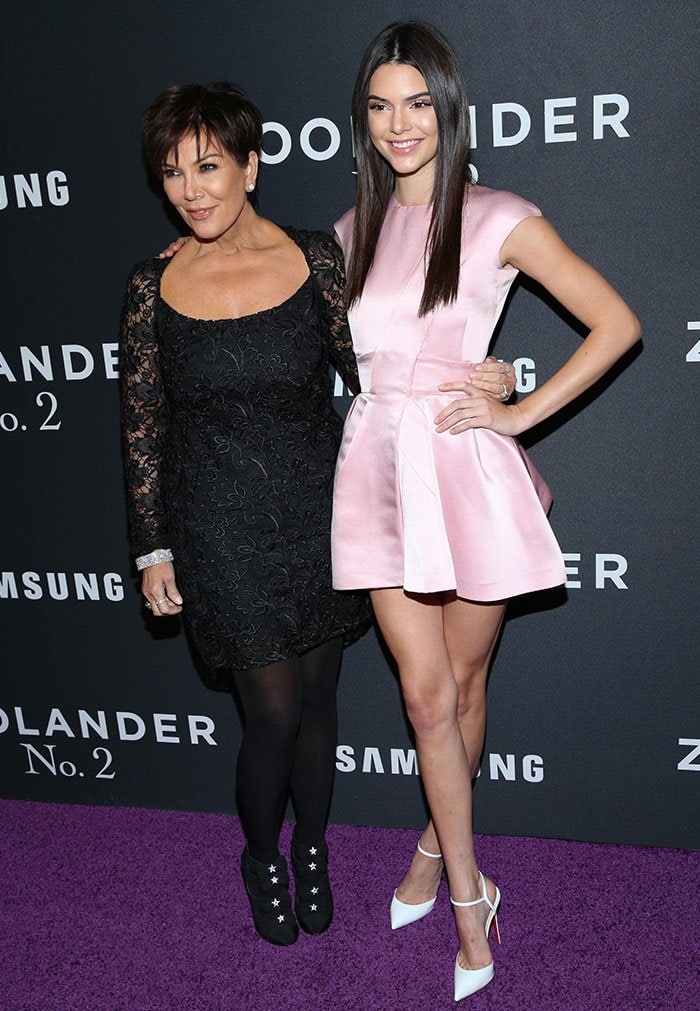 Kris Jenner and Kendall Jenner attend the world premiere of "Zoolander 2" held on February 9, 2016, at Alice Tully Hall in New York City
While Kendall kept it fresh and lovely in pink, momager Kris stuck to her signature black color, wearing a romantic lace dress that showed just the right amount of flesh.
Kris Jenner shows off her close-cropped brown hair at the premiere of "Zoolander No. 2"
The mini frock featured a low-cut scoop neckline, long see-through lace sleeves, and a thigh-skimming hem that flaunted her legs, which were wrapped in black tights.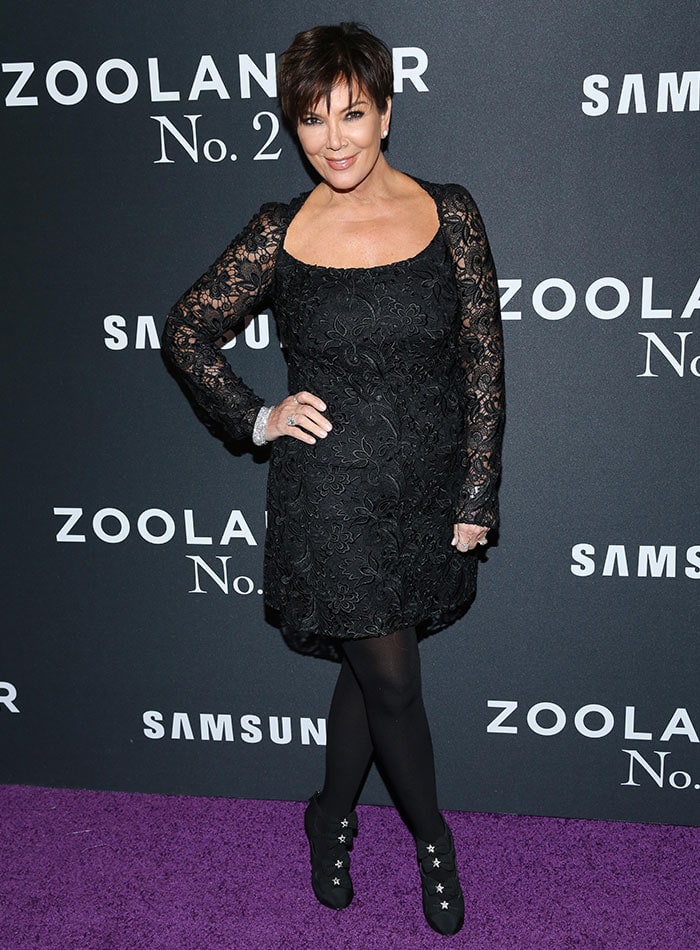 Kris Jenner wears a romantic black dress over a pair of black tights at the premiere of "Zoolander No. 2"
Kris accessorized with diamond earrings, a wide crystal bangle, and a couple of rings to add some radiance to the look. A pair of embellished booties gave her simple — yet dramatic — ensemble a hint of edge!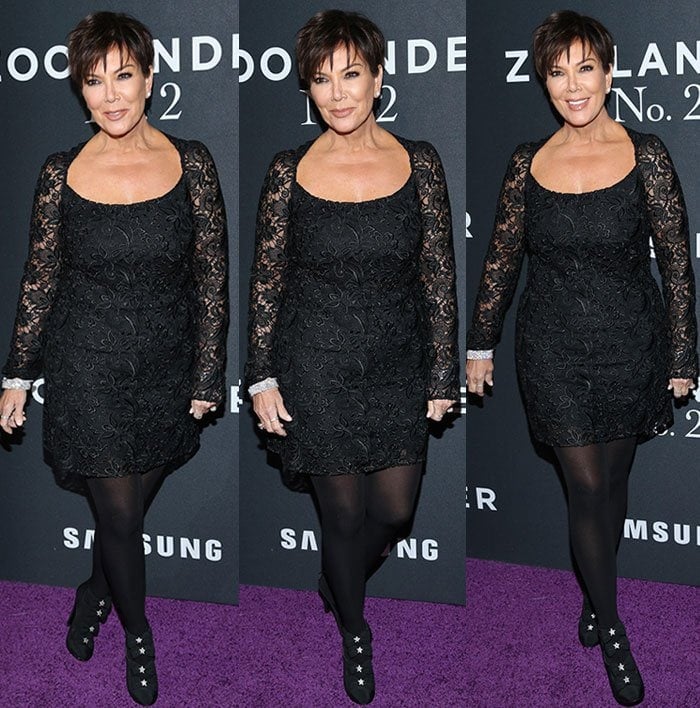 Kris Jenner wears her signature all-black look on the purple carpet
The Kardashian/Jenner matriarch completed her look with flawless makeup, including nude peach lipstick and dark mascara. She also sported her typical messy pixie cut.
Kris finished her look with an interesting pair of booties.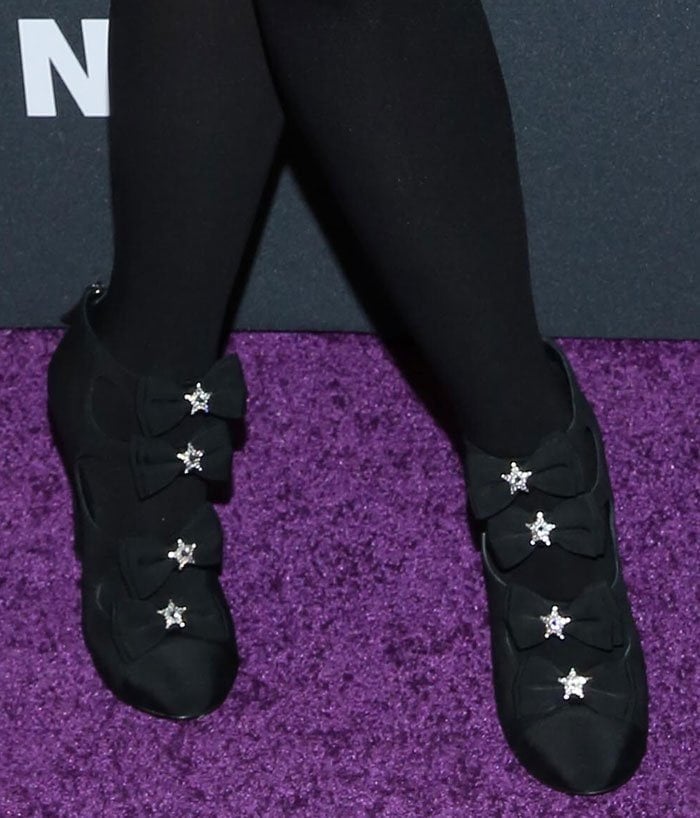 Kris Jenner's feet in bow-and-star-embellished booties
The 4.5-inch shoes featured bows-and-crystal-star embellishments down the front, back zip fastenings, and about 4.5-inch heels.
Can you help us identify her unique boots?
Credit: Andres Otero / WENN / Andrew Samuels / David Livingston