Ever since his feature film debut in 2010's Rabbit Hole, Miles Teller has been a rising star in Hollywood. Kicking off his career with a bang, the actor's popularity has only increased over the last decade, leading to major roles alongside some of the biggest stars in all of cinema.
Whether he's starring in a drama, biopic, or major blockbuster action film, Miles Teller's performance usually leads to praise and critical acclaim.
Miles Teller at Disney+'s Elton John Live: Farewell from Dodger Stadium Yellow Brick Road event in Los Angeles, California on November 20, 2022 (Credit: Save Starbuck / Geisler / DDP / INSTARimages / Cover Images)
After his most recent performance in the box office darling Top Gun: Maverick, Miles Teller's career is at an all-time high, and it will undoubtedly lead to further success in the years to come.
Let's take a look back at the filmography of this bright young star as we count down Miles Teller's top 10 movies according to critics.
Before He Was a Star
Miles Teller was born in the eastern state of Pennsylvania on February 20, 1987, and it seemed like he was always destined for a career in Hollywood.
From a young age, Miles took a liking to the performing arts, with a focus on acting and music. At 12 years old, he and his family moved to Citrus County, Florida, and the aspiring actor continued his education in the arts.
Miles even became the president of the drama club at Lecanto High School. He also had a blossoming love of music and sports, studying multiple instruments while also competing on the local baseball team.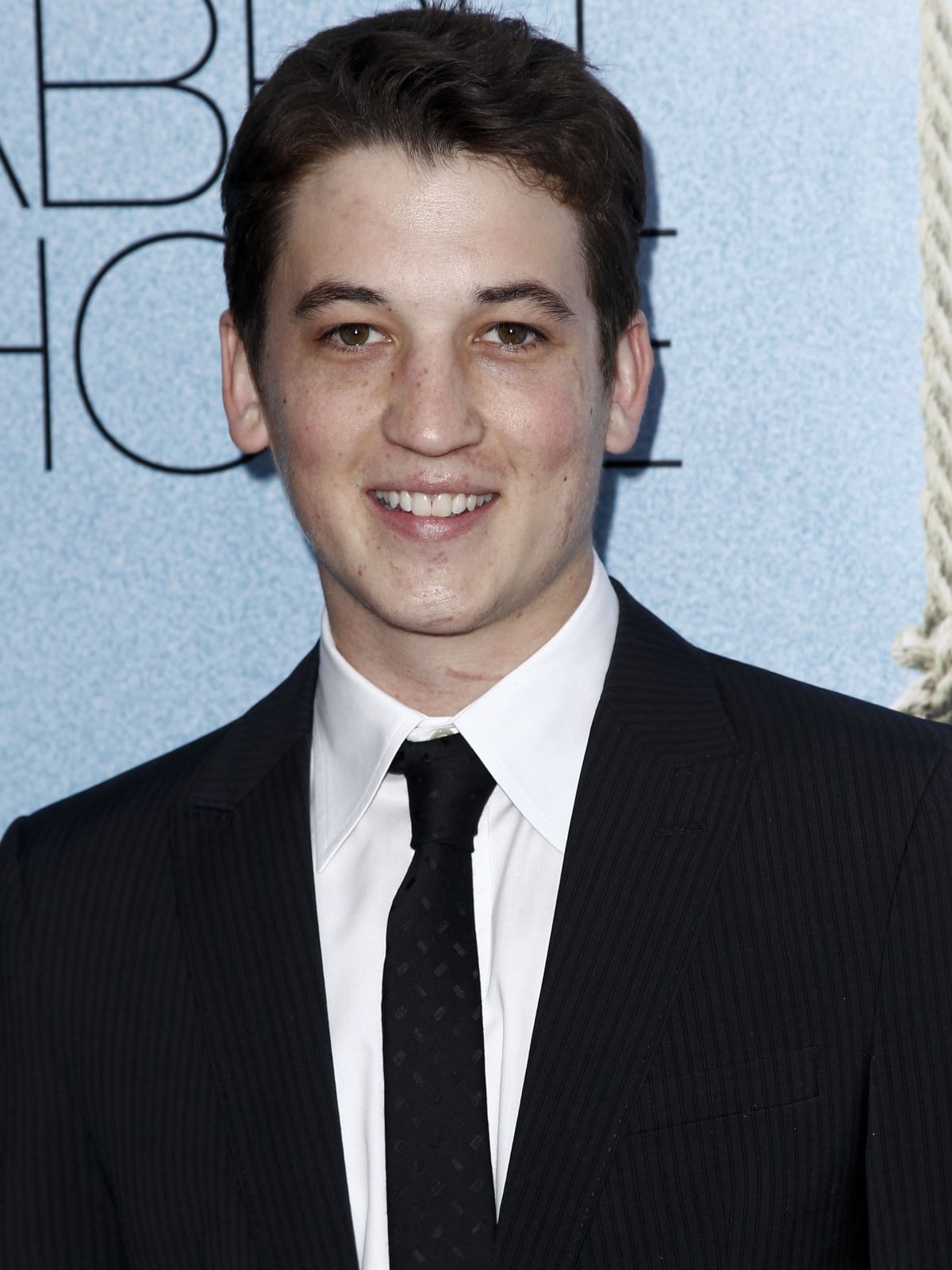 Miles Teller attending the Rabbit Hole premiere in New York City on December 2, 2010 (Credit: B. Ach / INFevents)
However, once it was time to advance to college, Miles doubled down on acting and attended the prestigious New York University Tisch School of the Arts. There, he studied both screen acting and method acting before graduating in 2009.
While Miles had a couple of roles in short films in his high school and college years, he wouldn't have to wait long for his first break in Hollywood.
Miles landed his debut role in the drama Rabbit Hole in 2010, and he was specifically chosen for the part by leading lady Nicole Kidman. His first major performance garnered significant praise from critics and general audiences alike, quickly propelling him into the limelight.
At the Spiderhead premiere, Miles Teller brought Keleigh Sperry as his date in New York City on June 15, 2022 (Credit: John Nacion / Startraksphoto)
In 2013, he met actress and model Keleigh Sperry at an afterparty for the Grammy Awards, and the pair hit it off immediately. After a few years of dating, they became engaged in 2017 and eventually got married in 2019.
Miles Teller's Top 10 Movies According to Critics
For this list, we'll be ranking the films based on their Rotten Tomatoes critics' score, which includes hundreds of verified reviews from top industry critics around the world.
Let's see what movies make the cut as we examine Miles Teller's top 10 movies.
10. Divergent (2014) – 41% Score
Based on the 2011 novel by Veronica Roth, Divergent is a sci-fi action film that was directed by Neil Burger. The film stars Shailene Woodley as Tris, a teenage girl living in a futuristic dystopia where citizens are separated into various factions based on their traits and skills.
Torn between staying true to herself and sticking with her family, Tris must make hard choices as she uncovers a conspiracy surrounding their seemingly idyllic world.
Miles Teller as Peter Hayes in the 2014 dystopian science fiction action film Divergent (Credit: Lionsgate)
At 27 years old, Miles Teller plays Peter Hayes, a cocky member of the Dauntless faction and Tris' biggest annoyance. Together with a small group of cronies, Peter bullies Tris throughout her training, trying his best to stop her progress at every chance. They eventually butt heads in the finale as Tris overcomes Peter to save the day.
Although Miles Teller and Shailene Woodley are rivals in the film, they are actually close friends in real life. In fact, Miles accepted the role of Peter after Shailene personally texted him and asked him to join the cast, as she wanted the chance to work with him again. Their friendship made some scenes difficult to film, including a grueling fight scene where Peter and Tris go toe-to-toe.
9. War Dogs (2016) – 61% Score
Written and directed by Todd Phillips, War Dogs is a dark comedy and crime film that is set during the conflict between the United States and Iraq in the mid-2000s.
The film stars Jonah Hill and Miles Teller as Efraim Diveroli and David Packouz – two old friends who go into business as arms dealers. As the money starts to flow and politics get in the way of sales, the duo looks to expand their business while remaining below the radar.
Jonah Hill as Efraim Diveroli and Miles Teller as David Packouz in the 2016 dark comedy crime film War Dogs (Credit: Warner Bros. Pictures)
Interestingly, Miles Teller first caught wind of the War Dogs production from his father, who encouraged the actor to try out for the part.
After researching the topic, Miles approached director Todd Phillips at a restaurant a few months later and asked to be included in the film. Although Shia LaBeouf was initially considered for the role of David, Miles' major success in the mid-2010s led to a quick placement in the cast.
Appearing in the film at 29 years old, War Dogs is definitely one of the odder movies in Miles Teller's filmography, but it's a great showcase of the actor's versatility.
8. Footloose (2011) – 68% Score
Footloose is a musical drama directed by Craig Brewer and a remake of the 1984 film of the same name.
It follows Ren McCormack (Kenny Wormald), a teen who moves from the bustling city of Boston to a small town in Georgia with a complete ban on dancing. Arriving at the local high school, Ren quickly makes friends and begins to peel back the ban, rallying his peers to oppose the city's unjust laws.
At 24 years old, Miles Teller plays Willard Hewitt, a local boy who becomes friends with Ren early in the film. Together, they share their grievances about growing up and work together to reject the overbearing adults of the small, religious town.
Kenny Wormald as Ren McCormack and Miles Teller as Willard Hewitt in the 2011 musical film Footloose (Credit: Paramount Pictures)
This was Miles Teller's second feature-length film, and it was a perfect fit as he had prior experience with the material. In fact, Miles had previously played the part of Willard when his high school put on a performance of Footloose nearly a decade before.
Although the 2011 remake wasn't received as warmly as the 1984 original, Footloose acts as a stunning example of Miles Teller's ability as a triple threat, singing and dancing his way to stardom.
7. Bleed for This (2016) – 70% Score
Directed by Ben Younger and based on the true story of professional boxer Vinny Pazienza, Bleed for This is an emotional biopic that sees Miles Teller in one of the most athletic roles of his career.
At 29 years old, the actor stars in the lead role, carrying the weight of this impactful story from start to finish.
Set in the late 1980s, the film follows Vinny Pazienza's rise to champion status and his harrowing decline due to an automobile accident.
Between the epic moments of action and tear-jerking sequences of pain and tribulation, Miles Teller does a tremendous job bringing this tale of athletic triumph to light.
Miles Teller as Vinny Pazienza in the 2016 biographical sports film Bleed for This (Credit: Open Road Films)
Interestingly, the story of Bleed for This echoes a near-death accident that Miles Teller dealt with in his youth – one that could have ended his career for good. Like Vinny Pazienza, Miles Teller was also involved in a high-speed car crash in 2007, which resulted in notable facial scarring.
As a reminder to always be safe behind the wheel, Miles Teller can be seen wearing a green bracelet in many of his other films.
6. Thank You for Your Service (2017) – 77% Score
As another biopic in Miles Teller's filmography, Thank You for Your Service is a true drama set during the 2007 conflict in Iraq and was based on the book by author David Finkel.
The film follows Sergeant Adam Schumann (Miles Teller), a military officer who returns home after spending over a year in the war-torn Middle Eastern country.
Opting to highlight the persistent mental trauma that many soldiers deal with during life after military service, the film centers around Adam's attempts to cope with intense PTSD once he returns to his hometown in Kansas.
Miles Teller as Adam Schumann in the 2017 biographical war drama film Thank You for Your Service (Credit: Universal Pictures)
In stark contrast to his role in War Dogs, Miles puts on a powerful performance that embraces the troubling effects of war on young soldiers.
But while Miles Teller showcased a stunning performance alongside the rest of the cast at 30 years old, Thank You for Your Service is one of the lowest-grossing films of the actor's career, earning half of its production cost at the box office.
However, in the pantheon of biopics under Miles Teller's belt, Thank You for Your Service stands as a reminder of the pain that many military personnel service members endure on a day-to-day basis.
5. Rabbit Hole (2010) – 87% Score
Rabbit Hole is a raw but somewhat hopeful drama that was directed by John Cameron Mitchell and written by David Lindsay-Abaire.
The film stars Nicole Kidman and Aaron Eckhart as a young couple who are put through the emotional ringer when their four-year-old son dies in a car accident.
Miles Teller as Jason and Nicole Kidman as Becca Corbett in the 2010 drama film Rabbit Hole (Credit: Lionsgate)
As Jason, Miles Teller plays the young driver responsible for the deadly accident. Grief-stricken and guilty as can be, Jason starts to meet with Becca (Nicole Kidman) and attempts to make sense of the traumatic tragedy.
At 23 years old, Rabbit Hole was Miles Teller's feature film debut, which he landed thanks to his honest audition. After seeing the young actor rightfully nervous during the casting process, Nicole Kidman personally handpicked him for the role of Jason.
During filming, Miles became close with Nicole Kidman and her husband, Keith Urban – a friendship that continues to this day.
4. Only the Brave (2017) – 87% Score
Based on the article entitled No Exit from GQ Magazine and directed by Joseph Kosinski, Only the Brave is a biopic and drama that centers around a group of firefighters operating in 2013. When a wildfire in Yarnell, Arizona, rages out of control, an elite team sets out to quell the blaze.
Acting alongside all-time greats like Jeff Bridges, Josh Brolin, and Jennifer Connelly, Miles Teller plays the role of Brendan McDonough.
At 30 years old, he depicts the down-on-his-luck hero who puts aside his life of drug abuse and crime to become a firefighter in the Granite Mountain Hotshots squad of the Prescott Fire Department.
Miles Teller as Brendan McDonough in the 2017 biographical drama film Only the Brave (Credit: Columbia Pictures)
Encouraged by the effort of the producers to depict real-life heroes as accurately as possible, Miles Teller jumped at the opportunity to play Brendan McDonough, even with a long list of biopics under his belt.
In order to properly train for the film, Miles and his co-stars had to enlist in a firefighter boot camp, which left a major impact on the actor.
After participating in the training and shooting the film, Miles has since been very vocal about the importance of making movies about real-world heroes and their extraordinary sacrifices.
3. The Spectacular Now (2013) – 91% Score
In the sea of coming-of-age films directed at younger audiences, The Spectacular Now manages to stick out thanks to its stellar cast and exceptional script.
Helmed by James Ponsoldt and based on the 2008 novel by Tim Tharp, the film follows Sutter (Miles Teller) and Aimee (Shailene Woodley), two high school students who become enthralled with each other after a random encounter.
Acting in his very first lead role at age 26, Miles Teller proves that his future is bright as he portrays the popular boy Sutter. Delicately balancing fairytale romance with honest issues that many other films disregard, The Spectacular Now has become one of the most celebrated romance films of the past decade.
Shailene Woodley as Aimee Finicky and Miles Teller as Sutter Keely in the 2013 coming-of-age romantic drama film The Spectacular Now (Credit: A24)
During the filming process of The Spectacular Now, Miles became incredibly close with Shailene Woodley, as the two actors shared intimate moments on camera. The film contains the first sex scene for both of them, undoubtedly adding more anxiety to the production.
Although James Ponsoldt had reservations early on about the chemistry between the pair, Miles and Shailene were a perfect match and even ended up improvising many scenes, as dialogue exchanges came naturally.
2. Whiplash (2014) – 94% Score
Widely regarded as the film that took Miles Teller's career to the next level, Whiplash is a psychological drama directed by Damien Chazelle that focuses on an unhealthy relationship between an intense music teacher and his eager young student.
As Andrew Neiman, Miles Teller plays an aspiring drummer and new student at the strict Shaffer Conservatory in New York City. Recruited and taught by conductor Terence Fletcher (J.K. Simmons), Andrew discovers that his path to musical fame might be more difficult than he ever imagined.
Miles Teller as Andrew Neiman in the 2014 independent psychological drama film Whiplash (Credit: Sony Pictures Classics)
Shot over a period of 19 days, the film was a perfect opportunity for Miles to flex his musical abilities, as the actor had previously studied drumming during his high school years. In fact, nearly half of the drumming used in the Whiplash soundtrack is performed by Miles Teller – a rarity in music-themed dramas.
Moreso than many other movies in his career, Miles Teller poured his literal blood and sweat into Whiplash. Over the course of filming, the actor endured painful blisters due to the constant and intensive drumming practice.
Additionally, in a climactic scene where Fletcher physically strikes Andrew in the face, Miles allowed J.K. Simmons to actually hit him. While undoubtedly painful, the scene was golden and was ultimately included in the final cut of the film.
1. Top Gun: Maverick (2022) – 96% Score
Top Gun: Maverick is, by far, the most popular film that Miles Teller has ever been a part of, as it currently sits in the top 15 highest-grossing movies of all time.
Directed by Joseph Kosinski with Tom Cruise in the lead role as Pete "Maverick" Mitchell, this sequel to the 1986 action film follows a group of top-tier fighter jet pilots who must complete a dangerous mission to avoid international conflict.
As Lieutenant Bradley "Rooster" Bradshaw, Miles Teller plays the son of Maverick's deceased best friend and former radar intercept officer.
Throughout the film, Rooster holds a grudge against Maverick, believing him to be responsible for his father's death. Together, through the pain of training and combat, they manage to put aside their differences for the greater good.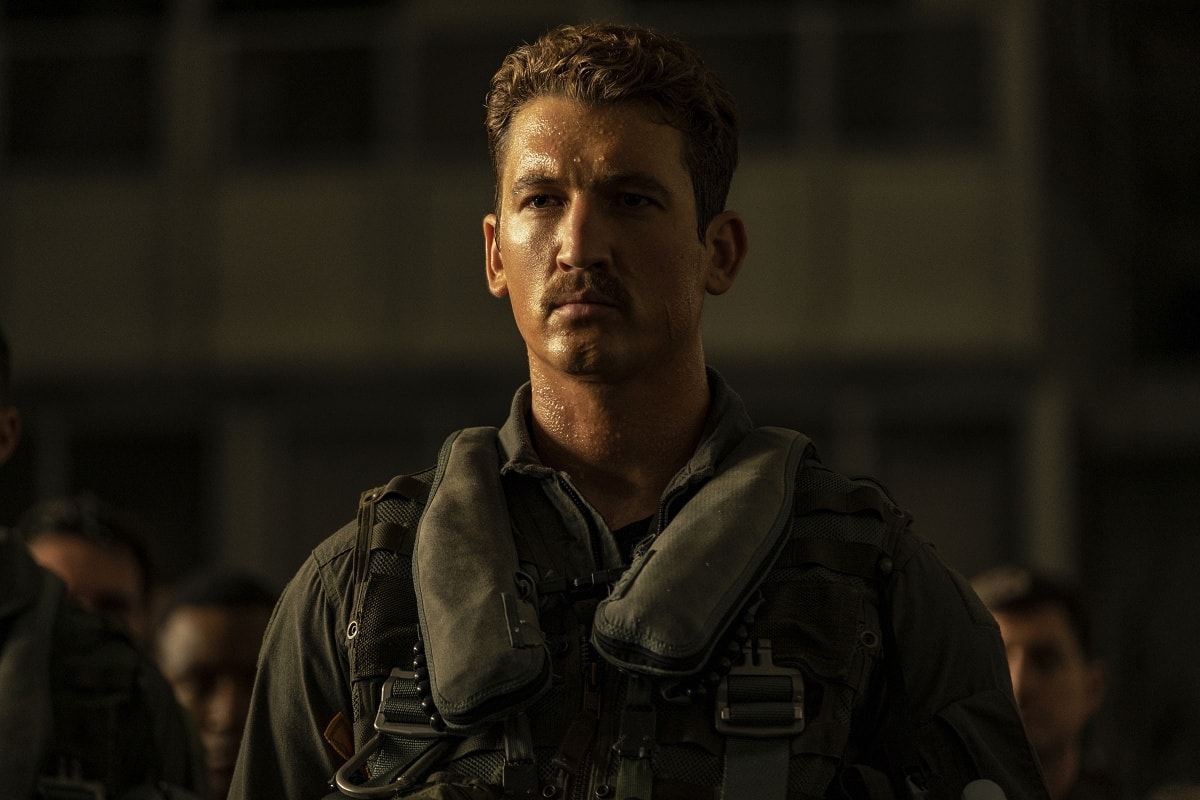 Miles Teller as Lieutenant Bradley "Rooster" Bradshaw in the 2022 action film Top Gun: Maverick (Credit: Paramount Pictures)
Surprisingly, Miles Teller was originally hesitant to accept the role of Rooster, as he feared that the massive stardom resulting from his performance would be an overall negative for his career. Despite this, he eventually accepted it after Tom Cruise personally asked him to.
In order to prepare for the role, Miles attended an extensive flight-training camp that subjected him to G-force training, underwater evacuation protocols, and more.
It seems like his hard work and determination paid off, as Top Gun: Maverick is easily one of the best action films ever made, propelled by the excellent chemistry between the actors and the stunning cinematography.