The long-awaited sequel to the 1986 action-drama movie Top Gun is finally coming to theaters this month!
Top Gun: Maverick, now directed by Joseph Kosinski, picks up 30 years after the events of Tony Scott's original Top Gun film.
Tom Cruise returns as Pete "Maverick" Mitchell in the Top Gun sequel, Top Gun: Maverick (Credit: Paramount Pictures / YouTube)
Tom Cruise is reprising his role as Pete "Maverick" Mitchell—the character that made him a superstar—in the sequel, scheduled to hit theaters on May 27.
From being a daredevil Navy pilot Lieutenant, Maverick is now referred to as Captain in charge of training a group of Top Gun graduates for a specialized mission.
Why Isn't Kelly McGillis in the New Top Gun?
Kelly McGillis' Charlie Blackwood, his former love interest, isn't returning to the sequel. Instead, he's getting a new romance with bar owner and single mom Penny Benjamin, played by Jennifer Connelly.
Kelly McGillis as Charlotte Charlie Blackwood and Tom Cruise as LT Pete "Maverick" Mitchell in the 1986 American action drama film Top Gun (Credit: Paramount Pictures)
"Those weren't stories that we were throwing around," "Top Gun: Maverick" director Joseph Kosinski told Insider about not bringing back Kelly McGillis and Meg Ryan for the sequel.
"I didn't want every storyline to always be looking backwards," Kosinski said. "It was important to introduce some new characters."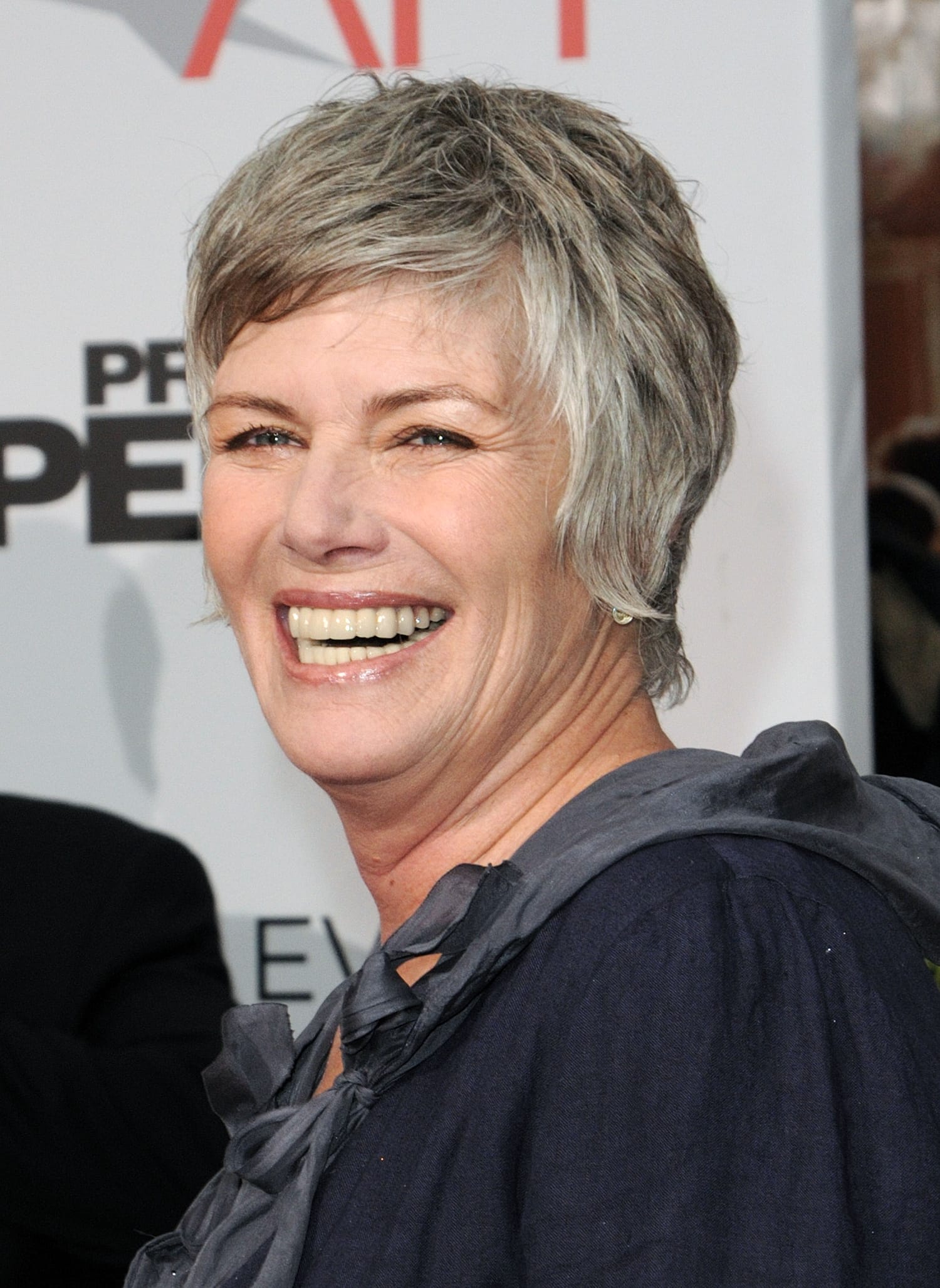 Kelly McGillis was not invited by "Top Gun: Maverick" director Joseph Kosinski to participate in the sequel (Credit: Sara De Boer / Startraksphoto)
Three years earlier, McGillis talked to Entertainment Tonight about not being invited to participate in the sequel. Kelly also said she's not close to her former cast members.
"I'm old, and I'm fat, and I look age-appropriate for what my age is," she said. "And that is not what that whole scene is about."
"I'd much rather feel absolutely secure in my skin and my age than place any value in all that other stuff," Kelly explained.
"Movies are odd things. I don't really keep in touch with anybody," McGillis added. "I think I've spoken to a couple of people occasionally, but the truth is, movies are very odd work situations because you have a lot of people who come together from all different parts of the world."
Jennifer Connelly plays the role of Maverick's new love interest Penny Benjamin (Credit: Paramount Pictures / YouTube)
Speaking to Variety about working with Nicole Kidman's ex-husband for the first time, Jennifer said, "I had never even met Tom Cruise before. He's so exceptional. Spending time with him, you understand how someone has been such a movie star for so many years. It was clear to me what the franchise means to him, so I felt beholden to him."
She also opened up about her love scenes with Tom Cruise, saying they "focused on the intimacy of how they fit into each other's lives."
"I think those characters have a really tender relationship, the way she understands him. They share a moment in bed chatting, and it tells as much about their relationship as the scene that is the preamble to that."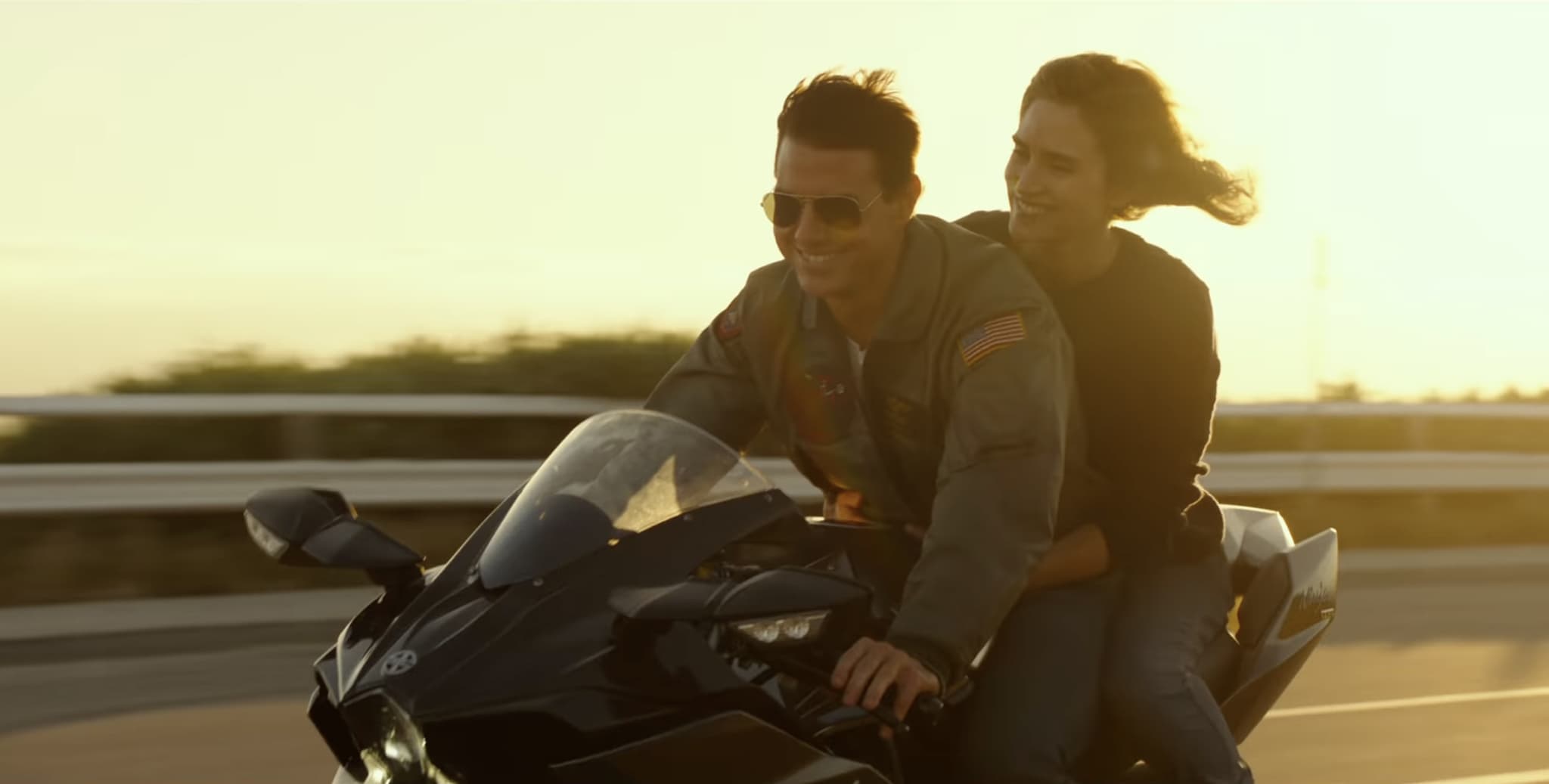 Jennifer Connelly reveals she never met Tom Cruise before Top Gun: Maverick (Credit: Paramount Pictures / YouTube)
Early this month, the cast of Top Gun: Maverick attended the movie's world premiere in San Diego.
Tom Cruise arrived in style as he landed a helicopter on the aircraft carrier USS Midway in a black tuxedo and a white shirt. He styled the look with a gray tie, Ray-Ban aviators, and black oxfords.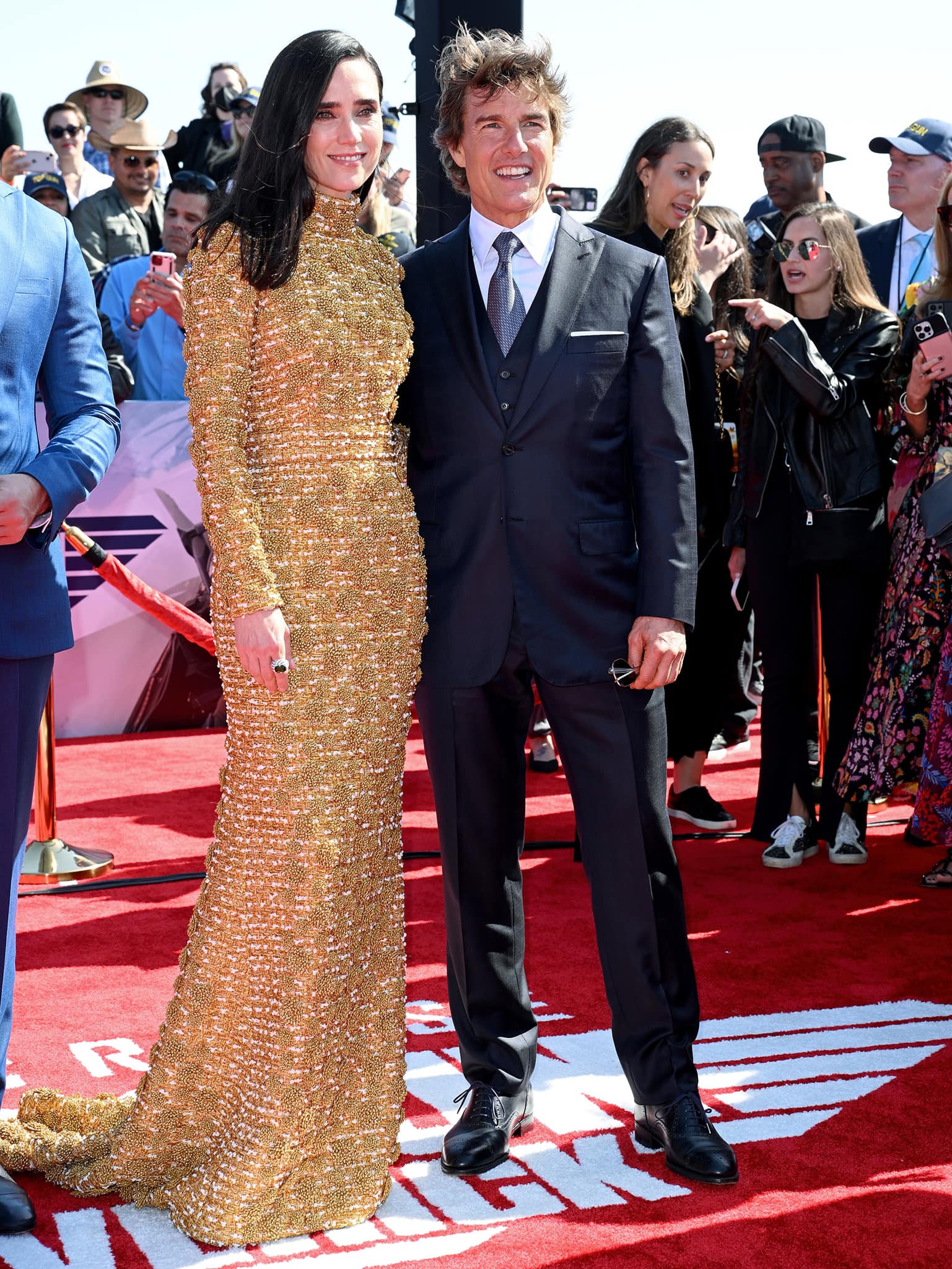 Jennifer Connelly and Tom Cruise arrive at the aircraft carrier USS Midway for Top Gun: Maverick world premiere (Credit: BauerGriffin / INSTARimages)
Meanwhile, Jennifer took the gilded route in a golden Louis Vuitton dress, embellished with gold beads and all-over sequins.
The sparkling number from the luxury clothing brand features a flattering form-fitting silhouette, a high neck, long sleeves, and a floor-sweeping short train.
Stylist Leslie Fremar added two statement rings to Jennifer's look, finished with a pair of open-toe heels.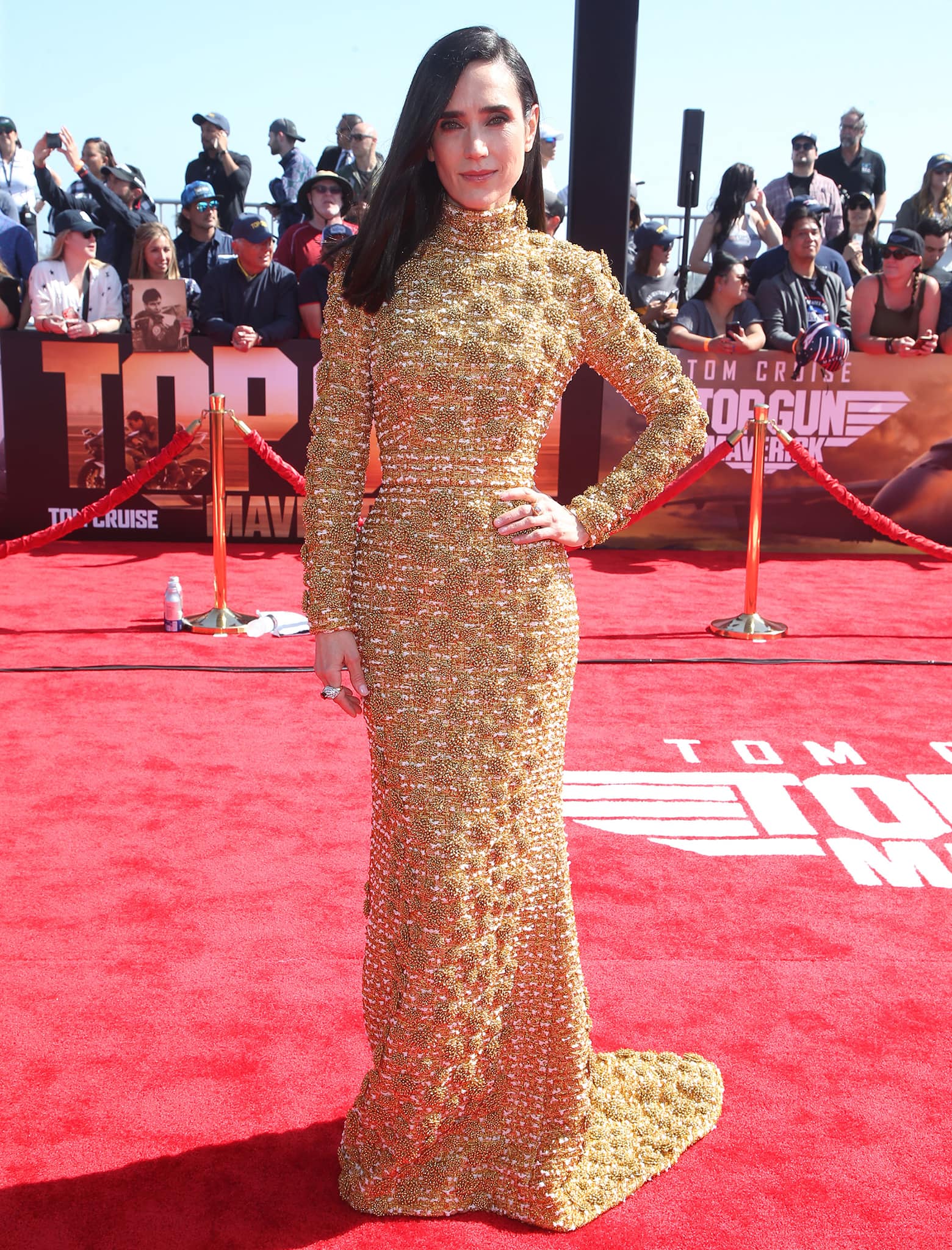 Jennifer Connelly wows in a gold Louis Vuitton gown that's embroidered with gold beads and sequins (Credit: Faye`s Vision / Cover Images / INSTARimages)
Her hairstylist Renato Campora simply parted her dark tresses to one side, while her makeup artist Lisa Storey highlighted her green eyes with eyeliner and bushy eyebrows.
The Noah actress was joined on the red carpet by her husband Paul Bettany and her son Kai Dugan, whom she shares with her ex David Dugan.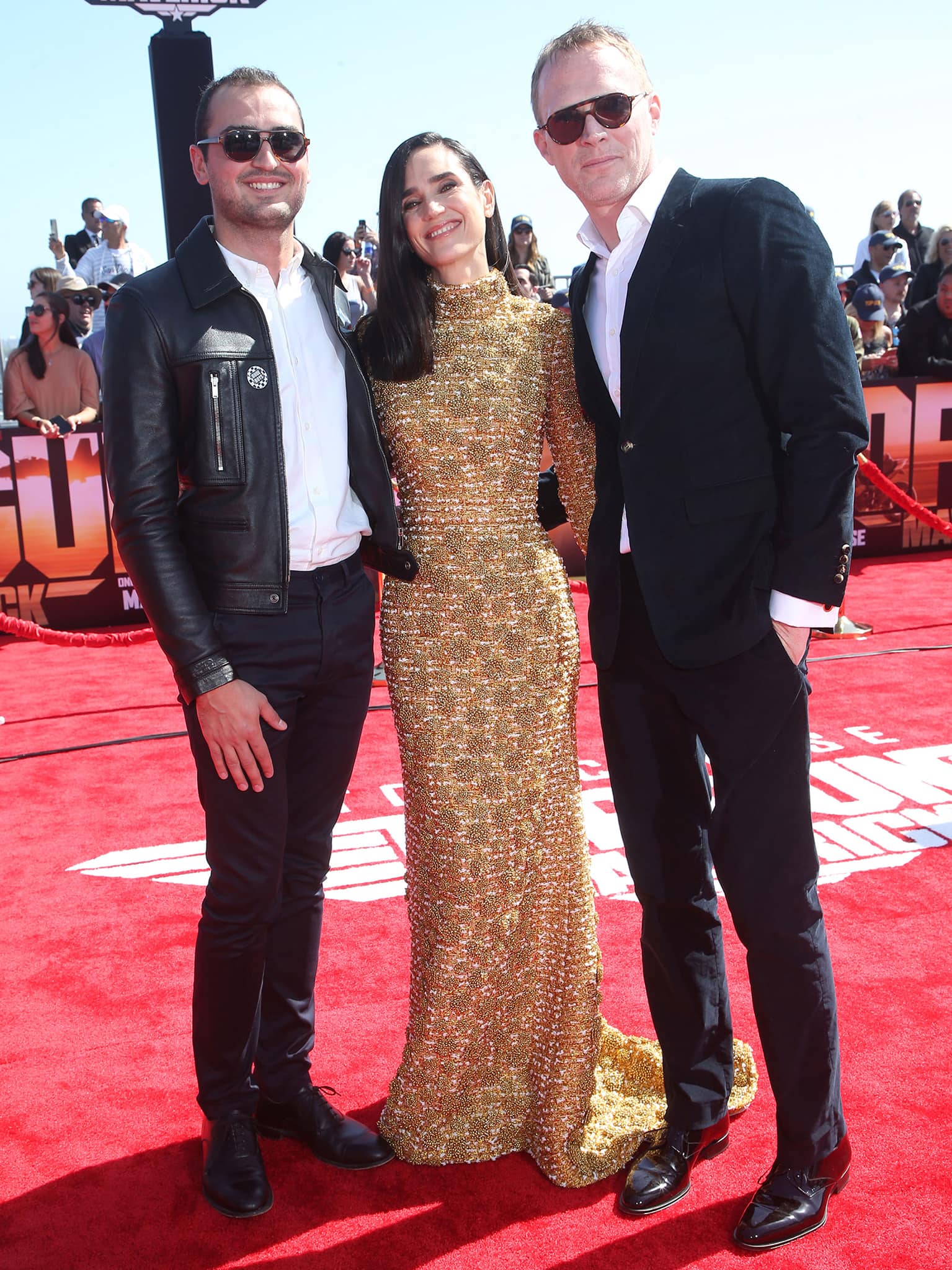 Jennifer Connelly attends the premiere with her son Kai Dugan and husband Paul Bettany (Credit: Faye`s Vision / Cover Images / INSTARimages)
Jennifer Connelly was also on hand at the Mexico premiere of Top Gun two days later.
The Louis Vuitton muse arrived at The Ritz Carlton Hotel in Mexico City in another stunning creation from the French luxury fashion house.
Jennifer Connelly flaunts her legs in a Louis Vuitton Fall 2022 mini dress at the Mexico premiere of Top Gun: Maverick on May 6, 2022 (Credit: Eyepix / INSTARimages)
The relatively conservative mini dress hails from the Fall 2022 collection. It features long sleeves, oversized shoulders, a brocade print with a metallic finish, and a thigh-grazing straight hem.
She donned the runway look and styled the dress with a black and yellow tulle overlay.
Wearing her tresses in a sleek bun, the Career Opportunities star further accessorized with Louis Vuitton fine jewelry, a black clutch, and a pair of metallic silver sandals.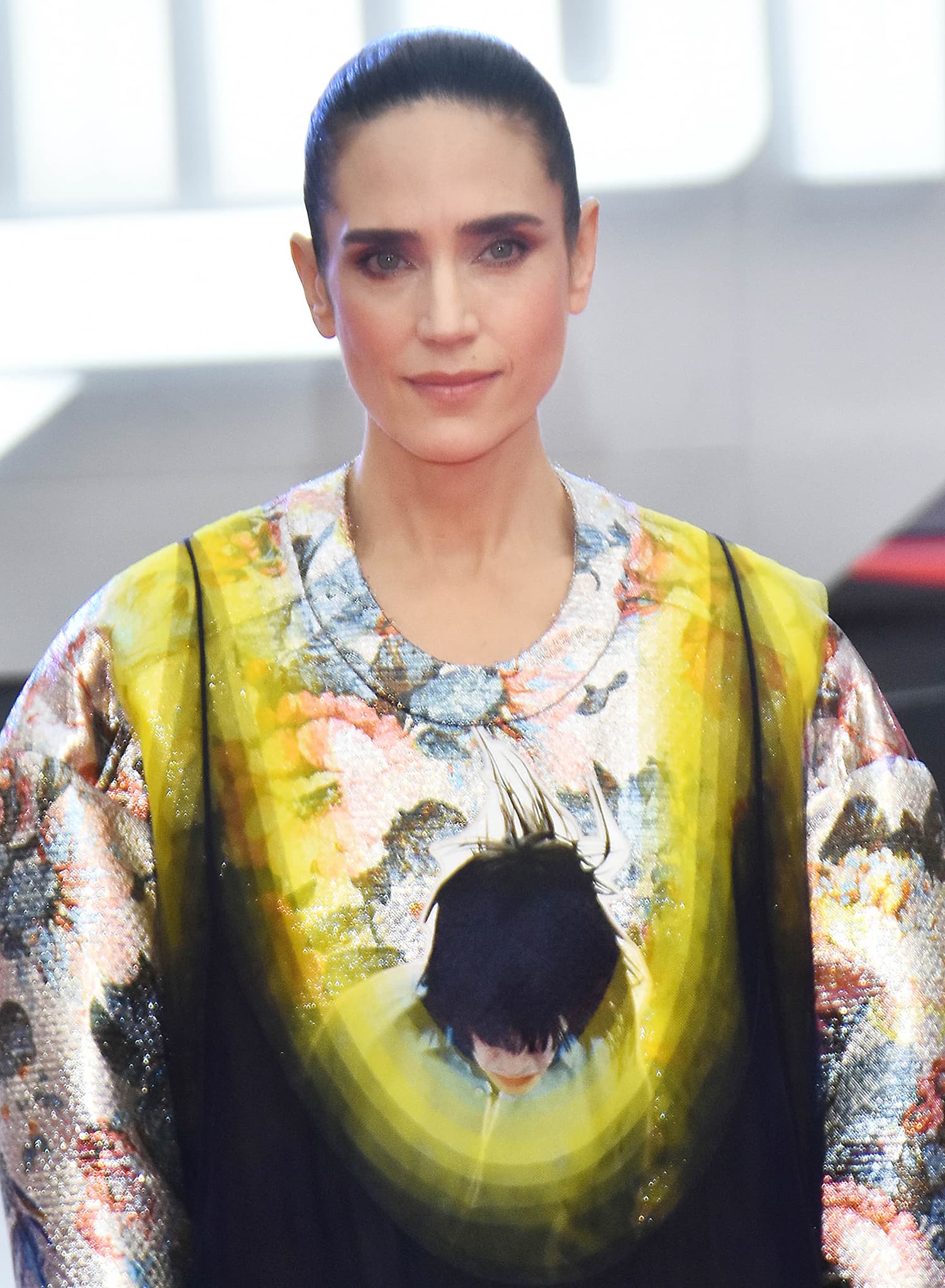 Jennifer Connelly styles her dark hair in a sleek bun and sports smokey eyeshadow and nude pink lipstick (Credit: Eyepix / INSTARimages)