In December 2015, Jennifer Connelly and Paul Bettany were all smiles for a rare sighting of the couple at the "In the Heart of the Sea" premiere held at the Lincoln Center in New York.
Jennifer Connelly met her husband Paul Bettany on the set of A Beautiful Mind
They were also seen together on the red carpet was at the 2014 WSJ Magazine Innovator Awards — where the actress wore some ugly Louis Vuitton boots!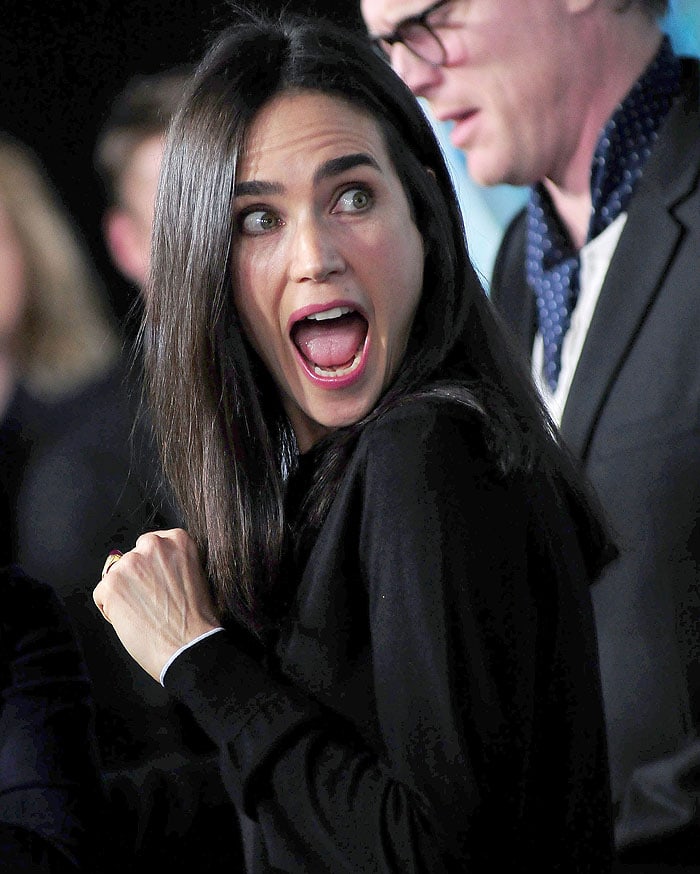 Jennifer Connelly pretending to look surprised
The two have clearly been busy and prefer spending time alone together. They met for the first time in 2001 on the set of A Beautiful Mind, though they didn't start dating until after the film wrapped. He starred as Charles Herman and she portrayed Alicia Nash.
Actress Jennifer Connelly with actor Paul Bettany attends the UK premiere of the film "Hulk" at the Empire Cinema, Leicester Square on July 3, 2003, in London
In an interview with Larry King in November 2015, Paul opened up about his notoriously private marriage.
"You know what happened, Larry? What happened is September the 11th," he told the American television host.
"Like so many people's lives, mine was changed in that moment. And I ran back to this house and spent two days trying to call this woman that I barely knew. And I remember very clearly thinking to myself, What are you doing? Ohh. I realized I was in love, so I finally got her on the phone, said, 'I'm coming over, and let's get married.'"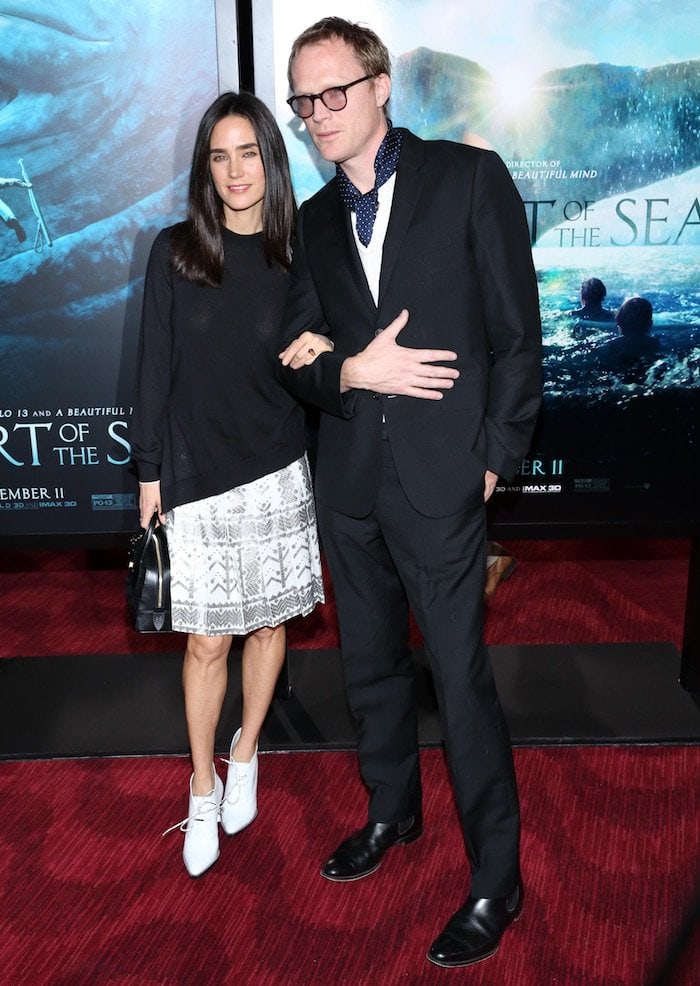 Jennifer Connelly and husband Paul Bettany make a rare appearance together on the red carpet at the "In the Heart of the Sea" New York Premiere last December 7, 2015, in Lincoln Center
The duo, who have been married since 2003, looked dashing on the red carpet as they walked arm-in-arm wearing matching outfits. Paul was the epitome of debonair in a tapered black and white suit with neckerchief.
Jennifer donned a pleated white skirt with silver embellishments under a simple black sweater, all from Louis Vuitton's Spring 2016 collection.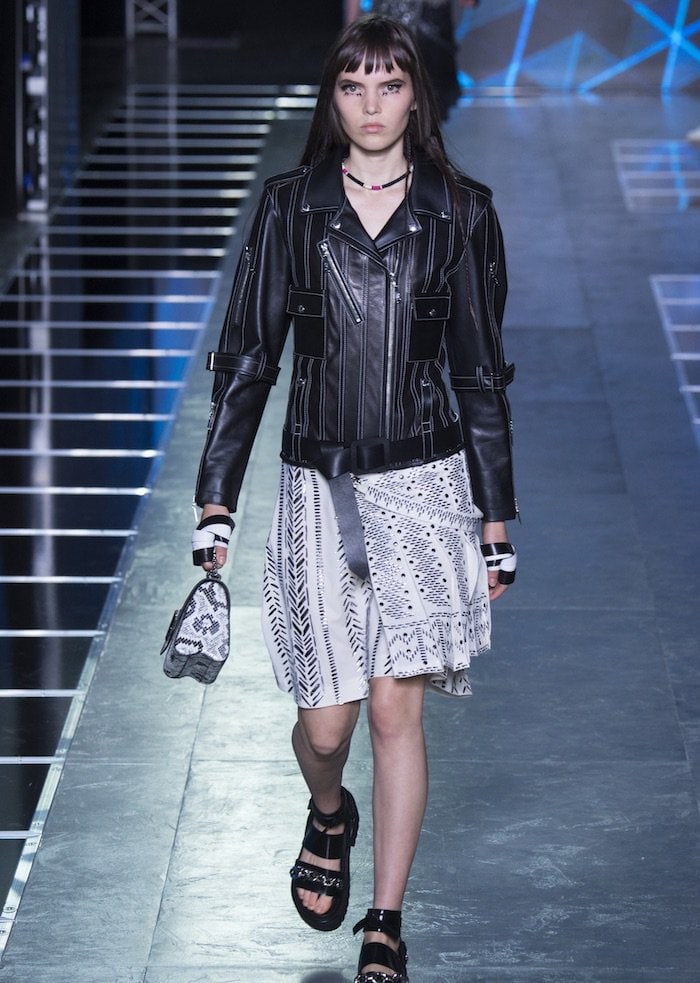 Louis Vuitton Spring 2016 skirt
The then 45-year-old actress completed her look with edgy white, lace-up boots and accessorized with a black, quilted design handbag, also from the Louis Vuitton Spring 2016 collection. We loved the cool chain detail on the heel of her boots.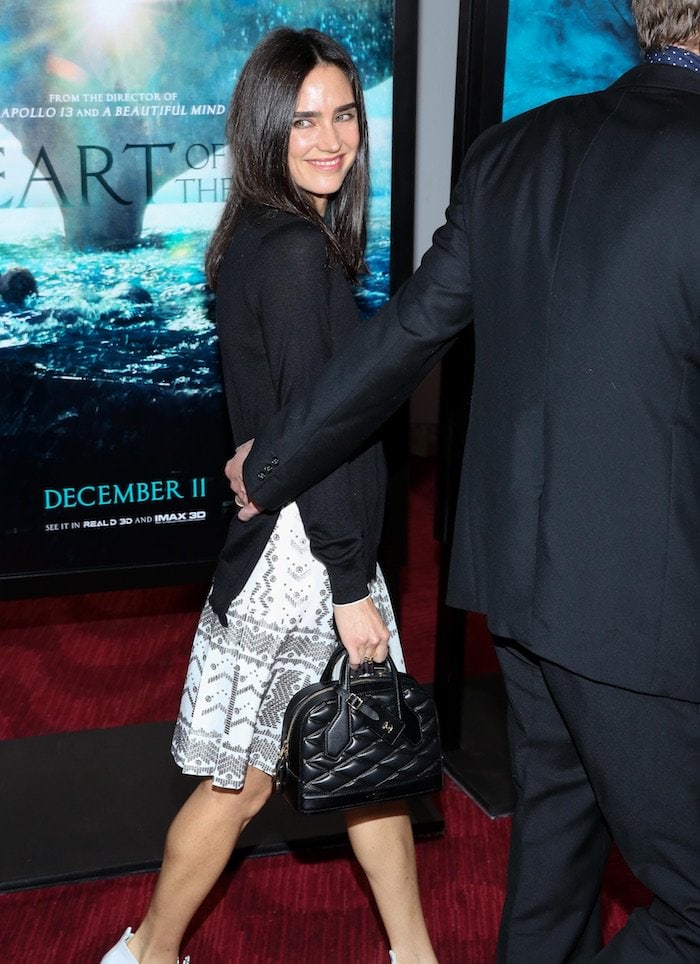 Jennifer Connelly flaunts her hot legs on the red carpet
Best known for his role as J.A.R.V.I.S. and Vision in the Marvel Cinematic Universe films, Paul Bettany is a British actor with a net worth of $20 million.
Jennifer Connelly adds an edge to her schoolgirl look with white boots from the Louis Vuitton Spring 2016 collection
Jennifer Connelly toting a black quilted handbag
The two looked like they were having a great time while supporting the movie starring Chris Hemsworth.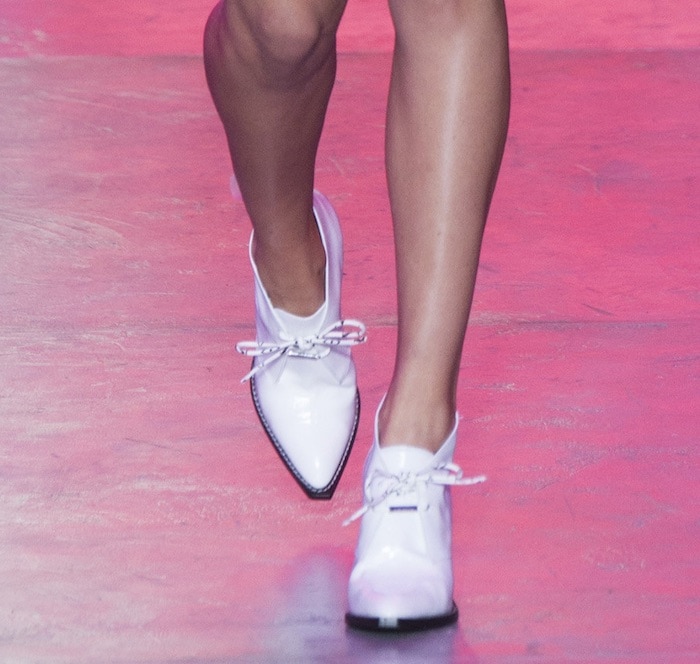 Louis Vuitton Spring 2016 boots
Snag this similar pair of edgy, white boots from London Trash at Nordstrom or Zappos to copy Jennifer's style.
London Trash "Diane" Boots in White, $159.99
They have two children named Agnes Lark Bettany (2001) and Stellan Bettany (2013). Jennifer also has a son named Kai Dugan with her photographer ex-boyfriend David Dugan.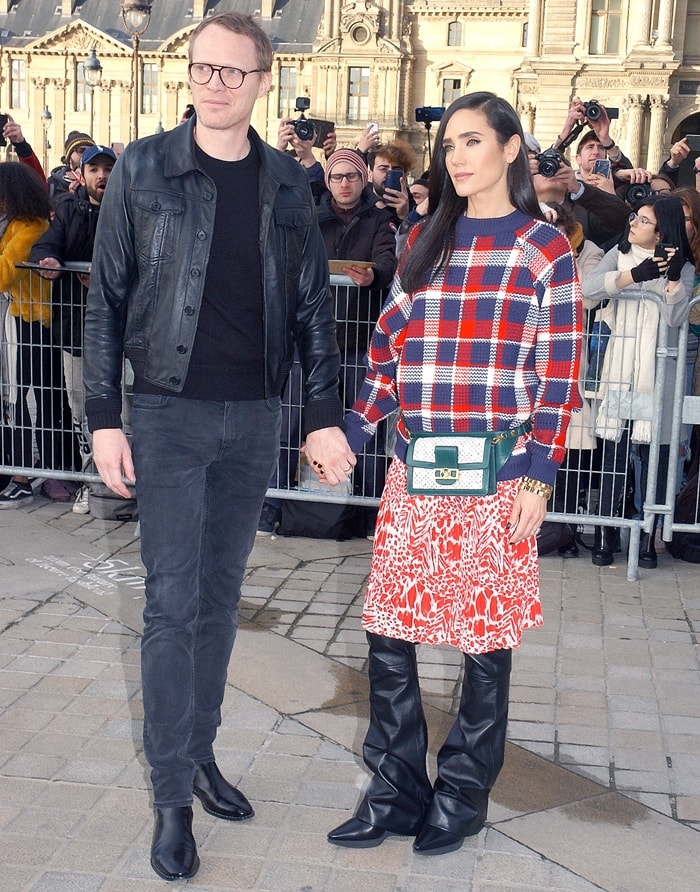 Paul Bettany and Jennifer Connelly attend the Louis Vuitton show as part of the Paris Fashion Week Womenswear Fall/Winter 2019/2020 on March 5, 2019, in Paris, France
Credit: Andres Otero / Dan Jackman / WENN