She's back on the Hollywood scene after a three-year hiatus!
Jennifer Lawrence is leading a blockbuster cast, including Leonardo DiCaprio, Meryl Streep, and Cate Blanchett, in the Netflix comedy Don't Look Up.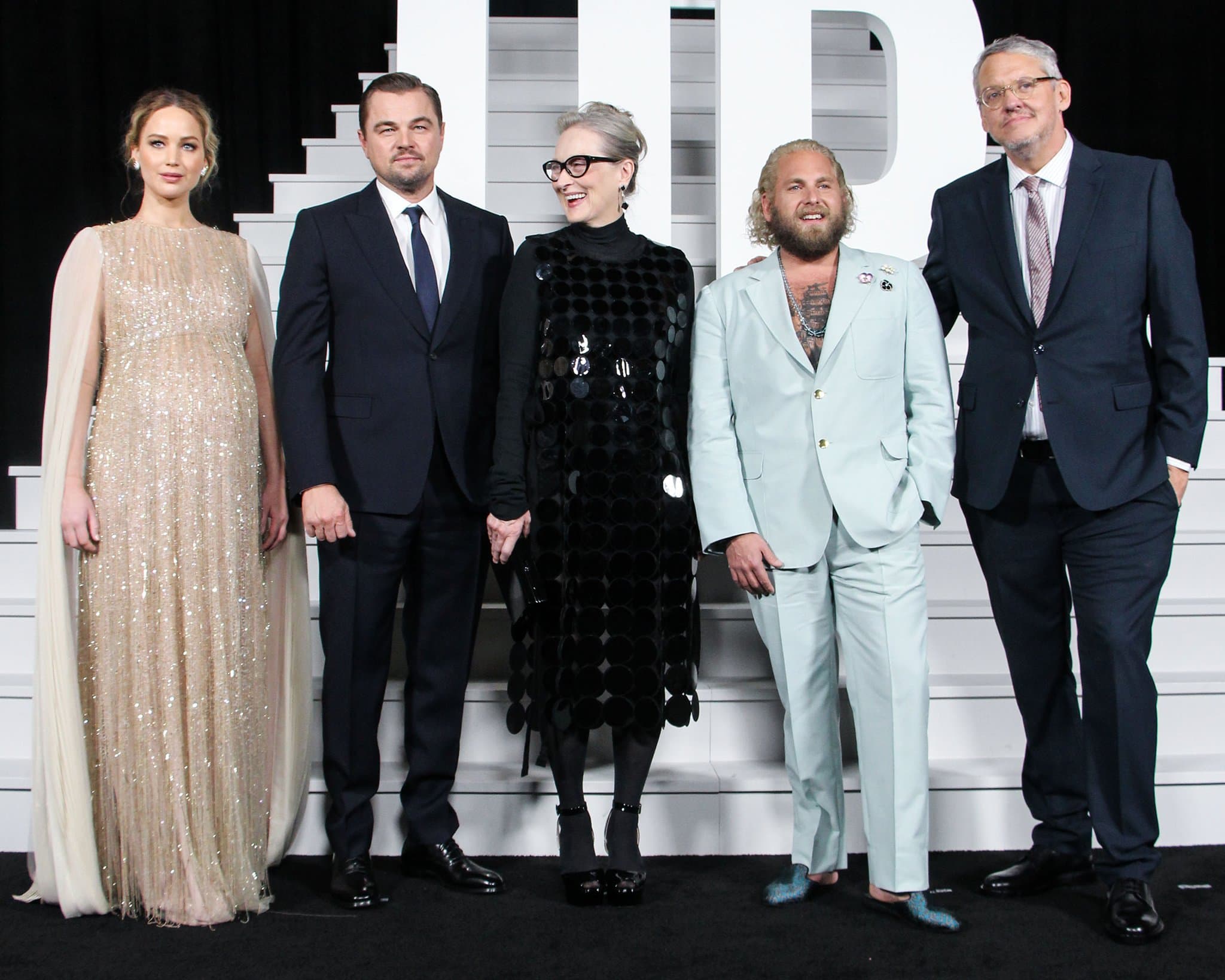 Jennifer Lawrence, Leonardo DiCaprio, Meryl Streep, Jonah Hill, and director Adam McKay at the premiere of "Don't Look Up" held at Jazz at Lincoln Center on December 5, 2021 (Credit: Avalon / WENN)
The satirical sci-fi movie is about two low-level astronomers, played by Oscar winners J.Law and Leo, who must go on a giant media tour to warn mankind of a Mount Everest-sized comet on course to destroy planet Earth.
The movie, which also stars Jonah Hill, Rob Morgan, Timothée Chalamet, Ariana Grande, Kid Cudi, Mark Rylance, Ron Perlman, and more, will have a limited theatrical release on Friday, December 10, before streaming on Netflix on December 24.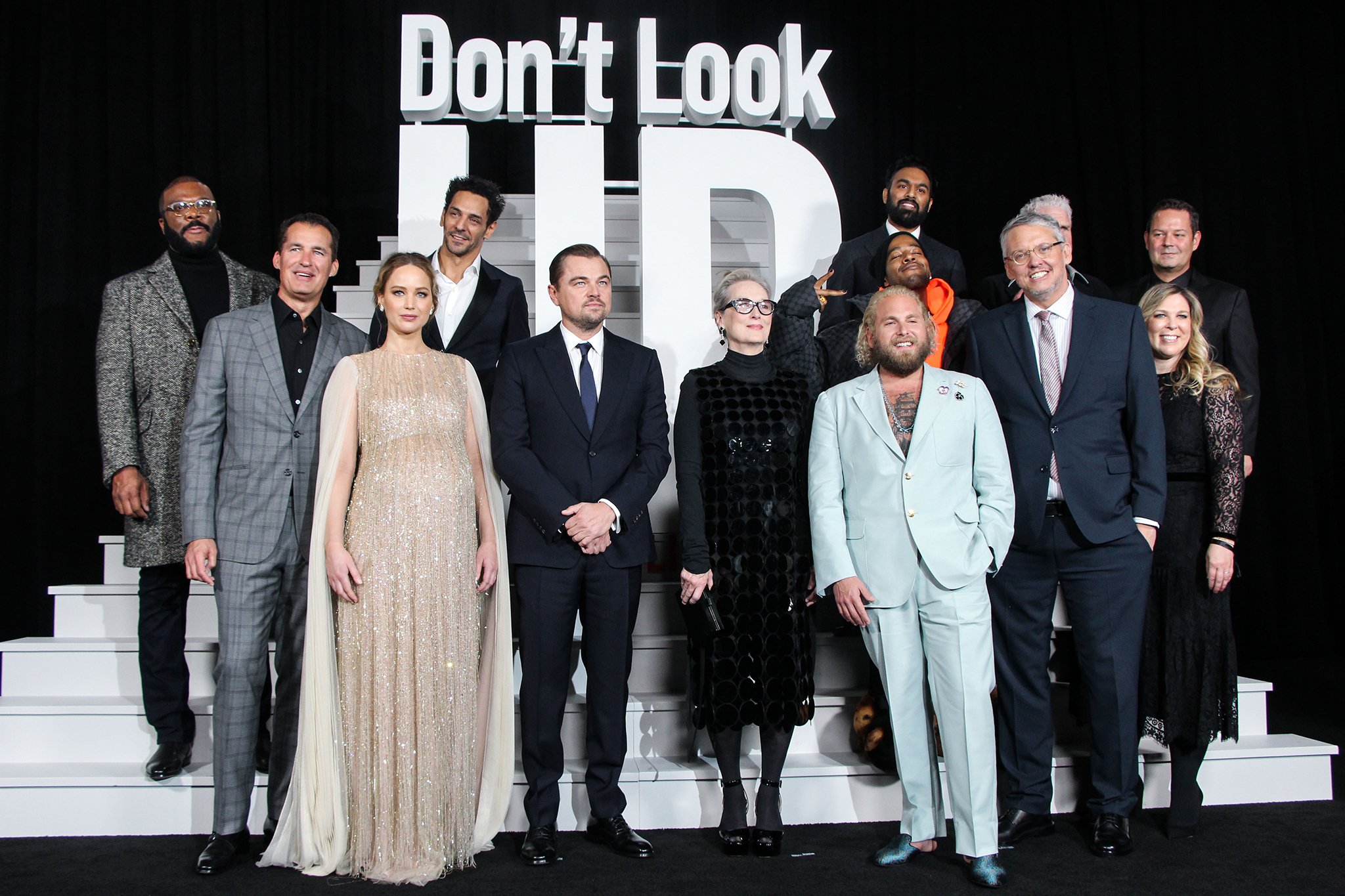 The star-studded cast of the satirical sci-fi Netflix movie, Don't Look Up (Credit: Avalon / WENN)
Marking her first major red-carpet appearance in years, the heavily pregnant actress returned to the spotlight for the New York City premiere of Don't Look Up on Sunday.
Her outing came just three months after confirming that she's expecting her first child with her art gallery director husband Cooke Maroney.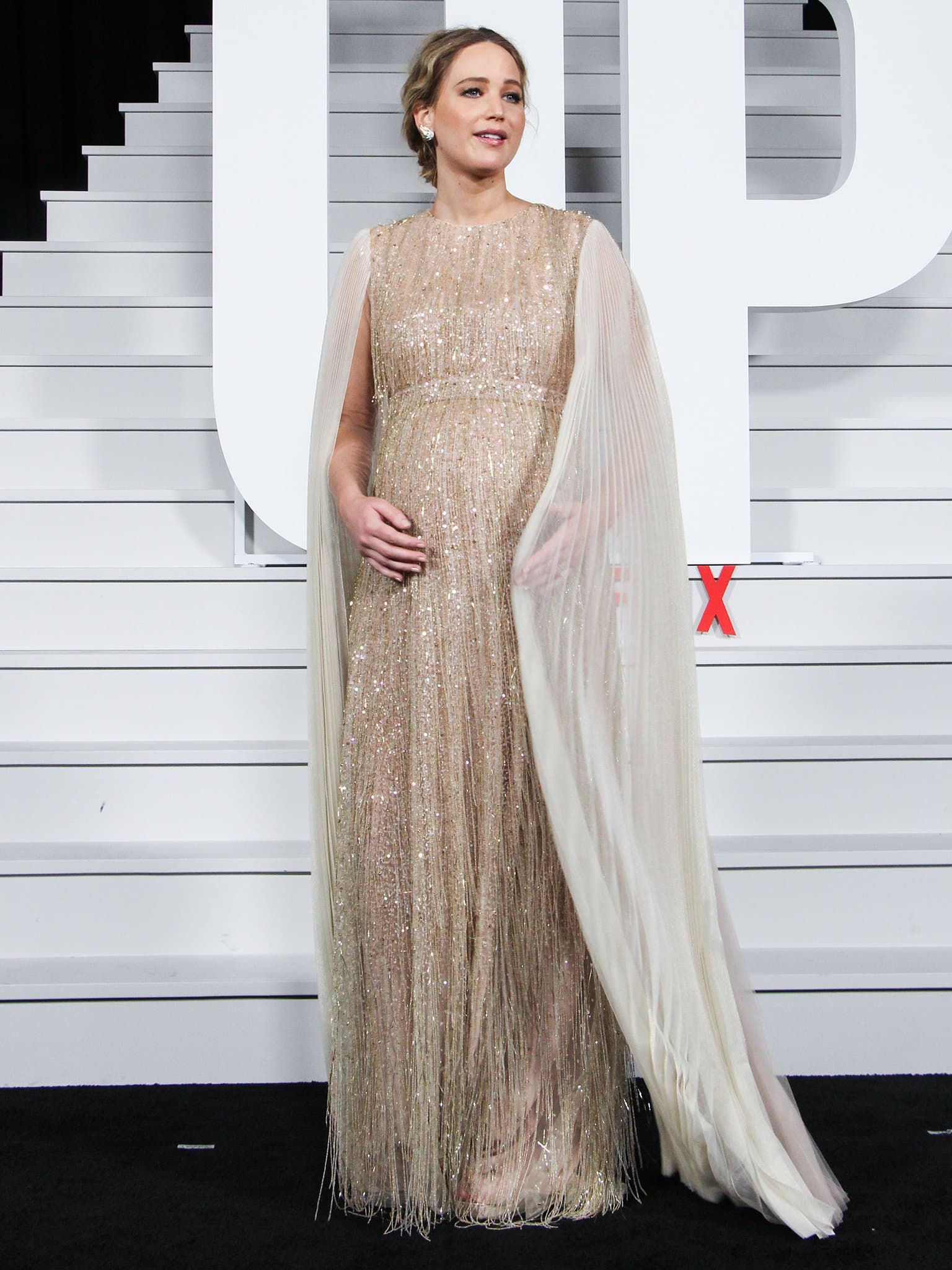 Jennifer Lawrence showcases her growing baby bump in a Christian Dior Spring 2022 fringe gown (Credit: Mega / WENN)
Looking positively glowing, Jennifer proudly showed off her blossoming baby bump in a classy maternity look from Christian Dior's Spring 2022 collection.
The ethereal gold silk fringe gown features delicate embroidery and floor-length sheer pleated cape sleeves that cascade down the sides.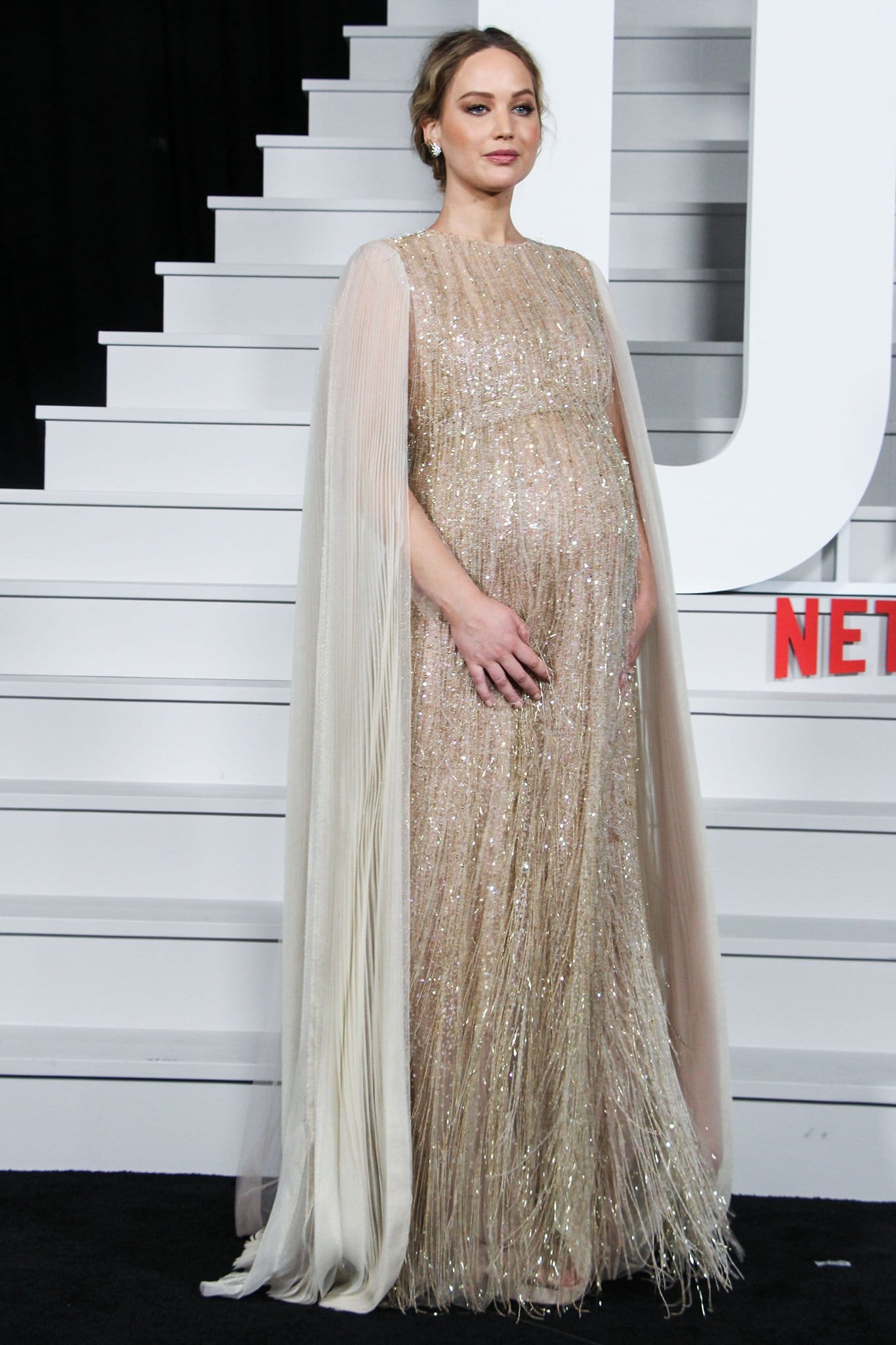 Jennifer Lawrence's Dior fringe gown features delicate embroideries and sheer pleated cape sleeves (Credit: Mega / WENN)
She kept the look classy by pairing her glitzy gown with $18,000 Tiffany & Co. Schlumberger flame ear clip earrings, which feature scintillating round brilliant diamonds set in platinum and striking strands of 18k yellow gold.
The Hunger Games star posed alongside the Romeo + Juliet actor, who wore a fitted navy suit made of sustainable regenerative wool and a white organic cotton shirt.
Leonardo DiCaprio poses alongside co-star Jennifer Lawrence in a sustainable navy suit (Credit: Avalon / WENN)
The following day, the X-Men actress made an appearance on The Late Show with Stephen Colbert.
She once again turned heads as she put her burgeoning baby bump on full display in a fitted polka dot dress from Oscar de la Renta.
The bodycon number gives off a retro '50s appeal with its low square-cut neckline, puff shoulders, long sleeves, and a knee-length straight hem.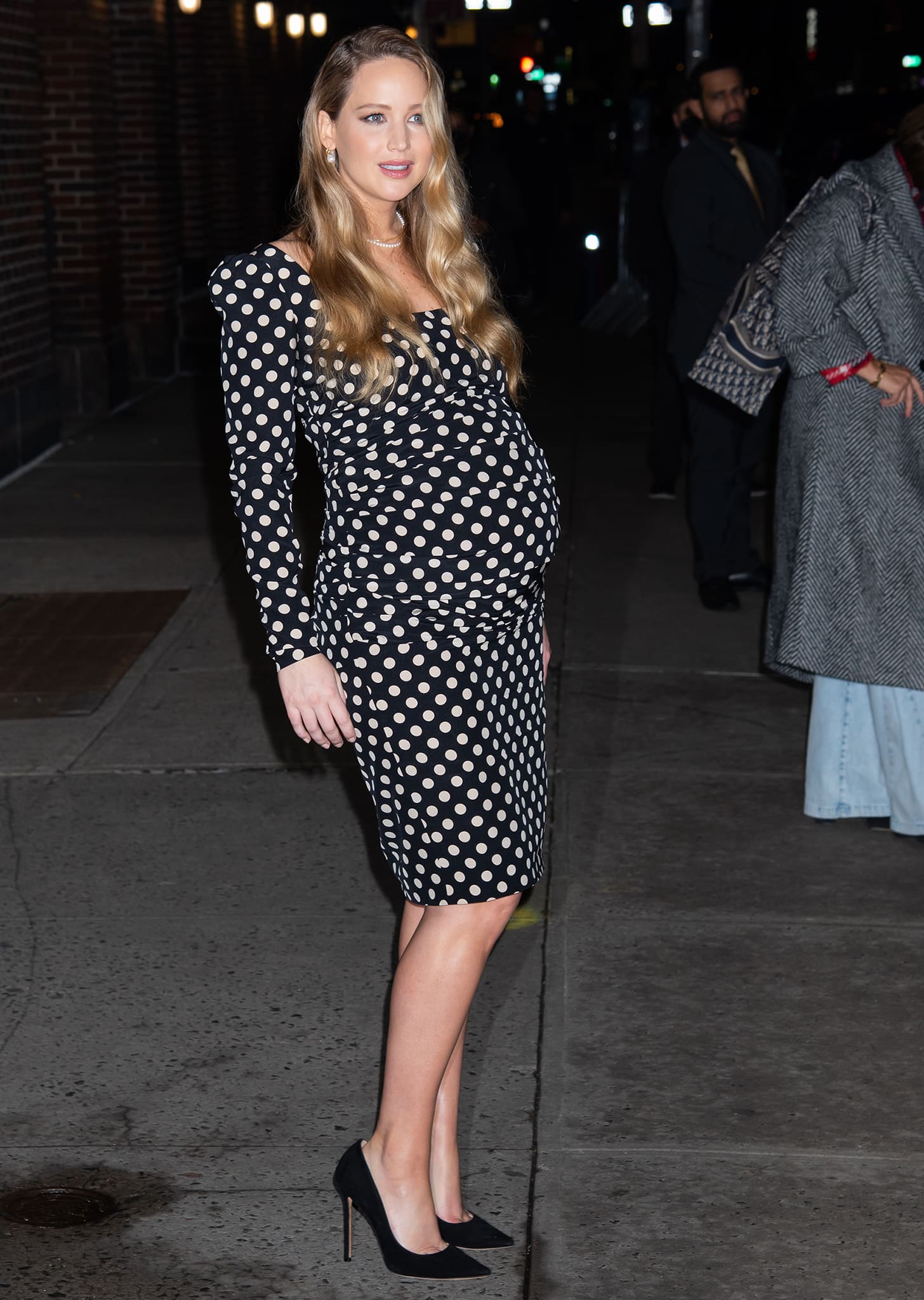 Pregnant Jennifer Lawrence in an Oscar de la Renta polka dot dress outside The Late Show with Stephen Colbert studio on December 06, 2021 (Credit: Mega / WENN)
Continuing with the retro theme of her look, J.Law swept her tresses to one side, styled in long, loose waves cascading over her shoulders.
As for her makeup, she wore winged eye-makeup with eyeliner, mascara, a hint of rosy blush, and matching lip gloss.
Adding a glamorous touch to her maternity look, the Silver Linings Playbook actress accessorized with a $160 Eliou Beckett pearl necklace and matching pearl drop earrings.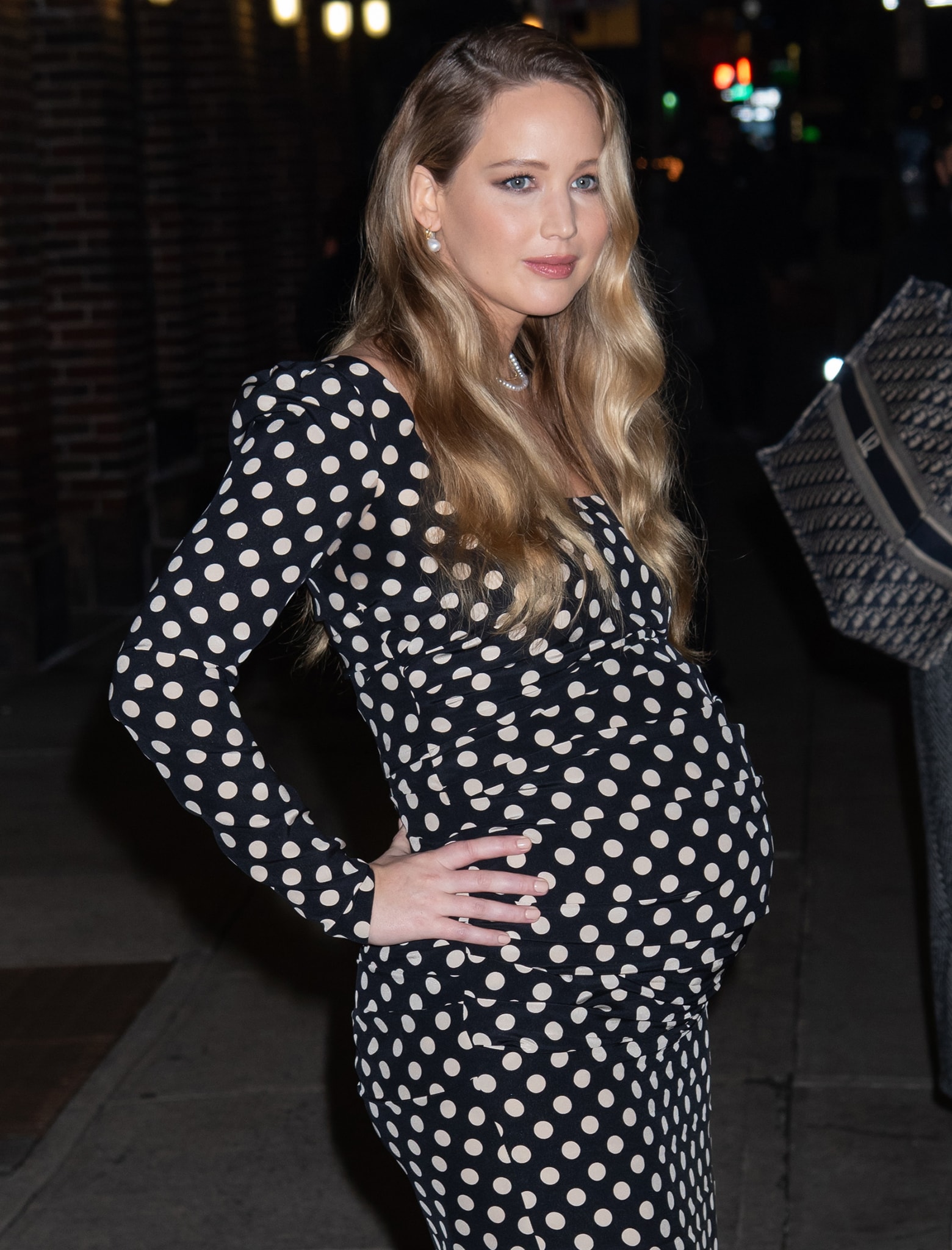 Jennifer Lawrence continues the retro theme of her look with loose waves hair and winged eye-makeup (Credit: Mega / WENN)
She then finished off her black-and-white outfit with black suede pumps from Gianvito Rossi.
Jennifer Lawrence completes her retro outfit with classic pointy pumps from Gianvito Rossi (Credit: Mega / WENN)
Timeless and versatile, these classic pumps from the popular women's shoe designer feature pointed toes and 4-inch towering heels.
Gianvito Rossi Suede Pumps, $675 at Net-A-Porter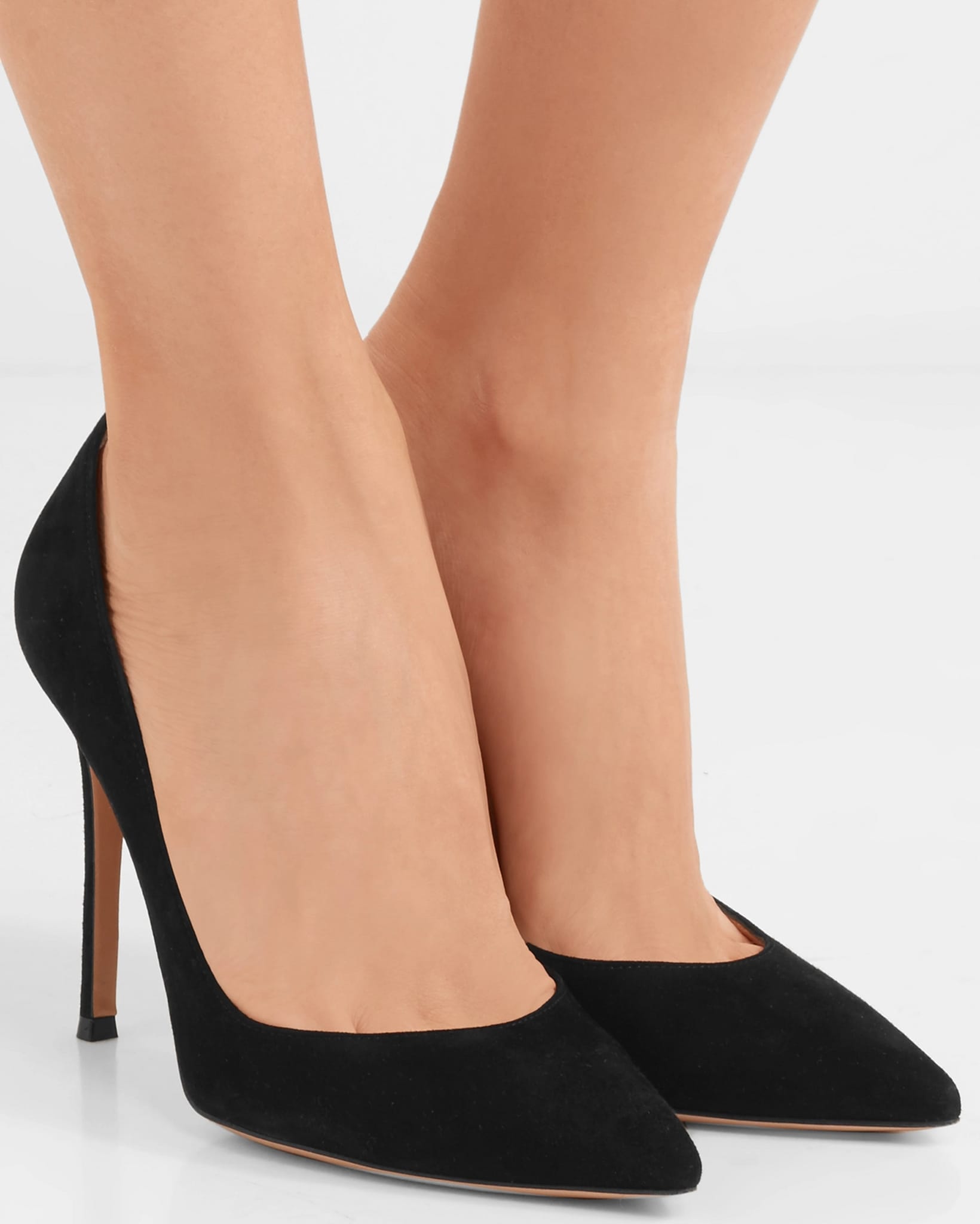 A timeless pumps featuring pointed toes and towering stiletto heels
Why Did Jennifer Lawrence Take a Break from Hollywood?
Before taking a break from the limelight, Jennifer Lawrence was considered one of the highest-paid actors in the world. While she showed no signs of slowing down, the actress admitted that she was not making quality films as she should have.
Her last four films, Passengers, Mother!, Red Sparrow, and Dark Phoenix, were met with negative reviews from critics, and the series of underwhelming performances prompted her to take a break from acting.
"I was not pumping out the quality that I should have," she recently told Vanity Fair. "I just think everybody had gotten sick of me. I'd gotten sick of me. It had just gotten to a point where I couldn't do anything right. If I walked a red carpet, it was, 'Why didn't she run?'… I think that I was people-pleasing for the majority of my life."
"Working made me feel like nobody could be mad at me: 'Okay, I said yes, we're doing it. Nobody's mad.' And then I felt like I reached a point where people were not pleased just by my existence. So that kind of shook me out of thinking that work or your career can bring any kind of peace to your soul."
What Did Jennifer Lawrence Do During Her Hiatus?
In her recent appearance on The Late Show with Stephen Colbert, the host reminded the actress that on her last guesting on the show three years ago, they did six shots of rum.
Stephen then brought up J.Law's break from acting and asked her about the things she did during her hiatus.
"Did you have fun? What did you do for the last three years?," Stephen asked, to which Jennifer Lawrence jokingly replied, "I just had a ton of sex," while laughing and looking down at her belly.
Stephen then shook her hand and said, "Good for you!" J.Law said she was joking and added that she "cooked a little." "And then the pandemic happened, and then I cooked and I cleaned a lot."
Jennifer also revealed that if she wasn't an actress, she would be "a really good housekeeper." "I make a mess, but I'm really good at cleaning up."