The X-men marvel movie series consists of 7 films featuring the character of Mystique.
The exact timeline and chronological order of the seven films are challenging to understand, but the general consensus is that the latest four films featuring actress Jennifer Lawrence are prequels, while the original three films featuring actress Rebecca Romijn happen last.
Ian McKellen as Erik Lehnsherr / Magneto, Rebecca Romijn as Raven Darkholme / Mystique, Hugh Jackman as Logan / Wolverine, and Halle Berry as Ororo Munroe / Storm (Credit: 20th Century Fox / WENN)
The original films were created in 2000, 2003, and 2006 featuring actress Romijn. Later, Jennifer Lawrence took on the role of a younger Mystique in the prequel films of 2011, 2014, and 2016.
When the X-men movie franchise decided to add another film to its long list featuring Mystique in 2019, their choice of actress for Dark Phoenix caused quite an uproar.
Many expected the casting director to choose Romijn as Mystique in the 2019 film due to their decision to keep many of the original cast members from the first three films, but it seemed like that only applied to select male characters.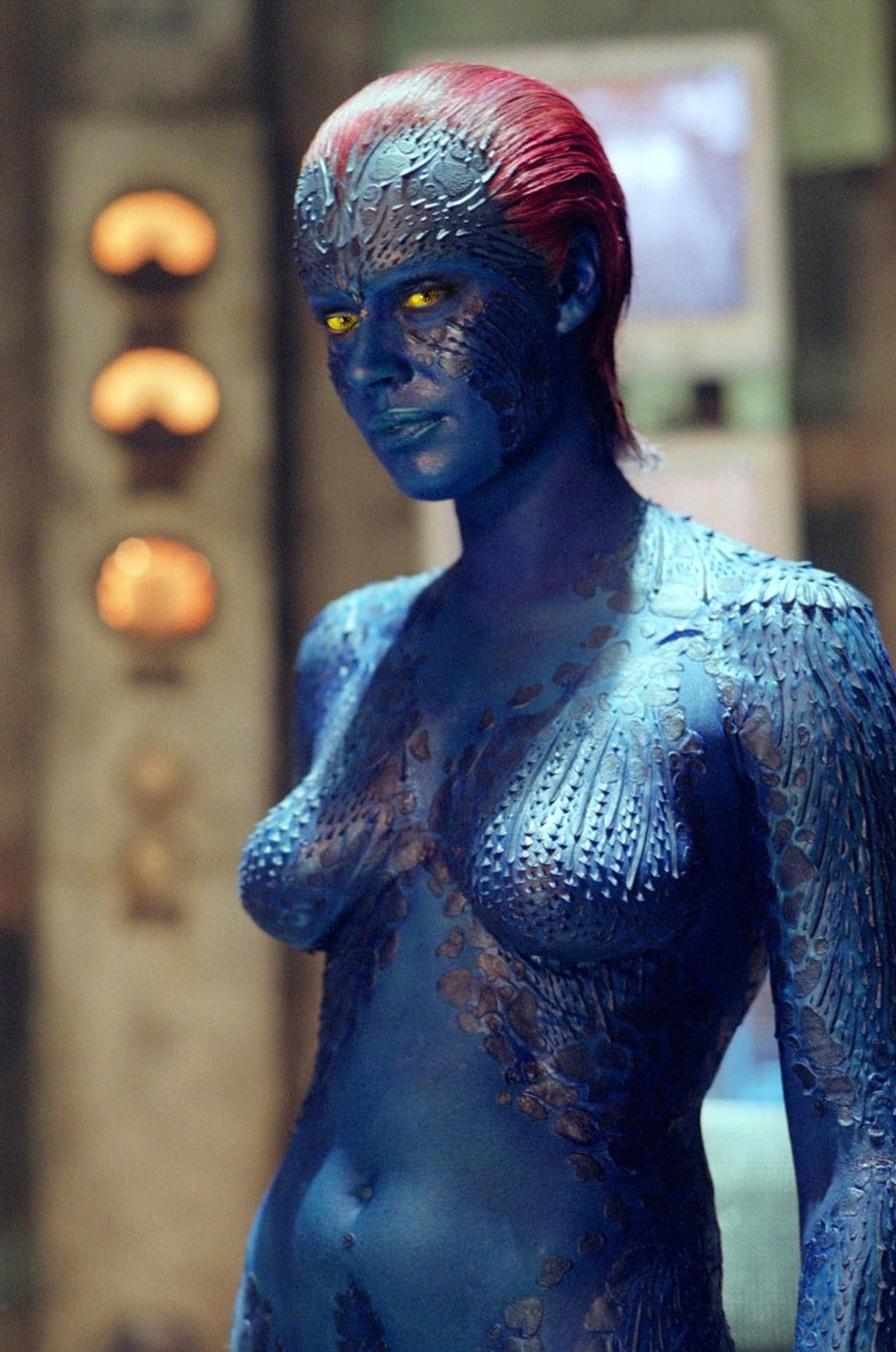 Rebecca Alie O'Connell (née Romijn) is best known for her role as Mystique in the trilogy of the X-Men film series (Credit: 20th Century Fox / WENN)
Whether or not that decision was made to keep female characters youthful is a belief that has neither been confirmed nor denied.
Fans of the franchise were surprised at the casting choice, as Lawrence had been vocal about how strenuous she found the portrayal of Mystique to be. Many thought that she would never return after her 3-movie contract had ended.
While Rebecca had her own opinions on the casting choice, fortunately, both actresses handled the uncomfortable situation with grace and class.
Rebecca Romijn's Reaction
When asked if she would have liked to reprise the role of the mutant, Romijn laughed and explained that she has very little say in if she gets to play the character or not.
She stated that she hadn't been asked to pick up the iconic role and that if offered. Romjin told Entertainment Tonight in 2016 she'd "be happy to go back and reprise that role sometime." She also added that maybe they had moved on from her version of Mystique.
Rebecca Romijn-Stamos at the premiere of the 2003 American superhero film X2 (also known as X-Men 2) in London on April 23, 2003 (Credit: WENN)
However, there's no bad blood or ill wishes between Romijn and Lawrence. Rebecca applauded the young actress and complimented her.
"Jennifer Lawrence is doing a fantastic job. I could not think of a cooler girl to share that role with. It's not like I take issue with who has taken over the role of Mystique. She is a solid actress and she's got an Oscar, so she is doing something right."
Overall, she made it very clear that while she would have loved to play Mystique all over again, she was not upset about having been replaced.
Jennifer Lawrence's Reaction
Many fans of Lawrence as Mystique were surprised when she continued her role as Mystique after the 2016 American superhero film X-Men: Apocalypse.
Since Lawrence made no secret of how strenuous it was to film in costume, many had assumed she would simply never return. However, the famous actress felt that the story was unfinished and that fans deserved a proper ending.
Jennifer Lawrence replaced Rebecca Romijn as mutant Mystique in the X-Men film series (Credit: 20th Century Fox)
To be exact, Lawrence responded to the question with "My contract was up, I didn't have to do another one, but if I didn't do another one, what would her story be? I felt like I owed it to the fans, and I owed it to the character to follow her journey, to be fair to the movies, and not be like, 'I don't want to do another X-Men!' And then I just never show up and everyone's very confused about the Mystique they've been following for the last three films.'"
Men Versus Women Returning
What was noticeable not only by the actors but by fans was how older men were quickly recast in the sequels, but women did not receive the same treatment.
Patrick Stewart and Ian McKellan returned to their original characters, while Mystique clearly was one character who saw a change in actress.
Jennifer Lawrence took over the role of Mystique in the second X-Men film franchise (Credit: 20th Century Fox)
When asked about her opinion on that, Romijn simply stated that she didn't have an opinion about it, and that "maybe they just want to keep going younger." Born on November 6, 1972, Rebecca Romijn is 18 years older than Jennifer Lawrence, who was born on August 15, 1990.
The Costume & Makeup
Mystique is known for her blue skin and yellow eyes, but imagine the effort that goes into creating that? Lawrence had to be painted blue from head to toe for eight hours in order to achieve the desired look.
Not an inch of skin was allowed to remain uncovered. It took six different makeup artists to apply the paint in that amount of time.
This was incredibly difficult to work in and equally as difficult to wash off. Lawrence got headaches from the fumes of the paint, and she had to pee through a funnel as to not mess up the paint job.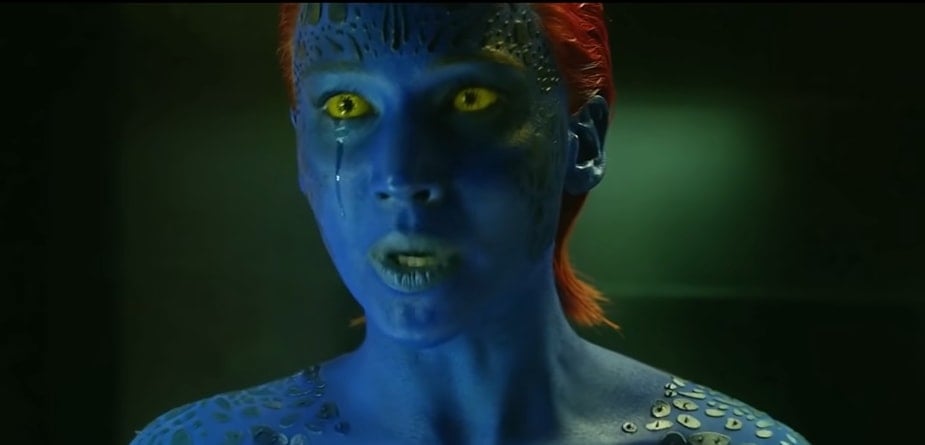 Jennifer Lawrence with blue skin and yellow eyes as Mystique (Credit: 20th Century Fox)
Washing off wasn't easy either, and gave Lawrence issues with her landlord. Continuously washing off the blue paint had discolored her apartment's bathtub and the landlord was hesitant to give her her security deposit back.
Later the blue paint was exchanged for a blue suit due to Jennifer's concerns about how healthy it was to be breathing in the paint for so many hours in a day.
Rebecca Romijn pointed out how lucky Lawrence was to avoid the full body paint later on in the franchise, as she recalled having a similar original experience to Jennifer, being painted on for eight hours at a time.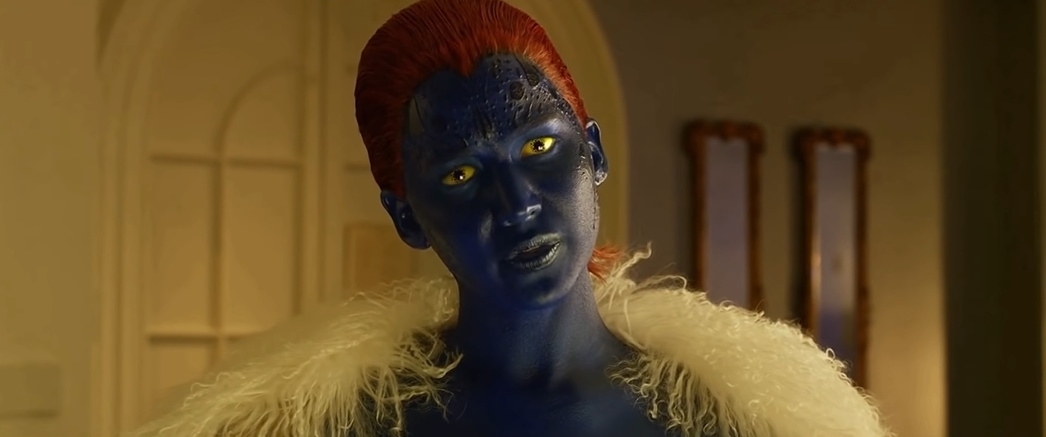 Jennifer Lawrence says it took eight hours to transform into shapeshifter Mystique (Credit: 20th Century Fox)
Often, she remembers, that meant she had to be at the set at midnight so that shooting could start at a reasonable time like 9 am.
Rebecca reminisced about how incredibly awkward that experience was. She remembered being extremely careful not to touch anything.
From having to help out the artists to get to more intimate places, to having cast members being able to identify what toilet she had used (because yes she turned it blue), it was definitely a memorable experience and one she'll unlikely ever forget.
Romijn joked that "I do think nine hours of makeup makes you the villain you need to be to be Mystique." The actress used to commiserate with fellow celebrity Alan Cummings, who also was painted blue at the time.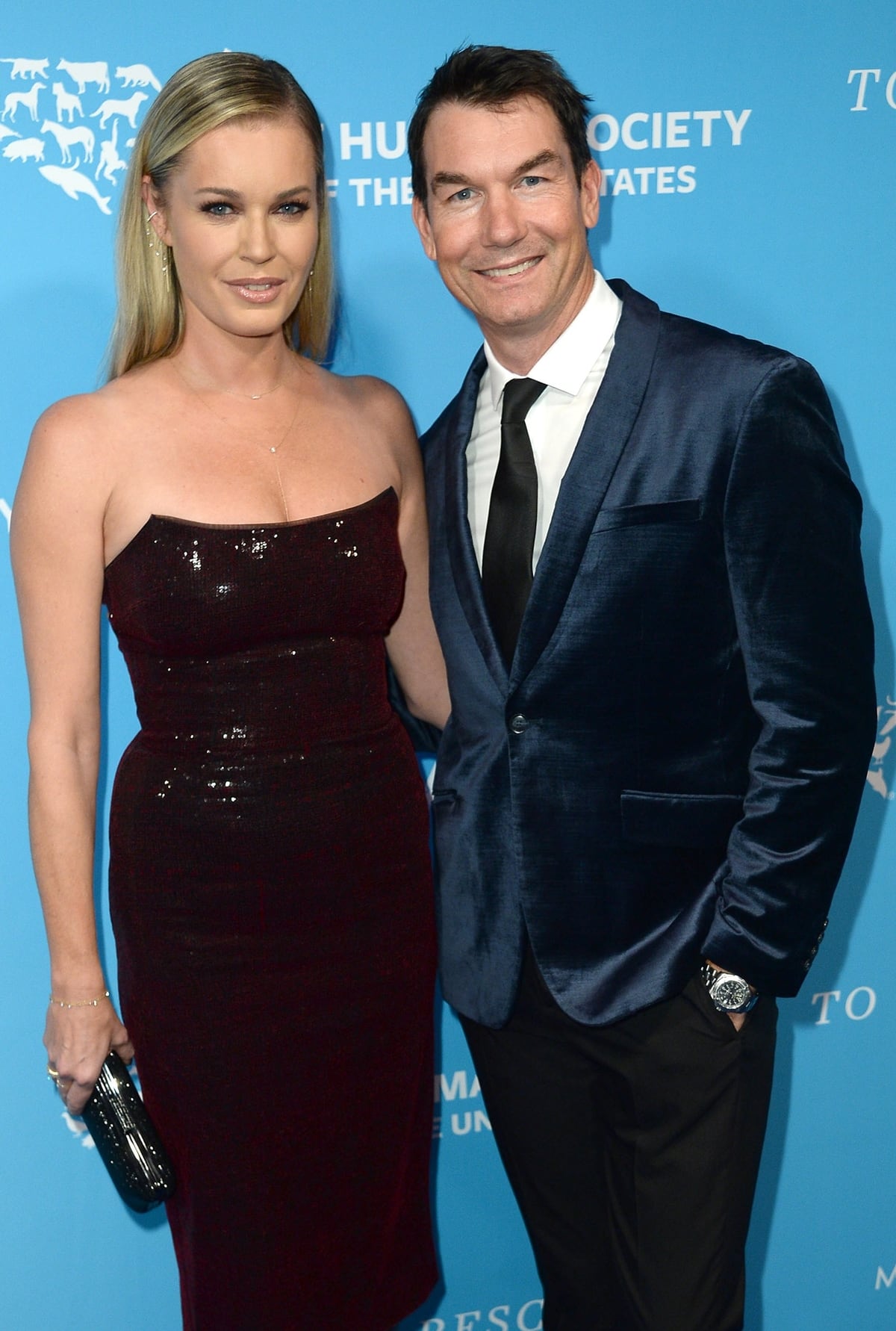 Jerry O'Connell and model Rebecca Romijn married in 2007, two years after her divorce from John Stamos was finalized (Credit: Avalon / WENN)
They used to act like a married couple, remarking on how others wouldn't be able to empathize with how difficult it was to be blue.
Additionally, prosthetics made for a challenge when it came to acting for Rebecca. Not knowing if the prosthetics hindered her expressions from translating on the screen, the actress was often concerned about how her work was coming across.
She compared it to feeling like "having Botox without the needle." And if that doesn't ALREADY sound like a complete drag, the actress also had to wear the yellow contact lenses, which made it almost impossible to see.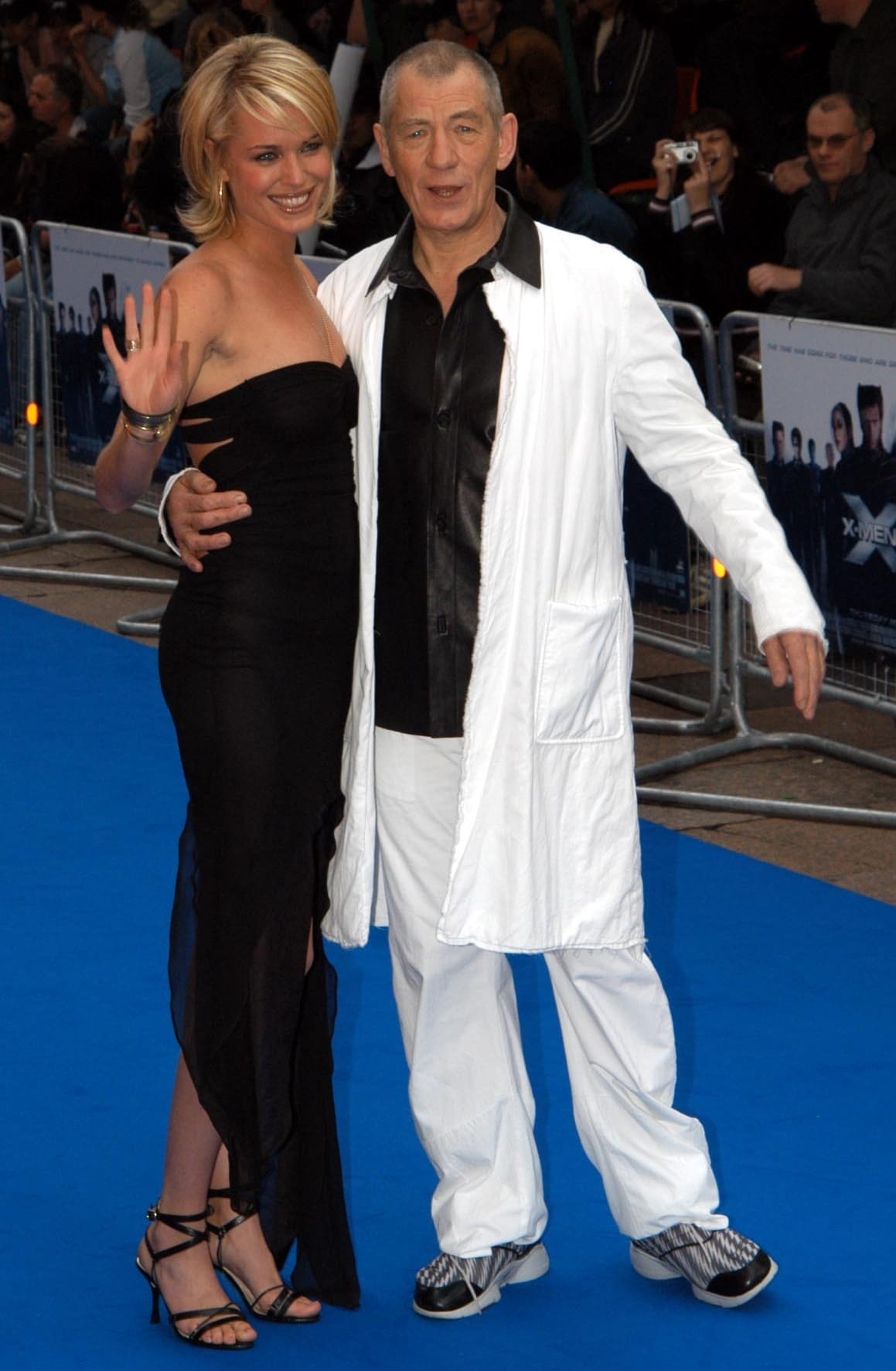 Sir Ian Murray McKellen CH CBE and Rebecca Romijn-Stamos at the premiere at of X Men 2 (Credit: WENN)
It's safe to say that Lawrence had already gotten the better end of the stick without the contact lenses, but then an even better experience when wearing the suit.
Mystique the Character & Final Thoughts
Mystique was a character who appeared in the Marvel comic books in the edition Ms. Marvel #16 in 1978. As a mutant, the character possesses the supernatural ability to shapeshift.
She is the known anti-hero of the series, the enemy of the X-men, becoming an iconic supervillain. While undoubtedly both women have added their own spins to the character, it's clear that they both have gone through extreme lengths to bring the character to life.
Even though Lawrence has been portraying a younger and more modern version of Mystique, Romijn will forever be the classic version of the character.
We can consider ourselves lucky that it's not part of our own careers to get painted blue or any other color for a fact, and will for sure get our security deposits back!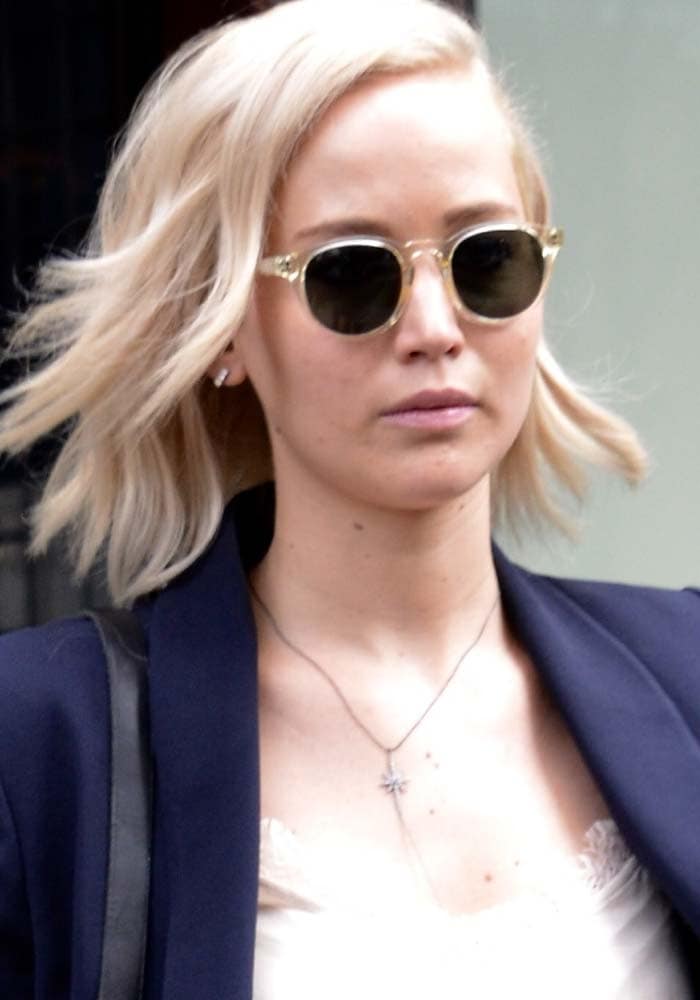 Jennifer Lawrence wears her hair down as she leaves her New York hotel on March 25, 2016 (Credit: TNYF / WENN)
In March 2016, Jennifer Lawrence was in New York to promote the DVD release of "The Hunger Games: Mockingjay – Part 2," and she was absolutely slaying her casual promotional style.
J. Law first wore her favorite beanie and Alberta Ferretti shearling jacket look, but quickly changed it up to a more casual business one later on.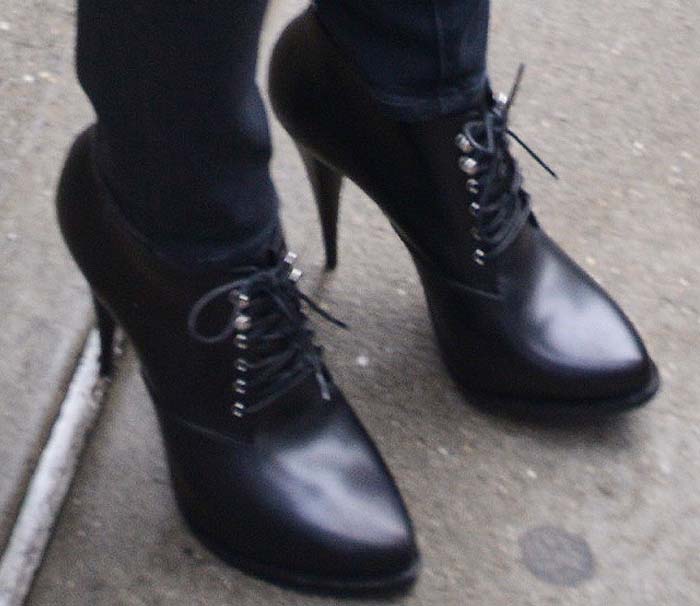 Jennifer Lawrence debuts new Givenchy boots in New York (Credit: TNYF / WENN)
Jennifer later switched up her look to a laced camisole top paired with skinny jeans from Current / Elliott, which she dressed up with a blue shoulder-padded blazer.
The actress finished her look with the Alexander Wang "Mason" mini sling, Oliver Peoples "Delray" sunglasses, and black Givenchy "Perla" ankle boots.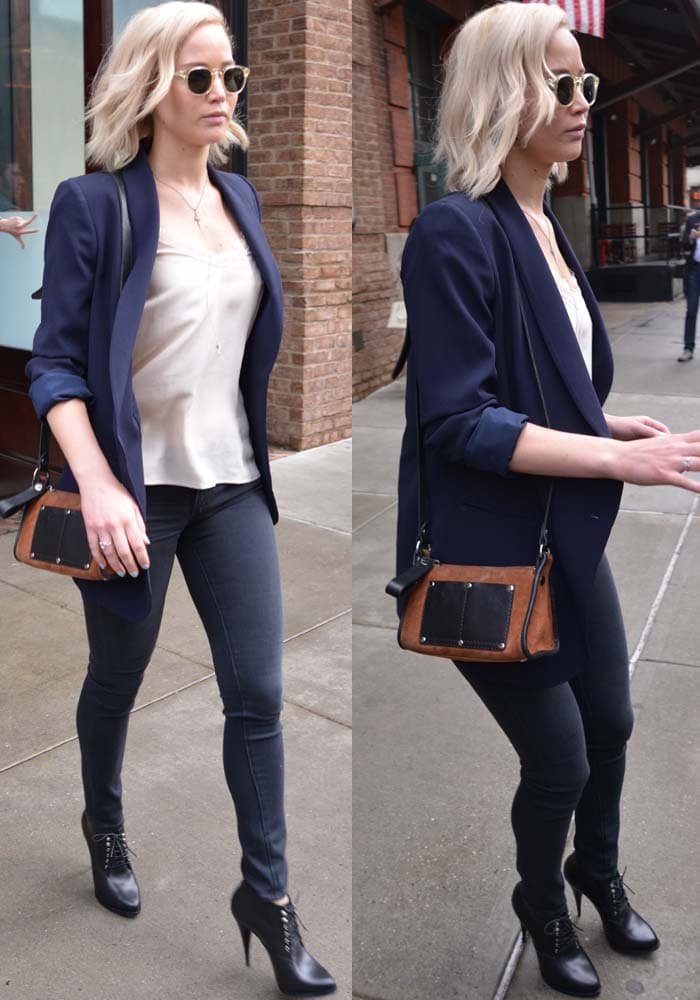 Jennifer Lawrence wears a more formal blazer-and-jeans look for her DVD promotion tour (Credit: TNYF / WENN)
You can order Jennifer's Givenchy "Perla" ankle boots at Farfetch and Nordstrom.
Givenchy 'Perla' Lace-Up Leather Ankle Boots, $960