Storm Reid is doing the rounds to promote her latest movie, Missing, and appeared in a pink mini dress on Jimmy Kimmel Live to talk about the new thriller directed by Will Merrick and Nick Johnson.
The Euphoria star has been working on a number of high-profile projects alongside her studies at USC, which she told Jimmy Kimmel all about.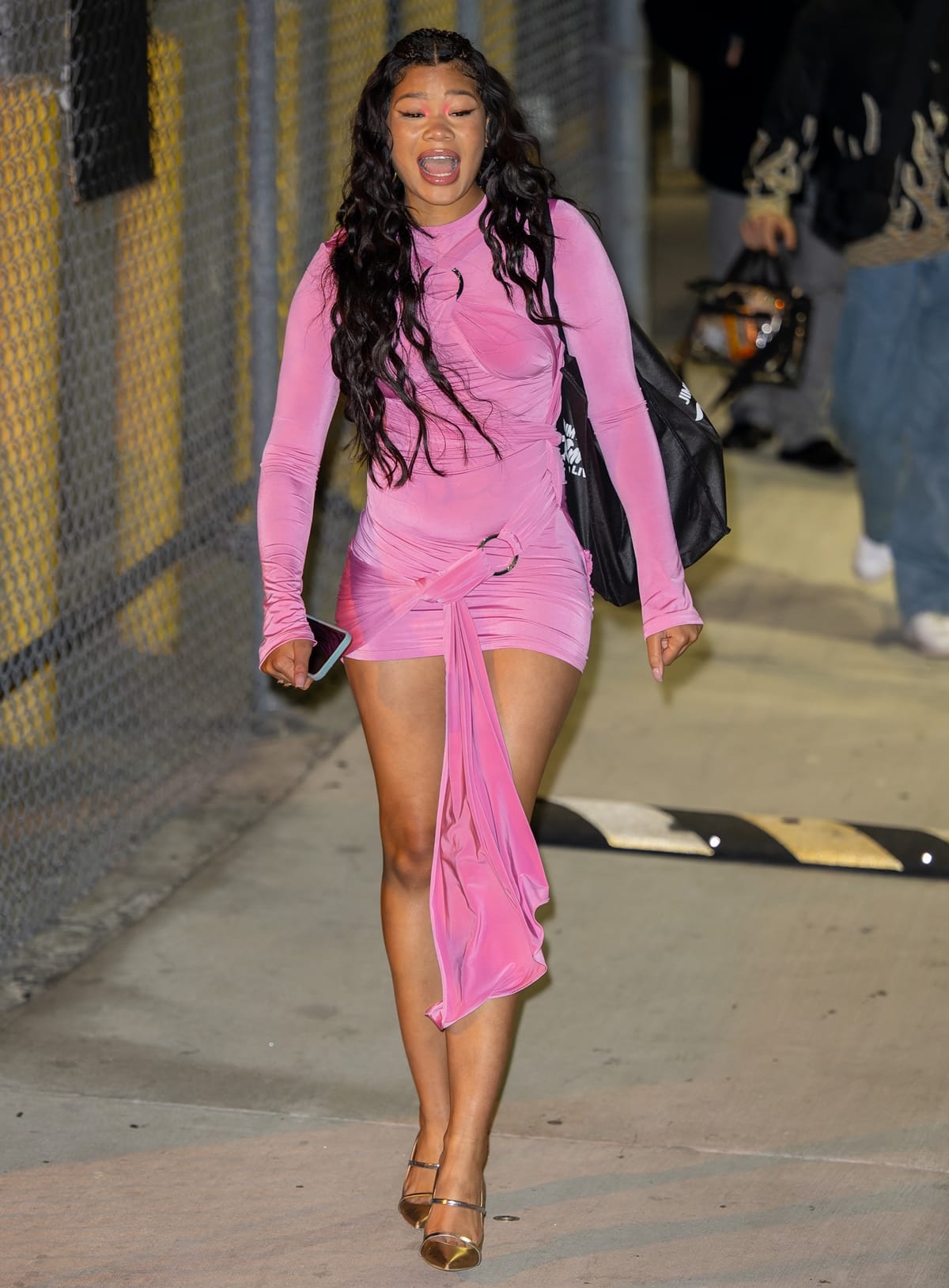 Storm Reid looked stunning as she arrived for a taping of the "Jimmy Kimmel Live" show on January 17, 2023, in Los Angeles, California, donning a sleek pink The Attico Fran jersey mini dress with rings (Credit: BauerGriffin / INSTARimages / Cover Images)
The pink high-necked mini dress she wore from The Attico is called the Fran mini dress and is available at SSENSE for $1,285.
It features long sleeves with crisscrossing sashes wrapped around the fitted body of the dress. The O rings used to wrap the sashes in multiple directions added an extra element of style to the stunning dress.
The ensemble is simple and flirty, with a fabric sash trailing from the front of the dress. The pink mini is a step outside of her normal style, but the star looked stunning.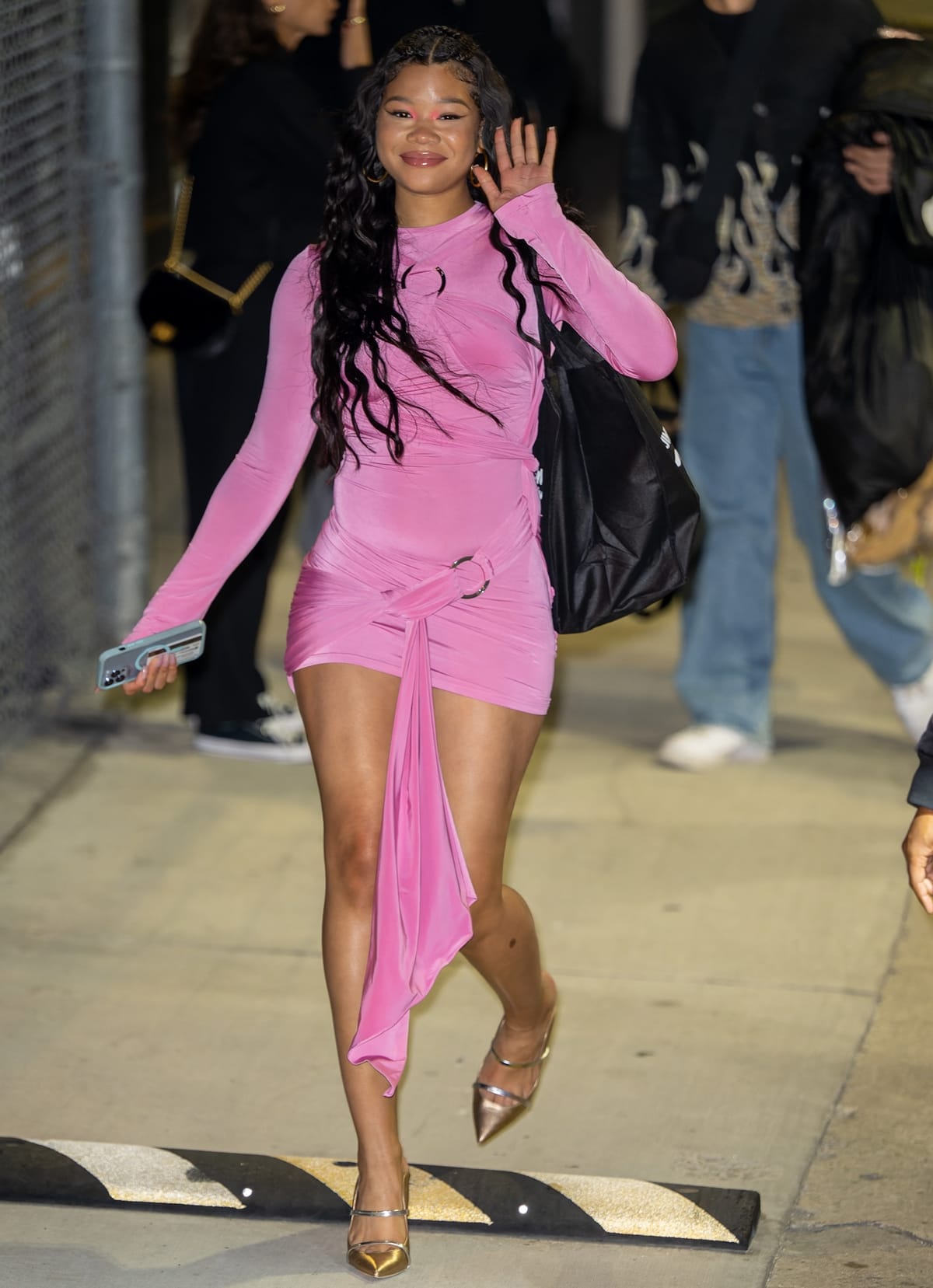 Storm Reid flaunts her legs in the thigh-grazing wrap-style mini dress (Credit: BauerGriffin / INSTARimages / Cover Images)
Reid wore her hair in glamorous mermaid waves down to her waist, with an intricate circular braided style on the crown of her head to sweep her hair away from her face.
Her makeup followed the mermaid trend with a bright pink splash of color on her inner eyes, complimenting the wide cat's eye look she donned.
Reid accessorized with gold hoops and completed the look with a pair of rose gold and silver "Maureen" leather stiletto mules from Malone Souliers that you can buy at Farfetch for $707.
However, the 19-year-old actress changed from the gold and silver mules into a pair of silver metallic Versace Barely leather sandals for her interview with Jimmy Kimmel.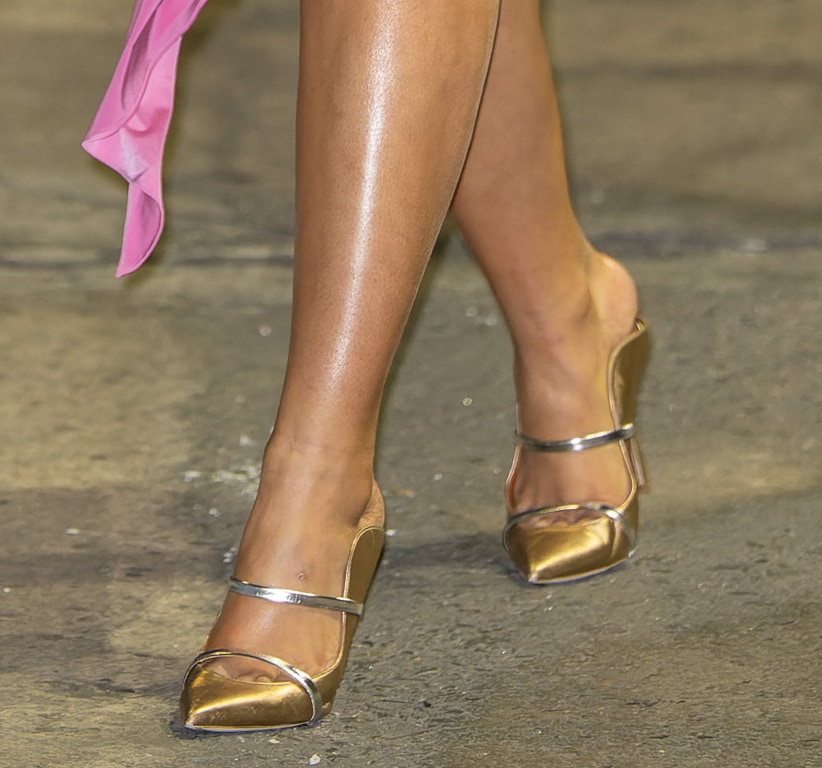 Storm Reid pairs her tiny pink dress with rose gold/silver Malone Souliers Maureen metallic-effect mules (Credit: BauerGriffin / INSTARimages / Cover Images)
What Is Missing Movie About?
Reid shot to fame when she starred as 14-year-old Meg in A Wrinkle in Time alongside Hollywood greats like Oprah Winfrey, Reese Witherspoon, Mindy Kaling, and Chris Pine.
Her latest movie role as a teenager named June Allen in Missing sees her starring alongside Nia Long, Ken Leung, and Joaquim de Almeida.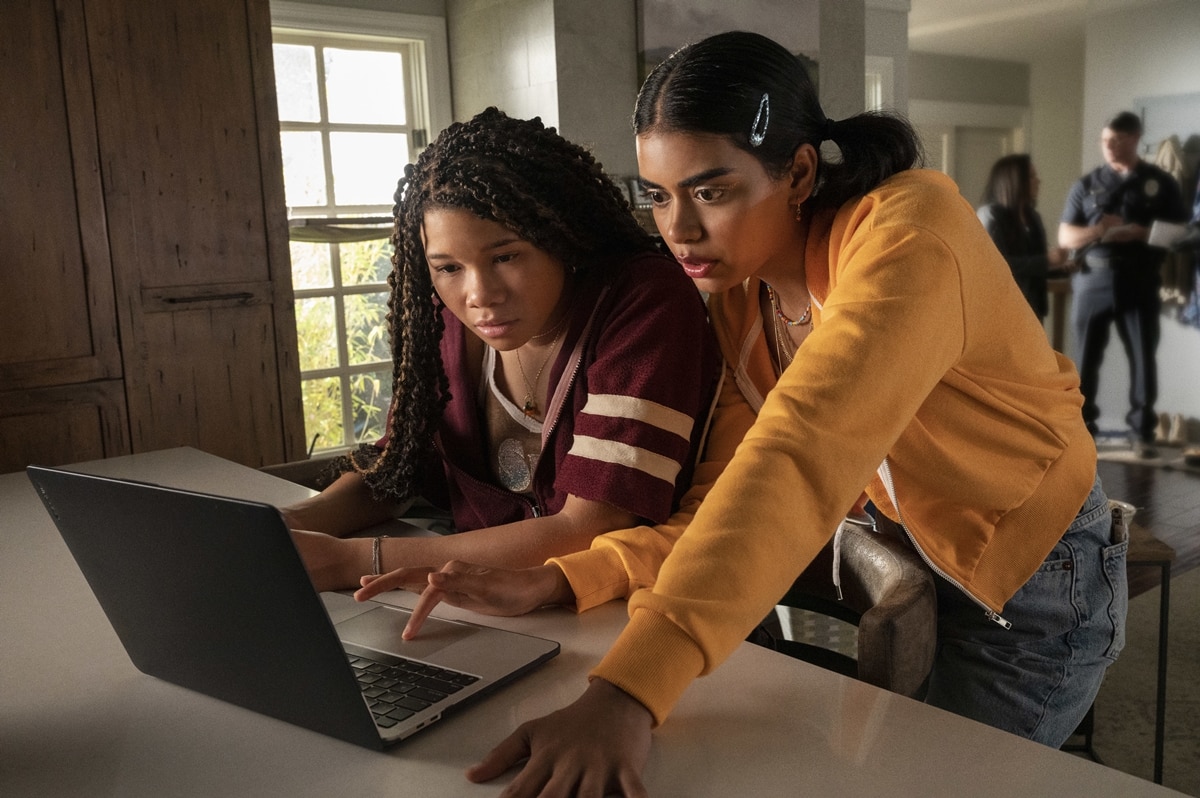 Storm Reid as June and Megan Suri as Veena in the 2023 American screenlife thriller film Missing (Credit: Sony Pictures Releasing)
Reid is headlining the new thriller, which was released by Sony Pictures Releasing in the United States on January 20.
When her mother (Nia Long) goes missing while on vacation in Colombia with her boyfriend (Ken Leung), June launches a desperate search for her.
Stuck in their Los Angeles home, June uses social media and the latest trends in technology in an effort to locate her mother. She looks into her social media accounts and emails, but as she digs deeper, June uncovers her mother's darkest secrets.
Storm Reid launches a desperate search for her missing mother in the mystery thriller Missing (Credit: Sony Pictures Releasing)
There is no end credits scene after Missing, which serves as a standalone sequel to the 2018 American screenlife mystery thriller film Searching. So, you can leave the theater as soon as the credits begin to roll.
Is Missing Based on a True Story?
Missing is not based on a true story; rather, it's an anthology sequel to 2018's Searching, which is also a screen-life mystery thriller. Searching's story is similar to Missing but switches up the genders and circumstances.
While Missing follows a teenage daughter searching for her missing mother, Searching follows a father trying to find his missing teenage daughter.
Missing is an anthology sequel to 2018's screen life mystery thriller Searching, starring John Cho (Credit: Sony Pictures Releasing)
Sev Ohanian and Aneesh Chaganty, the screenwriter and director of Searching, created Missing and also served as co-producers of the film along with Natalie Qasabian.
Storm Reid Had No Idea About Searching Movie
In an interview with IndieWire, Storm revealed she "had no idea about Searching" before auditioning for its sequel, Missing.
"I actually had no idea about Searching before Missing came to my plate, but I fell in love with the script while reading it. I was so intrigued. It was such an exhilarating read. When I thought I knew everything that was going on, I had no idea what was happening."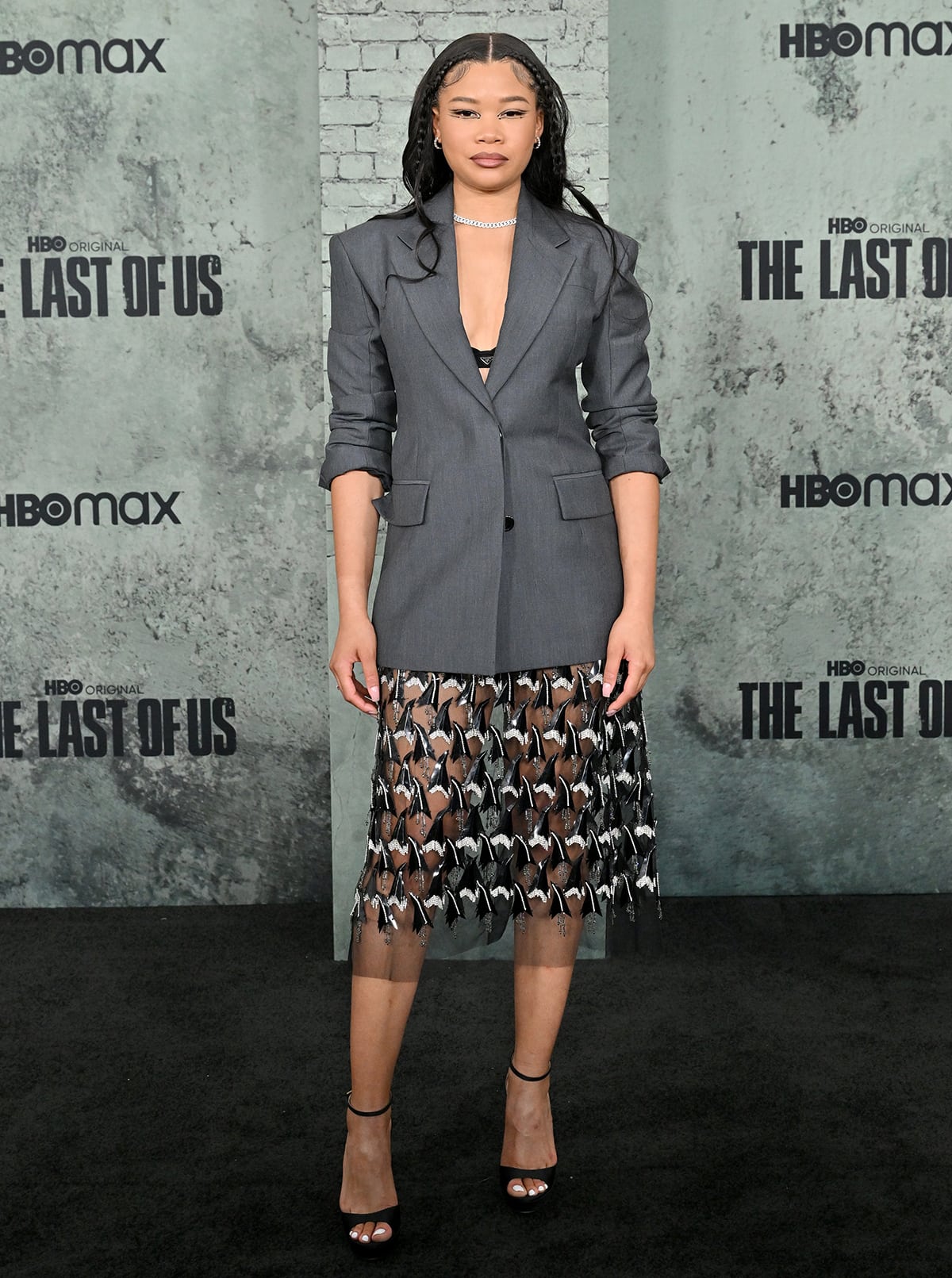 Storm Reid, pictured in a Prada bra top and Jimmy Choo heels at the LA premiere of The Last of Us, reveals not knowing Searching before auditioning for Missing (Credit: BauerGriffin / INSTARimages / Cover Images)
She also shared that she did watch Searching after reading the script for Missing and "thought it was such a cool idea."
"I had never seen a movie where everything was happening in the computer, where everything was on devices. So the fact that I was able to be a part of Missing and have a new, fresh take on that idea is really cool."
Storm Reid Dishes Out on USC's Terrible Food
Aside from talking about her latest movie project, Reid also chatted with Kimmel about her dual life as a sophomore at USC and movie star and her quarterback boyfriend, Shedeur Sanders.
The Last of Us actress is currently a sophomore at the University of Southern California's School of Dramatic Arts with an emphasis on acting and a minor in African American studies.
When Kimmel asked if she eats in USC's cafeteria, Reid responded without hesitation: "Absolutely not!"
"It is so bad. I will see TikToks of my rivalry school UCLA, they have one of the best dining halls in the country. They will have sushi night, and we'll have bland peas and potatoes. I'm like, 'I just don't understand, I'm paying so much money to be here, why is the food bad?'"
She went on to say that in her two years at school, she's only been at the USC dining hall twice.
Storm Reid on Supporting Boyfriend Shedeur Sanders
Reid also discussed how she supports her boyfriend, Colorado quarterback Shedeur Sanders, and his recent transfer from Jackson State to the University of Colorado Boulder, where his dad Deion Sanders is a head coach.
"They're doing an amazing thing. Shedeur is playing ball, and Mr. Deion is an incredible person, an incredible coach."
View this post on Instagram
She also mentioned watching all his games, saying, "Whether I'm there or not, I do support. And I'm just glad to have him as a friend, as a confidant, to be able to support him. He supports me. It's fun."
Reid also said she will root for Sanders when the Buffaloes play at the USC stadium.
"I will be for sure in the student section or wherever I am, rooting for the Buffaloes," she said. "Wearing the number and everything."