Olivia Wilde's Don't Worry Darling finally hit theaters Friday, but the drama surrounding the new movie continues to escalate.
On Wednesday, Olivia Wilde made a guest appearance on The Late Show with Stephen Colbert to set the records straight about Shia LaBeouf, as well as Harry Styles and Chris Pine's alleged feud.
Did Harry Styles Spit on Chris Pine?
Rumors of Harry Styles allegedly spitting on Chris Pine have circulated since the Venice Film Festival premiere of Don't Worry Darling early this month.
The moment, which was caught in a now-viral video, happened when Styles was taking a seat next to his costar.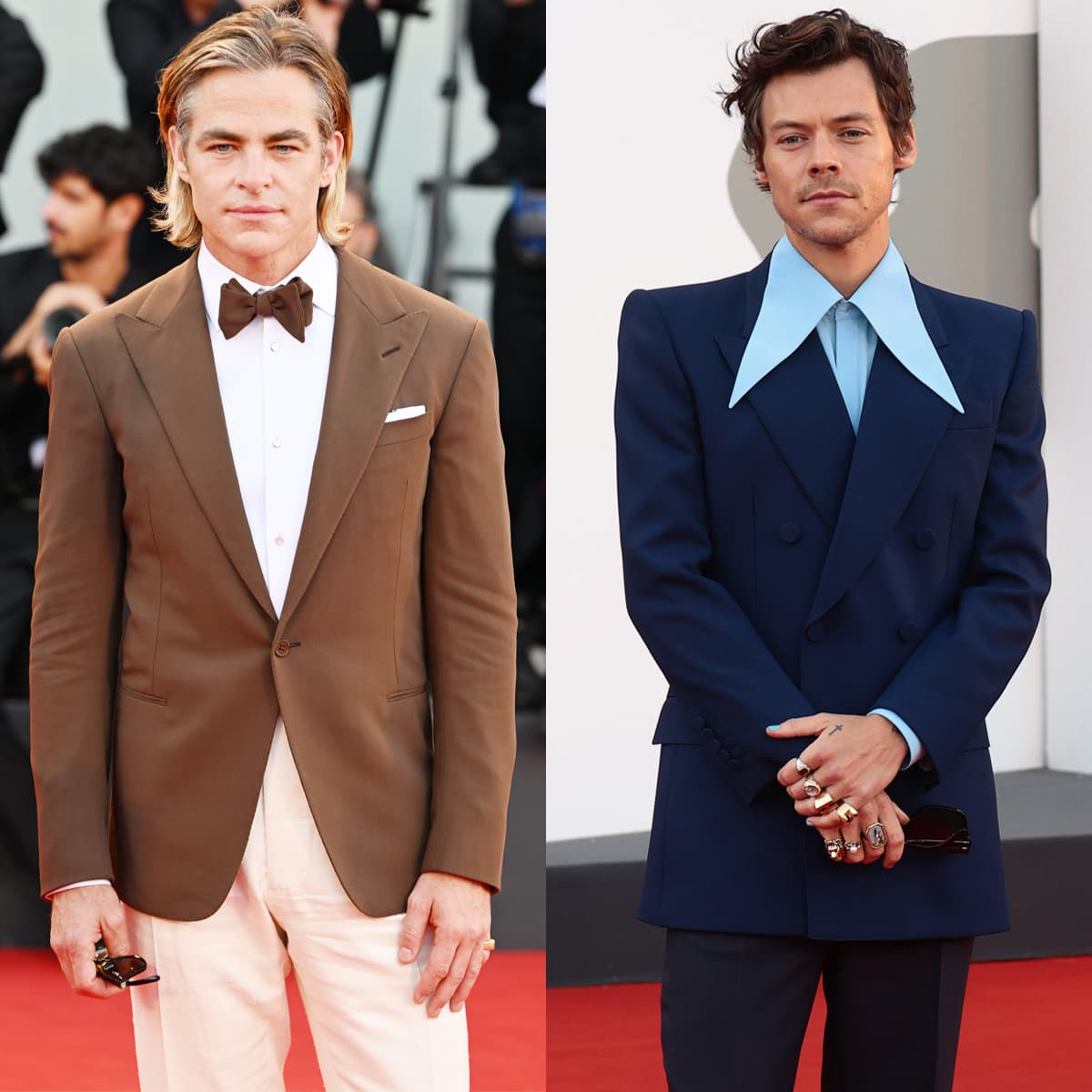 Olivia Wilde denies rumors that her boyfriend Harry Styles spit on Chris Pine at the Venice Film Festival premiere of Don't Worry Darling (Credit: KIKA Press / Cover Images)
The clip showed Pine clapping along with the audience as Styles approached his seat.
As he bends down, his lips appear to move before Pine abruptly stops and looks down on his lap. He then gives an awkward smile and shakes his head in apparent disbelief.
"Harry did not spit on Chris, in fact," Olivia Wilde told Stephen Colbert during the interview. The late-night talk show host teased Olivia and whispered, "Only time will tell. We shall see." "He really didn't," Olivia insisted.
She went on to say, "People can look at a video that shows evidence of someone not spitting on someone else, and they will still see what they want to see. And that is the creation of drama. And that is clickbait."
Real Reason Shia LaBeouf Was Replaced by Harry Styles in Don't Worry Darling
Wilde also spoke about Shia LaBeouf's controversial "firing" from the movie, revealing that the actor gave her an ultimatum over female lead Florence Pugh.
"Early on in the process of making the film, as the director, I tried to mediate a situation between people to try to see if they could work together happily," Olivia explained.
"Once it became clear that it was not a tenable working relationship, I was given an ultimatum. I chose my actress—which I'm very happy I did. At the time, was I bummed that we weren't able to make it work? Sure. Did information about him come to light later that made me confident we made the right decision? Absolutely."
When Stephen tried to make it clear if she fired Shia LaBeouf, Olivia replied, "We had to replace Shia. He's a fantastic actor but it wasn't going to work."
"And when he gave me the ultimatum, him or Florence, I chose Florence. That was him feeling he was stepping away and me feeling like we were moving on without him."
Olivia Wilde says she chose Florence Pugh over Shia LaBeouf after the latter gave her an ultimatum (Credit: Warner Bros. Pictures)
Stephen then pressed the actress-director to further explain what happened. "He had to go so he can say he quit, and you fired him, and both of you can think you're right?" to which Olivia replied, "It's a question of semantics."
Stephen continued, "He said, 'I can't do that, I'm leaving.' And you said, 'Well then, you're fired?'" Olivia quickly responded, "I said, 'That's great, you go, and we shall move on.'"
"It wasn't going to move forward in a way that he wanted it to, so he had to leave."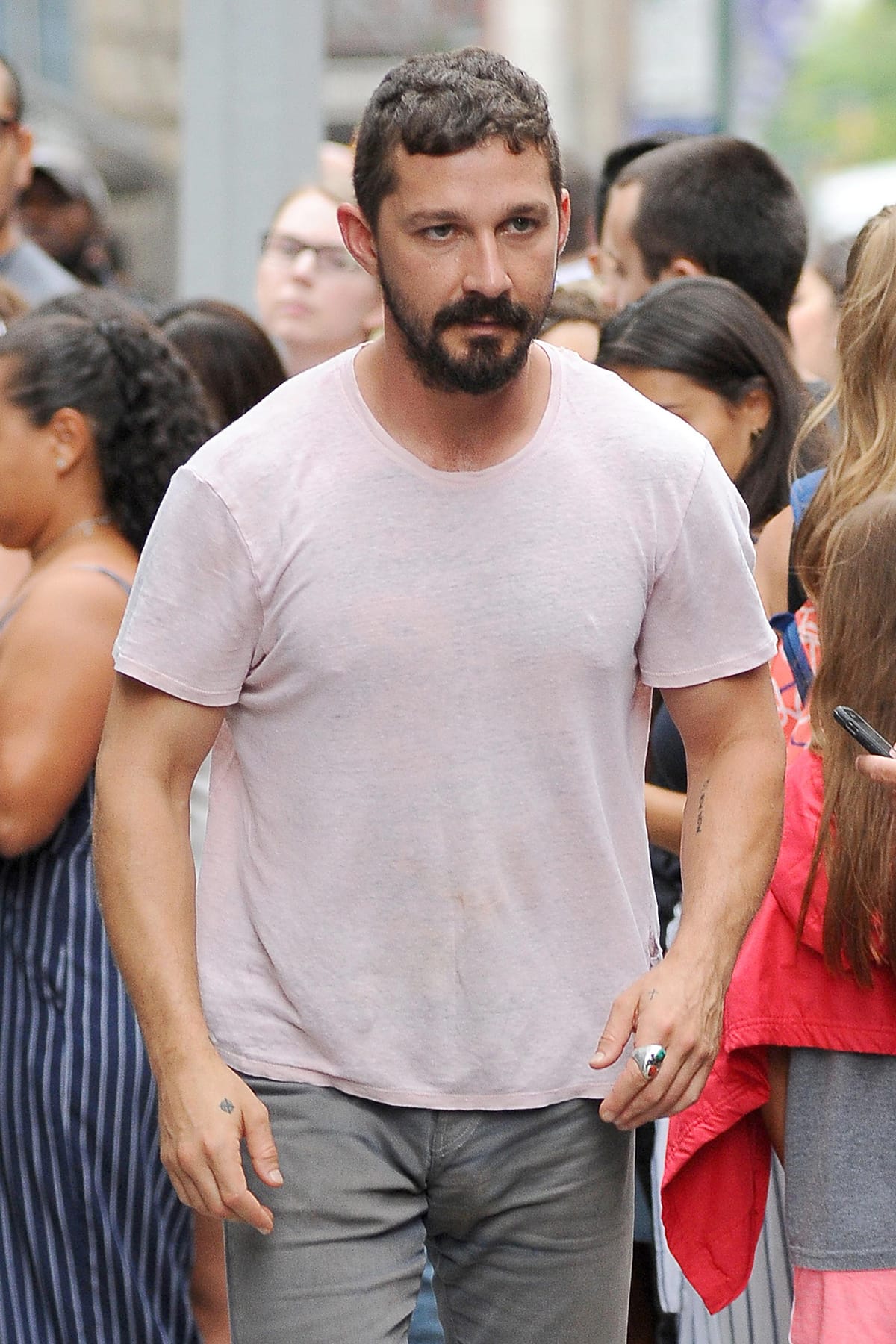 Shia LaBeouf denies getting fired from Don't Worry Darling (Credit: Humberto Carreno / INSTARimages)
Olivia kept things simple but elegant for the interview. She just tucked a plain white tee underneath a pair of black wide-leg pants and finished the look with Casadei "Rock" platform boots.
Injecting a hint of '70s edge to her ensemble, these $1,365 boots are made from soft leather and feature a sculptural silhouette with side zips, 2.3-inch concealed platforms, and 6.3-inch towering block heels.
Olivia Wilde promotes Don't Worry Darling on The Late Show with Stephen Colbert on September 21, 2022 (Credit: Janet Mayer / Startraksphoto / Cover Images)
Carrying a black bag with a gold chain strap, the Tron: Legacy actress accessorized her outfit with gold-tone jewelry from Anita Ko.
She wore a $35,250 Zoe 18-karat gold diamond choker, available at Net-A-Porter, a $7,250 Zoe bracelet, and a matching $5,100 Thin Zoe bracelet.
She further styled her look with a gold Ana Khoury Single Lila earring and a pair of Ray-Ban Wayfarers.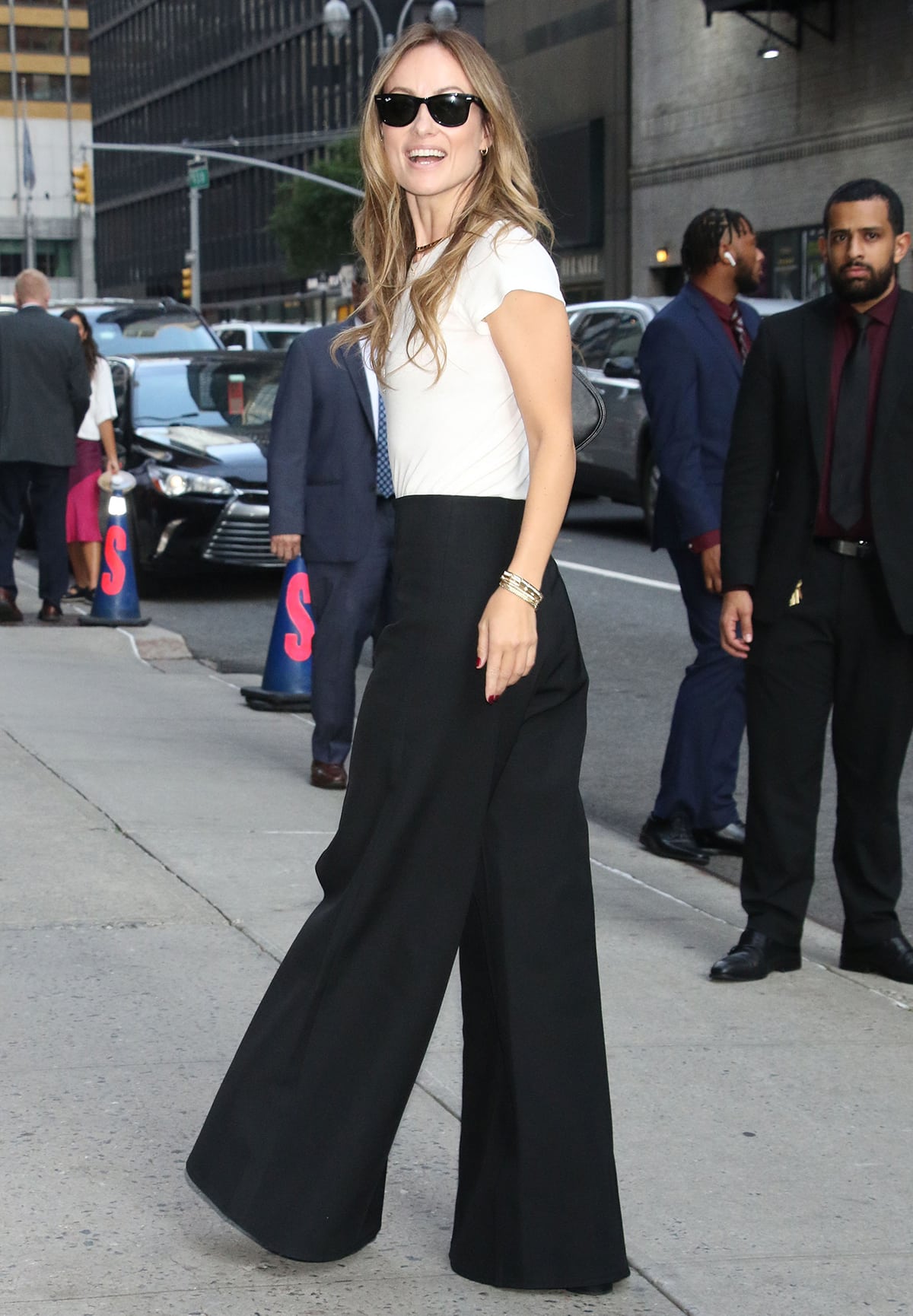 Olivia Wilde pairs a white tee with black wide-leg pants, Casadei platform boots, and Ray-Ban sunnies (Credit: Roger Wong / INSTARimages / Cover Images)
After sporting an elevated casual ensemble for her interview, Olivia was pictured leaving the Ed Sullivan Theater in a daring white gown.
The Turistas star showcased her cleavage in a slinky dress by English fashion designer Stella McCartney. It features thin spaghetti straps, a navel-deep plunging neckline, and cutouts across the midriff.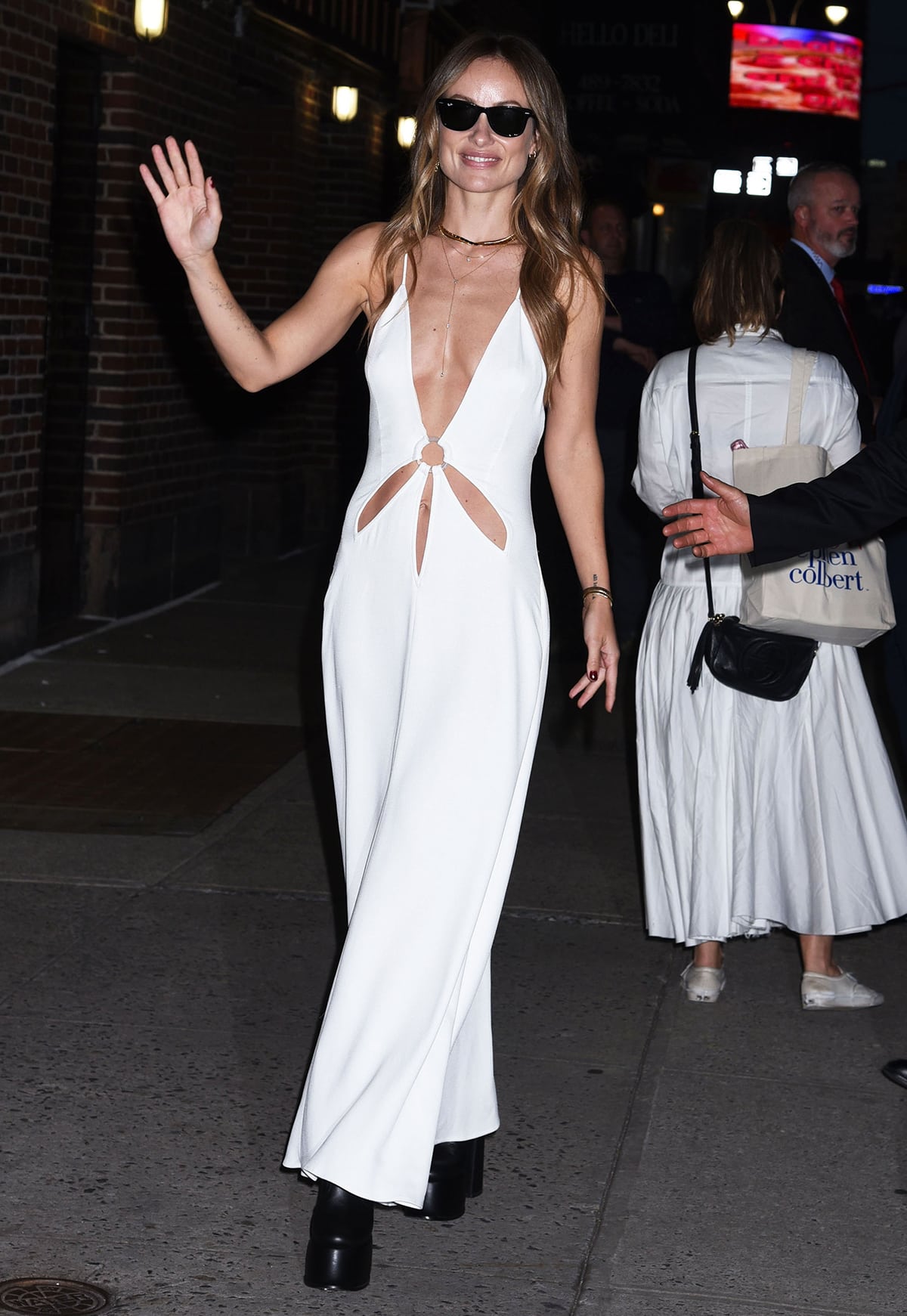 Olivia Wilde reveals her belly button in a plunging white gown by Stella McCartney (Credit: John Eddy / INSTARimages / Cover Images)
She wore the same gold jewelry and drew further attention to her boobs with a couple of delicate long layered necklaces.
Wearing her tresses down in waves, Olivia took her outfit to the next level with the same Casadei "Rock" platform boots.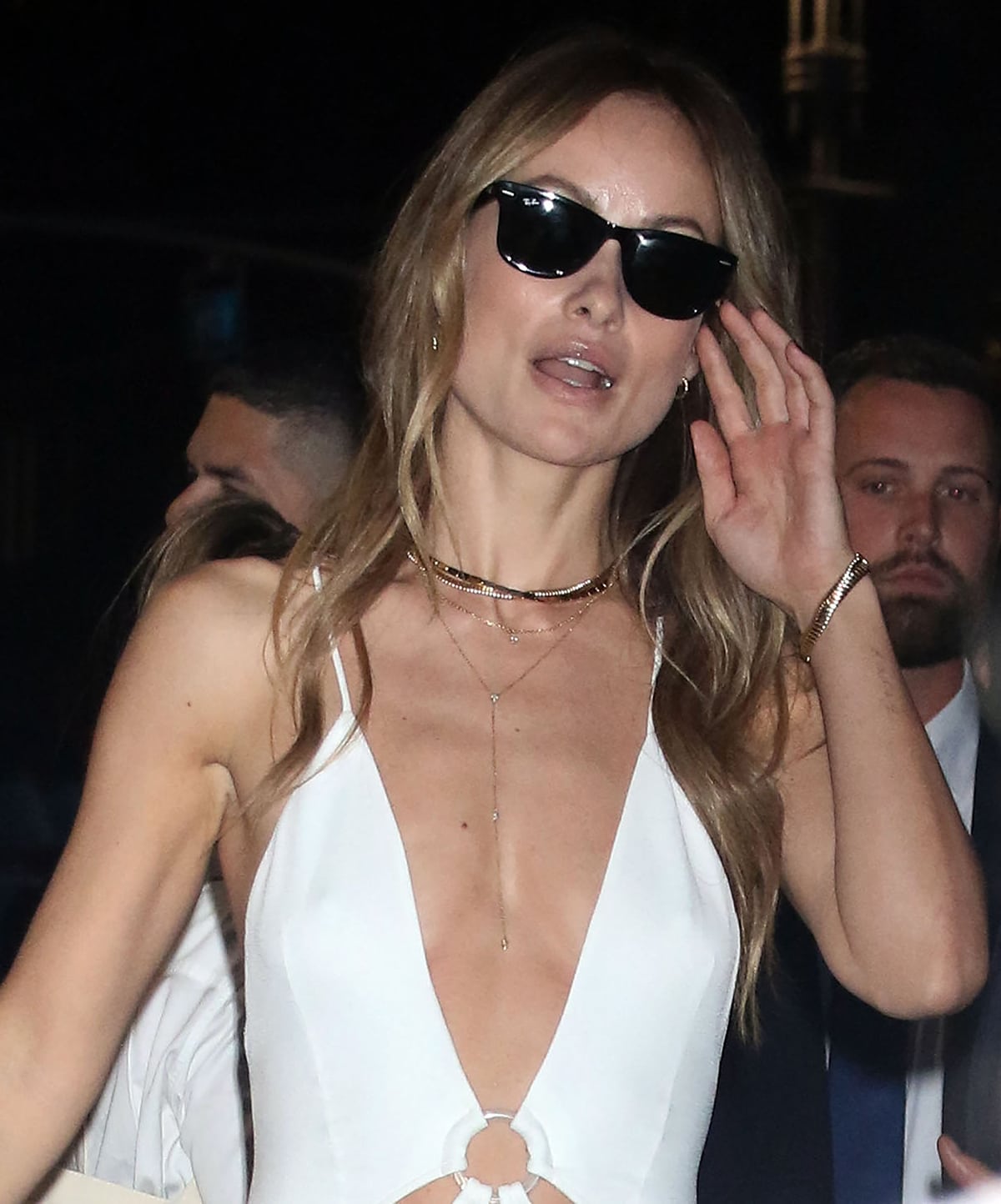 Olivia Wilde showcases her boobs in a plunging white cutout dress (Credit: Roger Wong / INSTARimages / Cover Images)