When you hear the word "sunglasses," what's the first brand you think of? There's a good chance it's Ray-Ban.
This classic brand has been worn by celebrities like Rihanna, Lady Gaga, and Hilary Duff, and is undoubtedly one of the world's most famous and renowned eyewear brands.
Ray-Ban was launched in 1937 by the Bausch & Lomb company and has produced iconic designs ever since.
Real Ray-Ban sunglasses are made in factories all over the world, including in China (Credit: Ray-Ban)
The Italian-American brand is perhaps most well-known for its popular Wayfarers, as well as the Aviators that were originally designed to help U.S. Army Air Service pilots do their jobs.
Ray-Ban has also been credited with the creation of wrap-around style sunglasses.
The first Ray-Ban Aviators were released to the public in 1937 (Credit: Robert Way / Shutterstock)
Because Ray-Ban offers everything from classic styles to contemporary designs — and all in a variety of colors — there's definitely a pair of Ray-Bans to complement your lifestyle and personality.
No wonder the brand continues to serve as a leading eyewear choice for everyone from celebrities to street style stars.
Michael B. Jordan, Kesha, and Emma Roberts wear Ray-Ban sunglasses (Credit: Michael Wright / WENN / Avalon)
KTAL-TV reported in April 2019 that a slew of counterfeit Ray-Bans worth more than $40,000 was seized by U.S. Customs and Borders Protection officers in Shreveport, Louisiana.
In May 2022, ClickOnDetroit reported that police in Detroit had confiscated thousands of Louis Vuitton, Gucci, Versace, Chanel, Coach, Armani, MCM, Ferragamo, and Ray-Ban products.
ABC7 News focused on scammers making copycat websites that look like legitimate fashion websites later that same year. These sites often steal photos from Ray-Ban's real website in an attempt to scam customers.
However, there's no need to worry about counterfeits if you do your due diligence when buying your Ray-Bans. It's easy enough to separate the knock-offs from the real deal.
Where to buy Ray-Ban sunglasses
Make sure to purchase from legitimate and authentic retailers to ensure you're getting an authentic pair. Here are some of the most popular places to buy Ray-Ban sunglasses:
1. Ray-Ban
2. Shopbop
3. Farfetch
4. Nordstrom
5. Zappos
Since it's getting harder and harder to distinguish the replicas from the real ones, here are some of our top tips on how to authenticate a pair of Ray-Bans:
1. Why are Ray-Bans so expensive?
Ray-Bans average about $150 a pair. If the price on a pair of Ray-Ban sunglasses seems too good to be true, you have every reason to be suspicious.
That's why we recommend that you only buy from authorized retailers such as those listed above.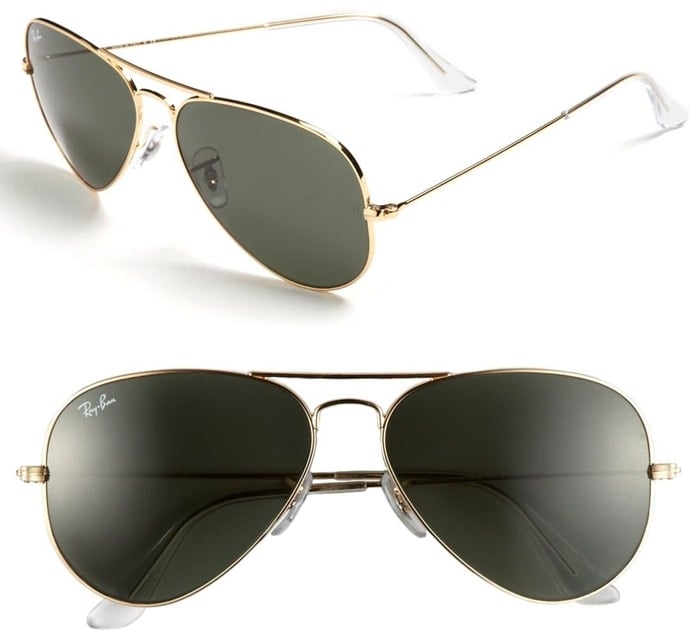 Classic Ray-Ban aviator sunglasses make a timeless and sophisticated style statement, while adjustable nose pads ensure custom comfort (Credit: Ray-Ban)
If the $150 price point seems a little steep, look out for flash sales and promotions at off-price department store chains such as Nordstrom Rack to get some great deals while still being certain of the product's authenticity.
In an interview with CNN, Ray-Ban's global brand director Sara Beneventi said the brand's sunglasses are more expensive than knock-offs because they're costlier to produce. "We don't have plastic lenses," she emphasized.
2. Examine the logo
A surefire way to tell whether Ray-Ban sunglasses are fake is by looking at the logo placement.
Most counterfeit Ray-Bans will have the logo placed on the left lens. Original Ray-Bans always place the logo on the upper corner of the right lens.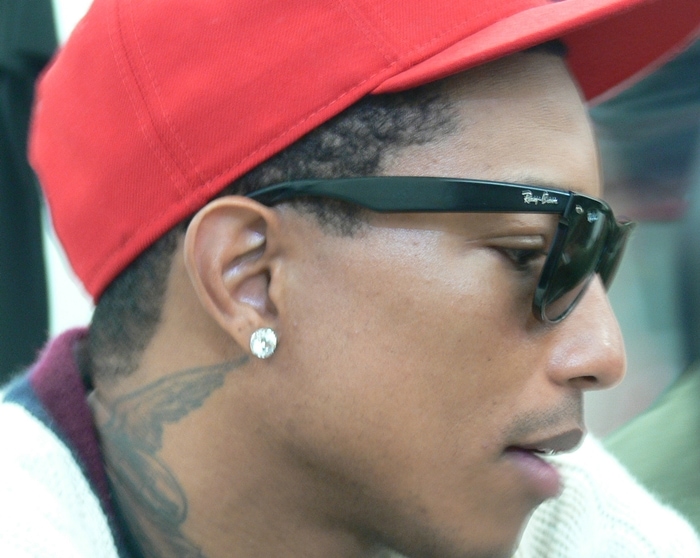 Pharrell Williams wears genuine Ray-Ban sunglasses with unmistakable frames featuring the engraved logo (Credit: Michael Wright / WENN / Avalon)
Ray-Ban sunglasses are known for their high quality, so if the pair's logo is flaking or peeling, there's a good chance the sunglasses are fake.
3. Check out the sticker on the lens
All brand-new Ray-Ban sunglasses feature a gold sticker on the lens with both the Ray-Ban logo and a black font lens type.
The sticker should also state that the glasses have 100% UV Protection.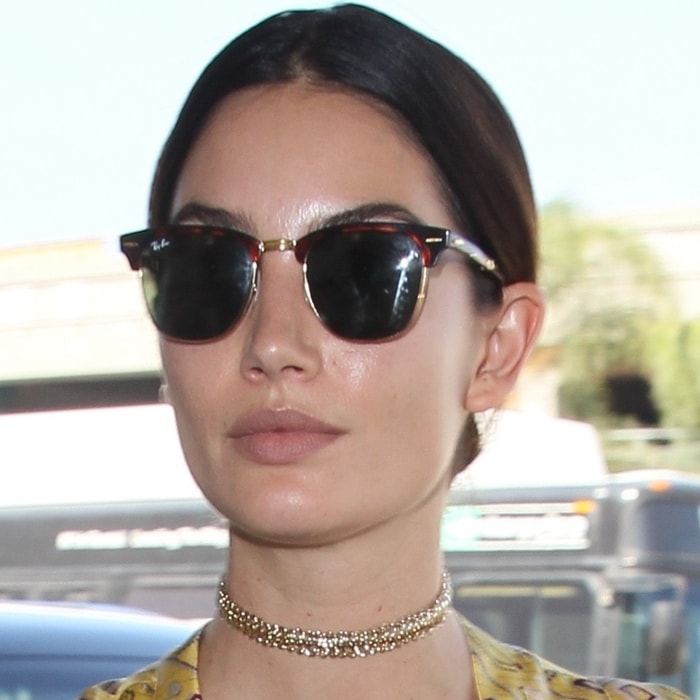 Lily Aldridge wears retro and timeless Ray-Ban Clubmaster Classic sunglasses (Credit: Michael Wright / WENN / Avalon)
If the sticker is a shade of yellow instead of gold and has misspelled text without a 100% UV Protection guarantee, then that sticker is stuck to a pair of counterfeit Ray-Ban sunglasses.
There should also be an "RB" etching on the left lens area, however, products made before 2000 will have "BL" engraved instead.
4. Look at the packaging
Each pair of authentic Ray-Ban sunglasses should come in a branded Ray-Ban box that contains a Ray-Ban cleaning cloth, a manufacturer's note, a mini brochure explaining the product details, a Ray-Ban case, a tag, a manual titled "The Icons," and the product's warranty.
If the packaging is incomplete or the product details are misspelled and have typos, then the product is fake.
Ray-Ban sunglasses should also come in a black faux leather case with a gold logo or a tan faux leather case with a black logo.
Real Ray-Ban sunglasses come with a Ray-Ban case and branded cleaning cloth (Credit: Ray-Ban)
If the case feels like it's made from low-quality material or comes in a variety of colors, then it is most likely not an authentic item.
You should also ensure that the silver cardboard Ray-Ban box that contains all these items has a barcode, and look closely at the cleaning cloth to make sure it's soft microfiber and features the Ray-Ban logo.
5. Investigate the temple area of the sunglasses
Each pair of Ray-Ban sunglasses comes printed with a serial and model number, which are located in the left temple area of the sunglasses.
The model number is comprised of the letters "RB" followed by four digits.
These numbers dictate the size of the lens and the product's color code details. The right temple area should also have an engraving of the Ray-Ban logo.
6. Why is the brand called Ray-Ban?
As Business Insider explains, you can thank the U.S. military for the world's most famous sunglasses.
Ray-Bans were first conceptualized in the 1930s when U.S. Army Air Corps Lieutenant General John Macready complained about the sunlight after returning from a test flight.
He got in touch with Bausch & Lomb, which was co-founded by optician John Bausch in 1853, to work on a pair of stylish sunglasses that would protect his eyes.
Tom Cruise wears a pair of Ray-Ban Aviator Classic (model 3025) sunglasses with a gold frame and green lenses. Tom portrayed the character of a U.S. Navy pilot named LT Pete "Maverick" Mitchell in "Top Gun," a 1986 American action drama film directed by Tony Scott (Credit: Paramount Pictures)
John, who was one of the Army's best pilots in the years after World War I, soon received a prototype of his new sunglasses. The prototype was designed with green lenses to remove glare without obscuring the pilot's vision.
The new anti-glare sunglasses "banned" the distracting ultraviolet and infrared rays from U.S. aviators' eyes, giving way to the name "Ray-Ban."
Ray-Ban sunglasses with an eyewear storage case and the packaging box (Credit: Rafastockbr / Shutterstock)
Ray-Ban gradually improved its original lenses by equipping them with a gradient effect during World War II.
General Douglas MacArthur popularized the glasses after photographs were published of him landing on a beach wearing Ray-Bans in the Philippines in 1944.
Tom Cruise helped make the Ray-Ban Aviator Classic sunglasses famous when he wore them in the 1986 American action drama film Top Gun and its 2022 sequel Top Gun: Maverick.
7. Where are Ray-Bans made? In China?
Bausch & Lomb eventually sold Ray-Ban to Italian eyewear conglomerate Luxottica in 1999. The Italian eyewear conglomerate also owns Oliver Peoples, Persol, Alain Mikli, and Oakley.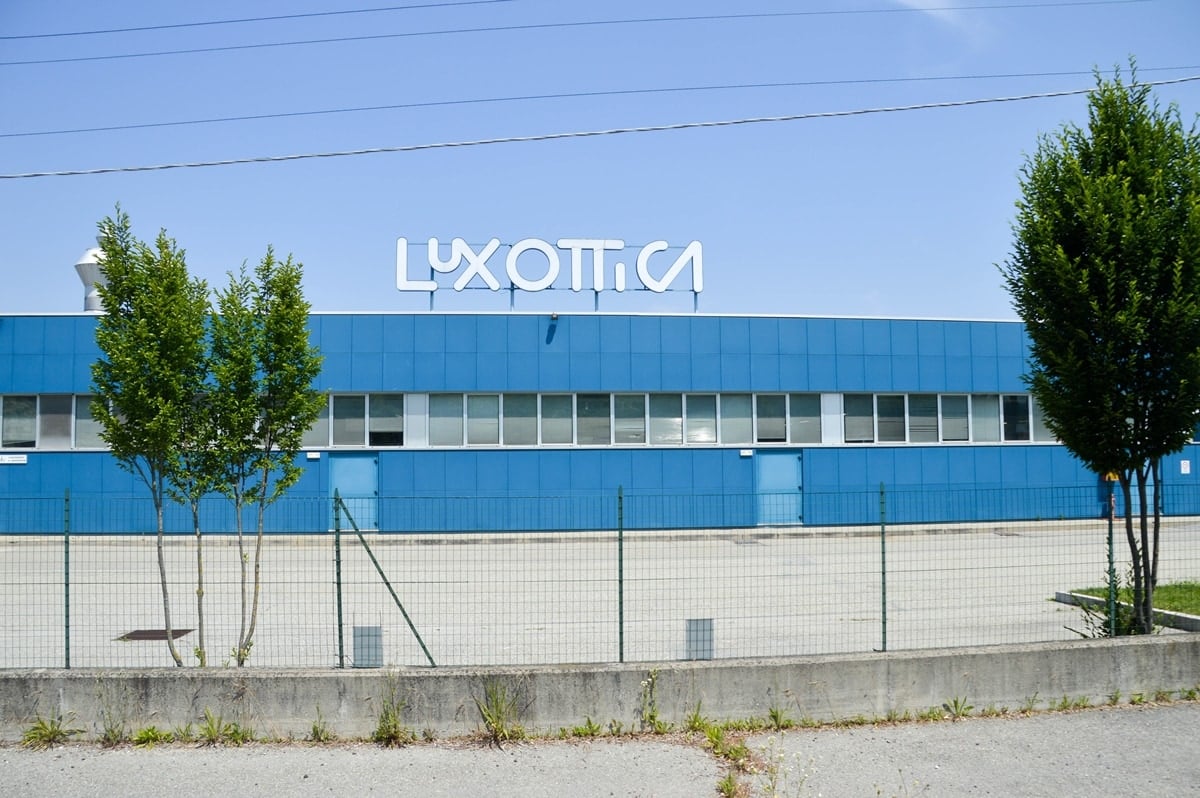 Owned by Italian eyewear company Luxottica, Ray-Ban sunglasses are made in a number of countries including Italy and China (Credit: Marcovaldo / Shutterstock)
Now, Ray-Bans are made in factories all over the world, including in China. Luxottica's Chinese manufacturing facilities are located in Dongguan, which is in the southern province of Guangdong.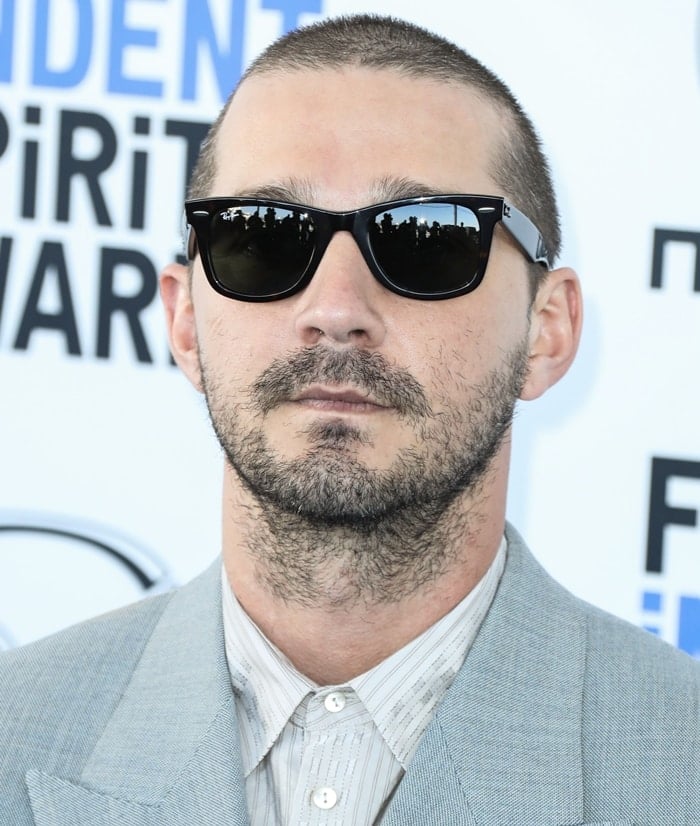 Actor Shia LaBeouf wears Ray-Ban sunglasses and a Gucci suit as he arrives at the 2020 Film Independent Spirit Awards held on February 8, 2020, at Santa Monica Beach in Los Angeles, California (Credit: Michael Wright / WENN / Avalon)
Ray-Ban also operates design and development facilities in the U.S., Italy, and Brazil. Luxottica operates two small manufacturing plants in Japan and India in addition to its plant in China.