A few days ago, Taylor Swift spoke out about the Supreme Court's decision to overturn Roe v. Wade.
The majority opinion, written by Justice Samuel Anthony Alito Jr., stated that "the Constitution does not confer a right to abortion; Roe and Casey [Planned Parenthood v. Casey, 1992] are overruled; and the authority to regulate abortion is returned to the people and their elected representatives."
An abortion protester in Los Angeles holds a placard saying "We'll see how you feel about abortion after I fuck your husband" (Credit: Behzad Moloud / Shutterstock)
The 32-year-old "Look What You Made Me Do" singer-songwriter shared her thoughts in a response to Michelle Obama's tweet on the Supreme Court's decision to uphold a Mississippi law that bans abortion after 15 weeks of pregnancy.
"I'm absolutely terrified that this is where we are – that after so many decades of people fighting for women's rights to their own bodies, today's decision has stripped us of that," Taylor wrote about the constitutional right to an abortion.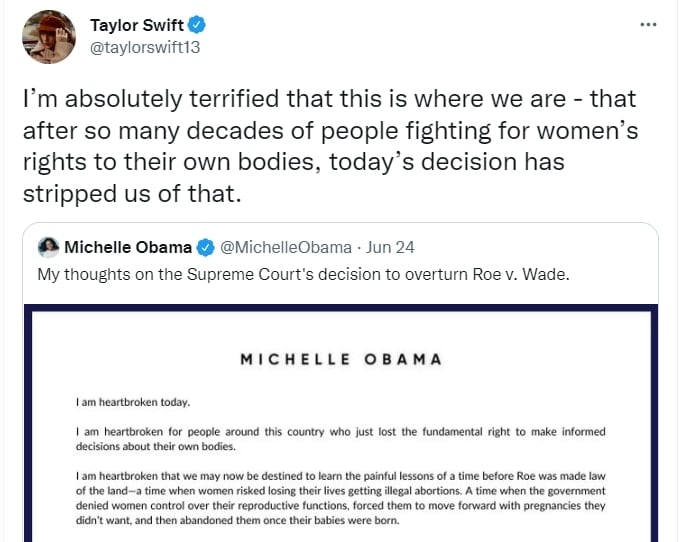 Taylor Swift shared her thoughts about the Supreme Court overturning Roe v. Wade (Credit: Taylor Swift's Twitter)
Michelle Obama called the Supreme Court's decision to overturn Roe v. Wade "horrifying."
"I am heartbroken for people around this country who just lost the fundamental right to make informed decisions about their own bodies," she wrote.
"I am heartbroken that we may now be destined to learn the painful lessons of a time before Roe was made law of the land — a time when women risked losing their lives getting illegal abortions. A time when the government denied women control over their reproductive functions, forced them to move forward with pregnancies they didn't want, and then abandoned them once their babies were born."
"When we don't understand our history, we are doomed to repeat its mistakes. In this country, our futures are tied together in a delicate tapestry that we each have a hand in making," she added.
View this post on Instagram
"Too often, cynicism or indifference makes us feel like we don't have a say in weaving it, but that couldn't be further from the truth. The more we allow pessimism to push us further into helplessness, the less we will be empowered to help create the kind of country we want to live in."
"This horrifying decision will have devastating consequences, and it must be a wake-up call, especially to the young people who will bear its burden," she said. "I know this is not the future you chose for your generation — but if you give up now, you will inherit a country that does not resemble you or any of the values you believe in."
"Our hearts may be broken today, but tomorrow, we've got to get up and find the courage to keep working towards creating the most just America we all deserve. We have so much left to push for, to rally for, to speak for — and I know we can do this together."
Taylor Swift shows off her new platinum hair color as she lunches at M Cafe in Beverly Hills, California on April 28, 2016 (Credit: Forty Seven / WENN)
Prior to attending Gigi Hadid's 21st birthday in April 2016, Taylor Swift grabbed lunch with supermodel Lily Aldridge at M Café in Beverly Hills.
The then-26-year-old singer paraded her legs in a pair of black jean shorts, a black tee, and white sneakers.
Taylor Swift shows off her long legs in a black t-shirt and black denim shorts (Credit: Forty Seven / WENN)
She skipped jewelry and accessorized with only a pair of Ray-Ban sunglasses. Taylor also carried a Rebecca Minkoff saddle bag as a cross body.
The Fearless singer wore minimal makeup and rocked her signature tousled bob in a new platinum blonde color.
Taylor Swift carries a Rebecca Minkoff saddle bag and hides her eyes behind Ray-Ban sunglasses (Credit: Forty Seven / WENN)

Taylor completed her laid-back look with a pair of Saint Laurent "Signature California" sneakers.
Taylor Swift wears star-embossed Saint Laurent sneakers (Credit: Forty Seven / WENN)
These lace-up sneakers are made of buffalo leather and covered in silver star patches.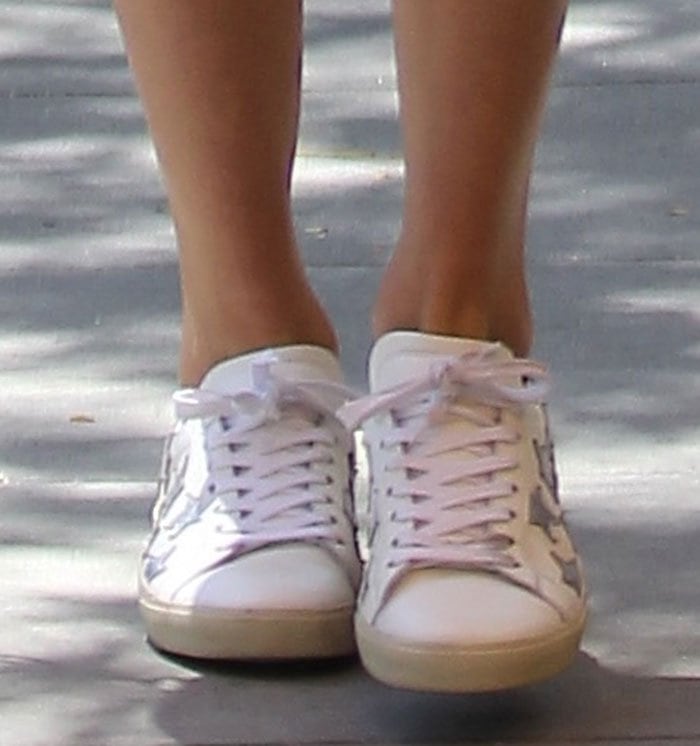 Taylor Swift wears lace-up leather Saint Laurent sneakers (Credit: Forty Seven / WENN)

They feature round toes, brand-embossed tongues, and contrasting heel counters. You can check out these Saint Laurent sneakers at Farfetch and Nordstrom.
Saint Laurent "Signature California" Sneakers, $645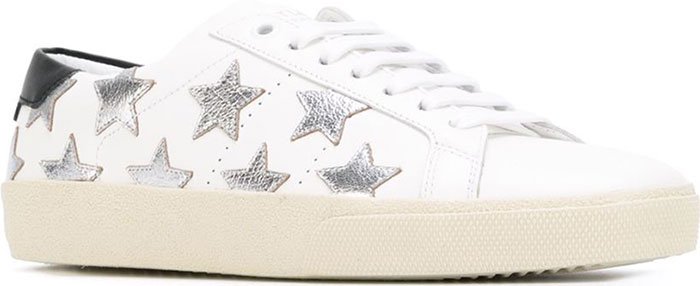 These white sneakers feature a round toe, a lace-up front fastening, a brand embossed tongue, a branded insole, star patch to the side, a contrasting heel counter and a flat rubber sole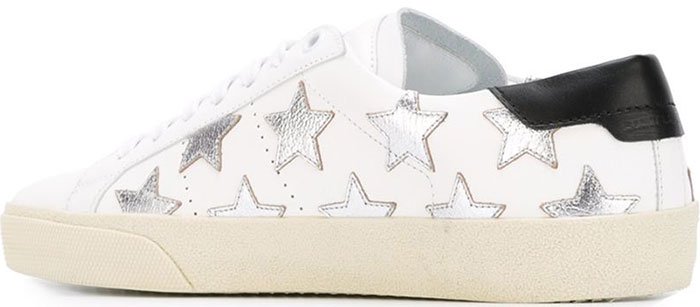 Constructed from supple leather, these Saint Laurent Signature California sneakers are adorned with multiple star patches