Forgive us for stating the obvious here, but models are tall, and Lily Aldridge is no exception.
The Victoria's Secret Angel has strutted her stuff on many runways and has several brands and retailers rely on her 5-foot 9-inch frame to show off their designs.
Model Lily Aldridge is shorter than Karlie Kloss, Taylor Swift, Martha Hunt, and Gigi Hadid, but she's taller than Mariska Hargitay, Cara Delevingne, Hailee Steinfeld, Selena Gomez, and Serayah McNeill (Credit: Press Line Photos / Shutterstock)
How did Lily get her start, and how does her height compare to that of fellow models and her husband? Read on to find out.
How did Lily Aldridge get into modeling?
Lily was born in Santa Monica, California, in 1985. She lived a relatively normal life until her modeling career began at the age of 16.
The brunette beauty got her start posing for retailer Abercrombie & Fitch before she made her Victoria's Secret Fashion Show debut in 2009.
Shortly afterward, she was promoted to the rank of Victoria's Secret Angel. She received her wings during the lingerie brand's 2010 fashion show.
Measuring 5′ 9″ (175 cm), Lily Aldridge is shorter than Candice Swanepoel, Doutzen Kroes, and Alessandra Ambrosio, who all are 5′ 10″ (177 cm) tall (Credit: FashionStock / Shutterstock)
Lily is also known for her music video appearances. She played a small role in Taylor Swift's "Bad Blood" video, and in two Kings of Leon videos: "Use Somebody" and "Temple."
Lily Aldridge Versus Other Popular Models
While Lily Aldridge is significantly taller than the average woman, she's actually slightly shorter than several famous models.
Lily is an inch shorter than Tyra Banks, who clocks in at 5-foot 10-inches, and two inches shorter than 5-foot 11-inch Gisele Bündchen.
Lily Aldridge is taller than Zendaya and Hailee Steinfeld but shorter than Taylor Swift and Martha Hunt (Credit: Tinseltown / Shutterstock)
Fellow Victoria's Secret Angel Karlie Kloss is 6-foot 2-inches, and Candice Swanepoel is one inch taller at 5-foot 10-inches.
However, Lily is taller than several models, such as 5-foot 8-inch Cara Delevingne.
How tall is Lily Aldridge Compared to Her Husband?
Lily met her husband Caleb Followill at Coachella in 2007. The two married in 2011.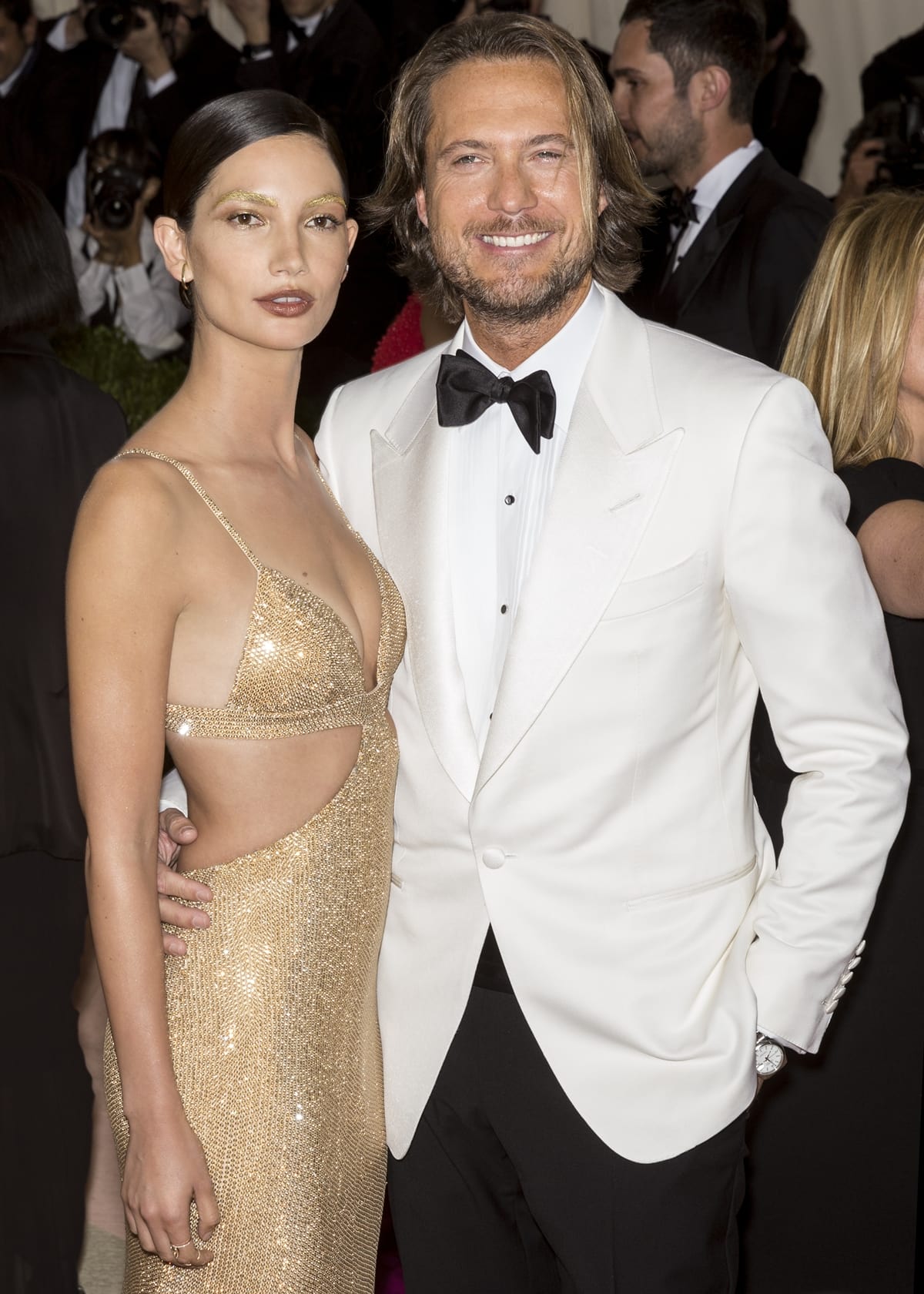 Lily Aldridge is slightly shorter than her 5′ 10″ tall husband Caleb Followill (Credit: Ovidiu Hrubaru / Shutterstock)
Caleb is the frontman of Kings of Leon… which explains why Lily keeps popping up in the band's music videos.
It turns out that Lily is only one inch shorter than her 5-foot 10-inch husband. Caleb doesn't seem to mind, though, since Lily still frequently wears heels out and about in public.
In March 2016, Lily was spotted taking her adorable daughter, Dixie Pearl Followill, to a fun lunch with her BFF Alessandra Ambrosio. They ate at Au Fudge, which was Jessica Biel's recently launched kid-friendly restaurant.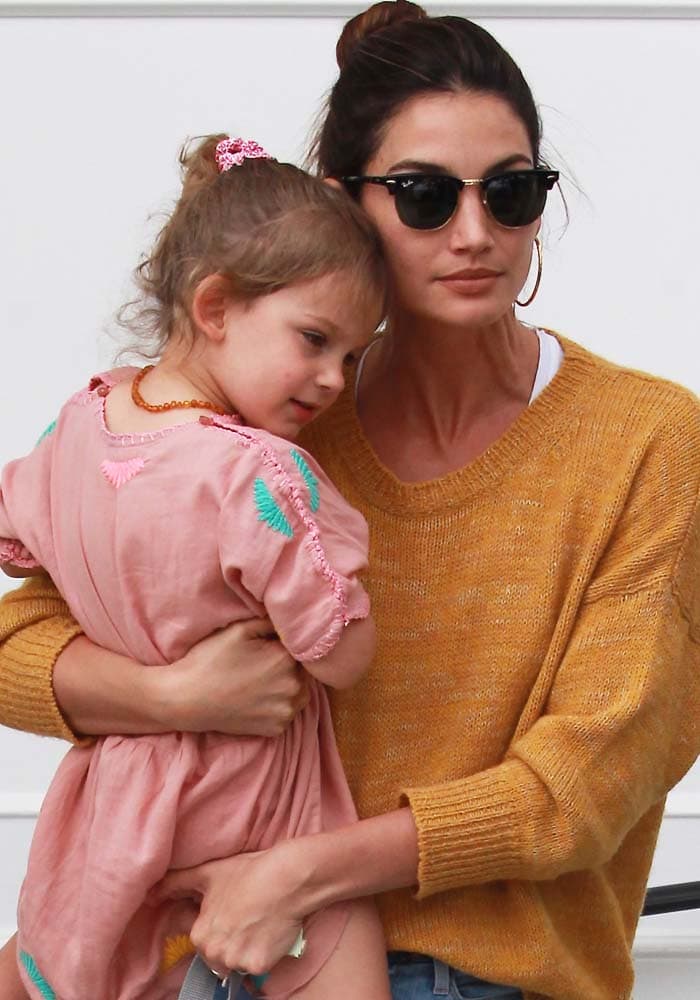 Lily Aldridge wears her hair up in a bun while holding her daughter Dixie Pearl Followill and leaving Au Fudge in Beverly Hills on March 30, 2016 (Credit: WENN)
Lily wore a cozy-looking pullover by Isabel Marant which she paired with washed jeans from Frame.
Lily Aldridge wears a sweater and jeans as she leaves Jessica Biel's kid-friendly Au Fudge restaurant (Credit: WENN)
The model polished her look with the Ray-Ban "Clubmaster" sunglasses, Stuart Weitzman "Grandios"' suede boots, and a backpack from Nik's Naks… which we would guess belongs to her daughter.
Lily Aldridge wears a pair of suede Stuart Weitzman boots (Credit: WENN)
Right before leaving the restaurant, Lily ran after Dixie Pearl, who had unknowingly walked out to a bevy of photographers.
The doting mom escorted her daughter back inside the restaurant until their car came.
It's a good thing she is used to those heels — chasing after toddlers in those boots must be difficult. Oh, the price a mom has to pay for staying chic.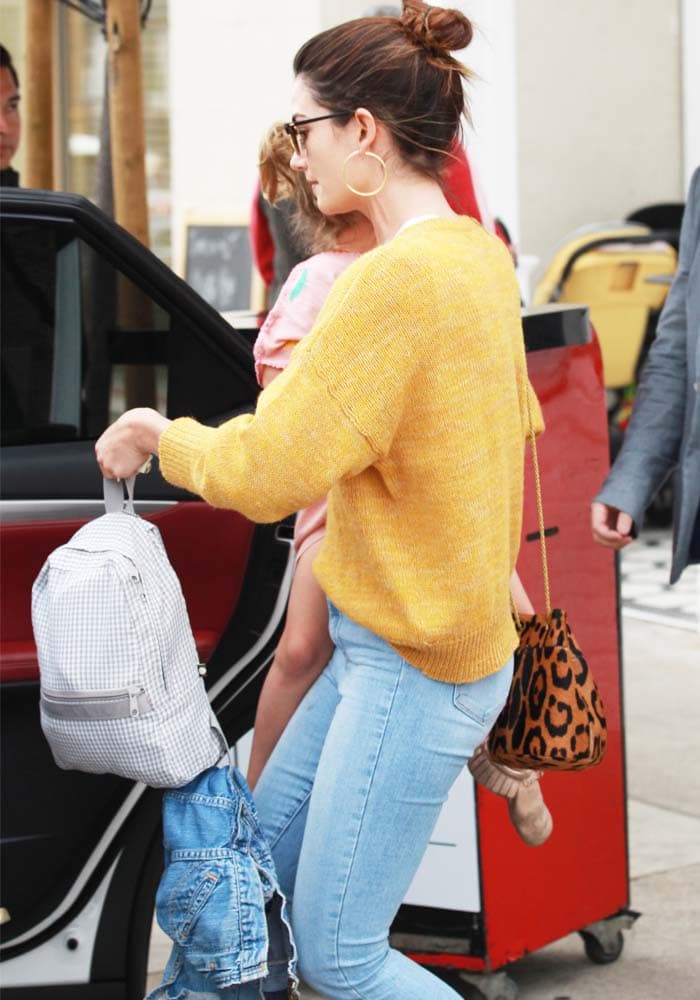 Lily Aldridge escorts her daughter into their awaiting car after lunch at Au Fudge (Credit: WENN)
The Victoria's Secret model also took her daughter to Disneyland recently. After the vacation, she uploaded a photo with the caption, "Best day ever."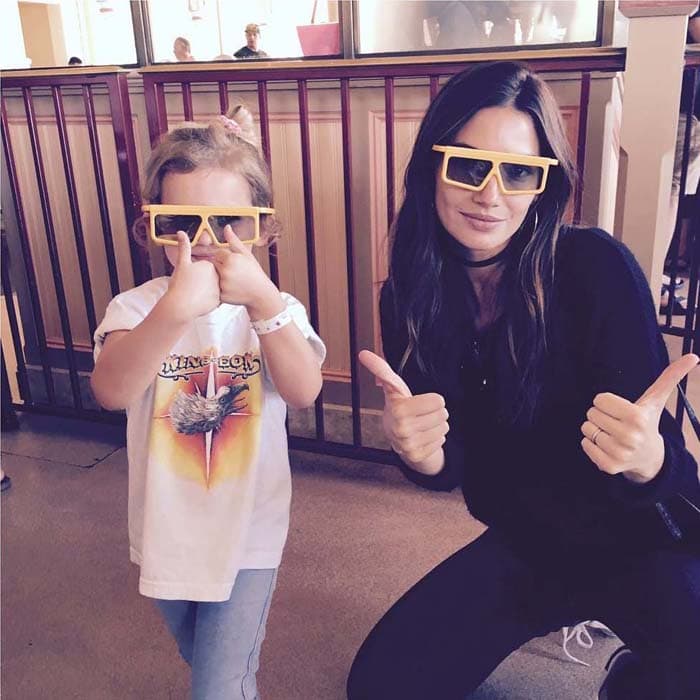 Lily Aldridge takes her daughter, Dixie Pearl, to Disneyland (Credit: Lily Aldridge's Instagram)
Grab Lily's mommy-friendly heeled boots from Stuart Weitzman at Shopbop and Nordstrom.
Stuart Weitzman Grandiose Pointy Toe Boots, $498 – $565