Taylor Swift's "Bad Blood" music video broke the internet this week when it garnered an astounding 20.1 million views in just the first 24 hours of its release. Tay's new video definitely got help from its star-studded cast that includes other It girls like Selena Gomez, Cara Delevingne, and real-life BFF Karlie Kloss. Each celebrity got their own cool nickname and Sin City–esque poster, which piqued the interest of their respective fan bases and helped make "Bad Blood" the record-smashing video that it is.
As fashion geeks, we also firmly believe that the futuristic meets bondage wardrobe in the video contributed greatly to its success. Now that we know that the costumes were all sourced from an LA sex shop, it makes the fashion all the more exciting and interesting.
Most interesting of all were the Lady Gaga–ish boots that Tay wore in the scene where a trio of Hailee Steinfelds aka "Trinity" is helping her into her armor. You can see them in the video stills below.
Stills from Taylor Swift's "Bad Blood" music video showing the Iris Van Herpen x United Nude "Biopiracy" boots
The way the boots curve at the top of the feet reminds us of the Alexander McQueen armadillo boots. But the way the boots mold away from the back of the knees like horse legs and taper into hoof-like toes are a whole different visual experience.
We've identified Taylor Swift's cool "Bad Blood" boots as the Iris Van Herpen x United Nude "Biopiracy" boots. Created as part of the Dutch fashion designer's fall 2014 collection and ninth collaboration with United Nude, the boots really are meant to overrule the natural shape of feet. You can check them out below. Shop other United Nude shoe designs at Solestruck.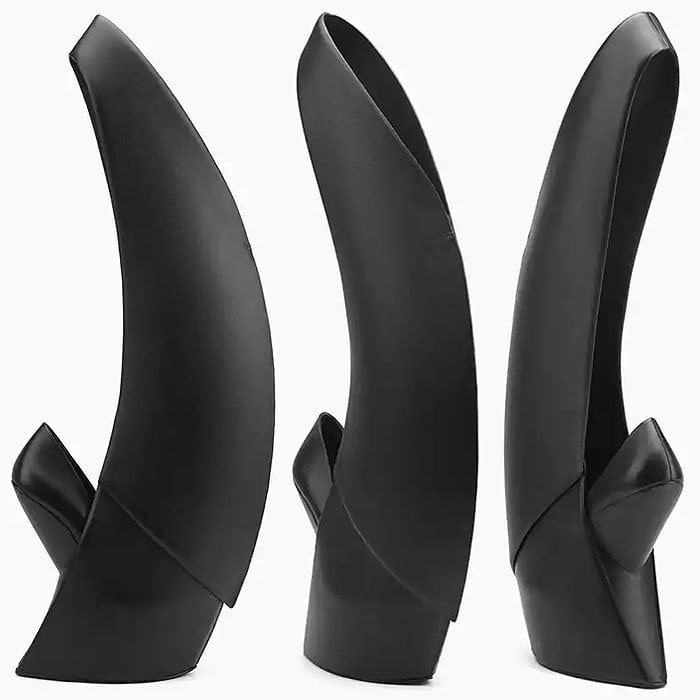 Iris Van Herpen x United Nude "Biopiracy" Boots, $1,995
If you're one of the very few who have yet to see Taylor Swift's "Bad Blood", hit play on this video: