American model Lily Aldridge has dazzled the world with her radiant smile and career-driven ambition, helping her achieve an impressive net worth of $8 million.
Lily Aldridge walks the runway for Jeremy Scott during NYFW: The Shows at Gallery I at Spring Studios on September 6, 2019 (Credit: FashionStock / Shutterstock)
So, how Aldridge did manage to climb the ladder of success so early on in her life? The answer lies with her first big break: Abercrombie & Fitch.
The beginning
As we were introduced to the 21st century, Aldridge quickly bagged her first role as a model at sixteen years old at Abercrombie & Fitch.
As a casualwear-focusing American lifestyle retailer, this company allowed Aldridge to spread her wings by working on a range of advertising campaigns.
Lily Albridge started modeling at the age of 16 for Abercrombie & Fitch (Credit: Debby Wong / Shutterstock)
This included Tommy Hilfiger, GAP, Rag & Bone, and Levi's amongst many others.
Furthermore, she was also featured in Rag & Bone's 2011 advertising campaign, even taking on the role of a photographer in the following campaign's season.
Magazines
Spanish Vogue's August 2003 issue was Aldridge's first serious magazine cover.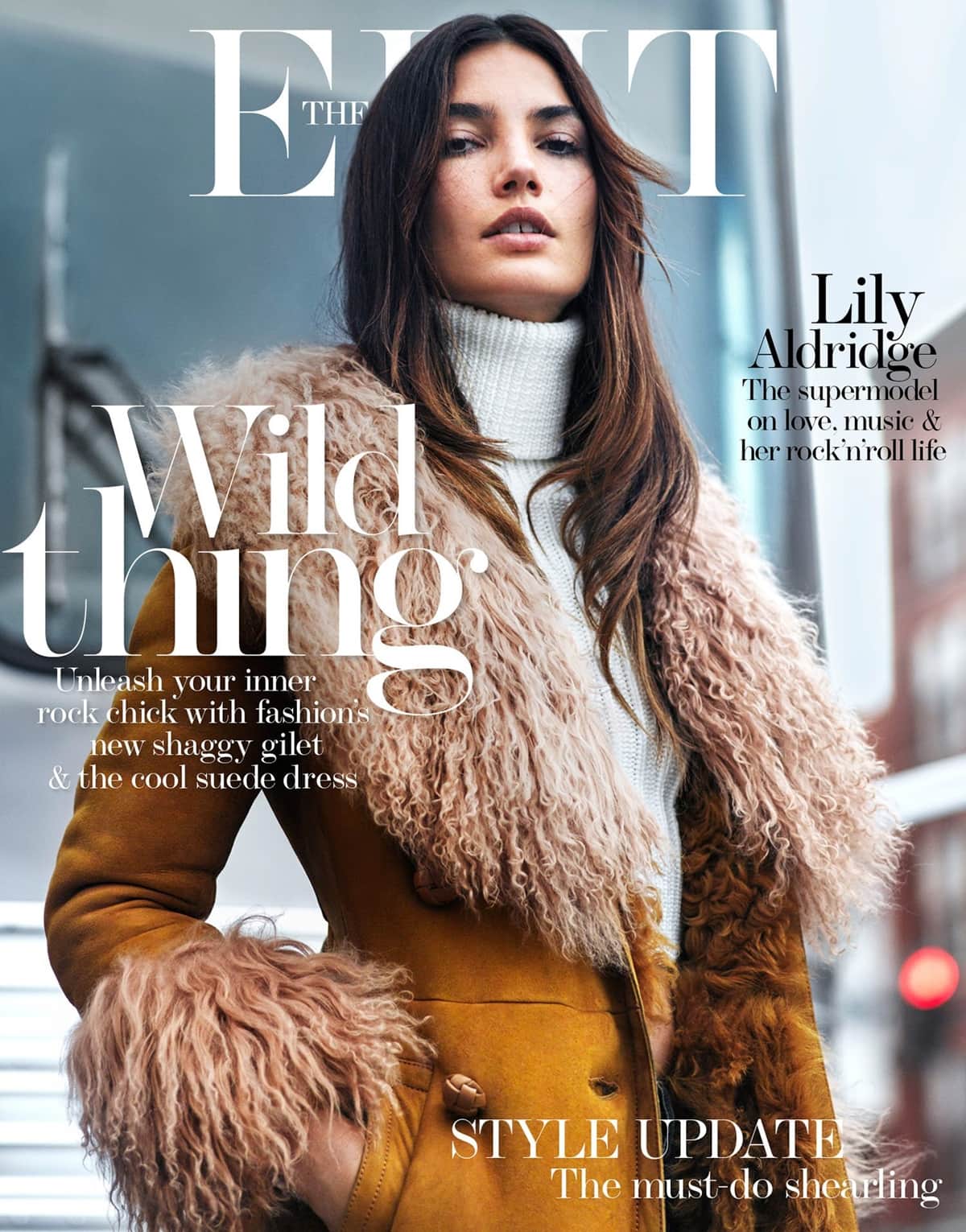 Lily Aldridge on the cover of Net-a-Porter's The Edit magazine (Credit: Mark Kean / The Edit / Net-a-Porter)
Since this milestone, the model has cropped up on countless covers including Vogue Mexico, Elle Brazil, French Glamour, and Esquire Mexico.
Velvet Tees
After working with Abercrombie & Fitch, Aldridge could expose herself to different career opportunities – including being the face of Velvet Tees fashion label amongst other companies.
She's done this since 2004, even bringing out her own clothing line with Velvet Tees named Lily Aldridge for Velvet.
Aldridge's biggest career milestone
Aldridge's biggest career milestone is arguably her role as a Victoria's Secret Angel. Whilst making her debut on the Victoria's Secret Fashion Show in 2009, Aldridge officially became an angel in 2010, being awarded wings for the very first time.
In 2015, it was declared that this model would wear the fashion show's Fantasy Bra of that year, an honor that is highly sought after in the modeling world.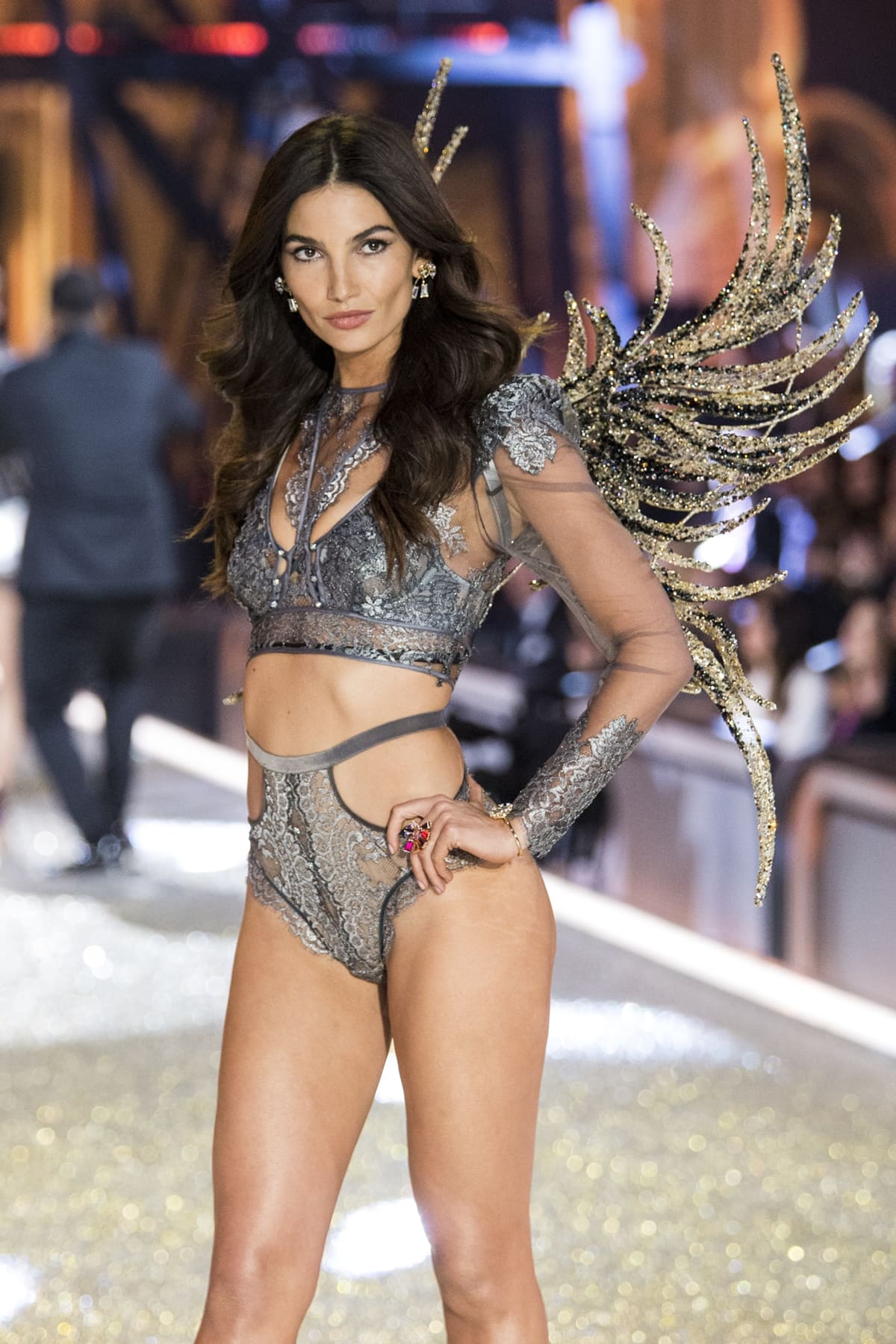 Lily Aldridge during the 2016 Victoria's Secret Fashion Show on November 30, 2016, in Paris, France (Credit: Shutterstock / FashionStock)
The bra's prestige can simply be discovered just by looking at it – with a $2 million value attached to the 6,500 jewels on this garment, it's no secret that Aldridge was able to make a jaw-dropping fashion statement. She was able to unveil this bra in one of Vogue's videos.
TV appearances
Putting modeling aside, Aldridge has also branched out to appear in a few different TV shows and films. Her appearances include those in 2 Broke Girls, Love Advent, and Ocean's 8.
Videos
Delving into the creative industry further, you may have spotted this tall model in music videos such as Limp Bizkit's Break Stuff, Taylor Swift's 2015 Bad Blood, and Kings of Leon's Temple and Use Somebody.
Lily Aldridge in a black plunging Alexandre Vauthier gown with Jennifer Meyer jewelry at the 2015 MTV Video Music Awards held at the Microsoft Theater in Los Angeles on August 30, 2015 (Credit: Tinseltown / Shutterstock)
This was before Aldridge decided to experiment with making videos of her own, launching her very own YouTube channel in 2019.
What's next?
It's clear that we can expect to see a lot more from Aldridge in the future, whether this is on her YouTube channel or in another company collaboration.
Whilst her husband, Caleb Followill, is believed to be twice as rich as Aldridge herself, this doesn't take away the fact that she is one half of an exceptional power couple.
This model has shown people across the world that a driving determination can really help you achieve your dreams.
Lily Aldridge and Behati Prinsloo sport similar outfits and hairstyles as they shop together on Melrose Place on April 5, 2016, in Los Angeles (Credit: Michael Wright / WENN / Reflector)
In April 2016, Victoria's Secret Angels Lily Aldridge and Behati Prinsloo gave us new friendship goals!
The stunning duo stepped out in perfectly coordinated spring looks Tuesday as they went shopping on Melrose Place.
Lily looked lovely in a sheer white dress, which you can purchase at Reformation.
Lily Aldridge and Behati Prinsloo wear loose neutrals during a Los Angeles shopping trip (Credit: Michael Wright / WENN / Reflector)
The lightweight flowing frock buttoned down the front and featured a detachable tie belt at the waist, two front pockets, and side slits.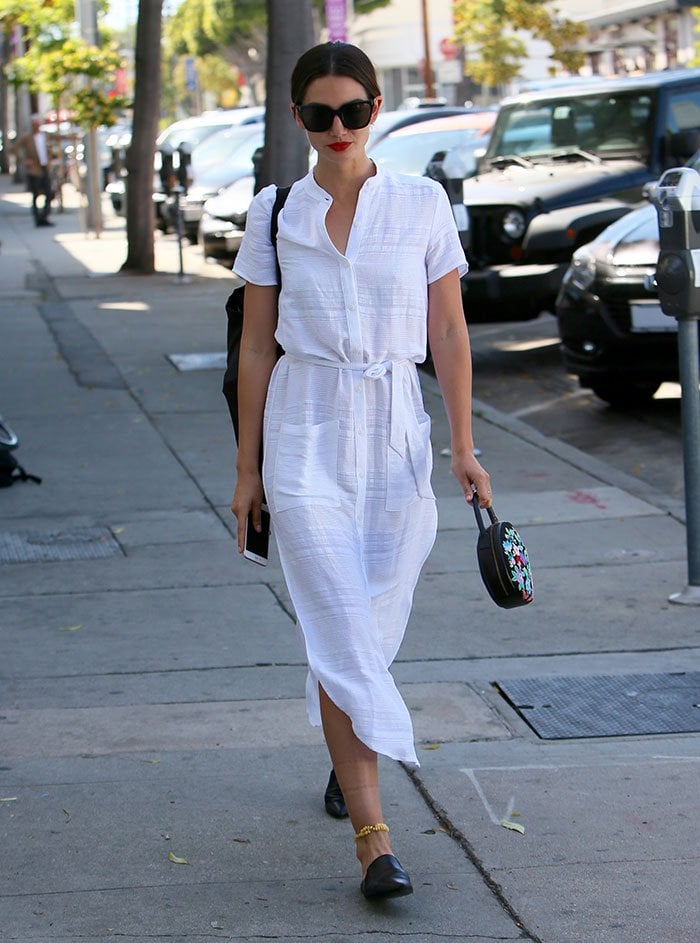 Lily Aldridge carries an embroidered purse and hides her eyes behind large sunglasses (Credit: Michael Wright / WENN / Reflector)
She accessorized with black sunglasses, a beaded anklet, and a pair of black leather mules to keep the look simple, but classy.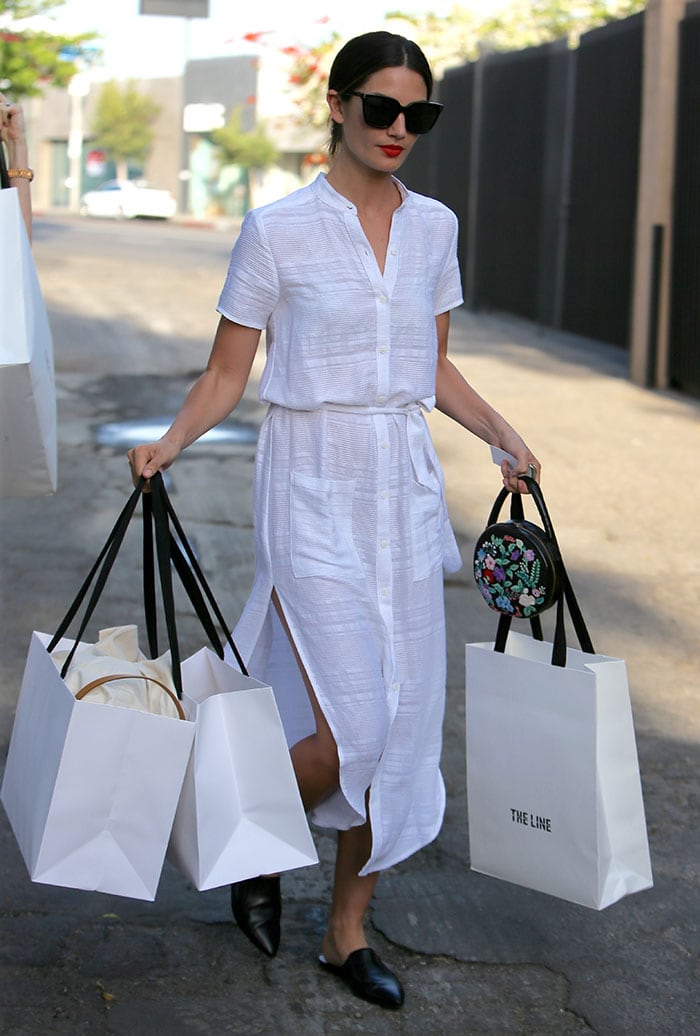 Lily Aldridge carries several shopping bags as she shops on Melrose Place (Credit: Michael Wright / WENN / Reflector)
The model added a romantic vibe to the look with a low bun, and red lipstick. She toted a circular floral-embroidered purse.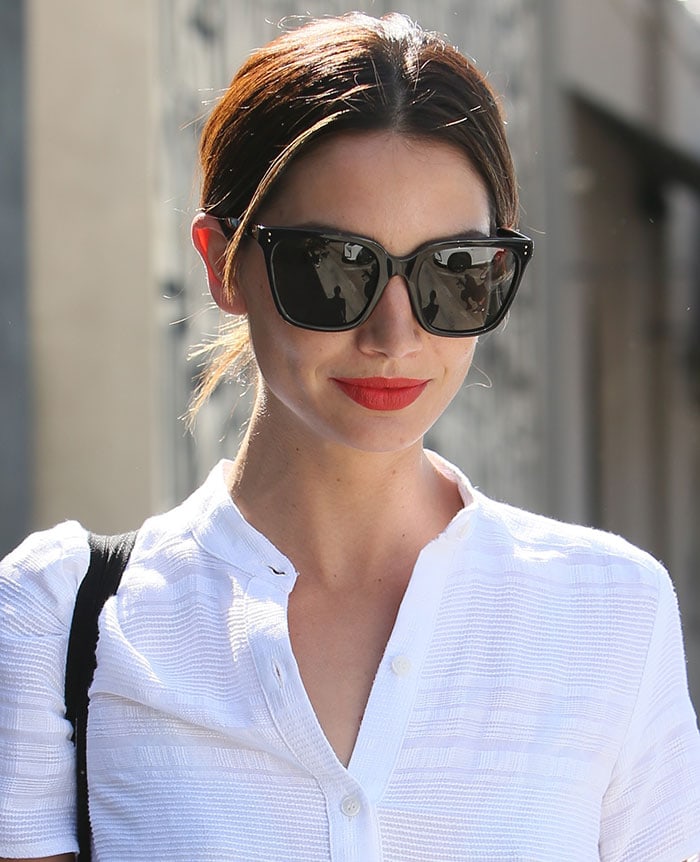 Lily Aldridge wears her hair in a low bun and sports bright red lipstick (Credit: Michael Wright / WENN / Reflector)
By the end of the day, Lily was photographed carrying multiple shopping bags.
We have to wonder what was in them.
Lily Aldridge wears a white Reformation "Ghana" dress while out on a shopping trip (Credit: Michael Wright / WENN / Reflector)
While Lily wore a loose-fitting look for comfort, Behati sported a loose-fitting look to accommodate her growing baby bump.
Adam Levine's wife took maternity wear to the next level in a gold maxi dress, which had short split sleeves, a collar, and a low v-neckline.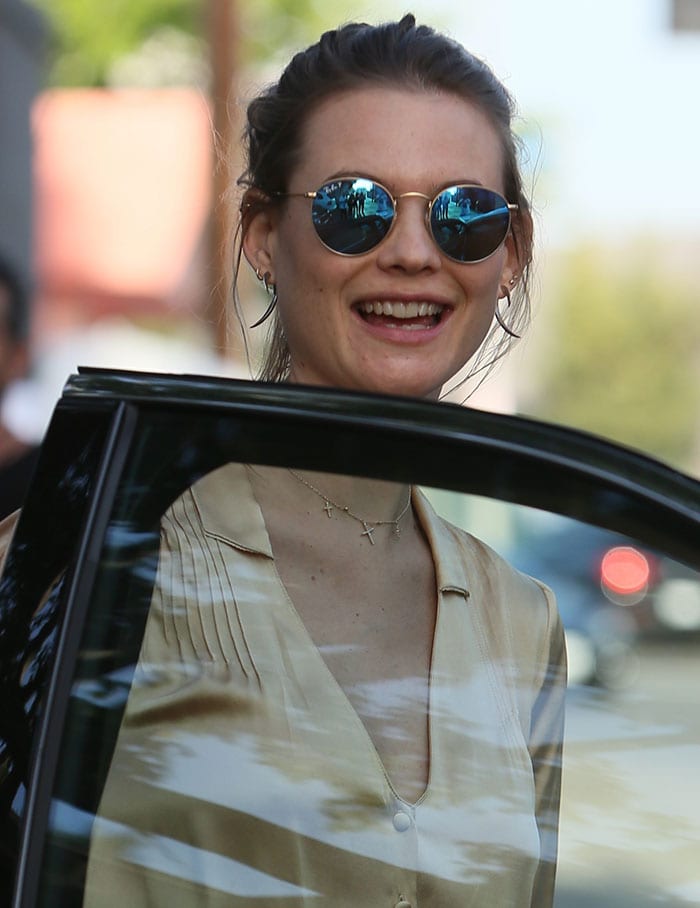 Behati Prinsloo smiles at the paparazzi as she opens her car door (Credit: Michael Wright / WENN / Reflector)
The then 26-year-old ditched the high heels and teamed the silky frock with a comfy pair of slides.
She brought a bit of edge to the look with a black choker, a gold cross necklace, and a selection of earrings, bracelets, and rings.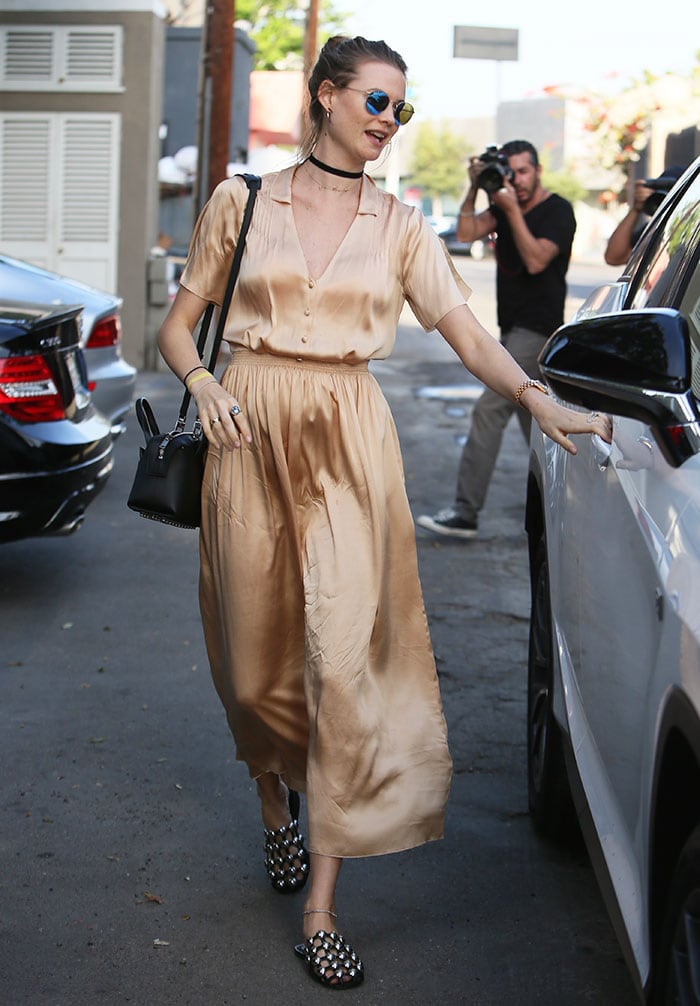 Behati Prinsloo shows off her baby bump in a silky gold maxi dress (Credit: Michael Wright / WENN / Reflector)
The wealthy supermodel carried a stud-bottom Alexander Wang bag and shielded her eyes behind a pair of round Ray-Ban sunglasses.
The soon-to-be-mom rounded out her look with barely-there makeup and a high bun.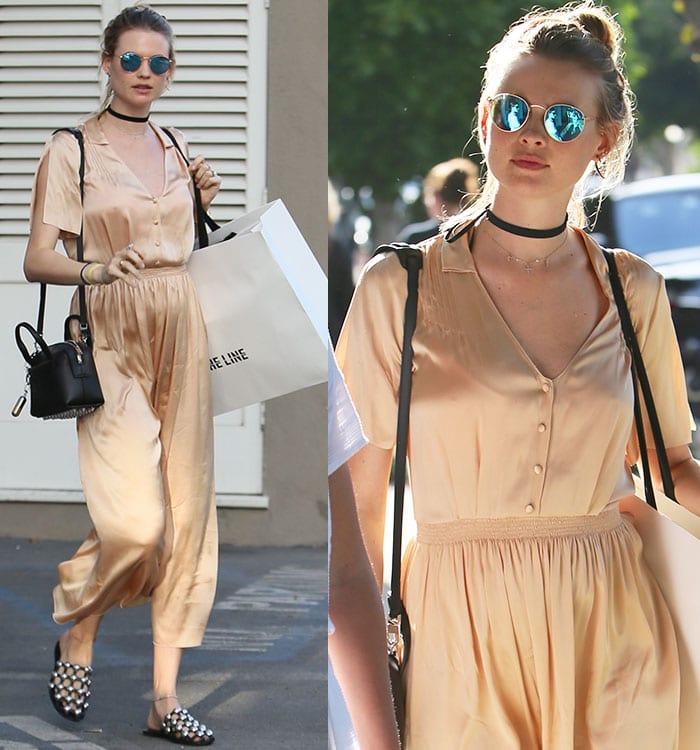 Behati Prinsloo wears a silky maxi dress while shopping on Melrose Place (Credit: Michael Wright / WENN / Reflector)
These models went matchy-matchy from head to toe, shoes (and ankle bracelets) included!
Lily wore a simple pair of Jenni Kayne leather slip-on shoes, which featured elastic gores and pointed toes.
Behati, on the other hand, wore an edgy pair of Alexander Wang slides, which featured web-caged vamps and round metallic studs.
Lily Aldridge's feet in Jenni Kayne mule slides and Behati Prinsloo's feet in studded Alexander Wang sandals (Credit: Michael Wright / WENN / Reflector)
A croc leather version of Lily's mules can be found at Shopbop, and Behati's slides can be purchased at Net-a-Porter and Farfetch.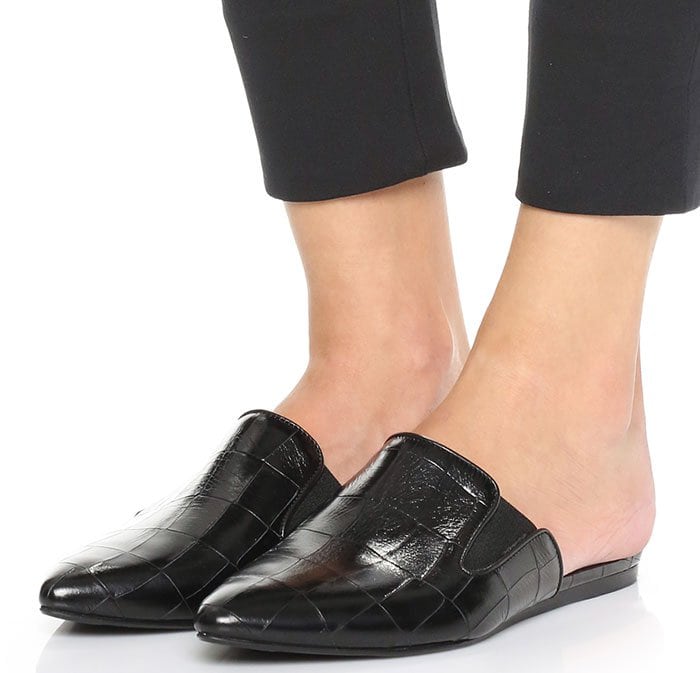 Black Jenni Kayne Croc-Embossed Mules, $450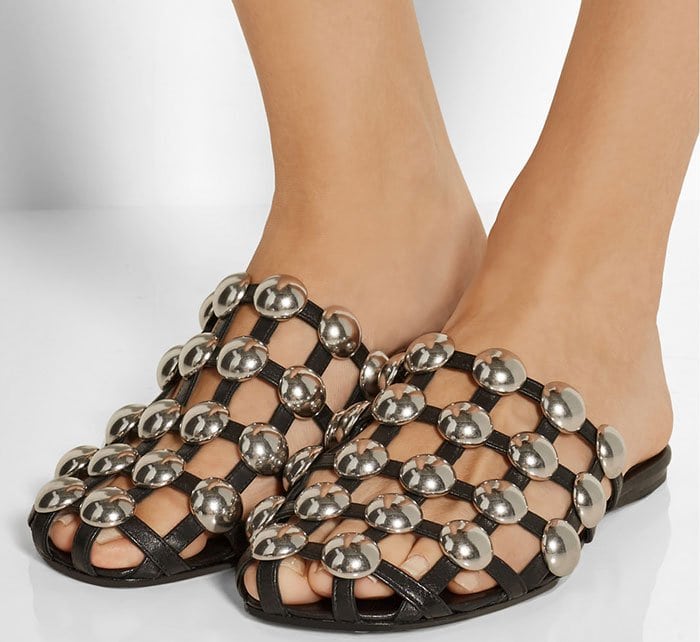 Alexander Wang "Amelia" Studded Slide Sandals, $595 – $640