Adam Levine was born on March 18, 1979, in Los Angeles, California, making him 42 years old today. He is an American musician, actor, and television personality.
He rose to fame as the lead singer and chief songwriter of the ultra-successful band Maroon 5. He later became a coach for The Voice, a television singing competition, which brought him even more publicity.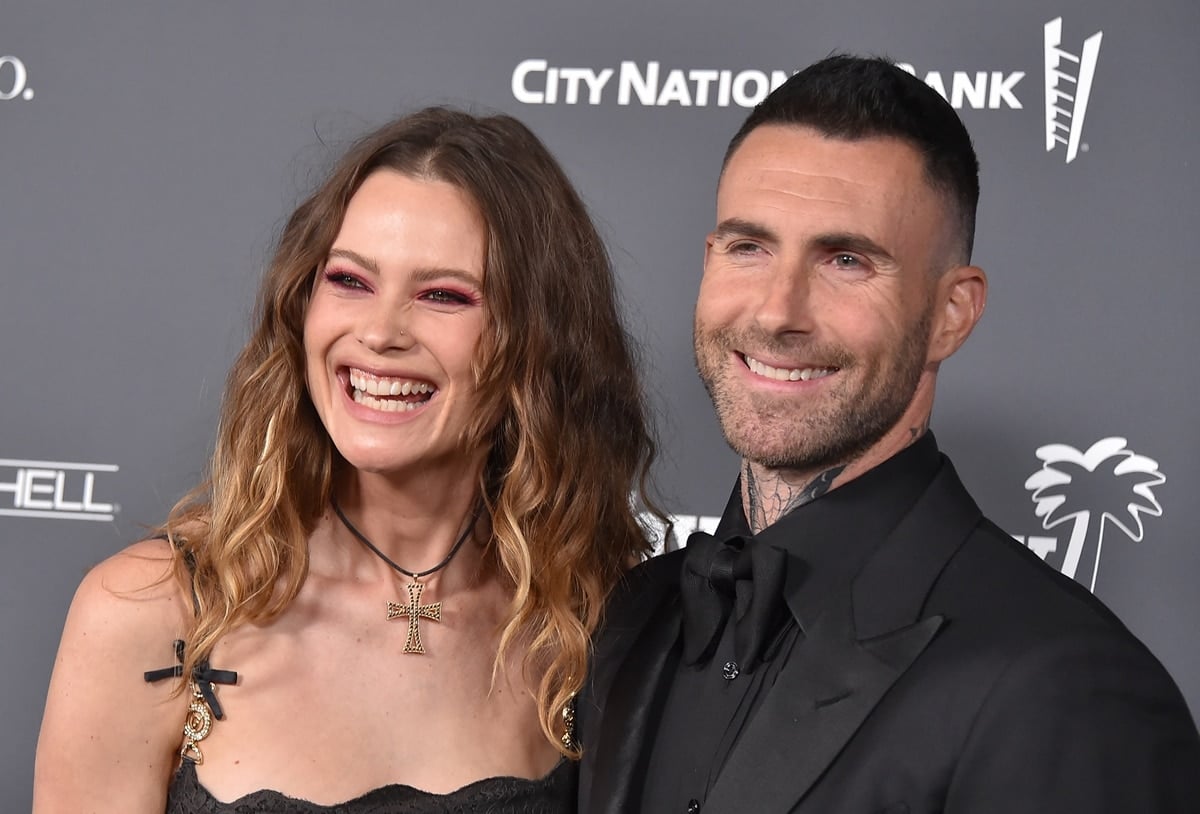 Adam Levine and his African wife Behati Prinsloo arrive for Baby2Baby 10 Year Gala Presented by Paul Mitchell on November 13, 2021, in West Hollywood, California (Credit: DFree / Shutterstock)
Adam Levine is a household name and is regarded highly in the music industry for his talent and success.
Who is Behati Prinsloo?
Behati Prinsloo was born on May 16th, 1988, making her 33 years old. She is a Namibian model and was discovered when she was just a teenager.
In 2008, she became a Pink contract model and became an official Victoria's Secret Angel in 2009 when she was just 20 years old.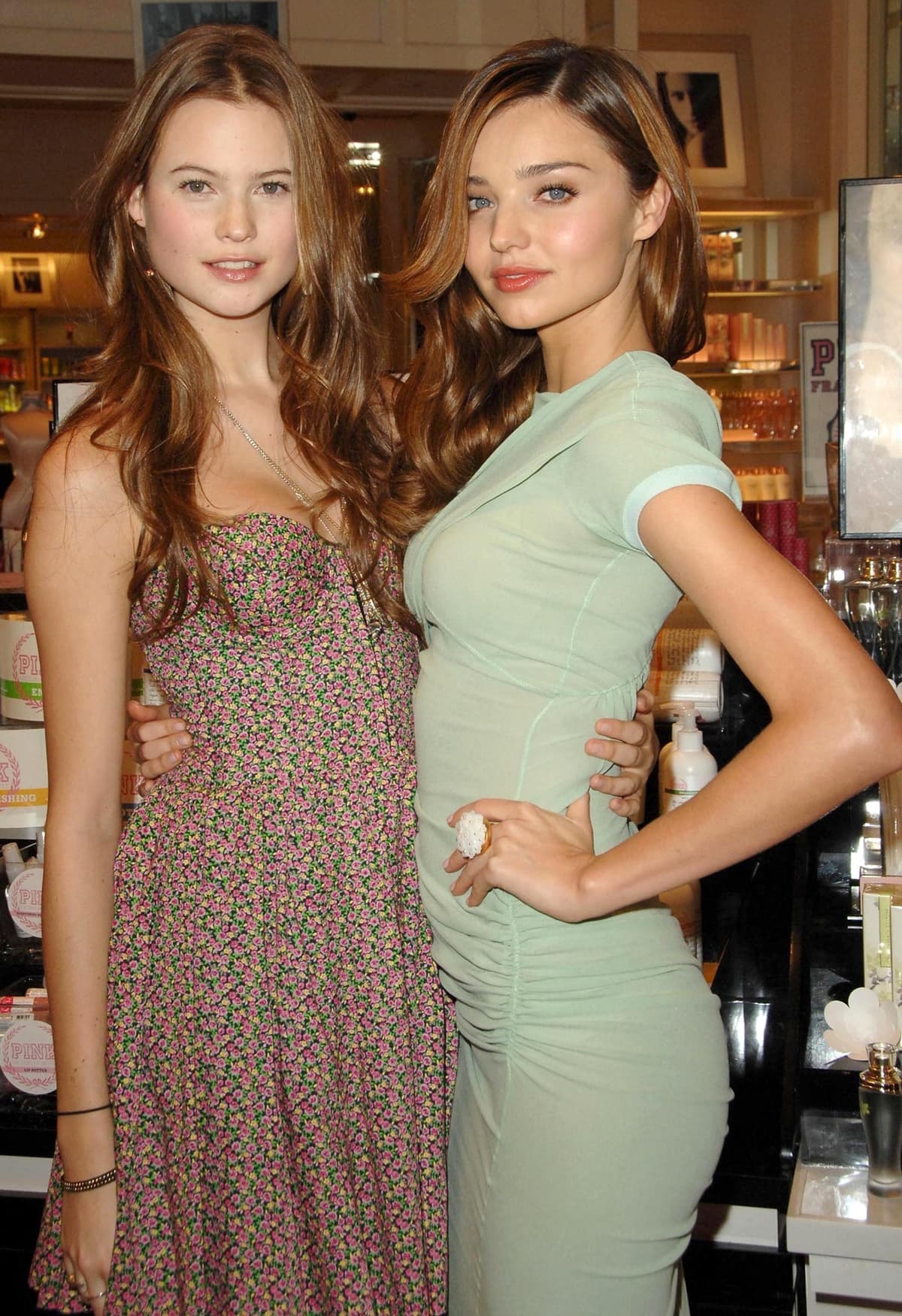 Victoria's Secret Models Miranda Kerr (R) and Behati Prinsloo pose at the Launch PINK Body at Victoria's Secret on March 10, 2009, in Los Angeles, California (Credit: s_bukley / Shutterstock)
She has walked in nine consecutive Victoria's Secret Fashion Shows and was given the honor of opening the Victoria's Secret Fashion shows in 2014 and 2015.
Who Had They Dated Previously?
Behati Prinsloo has kept her dating life quite private, and not much is known about her history. The only other celebrity she has been publicly linked to is Jamie Strachan, a fellow model. The two were linked for quite some time, from 2005 to 2012.
Adam Levine, on the other hand, has been linked to several women throughout his career. Notably, almost every single woman he's ever dated has been a model – his now-wife Behati Prinsloo included.
The Russian-born model Anne Vyalitsyna and Adam Levine split in April 2012 after two years of dating (Credit: Kathy Hutchins / Shutterstock)
He has been linked to Jane Bishop (who notably inspired Maroon 5's studio album Songs About Jane), Maria Sharapova, Rebecca Ginos, Janine Habeck, Arielle Vandenberg, Angela Belotte, Anne Vyalitsana, Amanda Setton, and Nina Agdal. However, once he met Behati Prinsloo, he was ready to settle down.
How Did Adam Levine and Behati Prinsloo Meet?
Since both Levine and Prinsloo made it to the top of their respective careers, it only seems fitting that work is what brought them together.
They were connected by a mutual friend who initially set them up so that Levine could hire Prinsloo to play a role in one of his upcoming music videos. The friend talked Behati Prinsloo up to Adam Levine, describing her as a tomboy who would be up for anything.
Adam Levine and Behati Prinsloo fell in love online and met in person for the first time at a dark studio where Adam was boxing (Credit: Lev Radin / Shutterstock)
Although Behati Prinsloo didn't end up appearing in the initial music video as they had planned, she and Adam Levine kept in touch through email.
After sending messages back and forth for around a month, the two finally decided to meet in person when Behati Prinsloo was visiting Los Angeles.
They met at a boxing studio that Adam Levine was practicing at, and apparently, their very first encounter (with the whole boxing studio's eyes on them) was a little awkward.
Model Behati Prinsloo flaunts her legs in a printed Gucci Fall 2016 dress at the 2017 LACMA Art + Film Gala Honoring Mark Bradford and George Lucas presented by Gucci at LACMA on November 4, 2017, in Los Angeles, California (Credit: DFree / Shutterstock)
However, after leaving the studio, the two went out to dinner and any awkwardness went out the door. They sat and talked for hours, completely enamored with one another.
Relationship Timeline
Dating
Shortly after they met, Adam Levine and Behati Prinsloo began officially dating in May 2012. After a year together, they split briefly in May 2013 and took a few months apart.
However, in the case of these lovebirds, absence really did make the heart grow fonder. Both Levine and Prinsloo couldn't stop thinking about one another in their time away from one another, and the breakup didn't last long. Just two months later, in July 2013, they got back together- but with a catch.
Engagement
Ready to take the next step in their relationship, Adam Levine and Behati Prinsloo announce their engagement in July 2013, which surprised the general public, who hadn't even known that they got back together.
Marriage
Once they got back together, Adam Levine and Behati Prinsloo didn't want to waste any time- they knew they were meant to be. Just a year later, in July 2014, it was announced that the pair had tied the knot, and were a married couple.
Family
After two blissful years of being newlyweds, it was announced in March 2016 that the couple was expecting their first child together- sources reported that both Levine and Prinsloo were overjoyed to become a family.
They welcomed their first daughter, Dusty Rose, in September 2016.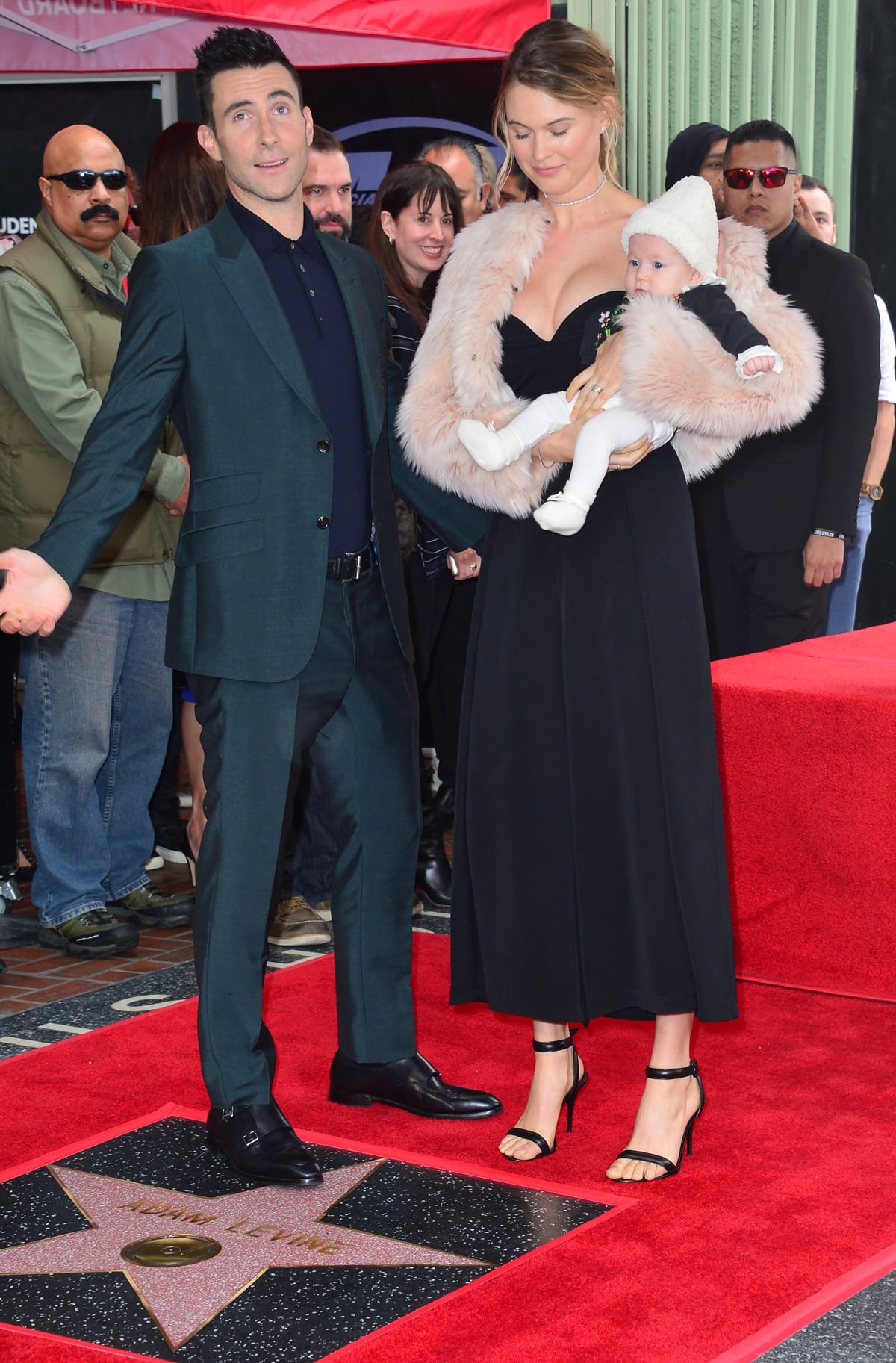 Adam Levine with his wife Behati Prinsloo and their baby girl Dusty Rose at the Hollywood Walk of Fame Star Ceremony honoring singer Adam Levine with the 2,061st star on the Hollywood Walk of Fame in Los Angeles on February 10, 2017 (Credit: Jaguar PS / Shutterstock)
Two years later, the pair welcomed their second daughter, Gio Grace, in February 2018.
As of 2021, the couple has made no announcement that they are expecting or planning for any more children- at least, not yet. Adam Levine and Behati Prinsloo remain happily in love and are enjoying raising their two daughters together.
Conclusion
Ever since they were introduced, Adam Levine and Behati Prinsloo couldn't stay away from each other. Love at first sight (or at least, love at the first date), and they couldn't stay away from one another even when they tried to.
Luckily, they were able to work things out, and are now living happily ever after as a family.
In February 2016, Behati Prinsloo and Adam Levine revealed that they were expecting their first child together after almost two years of marriage.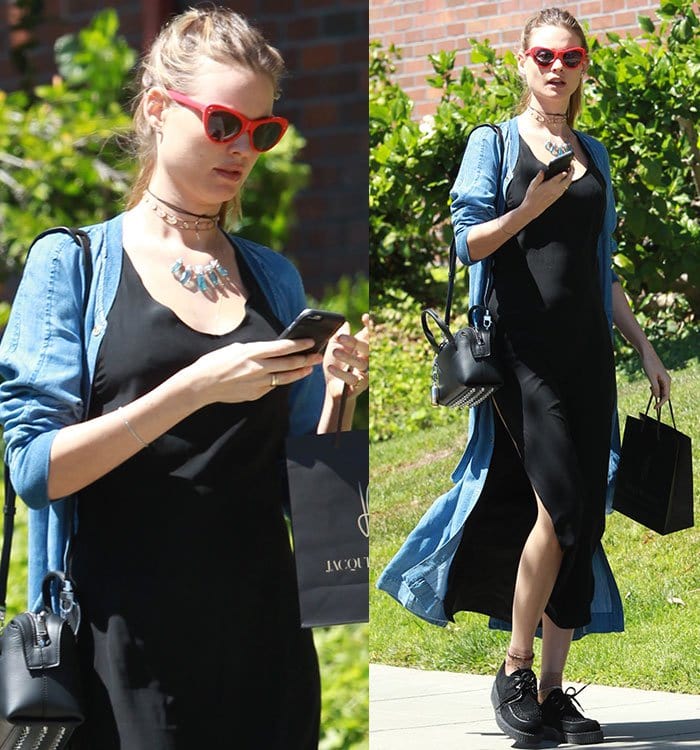 Behati Prinsloo wears her hair back as she shops in Beverly Hills on March 29, 2016 (Credit: WENN)
So, we weren't surprised when the Namibian model debuted her tiny baby bump as she stepped out for some shopping trip with her handsome husband in Beverly Hills.
The pair walked hand-in-hand in matching low-key ensembles.
Behati showcased her effortlessly chic maternity style, while Adam kept it cool in a black slogan tee and ripped jeans.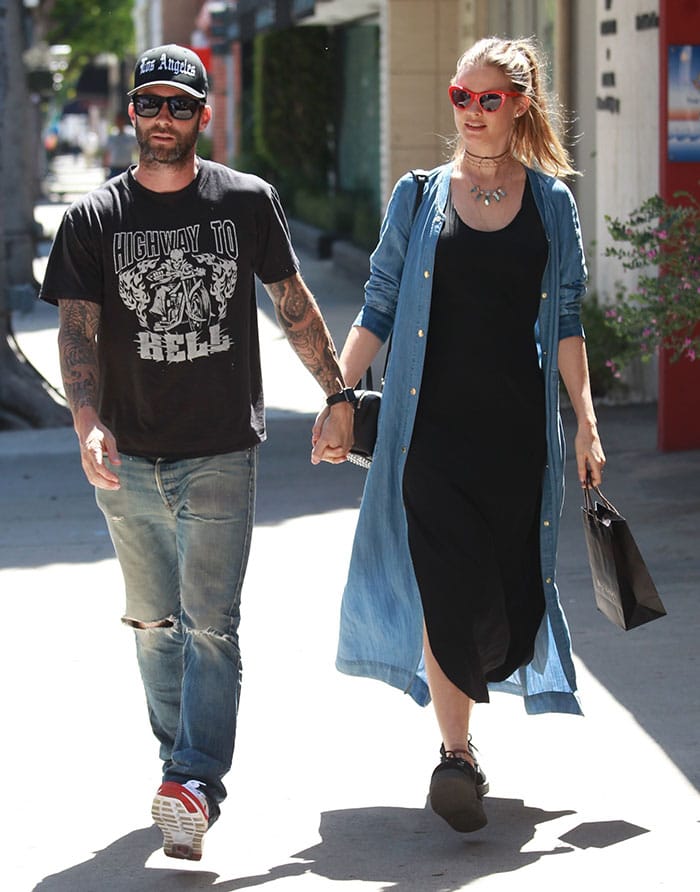 Adam Levine and Behati Prinsloo hold hands during a shopping trip in Beverly Hills (Credit: WENN)
The then 26-year-old model offered just a glimpse of her baby bump during the outing.
She layered a denim duster coat from her collection with Juicy Couture over a simple black maxi dress with double thigh-high slits.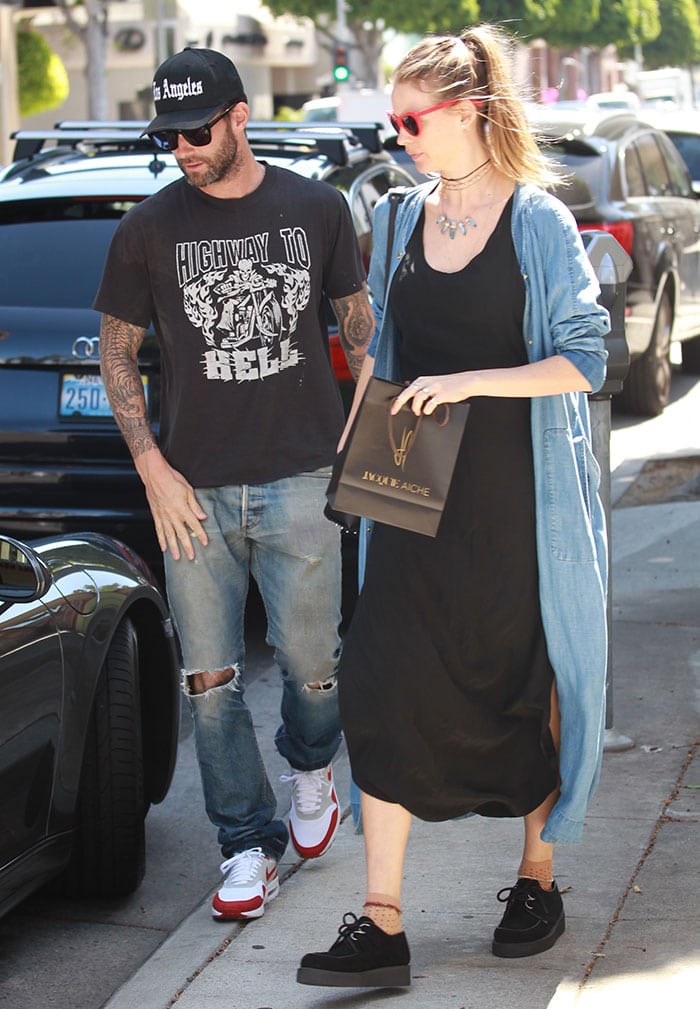 Behati Prinsloo wears a denim duster coat from her collaboration with Juicy Couture over a black maxi dress (Credit: WENN)
Behati accessorized with several necklaces and red-framed sunglasses.
She carried an Alexander Wang bag and kept comfy in a pair of creepers. She rounded out her look with barely-there makeup and a tousled ponytail.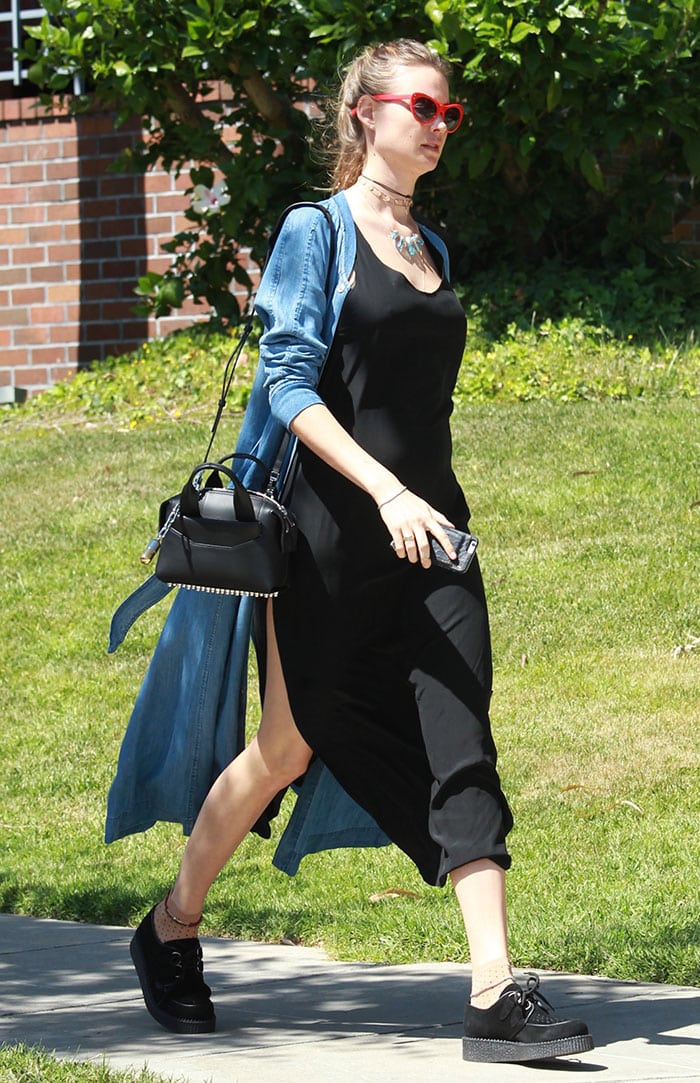 Behati Prinsloo keeps things casual with red sunglasses and an Alexander Wang bag (Credit: WENN)
Behati traded runway heels for a pair of T.U.K. "Viva Mondo" creepers. These shoes are made of black suede and feature weaved interlace, silver metal D-rings, and about two-inch platforms.
Behati Prinsloo wears socks under her black T.U.K. creepers (Credit: WENN)
You can buy these black creepers from T. U. K. (Tea You Kay) at Amazon.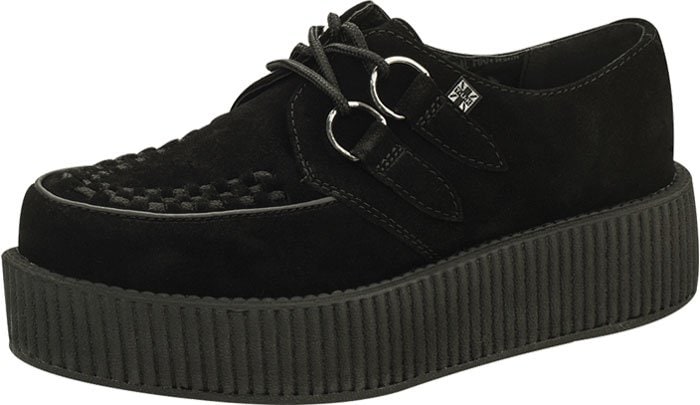 T.U.K. Suede "Viva Mondo" Creepers, $100