The No Doubt frontwoman-turned-solo star Gwen Stefani met Blake Shelton for the first time when joining him, Adam Levine and Pharrell Williams as a coach on The Voice in April 2014.
They officially started dating in November 2015 when a rep for Shelton confirmed the romance, saying, "Gwen and Blake are longtime friends who have very recently started dating."
Stefani revealed to Ryan Seacrest, "To be super honest, it is kind of crazy we both went through the same thing at the same time," adding that they bonded through their divorces.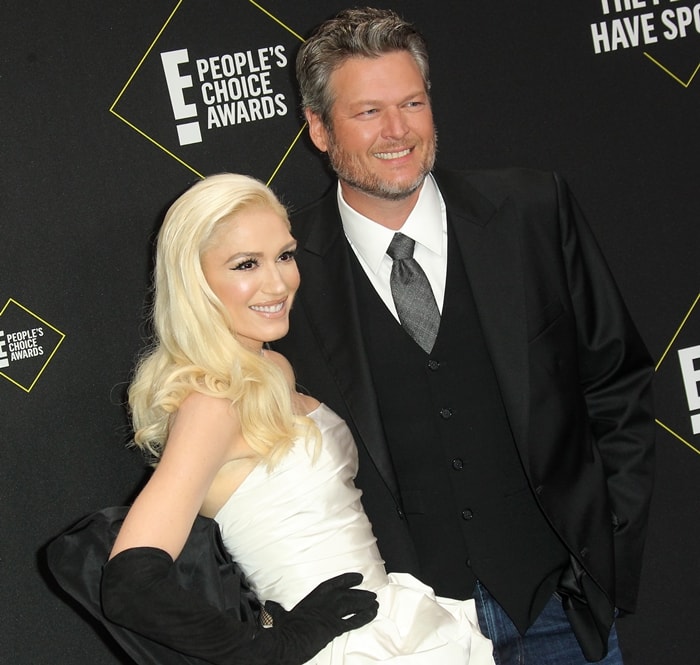 Gwen Stefani and Blake Shelton posed together on the red carpet as they arrived at the 2019 E! People's Choice Awards at the Barker Hangar in Santa Monica, California, on November 10, 2019
While Us Weekly reported that Blake Shelton was ready to propose after just a few months of dating in 2016, this month they reported that the couple isn't married yet because Stefani is waiting for her previous marriage to be annulled by the Catholic Church.
Us Weekly ran the following headline on the cover of their print publication: Why Blake Won't Propose
The magazine claims Stefani wants to get married in a proper Catholic ceremony, which can't happen until her marriage to Gavin Rossdale is annulled. The No Doubt singer finalized her divorce on April 8, 2016, after 14 years of marriage. They have three sons together.
The gossip magazine quotes a source saying, "They've had some heated discussions" over the issue and that that Shelton is anxious to get married. The insider adds, "In some ways they have this dark cloud hanging over them. They're both emotional about wanting to get married as soon as possible."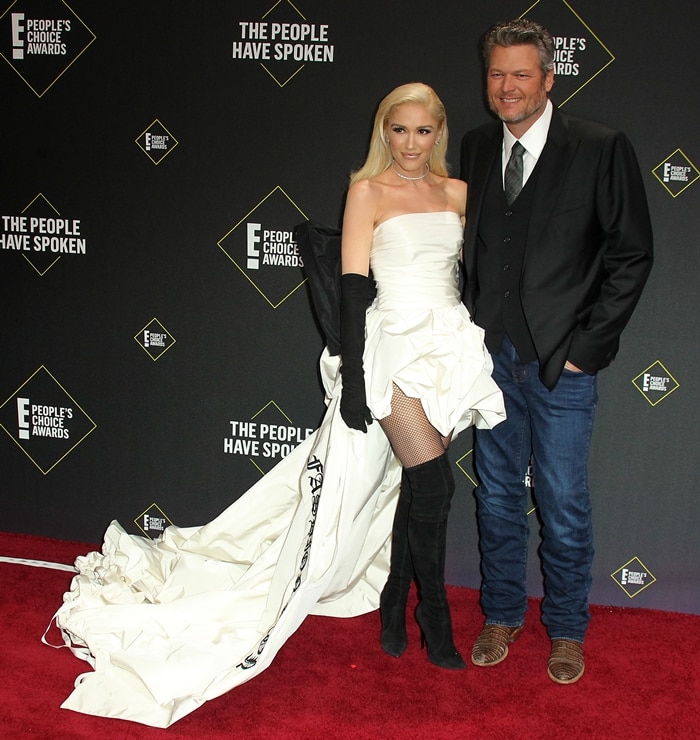 Gwen Stefani announced her relationship with Blake Shelton, country music artist and The Voice co-star, in September 2015
While she's a Christian and frequently takes her sons to church, according to fact-checking website Gossip Cop, a spokesperson for Gwen Stefani says there is no truth to the rumor.
Regarding the diamond on her ring finger at the 2019 People's Choice Awards, she clarified to E! News that it was just a fashion accessory.
Gwen Stefani's fans couldn't help but notice the gigantic diamond ring on her ring finger
"It might be a real ring, a real diamond but it's not a wedding ring. No, no. It actually doesn't fit over the glove on this hand so I put it on this hand. But looks good, right?" Gwen told the gossip website and added that she'll let fans know if they get engaged.
The 50-year-old entertainer, who was honored by Jeremy Scott with the Fashion Icon award, looked stunning in a white Vera Wang Fall 2020 Bridal gown with a long train, fishnet stockings, opera gloves, and thigh-high black boots from Casadei that you can buy at Farfetch.
Gwen Stefani's custom bridal dress was made to read 'FASHION ICON' instead of 'LOVE'
While making an appearance on SiriusXM's Andy Cohen Live in September, Gwen revealed that she did not know Blake Shelton existed before meeting him on The Voice.
"Before the show, I didn't know that he existed. I didn't know he was a human being on this planet and I didn't know much about country," Gwen explained.
She added, "Now I've learned about country and accepted that he's a true hillbilly…He's literally a country jukebox. He knows every single song forever. I love that we're from different genres."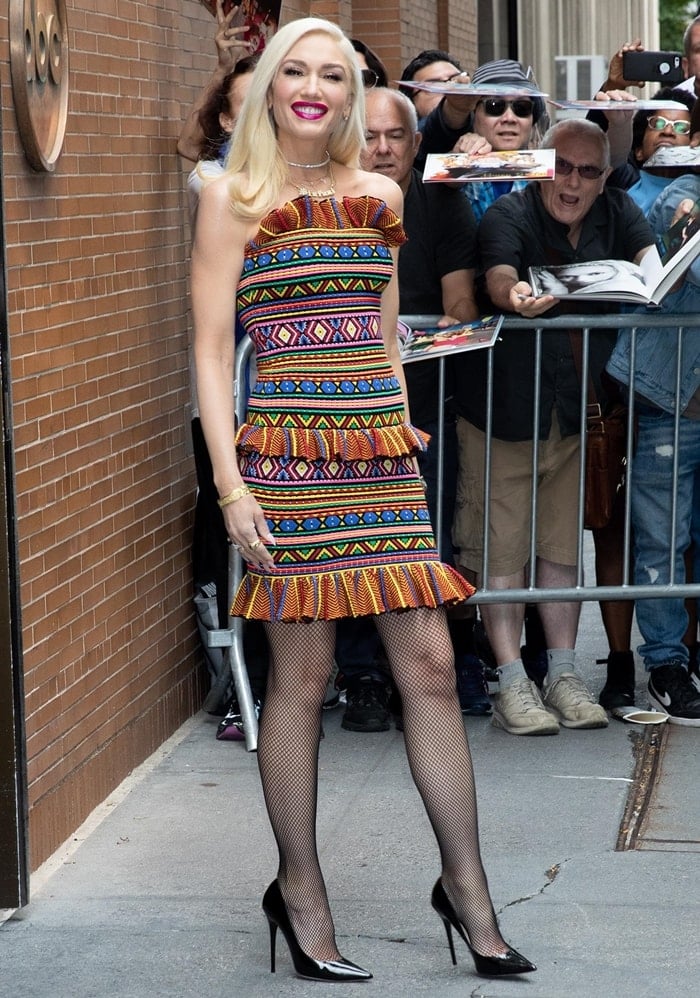 Gwen Stefani in Christian Louboutin pumps and fishnet tights after filming a segment on The View in New York City on September 24, 2019
In August 2015, Gwen Stefani seemed to have bounced back pretty well after announcing her divorce from Gavin Rossdale a few weeks earlier.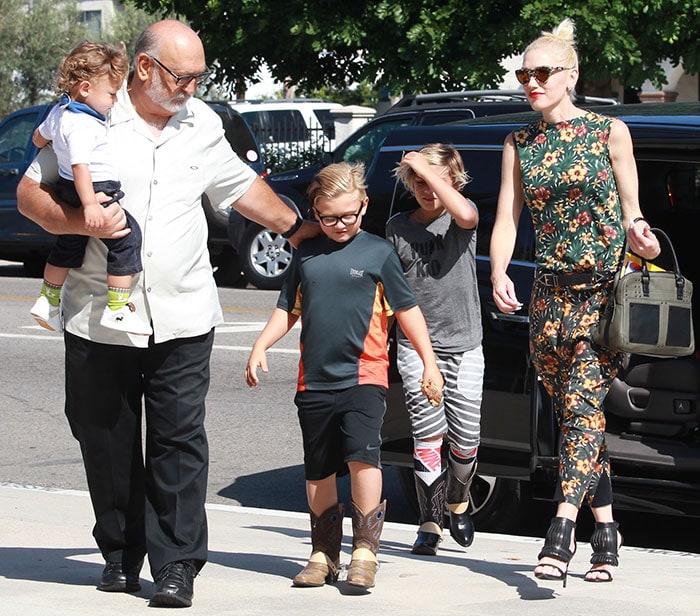 Gwen Stefani attends church service with her sons and parents in Universal City, California, on August 23, 2015
She attended a church service St Brendan Catholic Church in Universal City with her three kids, Kingston, Zuma, and Apollo, and her parents, Dennis and Patti.
Gwen Stefani heads to church in a patterned drop-crotch ensemble
The ever-stylish singer brought the controversial drop-crotch pants trend back!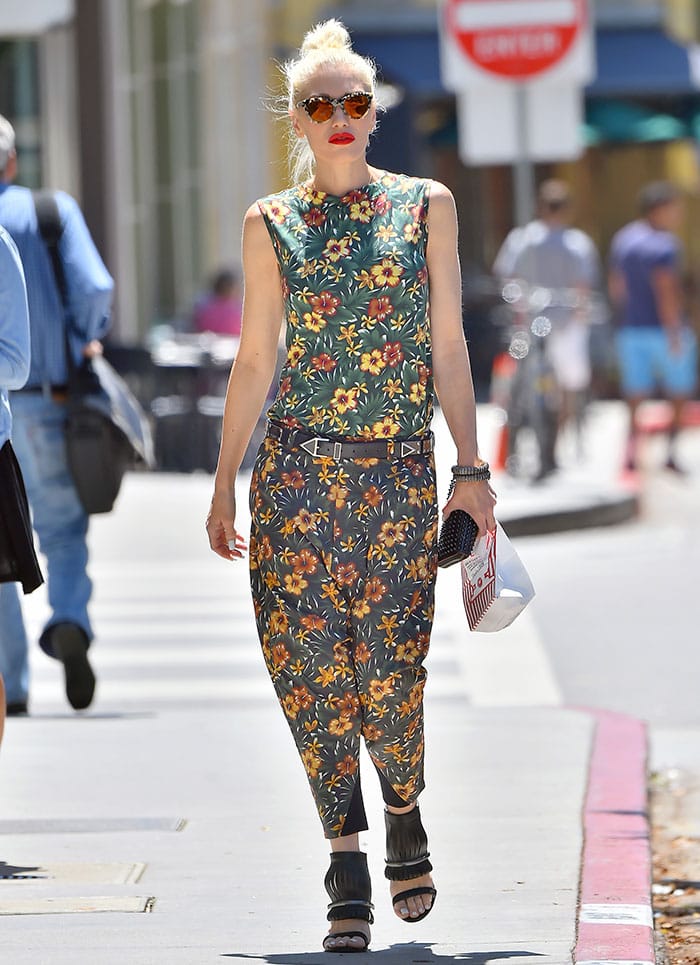 Gwen Stefani steps out in a pair of floral-printed, harem-style pants and a coordinating sleeveless top
For her Sunday service, Gwen donned a pair of belted floral-printed harem-style pants with tapered ankles and a matching floral sleeveless top, creating the illusion of a jumpsuit.
Gwen Stefani sports heavy makeup — including her signature bright red lipstick — and a blonde topknot for her church outing
Keeping her accessories simple, wearing only a snake bangle, and a two-tone handbag, she pulled her platinum blonde hair up into a topknot and sported her signature bright red lipstick.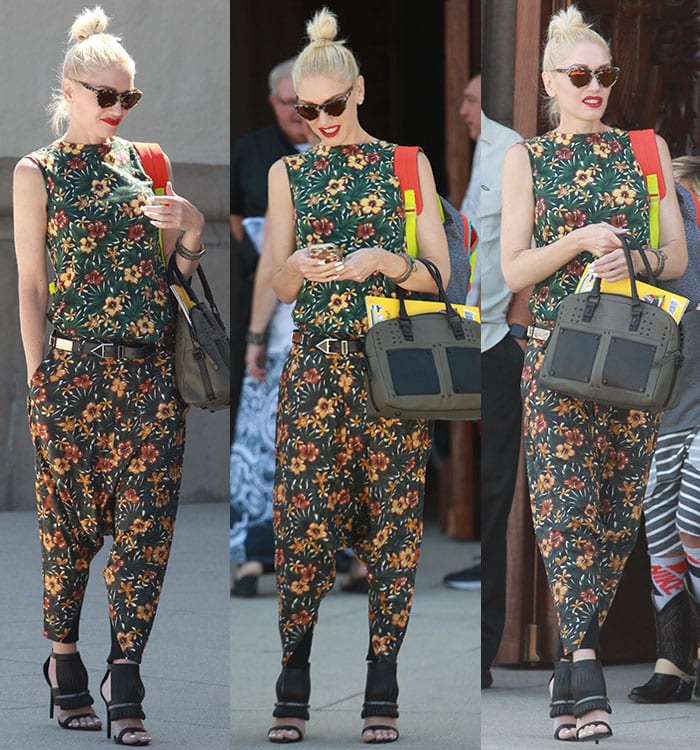 Gwen Stefani finishes off her outfit with black accessories, including a handbag and stilettos
Later that day, the mom-of-three was spotted at a park in Los Angeles.
Gwen Stefani swings at the park with her youngest son, Apollo, in Los Angeles on August 23, 2015
She wore the same outfit at the park but went barefoot as she stepped on the sand and played on the swing set with her youngest son, Apollo.
Gwen Stefani ditches her shoes as she spends time swinging with her son Apollo at a Los Angeles park
Before she tossed aside her shoes to play in the sand, Gwen had been wearing her new favorite heels from her L.A.M.B. collection.
The "Media" sandals feature fringe-like cutout vamps in black lizard material, polished silver-tone metal hardware, smooth leather ankle straps, back zipper fastenings, open toes, and about 4.5-inch heels.
Gwen Stefani shows off her pedicure in a pair of "Media" sandals
How about her heels? You can get these L.A.M.B. sandals in black and white/gray versions at Amazon.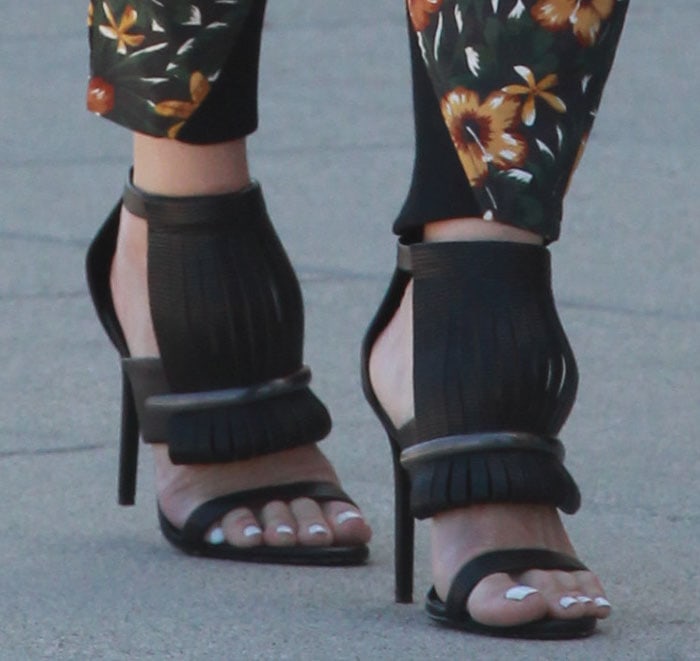 Gwen Stefani's sexy feet in sandals from her own brand, L.A.M.B.
Would you wear Gwen Stefani's drop-crotch pants?
L.A.M.B. "Media" Sandals, $325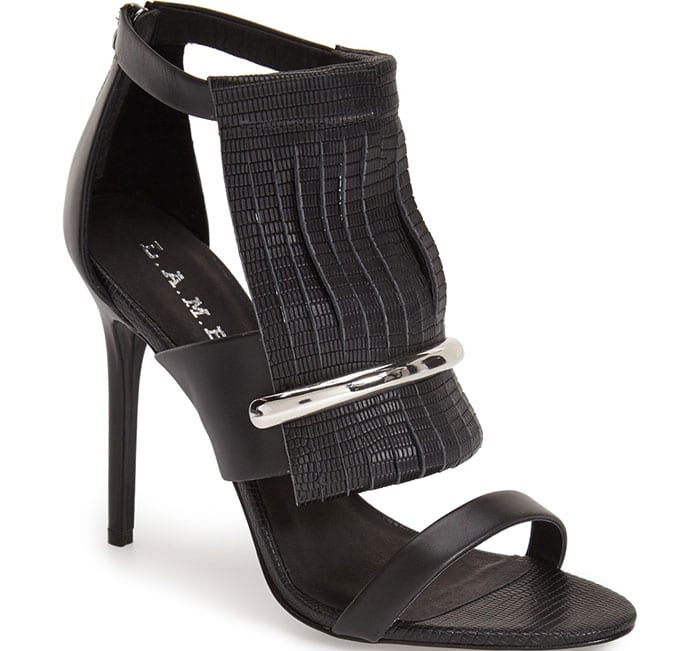 Credit: WENN