Gwen Stefani and Gavin Rossdale have confirmed it — the two are divorcing after thirteen years of marriage.
Both parents are asking for joint custody of their three sons: 9-year-old Kingston, 6-year-old Zuma, and 1-year-old Apollo.
"While the two of us have come to the mutual decision that we will no longer be partners in marriage, we remain partners in parenthood and are committed to jointly raising our three sons in a happy and healthy environment," the couple said in a statement released Monday.
"To that end, we respectfully request privacy from the media during this time."
According to TMZ, Gwen filed for divorce due to the belief that Gavin was cheating on her.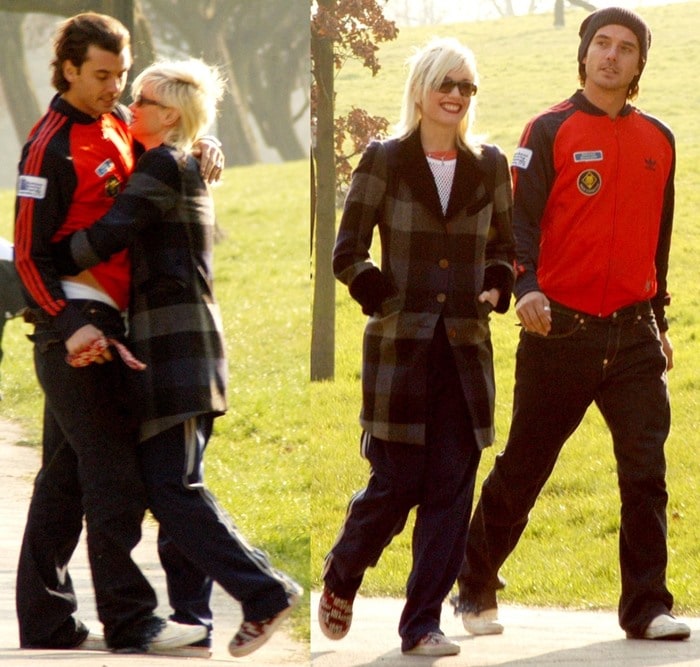 Flashback: Newlyweds Gavin Rossdale and Gwen Stefani head out for lunch and a stroll with their dog in North London on March 19, 2003
Gavin Rossdale, the lead singer and rhythm guitarist of the rock band Bush, met Gwen Stefani in 1995 when they were on tour together. They married on September 14, 2002, at St. Paul's Covent Garden in London.
In other recent news, Eminem and Gwen Stefani have teamed up for a brand new song titled "Kings Never Die."
It was a collaboration waiting to happen. No Doubt's frontwoman, Gwen Stefani, has finally lent her vocal chops to rapper Eminem on his latest single, "Kings Never Die." Apparently, Gwen had been waiting for the opportunity to work with the Detroit rapper for quite some time.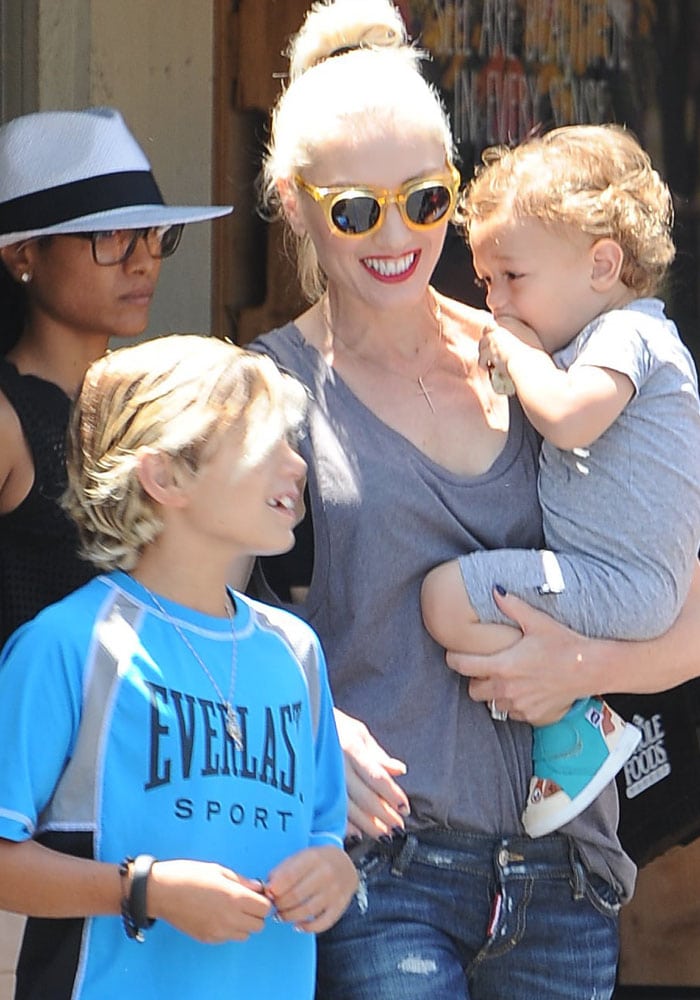 Gwen Stefani steps out to shop with her two sons, Kingston and Apollo
Gwen talked about their collaboration during a recent interview. The singer said Eminem thanked her on the phone (she said she warned him to keep his words rated PG) while she was dropping her sons off at soccer practice. Not a lot of people can say they've been in that kind of situation.
Gwen Stefani rocks a sleeveless top and ripped jeans for her outing with her kids
Gwen may stay busy with all of her business ventures, but she definitely doesn't neglect her kids in the process.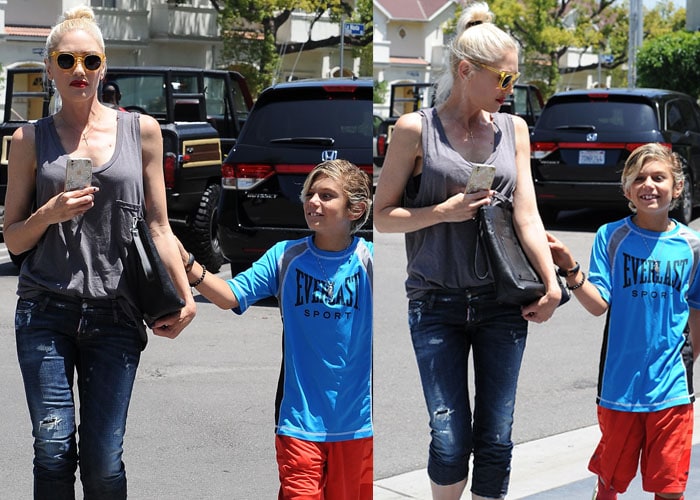 Gwen Stefani tends to her oldest son, Kingston James McGregor Rossdale
The singer was recently photographed going to Burbank to do a little shopping with her two sons, Kingston and Apollo.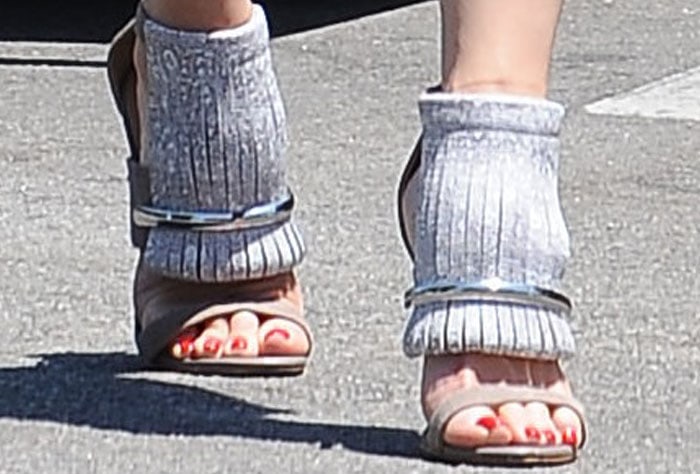 Gwen Stefani's colorful toenails peek out from beneath fringed sandals embellished with metal bars
For the outing, the L.A.M.B. designer wore a sleeveless top and ripped jeans, which she paired with fringed sandals embellished with metal bars.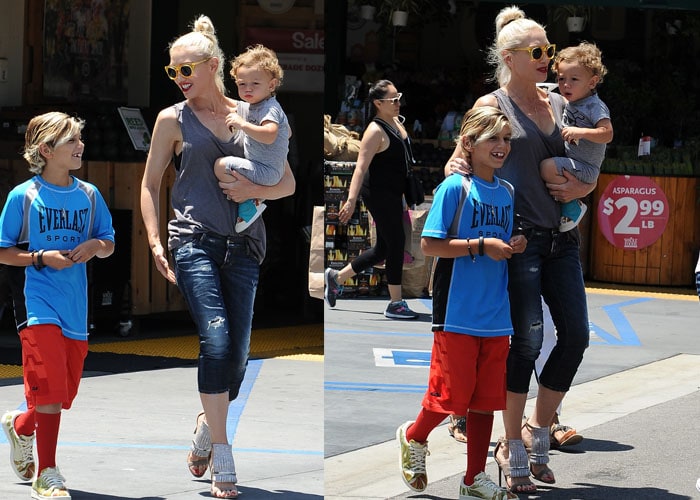 Gwen Stefani shops at Whole Foods with her kids in Burbank on July 28, 2015
We're not quite sure if Gwen's shoes belong to any L.A.M.B. collection that she has yet to launch, or if they're just a pair from another label that failed to register on our shoe radar until now.
Gwen Stefani on collaborating with Eminem on his latest single, "Kings Never Die," and sharing the hilarious story of how she was contacted by Eminem himself
They do look an awful lot like the Proenza Schouler heels, though. If you're digging Gwen's style, you can pick some up here:
Proenza Schouler Leather Fringe Banded Mules in Black, $1,095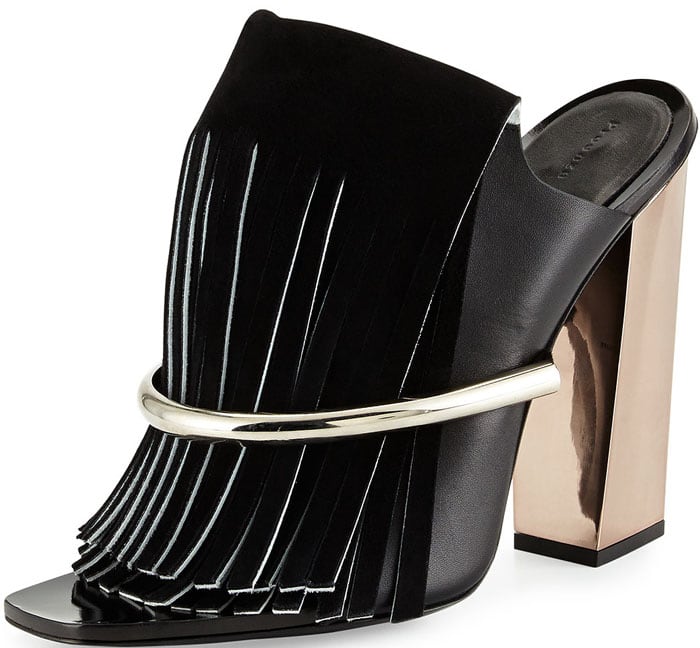 Proenza Schouler Fringed Sandals, £480.58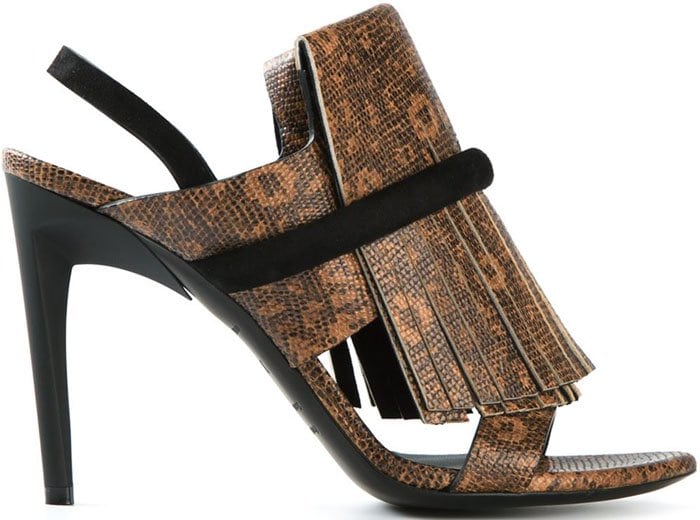 Proenza Schouler Leather Fringe Mules, $1,095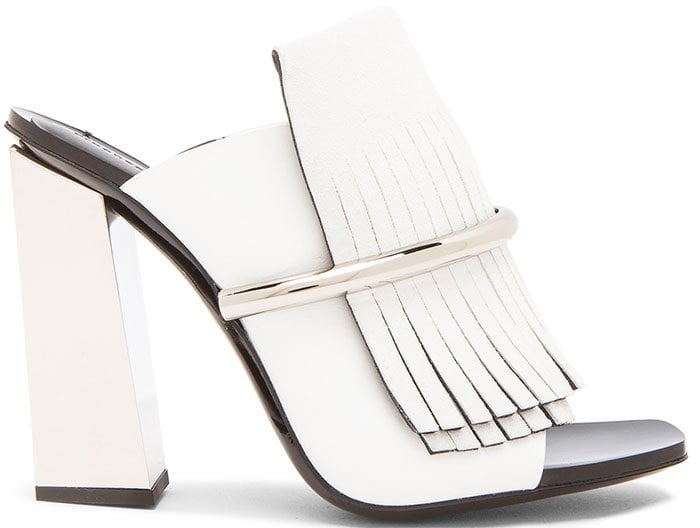 Credit: ET / WENN