Rebecca Minkoff is an American fashion designer and entrepreneur. She is the founder and creative director of the Rebecca Minkoff brand, which produces handbags, shoes, clothing, and accessories.
Minkoff's designs are known for their feminine and edgy aesthetic, and her brand has been popular with celebrities and fashionistas alike. Minkoff launched her brand in 2005 with a line of handbags.
Her bags quickly became popular for their unique designs and affordable prices. In 2009, Minkoff expanded her brand to include clothing, shoes, and accessories. Her clothing is known for its feminine silhouettes and bold prints. Her shoes are often edgy and eye-catching, and her accessories are both fashionable and functional.
Popular Rebecca Minkoff boots, sandals, and mule shoes
Celebrity fans of Rebecca Minkoff include Victoria Justice, Meghan Trainor, Jenna Dewan, Nina Dobrev, Hilary Duff, Ashley Tisdale, and Nikki Reed.
How old is Rebecca Minkoff?
Born on December 11, 1980, in San Diego, she turned 42 on December 11, 2022.
After moving to New York City in 1998 at 18 to pursue her dream of becoming a fashion designer, she founded her eponymous fashion brand in 2005 when she was 25.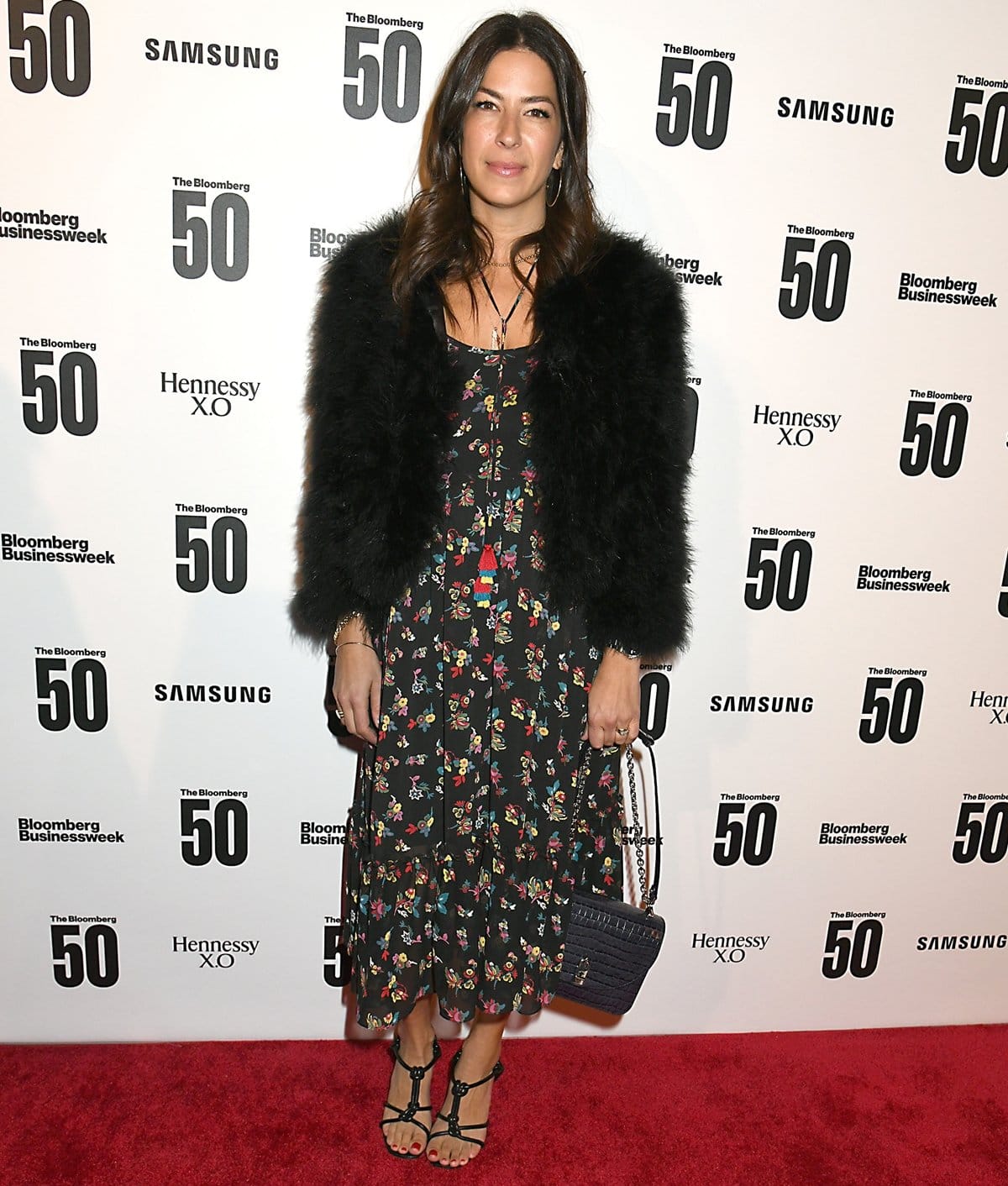 Co-founder and Creative Director of her namesake company Rebecca Minkoff attends "The Bloomberg 50" Celebration at The Morgan Library on December 9, 2019, in New York City (Credit: WENN / Avalon)
Rebecca Minkoff founded her global fashion brand in 2005 with her brother, Uri Minkoff, in New York City. Her net worth is around $10 million as of 2023.
You can buy Rebecca Minkoff bags, backpacks, shoes, and items from the popular Mini M.A.C. collection on Zappos, Nordstrom, and Nordstrom Rack.
Rebecca Minkoff: A Closer Look
Net Worth:
She's believed to have a net worth of around $10 million.

In February 2022, global fashion brand Rebecca Minkoff was sold to Los Angeles-based diversified apparel company Sunrise Brands for a price estimated at between $13 million and $19 million.
Full Name:
Rebecca Minkoff
Born:
December 11, 1980 in San Diego, California
Who is Rebecca Minkoff's husband?

She is married to actor and director Gavin Bellour, best known for Army Wives (2007), A Buddy Story (2010) and This Revolution (2005), and they reside in Brooklyn with their four children.

They met through a mutual friend and married in June 2009 at City Hall in New York City.
How many children does Rebecca Minkoff have?
She has three sons (Nico, Luca Shai, and Leonardo Scout) and a daughter (Bowie Lou).
Where are Rebecca Minkoff bags made?
Rebecca Minkoff has moved most of her production to China.

Rebecca Minkoff has said that she chose to move production to China in order to keep costs down and make her bags more affordable for consumers. She has also said that she is committed to ethical manufacturing practices, and that all of her bags are made in factories that meet high standards of labor and environmental protection.
Nationality:
American
Source of Wealth:
Fashion
Ethnicity/Race:
Jewish
Who owns the Rebecca Minkoff brand?
Rebecca Minkoff was sold to Los Angeles-based retail holding company Sunrise Brands in February 2022.
Is Rebecca Minkoff a luxury brand?
Rebecca Minkoff is not a luxury brand in the traditional sense. Her bags are more affordable than those of some of the top luxury brands, such as Louis Vuitton and Chanel.

Rebecca Minkoff has been described as a "contemporary luxury" brand. This means that her bags are designed to appeal to a younger, more fashion-forward audience. They are also more accessible than traditional luxury brands, which makes them a good option for those who want to look stylish without breaking the bank.
Where did Rebecca Minkoff grow up?
Rebecca Minkoff was born in San Diego, California, and grew up in Clearwater, Florida. She moved to New York City after high school to pursue a career in fashion.
How did Rebecca Minkoff get her start?
After completing high school, Minkoff made a bold decision to forgo college and instead, set her sights on New York City. Determined to pursue her passion for fashion, she embarked on an internship at an apparel company that paid only minimum wage. Despite facing financial constraints and being without a support system of friends, she tenaciously persevered.

While working at Craig Taylor, Minkoff utilized her downtime to develop her own line of designs. As her personal collection began gaining traction and recognition, an unexpected turn of events occurred. Instead of being met with resistance or discouragement, the company made a remarkable decision. Recognizing her burgeoning talent and potential, they made the bold move of firing Minkoff and encouraging her to pursue her own collection wholeheartedly.
How Rebecca Minkoff Became a Global Brand
Rebecca Minkoff describes her designs as "modern bohemian…inspired by strong, confident and powerful women who embody the effortless, free-spirited lifestyle".
The designer got her break after producing an "I love New York" t-shirt as part of a five-piece capsule collection that featured on The Tonight Show and became an overnight success.
Rebecca Minkoff and her husband Gavin Bellour met through a mutual friend and live in Brooklyn with their four children (Credit: WENN)
Her first bag came out in 2005 and was nicknamed the 'Morning After Bag' – known as the M.A.B. This original bag kickstarted the Rebecca Minkoff brand and posed as a taster for what was to come.
The Rebecca Minkoff brand is a family affair, with her brother acting as the company's CEO and co-founder. Minkoff returned to designing apparel alongside handbags, presenting her first ready-to-wear collection in 2009.
2011 saw Rebecca Minkoff win the 'Breakthrough Designer Award' from the Accessories Council. She is now a member of the CFDA and supports several philanthropic efforts.
Rebecca Minkoff with her husband Gavin Bellour and her son Luca Shai attend "The Pirate Fairy" screening at Crosby Hotel on March 25, 2014, in New York City (Credit: C.Smith / WENN)
Following in the footsteps of other female designers, Rebecca Minkoff has made a remarkable contribution to empowering women in the business world.
She established the Female Founder Collective, a platform aimed at harnessing the financial influence of women to provide vital socio-economic support to businesses owned by women.
Rebecca Minkoff has firmly established itself as one of the most prominent American handbag brands. It is renowned for producing exceptional, high-quality bags that blend minimalistic design with striking hardware accents.
Disney Stars Bella Thorne and Zendaya Coleman Rock Hottest Heels at Rebecca Minkoff Fall 2014 Runway Show
The Rebecca Minkoff Fall 2014 runway show held during New York Fashion Week seemed like a Disney star reunion. Victoria Justice, Bella Thorne, and Zendaya Coleman sat in the front row to see the designer's upcoming collection.
They rose to fame for their roles on Disney Channel television shows. Zendaya and Bella Thorne appeared on the Disney Channel series Shake It Up, which aired from 2010 to 2013. Victoria Justice appeared on the American sitcom Victorious, aired from 2010 to 2013.
Zendaya Coleman, Bella Thorne, and Victoria Justice sit front row at the Rebecca Minkoff Fall 2014 presentation held on February 7, 2014, during New York Fashion Week (Credits: Alberto Reyes / Ivan Nikolov / IZZY / WENN)
The young celebs looked their best as they sported pieces from the brand. Check them out below, and help us decide who wore the hottest heels.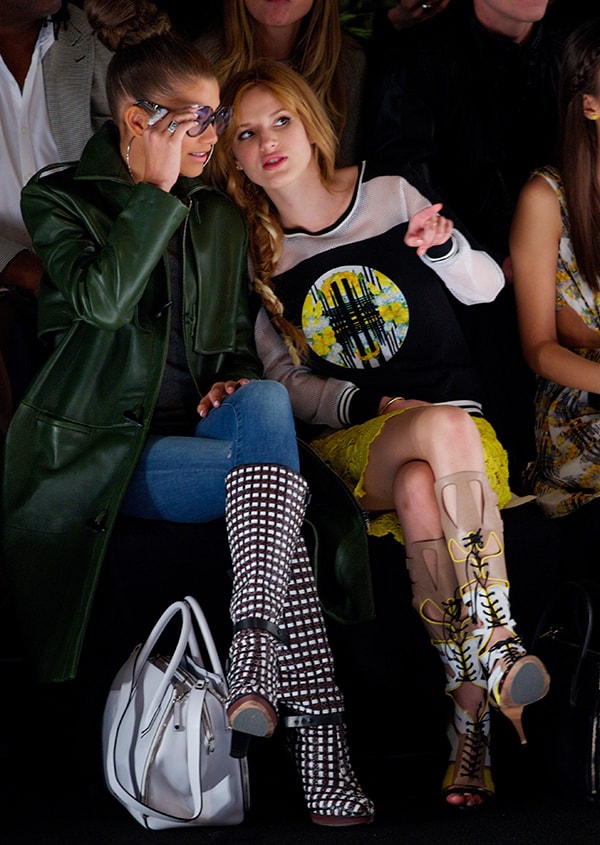 Zendaya Coleman and Bella Thorne chat at Rebecca Minkoff's New York Fashion Week presentation (Credits: Alberto Reyes / Ivan Nikolov / IZZY / WENN)
Bella Thorne wore Rebecca Minkoff from head to toe.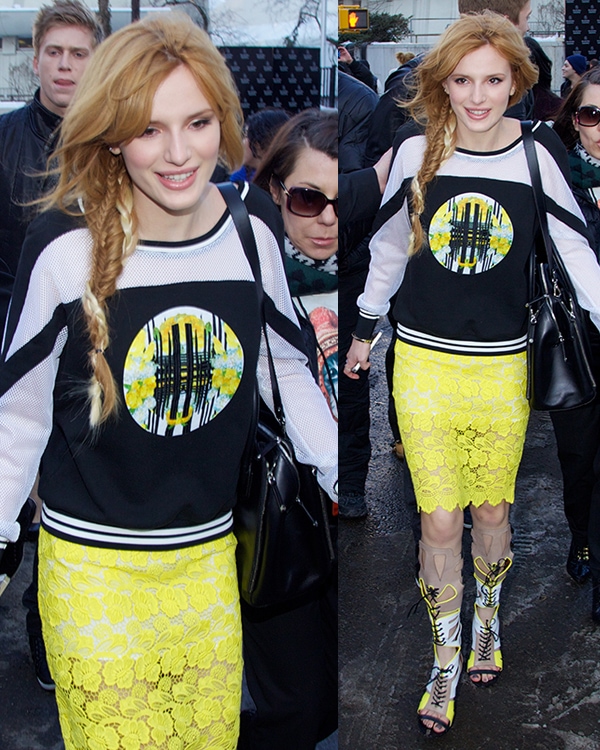 Bella Thorne wears a head-to-toe Rebecca Minkoff ensemble, including a bright yellow "Angelica" skirt (Credits: Alberto Reyes / Ivan Nikolov / IZZY / WENN)
She paired a cool mesh-paneled sweater with a bright yellow "Angelica" lace skirt, which matched her striking "Rita" gladiator sandals — the same pair Victoria opted to wear.
However, unlike Victoria's black gladiators, Bella opted to wear the colorful beige, white, black, and yellow version of the shoes.
Bella Thorne's feet in lace-up Rebecca Minkoff gladiator sandals (Credits: Alberto Reyes / Ivan Nikolov / IZZY / WENN)
These lace-up sandals feature buckled straps at the back, unique cutouts, rear zipper fastenings, and heels that measure about 4 inches.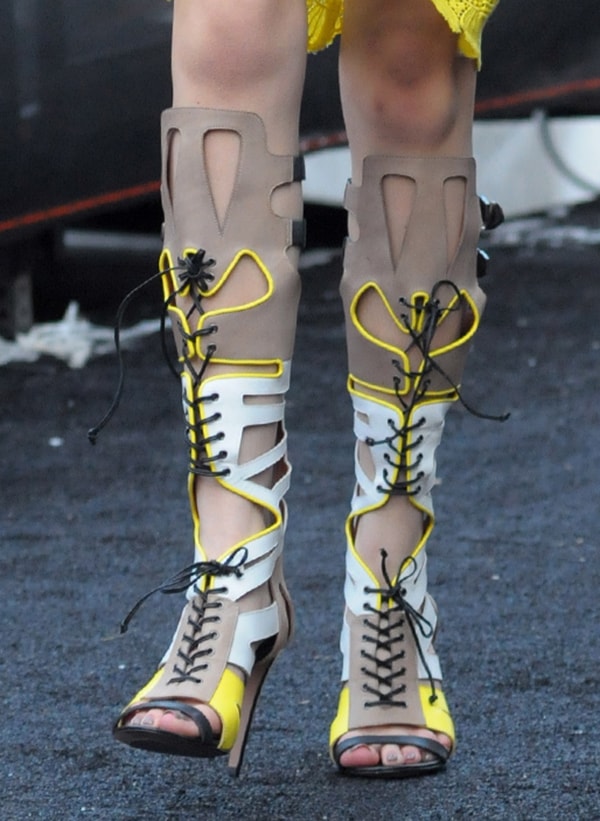 Bella Thorne's feet in colorful yellow "Rita" sandals (Credits: Alberto Reyes / Ivan Nikolov / IZZY / WENN)
We also love the black version of these Rebecca Minkoff sandals: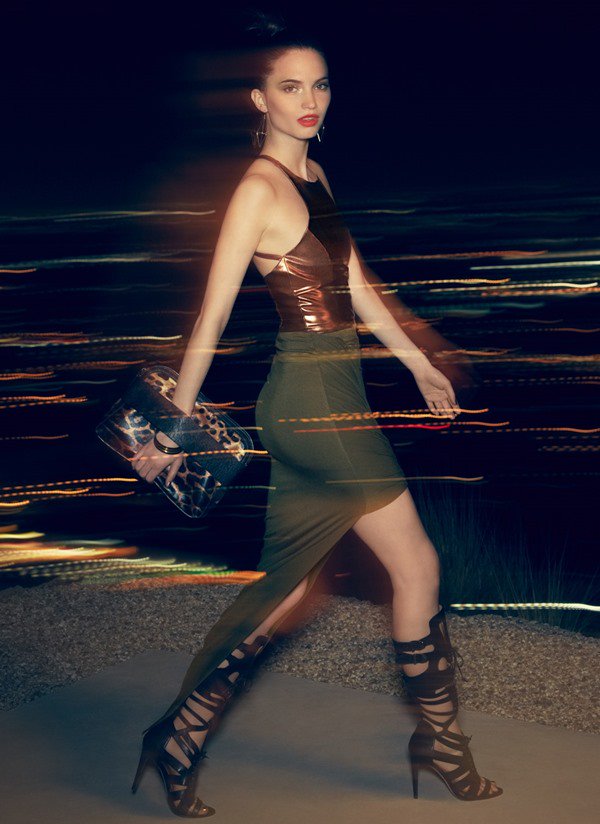 This pair of gladiators is ready to win the crowd over
Rebecca Minkoff "Rita" Gladiator Sandal Boots, $525
Zendaya Coleman, of course, brought her individual swag to the event.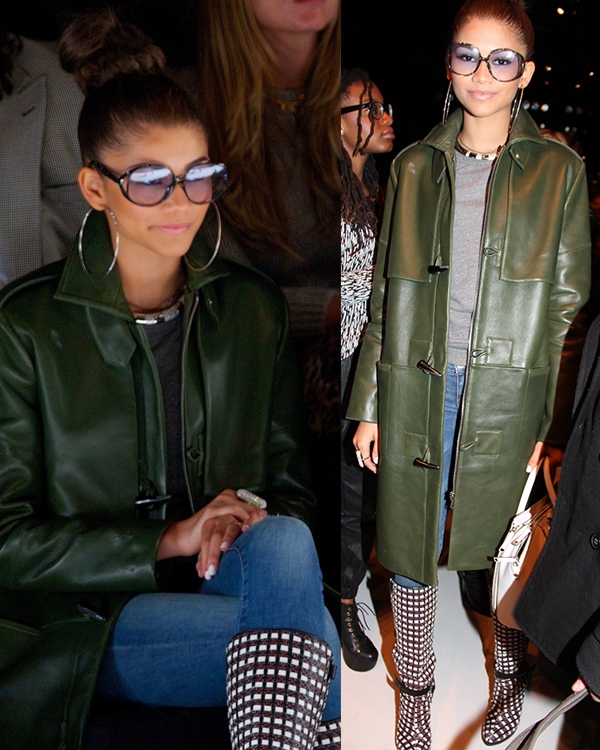 Zendaya Coleman attends New York Fashion Week in a Rebecca Minkoff coat and jeans (Credits: Alberto Reyes / Ivan Nikolov / IZZY / WENN)
She showed up in a gray top and a pair of denim jeans, which she styled with a cool, chic Rebecca Minkoff Fall 2013 coat in olive, a pair of vintage Dior sunglasses, and some striking accessories.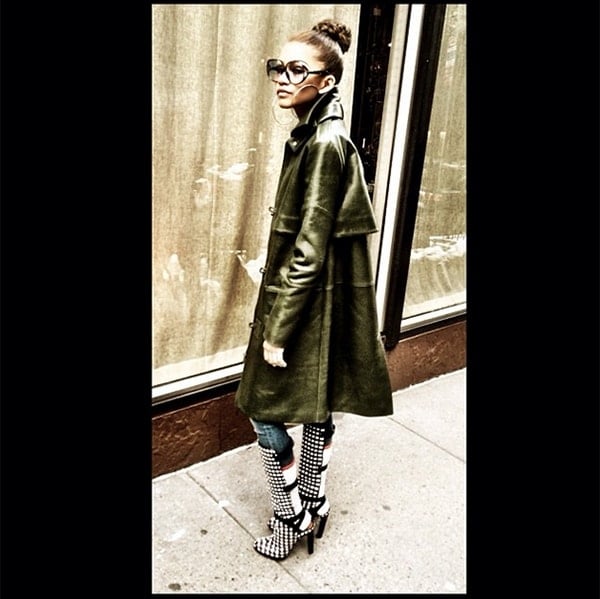 Zendaya Coleman wears an olive coat and statement boots to the Rebecca Minkoff presentation held during New York Fashion Week (Credit: Zendaya Coleman's Instagram)
She completed her look with a pair of black-and-white grid-printed Rebecca Minkoff boots. These 4-inch block heels feature a cutout back with stud straps and half-inch platforms.
Zendaya Coleman wears grid-printed Rebecca Minkoff boots to the designer's fashion show (Credits: Alberto Reyes / Ivan Nikolov / IZZY / WENN)