Sky high heels and dainty ballet flats have long been symbols of femininity, yet the luxury shoe game seems to be dominated by men.
No one can deny the genius of legendary shoe designers like Manolo Blahnik and Christian Louboutin, but the unsung heroes of the industry are definitely female designers. No one knows what a woman wants better than, well, a woman.
From black designers finally nailing inclusive nude pumps to a new wave of European designers combining fantasy with traditional craftsmanship, we're sharing the trailblazing women that are dominating the shoe industry. Discover the top 9 female shoe designers you need to know below!
1. Sandra Choi- Creative Director of Jimmy Choo
The niece and long-time partner of brand founder Jimmy Choo, Sandra Choi has been continuing the glamorous shoe label's legacy since taking its reins in 2013.
Although Sandra didn't establish the brand, she has been a vital part of transforming it into a global luxury shoe empire since the beginning.
Sandra became the label's first employee in 1989. She moved in with her aunt and uncle to pursue a career in fashion at just 17 years old. She's been in charge of curating Jimmy Choo's swoon-worthy collections ever since.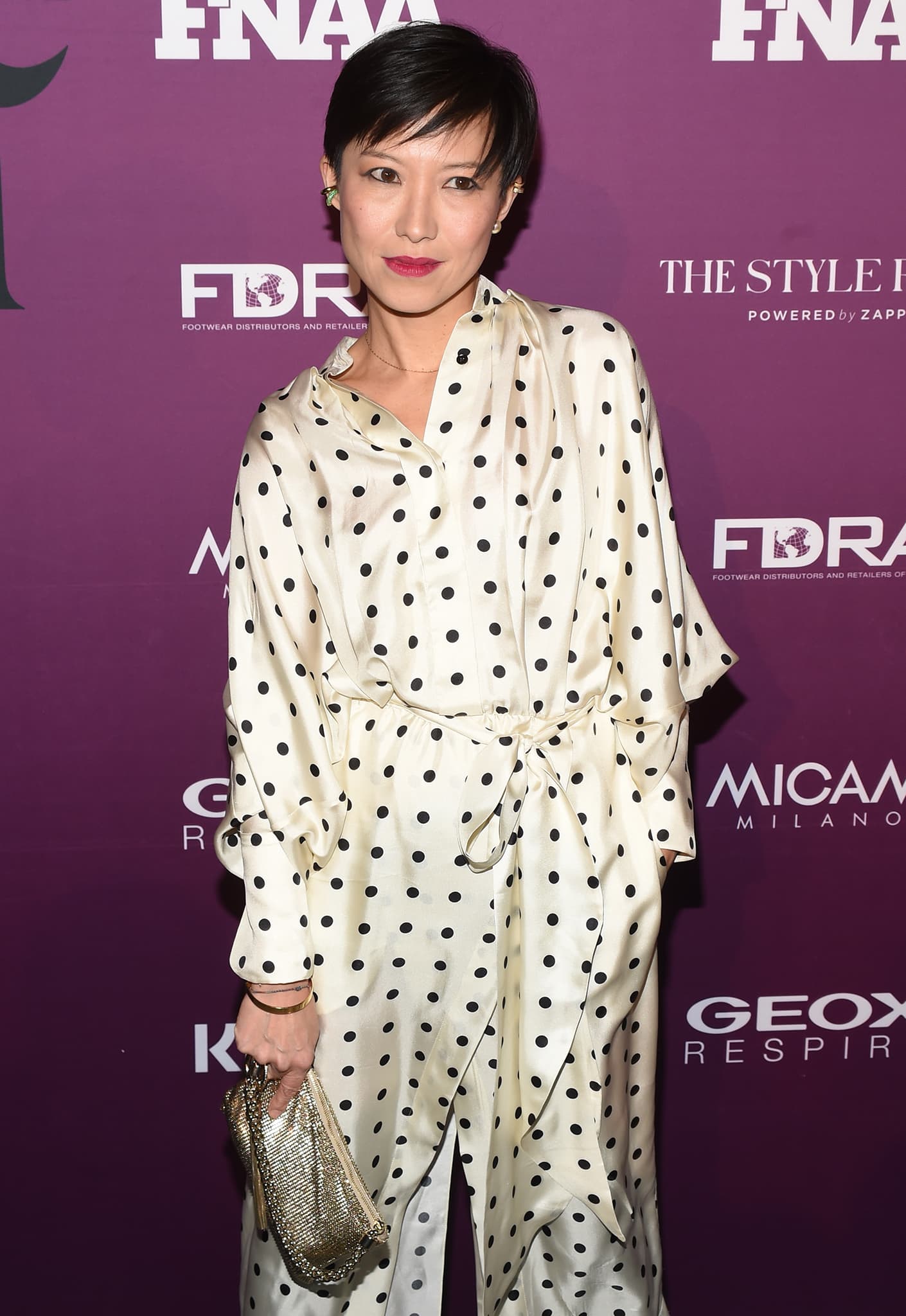 Sandra Choi, the niece of Jimmy Choo's wife, has been the creative director of Jimmy Choo since 1996 (Credit: Julie Shea / Cover Images)
The label has become famous for its fairytale-like shoes, which have graced the feet of everyone from Princess Diana to Beyonce.
But it's Sandra who knew that Jimmy Choo could diversify beyond stilettos. The brand's biker boots and sneakers are still highly coveted.
For her flawless style and business prowess, Sandra has proved herself to be one of the world's best shoe designers.
Jimmy Choo Youth II Biker Boots, $995; Jimmy Choo Azia Glitter Sandals, $895; Jimmy Choo Diamond Light Sneakers, $550
2. Sophia Webster – Founder & designer of the eponymous label
Often dubbed the 'shoe designer for the supermodels,' Sophia Webster's eponymous label has skyrocketed into success over the past decade.
The British shoe designer is known for her whimsical and feminine designs—think endless butterfly motifs, fluffy accents, and rainbows of color.
British shoe and accessories designer Sophia Webster worked as an apprentice with Nicholas Kirkwood before creating her eponymous footwear label in 2012 (Credit: ACE / INFphoto)
Her glitzy statement shoes are favorites of trendsetters such as Blake Lively, Kendall Jenner, Candice Swanepoel, and Adriana Lima.
Striking designs aside, Sophia can also attribute her success to her forward-thinking mindset. She became the first luxury designer to expand her size range up to a UK 13/US 16 in 2020. She's a pioneer in thinking outside of the box, both aesthetically and professionally.
Sophia Webster Chiara Sandals, $850; Sophia Webster Boss Lady Mid Sandals, $560; Sophia Webster Flo Flamingo Sandals, $700
3. Nina and Gvantsa Macharashvili – Co-founders & designers of Mach & Mach
The two sisters from Tbilisi have been making heads turn with their opulent party shoes. Nina and Gvantsa Macharashvili are the masterminds behind Mach & Mach's already iconic crystal bow front shoes.
Harper's Bazaar called the contemporary Cinderella shoes the year's "unofficial party shoes." The brand has become the go-to shoe choice for A-listers like Nicky Hilton, Elle Fanning, and Katy Perry.
Sisters Nina and Gvantsa Macharashvili, pictured with Nicky Hilton, founded the Georgia footwear brand Mach & Mach in 2012 (Credit: @machandmach / Instagram)
The sisters have grown a cult following for their futuristically feminine designs since the brand's launch in 2012.
Their popularity has slowly expanded from their home country of Georgia into Europe. With their recent introduction stateside, the sisters' dream of global domination is slowly but surely coming true.
Mach & Mach Glitter Double Crystal Bow Pointed Toe Pump, $1,079; Mach & Mach Hearts Crystal Double Bow Square Toe Slide Sandal, $1,035; Mach & Mach Camille Crystal Bow Strappy Sandal, $1,120
4. Jessie Loeffler Randall – Founder, designer & creative director of Loeffler Randall
Loeffler Randall has been one of the leading American contemporary accessory labels since its launch in 2005. Founder Jessie Loeffler Randall is proud of her female-led team, who operates out of her Soho studio.
The brand's ethos has always been to create on-trend products for women, by women.
Jessie Loeffler Randall founded the family-owned Loeffler Randall footwear label with her husband in 2005 (Credit: @jessie_loeffler_randall / Instagram)
Jessie's inspiration largely stems from her own work wardrobe. Her designs are chic yet practical. Playfully printed party shoes are made comfortable with sturdy block heels and adorned with eye-catching fabrics and textures.
If there ever was a brand for those who love dressing from the ground up, it's Loeffler Randall.
Loeffler Randall Camellia Nova Floral Bow Heel, $395; Loeffler Randall Mikel Dune Bow Mid-Heel Sandal, $295; Loeffler Randall Reed Beauty Pleated Twist Heel, $395
5. Amina Muaddi – Founder & designer of the eponymous label
The Jordanian-Romanian designer is the queen of new age glamor. Amina's designs are a striking blend of avant-garde elegance and sleek minimalism. She's famous for her use of bold colors, sculptural heels, and subtle yet dazzling embellishments.
In just four short years, she has become the shoe stylist of the stars. Her bold French-designed, Italian-made shoes have been spotted on Vanessa Hudgens, Hailey Bieber, and Kendall Jenner.
Amina Muaddi co-founded the luxury label Oscar Tiye and worked with Alexandre Vauthier as a shoe designer before launching her eponymous label in 2018 (Credit: Abaca / INSTARimages / Cover Images)
Amina's passion for groundbreaking style translates through her designs, which is likely why her brand has found such fast success.
She worked as a stylist for prestigious publications L'Uomo Vogue and GQ, studied shoemaking in Italy's illustrious Riviera del Brenta region, and helped French couturier Alexandre Vauthier before branching out on her own. Talk about doing your due diligence!
Amina Muaddi Gilda Sandals, $926; Amina Muaddi Ami Leather Pumps, $775; Amina Muaddi Holli Glass PVC Slingback Pumps, $775
6. Rebecca Allen – Founder & designer of the eponymous label
Rebecca Allen is one of the many talented black women making waves within the fashion industry. The former financier left behind her corporate career to launch her own label of inclusive nude shoes.
Rebecca Allen launched her eponymous footwear brand after a decade-long search for functional yet stylish nude pumps (@rebeccaallenny / Instagram)
After a decade of searching for the perfect nude heel and failing, Rebecca knew it was time to take matters into her own hands.
Her eponymous label was launched to bring some much-needed representation for women of color into the shoewear world. Fans agree that Rebecca has succeeded in her goal. Her nude shoes are inclusive, timeless, comfortable, and versatile.
Rebecca Allen The New Pump in Nude III, $265; Rebecca Allen The Two Strap Sandal in Nude IV, $275; Rebecca Allen The Skim in Nude IV, $265
7. Emme Parsons – Founder & designer of the eponymous label
In a sea of extravagant princess heels, Emme Parsons is proving that less is often so much more. Her line of elegant minimalist shoes has been well-received by celebrities and slow fashion enthusiasts alike.
Emme launched her own line in 2017 after becoming a mother. She wanted to inspire her son to follow his dreams when he grew up, so she took the plunge of creating her own brand after years of working as an art director and graphic designer for Theory and Lucky magazine.
Emme Parsons is known for her ultra-light interpretations of classic minimalist silhouettes (Credit: @emmeparsons / Instagram)
Emme's timeless shoes are designed to be worn year-round and are specially made with thicker soles for enhanced durability. Emme values quality and function, which is why all of her shoes are handmade in Tuscany.
Her growing fanbase includes sophisticated celebrities like Gwyneth Paltrow, Gabrielle Union, and Chrissy Teigen.
Emme Parsons Susan in Tobacco Nappa, $395; Emme Parsons Ernest in Hazelnut Calfskin, $475
8. Mary Alice Malone – Founder & creative director of Malone Souliers
Mary Alice Malone is the unexpected hero of the shoe design world. The Pennsylvania-born designer grew up on a farm and spent her childhood riding horses instead of paying attention to fashion trends.
Her favorite shoes growing up were her male cousin's hand-me-down boots. A move to London to attend the Cordwainers school changed that.
Mary Alice Malone launched the UK-based shoe brand in 2014, offering "a range of shoes and accessories, with a focus on an elevated style, a perfect fit, and beautiful silhouettes that celebrate the shape of the foot" (Credit: Anthony Devlin / PA Images / startraksphoto)
She now crafts sophisticated yet whimsical shoes that exude femininity. She takes classic shapes, such as pointed toe pumps, and embellishes them with vibrant colors, rich textures, and metallic finishes.
Malone Souliers designs have been spotted on fashion darlings such as Blake Lively, Solange Knowles, and Kylie Jenner.
Malone Souliers Avis White Leather Ankle Boot, $835; Malone Souliers Maureen Stiletto Mules, $625; Malone Souliers Marion Slingback Heels, $625
9. Charlotte Stone – Founder & designer of the eponymous label
The new go-to shoe designer for LA cool girls, Charlotte Stone's playful designs epitomize laidback west coast style.
Her easy silhouettes are enhanced by bold, bright colors and embellished with playful accents. The designer describes her shoes as fun but functional.
Charlotte Stone graduated from FIDM and designed for Steve Madden and Joie before launching her eponymous footwear brand in 2014 (Credit: Cleverla)
Although Charlotte's shoes seem to be dripping with California sunshine, the designer herself is a Ventura transplant. The Ontario, Canada native made the move to sunny California to launch her eponymous label.
Her background is impressive – Charlotte studied shoe craftsmanship in Tuscany before working for industry leader Steve Madden. Now her own designs are being flaunted around the nation by trendsetters such as Solange Knowles and Brie Larson.
Charlotte Stone Raf Chunky Platform Sandals, $258; Charlotte Stone Rio Open-Toe Mules, $224; Charlotte Stone Marlo Chunky Wooden Platform Clogs, $228