The Hiltons were honored with the Icon Award at the recently concluded Footwear News Achievement Awards held at Cipriani South Street in New York City on Tuesday night.
Oozing grace and glamour, mother-and-daughter Kathy and Nicky Hilton posed together on the red carpet in matching black ensembles.
They were accompanied by their respective husbands, Richard Hilton and James Rothschild, who both looked dapper in navy blue suits.
James Rothschild, Nicky Hilton, Kathy Hilton, and Richard Hilton at the 35th Annual FN Achievement Awards held at Cipriani South Street in New York City on November 30, 2021 (Credit: Derrick Salters / WENN)
Missing from the occasion was newly-wed Paris Hilton, who is still currently enjoying her honeymoon in the British Virgin Islands.
She remotely accepted her award from a private estate on Moskito Island, saying, "I'm sorry I can't be there tonight, but as you can see, I am here in paradise on my honeymoon. I just got married. But I want to wish everyone a wonderful evening and thank you so much Footwear News for this incredible honor."
Kathy Hilton looks sophisticated in a black Max Mara tuxedo suit (Credit: Derrick Salters / WENN)
Meanwhile, the Hilton matriarch looked sophisticated in a black Max Mara tuxedo suit that included a velvet blazer with silk lapels. Underneath, the designer wore a simple black top paired with matching trousers.
Paying homage to New York City, Kathy said in her speech: "I feel that the word icon has really changed. I was growing up here in New York in the fashion world in the '80s and '90s, and I can tell you, there were five or six houses, and that was it. They weren't letting anyone new in and there was not what I see today. Beautiful it is that things have changed, that people are willing to collaborate and be there for each other and give back."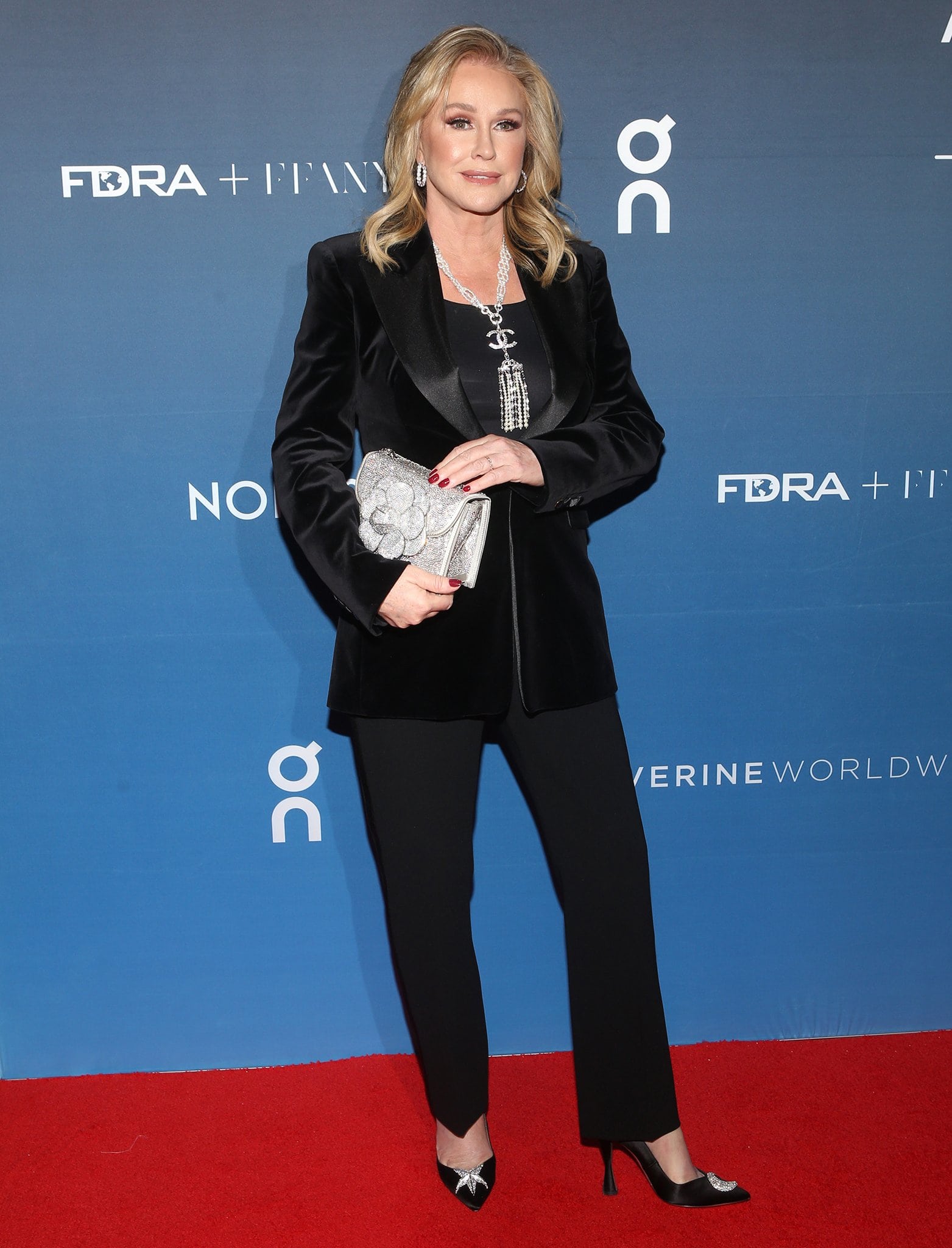 Kathy Hilton receives the Icon Award and pays homage to New York City for shaping their fashion identities (Credit: Derrick Salters / WENN)
Giving the sleek look some sparkles, the Real Housewives of Beverly Hills star accessorized with a statement Chanel necklace, featuring pearls, a crystal-encrusted double C logo, and crystal and pearl fringe detailing.
She also wore a pair of diamond hoop earrings and carried a $4,990 silver satin Oscar de la Renta Mini Tro clutch decked out in Swarovski crystals.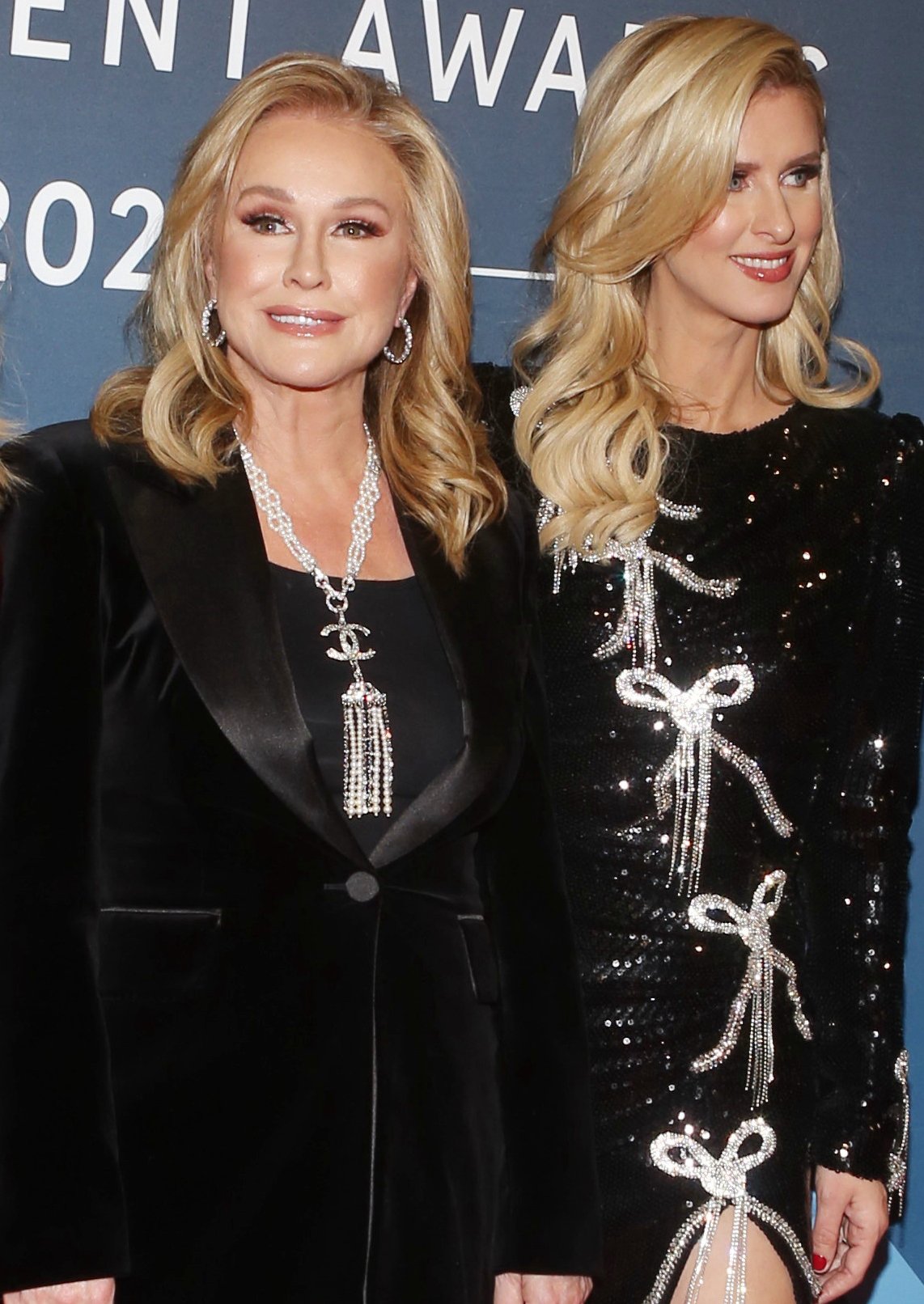 Kathy Hilton styles her blonde hair in soft curls and wears neutral makeup to highlight her features (Credit: Derrick Salters / WENN)
Keeping the look classy, Kathy swept her blonde tresses to one side and styled in soft curls, and wore neutral makeup with mascara, glittery brown eyeshadow, nude blush, and matching lip color. She also painted her nails red for a pop of color.
A pair of Aquazzura pointed-toe satin pumps rounded out Kathy's look. These statement pumps are designed with star and moon gemstone embellishments and 4.3-inch sculpted heels.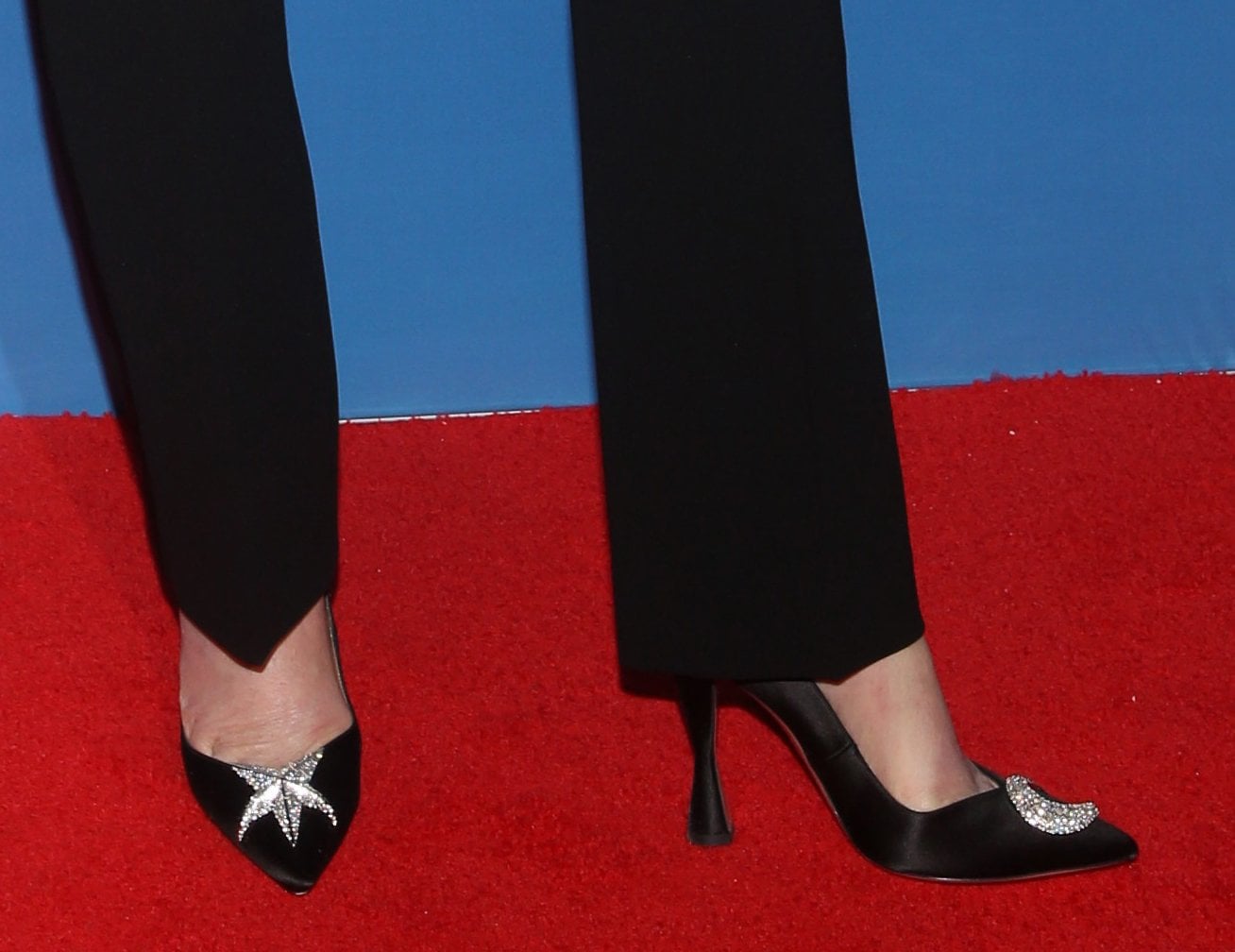 Kathy Hilton pairs her tuxedo suit with Aquazzura satin pumps with star and moon crystal embellishments (Credit: Derrick Salters / WENN)
Aquazzura Pointed-Toe Satin Pumps, $837 (from $1,196) at Farfetch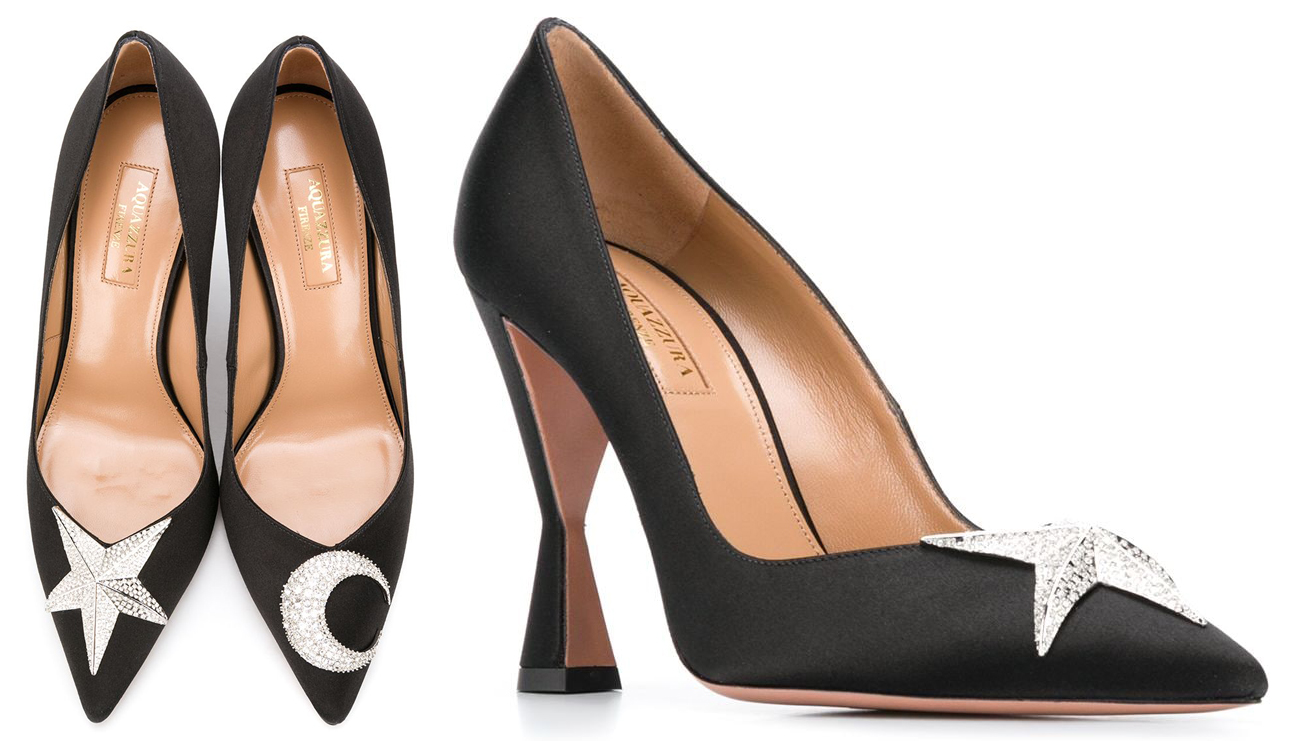 These Aqauzzura pumps feature sculpted heels with crystal-embellished star and moon appliques
Looking the epitome of elegance, Nicky Hilton hit the red carpet in a $3,995 black sequined gown from Prabal Gurung.
She showcased her long slender legs in the form-fitting floor-length dress that's entirely embellished with black sequins, offset by hand-embroidered crystal bows. It also features a daring thigh-high slit, long sleeves, and a short train.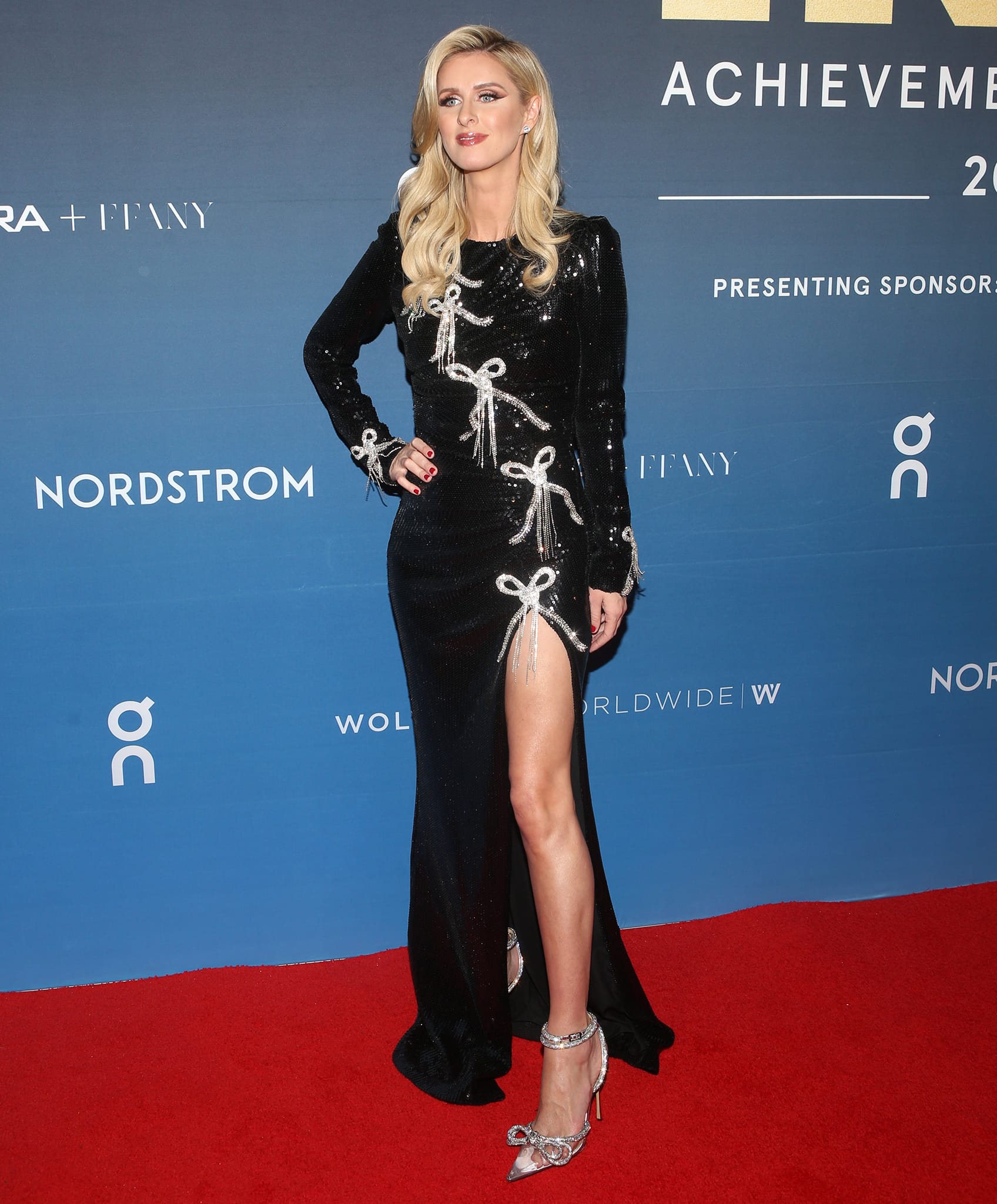 Nicky Hilton showcases her slender legs in a black sequined Prabal Gurung gown with crystal bow accents (Credit: Derrick Salters / WENN)
Mrs. Rothschild paired her stunning gown with matching crystal heels with bow detailing from Mach & Mach that displayed her sweaty feet.
They boast PVC pointed toes, silver straps that are adorned with microcrystals, and crystal-embellished double front bows.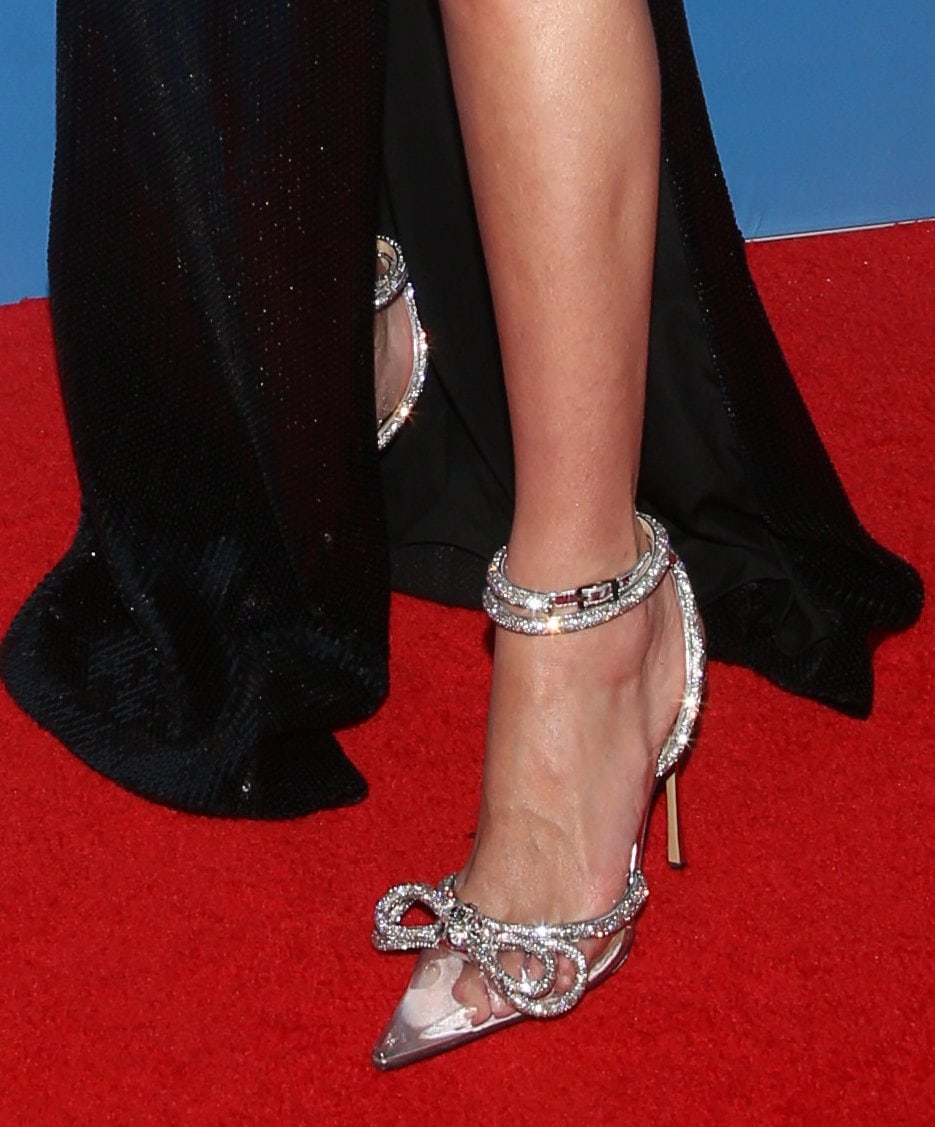 Nicky Hilton shows off her sweaty feet in Mach & Mach Double Bow crystal PVC pumps (Credit: Derrick Salters / WENN)
Mach & Mach Double Bow PVC & Leather Pumps, $1,260 at Luisaviaroma
The Mach & Mach pumps boast silver straps with microcrystal embellishments and a double bow design on the PVC pointed toes
Taking to the stage to accept the award, Nicky acknowledged the fashion icons from New York City. "I owe everything to New York, and I love all the New York stories that I've been hearing in the room tonight. It's no coincidence that some of the biggest icons are from New York or have lived in New York."
"There's just something in the air, or in the water. I just want to say I love you, New York, thank you for the lessons, the laughs, the tears, for giving me so much love, inspiration, excitement, and, of course, style."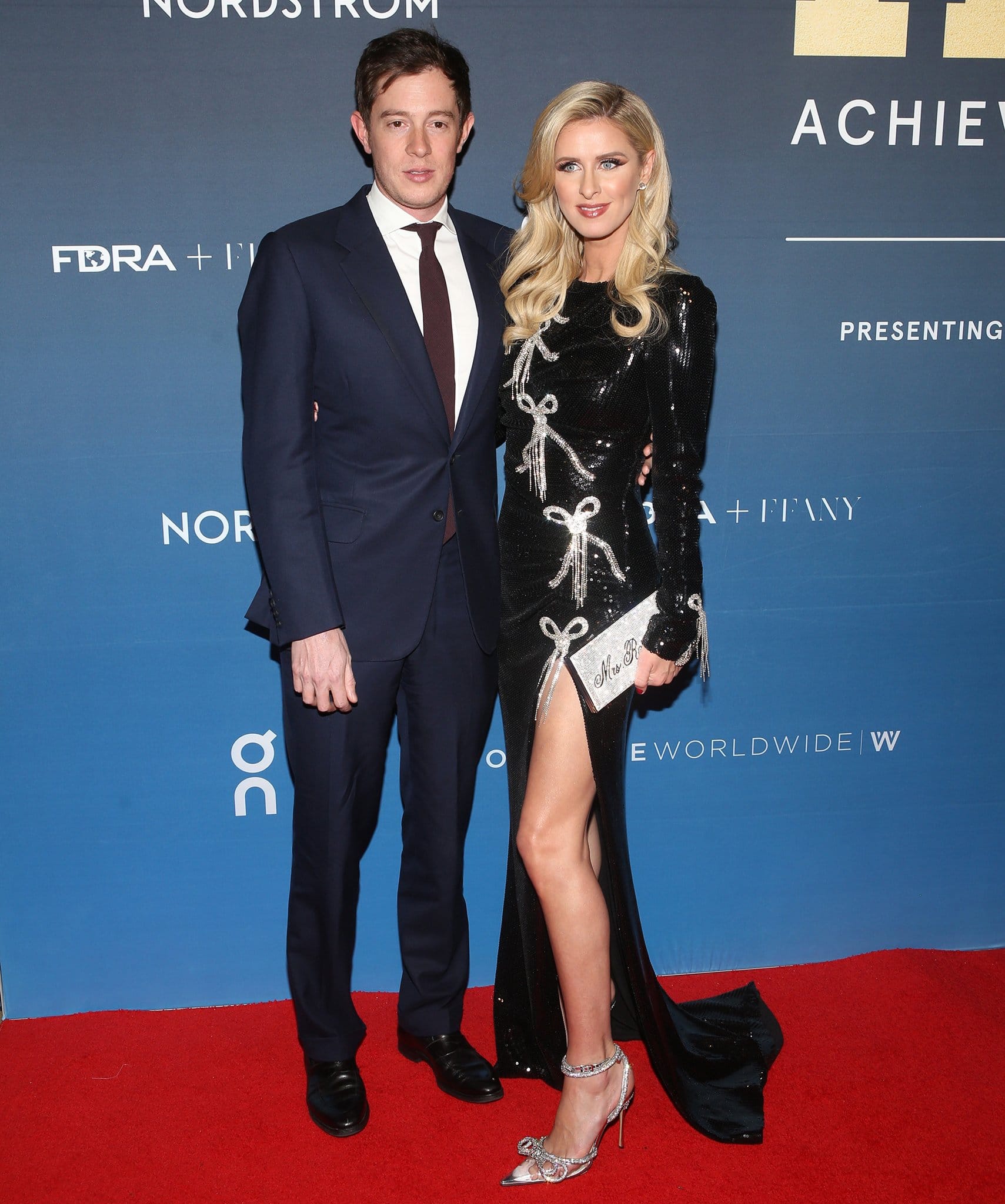 James Rothschild accompanies wife Nicky Hilton, who was honored with the Icon Award along with her mom Kathy and sister Paris (Credit: Derrick Salters / WENN)
In addition to the sparkles on her dress and shoes, the 38-year-old fashion designer carried a bespoke Edie Parker Silver Confetti Flavia clutch that features the text Mrs. Rothschild.
She then wore heavy eye-makeup with mascara, pink blush, and a swipe of matching lip color and styled her blonde hair down in soft curls with a side parting that allowed her to showcase her diamond stud earrings.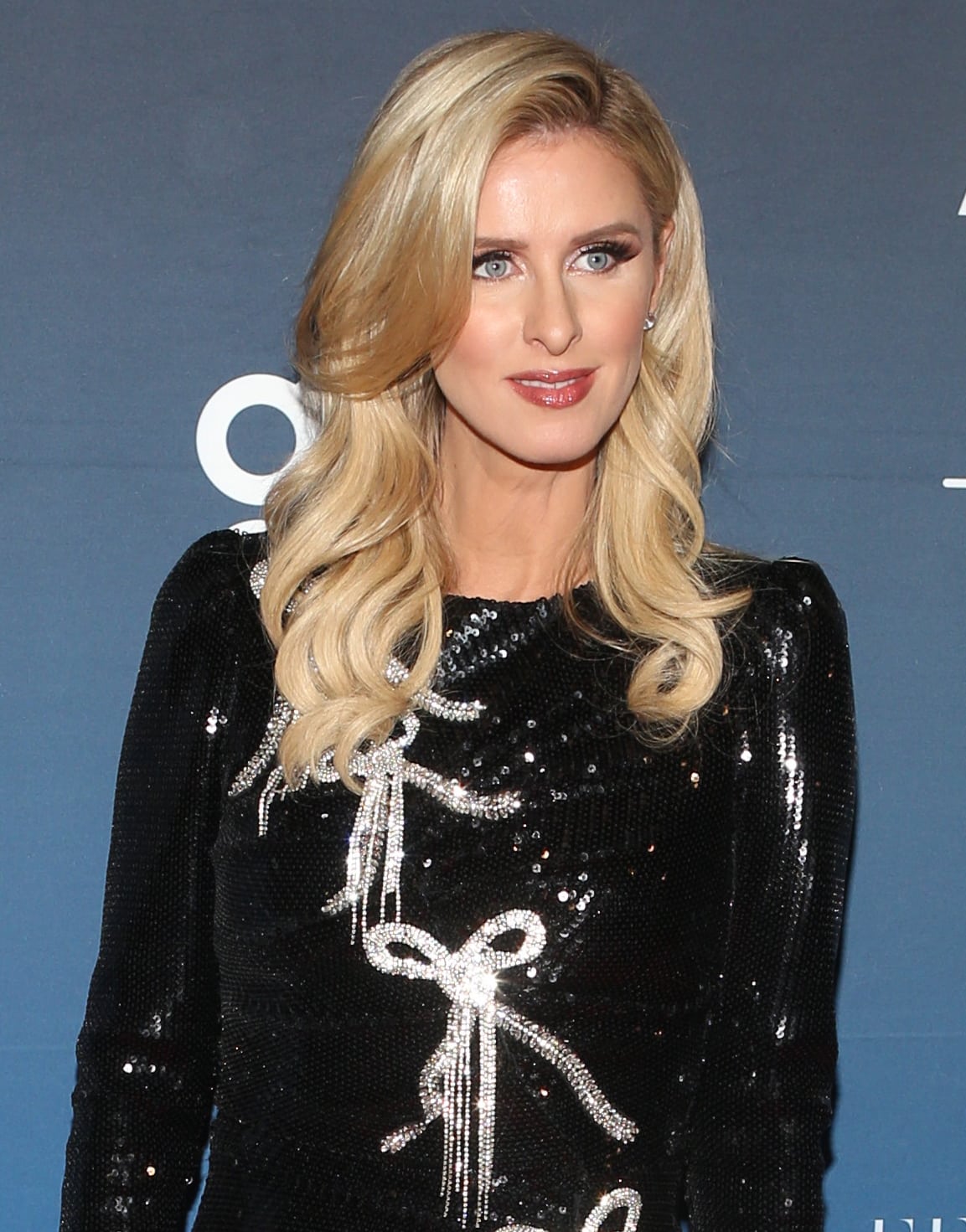 Nicky Hilton glams up with soft curls and pink makeup with heavy mascara and glittery eyeshadow (Credit: Derrick Salters / WENN)