Once upon a time, when uncomfortable heels were the norm and sneakers were reserved for the gym, one talented young designer decided to change the status quo.
Edgardo Osorio, the co-founder and creative director of the Italian luxury footwear label Aquazzura, proved that women could have it all.
Aquazzura means "blue water" and Edgardo Osorio says the pineapple is a symbol of hospitality and good fortune
Osorio's dedication to bridging the gap between luxury and comfort catapulted his brand to global fame and made Aquazzura Italy's leading contemporary footwear brand.
Find out how Aquazzura became every woman's favorite luxury shoe below!
Breaking The Comfort Stigma
It may be difficult to remember after almost a decade of sneakers being at the forefront of the footwear market, but "comfortable" used to be a dirty word in the fashion industry.
Women were encouraged to accept that beauty came with a cost. That is until Edgardo Osorio came along.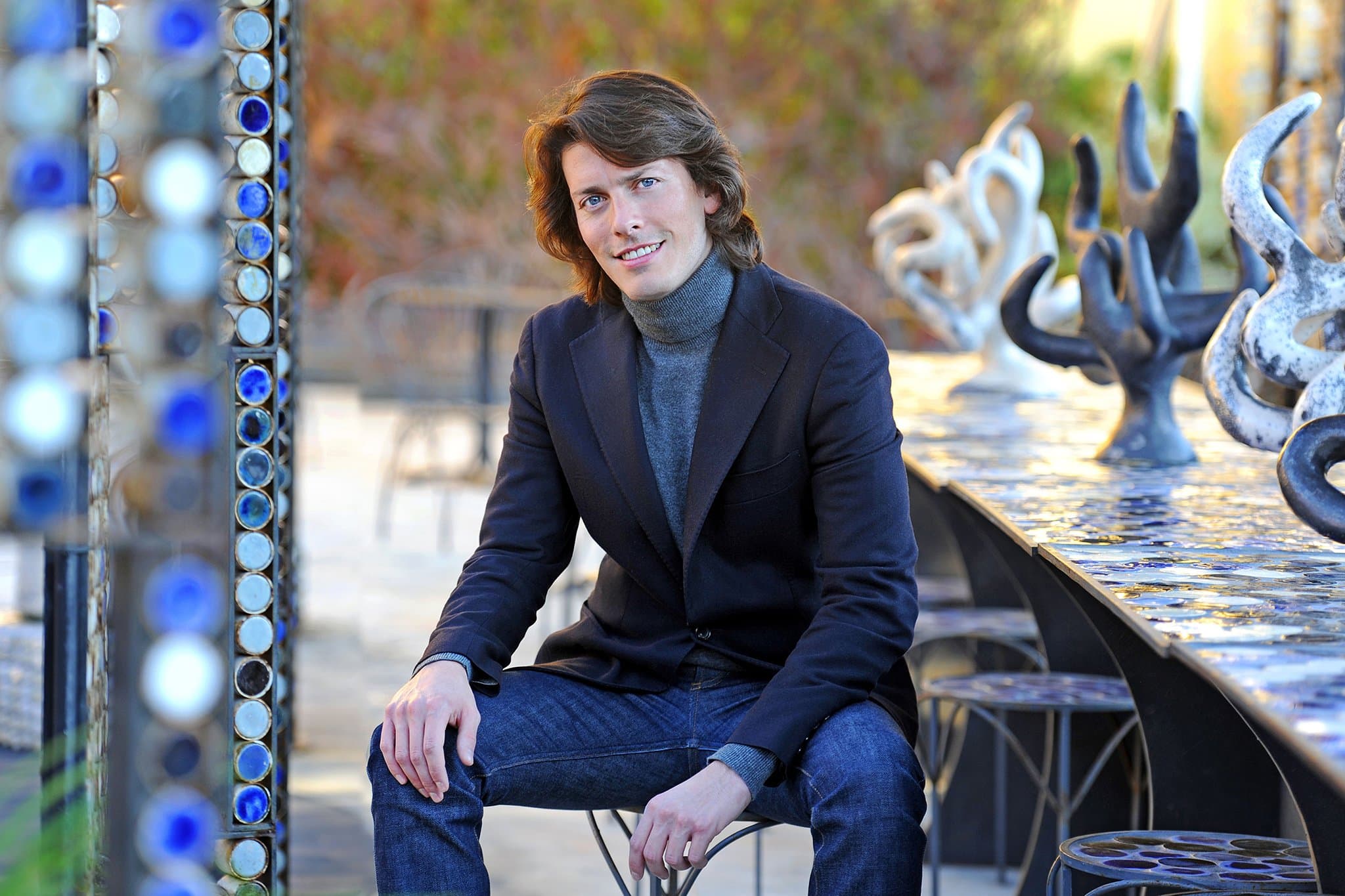 Edgardo Osorio is the co-founder and creative director of Aquazzura (Credit: DELBO ANDREA / Shutterstock)
The Colombian-born designer was a revolutionary footwear designer from the beginning.
He was accepted into London's renowned Central Saint Martin's at just 16 and worked for illustrious Italian designers Roberto Cavalli and Salvatore Ferragamo for almost a decade before branching out on his own.
Edgardo had often heard women complaining about their uncomfortable shoes and was on a mission to make a difference.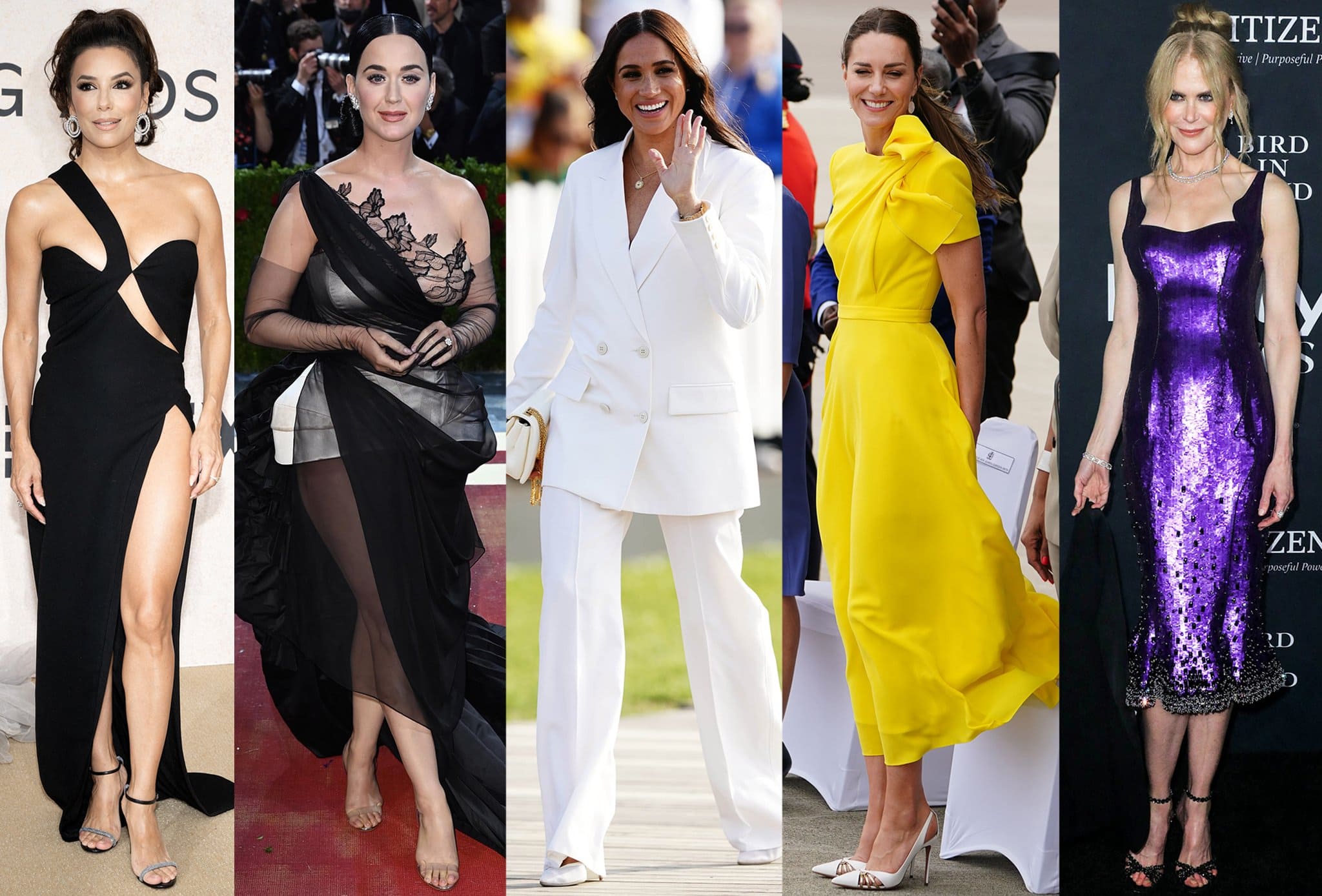 Eva Longoria, Katy Perry, Duchess of Sussex Meghan Markle, Duchess of Cambridge Kate Middleton, and Nicole Kidman wearing Aquazzura heels (Credit: ABACA / PA IMAGES / Aaron Chown / Jane Barlow / INSTARimages)
Aquazzura was launched as a privately-owned label in Florence in 2011 and was met with immediate success.
Edgardo and co-founder Ricardo D'Almeida worked with Italian artisans and experts in human anatomy to develop a shoe with an unparalleled level of quality and comfort.
Aquazzura quickly became a favorite shoe brand among celebrities and influencers.
Their designs were nicknamed "the 12-hour shoe", as they were truly comfortable enough to wear over the course of an entire day.
Unbeatable Italian Craftsmanship Meets Social Media Savvy
Edgardo and Ricardo always had an undeniable talent for bringing out the best of both worlds. Their business strategy is a balance of tradition and innovation.
Aquazzura is based in Florence, so the shoes can be made by the world's most talented artisans with high-quality Italian leather.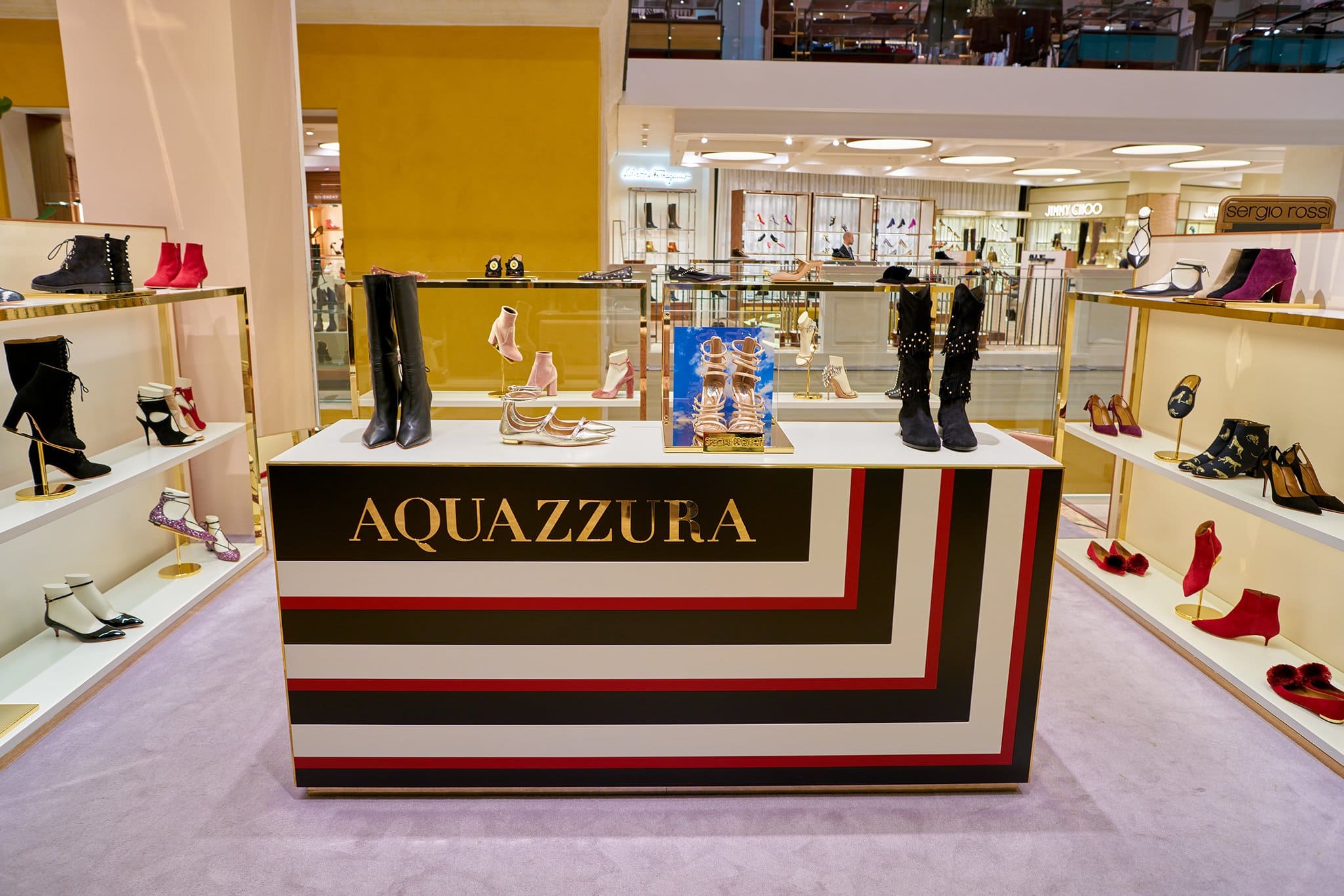 Aquazzura shoes are made in Florence by artisans using high-quality Italian leather (Credit: Sorbis / Shutterstock)
A single pair of Aquazzura heels takes up to 10 months to create and is meticulously crafted by about 120 artisans using centuries-old shoemaking techniques.
About half of the process involves handmade craftsmanship, with machines used for refinement and finishing details.
Edgardo and Ricardo have the utmost respect for the intergenerational expertise employed by their artisans and want to ensure the tradition of Italian craftsmanship is upheld.
Aquazzura shoes are meticulously handcrafted by artisans using centuries-old shoemaking techniques (Credit: Aquazzura)
Their marketing strategy, on the other hand, is filled with cutting-edge techniques. Aquazzura has always relied on the power of social media and the internet, citing their online shop as their main source of traffic.
Accessibility has always been important to Aquazzura. The brand strives to price 30% of the collection under $695, as they want to cater to a wider audience and ensure they're not pricing themselves out of business.
Aquazzura uses social media for their marketing strategy and has worked with high-profile celebrities to help grow their brand (Credit: Aquazzura)
They have worked on growing their brand through high-profile collaborations with some of the biggest names in fashion.
Olivia Palermo, Poppy Delevingne, legendary supermodel Claudia Schiffer, rising designer Racil Chalhoub, and fine jewelry creators Ana Khouri, Anissa Kermiche, Sabine Getty, Noor Fares, and Eugenie Niarchos have all collaborated with Aquazzura.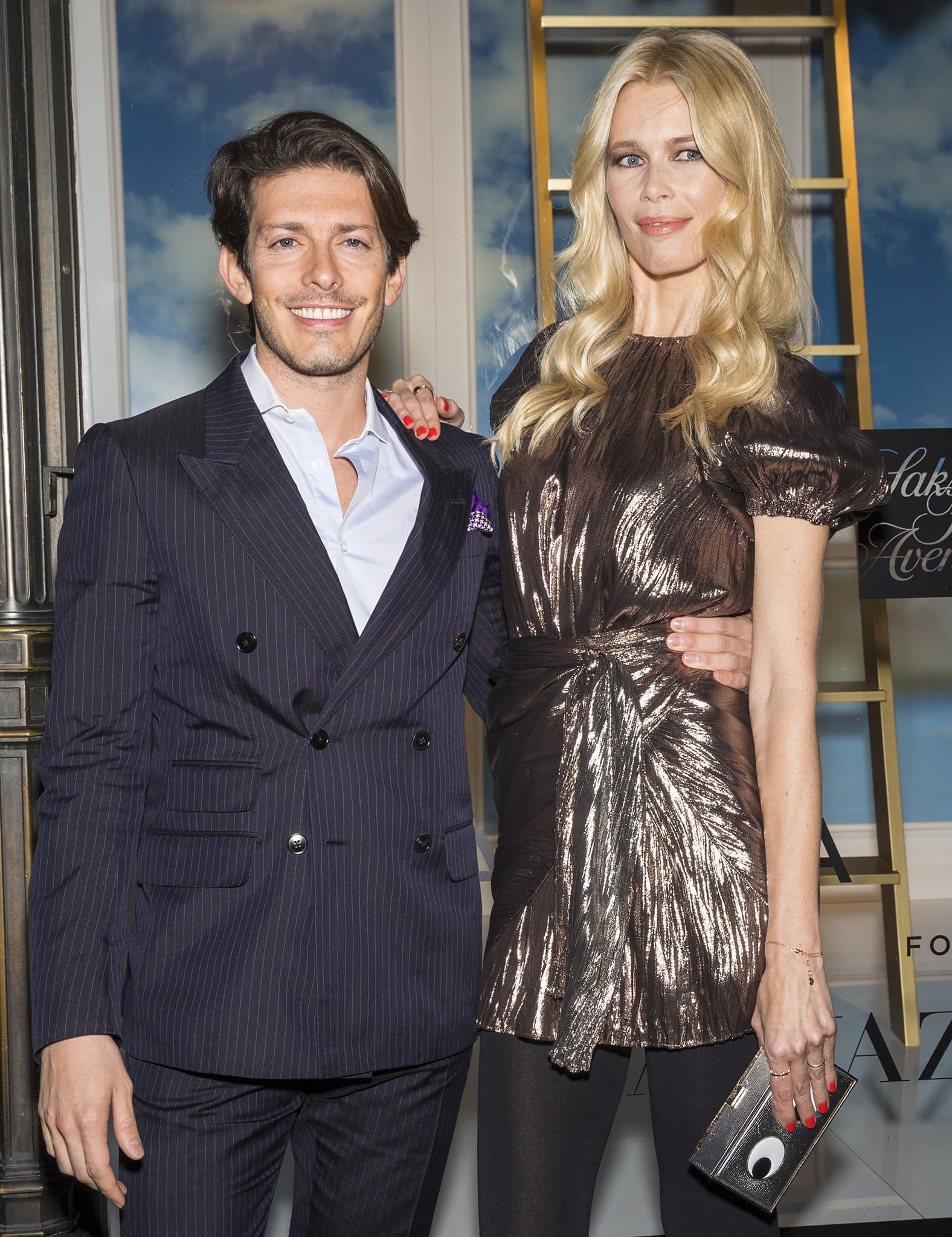 Edgardo Osorio and Claudia Schiffer attend the Claudia Schiffer for Aquazzura Launch at Saks Fifth Avenue on October 17, 2017 (Credit: Ovidiu Hrubaru / Shutterstock)
Bringing The Dolce Vita To The Masses
Edgardo Osorio has a diverse background, having grown up between Miami and London, but his heart belongs to his adopted home of Italy.
The designer fell in love with the relaxed lifestyle, sunny weather, stunning architecture, and delicious cuisine as soon as he made the move to Florence.
In fact, the brand name is a homage to Italy's picturesque coast and warm climate. A combination of acqua (water) and azzurra (blue), Aquazzura is named after the sunshine and sparkling waters of the Italian Riviera.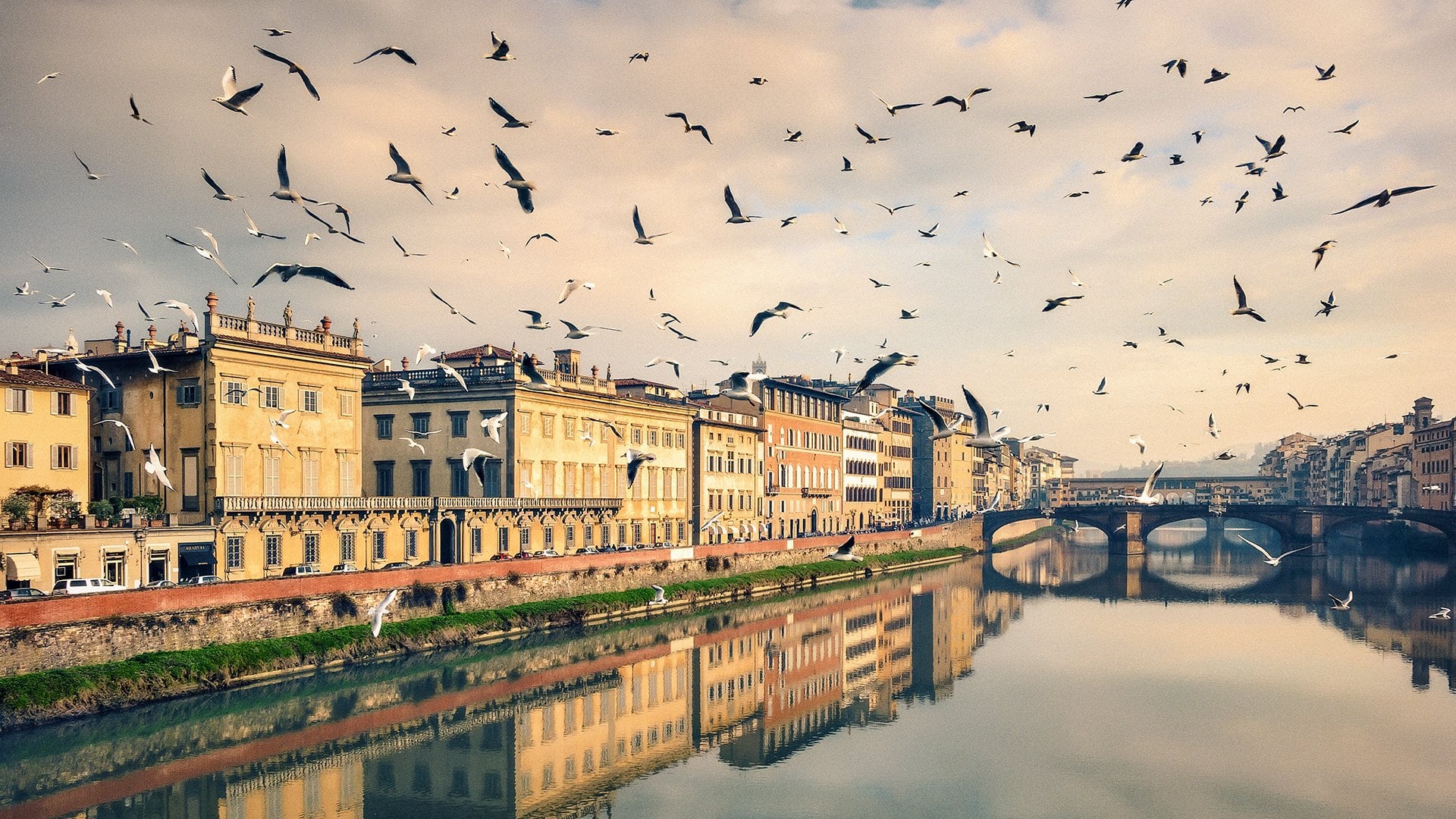 Aquazzura's name pays homage to Italy's coast and warm climate, combining acqua (water) and azzurra (blue) (Credit: Aquazzura)
Their pineapple logo is another symbol of warmth and luxury. Found on the bottom of every Aquazzura shoe, the golden pineapple is a symbol of positivity in both European and Asian cultures.
Edgardo originally chose the tropical fruit after noticing stone pineapple sculptures at the entrances of Mediterranean villas in Italy and France.
He was thrilled to learn that the tropical fruit was also used as a talisman for good fortune in Asia, as it meant that Aquazzura girls could walk around with a lucky charm on their soles.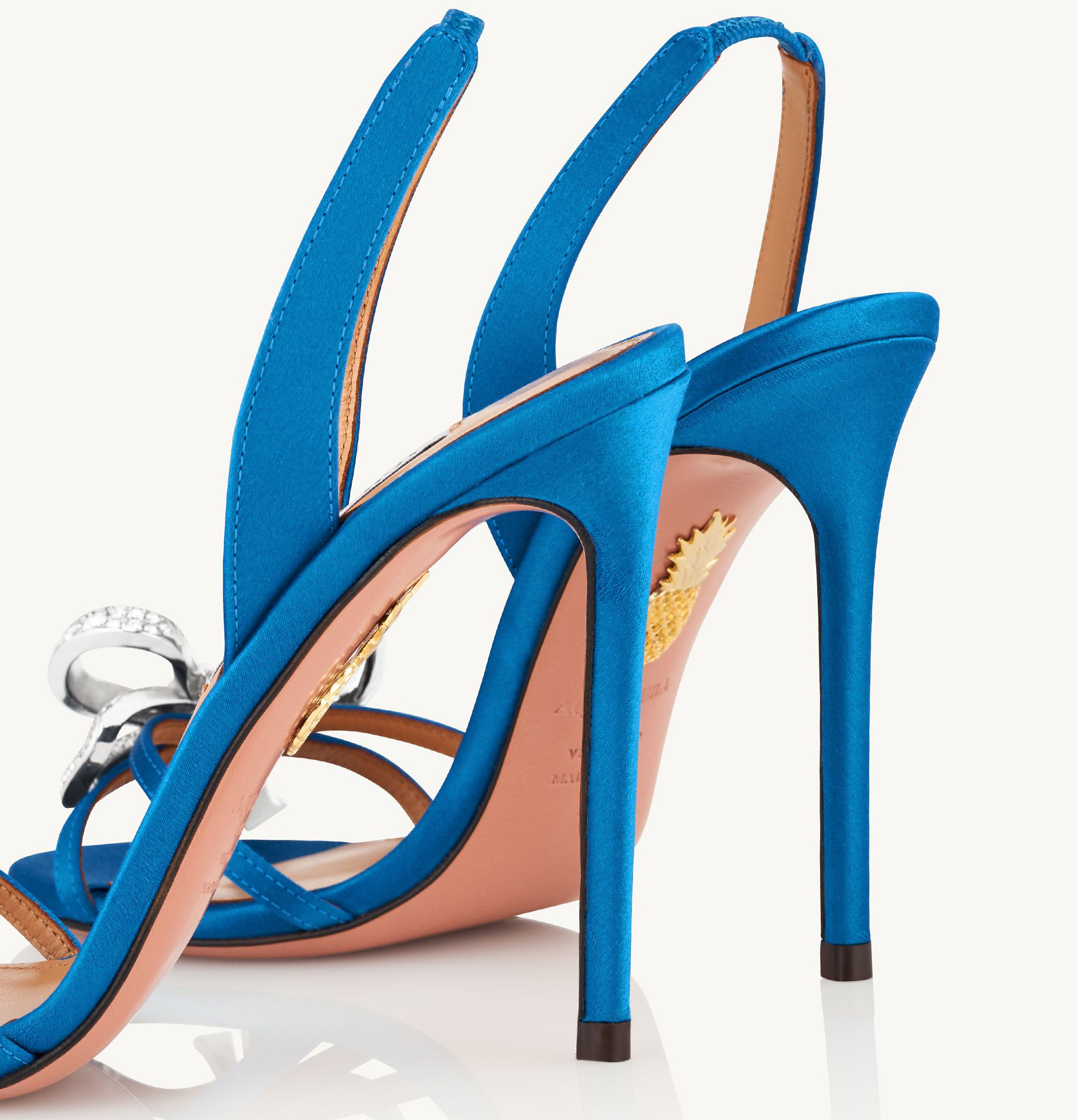 Aquazzura's pineapple logo is a symbol of warmth and luxury and is used as a talisman for good fortune in Asia
Over the years, Aquazzura has become known as the go-to brand for playful party shoes. Their opulent designs feature bold colors, metallic accents, exotic prints, and whimsical details.
Edgardo doesn't pigeonhole the Aquazzura woman into a specific demographic; he's seen women from the ages of 19 to 70 enjoy his designs.
His main goal is to make women feel beautiful and comfortable. To him, fashion is simple – if a design makes a woman feel better and look better, he's succeeded.
Aquazzura's Greatest Hits
The brand has regularly been selling out shoes since its 2011 debut, but there are a few Aquazzura designs that deserve honorable mentions.
The Sexy Things, the brand's first design, had a year-long waitlist a mere month after hitting the shelves. The suede ankle boot/sandal hybrids were continually sold out in their first few years of production and had an impressive roster of celebrity fans, including Gigi Hadid and Kim Kardashian.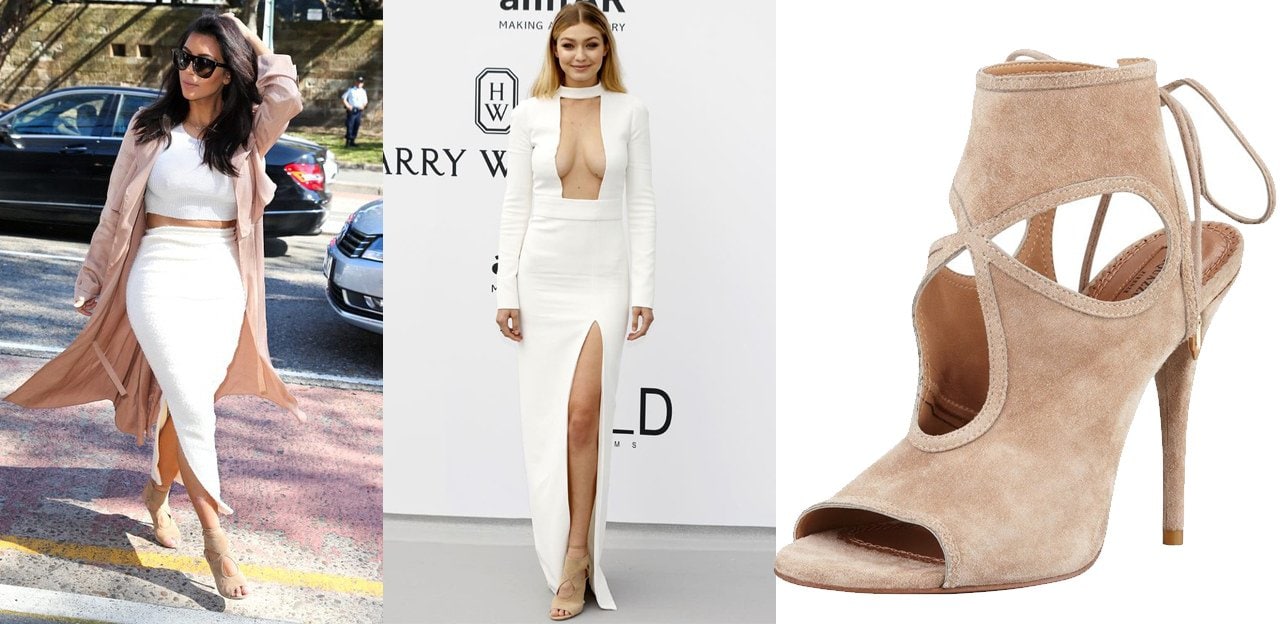 Kim Kardashian and Gigi Hadid wearing the Aquazzura Sexy Things, which was a boot and sandal hybrid (Credit: @kimkardashian / Instagram / WENN)
Five years later, the fringed Wild Things became the sandals of the summer. The playful strappy sandals joined their predecessors on instantly sold-out lists and were spotted on fashion icons such as Rihanna and Solange Knowles.
Many celebrities have been spotted wearing the Aquazzura Wild Things when it debuted in 2016
The Christy flats proved that Aquazzura could also nail casual footwear. The strappy, pointy-toed ballet flats became an off-duty staple for influencers and celebrities, including Meghan Markle and Beyonce.
The Christy Flats are a pair of casual but chic and comfy footwear that has become an off-duty staple for influencers and celebrities
Where To Buy Aquazzura Shoes
Become a fabulous Aquazzura girl – if you can – by shopping the label online or at a major luxury department store.
Scroll down to see the best shoes by Aquazzura, a luxury footwear brand created in Florence, Italy, by designer Edgardo Osorio.
Born in Colombia and raised between Miami and London, Edgardo Osorio is the Founder and Creative Director of Aquazzura (Credit: Lia Toby / WENN)
You can buy Aquazzura shoes on sale on Amazon and Saks OFF 5TH.