Nothing screams 'boho chic' more than fringe. It's a trend that every festival goer will be familiar with – from the dramatic earrings to the classic fringe leather bags.
Perhaps the most popular piece is the fringe shoes that have evolved from cowboy boots to take on more subtle and contemporary silhouettes.
The American musical drama streaming television miniseries Daisy Jones and the Six has us all reliving the fashion trends of the '60s and '70s. You can channel your inner Stevie Nicks or Dolly Parton with fringe boots.
Today's celebrities are still rocking fringe shoes, from Suki Waterhouse and Rosie Huntington-Whiteley to Kristin Cavallari and Olivia Palermo.
Jennifer Hudson, Heidi Klum, Tilda Swinton, Nicole Richie, Suki Waterhouse, and Anna Kendrick wearing different types of fringe shoes (Credit: Darla Khazei / BauerGriffin / IPA / Elder Ordonez / INSTARimages / Cover Images / Sara De Boer / startraksphoto)
We're deep diving into the world of fringe shoes (also known as tassel shoes) to tell you everything you need to know about this bohemian-inspired fashion trend.
What are Fringe Shoes?
Fringe shoes are exactly what they say on the tin. They're footwear that incorporates fringing detailing, typically suede or leather fabric that sits apart from the rest of the shoe.
This material creates an edged effect, similar to cutting bangs in your hair – also known as a 'fringe' in Europe.
Fringe shoes are any footwear silhouette that incorporates fringing, usually made of suede or leather
The most popular style is the fringe boot, often nicknamed 'cowboy boots' for their Western-inspired silhouette. The shape continues to be re-interpreted almost every year by designers looking to put their own twist on the classic.
The Most Popular Fringe Shoes
Fringe shoes come in more styles than just western boots. You'll find fringing incorporated in footwear styles as varied as satin stilettoes and open-toe sandals.
The classic '70s look of fringe shoes means that designers are constantly reimagining the trend with their own take on the style.
1. Fringe Ankle Boots
Perhaps the most classic style of fringe shoes. These ankle boots are a wearable style you'll reach for every fall and winter. You'll find fringe ankle boots with a flat silhouette or slim stiletto heel.

Fringing is usually incorporated in ankle boots with flat soles or high heels
2. Suede Fringe Open-Toe Heels
Fringe shoes aren't just for the colder months. These open-toe heels will transition your love for fringe through spring and summer. They're a bohemian-chic staple and will bring a '70s touch to your night-time attire.

Fringe heels can add a touch of bohemian vibe to night-time outfits
3. Fringe Sandals
Fringe sandals will see you from a beach vacation to a music festival and anything else on your summer calendar. These shoes are the perfect alternative to gladiator sandals.
Elevate your casual outfits with festival- or beach-ready fringe sandals
4. Fringe Loafers
Want to keep your love for fringe lowkey? Fringe loafers are a transitional style that has become a workwear staple, giving you a vintage-inspired look.
Give your workwear outfits a touch of vintage aesthetic with fringe loafers
5. Fringe Knee-High Boots
The most popular style of fringe shoes for celebrities is the knee-high boot. These shoes get playful with the fringing for a bold statement.
Christian Louboutin is one luxury footwear brand that isn't afraid to show its love for fringe boots.
Knee-high fringe boots are popular among celebrities, with luxury brands like Christian Louboutin incorporating fringing in their knee-high boots
Are Fringe Shoes Still in Style?
It's almost impossible to go to a concert without seeing someone rocking a pair of fringe booties. They're a staple in the country music scene and within vintage revival fashion.
While we'll always associate fringe shoes with the '60s and '70s, their versatility has made them a timeless trend.
Fringe shoes are expected to rise in popularity because of TV shows like Daisy Jones and The Six, which is based on the 1970s Los Angeles music scene (Credit: Amazon Prime Video)
Fringing was one of 2022's biggest trends, and it is expected to continue to gain popularity thanks to TV shows like Daisy Jones and The Six.
There are over 1.5 million views on #fringeboots videos on TikTok alone. You don't need to be going to Coachella to appreciate the power of a good pair of fringe boots.
How Fringe Shoes Became a Trend
Fringe shoes became a trend as a universally flattering style. The silhouettes offer something for everyone, from knee-high boots to beach-worthy sandals. Fringe shoes, particularly high heels, can help to elongate your silhouette by creating the illusion of longer legs.
The history of fringe fashion dates back thousands of years, but it only entered mainstream fashion in the 1920s with the flapper movement. Celebrities like Joan Crawford made fringe one of the biggest trends with bold printed dresses.
Fringe shoes made a major comeback in the 1950s fashion scene after it entered mainstream fashion in the 1920s
While the look fell out of fashion, fringing made a major comeback in the '50s, once again becoming synonymous with rebellious behavior.
Elvis Presley's fringe jackets became part of his signature look. It led to the '60s and '70s being dominated by fringe fashion, with fringing making its way into footwear with most silhouettes taking inspiration from African and Native American fringing.
Yves Saint Laurent presented two collections in 1967 that focused heavily on fringing, with Cher using fringing as a core part of her style aesthetic during the '70s.
Fringe shoes rose in popularity in the 1970s, with western boots becoming a go-to accessory for fans of the hippy movement. They became the 'must have' footwear trend, with the style becoming synonymous with the era.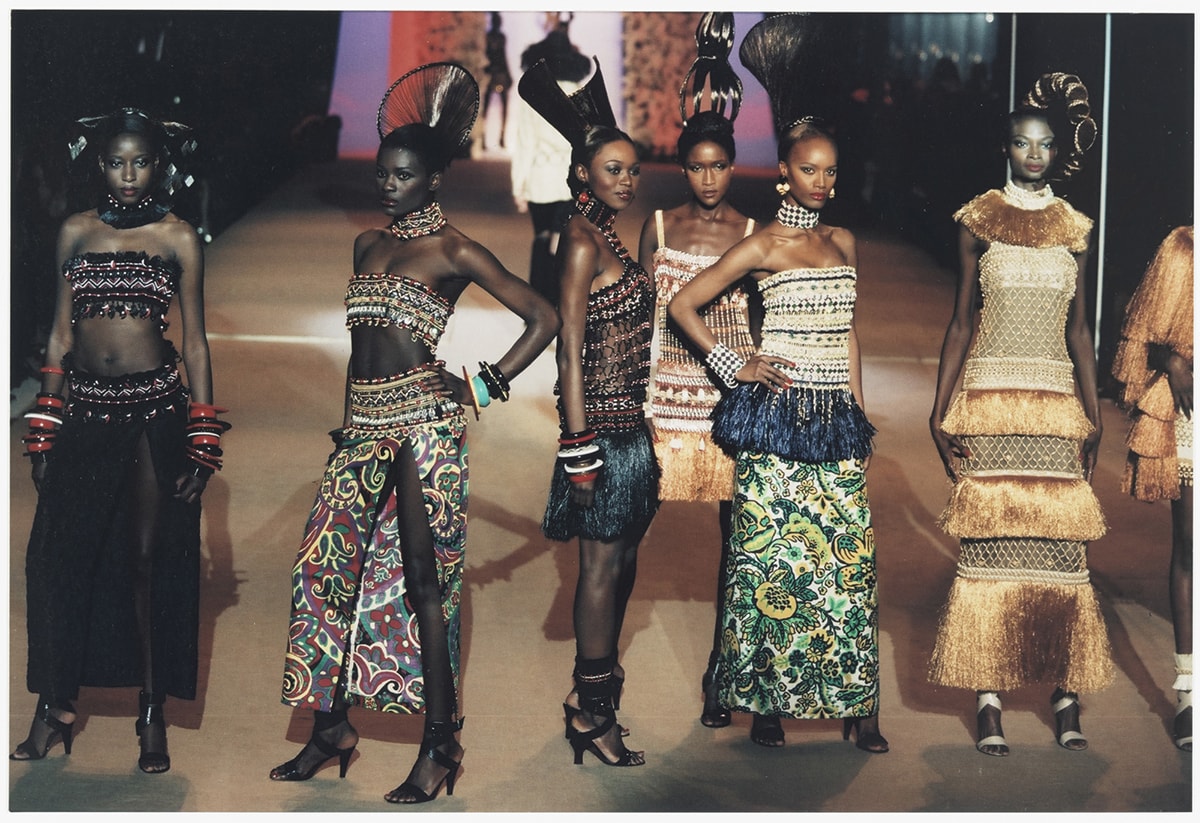 In 1967, Yves Saint Laurent released its Spring-Summer African Collection that focused heavily on fringing (Credit: Musée Yves Saint Laurent)
How to Style Fringe Shoes
The key to styling fringe shoes is to balance your outfit. Just like wearing head-to-toe denim, an all-over fringe look is rarely a good idea.
You want to avoid wearing more than two pieces of fringing, including accessories, to avoid overdoing the trend. If you wear a fringe jacket and shoes, keep the rest of your look neutral to balance it out.
Most fringe shoes are made with leather or suede, making them ideal for contrasting with other fabrics like denim.
You can channel your inner 'Urban Cowgirl' by styling fringe shoes with denim jeans or shorts. It's a go-to concert and summer look that's remained strong since the '70s.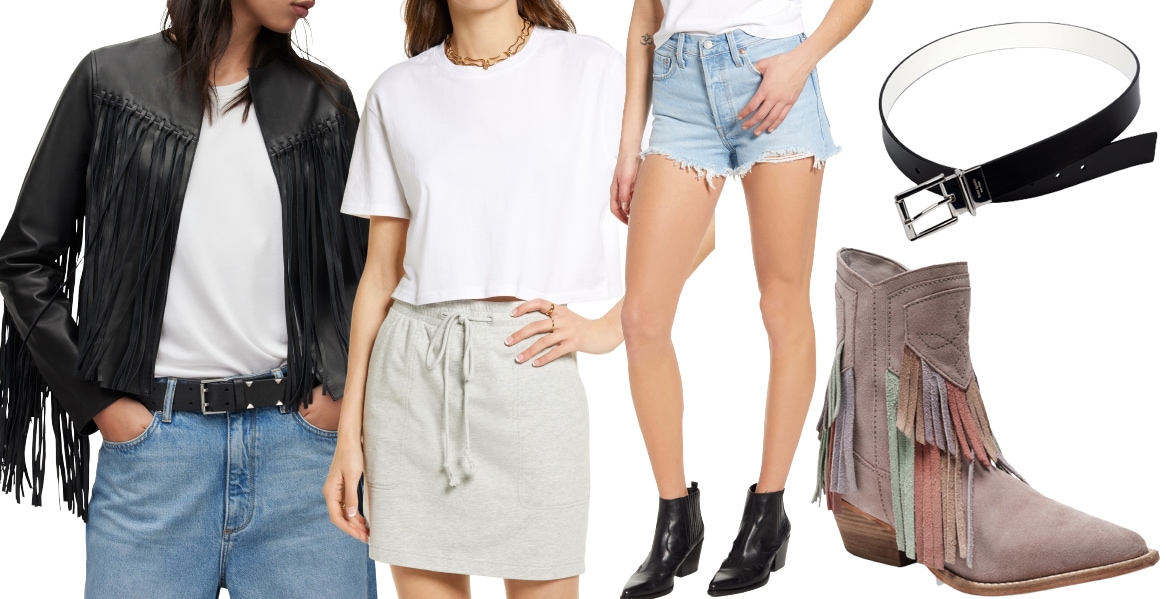 When wearing a fringe jacket and fringe shoes, make sure to keep the rest of your outfit and accessories neutral to balance things out
Beyonce took to the stage at Coachella in a pair of iridescent fringe boots that almost broke the internet.
She showcased the wearability of fringe shoes by styling her statement shoes with distressed denim shorts and oversized hoodies.
Fringe shoes can also give an outfit a softer, more feminine look. One of the biggest footwear trends of the moment is tassel heels, reimagining fringe shoes for the red carpet. Christopher Kane's recent footwear collection shows that fringe can be as elegant as it can be bohemian.
One of the most versatile shoes to style is fringe ankle boots. Swap them out for your usual stilettoes to wear with everything from leather pants and a blazer to a classic wrap dress.
Let your fringe shoes take center stage by matching the color palette of your outfit to the shoes or letting them pop with a neutral look.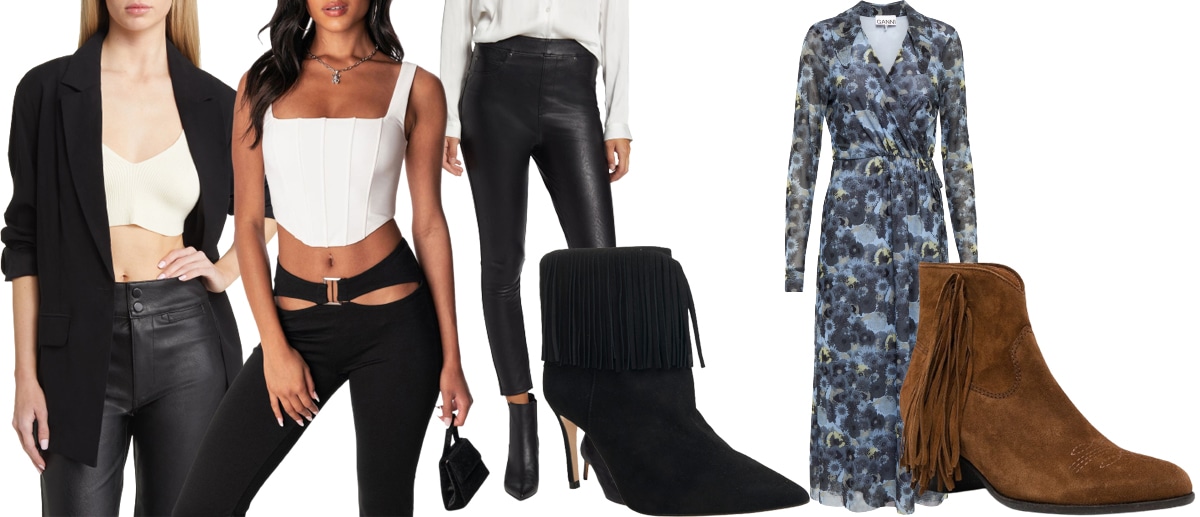 You can wear fringe ankle boots with everything from leather pants to a wrap dress
Heels that feature fringing around the ankle strap can be harder to style. Wearing them with bare legs can make you appear shorter by breaking up the flow of your look.
Style these fringe shoes with jeans or trousers cuffed to sit just above the fringe ankle strap.
When wearing shoes with fringing around the ankle straps, pair them with cropped jeans or trousers to create a flattering look
Fringe shoes are the perfect way to add a touch of bohemian romanticism to your closet. Channel your inner '60s rock chick with fringe boots, or keep it casual with tassel loafers.