Summer is right on the horizon. It's the perfect time to refresh your shoe collection and invest in a classic style that will see you through to autumn.
Nothing screams summer more than a pair of gladiator sandals. What we love about this chic bohemian style is that it offers something for everyone – whether you're a fan of flats or knee-high strappy heels.
Gladiator sandals have been around since ancient Rome and have become the ultimate summer footwear over the years (Credit: Andre Silva Pinto / Shutterstock)
But are gladiator sandals in style? We think they're a classic that comes back in style as soon as the temperatures start to rise. These are the shoes you'll want to buy before your next tropical vacation or as your go-to summer shoes.
These shoes are some of the oldest in fashion, maintaining the same style and silhouette from ancient Greece. We're taking an in-depth look at these classic shoes that have stood the test of time.
Gladiator Sandals: A Timeless Style
Gladiator sandals are a style of shoe that features wide cross straps and a stiff sole, often incorporating braiding or leather cords.
The name 'gladiator sandals' came about as the shoes were associated with the gladiators of Ancient Greece and Rome.
Gladiators would wear these shoes into battle as they would keep their feet cool and protected on the battlefield. Thick leather would be used on the sole, while softer and more supple leather was used on the straps to make the shoes easier to wear for extended periods.
Gladiators of Ancient Greece and Rome wore gladiator shoes into battle to keep their feet cool and protected on the battlefield (Credit: Roibu / Shutterstock)
While we may think of gladiator sandals as a timeless style, they only recently returned to mainstream fashion. We can thank Hollywood's love of Ancient Greek and Roman film plots for helping to turn these centuries-old shoes into a fashion trend.
While these shoes have been worn in Greece and Italy for generations, they only entered the public consciousness in the 1960s.
Gladiator sandals also have a mythological connection. The Greek God Hermes is depicted as wearing gladiator sandals with wings on the back, while these sandals also appear frequently in ancient Greek architecture, including at the Parthenon.
Gladiator Sandals: More Than Just Flat Sandals
The term 'gladiator sandals' covers a whole range of shoes – including ones that don't look like traditional sandals! Any shoe that features the synonymous cross strap design can fall into the gladiator sandal category.
They're commonly referred to as 'strappy heels' and often feature an ankle strap or carry the cross strap silhouette up through the lower calf.
The most common type of gladiator sandals that you'll find are ones that resemble the classic style. They'll usually have a flat sole with an open-toe silhouette, cross straps, and an ankle strap.
These shoes are a chic alternative to sneakers or slides and the perfect way to show off a fresh pedicure.
1. Ann Demeulemeester Flat Gladiator Sandals, $573; 2. Bed Stu Claire Woven Gladiator Sandals, $164.95; 3. Vince Kenna Leather Strappy Ankle-Tie Sandals, $280
If you want a little extra height without going for a traditional heel, you're in luck!
As trends have evolved, designers have reimagined gladiator sandals. One of our favorite styles is flat gladiator sandals with a platform sole.
1. Sandro Eliane Gladiator Sandals, $385; 2. Sorel Cameron Platform Gladiator Sandals, $130; 3. Dr. Martens Blaire Leather Gladiator Sandals, $100
Most of the quirky gladiator sandals feature a 'tie-up' design. They take the cross-strap motif and carry it up the calf – similar to how gladiators would have worn the shoes into battle.
Today, these silhouettes have a more seductive feel. You can find them with a flat sole or a stiletto heel for a sexier look.
1. Valentino Garavani Rockstud Gladiator Flat Sandals, $1,200; 2. Ancient Greek Sandals Wraparound Ankle-Strap Flatform Sandals, $220; 3. Black Suede Studio Lana Strappy Sandals, $268; 4. Staud Nicola Gladiator Heels, $395
Another way that the style has evolved is gladiator sandals with thin heels and leather straps wrapped around in place of the traditional ankle strap.
This style of gladiator sandals is universally flattering and the perfect way to show off a summer tan. As you wrap the straps around yourself, it's ideal for those with wider feet or who find traditional gladiator sandals uncomfortable.
1. Gianvito Rossi Giza Nappa Silk Stiletto Heels, $995; 2. Gianvito Rossi Ribbon Gladiator 70mm Sandals, $895; 3. Dolce & Gabbana Stiletto Gladiator Sandals, $845
Are Gladiator Sandals in Style in 2023?
Yes! Gladiator sandals are a style that comes back every spring and summer. You'll find gladiator sandals from our favorite high-street brands, such as & Other Stories and Reiss.
Luxury designer brands like Giuseppe Zanotti, Valentino, and Jimmy Choo have all put their twist on the classic style.
Gladiator sandals, as we know them today, first came into mainstream fashion in the 1960s. We can thank style icons like Sofia Loren, Jackie Kennedy, and Barbra Streisand for making gladiator sandals the timeless trend they are today.
During this time, gladiator sandals were styled with miniskirts and a patterned shirt for a quirky, feminine look.
Perrie Edwards, Bella Thorne, Irina Shayk, Maria Sharapova, and Rita Ora show how to wear gladiator sandals (Credit: Lia Toby / WENN)
Another time when gladiator sandals were the go-to style was the mid-2000s. With Y2K fashion dominating trends, it's no surprise that these shoes are once again appearing on runways.
Zendaya recently wore a pair for a Valentino photoshoot, while Balmain put gladiator sandals at the heart of their recent runway collection.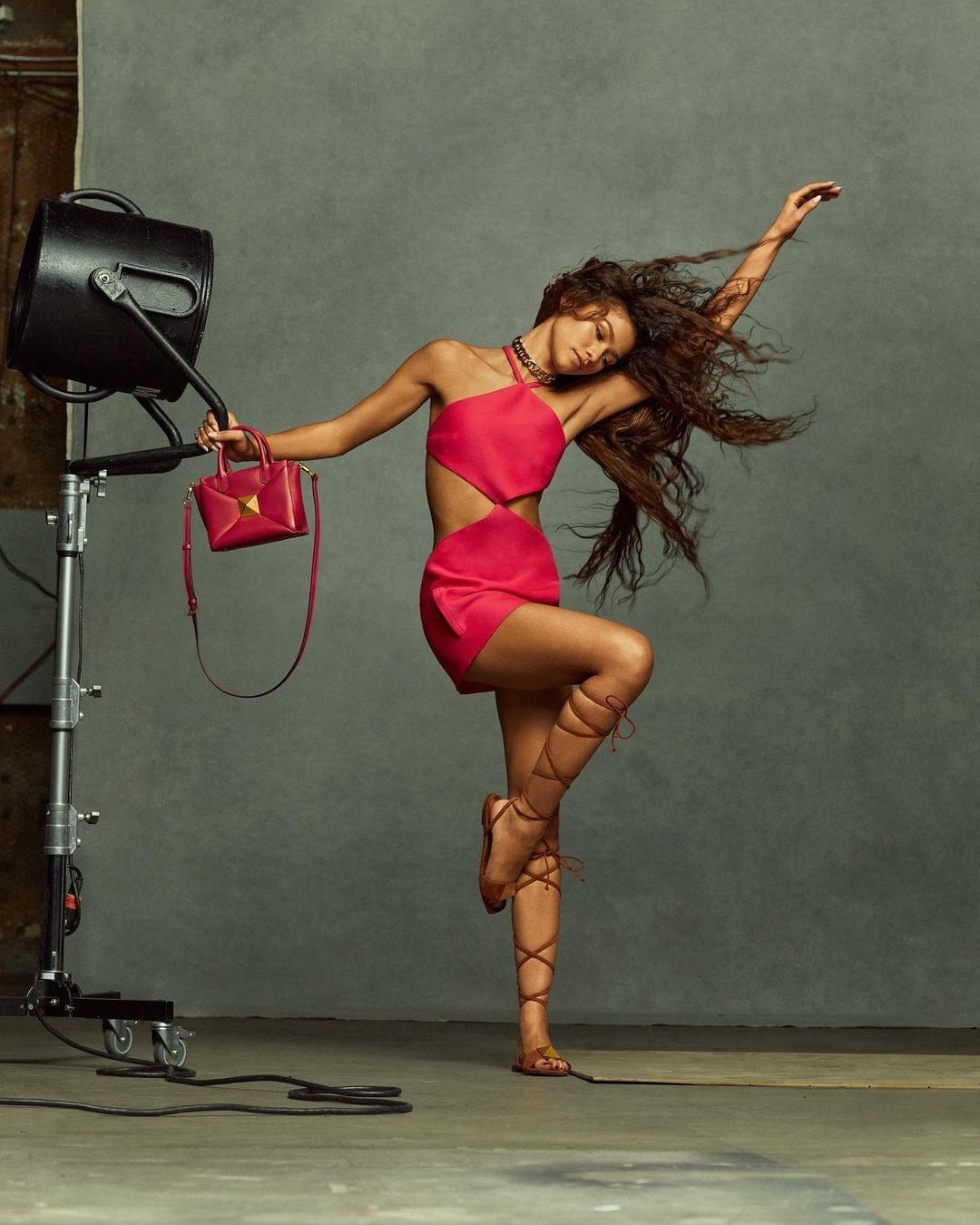 Zendaya wears brown gladiator sandals in Valentino's Rendez-Vous campaign for Spring 2022 (Credit: Zendaya's Instagram)
Another designer who's made us fall back in love with gladiator sandals is Amina Muaddi. The cult-favorite footwear designer has leaned heavily into the silhouette, creating several shoes that reimagine the classic style.
The recent Amina Muaddi x AWGE collaboration featured a pair of crystal-embellished gladiator knee-high heels.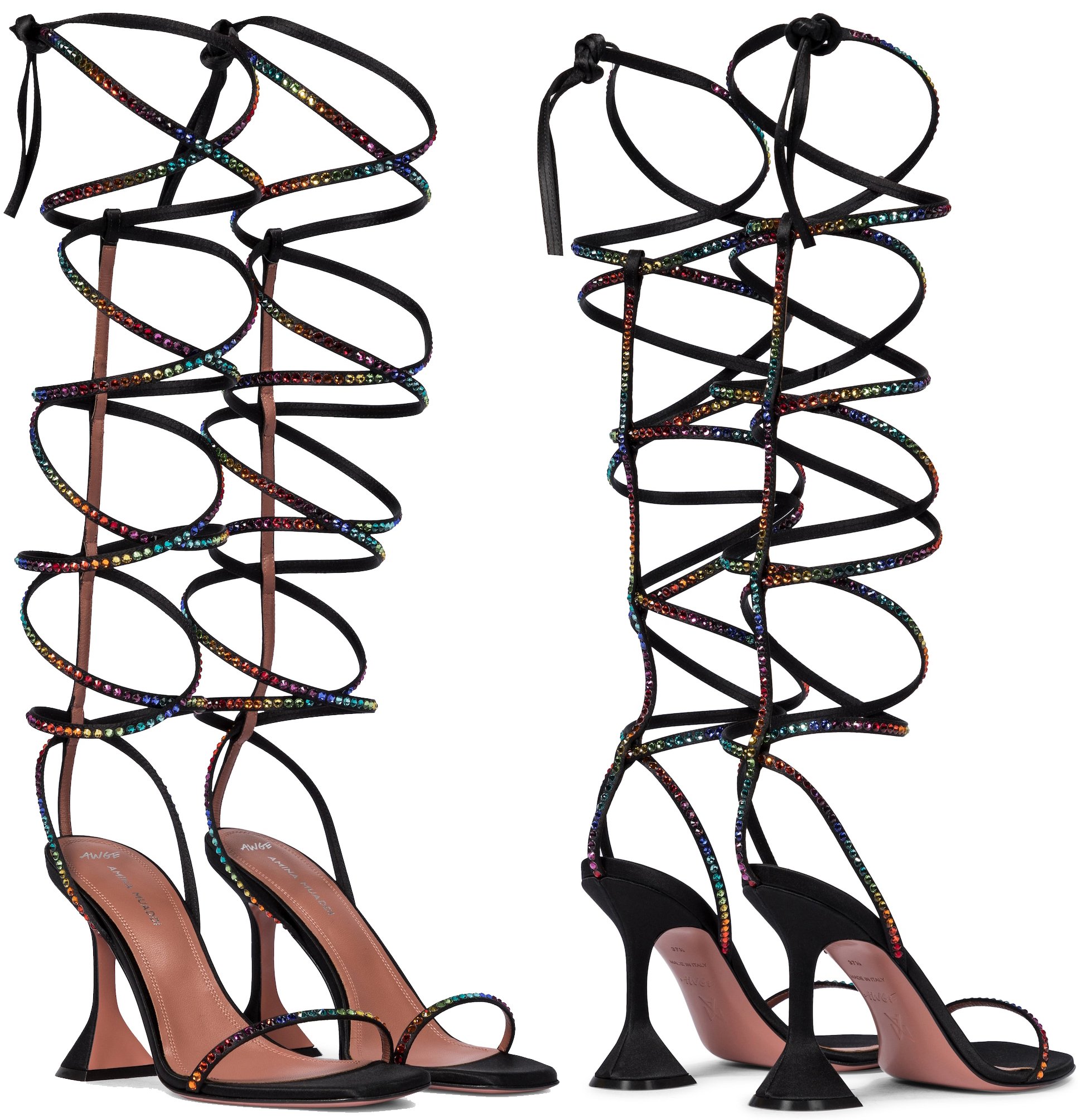 Amina Muaddi x AWGE LSD Crystal-embellished Satin Sandals, $1,510
Whether you're on a budget or want to splurge, there's a pair of gladiator sandals for everyone. These shoes are the perfect way to experiment with something new or invest in a style that will add a classic feel to any outfit.
Gladiator Sandals: Style Tips for Every Occasion
When it comes to summer fashion, gladiator sandals work with almost every outfit. The easiest way to style these shoes is with a chic mini dress with a pop of color.
You can style this outfit with gladiator flats or a stiletto style to take your look from day to night.
Anaak Sofia dip-dyed cotton dress, $401; Staud Nicola leather gladiator sandals, $325
Gladiator sandals are also the perfect match for another fashion staple – denim shorts. If you're heading off on vacation, pack a white shirt, denim shorts, and gladiator sandals as your go-to look for sightseeing.
If you're heading from the beach to the poolside bar, slip into your gladiator sandals and add a chic cover-up to elevate your look.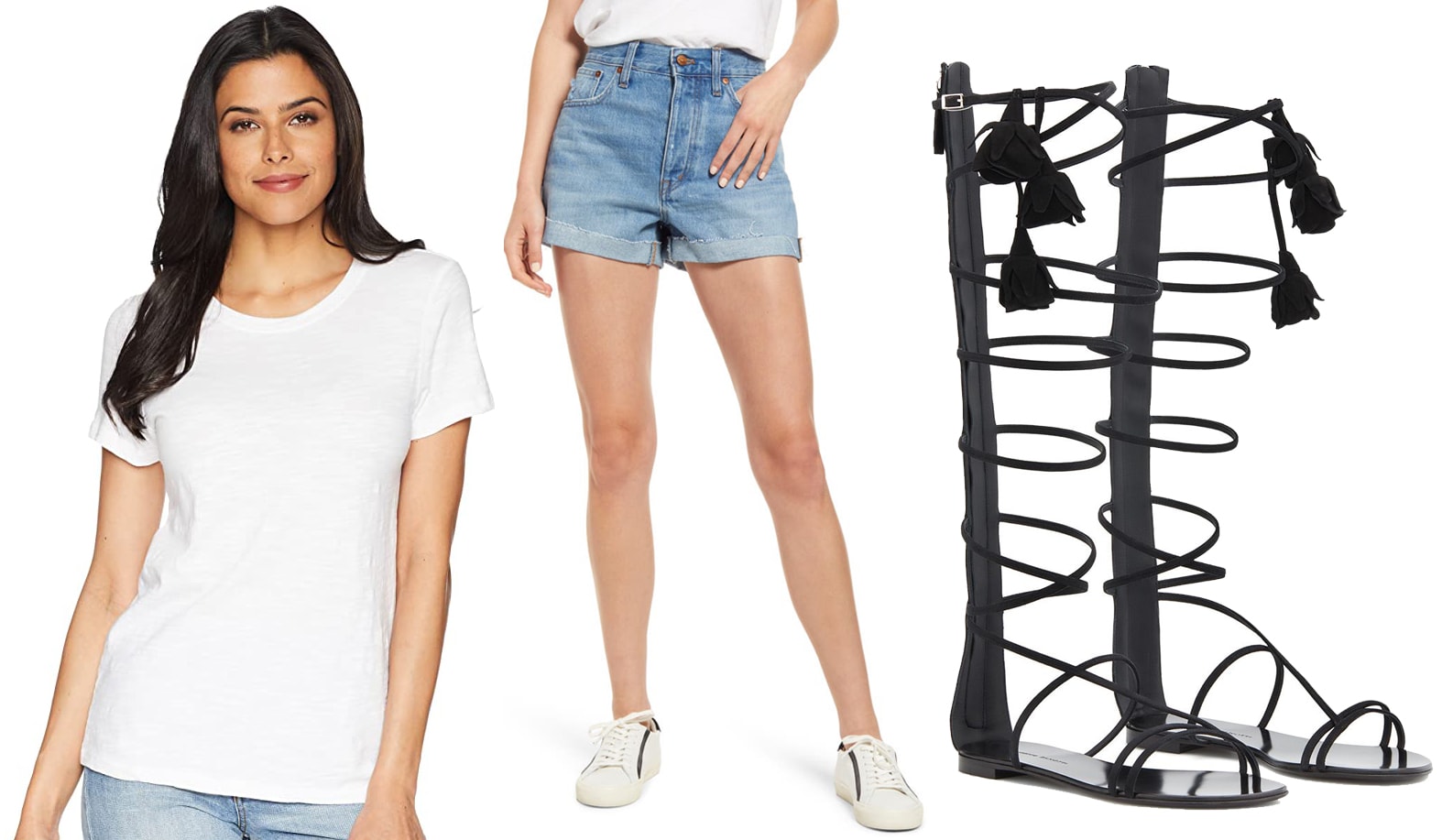 Lilla P Short Sleeve Back Seam Tee in Loose Knit Slub, $68; Madewell The Dadjean Cuff Denim Shorts, $84.50; Giuseppe Zanotti Danse Du Feu Gladiator Sandals, $1,350
What do you think of gladiator sandals? Are they a staple in your summer closet?