Have you ever had to walk miles in a pair of heels because you couldn't get a cab? Or had a busy day at work in a pair of 4-inch pumps?
The pain is indescribable. Even the comfiest pair of heels doesn't compare to a good pair of comfortable flats when doing a lot of walking.
Comfortable flats can add a lot of style to your outfit and won't leave you in pain at the end of the day. There are so many different options to choose from so you can match your own aesthetic and activities with the perfect pair of flats.
If you are looking for a good pair of shoes that are as comfortable as they are fashionable, then check out the following list of the most comfortable women's flats for walking.
1. Sarah Flint Natalie Flats, $365 – $2,200 at Sarah Flint
The brand, named after the founder and owner, has received a fair bit of media attention and was even featured as one of the most comfortable shoes in Oprah Magazine.
This recommendation is not given lightly. These are high-quality flats made from artisanal craftsmanship and expert manufacturing. The shoes have been described as "luxury reimagined," with modern style and luxurious materials.
Sarah Flint's Italian-handcrafted Natalie flats provide luxurious comfort with a stylish asymmetrical bow and about 0.4-inch heels
The "Natalie" flat is one of the brand's most popular shoes. The signature shape features a pointed toe with a peak of toe cleavage, adorned with an asymmetrical bow. The shoe is made from Italian leather that will stretch to your foot with wear.
What makes these flats so comfortable is the 3mm of extra padding below the footbed and leather outsole with rubber to prevent slipping.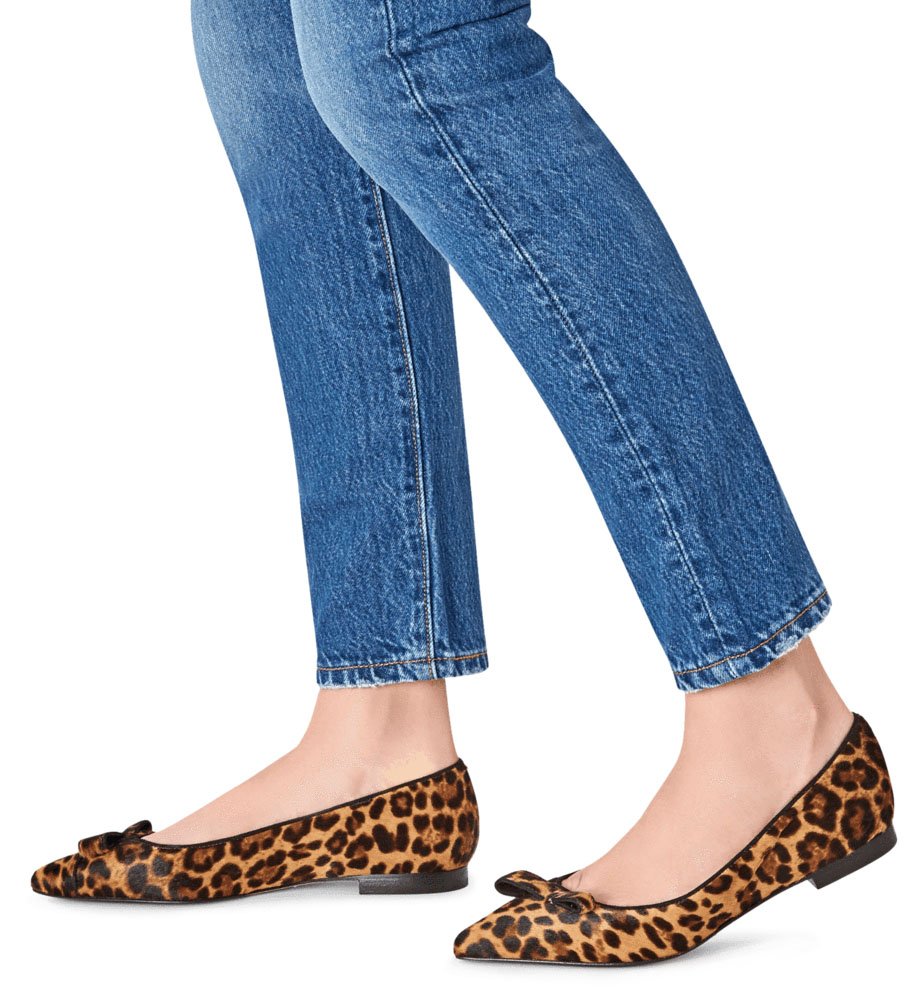 The Natalie is available in different colorways and patterns
The flats are available in several different colors like sand calf or black vacchetta or patterns including leopard haircalf and pink stripe jacquard.
2. Everlane Modern Loafers, $100 at Everlane
Everlane is a clothing and footwear brand that makes ethical fashions. They believe in transparency, showing exactly how much is paid to labor and where the clothes and shoes are made.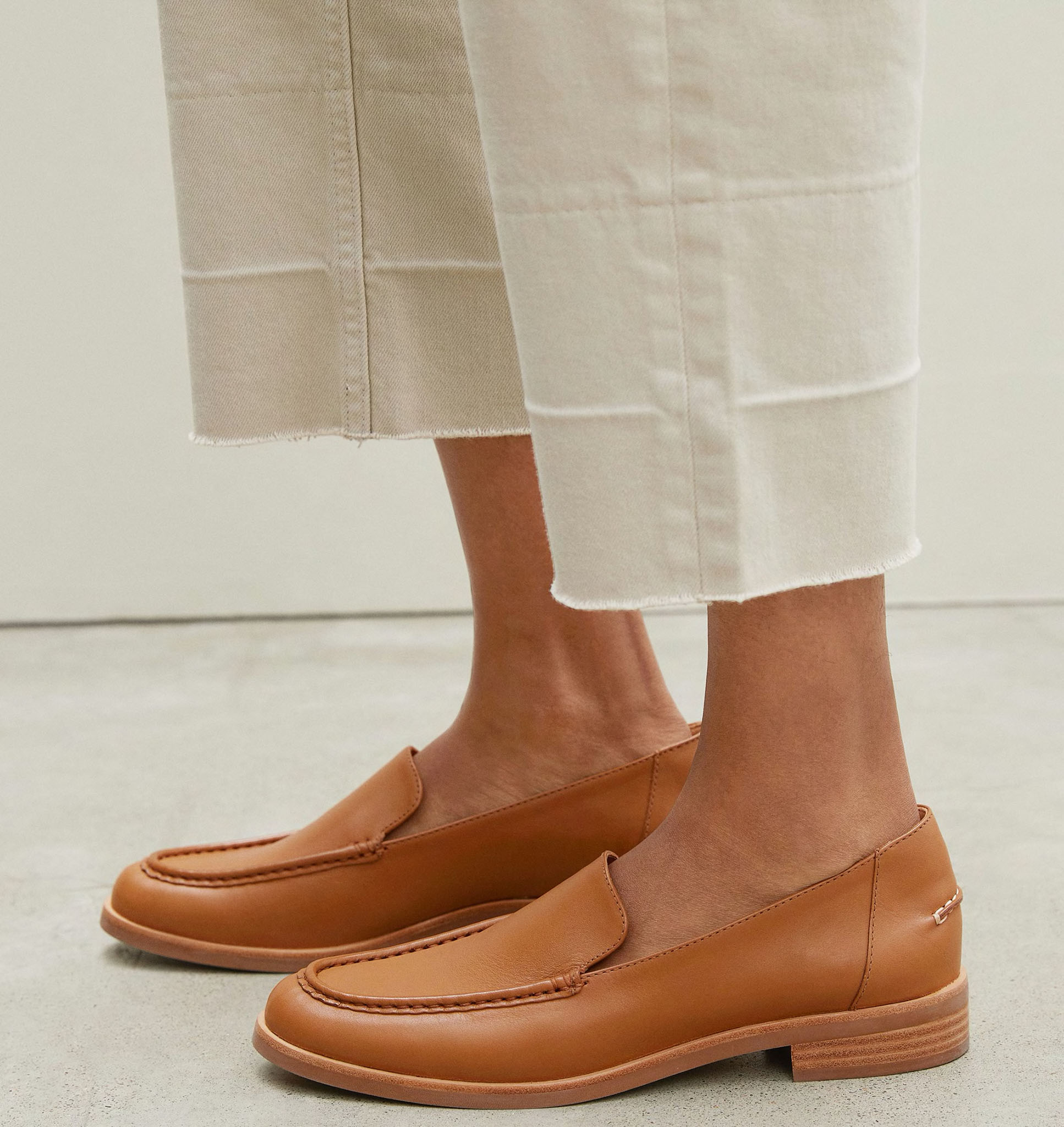 Made from buttery soft leather, Everlane's the Modern loafers feature tapered toes, stitch details, and 1-inch thick stacked heels
The "Modern" loafer goes with everything, which is why it is one of their most popular flats. It is super comfortable and made to be worn all day long. These shoes were made for busy women on the go, and they'll take you from work to running errands.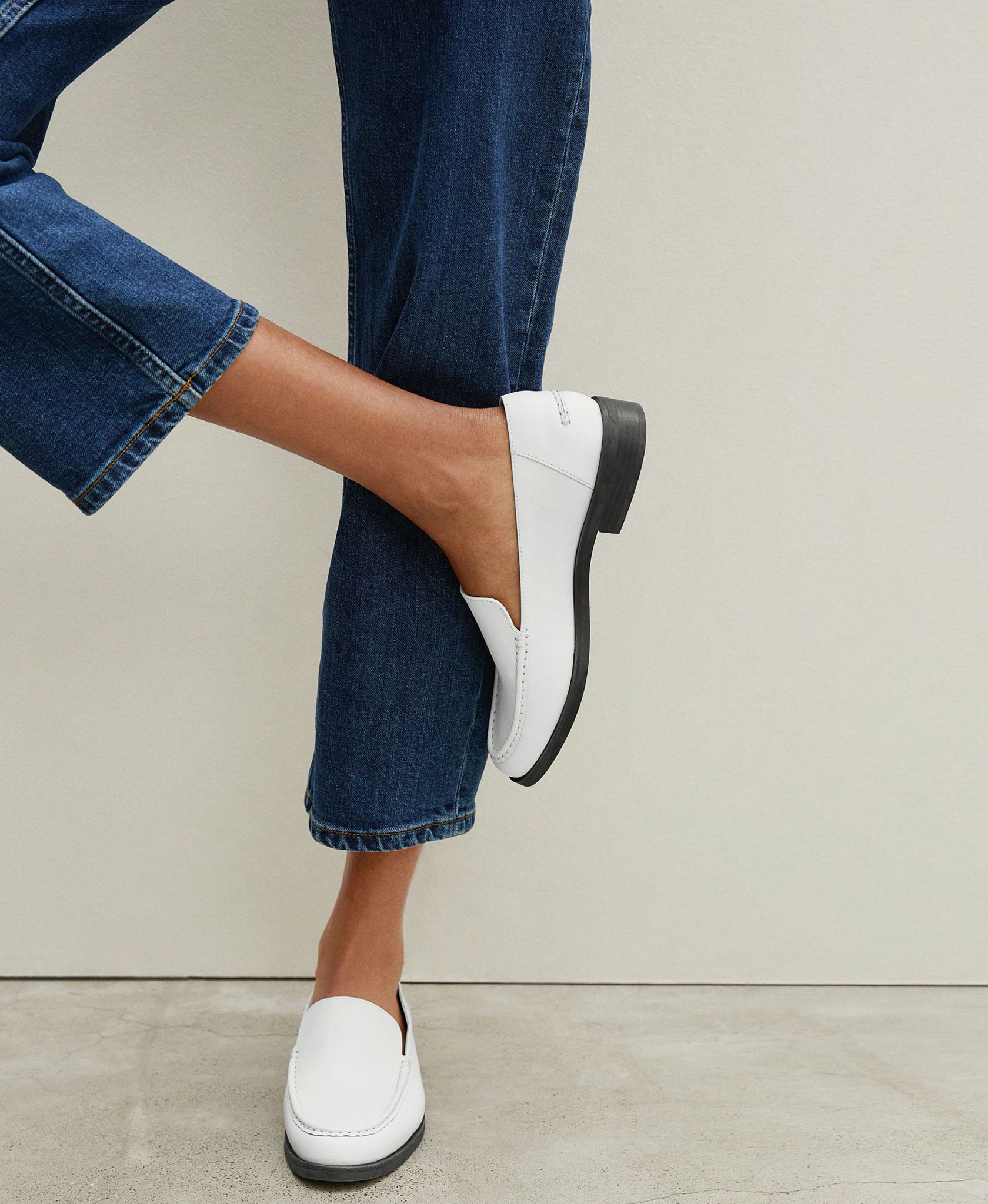 The Modern loafer has been updated with additional padding and foam-cushioned insole for ultimate comfort
The leather is buttery soft, molding to your foot, and there is a foam-cushioned insole and padding for additional comfort. Available in four stunning colors, these loafers are a wardrobe must-have.
3. Naturalizer Vivienne Flats, $37.07 – $110.93 at Amazon
These ballet flats are padded in all the right places. They feature an innovative cushioning system that anatomically sculps your foot, providing support and padding in the areas you need it most.
The black and tan options are made from leather, and the snakeskin pattern is manmade.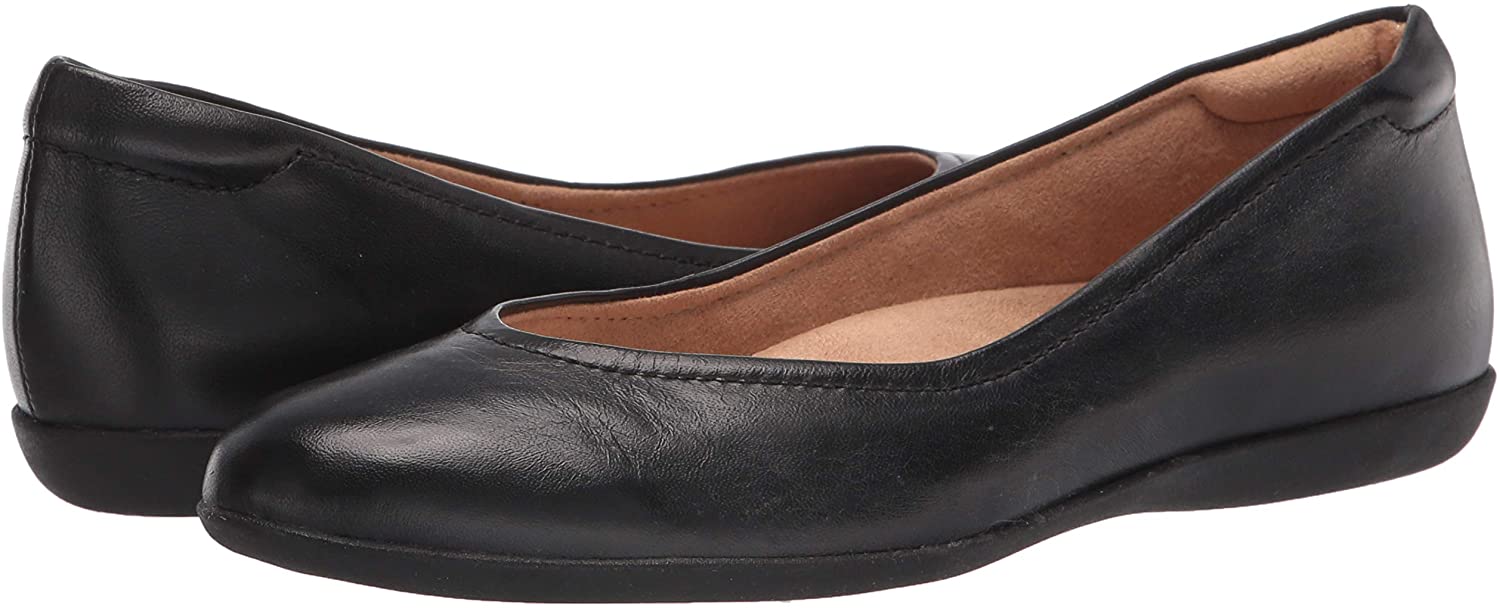 A classic pair of ballet flats incorporated with Contour+ technology for a perfect fit and a day-to-night comfort experience
These "Vivienne" flats are sleek and feminine, with the traditional ballet flat silhouette. They have a U-shaped topline and non-slip outsole with a subtle 0.75-inch heel.
Not only are these flats comfortable and stylish, but they are made using sustainable materials and consciously packaged.

These timeless and versatile Naturalizer Vivienne flats are available in black and tan leather and manmade snakeskin
4. Me Too Harmony Ballet Flats, $59.95 at Zappos
The Me Too "Harmony" is another timeless ballet flat that will feel good from the first wear. The brand specializes in women's footwear, striving to make women feel both confident and comfortable.
Their first pair of shoes ever was a pair of ballet flats, and it's what put this brand on the map.

Me Too's Harmony is a timeless knit ballet flat made from an eco-conscious engineered mesh fabric that forms to the shape of the foot
The "Harmony" flats have a stretchy topline, cushy footbed, and flexible sole. The sole is very flat, making them feel like a pair of slippers!

Aside from contouring to the feet, the Harmony also has a memory foam padded footbed for added comfort
Cute and chic, these ballet flats have rave reviews online, with many people buying them in multiple colors. There are four stunning colors to choose from, and they are budget-friendly.
5. Salvatore Ferragamo Joy Ballet Flats, $375 at Zappos
Salvatore Ferragamo is a world-renowned footwear designer and retailer that prides itself on its classic, luxurious style. The "Joy" ballet flats don't disappoint and look elegant with a skirt, dress, or pants.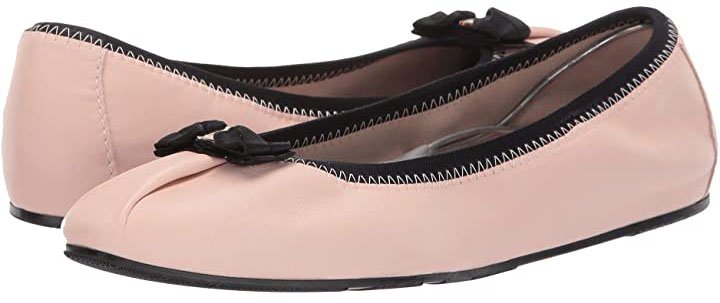 The Joy ballet flat in Bon Bon Nappa Guanto from Salvatore Ferragamo features an ultra-feminine look with a grosgrain bow accent
The BonBon Nappa Guanto color is gorgeous! It has a Nappa leather upper with slip-on construction. For an ultra-feminine look, these flats have a round-toe silhouette with a grosgrain bow accent.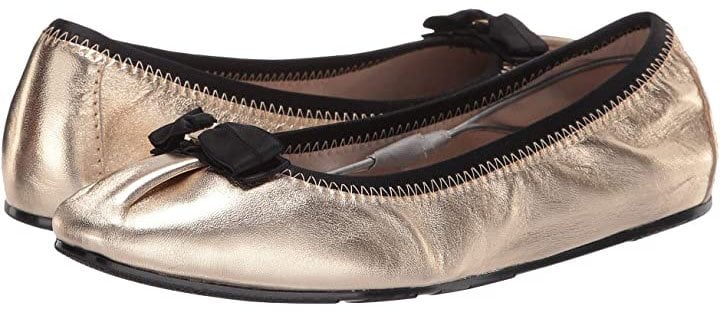 The Salvatore Ferragamo Joy also has comfy round toes and a lightly padded leather footbed
Stunning, right? Well, these flats offer a lot more than looks! They have a lightly padded leather footbed that will keep your feet feeling cozy, even with extended wear and lots of walking!
6. TOMS Darcy Flats, $89.95 at Zappos
TOMS is primarily famous for their canvas slip-ons and sustainable values, but they also have a line of more elegant-looking flats made from material other than canvas.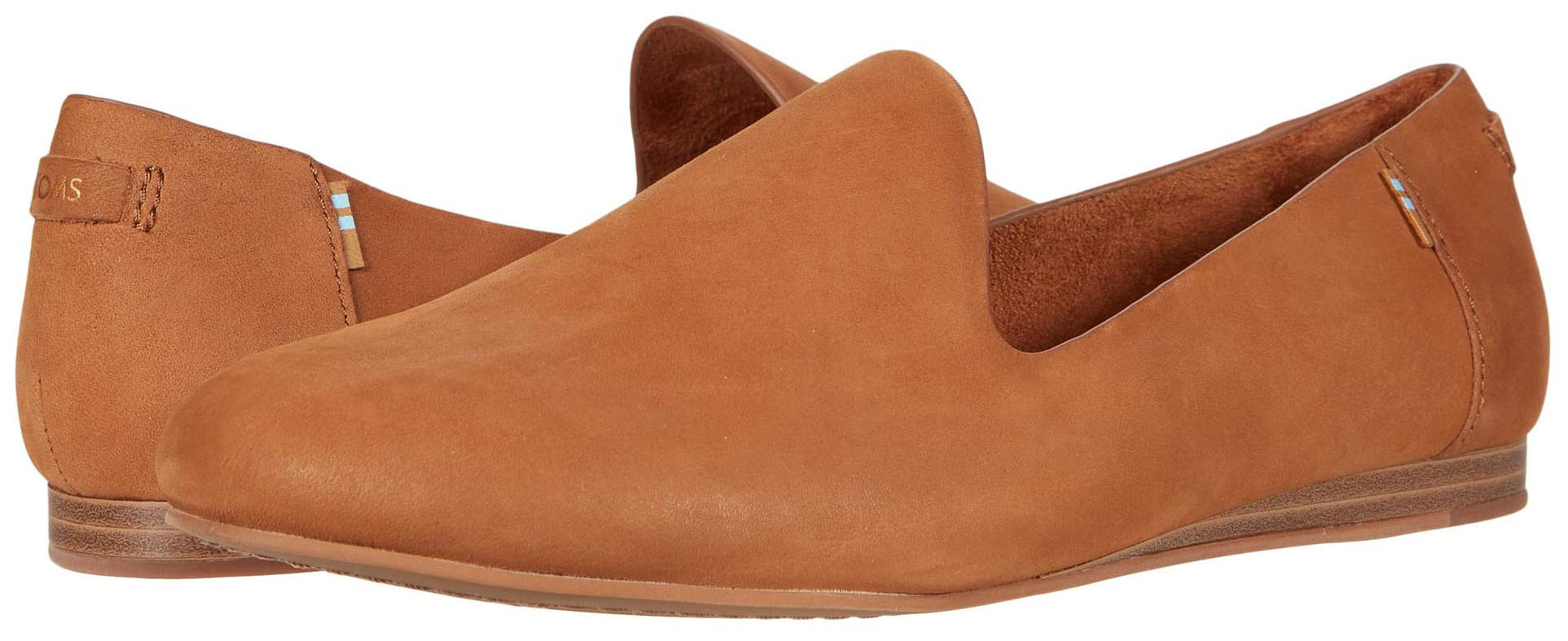 Darcy is a casual yet elevated take on the classic slipper silhouette
The "Darcy" is made of vegetable-tanned leather with a slight mini wedge. The cut is unique and sharp, with two dips beside the toe.
Made from vegetable-tanned leather, the Darcy features custom TOMS cushioning, custom TOMS German outsole, and stacked mini wedge for added style
If you've had a pair of TOMS before then you know just how comfortable they are. These live up to the brand's reputation and feature TOMS cushion insole. They are available in honey, black, and macadamia pattern.
7. Crocs Sienna Flats, $28 – $94.55 at Amazon
Crocs haven't always had the best reputation for style, but they have come a long way and are finally getting the respect they deserve.
Those who are on their feet all day at work, and doing lots of walking, need a lightweight and breathable shoe that will provide support and comfort.
Featuring a refined design and a slim and sleek fit, the Crocs Sienna provides lightweight comfort without sacrificing style
The "Sienna" flat is perfect for this; designed with a slimmer, sleeker look and distinctive heel cut-outs, they are very fashionable.
The Sienna is made from Croslite material and features a sculpted shape with heel cutouts and a square toe
They are very lightweight and flexible, with 360-degree comfort. The Croslite material construction that Crocs is famous for is what makes these shoes so light and comfortable.
The cushioning provides all-day comfort, and they have a snug fit so you won't experience any rubbing. Even better, they are very durable and easy to clean.
8. Cole Haan Cloudfeel All-Day Ballet Flats, $140 – $150 at Nordstrom
From the name of these flats, it's evident that comfort was top of mind when they were designed. The luxurious, lightweight cushioning makes it feel like you are walking on a cloud.
Perfect for all-day comfort, the Cole Haan Cloudfeel All-Day is furnished with the brand's Grandfoam cushioning for responsive cushioning and breathability
When making this shoe, they cored out the traditional ballet flat's sole and filled it with their cushioning GRANDFoAM. Further, it has a dual-density internal wedge and is extra lightweight. It also has a rubber outsole for better traction.

A stylish but timeless design that's available in an array of colors and prints
You can walk for miles in these with their responsive cushioning, padding each step you take. They are the perfect pair of flats for traveling as you can look cute visiting museums, landmarks, and cafes while staying comfortable as you explore a new city on foot.
9. Sarto by Franco Sarto Pointed Toe Slingback Flats, $98.95 at Nordstrom
Slingback flats are an excellent option for summer and can really dress up an outfit. The pointy toe, trendy slingback strap, and triangular heel make these flats incredibly unique and versatile.
They are available in white, black, blush, or navy and are made from 100% leather.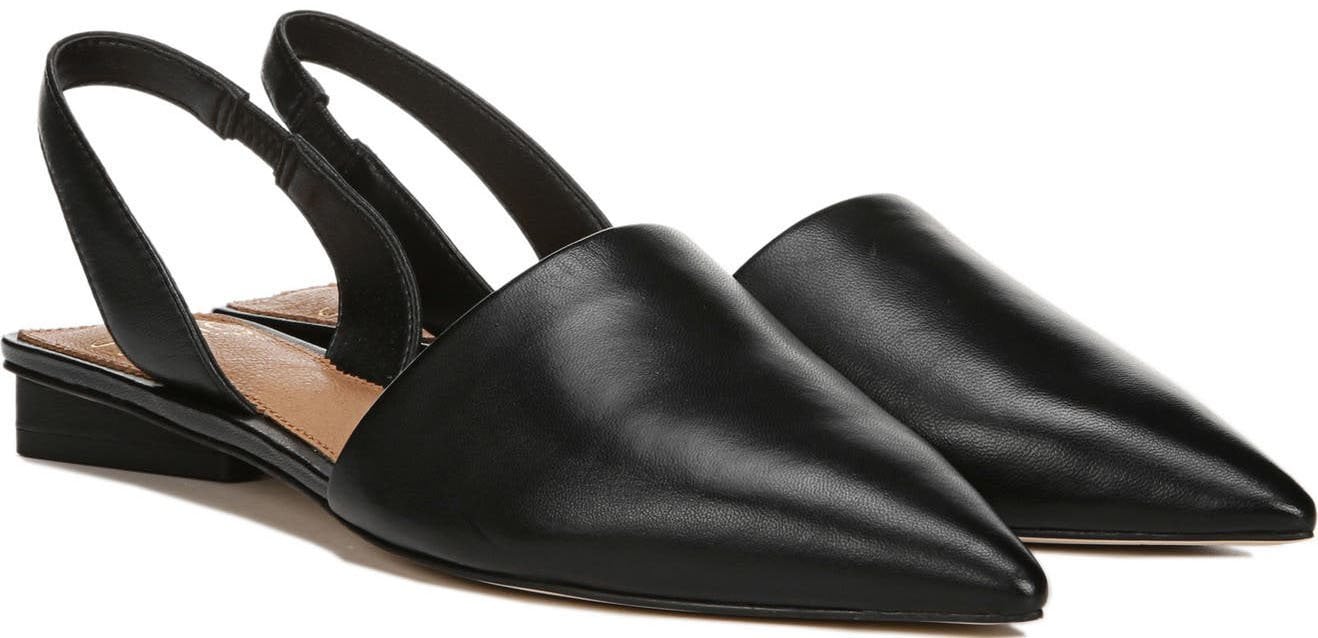 Sleek and chic, the Sarto by Franco Sarto flat can elevate any outfit with its pointed toes, slingback strap, and triangular heel
These Franco Sarto slingback flats combine Old World European craftsmanship with contemporary style and comfort.
So whether you have a summer wedding or are meeting friends for dinner, these shoes will keep your feet comfortable and looking great.

The Sarto by Franco Sarto slingback flats are offered in four classic colors, including adobe rose patent leather, black nappa, white nappa, and blush leather
10. Rothy's The Flats, $125 at Rothy's
Rothy's is a purpose-driven brand that has made a significant impact on the environment and fashion. To make their shoes, they transform single-use plastic water bottles into a special thread.
As a result, they've upcycled nearly 100 million water bottles and kept 100 tons of plastic out of waterways.
Rothy's The Flat features a knit construction made from the brand's signature thread, spun from plastic water bottles
"The Flat" is knit with this signature tread, with matching insoles and chic tortoiseshell outsoles. The website gives you plenty of information to get the perfect size as these shoes will not stretch much.
The Flat is available in several unique patterns and colorways
They are knit to shape for minimum waste and maximum comfort. Because of this unique material, there is zero break-in period – you can hit the pavement right away and enjoy long walks without any discomfort.
11. Clarks Pure Tone Flats, $49 – $153.56 at Amazon
Clarks often add a lot of extra cushioning to their shoes and are great for walking. One of their latest flats is the "Pure Tone" slip-on loafer.
This flat has a sleek silhouette and streamlined upper, and subtle stitching.

Clarks' Pure Tone features a streamlined upper and a sleek silhouette made from smooth leather
Although gorgeous, the fundamental selling feature here is the Clarks Cushion Plus padding that reduces each step's impact. The brand's unique dual-density foam technology reduces the strain on the ball of the foot and supports natural movement.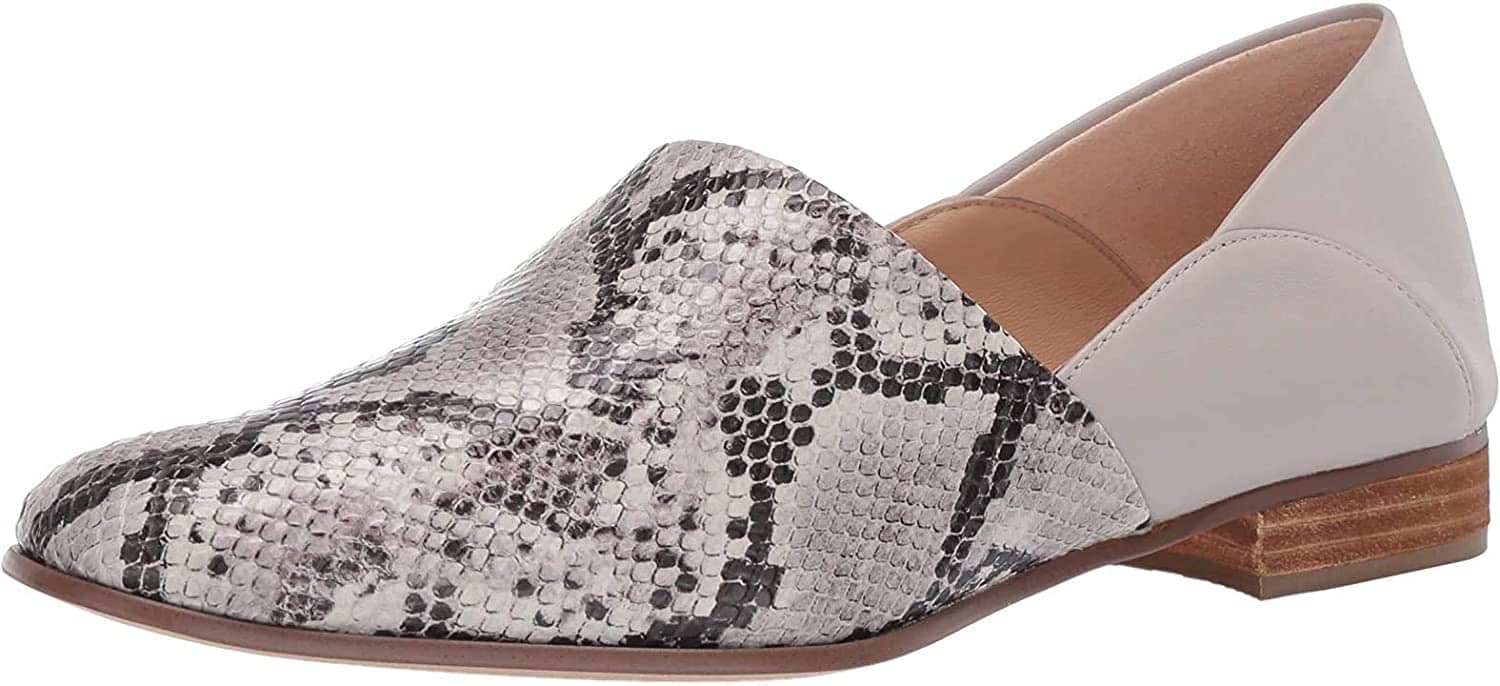 Comfort-wise, the Pure Tone features leather lining and sockliner and layers of Clarks Cushion Plus padding
There are also a leather lining and sock liner to increase comfort, making these flats a great option for when you have plenty of walking to do.
12. Hush Puppies Sadie Tassel Slip-On Flats, $90 at Zappos
If you want a flat with a lot more flair, the Hush Puppies "Sadie" Tassel Slip-On comes in colorful combinations of bright colors and patterns. These aren't your average flats and are sure to get their share of attention.
Offering both comfort and style, Hush Puppies Sadie features soft cotton twill lining, soft leather socklining, and the label's Bounce footbed
If you prefer something a little more subdued, these also come in neutral shades. The silhouette is a classic ballerina flat, crafted from calf hair or soft suede, depending on the colors.

The Sadie flats from Hush Puppies come in an array of bright and neutral colors
These flats feature a Hush Puppies Bounce footbed, which provides a great deal of comfort and energy rebound while you are walking. The lining is super soft, and the molded rubber outsole will give you lots of traction.