Whether we like to acknowledge it or not, our boss, colleagues, and clients make judgments on the clothes we wear to work. This can make getting ready for work in the morning that much more stressful.
Fortunately, with some forethought and by purchasing stylish office clothing, you can have a wardrobe that provides you with plenty of fashionable outfits.
Before buying work clothes, you need to determine the dress code of your office. Is it casual, smart casual, business casual, business professional, or formal? This will dictate the colors, pieces, and style of the clothing you should wear.
After you have figured this out, you should pick classic pieces in solid colors that will easily coordinate. For example, a white button-up blouse pairs well with a knee-length camel skirt, grey pants, and a navy blazer. This allows you to create more outfits with fewer pieces.
The next step is finding the right place to shop! Often stylish office clothing for women is on the more expensive side. This is because you are investing in quality material and craftsmanship.
When you are spending money on clothes, you want them to make you look and feel good. Having a lot of experience shopping for office clothing online, we've put together a list of the best stores for women to buy work clothes.
1. Banana Republic – Casual Office Clothing (great for professional, yet casual wear)
To clarify, Banana Republic is not only suitable for casual workwear. However, you are guaranteed to impress when you shop here for everyday work clothes.
Many people assume that casual wear is the easiest – it's not! A lot of people can take the wrong approach and wear the same clothes they would wear running errands on the weekend.
Banana Republic Petite Quinn Straight-Fit Denim Shirt, $84.50 at Banana Republic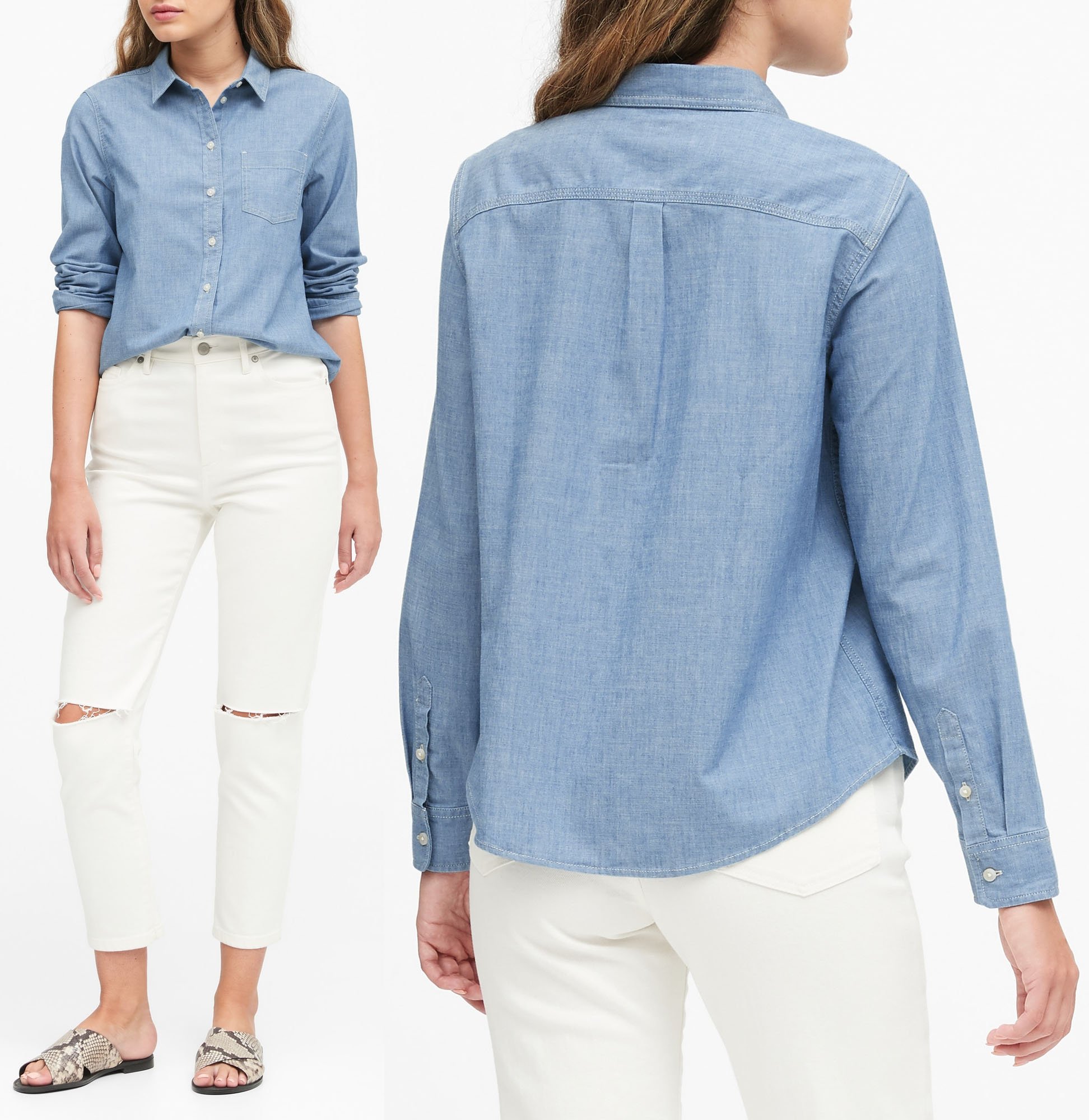 Banana Republic is a contemporary clothing company known for its easy elegance
It's still a workplace, and you must bring a level of professionalism. Banana Republic has classy, stylish casual wear like polo's, jeans, and sweaters. This is what the brand has labeled "easy elegance."
Banana Republic Bell-Sleeve Dress, $129 at Banana Republic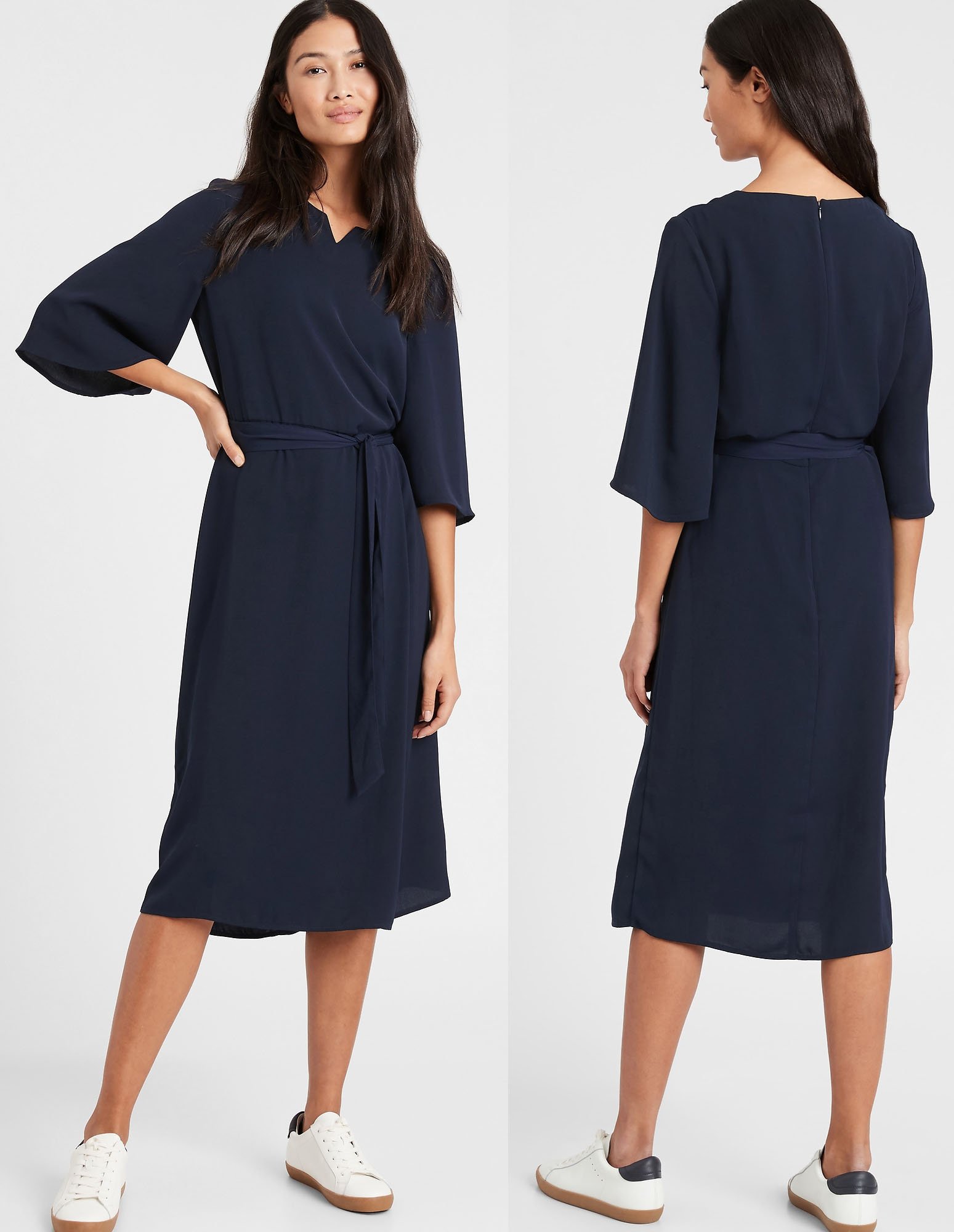 The label also has a wide selection of chic dresses that are suitable for the office
If you like wearing dresses, they have a large selection of office-friendly dresses that are still flirty, feminine, and fashionable.
2. H&M – Casual Office Clothing (great for wardrobe staples)
H&M has affordable clothing for every occasion, so of course, they would make it on this list of office clothing! They have plenty of affordable workpieces like blazers, blouses, and pants.
H&M Peplum White Shirt, $17.99 at H&M
Hennes & Mauritz or H&M is known for its affordable price tags and trendy clothing styles, including officewear
There are certain staples everyone should have in their closet. This includes a white button-up, camisoles to wear under blouses, and dress socks. H&M is the go-to spot for these items. It's better to invest in a more expensive jacket and stick to affordable staples like these.
Spacious Black Faux-Leather Handbag, $34.99 at H&M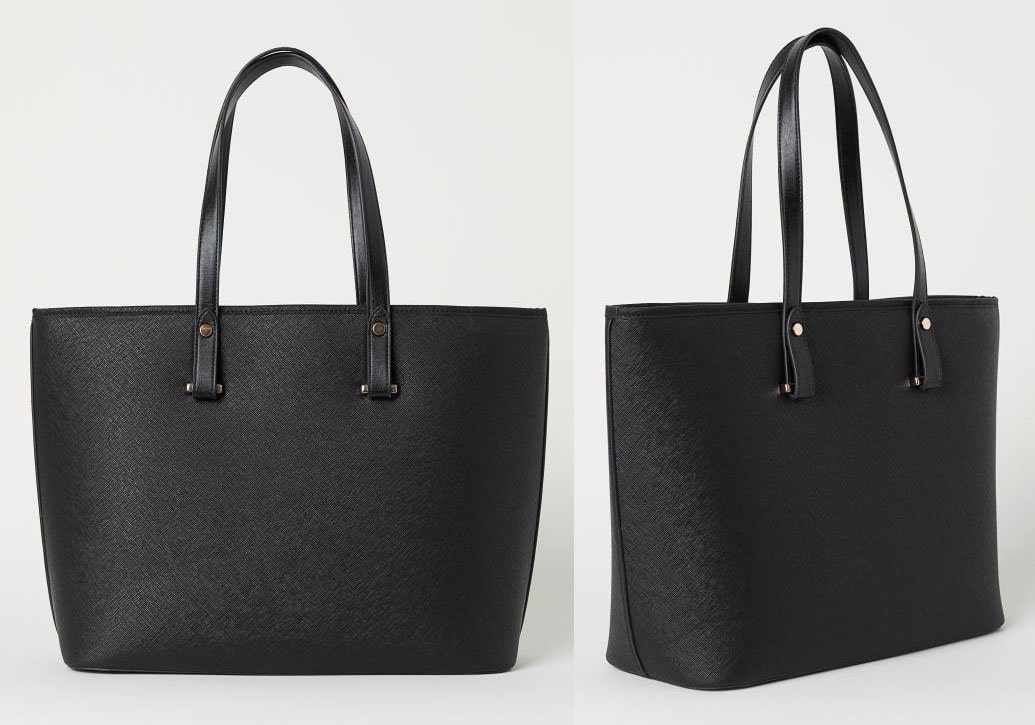 The Swedish multinational company also offers accessories, shoes, and handbags
They also have plenty of handbags to choose from, many that are big enough to store your laptop, charger, and wallet. If you are looking for a more sleek work bag, you should definitely check out H&M!
3. J. Crew – Smart Casual to Business Casual Clothing (great for work denim)
Although they have some nice suits that would work for more professional occasions, J.Crew is an American specialty retailer notorious for their business casual looks. They often take formal and professional shapes and use more casual fabrics or prints to create their business casual style.
It's what J. Crew calls "classics, with a twist, and style you can trust." Their cashmere sweaters, blazers, pants, and coats are the most popular items that change up each season.
Going-out Blazer in Stretch Twill, $168 at J.Crew
J.Crew is an American specialty retailer that offers an assortment of apparel, including business casual outfits
J.Crew has blazers for everyone in 5 different cuts: slim, classic, relaxed, sweater-blazer, and blazer-coat. Pair one of these blazers with their office-friendly denim, and you've got yourself a chic, smart casual look for the office!
Black Block Heel Suede Pumps, $158 at J.Crew
The company also has a selection of accessories and shoes that are perfect for workwear
To complete the look, they have a collection of heels and flats. Business casual tends to be more comfortable, but it doesn't need to look sloppy.
Juliette Collarless Sweater-Blazer, $148 at J.Crew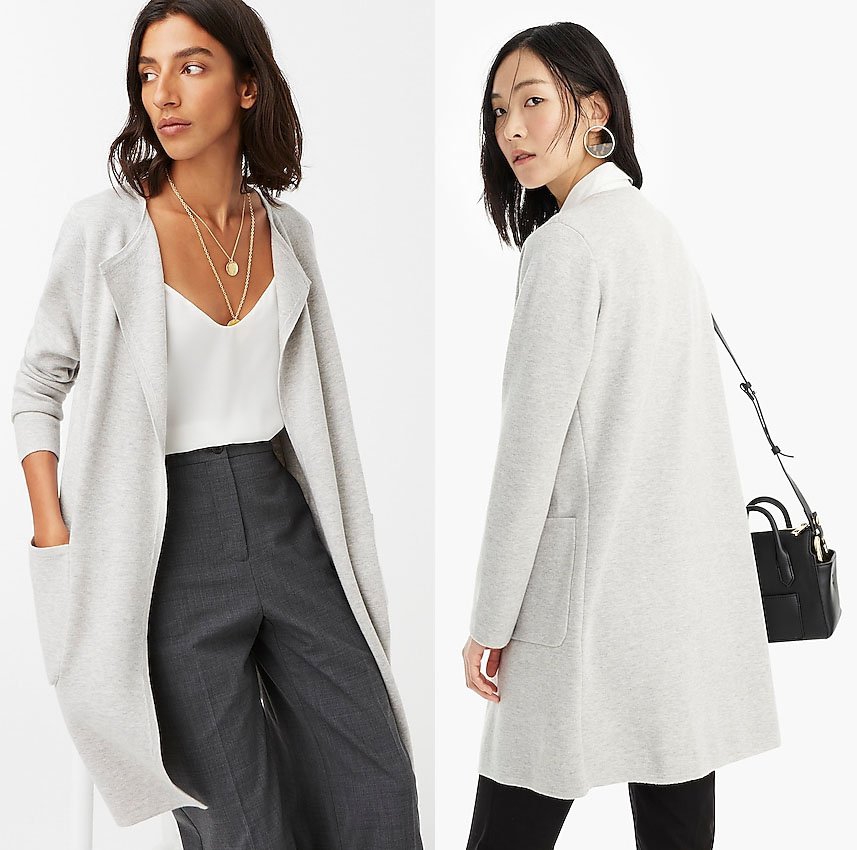 The super-soft Juliette collarless sweater-blazer is a chic and comfy cover-up for your camisoles and tank tops
J.Crew's Juliette collarless sweater-blazer is super soft, made from a cotton/poly/wood tri-blend, with a midlength cut and patch front pockets. It's sure to impress everyone in your office!
4. Everlane – Business Casual Clothing (great for work pants)
Everlane is an ethical brand, standing by its Radical Transparency. All their clothes are made in ethical factories using quality materials. To be considered ethical, the factories are evaluated on fair wages, reasonable hours, and overall environment.
In addition to being a globally responsible brand they make excellent business casual wear! Several publications have awarded Everlane as having the "best pants for the office."
Washed Black The Easy Chino, $58 at Everlane
Get your modern essentials like office pants and outerwear from Everlane
After pursuing their online catalog, you can quickly see why. They have a large variety of styles that are more trendy than corporate-looking. You'll find crop straight leg, tapered, and wide-leg pants in everything from polyester to corduroy.
Menswear-Inspired Oversized Blazer, $170 at Everlane
Pair their pants with oversized blazers and jackets for a chic contemporary look
If you want to elevate your look, pair their pants with one of their oversized jackets. Another great feature of Everlane is their prices. You can get great quality workwear for a reasonable price.
5. Theory – Business Professional Clothing (great for classic pieces)
A blazer, knee-length skirt, and full-length pants – these are three of the classic pieces you will need for a business professional wardrobe. When you get classic pieces in coordinating colors, you can create multiple outfits out of them.
Etiennette Blazer in Geometric Good Wool, $495 at Theory
For quality classic office wear, visit New York-based contemporary clothing label Theory
Theory is my favorite place to shop for classics like these. Known for its superior quality, the New York-based men's and women's contemporary fashion label was developed over twenty years ago.
Their first piece of clothing was a pant designed for women to be comfortable and confident in.
Treeca Pant in Geometric Good Wool, $95 at Theory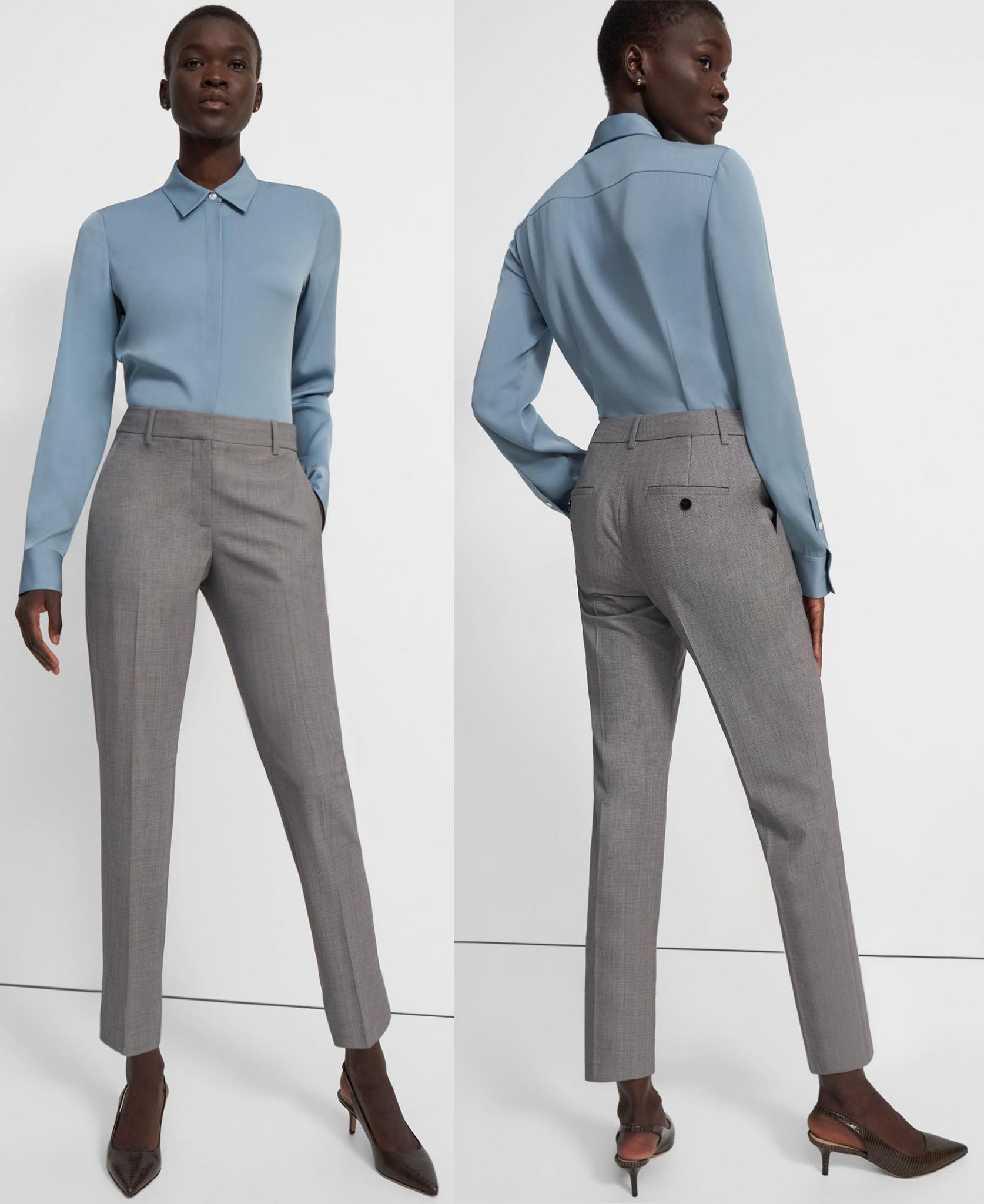 Theory offers tailored pieces that are guaranteed to provide comfort and style
They have spent the last two decades perfecting their slacks and have continued to create incredible women's clothing ever since. Theory's design philosophy is to have cool, expertly tailored pieces from the best materials. This is evident in their collection.
6. Club Monaco – Business Professional Clothing (great for cashmere sweaters)
Founded in 1985, the clothing store aimed to create pieces for everyday wear with superior quality and style. The brand and its retail locations have continued to expand ever since.
Pink Double-Breasted Blazer, $298 at Club Monaco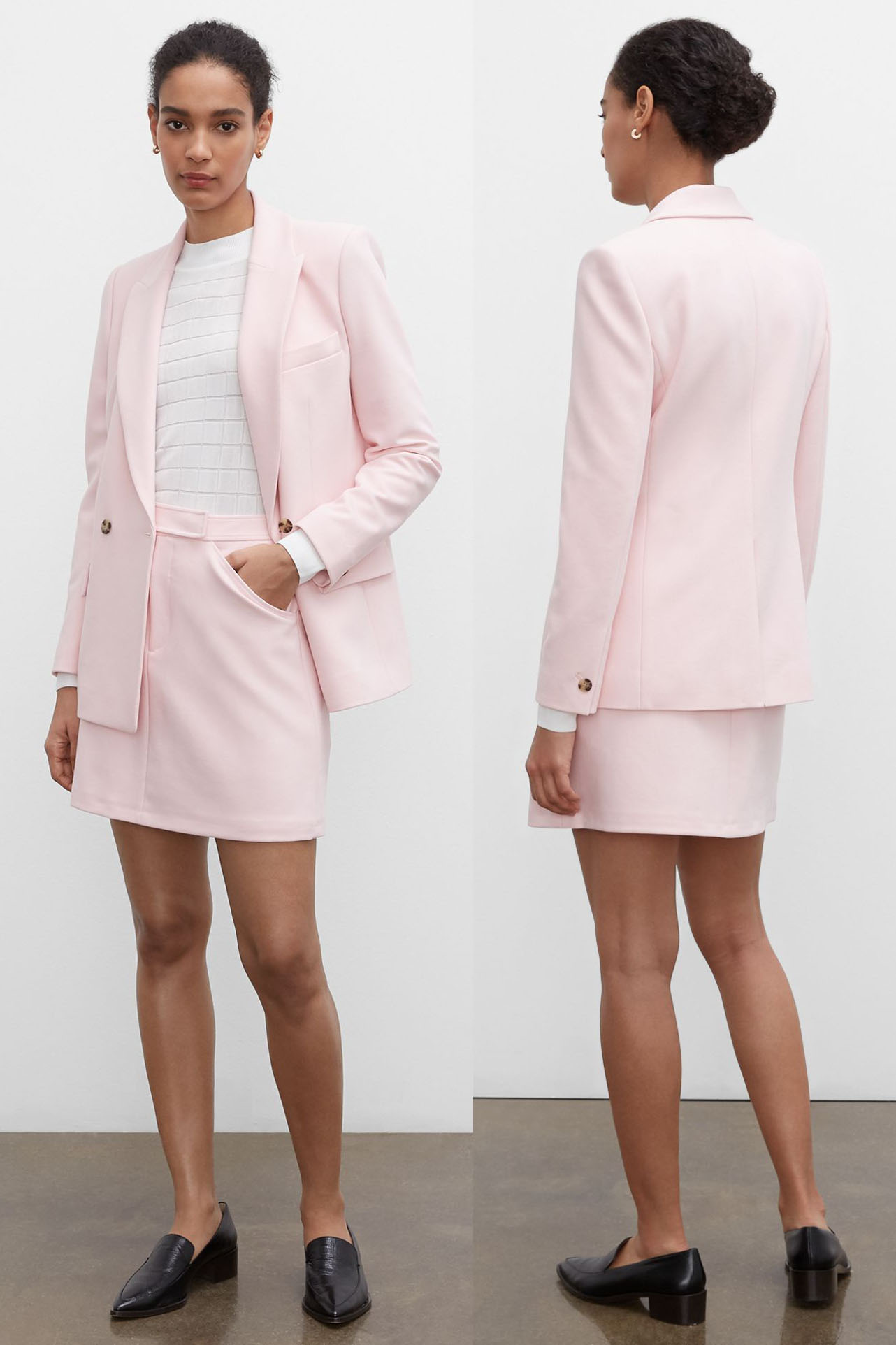 Club Monaco is a Canadian-founded high-end label that offers not just casual clothing but also outfits suitable for office
You won't find too many casual pieces or loungewear at Club Monaco. Their clothing is better suited for the office, especially their line of cashmere sweaters. They also have cashmere in every shape, color, and style imaginable!
Sleeveness Mockneck Tank, $89.50 at Club Monaco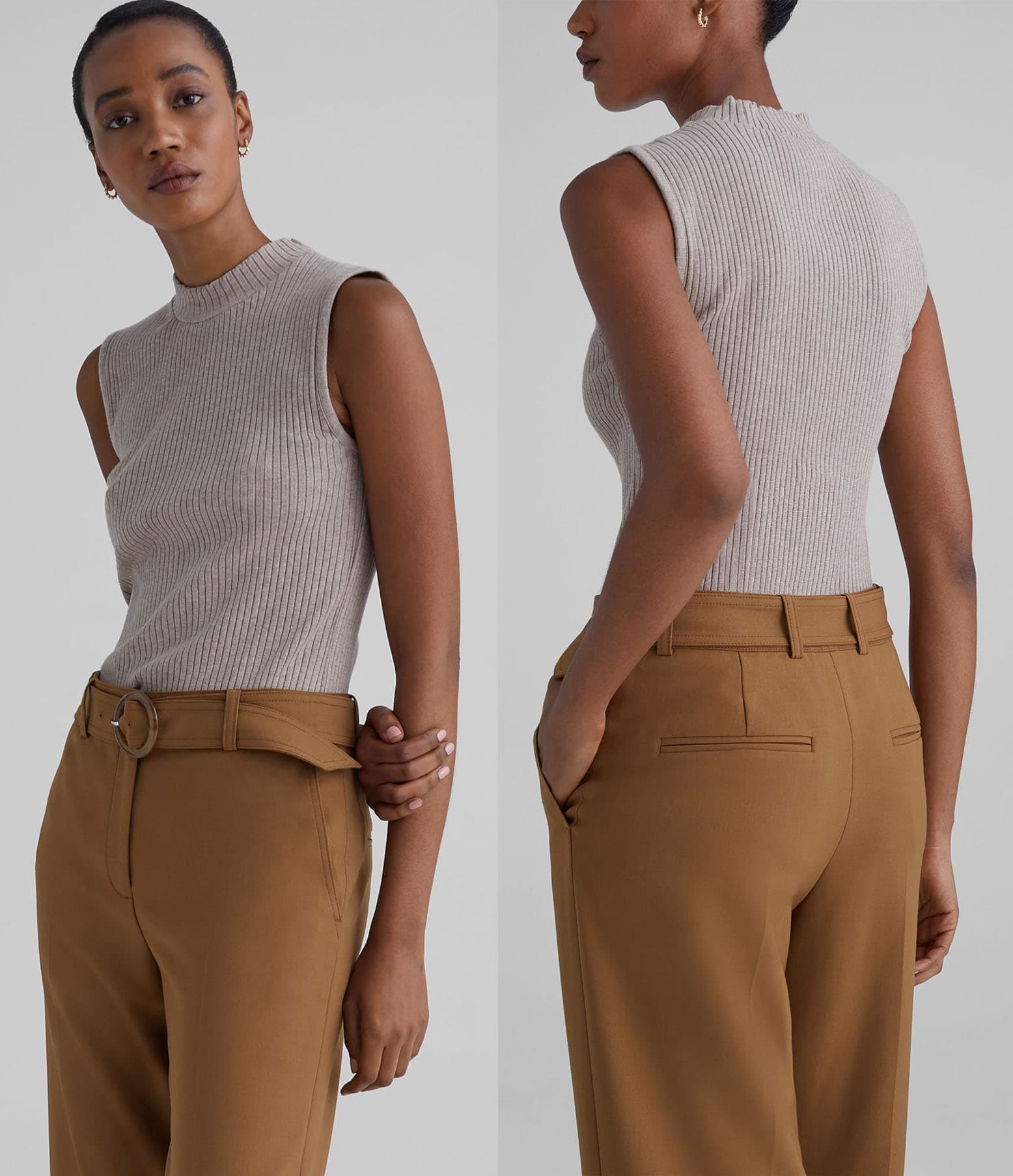 From silk camis to cashmere tops, Club Monaco has everything you need for a chic office look
You will find a selection of blazers complete with silk lining and shoulder pads. For less bulk and more comfort, you'll find a variety of silk cami's and sleeveless tops to be worn underneath.
Besides finding stylish office clothing, you will also find coordinating belts, handbags, and jewelry.
7. M.M.LaFleur – Business Professional Clothing (great for tailored pieces)
M.M.LaFleur is a female-founded fashion startup with the core belief that "When women succeed, the world becomes a better place. Our goal is to take the work out of getting dressed so that you can focus on the work that matters to you."
The retailer has fashionable pieces that will take you from home to the corporate world, with a focus on business professional clothing that is both stylish and practical. Each piece of clothing must encompass three things: function, comfort, and style.
The Tory Short Sleeve Dress, $265 at M.M. LaFleur
M.M. LaFleur offers a wide variety of luxury apparel and accessories for the working women
They have a gorgeous selection of suits, dresses, skirts, and blouses. Most of the pieces are solids and combine very well with one another. You can shop online or visit one of their stores in D.C, Chicago, New York City, or San Francisco.
The Gaia Jacket, $365 paired with a Melrose Skirt, $225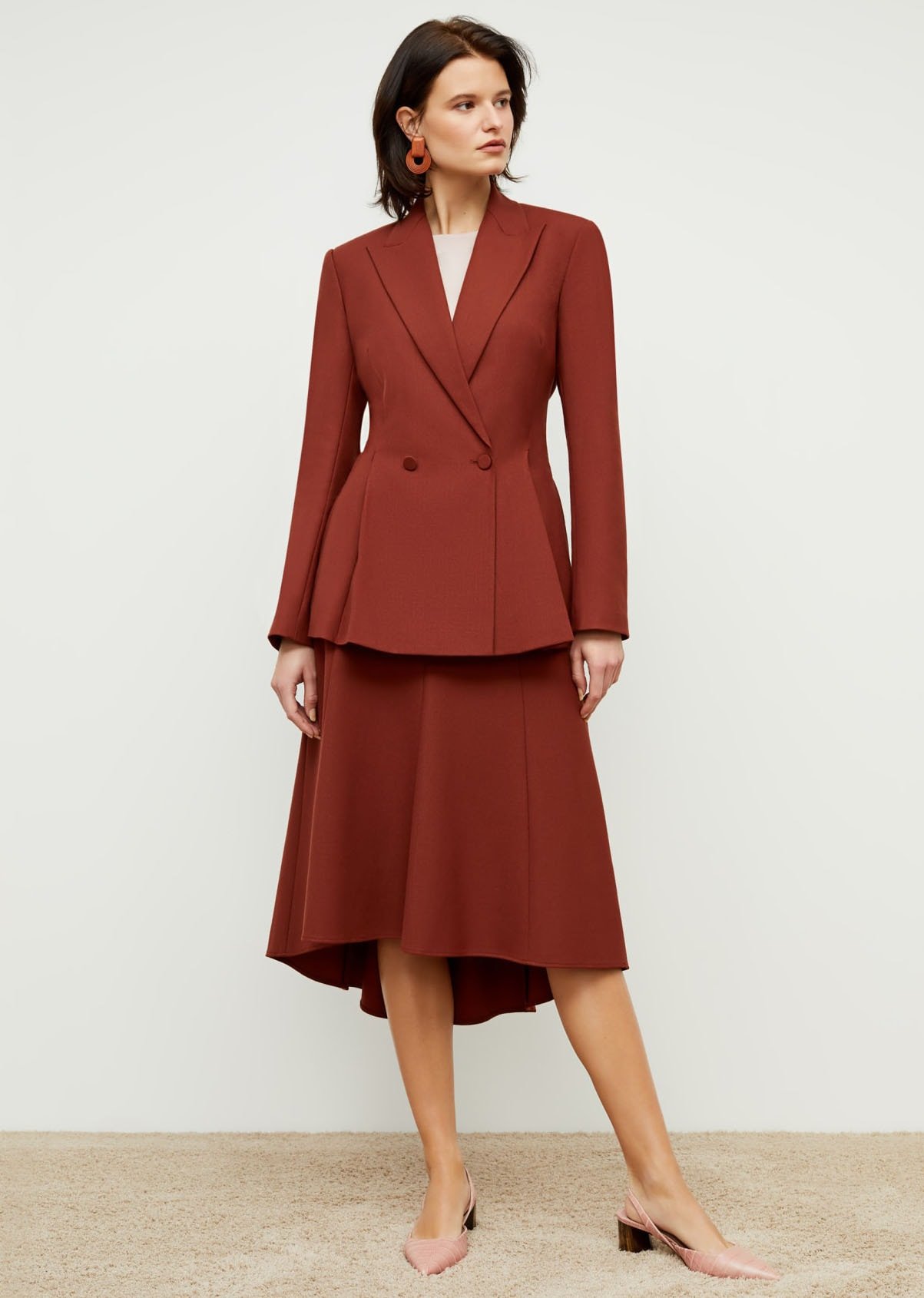 The New York-based professional womenswear label also offers couch-to-conference sets
If you are overwhelmed by all the gorgeous pieces, don't worry – you can virtually schedule a highly personalized styling experience for professional assistance.
8. Neiman Marcus – Business Formal Clothing (great for suits)
With suits made from luxurious fabrics from high-end designers, Neiman Marcus has a stunning selection of business formal clothing for women. Whether you are in the courtroom or office with a view, these suits demand respect.
One of these designers, Albert Nipon, has a line of feminine suits loaded with style and luxury. The designer is known for his tailored suits with feminine flourishes. His tweed two-piece jacket and skirt set has a fitted silhouette, straight skirt, and knee-length hem.
Albert Nipon Textured Three-Button Jacket With Matching Dress, $375
Albert Nipon is an American fashion designer and ladies-clothing manufacturer
The round neckline, three-quarter sleeves, and button details are jaw-dropping. If looking for something even more formal, Neiman Marcus carries women's tuxedo suits in all black.
Of course, Neiman Marcus has one of the largest selections of designer handbags and heels that will go so well with your Albert Nipon suit!
9. Ted Baker – Business Formal Clothing (great for dresses)
The UK-based brand has earned a glowing international reputation, and they've done so without advertising.
Based on word-of-mouth and demand, they have grown their brand without an advertising campaign – one of the only international brands to do so!
Janza Tailored Asymmetric Dress, $295 at Ted Baker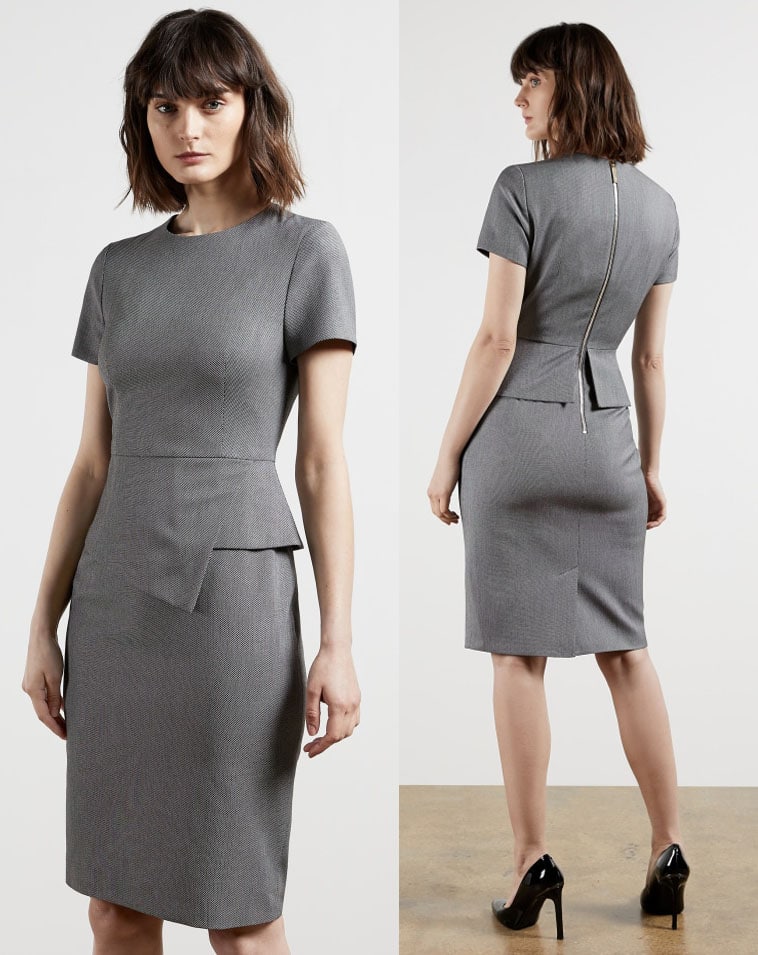 The British luxury clothing company has a large selection of classic but chic office dresses
Ted Baker has a gorgeous work line, with a magnificent selection of dresses. You can "show that you mean business with designer work dresses." The dresses are exceptionally tailored while offering unique shapes with overlapping fabric or peplum detail.
Beechi Double-Breasted Blazer, $395 at Ted Baker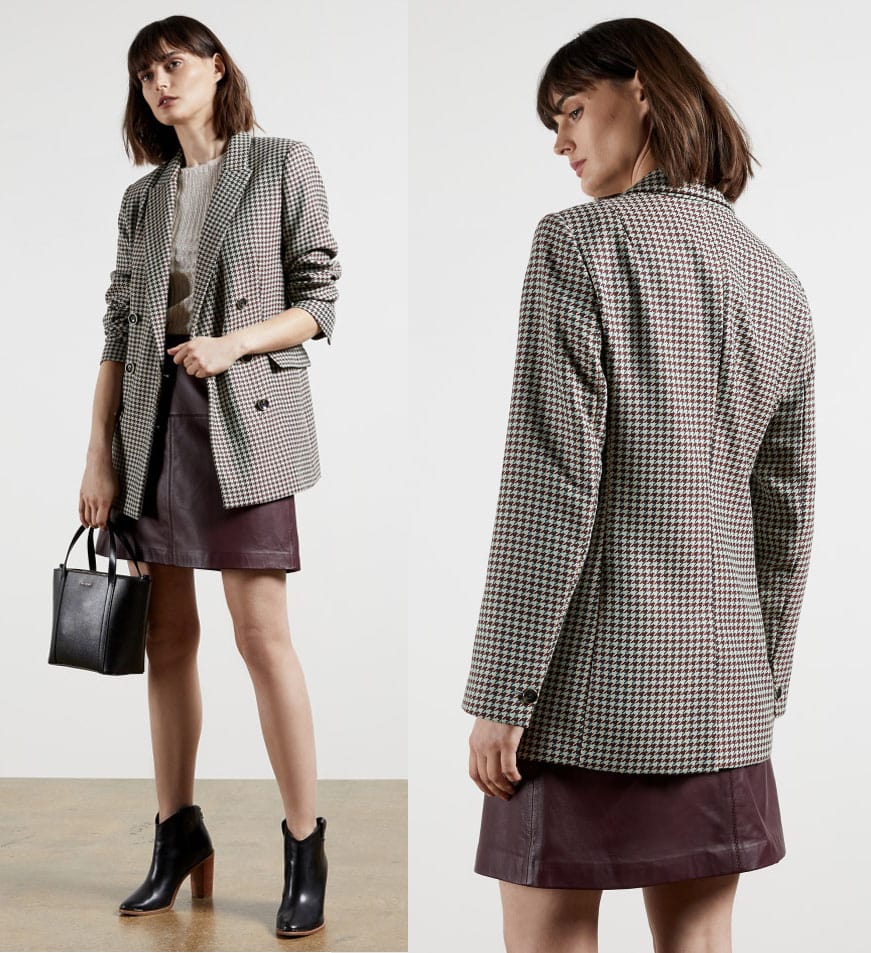 The retail company also offers coordinating blazers, jackets, and pants for a powerful lady boss vibe
In Ted Baker's workwear line, you will also find coordinating blazers and jackets. True to formal fashion, many are in grey, black and white, although they do have some colorful options if you are looking for a little more flair.