Over 36% of American women are considered tall, standing over 5 feet 9 inches, and 6% of American women are over 6 feet. Being a minority in the height department, the struggle to find clothes that fit is all too real.
For tall women, it's common to find pants that fall at an awkward length, arms that end above the wrist, and tops becoming crops when they shouldn't.
It can be very difficult to find clothes that fit properly and look good. As a tall woman, you need to look for clothes that are made for your height. Retailers that have petite sizes will usually also carry tall sizes.
The difference between tall and regular sizes is often not in width but in length. Typically, the inseam in tall clothing is longer by a couple of inches.
Knowing your measurements and always checking the clothes' measurements will result in fewer returns and greater shopping success.
If you are looking for clothes that have sizes for women 5'9 and up, check out the following 14 best tall women's clothing stores and brands.
1. Ann Taylor – American Chain of Clothing Stores
Ann Taylor has a vast selection of casual clothes and pieces that are great for the office. The clothes are of top quality in classic yet trendy styles. Ann Taylor is notorious for its inclusive sizing.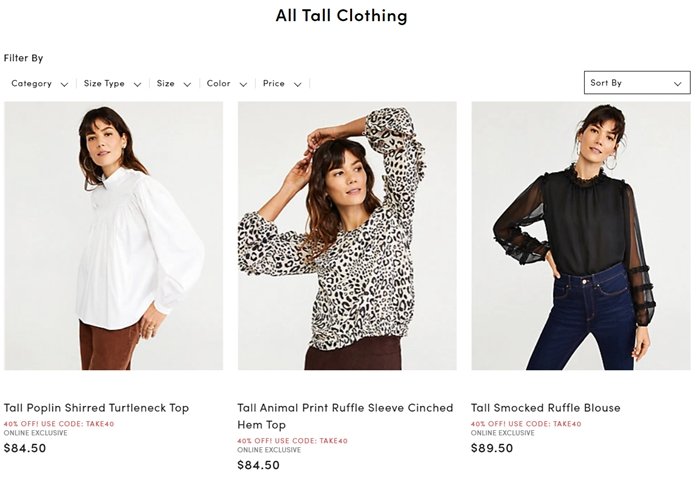 Ann Taylor's tall women's clothing collection features styles with an extended length, torso, and inseam so the fit is just right
Visit their website, and you can shop by categories like party dresses, work attire, jeans, and new arrivals. Filter your search by selecting Size Type and Tall.
With their tall sizes, you will get at least an additional 2.5 inches in length. Long-legged ladies won't have to pay for taller sizes here either; Ann Taylor prices their tall pieces the same as regular items.
2. Gap – American Worldwide Clothing and Accessories Retailer
The Gap is good if you purchase from their tall line or select tall sizes. Their regular sizing will be much too short for anyone over 5'8.
Fortunately, they have a good variety and make shopping for these sizes easy. When shopping online, visit "The Tall Shop," which will show you all the items available in tall sizing.
Shop for tall women's clothing in stylish and trendy designs at Gap
These sizes add a couple of inches onto the inseam, great for women under 6 ft but won't work for women over 6 ft tall.
3. Midheaven Denim – Jeans Inspired by Tall Women
Midheaven Denim was founded by a tall woman for tall women, and the brand's mantra is "take back your height."
Discovering a gap in the market with stylish jeans for tall women, the brand was born and is now a beloved staple in many closets of women over 5'9.
What sets this retailer apart from the rest is they have sizes that fit women up to 6'5. Tall women can wear heels and still have jeans that fit! These stylish, sexy styles don't run cheap. A pair of Midheaven Demin jeans start at $200.
4. J. Crew – American Specialty Retailer
For preppy-casual or office wear, J. Crew has blouses, pants, and dresses in tall sizes. When you click on a category, you can filter the results and see only tall sizes. On the J. Crew website, you can find the right size with their True Fit feature.
Here, you will enter your height, weight, and age, as well as your inseam measurements and the size you wear in other brands. This information is then calculated to tell your perfect size.
J. Crew offers denim, pants, tops, dresses, and skirts in tall sizes (Credit: Sorbis / Shutterstock)
You can even adjust a sliding scale if you prefer your clothes snug, true to you, or loose. This feature is really cutting-edge and perfect for tall girls who struggle to find clothes that fit right.
As the name suggests, this retailer is catered to tall women. Long Tall Sally launched in 1976 and has been adding inches to popular styles and trends to provide clothing that fits!
Long-legged ladies over 6 feet tall will find everything here, including jeans, outerwear, knits, and shoes. They carry sizes 8 to 32 and shoe sizes 7 to 13.
In addition to their own brands, LTS carries other popular brands in tall sizes, including Karl Lagerfeld, Mavi, Curated, and more. Clothes are reasonably priced and come in a variety of styles, colors, and sizes.
New York & Company has a tall section for "perfectly proportioned" clothes for women over 5'9. In the tall section, you can search for jeans, sweaters, loungewear, and more.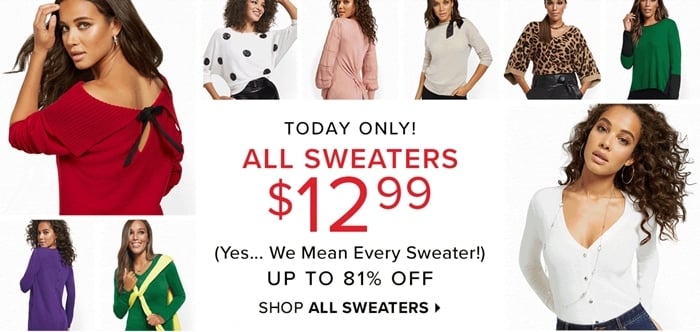 New York & Company is an American workwear retailer for women
This store has the lowest prices for tall girl clothes, with jeans as low as $30! Additionally, you can read reviews from customers who have purchased the items.
Reviewers can specify their body type and height and review how the item fits them if they found it ran too small, just right, or big.
7. American Tall – Clothing for Women 5'9 – 6'6
American Tall has clothes for tall men and women. Their women's section has clothes that are designed to fit women between 5'9 and 6'6 with inseams up to 38 inches!
The retailer carries a solid collection of the latest styles in loungewear, joggers, jeans, and tops. Its focus is on casual wear, and the prices are incredibly reasonable.
Unfortunately, they don't offer returns on sale items, so when buying from American Tall make sure you read the size guide carefully and select the right one.
8. Alloy Apparel – Extended Sizes, Long Inseams, and Curvy Options
Alloy Apparel is another brand exclusive for tall women and girls. The retailer has everything, including bodysuits, jumpsuits, and rompers – items that don't typically fit a tall frame!
The inseam (length) is available in 35 and 37 inches making them perfect for women over 6 feet tall.
Alloy Apparel offers the latest trends in extended sizes, long inseams, and curvy options
Customer reviews are posted on the website, and the reviews can be filtered by the reviewer's age, height, and fit. Reviewers can also share pictures so you can see real women wearing the clothes at home before purchasing.
9. Fabletics – Sportswear Subscription Retailer
Kate Hudson's subscription-based fitness wear company has a large selection of unique and trendy leggings and pants with tall inseams.
Although not as long as some other brands, their tall sizing adds a couple of inches.
Their tall leggings have an inseam of 29 inches, and their tall pants have an inseam of 33 inches. The tall sizing doesn't apply to their tops, so it's best to stick to short-sleeve or tanks if shopping here.
10. ASOS – British Fashion and Cosmetic Retailer
ASOS is known for its huge selection of clothing. The same applies to their tall section! They have created a tall category on their website where tall women can search for styles, brands, and sizes and find clothes that will fit them.
If you're 5'9"/1.75m or over, browse ASOS' collection to embrace longer lengths and better proportions
You will find a selection of brands that make tall-friendly clothing as well as Asos very own ASOS DESIGN TALL line with clothes that were made to fit tall women.
On their website, you will find everything from joggers to formal wear and everything in between.
11. Amalli Talli – Clothing Line for Tall Women
Amalli Talli was made by two tall sisters who couldn't find clothes they liked in their size. They have two lengths, "Ali" is for those between 5'10 and 6'0, and "Amy" is for women who are taller than 6'1".
With pockets and hems that fall where they should, the dresses, skirts, and jeans found on the Amalli Talli website are stunning! The selection and prices are great, making this one of the best stores for tall women.
12. Old Navy – American Discount Retailer
The well-known clothing store has an entire section dedicated to women 5'10 and up. Clothing, including tops, coats, dresses, jeans, and activewear, is designed for long limbs.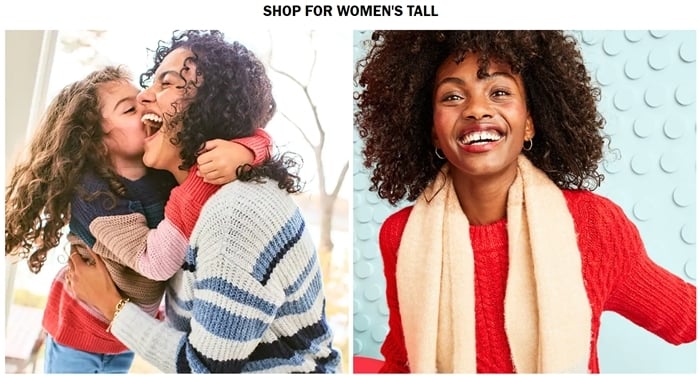 See what's new in tall women's clothes from Old Navy
They also have a good selection of sizes, ranging from 2 to 20. You can read customer reviews as well to hear from other tall women and how well they actually fit. Old Navy is a great, affordable option to shop for tall women's clothing.
13. Eddie Bauer – Clothing Store Chain
Eddie Bauer is known for its outerwear and active gear. The brand has a tall section with all of its top-selling items in sizes that fit women over 5'9. For their jeans and pants, the tall sizing will add a couple of inches.
Shop the latest in women's tall fashion on sale at Eddie Bauer
It's great for those under 6 feet tall; however, the options aren't as accommodating for women taller than that. Their jackets, including long parkas, are great for taller women who want a coat that will reach past their knees.
14. Topshop – British Multinational Fashion Retailer
Always available at Nordstrom, Topshop has super trendy styles and the latest in fashion. Although their retail locations don't always have a big selection for tall girls, their website is fantastic. The Topshop website has a tall section catering to women over 5'9".
They have rompers, jeans, dresses, leggings, and sweaters. Unlike other retailers with the same style available in regular and tall, many of the tall options on Topshop are made exclusively for tall women – you won't find a regular size option in them.
Shop trending clothing designed just for women 5′ 9″ and over at Topshop
Their inseams are an impressive 36 inches, and extra inches are added to their long-sleeve tops, jackets, and sweaters.