In January 2013, Kerry Washington wore a very detailed and interesting dress by Peter Pilotto to the photo call for "Django Unchained," and it received a lot of love and hate from critics.
Kerry Washington wears her dark hair down at the "Django Unchained" photo call held on January 4, 2013, at Hassler Hotel in Rome (Credit: SHOTPRESS / WENN)
Portraying Broomhilda "Hildi" von Shaft, the wife of the titular character Django Freeman (Jamie Foxx), she won Best Supporting Actress at the NAACP Image Awards for her work in the film. Also praised for his performance, Leonardo DiCaprio plays wickedly inhumane plantation owner Calvin Candie.
"This award does not belong to me. It belongs to our ancestors," Washington said in accepting her award for "Django Unchained."
Quentin Tarantino revealed at Comic-Con that Django and Broomhilda are meant to be the great-great-great-grandparents of the fictional character John Shaft from the Shaft films.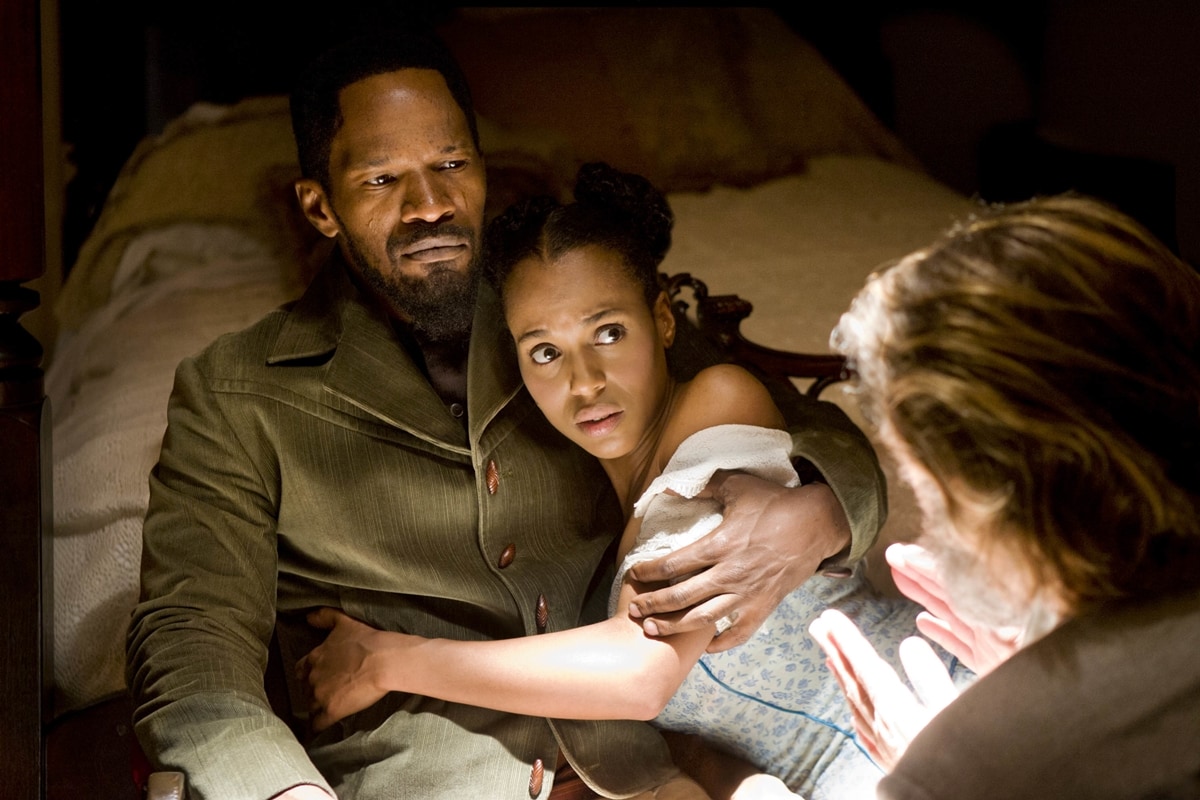 Jamie Foxx as Django Freeman and Kerry Washington as Broomhilda "Hildi" von Shaft in Quentin Tarantino's 2012 American revisionist Western film Django Unchained (Credit: The Weinstein Company / Columbia Pictures)
Jamie Foxx and Kerry Washington also portrayed a married couple, Ray Charles and Della Bea Robinson, in the 2004 American biographical musical drama Ray.
When principal photography for Django Unchained started in California in November 2011, Kerry Washington was 34 years old. She celebrated her 35th birthday on January 31, 2012.
Kerry Washington, in a Giles dress styled with Christian Louboutin shoes and a Solange Azagury-Partridge ring, and Jamie Foxx attend the UK Premiere of 'Django Unchained' at the Empire Leicester Square on January 10, 2013, in London, England (Credit: Featureflash Photo Agency / Shutterstock)
"I know it's not the most feminist idea to be a woman in a tower wanting to be rescued, but for a woman of color in this country, we've never been afforded that fairy tale because of how the black family was ripped apart [during slavery]," Washington told The Los Angeles Times about her role as Broomhilda "Hildi" von Shaft.
"I really saw the value of having a story that empowers the African American man to do something chivalrous for the African American woman, because that hasn't been an idea that has held women back in the culture — it's something we've never been allowed to dream about."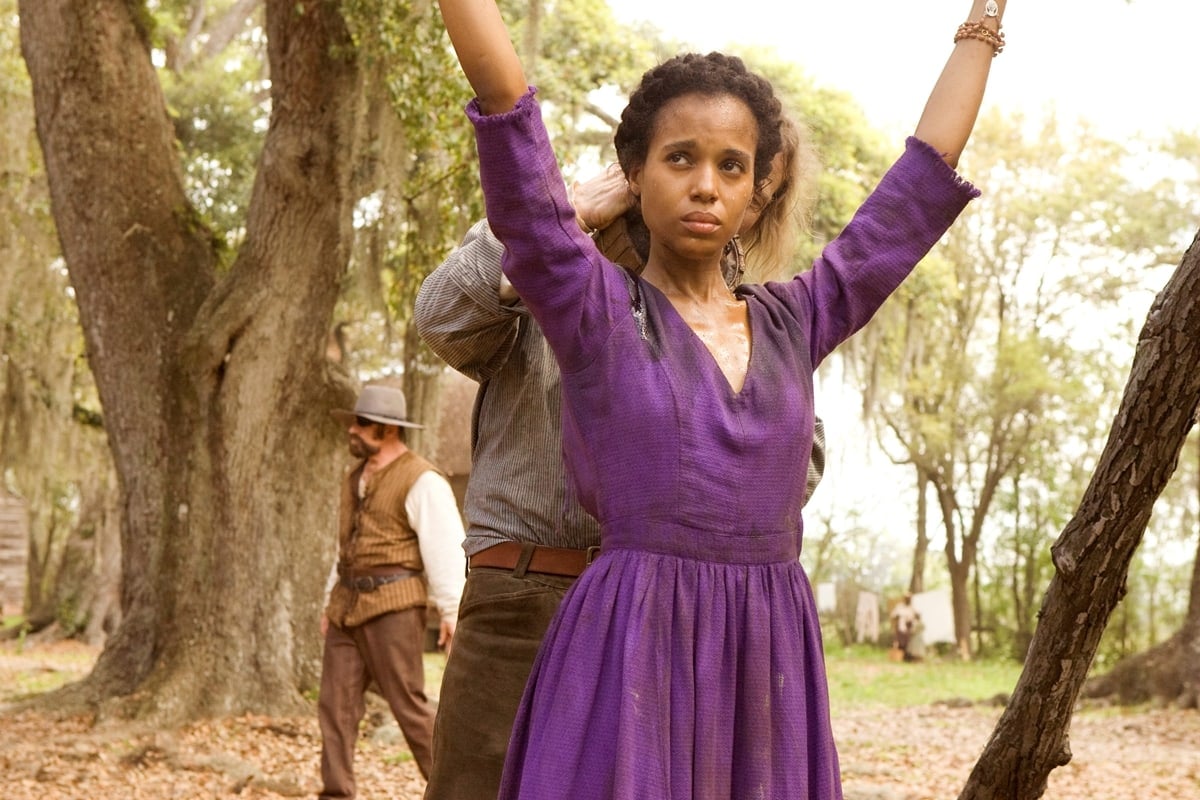 The $12,000 paid for Broomhilda "Hildi" von Shaft's (Kerry Washington's) freedom in Django Unchained equates to just over $398,000 in 2022 (Credit: The Weinstein Company / Columbia Pictures)
"We've had a tradition of romanticizing slavery in film, and I thought this was a phenomenal opportunity to go into a creative exploration of this violent, awful, evil, sinful time period with a director who is not intimidated by violence and gore and exploring the evil side of the human spirit," said Washington.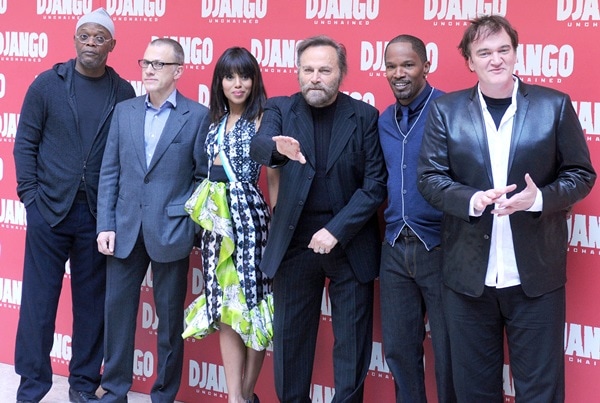 Samuel L. Jackson, Christoph Waltz, Kerry Washington, Franco Nero, Jamie Foxx, and Quentin Tarantino pose for photos at the "Django Unchained" photocall (Credit: SHOTPRESS / WENN)
Our controversial opinion: We love Kerry's daring and interesting frock, but we'd like to keep the focus on her shoes.
She paired a simple but slightly embellished pair of navy Nicholas Kirkwood pumps with the statement-making Peter Pilotto dress.
The shoes have a floral-like cutout layer detail that complemented the textures of her dress really well.
The American actress completed the outfit with a Solange Azagury-Partridge ring and Monique Pean earrings.
Kerry Washington's feet in patterned navy blue Nicholas Kirkwood pumps (Credit: SHOTPRESS / WENN)
Kerry's dark slate blue satin Nicholas Kirkwood "Sabrina" pumps feature semi-pointed toes, laser cut details, black suede underlay, concealed platforms, and covered heels.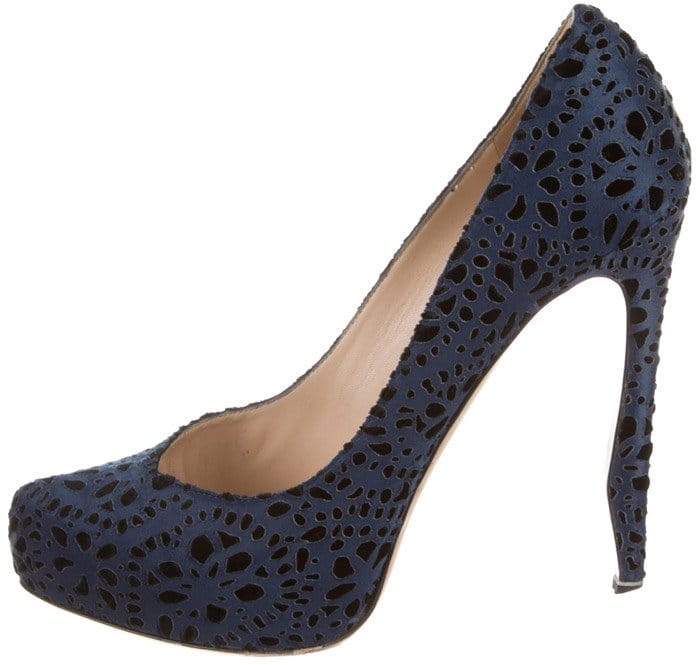 Nicholas Kirkwood Blue 'Sabrina' Velvet Platform Heels With Cutouts