Many fans were disappointed that Emily Blunt did not appear in Sicario: Day of the Soldado (titled Sicario 2: Soldado in the UK), the 2018 sequel to 2015's Sicario.
According to Italian director Stefano Sollima, she had to be written out of the sequel as her character, FBI agent Kate Macer, didn't fit into the story.
"Emily Blunt is an amazing actress, but her role was sort of a moral guidance for the audience. In Soldado, we don't have that. This is closer to my vision of storytelling. I prefer not to have a moral guidance for the audience," he told Business Insider in June 2018.
(L-R) Roger Deakins, Emily Blunt, and MoMA Chief Curator of Film Rajendra Roy attend "Sicario" New York Screening at Museum of Modern Art on December 15, 2015, in New York City
Writer Taylor Sheridan echoed the same sentiment in an interview with The Wrap in November 2016. He couldn't find a reason to keep Macer in the sequel and said her story had already been fully told.
"Her arc was complete … I couldn't figure out a way to write a character that would do her talent justice," the American screenwriter said.
"Look what she went through. It was a difficult role. Here I write this lead character and then I use her as a surrogate for the audience. I make her completely passive against her own will so the audience feels the same impotence that a lot of law enforcement officers feel, I drag her through hell, and betray her in the end. It was an arduous journey for the character, and for Emily. That character had arc," he added.
Emily Blunt as Kate Macer in the 2015 American action thriller film Sicario
Move over, men. Women are taking charge in Hollywood. In September 2015, Emily Blunt spoke out about how privileged she feels to portray a female protagonist on the silver screen. In case you missed it, Sandra Bullock also made a similar statement.
Emily Blunt attends the UK Premiere of "Sicario" held at the Empire Leicester Square, London on September 21, 2015
Emily was busy promoting her film, "Sicario," in which she plays an overly-idealist FBI officer assigned to take down a drug cartel on the Mexican-American border.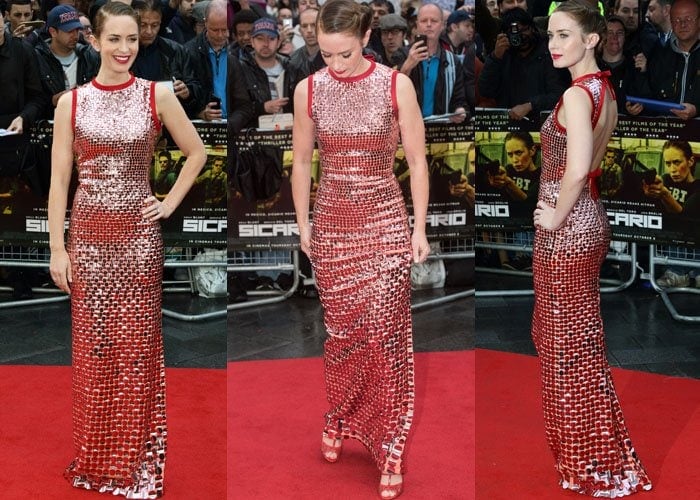 Emily Blunt wears a sequin-embellished Prada dress at the premiere of her new movie "Sicario"
The A Quiet Place actress flew back to her home town of London, where she was met with hordes of fans and gloomy British weather.
Emily Blunt shows off her styled hair and the open back on her Prada dress
Emily joked that she was "sick" of the American sunshine when a reporter asked her if she was glad to be home.
Emily Blunt shows off her sexy feet in Paul Andrew heels
The actress became an American citizen earlier the same year and was settling down into life in Hollywood with her husband, John Krasinski.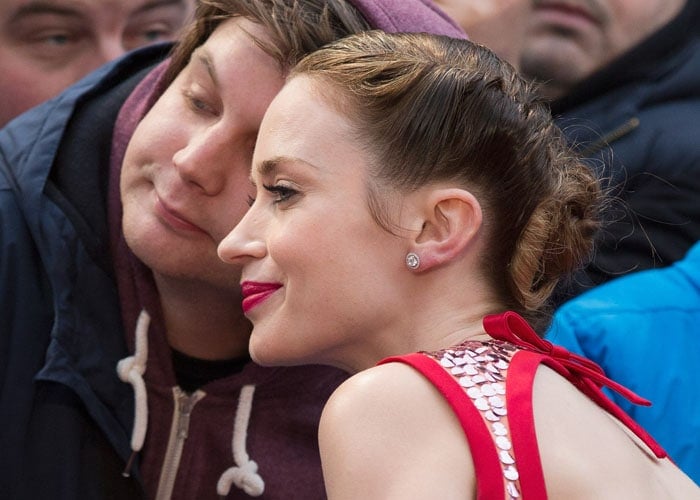 Emily Blunt poses for photos with fans at the premiere of her new movie "Sicario"
For the British premiere of "Sicario," the then 32-year-old wore a Prada dress and red studded heels by Paul Andrew. Emily styled her look with a purse from Jimmy Choo and jewelry from DeBeers.
She also discussed her role as Rachel Watson, a lonely alcoholic, in the film The Girl on the Train that is based on British author Paula Hawkins' popular 2015 debut novel of the same name (available on Amazon).
"It's moved to New York but I'm going to play her as British, that was a decision Tate and I made recently," Emily told the BBC. Emily plays an alcoholic who rides a train aimlessly since losing her job and her marriage. She said her research involved "lots of rosé!"
Emily's specific pair of Paul Andrew shoes is not available online, but here are some similar studded sandals you can order now:
Charlotte Olympia Totem Sandals, $771.40 at Farfetch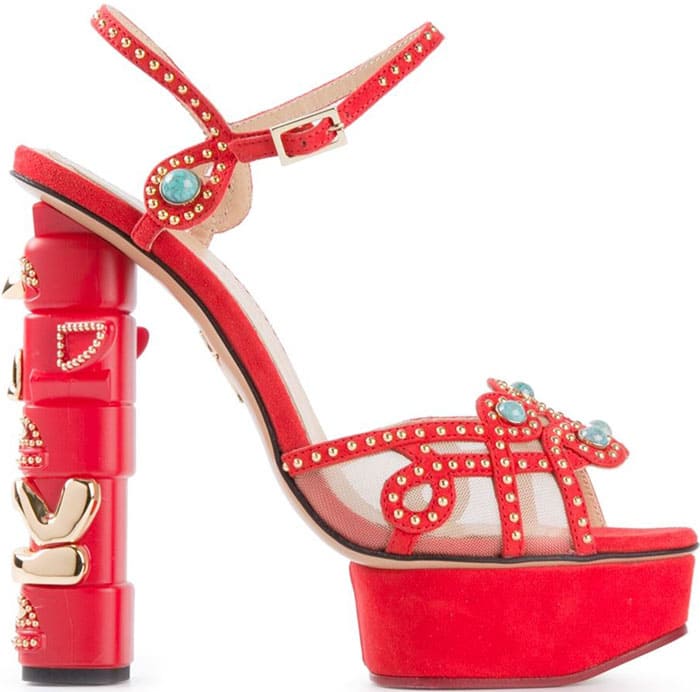 Selene Sandals in Red, $10 at JustFab
Jessica Simpson Maniah in Lipstick Red Pat, $7.99 – $103.99 at Amazon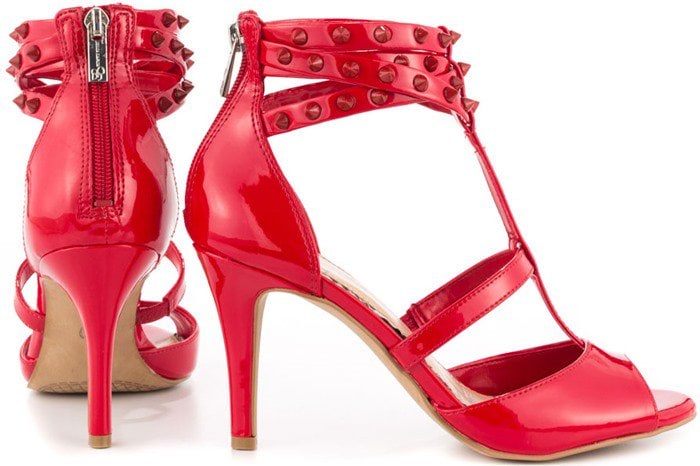 Credit: Mario Mitsis / Daniel Deme / WENN / Andres Otero