Playing a character who enters the final stages of pregnancy in the 2018 American post-apocalyptic science fiction horror film A Quiet Place, Emily Blunt won the Screen Actors Guild Award for Outstanding Performance by a Female Actor in a Supporting Role
Called "the most tremendous actress of our time" by her husband, many fans of the film have wondered if she was actually pregnant while filming the movie.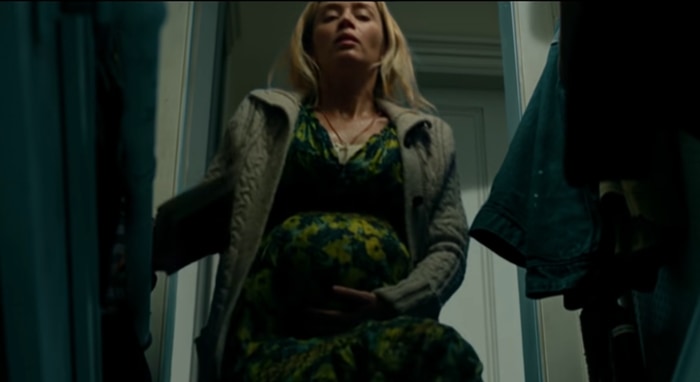 Emily Blunt looked like she was actually pregnant in A Quiet Place
The British-American actress is the mother of two daughters, Hazel and Violet Krasinski, who were born in 2014 and 2016 respectively.
A Quiet Place was filmed from May to November 2017 in Dutchess and Ulster counties in upstate New York. In other words, Emily Blunt was not pregnant at the time of production.
Did Emily Blunt give birth in a quiet place?
In an interview with The Arizona Republic, she said giving birth was the most challenging part of the movie.
Although she was not pregnant at the time, Emily had to act like she was going through labor while hiding in a bathtub from one of the terrifying monsters.
Emily Blunt as Evelyn Abbott risks everything to give birth to a child in A Quiet Place
"It was fun. I found it really exciting. Sometimes it was really challenging. Obviously, the giving-birth scene was pretty challenging to shoot, and that was a scene where it's, like, impossible not to make sounds, so it's trying not to make sound convey agony and fear for your life, so that was probably the most demanding sequence in the film," she told the Phoenix newspaper about the intense birth scene that was shot four or five times over the course of a single week.
Emily Blunt, who isn't related to singer James Blunt, rarely lets us down on the red carpet. In December 2015, she impressed once again at the New York City screening of her movie "Sicario" as part of MoMA film's The Contenders series.
Emily Blunt wears her hair down at the New York screening of "Sicario" held December 15, 2015, at the Museum of Modern Art in New York City
Christmas was just days away, but it looked like the then 32-year-old actress was still in the summer mood!
She walked the red carpet in a white shirtdress from Lela Rose's Spring 2016 Ready-to-Wear collection.
The shimmery dress featured three-quarter sleeves, a figure-flattering belted waist, and a mid-length pleated skirt.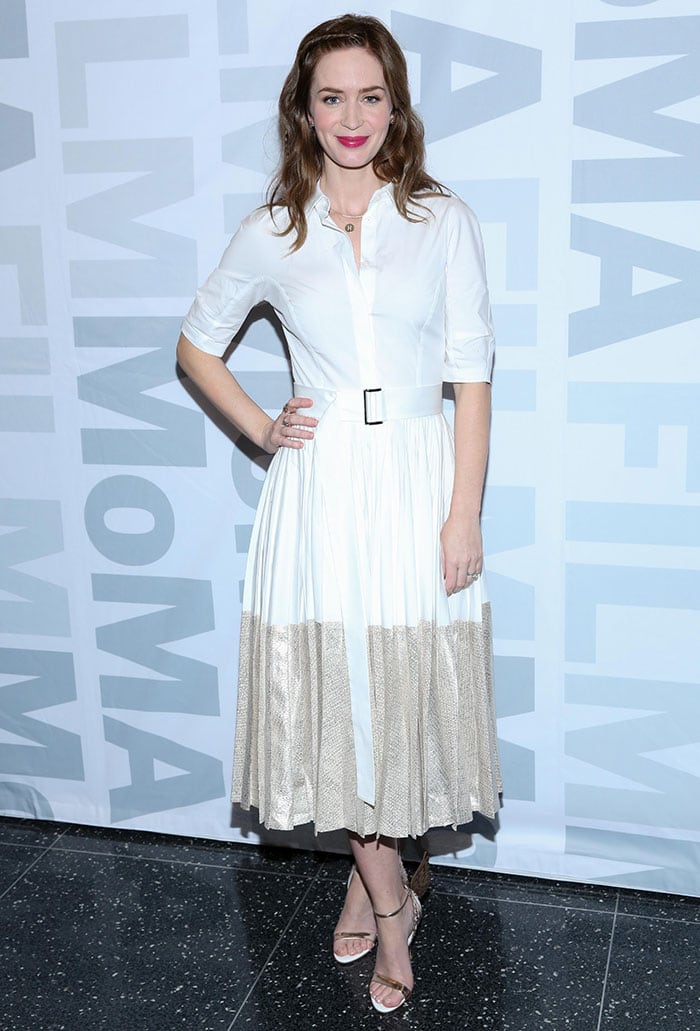 Emily Blunt wears a summery Lela Rose dress to a winter event
The bottom of the dress was amped up with a gold trim, which gave the rather plain white number some needed sparkle.
Emily's Sophia Webster "Evangeline" sandals brought a hint of playfulness to her look — thanks to the cutout, scalloped 3D angel wings that extend from the backstays.
They are made of patent and metallic leather materials and feature open toes, adjustable ankle straps, and about four-inch skinny metallic heels.
Emily Blunt wears a Lela Rose dress with a pair of gold-and-white heels
The "Looper" star kept the look neat and elegant with a gold necklace, a couple of rings, and a matching pair of gold-and-white heels from Sophia Webster.
Emily, who met her husband through a mutual friend in 2008, wore berry-colored lipstick to give the outfit a pop of color and rounded out her look with a hairstyle comprised of loose waves and a simple side braid.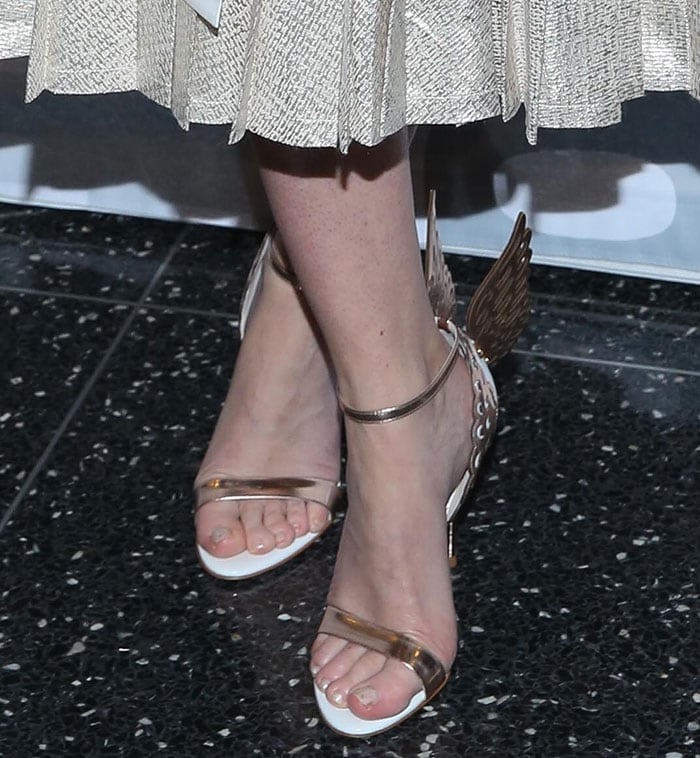 Emily Blunt's feet in Sophia Webster sandals
Add a twist of fun to your simple looks by wearing these Sophia Webster sandals. You can get them in different versions at Farfetch and Saks Fifth Avenue.
Sophia Webster Evangeline Angel Wing Sandals, $560-$675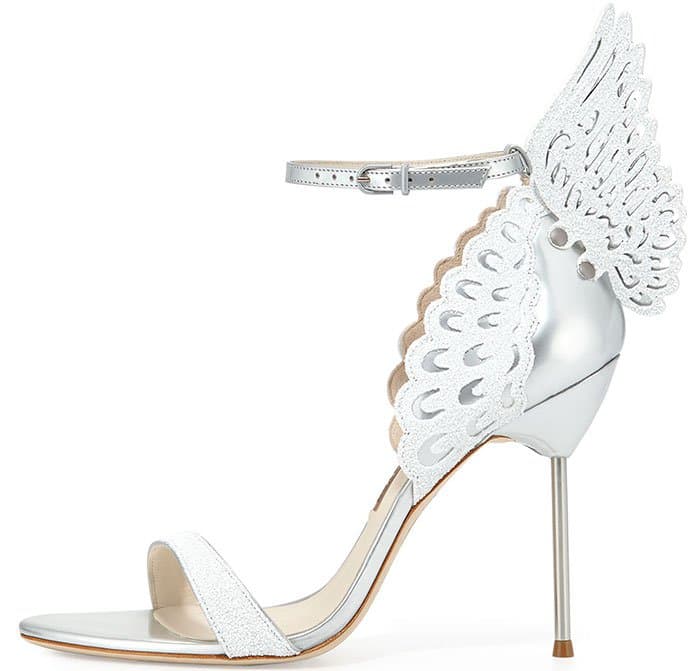 Credit: Andres Otero / WENN