In September 2014, the lovely Leighton Meester was in Tokyo to promote the luxurious jewelry brand St. Rillian. No wonder Ed Westwick fell in love with her while filming Gossip Girl.
Dressed in a gorgeous multi-toned shift dress by Emilio Pucci, the former Gossip Girl star looked beyond lovely with her radiant and glowing skin. Her mini dress made sure that her lean frame and toned legs got some attention.
Leighton Meester in a gorgeous multi-toned shift dress by Emilio Pucci
Playing Chuck Bass and Blair Waldorf in the American teen drama television series, the show's creator Josh Schwartz told New York's Vulture that their romance initially wasn't written into the script.
"None of that was expected," Schwartz said. "Chuck came into the show as the villain. But it's one of those great, fun things about making a television series — it's an evolving, living, breathing thing, and things can easily change on a whim."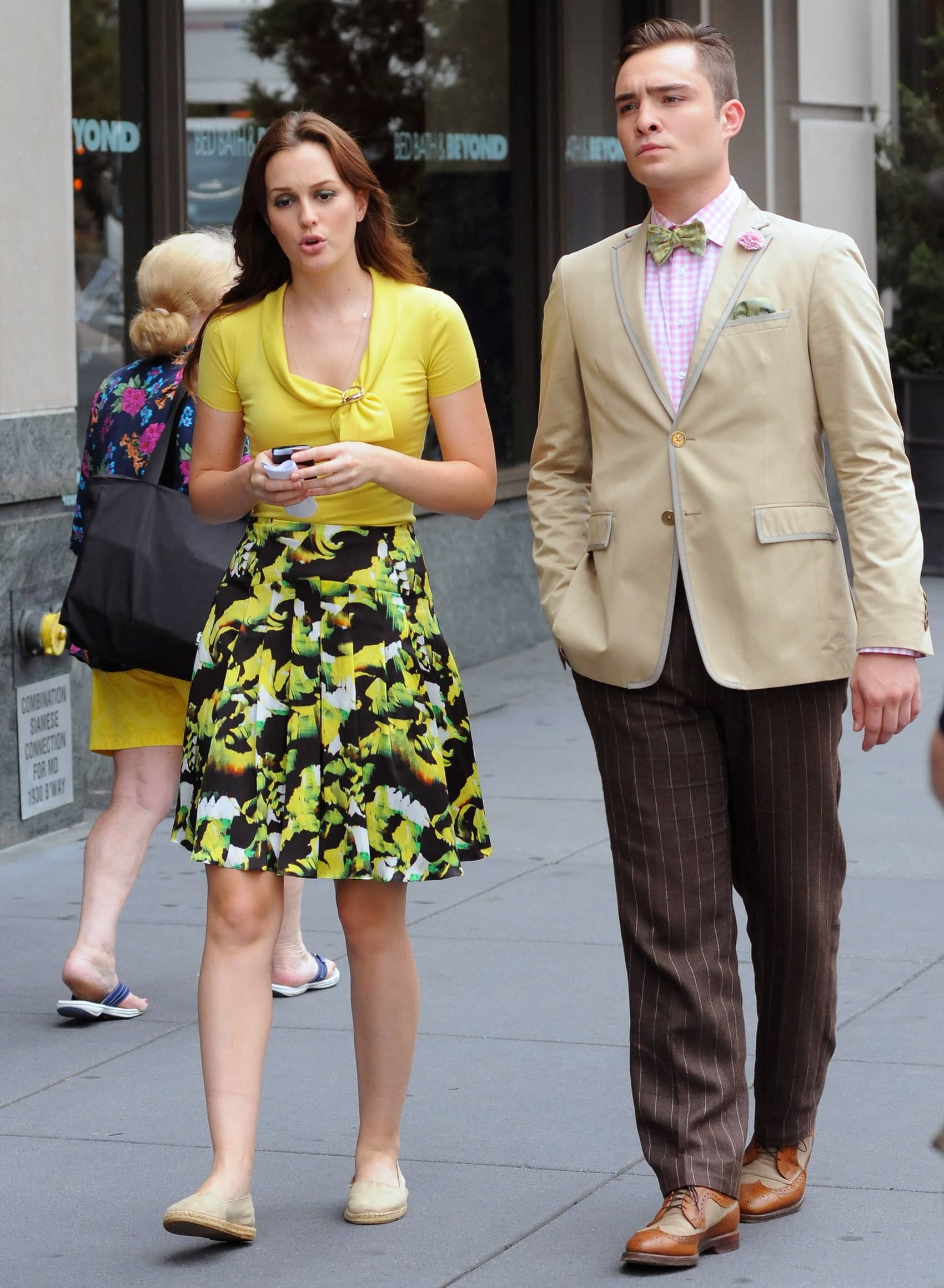 Leighton Meester and Ed Westwick filming 'Gossip Girl' on location in Manhattan in New York City on August 10, 2012
"You get an actor like Ed Westwick and see the chemistry he had with Leighton Meester, and their scenes just crackled," he added about their off-screen chemistry.
"So it felt like, here are two people who are bonded by their mutual scheming and the dark side of the show, at least from the beginning, and that would naturally evolve into a romantic relationship. One that was fraught and often conflict-laden, but ultimately incredibly romantic and filling for both the characters and the audience."
"They came into the show as very different kinds of roles, but the chemistry between them took over…," he continued. "As far as we pushed them, we always had to be able to find a way to bring them back together."
Ed Westwick says he fell in love with Leighton Meester
"I'm madly in love with Leighton, so that's what helps on my behalf, maybe so much that she doesn't even have to be in love with me. I love enough, she's mine. I'm incredibly close with her, she's a lovely girl. I think she was 20 and I was 19 when we started the show and it's such a kind of development stage of young adulthood," Ed Westwick told E! Online in January 2012.
"And to grow up on the show and to go through that together, you know you're going to have a very strong bond. But she is a remarkable talent and there is just sometimes you can't put things into words with connections or sparks or when you're acting with someone. We've got the right pairing, I guess."
Leighton Meester at the launch of St. Rillian in Tokyo, Japan, on September 25, 2014
The then 28-year-old actress, who married Adam Brody in a private ceremony on February 15, 2014, didn't need tons of makeup to look beautiful. Her fresh face and glowing skin were more than enough.
Leighton Meester promoting the luxurious jewelry brand St. Rillian
To finish her simple but chic ensemble, Leighton showed off her feet in Jimmy Choo's "Anouk" pumps in a gorgeous metallic watersnake leather style.
The Anouk is one of the most popular Jimmy Choo shoes at Nordstrom and is widely loved by celebrities for its timeless design.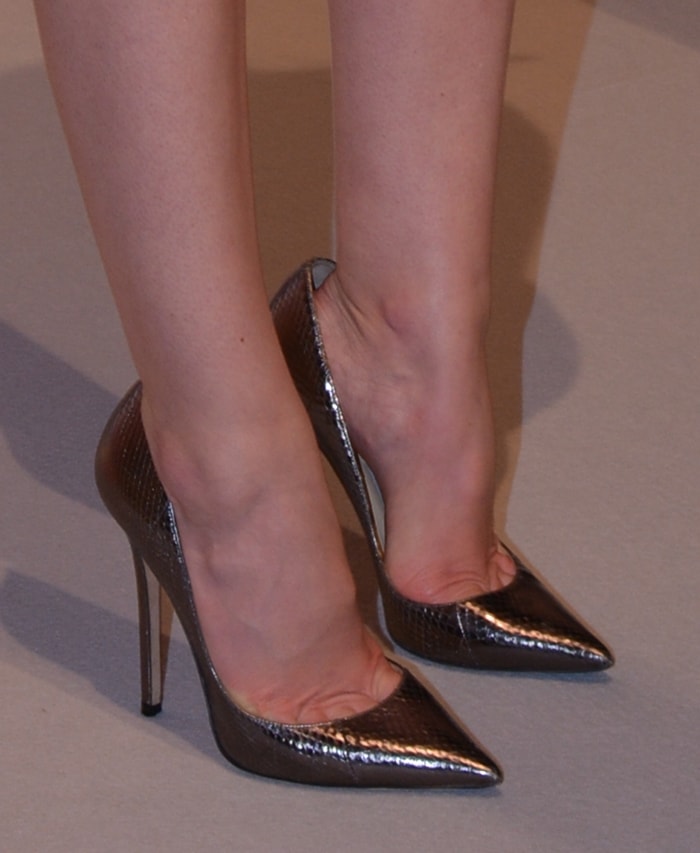 Leighton Meester's sexy feet in metallic watersnake "Anouk" pumps
Jimmy Choo "Anouk" Genuine Snakeskin Pumps in Mirto, $875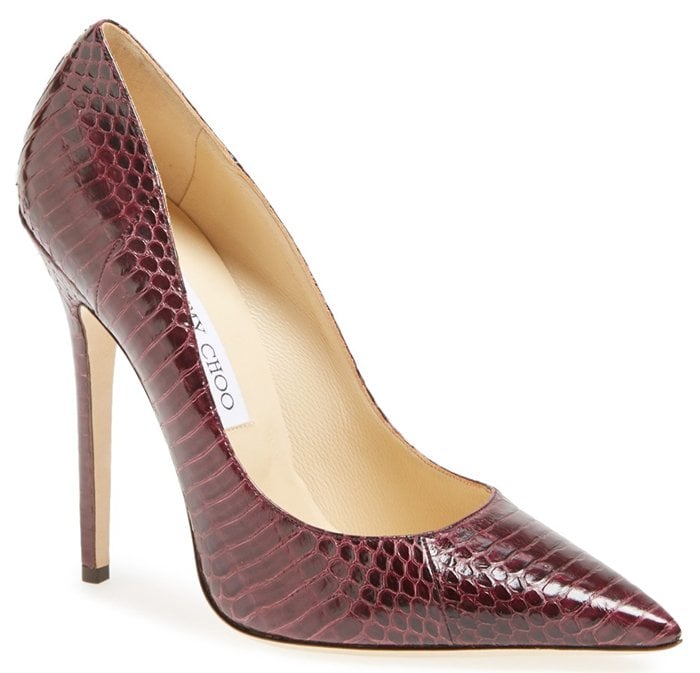 An impeccably handcrafted pump is rendered in rich, genuine snakeskin and lifted with a leg-lengthening heel for an impossibly sophisticated look
Credit: WENN / TVGroove / Kento Nara / Future Image / Ivan Nikolov / Mr Blue