Whenever we share a pair of boots from Timberland on Instagram or Facebook, we see claims that state Timberland is owned by the Ku Klux Klan and that Maya Angelou lamented the fact in a poem.
Is it true that the Timberland tree symbol is racist?
Maya Angelou speaks on race relations at Congregation B'nai Israel and Ebenezer Baptist Church on Jan. 16, 2014, in Boca Raton, Florida (Credit: WENN)
According to the rumors circulating online, the African American poet, memoirist, and civil rights activist wrote the following poem:
Clothes

You are in love with Tommy,
Because his last name is Hilfiger,
But behind closed doors, Tommy,
Is calling you a n*gger,

But you could care less,
Because you have been taught to dress to impress,
If I ask you about your true history,
You would have to look on the back of your jeans and Guess,

You come up in the club wearing Versace,
Clothes made by a homosexual male,
So even when you say you are straight,
It is very hard to tell,
And for footwear, you wear Timberlands,
Even under the sun,
That same tree that's the symbol for them,
Could have been the same one your ancestors were hung from,
I cannot forget Nautica,
When was the last memory you have of ships,
Coming to North America in shackles,
Being beaten over the back with whips,

And to my beautiful black queens,
Whose creative womb has become barren,
I am confused because your face says Nefertiti,
But your sweater reads Donna Karen,

When was the last time you saw Liz Claiborne,
Conversing with black women,
But as soon as her name is printed on a purse,
To Macy's you quickly go, running,
Ralph Lauren doesn't even look at black men,
Unless they are driving him around town,
But as soon as that slave master appears on the back of a horse,
You put whatever you have picked up down,

My people reclaim your status in this world and in your life,
F.U.B.U. in case you didn't know, stands for ( For Us By Us ),
Buying black will someday suffice,
Do you know who owns Timberland fashion?

Well, Timberland is owned by the president of the KKK,Surprised? Don't be.
Read more books black people,
Always hope for the best and prepare for the worst,
You may not get what you pay for,
But you'll surely pay for what you get.

~ Maya Angelou
This poem is, in fact, NOT written by the celebrated African-American poet who died in 2014.
The agency that represents Maya Angelou confirmed this in a short written statement while the author was still alive, stating "It is not her work. She is aware of it and is very disappointed."
The celebrated African-American poet Maya Angelou did not write the poem asserting that Timberland is owned by the KKK (Credit: Judy Eddy / WENN)
Let us quickly also answer the other Timberland rumors that are circulating on the Internet.
1. Timberland Hates Black People
According to the now-defunct website Naha Daily Reports, the CEO of Timberland said derogatory things about black people wearing the company's products:
Timberland's newly appointed CEO lost it at an earnings press conference and revealed that he'd rather not see blacks and Latinos in his boots in the summertime admitting that it's just tacky to wear boots in the summer.

'They're work boots, but let's be honest. They don't like to work', said Timberland's new appointment in a shocking revelation during a press conference.
Timberland's former CEO declined to comment stating that he doesn't want to say if he disagrees nor agrees with the new CEO's statement.

Rappers such as Notorious B.I.G. mention the Timberland brand in many of his hit songs and black people are already thinking he's probably rolling in his grave after hearing that black people are actually wearing boots in the summertime.
Naha Daily was a satirical website, similar to The Onion, and a disclaimer identified the site's content as "completely fictional."
2. Timberland Is Owned by the Ku Klux Klan (KKK)
The American manufacturer was in fact founded by Nathan Swartz in 1952 and has never been affiliated with the Ku Klux Klan.
It remained a family-owned business until 1987 when the founder's son took the company public.
In 2011, the company was acquired by VF Corporation, an American worldwide apparel and footwear company founded in 1899 and headquartered in Greensboro, North Carolina.
VF Corporation also owns brands like The North Face, Eagle Creek, and JanSport.
3. Timberland's Tree Logo Represents a Lynching Tree
The origin of the lynching tree rumor is the "Clothes" poem that Maya Angelou has denied having written.
This rumor stems from the specific lines "That same tree that's the symbol for them, could have been the same one your ancestors were hung from."
In fact, the Timberland logo is simply a branchy tree on a field, which is not surprising as the noun "timberland" is defined as "land covered with forest suitable or managed for timber." It is not meant to represent a lynching tree.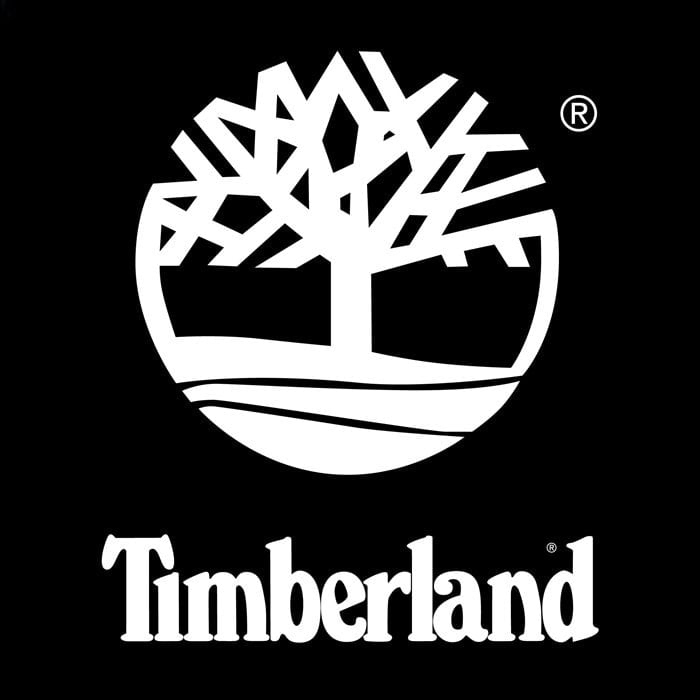 In other words, while you should stay away from fake Timberland boots, the racism rumors circulating online about the popular footwear brand are not true.
In 2015, Timberland even severed ties with the French fashion label APC after its founder Jean Touitou used what some considered to be racially offensive language at a presentation.
According to The Guardian, during the label's autumn/winter collection he reportedly held up a sign saying "Last Ni##@$ IN PARIS" after the song "Niggas in Paris" by Jay-Z and former APC collaborator, Kanye West.
You can safely continue to buy Timberland shoes, such as a pair from the popular Susan G. Komen collection or the Jimmy Choo collaboration at Zappos and Nordstrom.
Timberland Limited Release | Susan G. Komen Boot Collection