You may see the monarchy as a very formal family – one who can't be approached without a bow, a curtesy, or a murmur of 'Your Majesty.' But what if that was all to change?
Earlier this week, Prince William, Duke of Cambridge, and Catherine, Duchess Of Cambridge (aka Kate Middleton) attended the opening of the Glade Of Light Memorial at Manchester Arena in Manchester, England.
The memorial commemorates the victims of the terrorist attack at an Ariana Grande concert at Manchester Arena in May 2017.
Twenty-two people died when an Islamist extremist suicide bomber detonated a shrapnel-laden homemade bomb as people were leaving the indoor arena.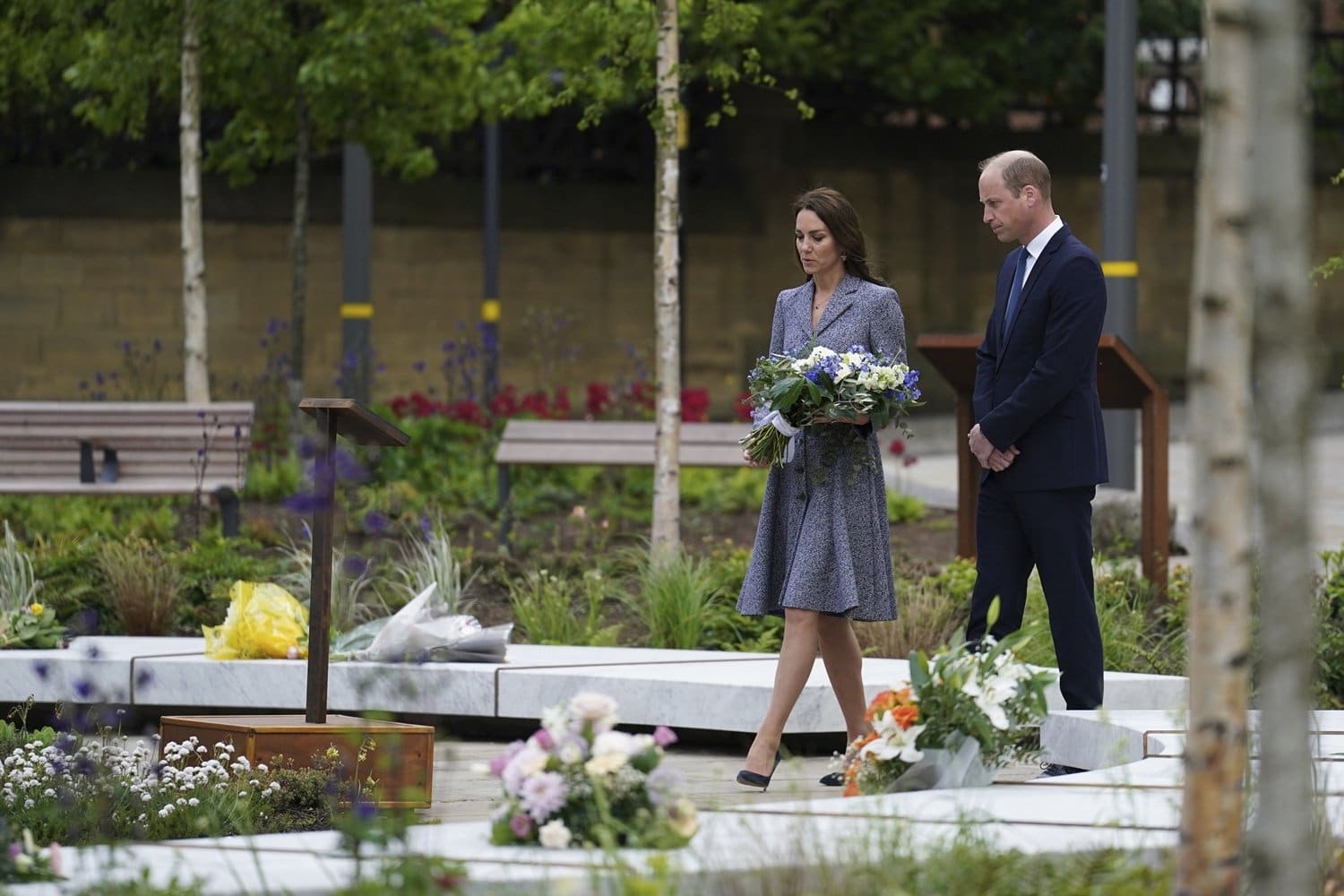 Britain's Kate the Duchess of Cambridge lays flowers as she and her husband Prince William attend the launch of the Glade of Light Memorial garden outside Manchester Cathedral, which commemorates the victims of an Islamist suicide bomb attack at a 2017 Ariana Grande concert in Manchester, England, on May 10, 2022 (Credit: MEGA / WENN)
This might be the case with our future king and queen of England, otherwise known as Prince William and Kate Middleton. So, how are they deciding to switch things up? Read on to find out more!
The Cambridge Way
William and Kate want to bring a significant update to the royal family, taking the lead by injecting a modern twist into the 2020s.
Doing things 'the Cambridge Way,' this royal couple admitted they wanted to avoid curtsies and bows in public to become more approachable, less stuffy, and less formal.
Prince William, Duke of Cambridge, and Catherine, Duchess Of Cambridge (aka Kate Middleton) honored the 22 people whose lives were taken and the victims who were left injured or affected by the Islamist terrorist attack at Manchester Arena on May 22, 2017 (Credit: MEGA / WENN)
"They want to try to avoid the bows and curtsies in public, be more approachable, less formal, less stuffy, and break away with a lot of the tradition and focus on a modern monarchy," a royal source told the Sunday Mirror.
By breaking away from traditions and being called by their first names, Will and Kate hope to focus on a modern monarchy to bring things back in date.
Other Modernizing Approaches
Will and Kate are also planning to decrease the size of their staff number compared to Prince Charles' and plan small-scale solo trips instead of relying a lot on the colossal production of more extensive royal tours.
With so many resources being taken up in these tours so far, this modern couple aims to put these resources into identifying and supporting credible causes instead.
Kate Middleton wears a navy and white Michael Kors coat dress with Rupert Sanderson Malory pumps and a blue grain leather Polène Paris Numéro Sept (Seven) Mini handbag (Credit: MEGA / WENN)
Many have described Will and Kate's modern methods as a breath of fresh air – something that everyone will be enthused to see in years to come.
Stealing the Show
Aside from the pleasing claims of modernizing our monarchy, Kate also recently stole the show with her spectacular outfit at the Queen Elizabeth II Award for British Design Ceremony.
Commonly considered the monarchy's most fashion-forward member, Kate showed off her style at the British Design Museum, where she presented a design award named after Queen Elizabeth herself.
Catherine, Duchess of Cambridge, arrives in a forest green dress by British-Canadian, London-based designer Edeline Lee with matching Emmy London Rebecca pumps to present The Queen Elizabeth II Award for British Design at an event hosted by the British Fashion Council at Design Museum on May 4, 2022, in London, England (Credit: MEGA / WENN)
The duchess presented menswear designer Saul Nash, a man renowned for challenging gender norms and his choreographer talent, with the Queen Elizabeth II Award during the ceremony.
"I've heard so many inspiring stories about British creativity and seen such incredible work from many talented designers. It therefore gives me great pleasure, in this Platinum Jubilee year, to announce the winner of the Queen Elizabeth II Award as Saul Nash," she said on stage about the British menswear designer and choreographer.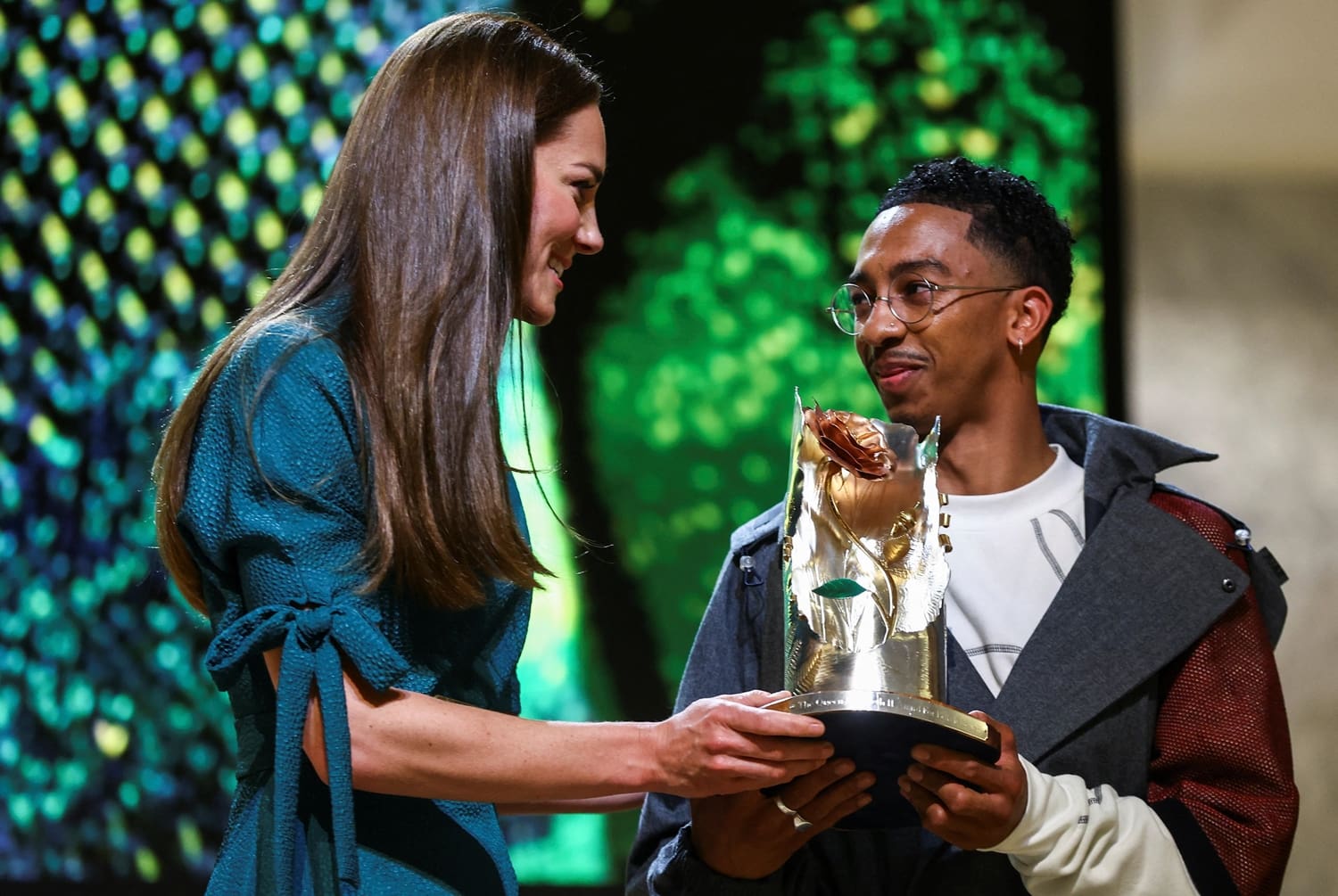 Catherine, Duchess of Cambridge with award winner Saul Nash (Credit: MEGA / WENN)
Sporting a belted green dress constructed by British-Canadian designer Edeline Lee, Kate looked the part as she delivered a speech. She completed her look with matching Emmy London Rebecca pumps.
Commenting about the fantastic work from a range of talented designers seemed fitting when observing the captivating look of Kate's dress.
What's Next for the Monarchy?
Therefore, it's clear to see that we can expect a few changes in the royal family within the next few years to come.
With Will and Kate's fresh, forward-thinking approach, England can anticipate a more informal and friendlier approach when it comes to addressing any duke and duchess. Will and Kate are ready to shake things up with this modern vision!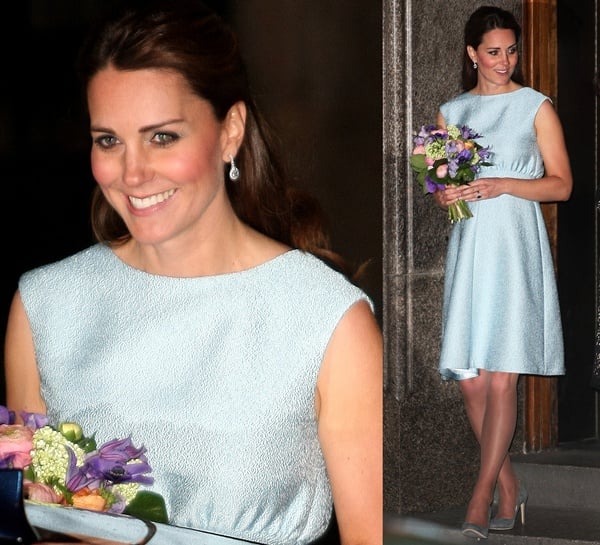 Kate Middleton in a pale blue dress at an evening reception for The Art Room charity at the National Portrait Gallery in the UK on April 24, 2013 (Credit: WENN)
In April 2013, we hope Kim Kardashian was taking notes on fashionable maternity wear from Kate Middleton, who warmed hearts while hosting a reception for The Art Room charity in a lovely blue dress.
The two women have very different styles, but Kate clearly knew how to flatter her growing tummy.
Kate Middleton flaunts her legs in an Emilia Wickstead dress paired with Rupert Sanderson heels (Credit: WENN)
The Duchess of Cambridge wore an Emilia Wickstead dress made from thick crepe material and cut into a 1950s silhouette.
The pale blue dress did a great job of subtly highlighting Kate's baby belly without making her appear frumpy. She paired it with diamond earrings and Rupert Sanderson's "Malone" heels.
Her hair was styled into a gorgeous half-up-do, and she finished the look with gray smoky eyes.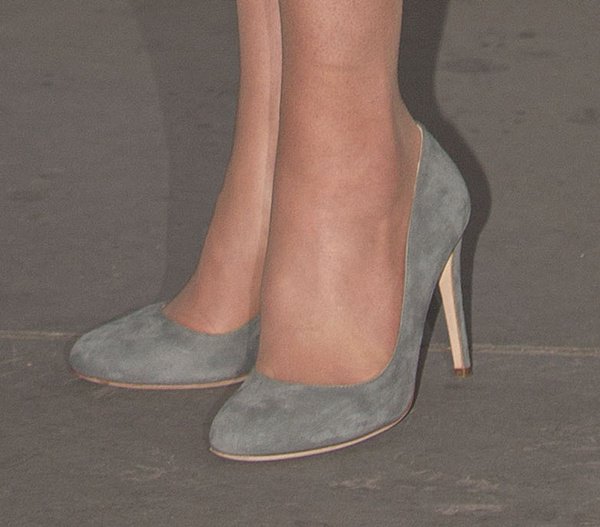 Kate Middleton shows off her feet in gray suede Rupert Sanderson pumps (Credit: WENN)
Kate's gray suede Rupert Sanderson heels were an excellent addition to her ensemble as they are stylish but don't steal attention away from the dress. She has worn these same heels to past events, but they never looked so good on her.
Unfortunately, the Rupert Sanderson "Malone" heels are no longer available online. You can find great alternatives at Zappos and Nordstrom.
Steve Madden 'Remmedy' Suede Pumps in Gray, $25.00 – $63.99