Born in Portland, Maine, in 1985, Anna Kendrick has become one of the brightest blossoming stars in Hollywood with her often energetic and endearing performances.
Anna first expressed her interest in becoming an actress as a young child in New York City, looking for small parts in Broadway musicals. At 12 years old, she managed to capture her first notable role on stage, leading to a prolific career.
With over 60 credits to her name, Anna Kendrick has offered her skills to a variety of projects in the past few decades, rising to prominence as a talented actress, singer, and performer.
Let's take a look at Anna Kendrick's top 10 movies, ranked in order of their Rotten Tomatoes Critics Score!
10. Mr. Right (2015) – 44% Score
By the release of Mr. Right in 2015, Anna Kendrick had already earned a respectable place in the world of cinema, granting her yet another leading role.
In this rom-com drama directed by Paco Cabezas, Anna Kendrick plays Martha McKay, a woman who falls in love with an ex-hitman on the run. At the age of 30, Kendrick still nails a youthful and fun performance, stepping up to the plate when the action starts rolling.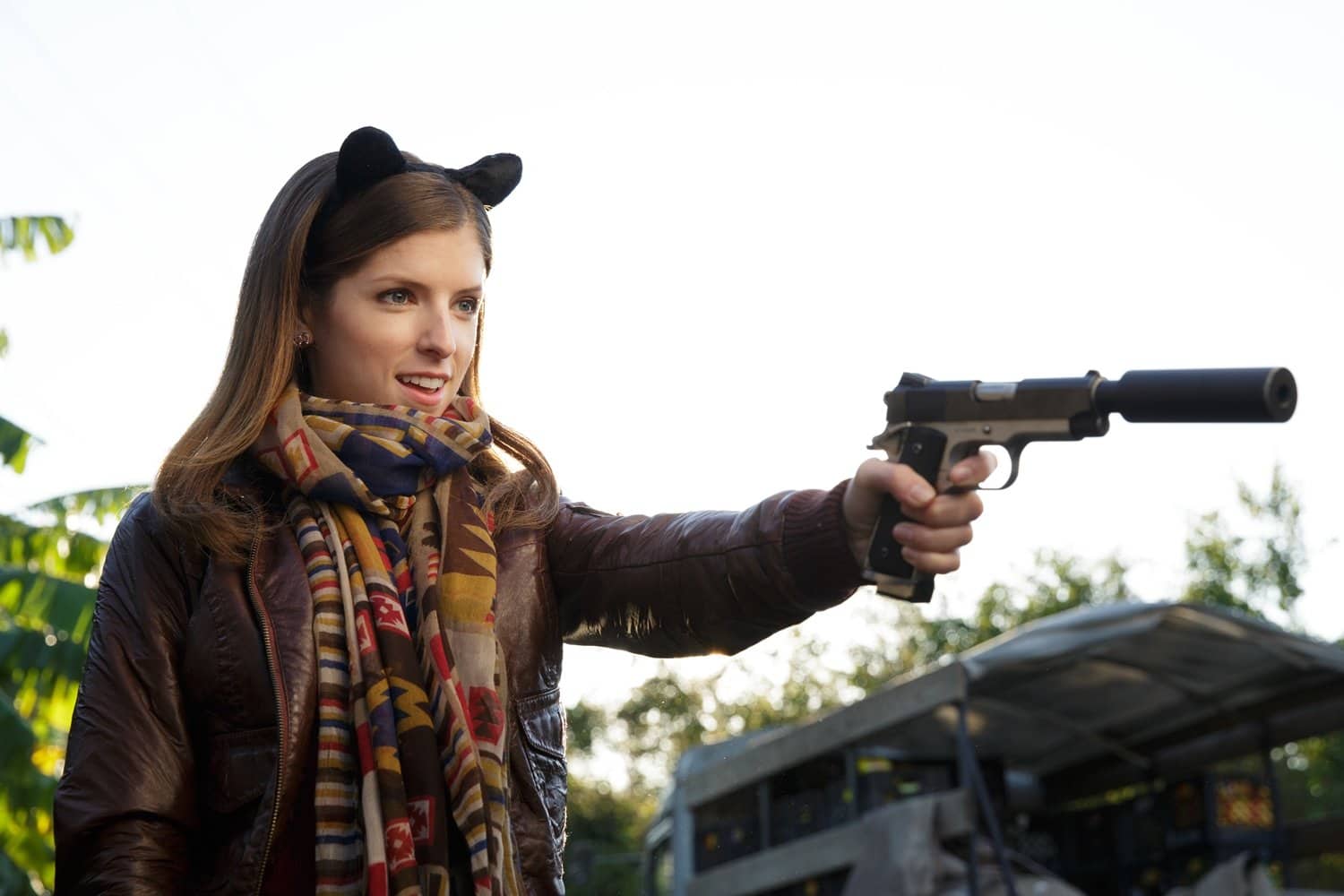 Anna Kendrick as Martha McKay, an over-optimistic young woman, in the 2015 American romantic action comedy film Mr. Right (Credit: Focus World)
She and co-star Sam Rockwell have excellent chemistry together. The pair also worked together on previous films like 2015's comedy-drama film Digging for Fire.
It might not have the highest critic rating, but Mr. Right is a quirky rom-com and a nice fit in Anna Kendrick's top 10 movies.
9. Twilight (2008) – 49% Score
Although many remember the 2008 fantasy romance film Twilight as the lackluster project that spearheaded the careers of Kristen Stewart and Robert Pattinson, it bolstered Anna Kendrick's reputation as well.
Based on the book by Stephanie Meyer, the story centers around the exploits of high school student Bella Swan (Kirsten Stewart) as she becomes smitten with a mysterious boy named Edward Cullen (Robert Pattinson).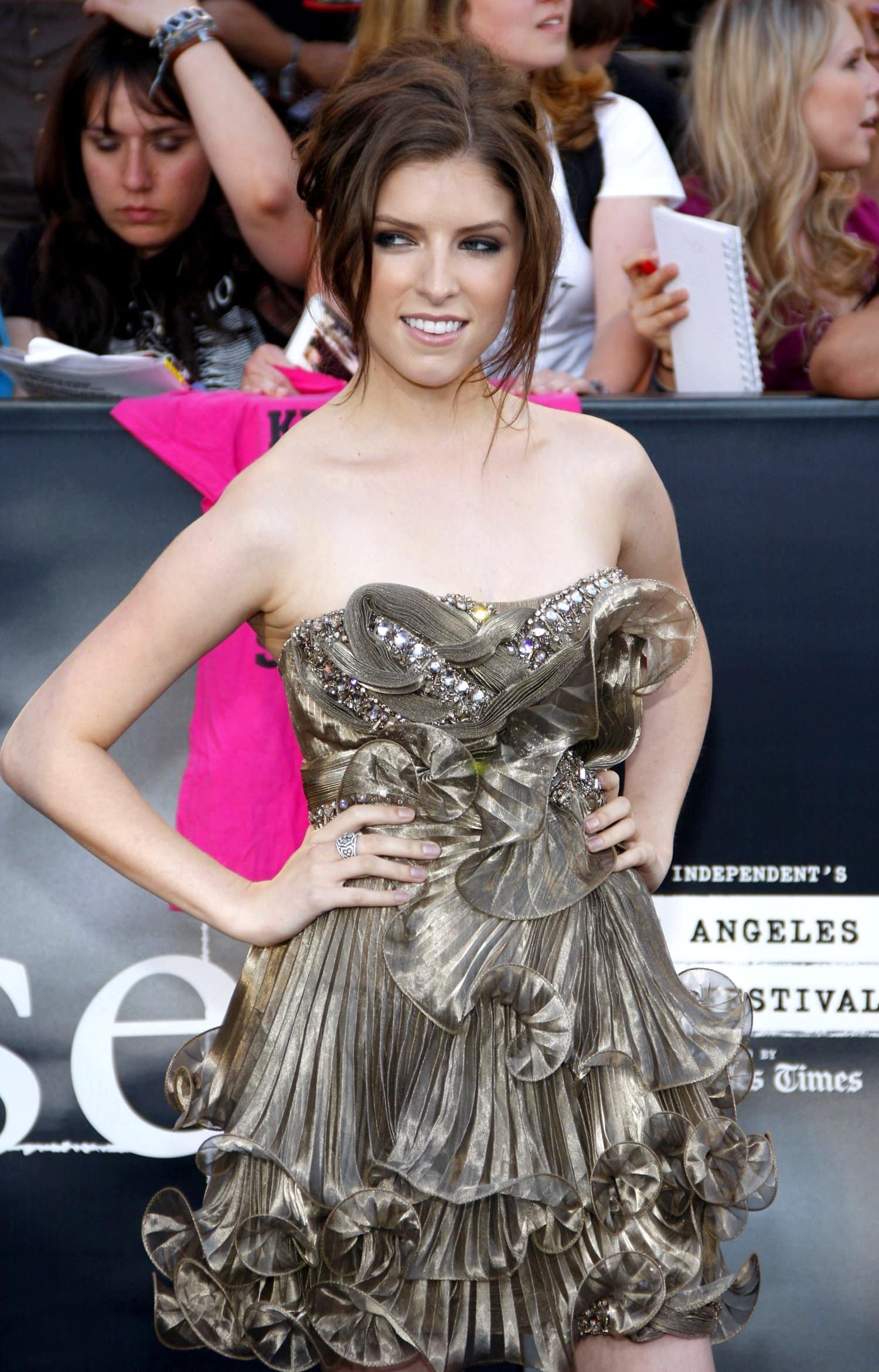 Anna Kendrick in a gold metallic Marchesa dress and Kwiat jewelry at "The Twilight Saga: Eclipse" Los Angeles Premiere held at the Nokia Live Theater in Los Angeles on June 24, 2010 (Credit: Tinseltown / Shutterstock)
Anna Kendrick plays the role of Jessica Stanley, one of Bella's classmates who gives helps her with dating advice and navigating the school's various cliques.
Funnily enough, Anna Kendrick has since stated that the character of Jessica is a "genuine idiot", but that she enjoyed some of the lines she was able to perform.
Anna Kendrick portrayed Jessica Stanley in the movie adaption of Twilight (Credit: Summit Entertainment)
At 23 years old, Twilight was a major break for the actress, and she continued to pop up in the franchise in subsequent films.
8. Noelle (2019) – 54% Score
Christmas movies are always festive and fun, and Noelle is a 2019 flick by Disney that offers seasonal charm and a great performance from Anna Kendrick.
As one of her more recent films, the 34-year-old actress played the lead role of Noelle Kringle, the daughter of Kris Kringle (aka Santa Claus). When her brother Nick (Bill Hader) disappears, Noelle must find him before the start of Christmas.
Anna Kendrick puts in a joyful performance. She seems to be basking in the delightful family-friendly fun in the snow.
Anna Kendrick as Noelle Kringle in the 2019 American Christmas film Noelle (Credit: Walt Disney Pictures)
Interestingly, Noelle is actually Anna Kendrick's second Christmas-themed movie, as she also starred in 2014's Happy Christmas five years prior.
She stated that she took the role because she wanted to be in a movie that families would enjoy year after year, so it's obvious that she really enjoys the holiday and the wholesome attitude it brings.
7. Camp (2003) – 64% Score
Considering her immense talent, it's no surprise that a list of Anna Kendrick's top 10 movies would also include her very first on-screen role.
At the bright-eyed age of 17, Anna Kendrick committed to the 2003 film Camp for her breakout on the big screen. The film was released on July 25, 2003, just days before Anna turned 18 on August 9, 2003.
Set at a fictional theater camp called Camp Ovation, the movie follows several campers as they try to improve their talents and enjoy the summer.
Anna Kendrick made her film debut as Fritzi Wagner in the 2003 American musical comedy-drama film Camp which was released when she was 17 (Credit: IFC Films)
Anna Kendrick plays the role of nerdy girl Fritzi, who takes up a rivalry with the snooty camper Jill Simmons (Alana Allen).
She wanted the role so badly that during the rehearsal process, she reportedly lived in a small pantry in an apartment with three other roommates.
Her passion for the craft and beautiful singing voice are perfectly displayed in this underrated debut, so we definitely recommend it if you haven't seen it.
6. Into the Woods (2014) – 71% Score
When it came time for the Hollywood adaptation of the big-budget musical, Into the Woods, it made a lot of sense to cast Anna Kendrick as the gorgeous Cinderella.
At 29 years old, she had already won a Tony Award for her amazing performances on Broadway, so pulling off a movie adaptation was no big deal.
Anna Kendrick as Cinderella in the 2014 American musical fantasy film Into the Woods (Credit: Walt Disney Studios Motion Pictures)
Based on several classic fairy tales, Into the Woods, features an ensemble cast of massively popular actors, and Kendrick still shines through effortlessly.
Tales from the making of the movie cast Kendrick as a curious actor behind the scenes, as she and co-star Chris Pine got lost in a massive forest set and required help to find their way out.
Anna Kendrick looks amazing in a black and white Narciso Rodriguez silk georgette gown with leather detail paired with a Kate Spade New York clutch, Brian Atwood shoes, and Paige Novick jewelry on the red carpet for the world premiere of Into the Woods held at the Ziegfeld Theater on December 8, 2014, in New York City (Credit: Andres Otero / WENN)
Critics and audiences alike loved Kendrick's turn as Cinderella, giving it a satisfying spot on the list of Anna Kendrick's top 10 movies.
5. Stowaway (2021) – 76% Score
In 2021, Anna Kendrick dove into the world of sci-fi with Stowaway, a dramatic tale of trouble in space that debuted on Netflix.
At 36 years old, Kendrick expertly handles the role of Zoe Levenson, a medical researcher aboard a spaceship set for a two-year mission to Mars. When the crew discovers a stowaway on board, problems arise, forcing them into a life or death situation.
Anna Kendrick as Zoe Levenson in the 2021 science fiction thriller drama film Stowaway (Credit: Netflix)
This tense drama in the cosmos was an interesting change of pace for Anna Kendrick and marks a great amount of growth in her career. She gives it her all in this movie and even sustained some injuries on-set while performing stunt work in the process.
We love watching her expand into new genres, so we're happy to see Stowaway make the cut on the list of Anna Kendrick's top 10 movies!
4. Pitch Perfect (2012) – 81% Score
While Anna Kendrick is a movie star now, it's clear that she has a deep passion for singing and theater, which is exemplified best in this 2012 musical comedy.
Directed by Jason Moore, Pitch Perfect sees Anna Kendrick in the lead role of Beca, a freshman student who joins her lackluster all-girls singing group and takes things up to the next level. Kendrick absolutely crushes it as Beca, portraying a lively soul with enough style to inspire the rest of the cast.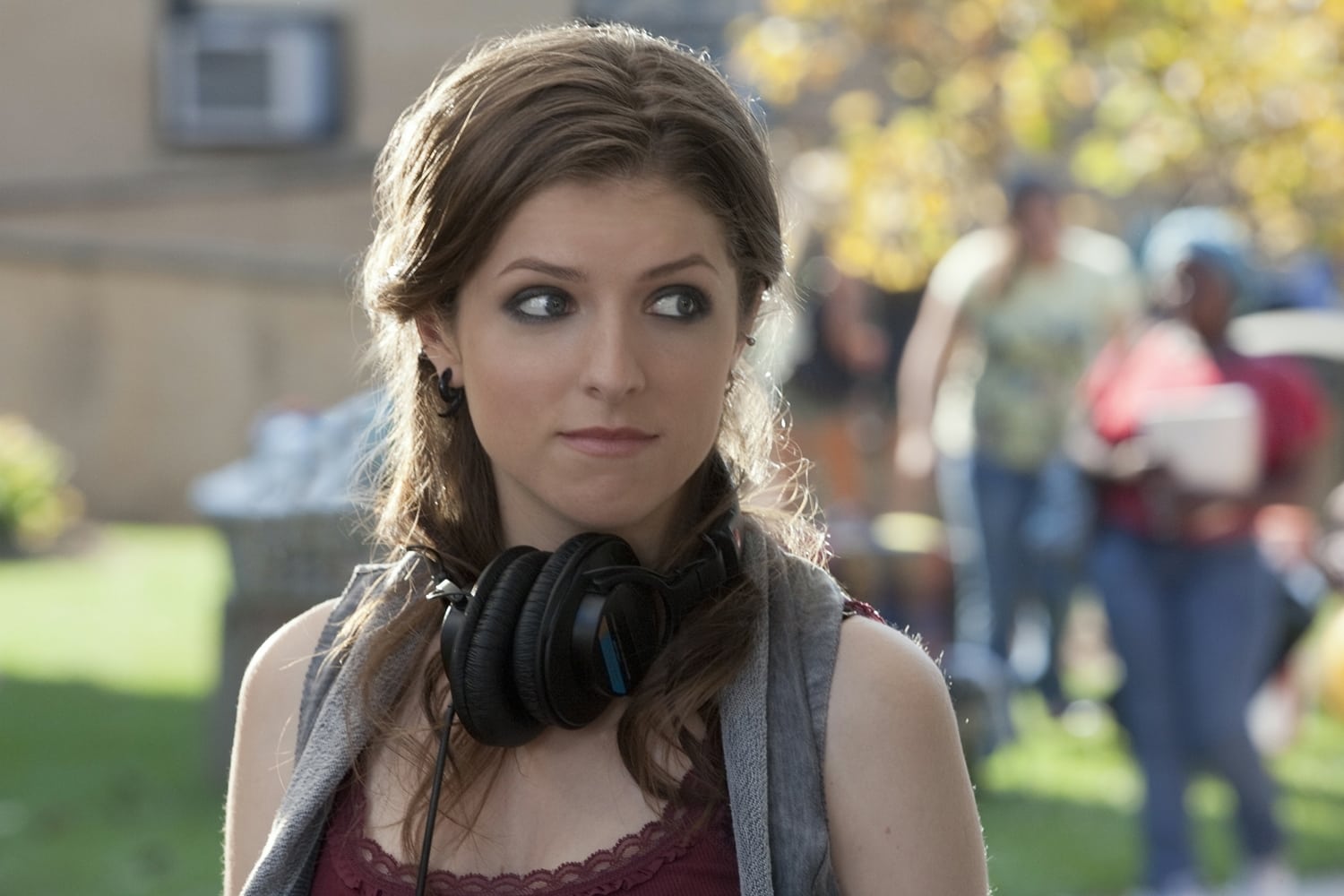 Anna Kendrick plays Beca Mitchell, the main protagonist of Pitch Perfect, Pitch Perfect 2, and Pitch Perfect 3 (Credit: Universal Pictures)
Despite being perfectly comfortable with her skills, Pitch Perfect encouraged the actress to work outside her comfort zone, as she filmed a shower scene completely in the nude.
While she describes being anxious at first, Kendrick remarks that she had a great time filming the scene with co-star Brittany Snow, which helped her become more confident overall.
3. Scott Pilgrim vs. the World (2010) – 82% Score
Beloved by nerds and geeks around the globe, Scott Pilgrim vs. the World is a comedy-action film that follows dorky protagonist Scott Pilgrim (Michael Cera), as he battles the eleven evil ex-boyfriends of his new lover.
Anna Kendrick shines in her supporting role as Scott's older sister Stacey Pilgrim, offering the socially-awkward hero some much-needed guidance. Brie Larson also had a significant role in the romantic action-comedy.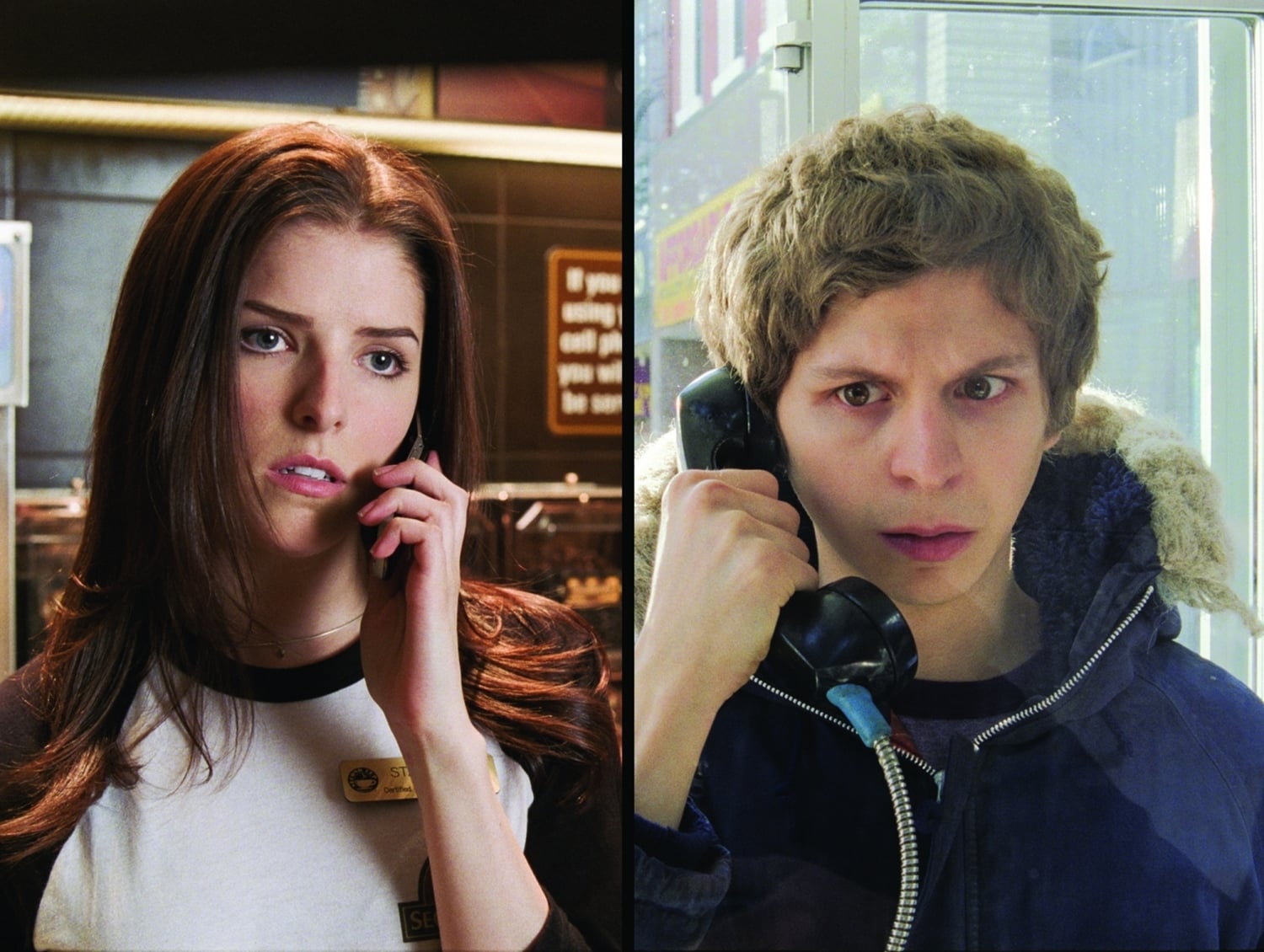 Michael Cera as Scott Pilgrim and Anna Kendrick as Stacey Pilgrim in the 2010 romantic action comedy film Scott Pilgrim vs. the World (Credit: Universal Pictures)
Although her part is relatively small, Kendrick elevates the movie with her stardom at just 25 years old, despite the packed cast.
Scott Pilgrim vs. the World is also where she met director Edgar Wright, and the pair started dating shortly after the filming process wrapped up.
Although she and Edgar split up a few years later, her role in the film remains one of her best ever, easily earning a spot near the top of the list of Anna Kendrick's top 10 movies.
2. Up in the Air (2009) – 90% Score
In the 2009 drama Up in the Air, Anna Kendrick acts opposite George Clooney and, against the odds, steals the show in the process.
In the film, Kendrick plays Natalie Keener, a new hire at a human resources firm that works with the main character, Ryan Bingham (George Clooney). Throughout the story, Natalie and Ryan trade wisdom, exploring each other's philosophy and the pitfalls of life.
Up in the Air was a major door-opener for Anna Kendrick, as critics started seeing her as a serious actress with notable skill.
George Clooney as Ryan Bingham and Anna Kendrick as Natalie Keener in the 2009 American comedy-drama film Up in the Air (Credit: Paramount Pictures)
For her wonderful performance as Natalie, Kendrick was nominated for the Academy Award for Best Supporting Actress, pushing her up to the big leagues.
She was 24 years old when the movie was released at the Telluride Film Festival (TFF) on September 5, 2009.
Anna Kendrick in a gorgeous white Jenny Packham dress with a crystal Swarovski clutch, Neil Lane jewelry, and Christian Louboutin shoes at the premiere of Up In The Air held at Mann Village Theatre on November 30, 2009, in Westwood, California (Credit: Tinseltown / Shutterstock)
We have to commend writer and director Jason Reitman for his foresight, as he wrote the part of Natalie with Anna Kendrick specifically in mind.
1. 50/50 (2011) – 93% Score
There's no better film to occupy the top spot on the list of Anna Kendrick's top 10 movies than 50/50, an utterly fantastic drama about the emotional rollercoaster of cancer treatment.
Inspired by a true story, 50/50 tells the story of Adam (Joseph Gordon-Levitt), a healthy man in his late-20s who is devastated to learn he has cancer.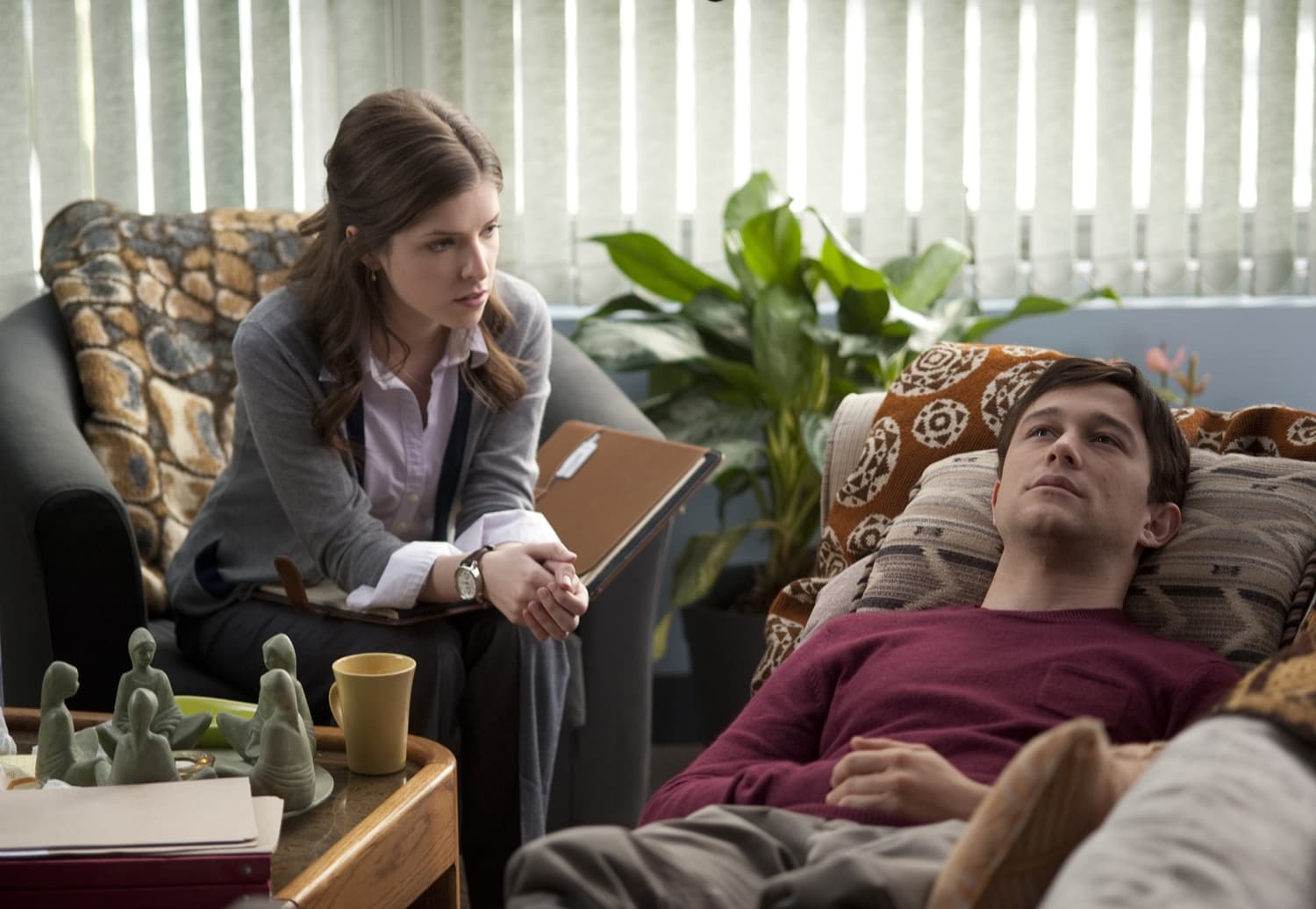 Joseph Gordon-Levitt as Adam Lerner and Anna Kendrick as Katherine McKay in the 2011 American comedy-drama film 50/50 (Credit: Summit Entertainment / Lionsgate)
Anna Kendrick plays Katherine, an aspiring therapist working on her Ph.D. at the hospital where Adam has his treatment and struggles to help him cope. However, the pair soon grow close, leading to a beautiful opportunity for friendship and beyond.
Through and through, Anna Kendrick provides a soft touch to this emotionally-charged film, acting as a beacon of light in harrowing times.
Anna Kendrick flaunts her legs in a dress by Alexander McQueen paired with Christian Louboutin pumps and earrings by Baccarat at the screening of 50/50 at The 55th BFI London Film Festival at Vue West End on October 13, 2011, in London, England (Credit: Featureflash Photo Agency / Shutterstock)
It's undoubtedly one of her best performances, as she commands the screen at just 26 years old. If you've never seen 50/50, add it to your list, but prepare for a wave of feelings spurred on by some incredible acting.
Anna Kendrick wears her hair back at the 2016 CinemaCon Big Screen Achievement Awards held on April 14, 2016, at Caesars Palace Resort and Casino in Las Vegas (Credit: WENN)
In April 2016, Anna Kendrick attended the 2016 CinemaCon Big Screen Achievement Awards held at Caesars Palace in Las Vegas.
She was joined on the red carpet by her "Mike and Dave Need Wedding Dates" co-stars Zac Efron and Adam DeVine, who looked handsome in suits.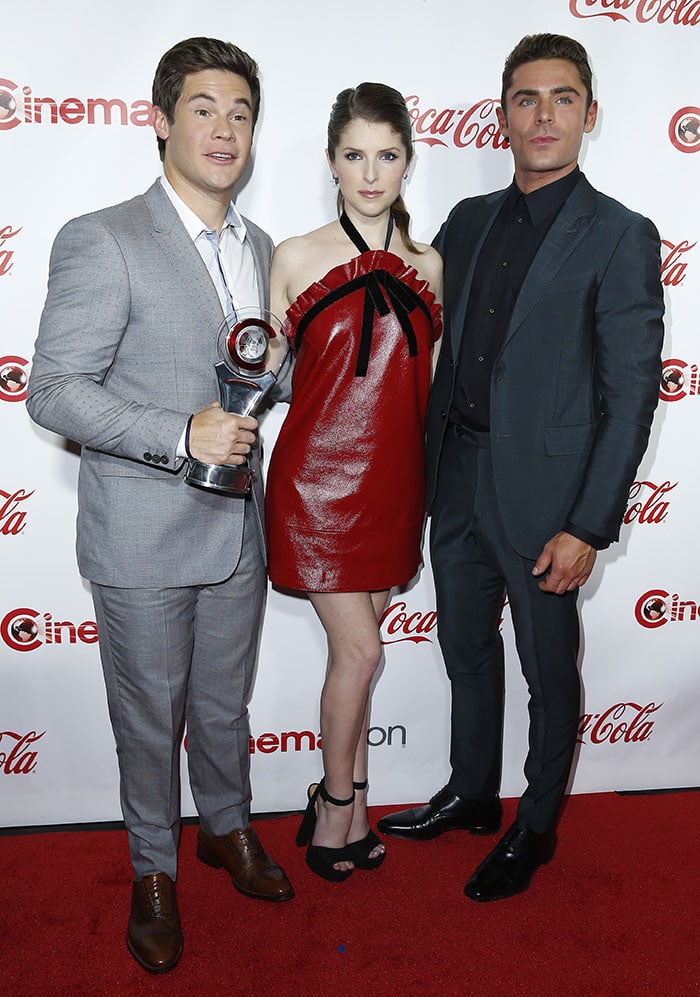 Adam Devine, Anna Kendrick, and Zac Efron pose on the red carpet of the 2016 CinemaCon Big Screen Achievement Awards (Credit: WENN)
The trio picked up the Comedy Stars of the Year Award for their romantic adventure comedy movie that premiered in Los Angeles on June 30, 2016.
In the raunchy comedy, Anna plays Alice Davis, a "wild child with a romantic heart," opposite Zac Efron.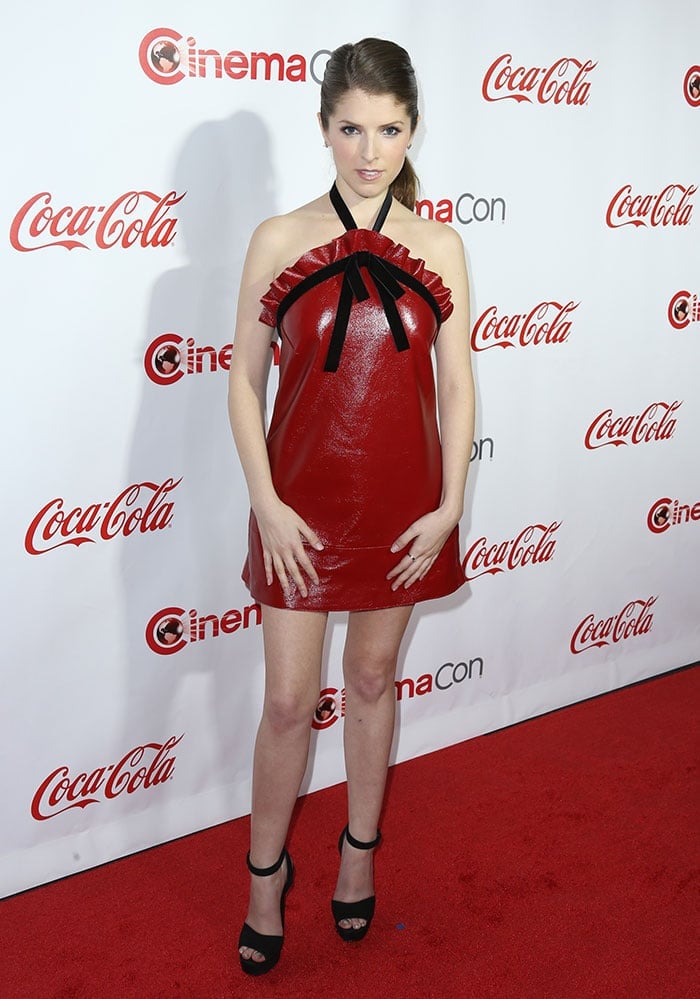 Anna Kendrick looks red hot in a red leather dress from Philosophy Di Lorenzo Serafini's fall 2016 collection (Credit: WENN)
And for the event, the then-30-year-old actress got into character as she traded her usually reserved red carpet look for something more provocative and sexy.
The "Pitch Perfect" star was red hot in a red leather dress from Philosophy Di Lorenzo Serafini's Fall 2016 collection.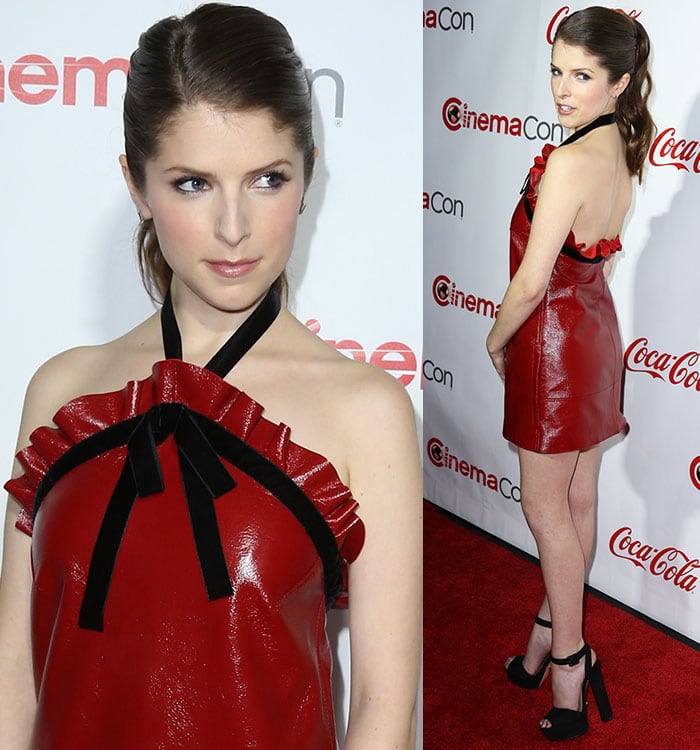 Anna Kendrick shows plenty of flesh in a sexy red leather dress at the 2016 CinemaCon Big Screen Achievement Awards (Credit: WENN)
The mini dress showed plenty of flesh with a ruffled neckline, contrasting black velour panels, an open back, and a bow detail.
The Mr. Right actress kept her accessories to a bare minimum to let her dress (and legs!) do the talking.
She wore her hair up into a high ponytail and sported subtle smoky eyeshadow.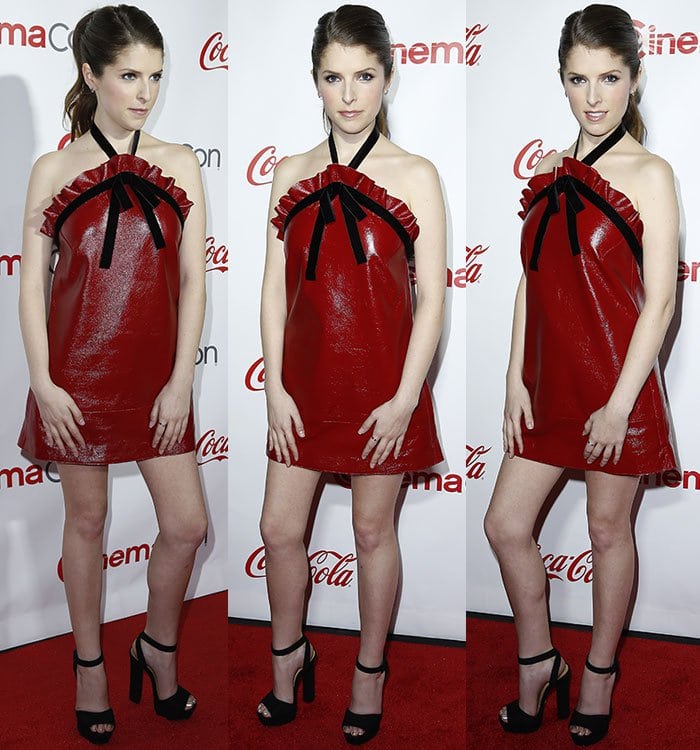 Anna Kendrick stuns on the red carpet in a red leather dress from Philosophy Di Lorenzo Serafini (Credit: Judy Eddy / FayesVision / WENN)
Anna added a few inches to her height with a pair of black platform sandals, which featured buckled ankle-wrap straps, peep toes, about 1.5-inch platforms, and five-inch chunky heels.
Anna Kendrick's feet in black suede platform sandals (Credit: WENN)
Can you help us ID these sandals?
Anna Kendrick's feet in black platform sandals (Credit: WENN)
You can check out some similar styles at Zappos and Nordstrom.
Black Prada Suede Platform Ankle-Wrap Sandals, $790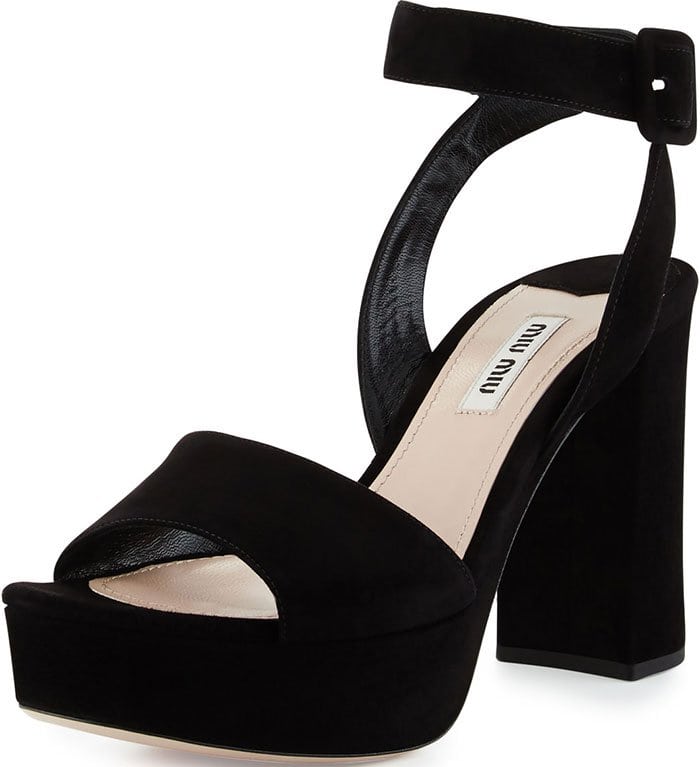 Black Miu Miu Suede Platform Ankle-Wrap Sandals, $690