Megan Fox is an iconic American actress, and Machine Gun Kelly is a famous American rapper, singer, and actor.
The pair have been together since May 2020 and are often seen together engaging in PDA. They aren't afraid to cause controversy and break from mainstream activities, such as when they did ayahuasca together.
Megan and Machine Gun Kelly's Bloody Relationship
In an interview with Consequence, Megan Fox shocked the world when she stated that she and Machine Gun Kelly drink each other's blood.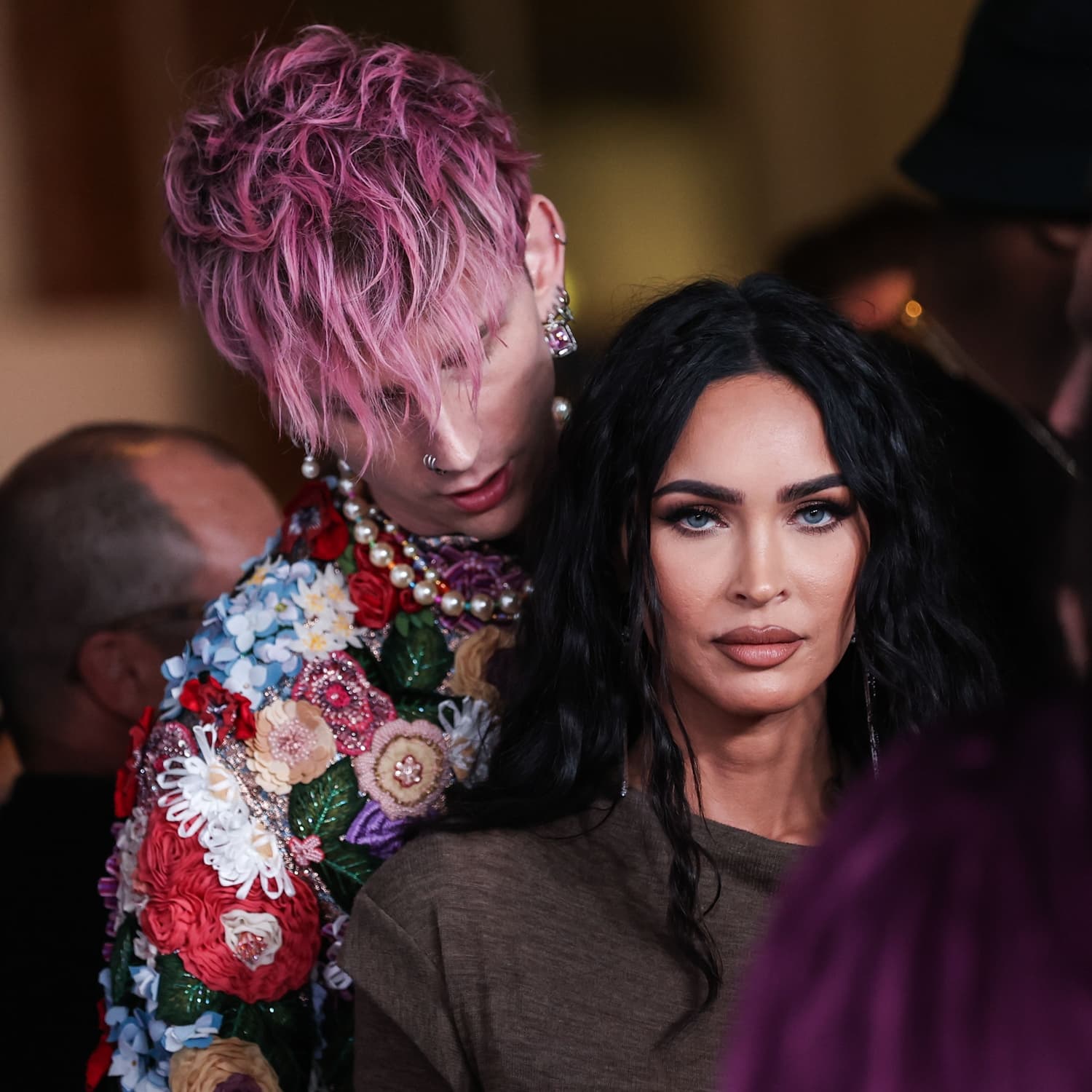 Megan Fox explained why she and MGK "drank each other's blood" when they got engaged (Credit: MEGA / WENN)
She recently confirmed that she did indeed swallow the blood of her fiancé Machine Gun Kelly, and unlike some initially thought, this is not a scene cut from Jennifer's Body.
In another recent interview with Glamour, she explained that it was "for ritual purposes only."
Confronting Rumors About Their Habits
Megan is now speaking out about why she admitted their blood drinking and what happens next with the pair.
"When I do it, it's a passage, or it's utilized for a purpose," Megan revealed when questioned about the statement in her engagement post. "And it is controlled where it's like, 'Let's shed a few drops of blood and each drink it.'"
Megan Fox as possessed high-school cheerleader Jennifer Check in the 2009 American comedy horror film Jennifer's Body (Credit: 20th Century Fox)
"He [MGK] is much more haphazard, frantic, and chaotic, to the point where he's prepared to slash his chest open with shattered glass and say, 'take my soul,'" she said. Megan also talked about being administered ayahuasca by a shaman in Costa Rica.
"It bound us together in a way. It confirmed a lot of things for us that I needed to know or I needed to feel. It opened a door for a lot of healing for me, from a personal experience I had with him, that allowed us to get to a place where we were now seeking the right outlets to heal moving forward," she said about consuming the psychoactive plant brew ayahuasca.
Megan's Manifestation
Beyond just the blood, Megan strongly believes in their apparent soul ties. She discussed how she has been manifesting Machine Gun Kelly since she was a child.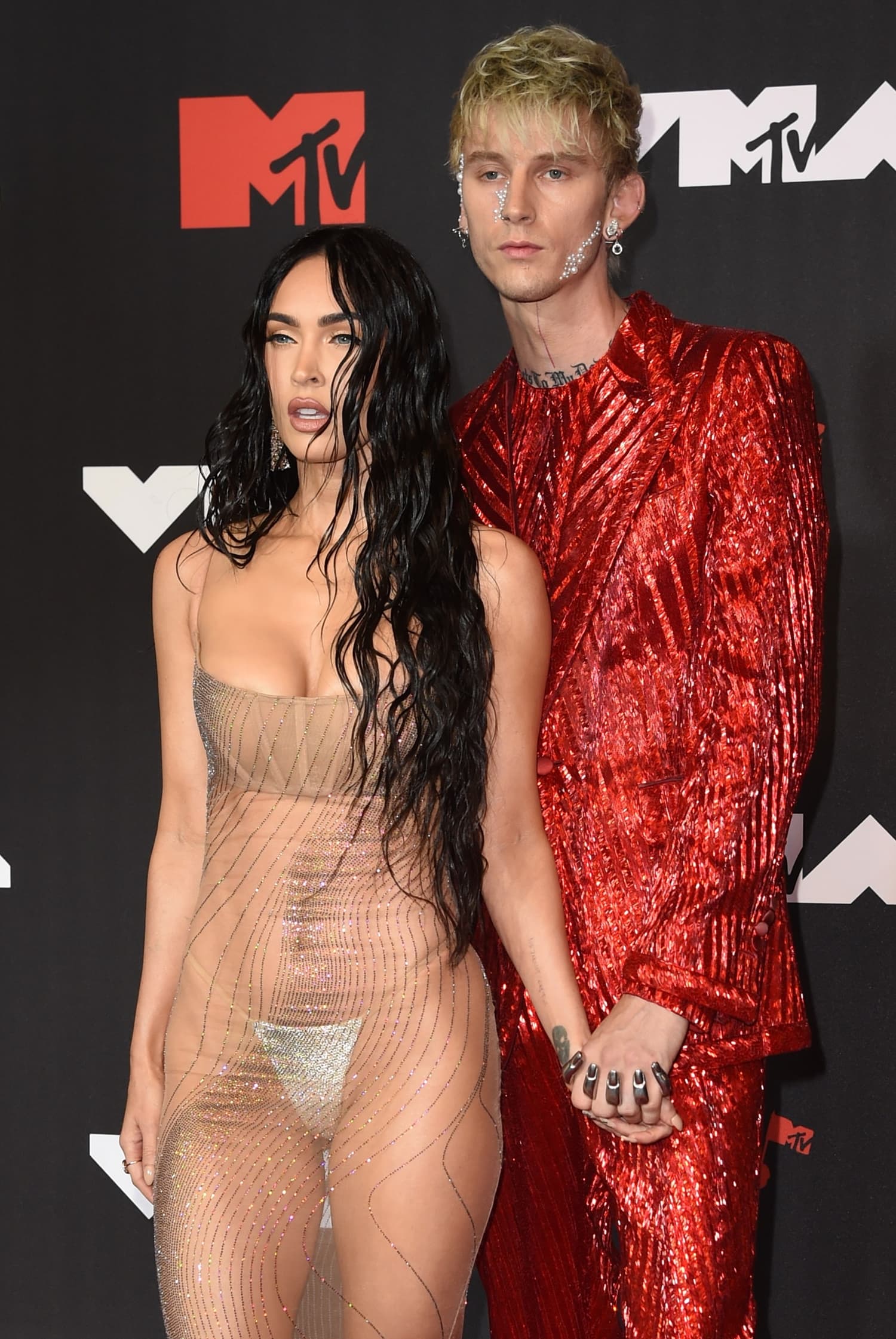 Megan Fox and Machine Gun Kelly announced their engagement in January 2022 after over a year of dating (Credit: Avalon / WENN)
"He's my precise physical type, which I've expressed since I was four years old." I'm also four years his senior. So, I believe I created him," Megan said. "Who knows how he would've looked like or been if it wasn't for my ideas and motivation that shaped him into today's guy."
Megan Fox's BDSM Top
Leaning into the alternative style of their relationship, Megan Fox's current costume selections have a darker and edgier style.
Megan shared a few close-up photos of an ensemble that included a halter-neck top with fishnet BDSM top detailing over the décolletage, what appears to be the top of a corset, and delicate straps over her shoulders on Instagram.
View this post on Instagram
It looks like an outfit very fitting of a "BDSM Spice Girl," as Megan herself described, and very in-line with someone who would drink their partner's blood.
Conclusion
Overall, Megan Fox and Machine Gun Kelly are no strangers to the spotlight, both through their own unique careers and as a couple.
While drinking blood and Megan's unique BDSM-style top are their latest activities, this certainly isn't the last news we'll have of them by a long shot.
Megan Fox flaunts her legs in nude fishnet stockings paired with a Giambattista Valli Resort 2013 printed silk dress (Credit: WENN)
In December 2012, Megan Fox and Jessica Alba attended the nominations announcement for the Golden Globe Awards.
Lincoln received seven nominations, Django Unchained and Argo got five mentions each, while popular series Homeland was honored with four nominations.
Megan Fox wore a beautiful floral Giambattista Valli Resort 2013 dress (Credit: WENN)
Both lovely actresses wore nude heels, but the styles were quite different.
Jessica rocked pointy-toe slingbacks while Megan opted for platform peep-toe pumps. We believe that both their heels are from Louboutin, making us even more envious. Who do you think wore the best nude heels?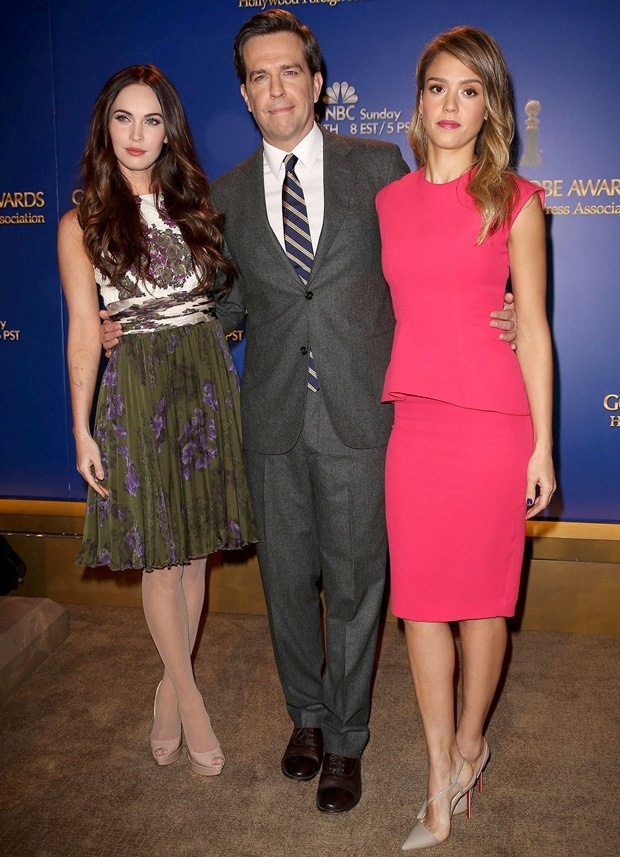 Megan Fox, Ed Helms, and Jessica Alba at the 70th Annual Golden Globe Awards nominations announcement held at The Beverly Hilton Hotel in Los Angeles on December 12, 2012 (Credit: FayesVision / WENN)
Megan Fox donned an ivory top and moss-green skirt from the Giambattista Valli Resort 2013 Collection. Perhaps she would have looked better without the nude fishnet tights?
Jessica flaunts her legs in a Christian Dior dress paired with Christian Louboutin shoes (Credit: WENN)
Jessica Alba wore a bright pink sleeveless peplum dress by Dior. Do you prefer her outfit to that of Megan Fox?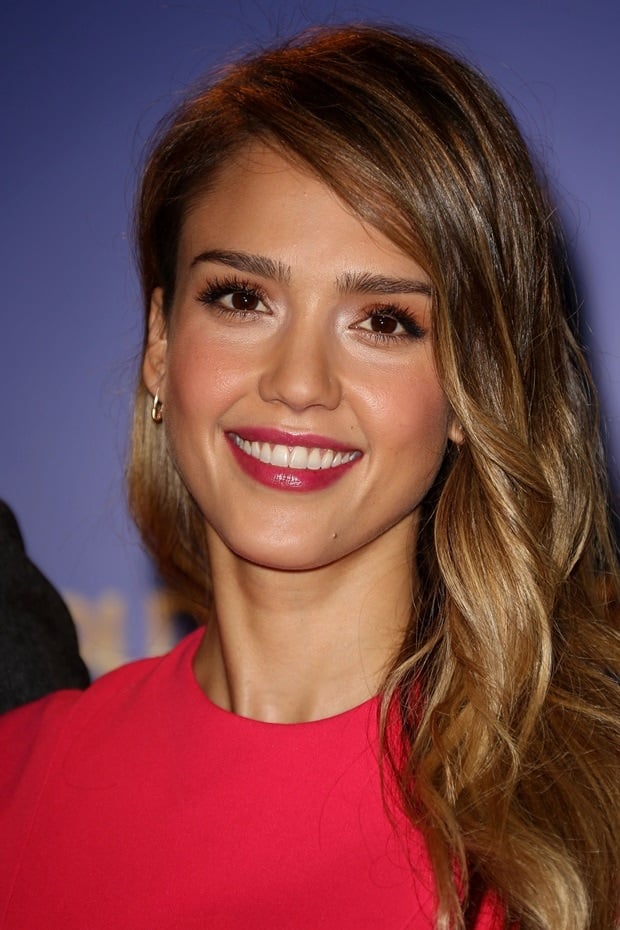 Jessica Alba wore a pink Christian Dior peplum dress (Credit: WENN)
We couldn't locate Jessica and Megan's exact Christian Louboutin styles.
Megan Fox, Ed Helms, and Jessica Alba gathered to announce the nominations for the 70th Annual Golden Globe Awards (Credit: WENN)
However, here are a couple of similar shoes from the same designer at Nordstrom, Ssense, Saks Fifth Avenue, and Mytheresa that we hope you'll like:
Christian Louboutin 'Lady Peep' Open Toe Pump, $945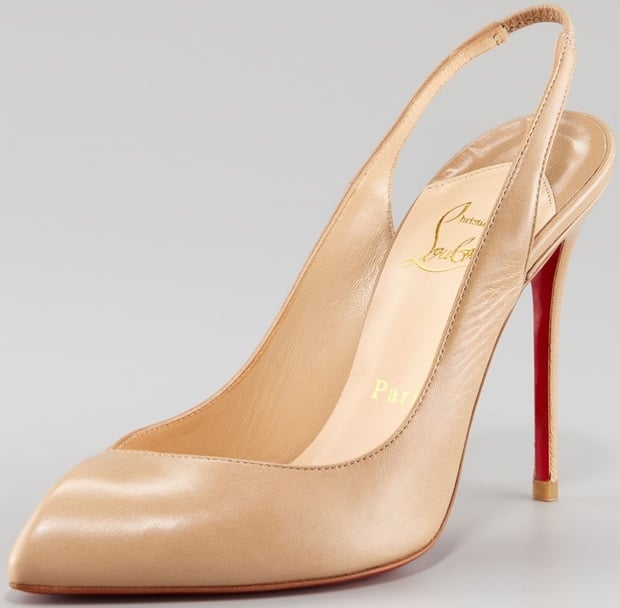 Christian Louboutin 'Corneille' Asymmetric Red Sole Slingback, $465