Was Gigi Hadid channeling her inner Scarlett Witch at the MET Gala?
The rich supermodel stepped onto the red carpet in a latex jumpsuit and oversized Versace full-length puffer coat that had us all thinking about the Marvel character.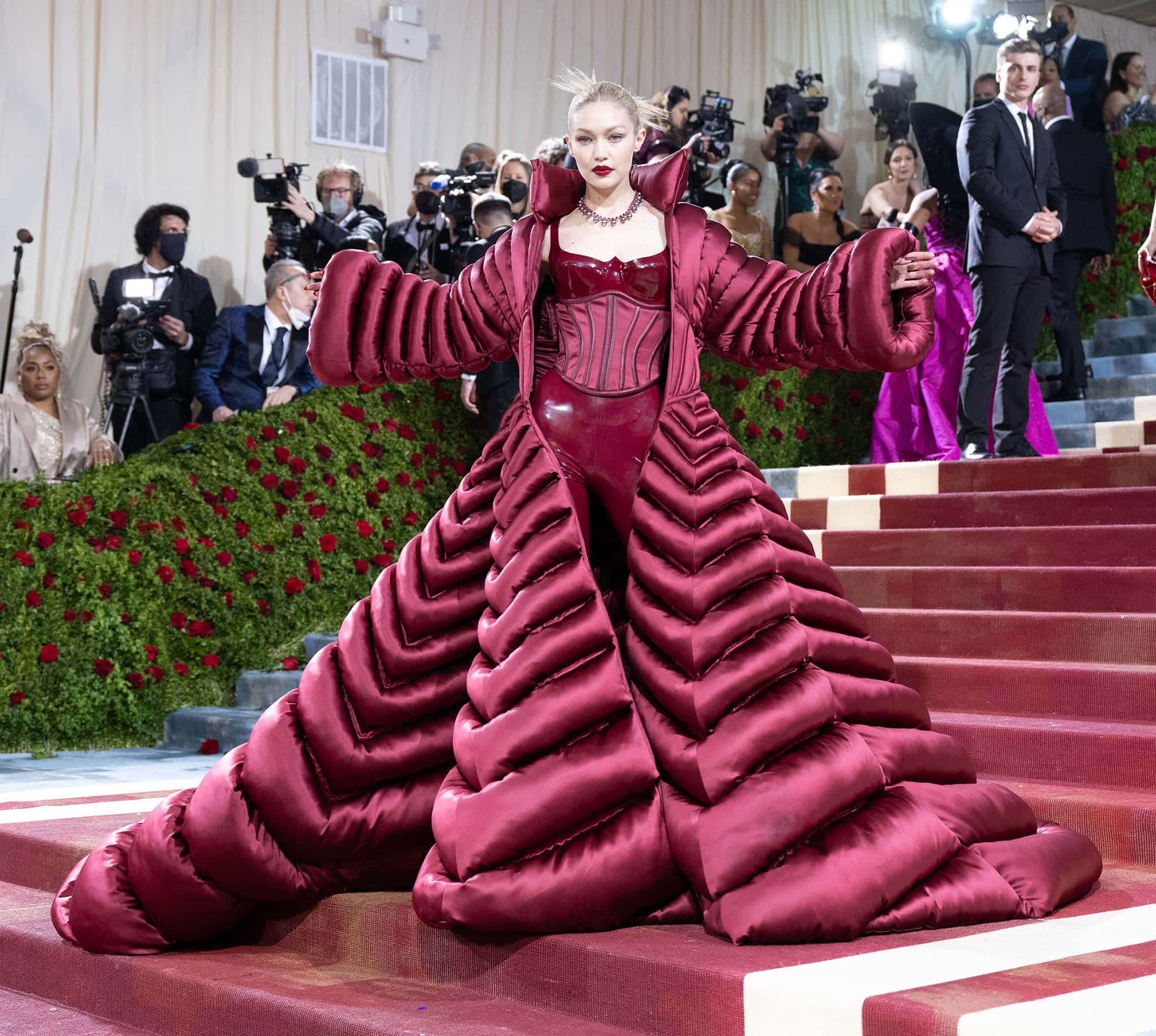 Gigi Hadid reminds us of Marvel's Scarlett Witch at the 2022 Met Gala (Credit: ABACA / INSTARimages)
Hadid's outfit was focused on a boned corset bustier worn over a skintight latex jumpsuit. The suspected antisemite coordinated with tall red boots for a seamless look.
She wore her giant floor-length Versace silk puffer coat as a cape with its short train, high collar, and a degrade quilted finish.
Gigi Hadid wears a massive quilted puffer coat and a latex jumpsuit with a boned corset bustier from Versace (Credit: PA IMAGES / INSTARimages)
Versace explained the inspiration behind Gigi's look on their official Instagram, saying it's a "modern interpretation of coats from the late 1800s and a refresh of the Dolman silhouette for a new age of glamour."
"The corset and the overexaggerate volume of the jacket confront each other in a decadent display of contrast inspired by the volume and dramatic change in womenswear silhouettes of late 1800s."
View this post on Instagram
Speaking to Emma Chamberlain on the red carpet, Gigi admitted that her massive coat is "the heaviest thing" she's worn to the Met Ball.
"For this, we wanted to incorporate how in the 1800s those shapes for womenswear became a lot more exaggerated and started to push boundaries. And of course, Versace is always celebrating that. So, that's what we went for tonight."
"It's very heavy, I will not be eating dinner in it," she added.
Gigi Hadid creates a seamless look by pairing her burgundy latex jumpsuit with tall red boots (Credit: ABACA / INSTARimages)
Her Chopard necklace incorporated red undertones to match her monochromatic look.
Zayn Malik's ex finished off her vampy look with a spiky updo done by Esther Langham, a swipe of bold red Maybelline lipstick by Erin Parsons, and red nails by Japanese nail artist Mei.
While the outfit wasn't 'gilded glamour,' it may have landed Hadid a call for the next Marvel movie.
Gigi Hadid finishes off a vampy look with a spiky updo and a swipe of red lipstick (Credit: ABACA / INSTARimages)