Internet Superstar Emma Chamberlain went from walking the red carpet to being Vogue's correspondent for the event.
The 20-year-old is a Louis Vuitton ambassador and wore a custom two-piece outfit designed by Nicolas Ghesquiere for the French luxury fashion house.
The outfit included nods to the 'gilded age' with puffed sleeves, ruffles, a high neckline, and a column skirt with a long train.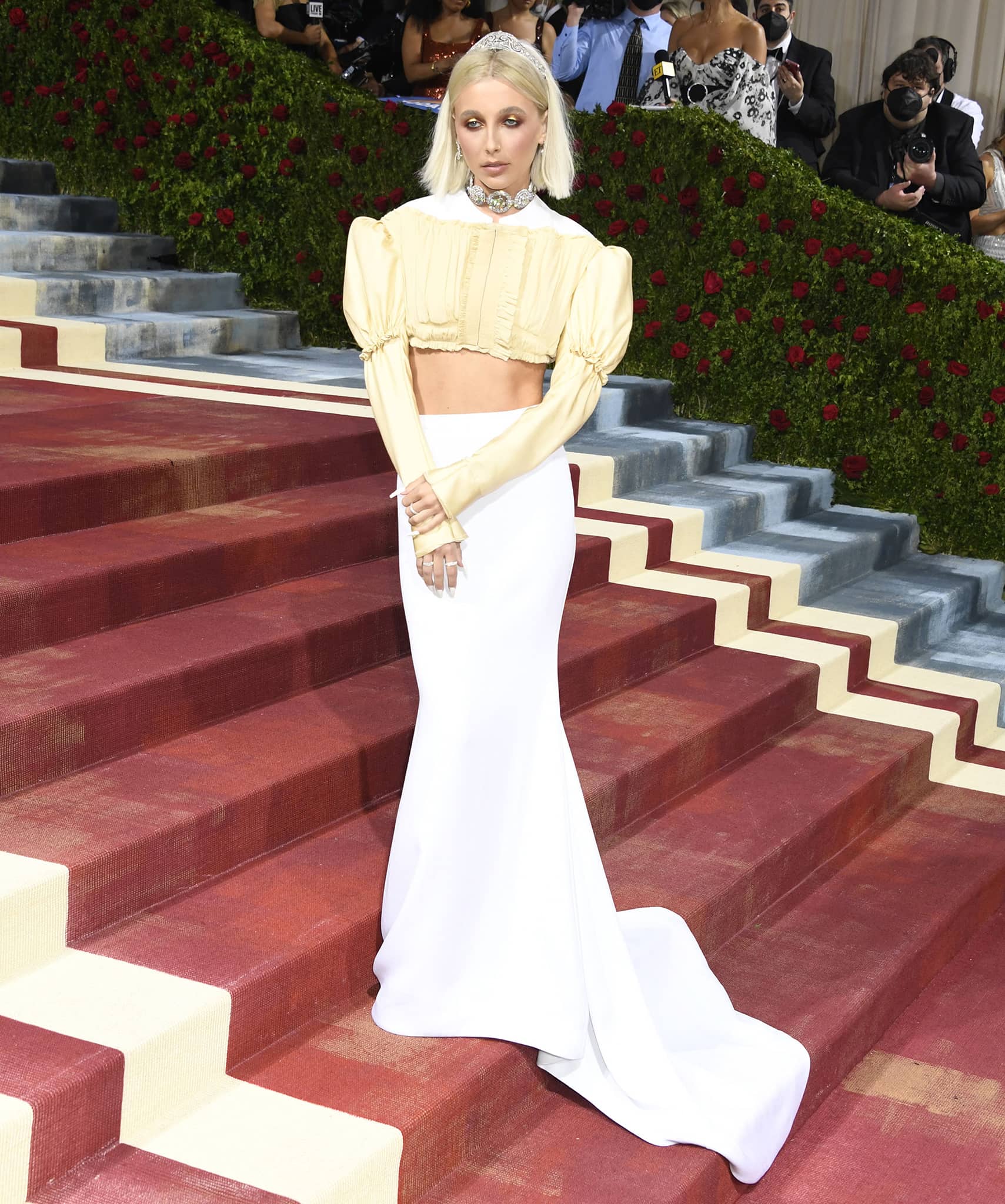 Emma Chamberlain opts for an ice queen look for the 2022 Met Gala (Credit: Jennifer Graylock / INSTARimages)
Chamberlain took her outfit to the next level by adding a tiara and show-stopping choker necklace on loan from Cartier.
The influencer is also an ambassador for the legendary jewelry house, making it no surprise that they loaned her jewels for the event.
The diamond choker belonged to Maharaja Sir Bhupinder Singh of Patiala, who commissioned Cartier to make the heirloom piece with the De Beers diamond as the centerpiece.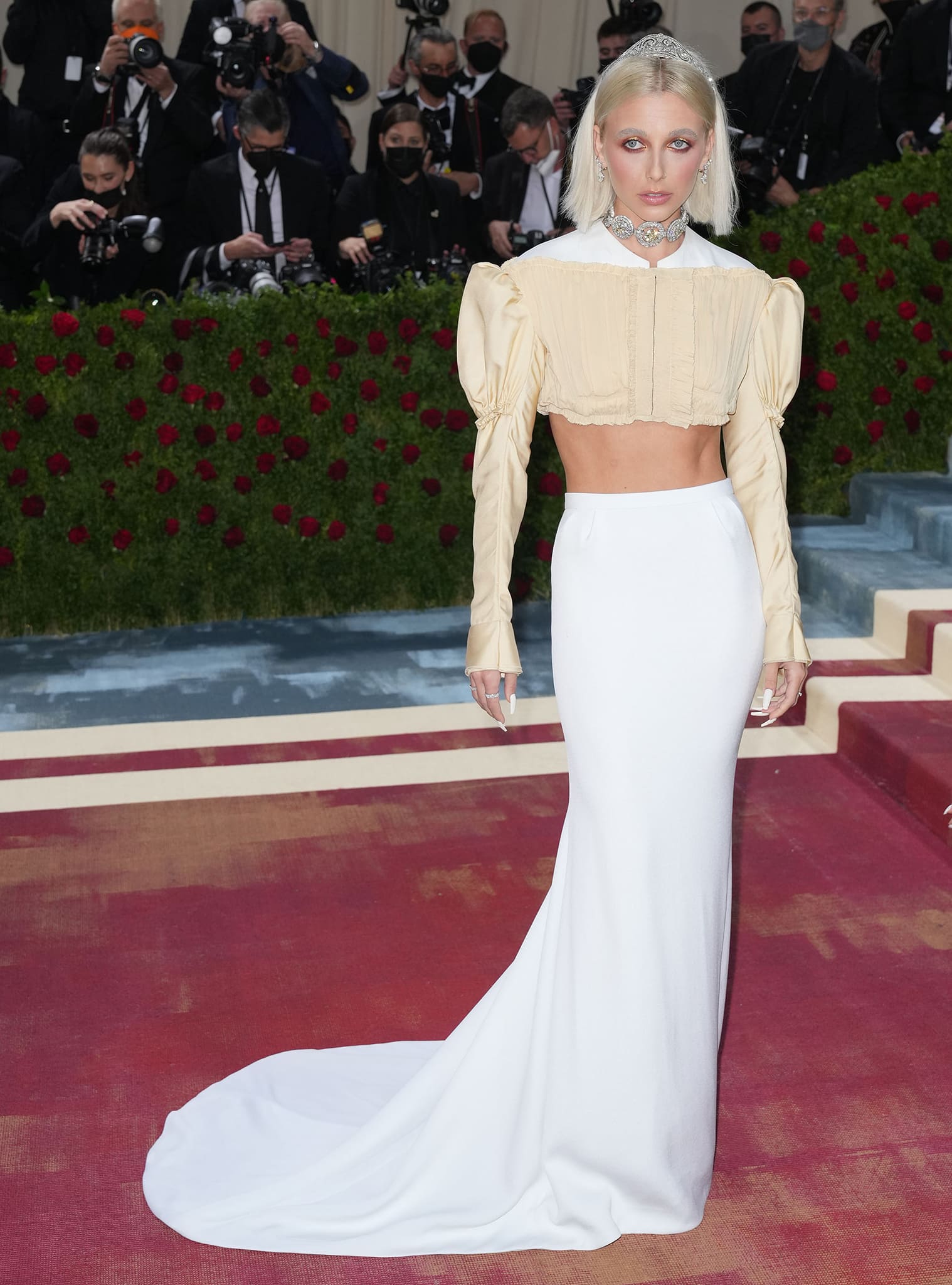 Emma Chamberlain wears a custom Louis Vuitton two-piece gown that put her toned abs on display (Credit: JOHN NACION / startraksphoto)
It was the world's seventh-largest diamond, weighing 234.65 carats, the largest cushion-cut yellow diamond, and the 2nd largest yellow-faceted diamond in the world.
Created in 1928, the Patiala Necklace contains five rows of platinum chains encrusted with 2,930 diamonds, including seven other large diamonds ranging from 18 to 73 carats and several Burmese rubies.
Maharaja Sir Bhupinder Singh rarely wore the choker itself, but his son Yadavindra Singh of Patiala was often pictured wearing the entire set in the '30s and '40s.
Yadavindra Singh of Patiala wearing the famous Patiala Necklace made by Cartier for his father Maharaja Sir Bhupinder Singh in 1928 (Credit: The Jewellery Editor)
The YouTuber was one of several celebrities to show their midriff on the red carpet and followed Anna Wintour's lead of wearing a tiara for the event.
Anna Wintour wears a tiara with a beaded pink feathered Chanel gown at the 2022 Met Gala Celebrating "In America: An Anthology of Fashion" at The Metropolitan Museum of Art on May 2, 2022, in New York City (Credit: PA IMAGES / INSTARimages)
Her Cartier Diamond Kokoshnik tiara, made in 1911, has an elegant scroll and laurel wreath motif.
Emma Chamberlain elevates her look with a Cartier Diamond Kokoshnik tiara, made in 1911 (Credit: JOHN NACION / startraksphoto)
Hairstylist Laura Polko created Emma's ice queen look as a nod to the night's theme, The Gilded Age.
She told E! News, "We wanted to keep her look true to herself, and the combination of the tiara with her icy blonde short bob really spoke to a modern take on the theme."
To keep the tiara in place, Polko created two rows of baby cornrows and secured the tiara with a clear Scunci elastic. She then sewed it into place with a thread and needle.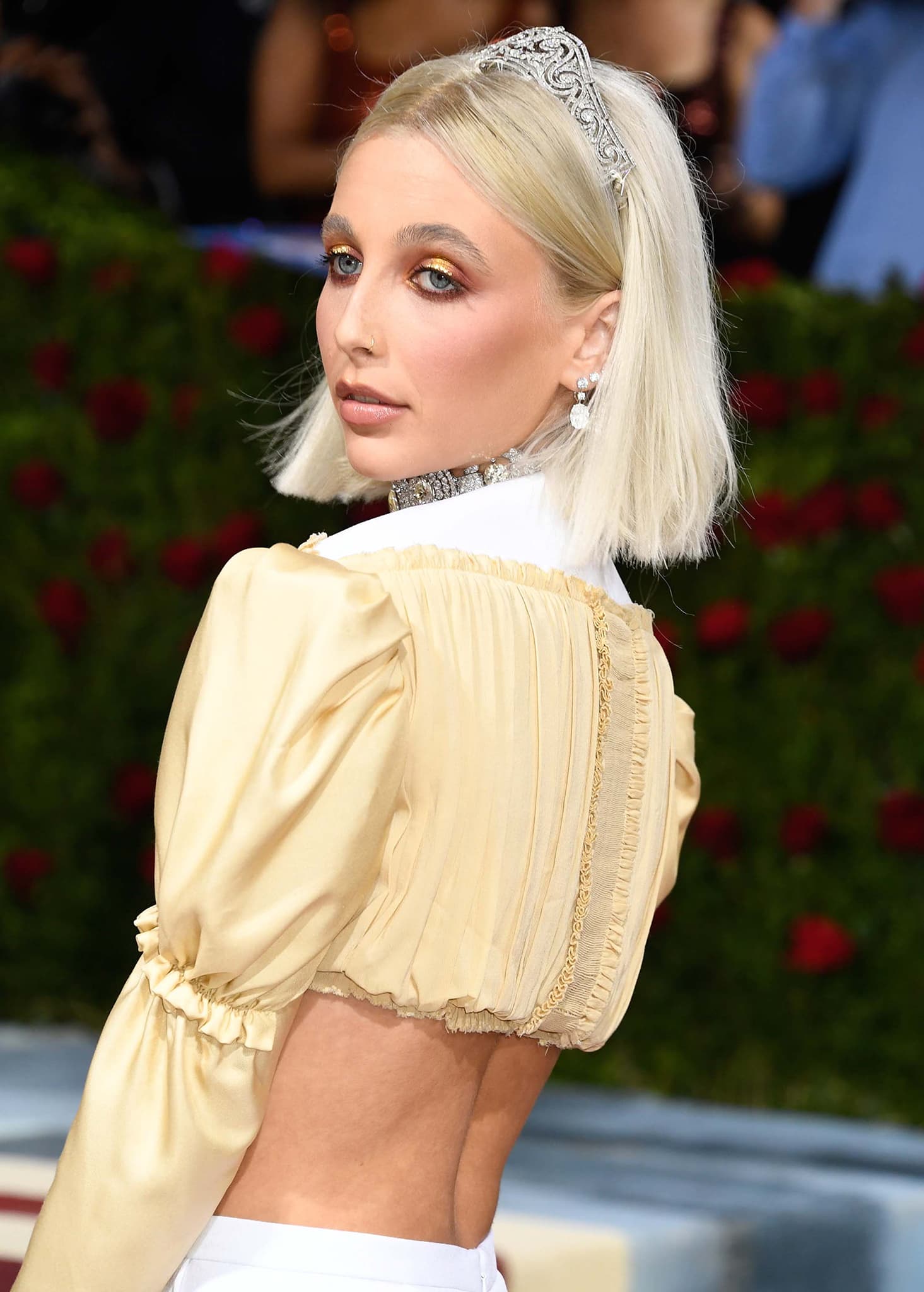 Emma Chamberlain dyes her hair platinum blonde for the Met Gala (Credit: JENNIFER GRAYLOCK / INSTARimages)
The Chamberlain Coffee founder told Live from E! that it took seven hours to complete her platinum blonde bob transformation.
"I was in the salon yesterday for 7 hours and it was very worth it." Emma added she loves "being blonde. I thought it would really compliment this look."
After finding out that Emma was going icy blonde, makeup artist Kelsey Deenihan thought of adding color to her eyes and face.
Makeup artist Kelsey Deenihan used CeraVe products to prep Emma Chamberlain's face (Credit: JENNIFER GRAYLOCK / INSTARimages)
Kelsey used CeraVe hydrating toner, lightweight moisturizer, and de-puffing eye cream to prep Emma's face before applying BareMinerals BarePro Performance Wear Liquid Foundation in Sandstone.
She also applied BareMinerals Endless Glow Highlighter in Free and Gen Nude Blonzer, a combination of bronzer and blush that can be used on the cheeks and eyelids.
The American internet personality completed her beauty look with a burnished eyeshadow palette and matching lip color.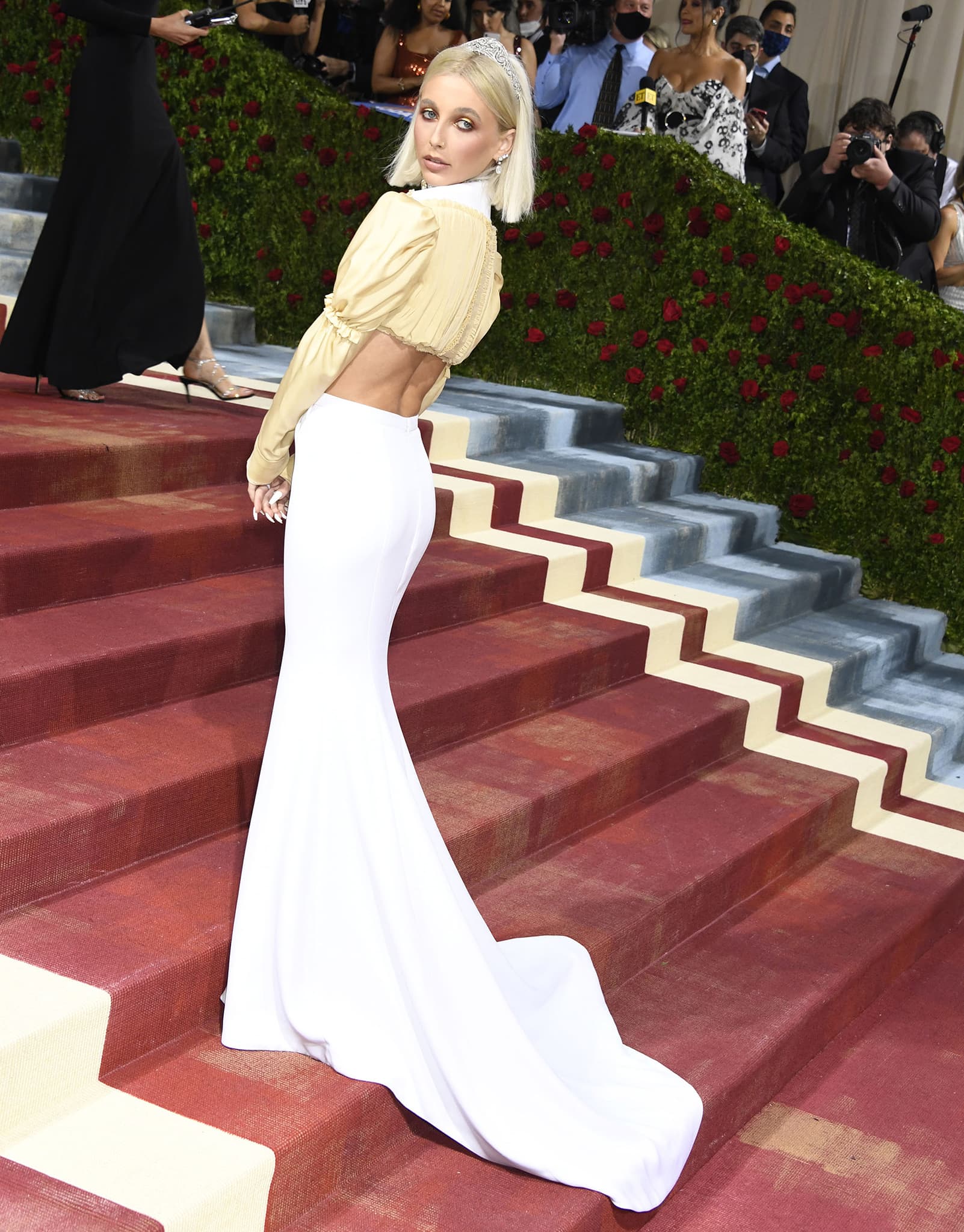 Emma Chamberlain glams up with BareMinerals makeup (Credit: JENNIFER GRAYLOCK / INSTARimages)