There are currently 9.6 million people subscribed to her channel – at just nineteen years old, Emma Chamberlain is a YouTube megastar!
Her fame transcends YouTube, and she has found just as much success on social media platforms like Instagram and TikTok.
Surprisingly, just four years ago, Emma didn't even have a YouTube channel! Her rapid climb to fame is due to her authentic, goofy, and fun personality that shines through in her videos.
Emma Chamberlain attends Time 100 Next at Pier 17 on November 14, 2019, in New York City
Her loyal subscribers and followers remain engaged in everything Emma does, allowing her to launch multiple companies, sign massive partnerships, and even score a book deal.
Last year, Emma released an internationally best-selling day-planner on Amazon – something I'm sure she needs – keeping up with all these projects has got to keep Emma's schedule full.
Many are wondering just how much money this YouTube star is making, after skyrocketing in popularity over the last 3 years. To determine Emma Chamberlain's net worth, let's first look at why she is famous and how she makes her money.
Emma's Rise to Fame
Emma has seen incredible success in only three years! She started her YouTube channel in 2017 with DIY videos – although that wasn't really her thing.
The American YouTuber had said in interviews that when she started doing DIY's on her YouTube channel, it wasn't because she was particularly handy or crafty; it was just because DIY videos were popular at the time.
These DIY videos were averaging a few thousand views at best. That was until July 27, 2017, when her first video entitled "We All Owe the Dollar Store An Apology" went viral.
This video really showed Emma's wit, charm, and sarcastic sense of humor. Her goofy and fun vibe makes viewers want Emma as their best friend.
Emma Chamberlain flaunts her sexy legs at the Louis Vuitton show as part of the Paris Fashion Week Womenswear Fall/Winter 2019/2020 on March 05, 2019, in Paris, France
The more Emma showed off her fun personality in her videos, the more subscribers she got. This first viral sensation now has over 4 million views and counting!
In 2018 she started collaborating with other mega YouTubers, James Charles and the Dolan Twins. The four creators formed an unofficial group called the Sister Squad and have gotten together for a number of entertaining videos since.
In less than two years, Emma Chamberlain had 8 million YouTube subscribers and 7.7 million Instagram followers. At this time, YouTube had said she had the fastest-growing channel in the U.S!
View this post on Instagram
Emma's real approach to YouTube and social media is refreshing. With so many fabricated, planned, and highly edited videos and pictures posted on social media, her authentic approach is a welcomed change.
She doesn't edit her photos, nor does she overly plan shoots or videos. Her camera quality is good but doesn't look as though it was shot in a professional study. It's what's referred to as relatable YouTube or slacker YouTube.
It's real, sometimes messy, and it's what viewers want! With this authentic approach, it's no surprise that she has found success on TikTok as well. An app that favors the real and authentic, Emma Chamberlain has 8.5 million subscribers on the platform.
Most Popular Videos
You may not subscribe to her channel, and you may not even recognize her name, but there is a very good chance you have seen one of her viral videos. Emma Chamberlain seems to know the secret to viral videos. Her most viewed videos are those filmed with the Sister Squad.
Her video "Roadtrip to Vegas Ft. Dolan Twins and James Charles" has 31 million views!!
In second place is "Dressing up as each other Ft. Dolan Twins and James Charles" and in third place is "Turning me into an LA girl Ft. James Charles and Dolan Twins".
Her fourth most popular video is "Vegetarian Tries Meat for the First Time" with surprise guests – the Dolan Twins, that has over 15 million views! A quick look at Emma Chamberlain's YouTube channel, and you can see that she has 15 videos with over 10 million views each!!
With views like that, she's got to be making BIG money, right? Let's break it down…
YouTube & Social Media Guru
In the summer of last year, The New York Times did a little digging and pulled the analytics from her videos. From this intel, it's estimated that Emma makes anywhere from $120,000 to $2 million a year from her videos.
That estimate is strictly from the views and doesn't include any money received from sponsorships and working with brands. Emma Chamberlain's social media has one of the highest engagement rates – even higher than Kim Kardashian!
In 2019, Time Magazine included Emma Chamberlain on its TIME 100 Next list and its list of The 25 Most Influential People On The Internet, writing that "Chamberlain pioneered an approach to vlogging that shook up YouTube's unofficial style guide"
This means that brands will pay her more to work with her and have her create content using their products. Her influence (although don't call her an influencer; she hates that!) exceeds YouTube with millions of followers on Instagram and TikTok.
With impressive engagement rates and millions of followers, Emma isn't working with small brands. She works with brands with deep pockets and big budgets; brands like Louis Vuitton!
Emma Chamberlain x Louis Vuitton
Yes, that's right. From YouTube DIY videos to Louis Vuitton commercials in only three years.
Although the details of the collaboration aren't public, Emma is an ambassador for the brand, attending their fashion shows, being dressed by LV, and appearing in a commercial.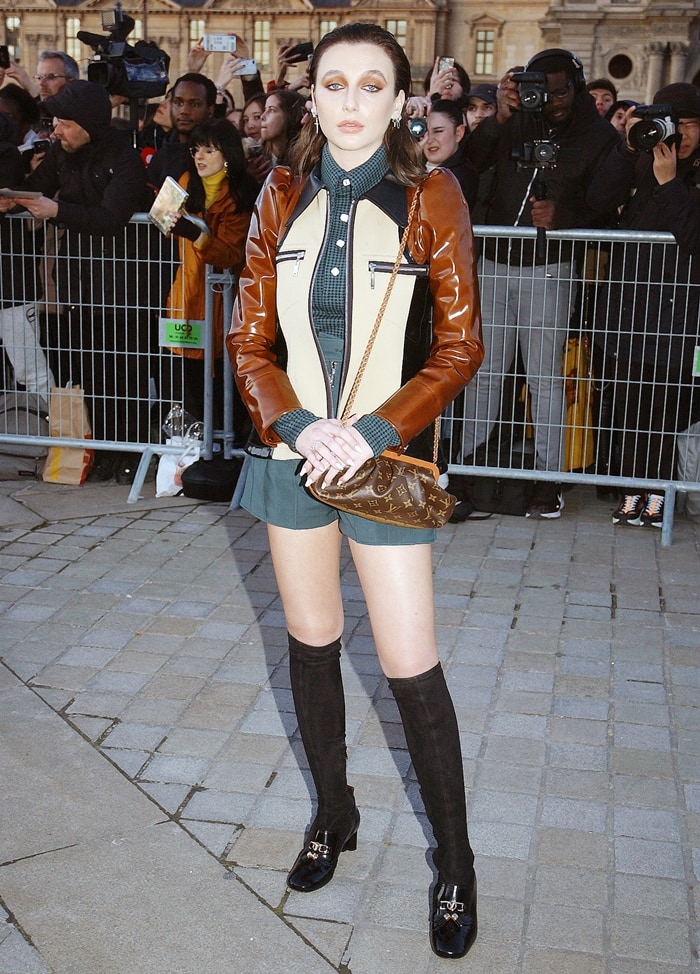 Emma Chamberlain attends the Louis Vuitton show as part of the Paris Fashion Week Womenswear Fall/Winter 2020/2021 on March 03, 2020, in Paris, France
Emma Chamberlain's partnership with Louis Vuitton is estimated to have been worth hundreds of thousands of dollars.
Gotta have Merch
As any big star should, Emma Chamberlain has her own line of merchandise for sale. She periodically releases hoodies, t-shirts, and swag for her followers.
Her merch always sells out quickly, and you can sign up to be notified for her next launch. We're confident this is another big money-marker.
A Coffee Brand
A quick look at Emma's Instagram or after watching a few videos, and you will soon know one thing about Emma – she LOVES her coffee. Last year Emma launched Chamberlain Coffee.
Emma Chamberlain has started selling instant coffee bags and mugs through Chamberlain Coffee
Fans are quick to grab her coffee goods, new releases often selling out quickly. The brand sells coffee as well as mugs and coffee accessories. And true to Emma's authentic image, the tagline for the brand is Zero Bullshit. Just Coffee.
A Book Deal (because why wouldn't she have a big deal?!)
Emma produced an agenda called The Idea Planner that is an international bestseller! Available at Barnes & Noble, the planner is very "on brand" and includes puzzles, corny quotes, messages from Emma, coloring pages, and more.
It's marketed as not the planner for "that perfect girl" but for those who are silly, love art, and fashion. She's said to have more books in the works as well! With all these endeavors, it's not surprising that Emma Chamberlain's net worth is an estimated $8 million dollars!
Emma Chamberlain's undated planner will help you keep your life in order your way
Many gushes over the fact that this nineteen-year-old girl has seen so much success so quickly. Although Emma was pushed her into the spotlight quickly, she seems to take it in strides, even when her romantic life is put under a microscope.
Who is Emma Chamberlain dating?
This could be the $8 million dollar question. For years, many fans believe there to be some serious off-screen chemistry between fellow Sister Squad star Ethan Dolan of the Dolan Twins.
Fans believed the two to be secretly dating for years! In July of this year, Ethan admitted to being in a "committed relationship" in one of his YouTube videos.
For many, this was all the confirmation they needed to affirm that Ethan and Emma were together (or "Ethma" as fans call them). Since this admission, fans have also speculated that Emma was dating Aaron Hull, a popular TikTok star.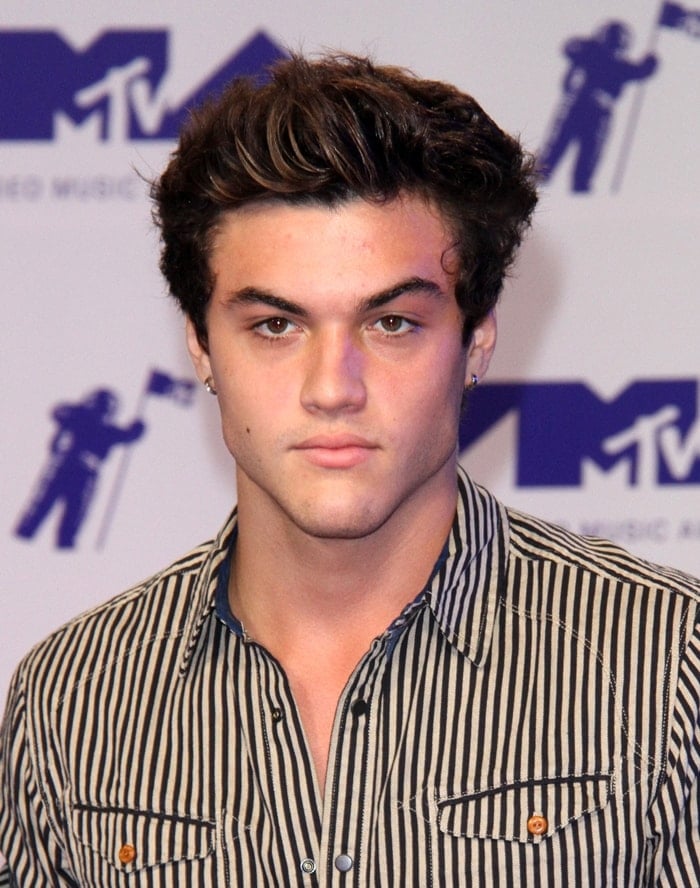 Actor/writer Ethan Dolan is believed to be secretly dating Emma Chamberlain
After a bit of drama with those two, fans moved on and believe Emma is dating musician ROLE MODEL, aka Tuck Pillsbury.
These will likely continue to be speculations for a long time to come. Emma has spoken out on how she doesn't want to make this part of her life public.
Emma had told W Magazine, "I don't know if I would ever have a public relationship, ever. And this is not coming from experience in any way; this is coming from morals. I'm speaking from what would feel right."
American YouTuber Emma Chamberlain's net worth is $8 million
There is something very special about Emma that is felt through every one of her YouTube videos, Instagram posts, and TikToks. She doesn't like the image the word "influencer" creates, and so she'd rather be viewed as an entertainer.
Although there is no doubt, she has influenced many, Emma Chamberlain is a successful, young entertainer with a promising career ahead of her.
Credit: WENN / Instar / Adriana M. Barraza