Cara Delevingne battled depression as a teenager and had a troubled childhood growing up in Belgravia, London. She is the daughter of Pandora Anne Delevigne (née Stevens) and property developer Charles Hamar Delevingne.
"When I was a child, I was obsessed with blood and death," she revealed in a May 2016 interview with W magazine.
"This sounds really dark, but my earliest memory is of cutting myself. I was pretending to shave like my dad. One time, I covered my face in shaving foam, and I got his razor and ran it along the bottom of my finger and nearly cut it off," she shared about her fascination with all things gory.
In May 2020, Cara Delevingne raised money for Save the Children by reading "The Queen Engineer" by Suzanne Hemming
Suffering from developmental coordination disorder (DCD), Cara found school challenging and battled with depression when she was 15.
"I think I properly started dealing with depression when I was about 16," she told Esquire in August 2016, "when all the stuff with my family started to make sense and came to the surface. I'm very good at repressing emotion and seeming fine. As a kid, I felt like I had to be good and I had to be strong because my mum wasn't. So, when it got to being a teenager and all the hormones and the pressure and wanting to do well at school — for my parents, not for me — I had a mental breakdown."
Cara was pulled out of school by her parents for six months when she turned 16. Ashley Benson's ex-girlfriend agreed to go on medication in exchange for not being hospitalized.
Cara Delevingne has been open about the depression and alienation she suffered in her teenage years
"This is something I haven't been open about, but it's a huge part of who I am," she told Vogue in June 2015.
"All of a sudden I was hit with a massive wave of depression and anxiety and self-hatred, where the feelings were so painful that I would slam my head against a tree to try to knock myself out. I never cut, but I'd scratch myself to the point of bleeding. I just wanted to dematerialize and have someone sweep me away."
Cara Delevingne was taken out of school for six months when she was 16 to go on medication and see therapists
In December 2015, Cara Delevingne and her girlfriend Annie Clark, a.k.a. St. Vincent, left the Scala nightclub in London right after attending the Wave Makers: A Concert to Benefit Our Oceans earlier in the evening.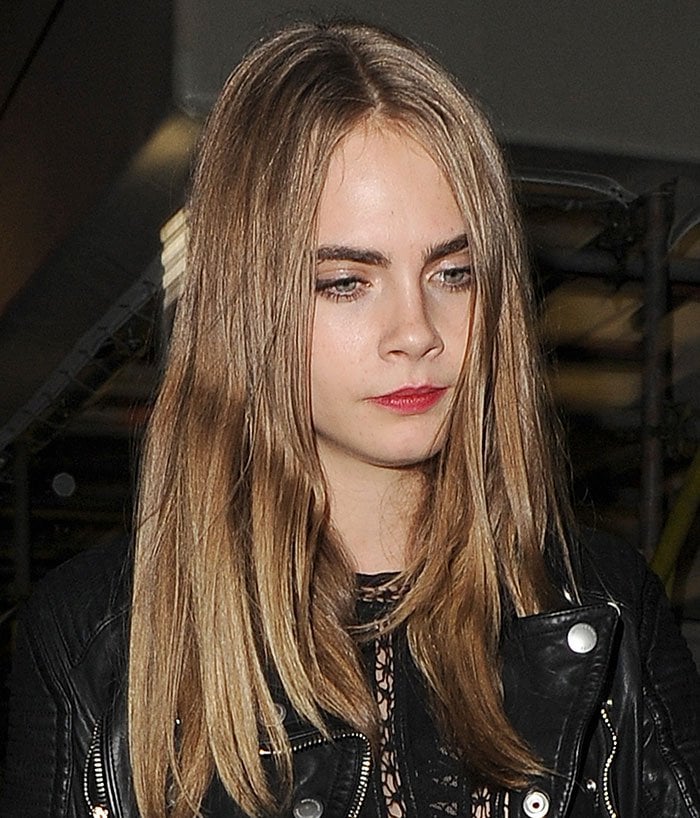 Cara Delevingne wears her hair down as she leaves Scala club in London on December 16, 2015
The then 23-year-old fashion model showcased her slender legs in a black mini dress with racy lace cutout panels by For Love and Lemons.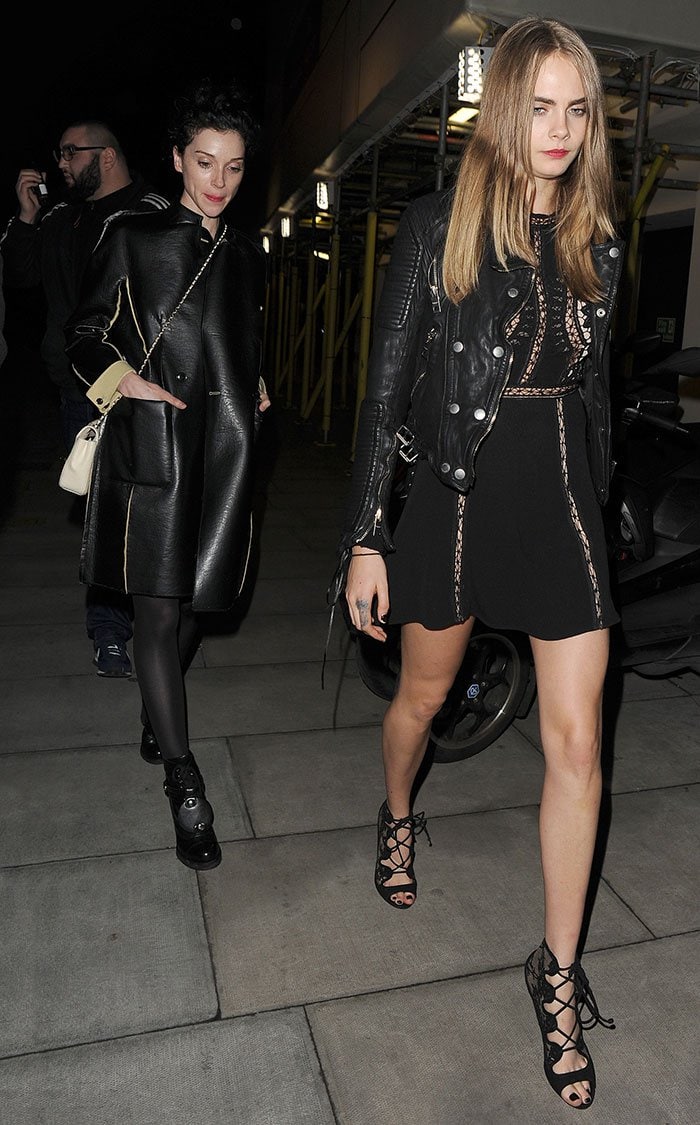 Cara Delevingne and her girlfriend Annie Clark, a.k.a. St Vincent, leave a London nightclub together
She teamed the frock with a black leather jacket by Burberry Prorsum for a hint of edge and coupled the look with black heels.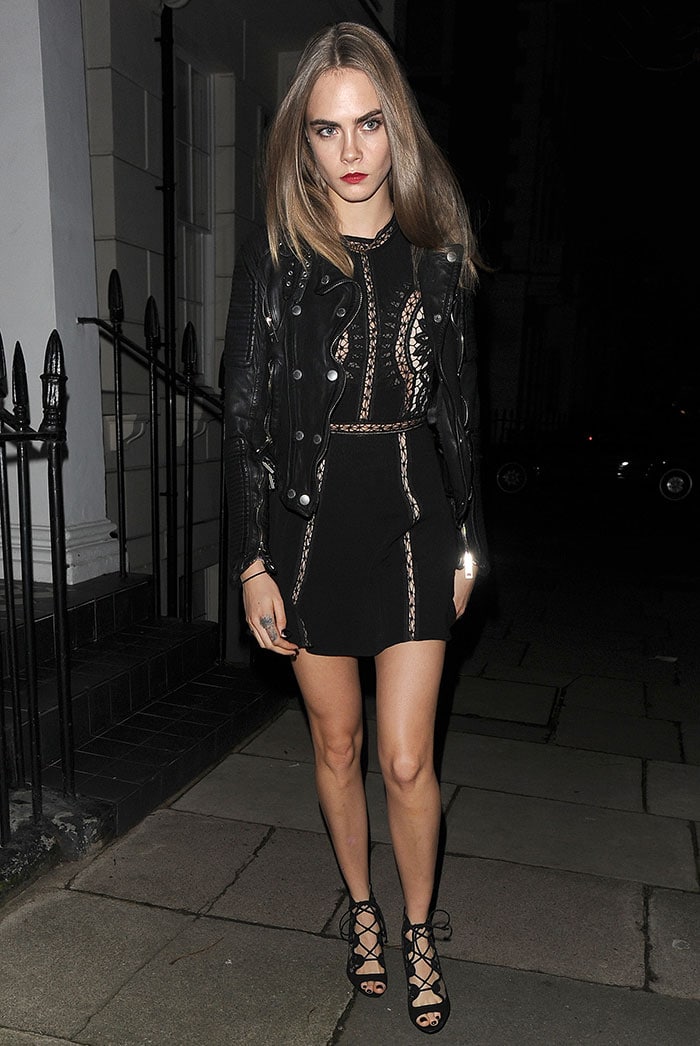 Cara Delevingne wears a For Love and Lemons mini dress as she leaves a night club
Cara simply wore her hair down with a center parting and added a pop of color to her head-to-toe black ensemble with a slick of crimson lipstick.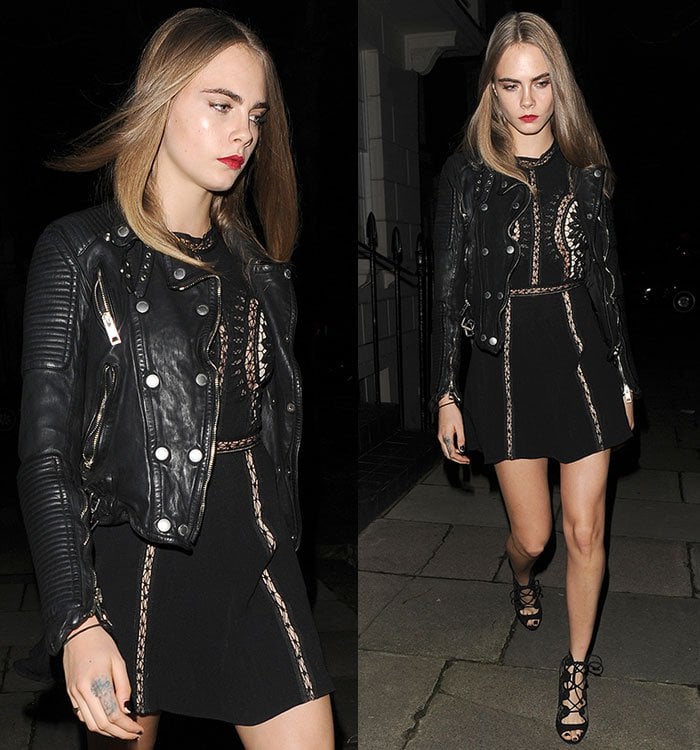 Cara Delevingne wears a leather Burberry jacket over a For Love and Lemons mini dress
Cara rounded out her look with a flirty yet feminine pair of Tabitha Simmons sandal booties.
Cara Delevingne leaves London's Scala night club in an all-black look
These suede shoes feature sheer floral lace panels, dramatic lace-up front fastenings, peep toes, and four-inch heels.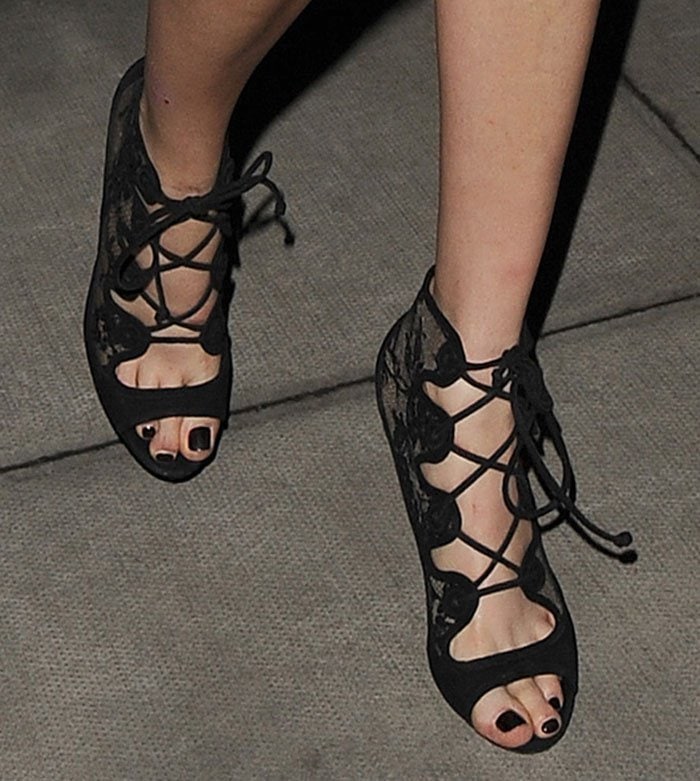 Cara Delevingne's feet in Tabitha Simmons booties
Cara's Tabitha Simmons sandals are now on sale at Farfetch and Shopbop!
Tabitha Simmons Charlotte Lace-Up Sandal Booties, $592 – $1095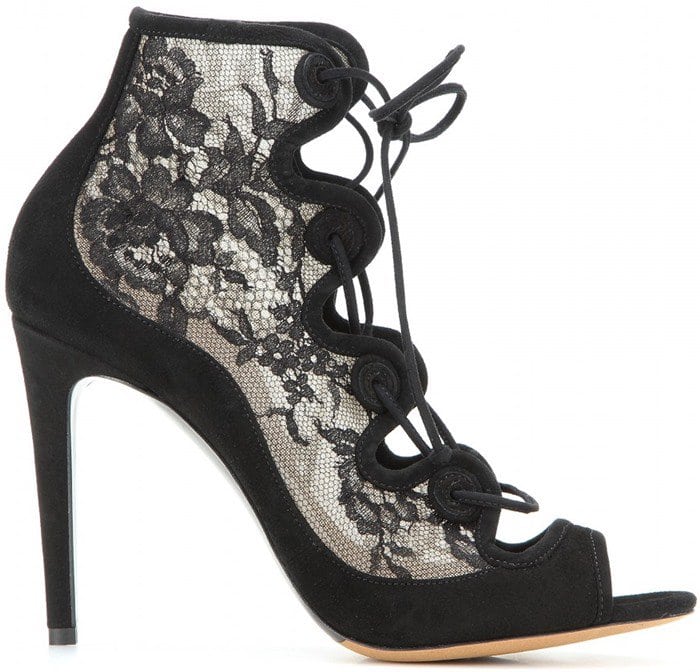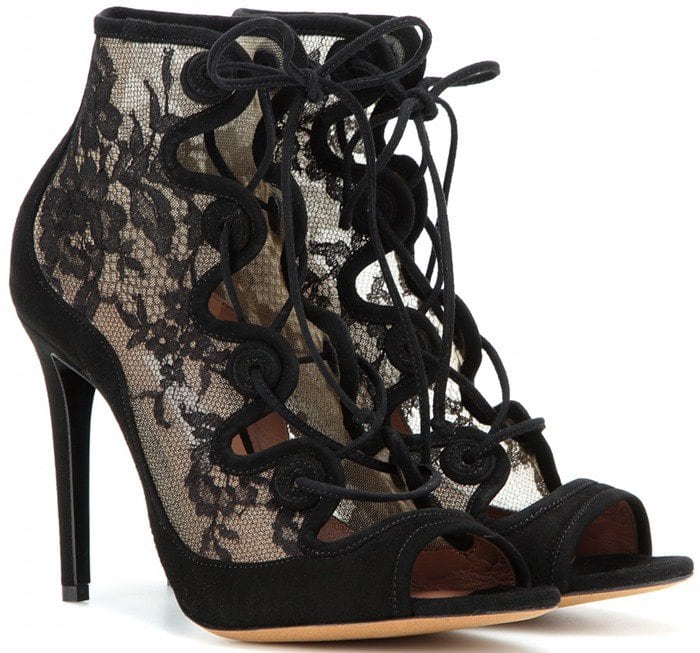 Credit: Will Alexander / WENN / Avalon / Instar / Lia Toby