So you've done it: you've splurged on a pair of genuine sheepskin ugg boots and made sure you got the real thing.
Celebrities in Bearpaw sheepskin boots (from L to R): AnnaLynne McCord on the set of "90210" in the Griffith Park area in Los Feliz, Los Angeles, on February 8, 2011; Karina Smirnoff, brand ambassador for Bearpaw and Lady Foot Locker, at the donation of over 1,000 pairs of Bearpaw boots to Women in Need in New York City on December 13, 2011; Coco Austin at the 2012 Sundance Film Festival in Park City, Utah, on January 22, 2012
As you've made a major shoe investment, we know you want to keep your sheepskin boots looking brand new.
Not the easiest of tasks but so long as you don't drag them through sleet and snow, cleaning your furry footwear faves should be a cinch!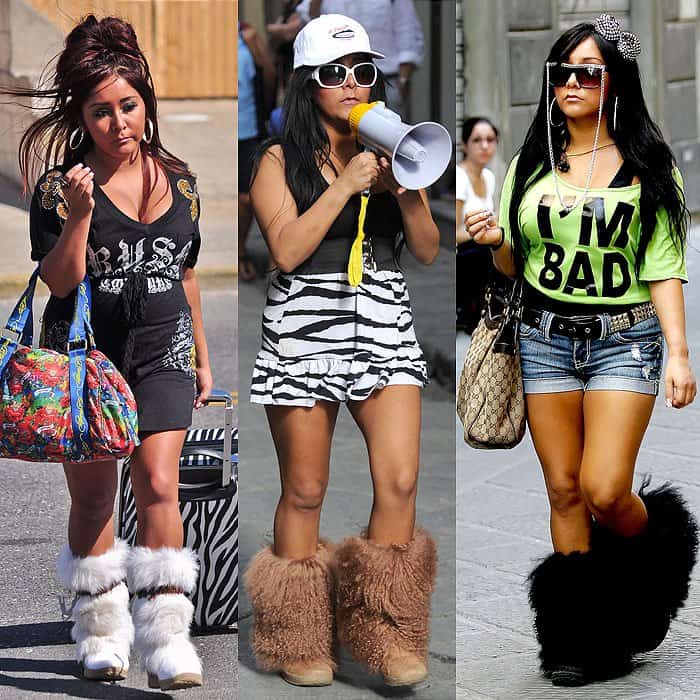 Nicole Polizzi aka "Snooki" spotted in her favorite Bearpaw "Boetis II" boots (from L to R): Loading her car at Seaside Heights, New Jersey, on September 4, 2010; Filming "Jersey Shore" in Florence, Italy, on June 6, 2011; Visiting a tattoo parlor in Florence, Italy, on May 26, 2011
We've already covered how to safely and quickly remove different types of stains from ugg boots. Now, as general cleaning advice, below is a step-by-step guide on the best way to clean sheepskin boots.
Bearpaw and other brands should be no different from each other if they're all made of genuine sheepskin.
Step 1 – Wetting the Boots
Dampen the entire boot with water. Be careful not to soak. Make sure that the boot is evenly wet to ensure you don't end up with water rings or watermarks.
Step 2 – Cleaning the Suede Upper
Put a small amount of suede cleaner and water on a soft, damp cloth. Create a lather on the cloth by rubbing it together. Work this lather onto the surface of the boot and gently clean the entire outer portion of the boot. Rinse the boot thoroughly after cleaning.
You may also use a sponge or a soft brush. However, do not use a wire brush or a coarse brush because these could scratch the suede.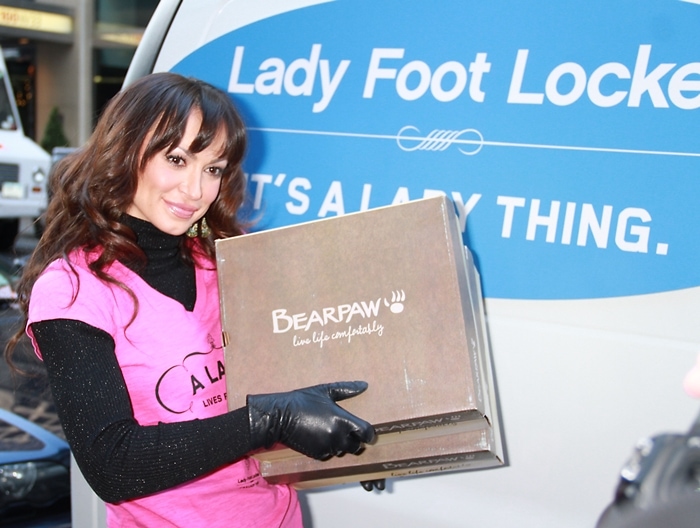 Soviet-born American professional ballroom dancer Karina Smirnoff attends the Bearpaw boots charity event at Lady Foot Locker on December 13, 2011, in New York City
Never put suede cleaner directly onto the boot. Also, be careful not to transfer the suede cleaner on to the sheepskin while cleaning and rinsing the boot.
Step 3 – Cleaning the Sheepskin Lining and Trim
Cleaning sheepskin is the same as cleaning suede, except a special sheepskin shampoo is needed. Use this product to gently clean the sheepskin lining and sheepskin trim on Bearpaw and other sheepskin boots. Rinse the boot again after cleaning.
As in step 2, do not use a wire brush for sheepskin, never put the product directly onto the sheepskin, and be careful not to get any of the product on the suede portion of the boots.
Step 4 – Drying the Boots
Place the boots in a well-ventilated area and let them dry naturally. Stuff them with unprinted paper, paper towels, or a rolled-up towel so that they don't lose their shape while drying. You may also hang them upside down on a boot stand.
Comfy and clean Bearpaw slippers
Never place your boots under the sun or a direct heat source. These could damage and discolor your sheepskin boots.
Step 5 – Protecting Your Boots
After your boots are all nice and dry, protect them with a stain and water repellent spray. Doing so will protect the surface of your boots from stains, dirt, and mud and will also make the cleaning process easier the next time.
To clean your Bearpaw boots or other brands of sheepskin boots, you can use Bearpaw's very own shoe cleaning kit from Amazon. Our entire 5-step guide can be done with this one kit.
It also comes with a freshener that keeps your boots smelling fresh after each wear. Reviews say it's removed tough stains like coffee, salt, and even nail polish!
Bearpaw Shoe Cleaning Kit, $26
Credit: WENN / Mr. Blue