One of the problems that plague anybody who wears shoes is the foul-smelling odor that comes from prolonged use. The bacteria that grow in your feet cause your shoes to become smelly, and can ruin your shoes altogether.
And unless you're able to prevent your feet from sweating altogether, you're going to end up with that same stinky bacteria in your shoes.
Since foot odor comes from the bacteria that live on your feet, keep them clean to prevent smelly feet (Credit: WENN)
Luckily, there are products out there that are designed specifically to deal with that problem. From deodorizer balls and foot powder to sprays and fresheners, there are plenty of remedies to get rid of that foul odor.
You can also take a simpler route and clean your shoes and feet entirely – using antibacterial sanitizers and disinfectants to kill the bacteria and effectively get rid of that odor.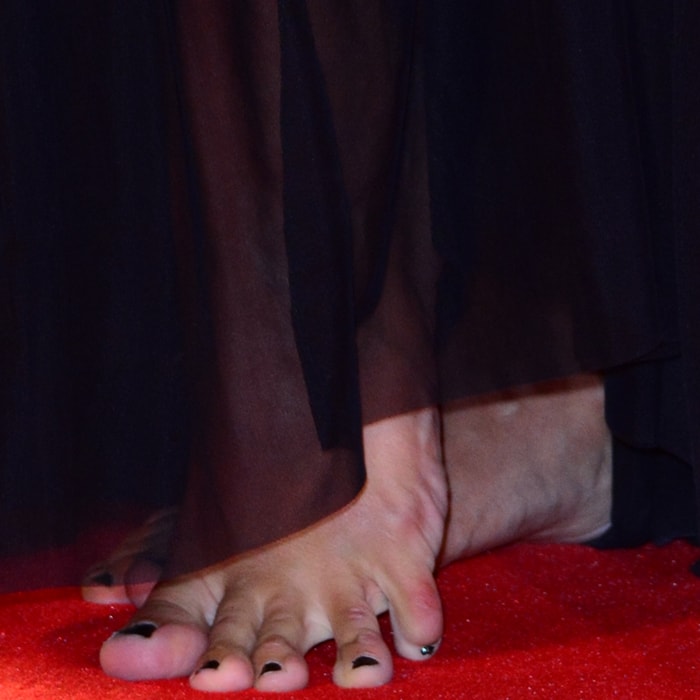 We hope Penelope Landini washed her feet after going barefoot on the red carpet at the premiere of 'The Bleeder' during the 73rd Venice Film Festival at Sala Grande on September 2, 2016, in Venice, Italy (Credit: WENN)
Among the many different options available, though, shoe deodorizers and odor eliminators are arguably the easiest way to make shoes smell better. They're not too difficult to use, have long-lasting effects, and don't require a lot of work.
If you're looking for a quick and easy solution to your foot odor problem, they're your best bet.
With that being said, we've gathered some of the best shoe deodorizers and odor eliminators available online, so you don't have to.
1. Dr. Scholl's Odor X All Day Deodorant Powder at Dr. Scholl's
We've mentioned Dr. Scholl's before in our article on insoles. While the American footwear and orthopedic foot care brand is popular for that type of product, they also sell other shoe-related products too, such as this one.
Their Odor X foot powder offers all-day odor protection and has antiperspirant properties that'll prevent your feet from sweating (and stinking) for the rest of the day.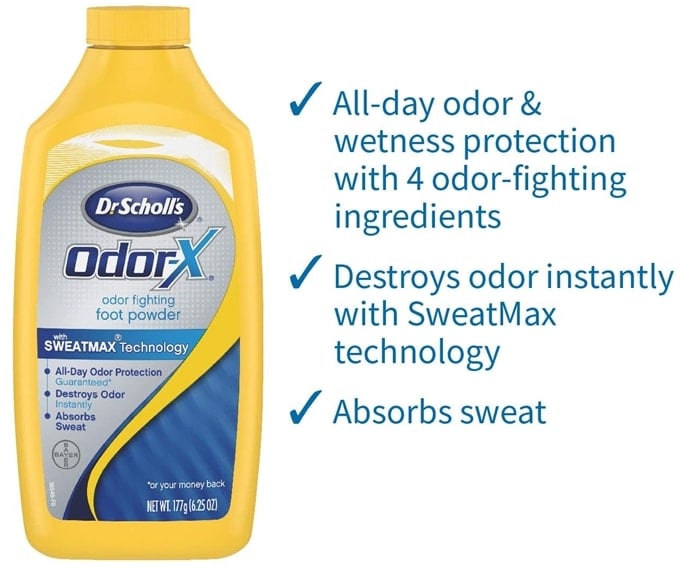 Destroys foot odor instantly, leaving the feet cool and refreshed
What's nice about Odor X is how quickly you notice its effects. The moment you apply the powder, you'll find that the odor disappears in minutes, and it'll stay that way for the entire day. Odor X comes in a sizeable 6.25 oz, so you can get a lot of good uses out of a single bottle.
2. Shoe Deodorizer Balls at Amazon
Ever wanted something simpler to use than foot powder? Well, shoe deodorizer balls should be the product for you. As the name suggests, they are balls of shoe deodorizers that are placed in sneakers, gym bags, and lockers.
The advantage of deodorizer balls comes not only in their ease of use, but their size too. They're small enough to reach the tiny corners of the shoe, which can be difficult for other deodorizers.
Shoe deodorizer balls for removing foot odors and other odor-causing bacteria from shoes, gym bags, and lockers
A simple twist is all you need to do to activate them. A pack will get you six of these deodorizer balls, which is plenty since each sneaker ball can last for up to 6 months.
You're looking at up to 3 and a half years of fresh-smelling shoes with a single pack.
3. Elite Sportz Shoe Deodorizer and Foot Spray at Amazon
Here's something for our more athletic readers out there. Elite Sportz is a shoe deodorizer that's designed for heavy use and is great for those who find themselves sweating a lot during activities such as workouts.
The deodorizer uses peppermint to drown out the stinky bacteria with a fresh, minty smell.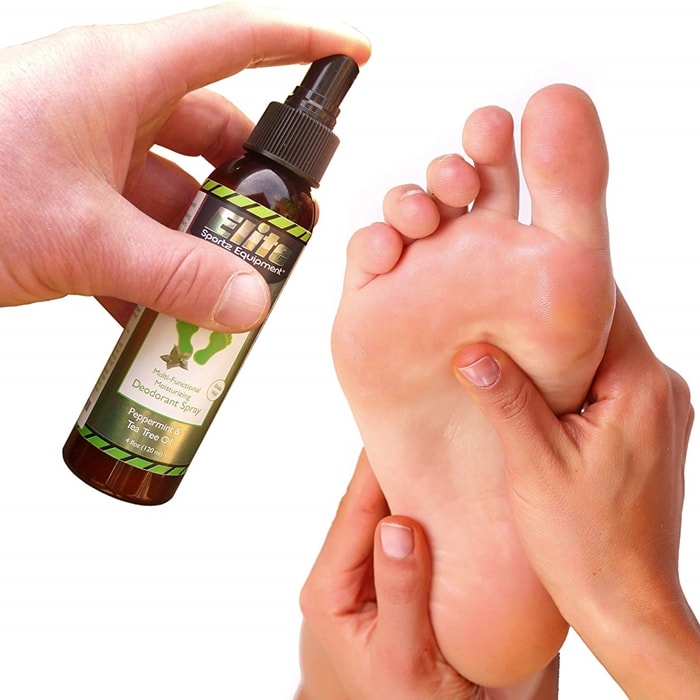 Don't let bad foot odor ruin a perfectly good pair of shoes
Another great thing about Elite Sportz is that it also serves as a moisturizer for the feet at the same time. Its formula can help repair and moisturize cracked feet, with the minty and cool sensations of the peppermint helping out, too.
4. Sprayzee Deodorant Spray Shoe Deodorizer at Amazon
One issue many people have with shoe deodorizers is the risk of exposing your feet to hazardous chemicals and compounds.
Fortunately, there's a more natural alternative to just about any product in the market today, and that includes shoe deodorizers. Case in point, we have Sprayzee deodorant spray.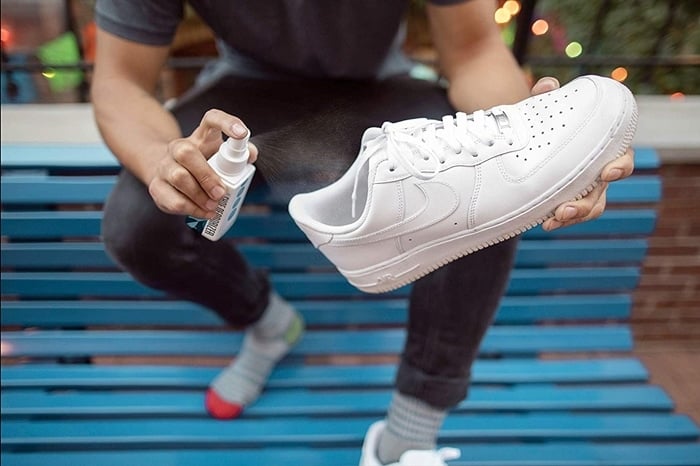 This deodorizer spray targets the source of bad odors and stops stinky feet immediately
Sprayzee is made up of natural ingredients. You have natural tea tree oil with 10 essential oils in the formula that help get rid of your foot odor.
If you don't really trust the safety of the more popular deodorizer brands, then you'll probably feel a lot more confident using this one.
5. Cedar Space Cedar Rings at Amazon
Cedar rings are great all-around deodorizers that offer more than just fresh-smelling feet. Similar to how mothballs work, cedar rings are useful for keeping moths and other insects away from clothing.
As such, they're designed mainly for use in hangers and closets, but they're definitely useful as shoe deodorizers as well.
100% natural wood cedar rings are a great alternative to chemical-laden, smelly mothballs
Just like with shoe deodorizer balls, all you need to do is place a piece inside your shoe, and let the product do its thing. The fragrance of the cedar rings will seep into your shoes and overpower the foul smell.
6. Bamboo Charcoal Bags at Walmart
As a shoe deodorizer, charcoal has been all the rage lately, and for good reason – it's really effective at getting rid of foul odors. That's why bamboo charcoal bags offer a great solution to any shoe odor problem.
The bamboo charcoal is conveniently stored in small pouches, which make them easy to carry and place in your shoes.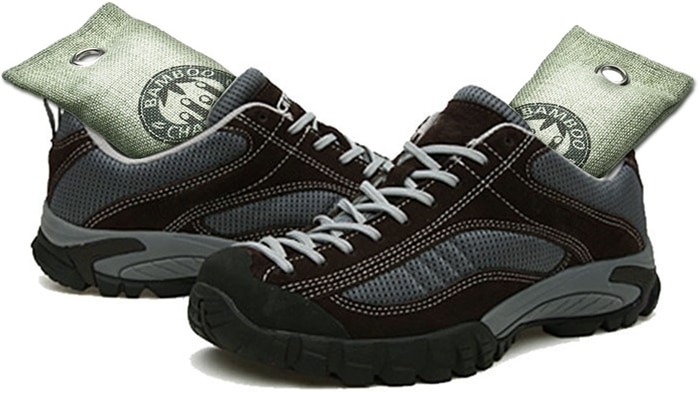 Other than their effectiveness, bamboo charcoal bags are made up of natural ingredients, so if you'd rather not use the all-natural Sprayzee spray, this offers a simpler solution.
Keep in mind that before you reuse these charcoal bags, it's best to leave the bags out in the sun for 3-5 hours to "recharge" the odor for the best results.
7. Shoe Defenders Insoles at Amazon
If you're looking for a deodorizer that offers more, then Shoe Defenders insoles are a great option. The insoles offer comfort and support for your feet while keeping the foul odors at bay.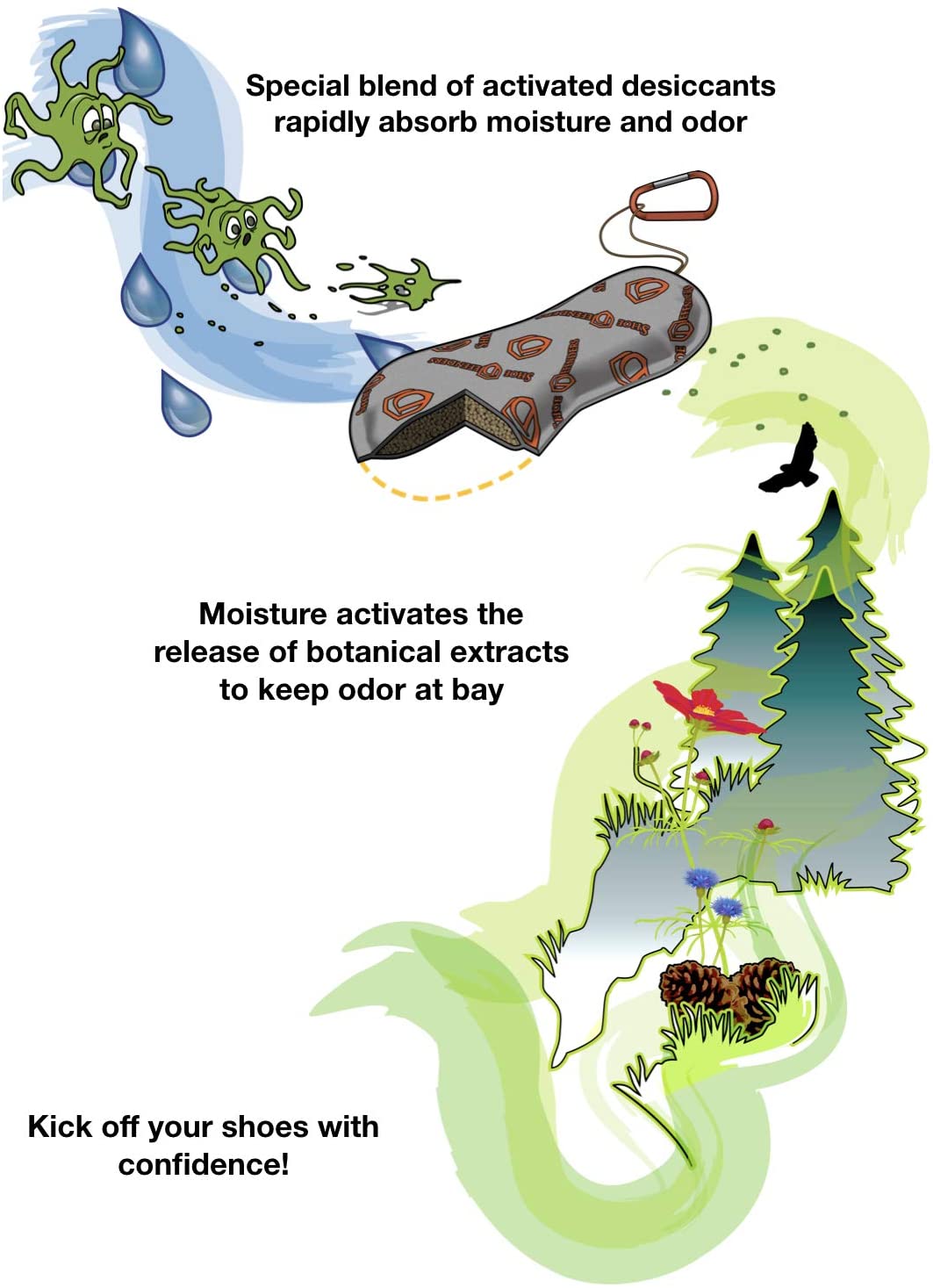 Shoe Defenders claims their unique moisture control technology will keep stink at bay for 3-4 times longer than other shoe deodorizers
The insoles are also capable of absorbing sweat, which minimizes the chances of any bacteria building up in your shoes.
Conclusion
Foul shoe odor can be a nightmare to deal with, especially if it's a problem you know you've had for quite a while.
But with all the many different ways to get rid of shoe odor in the market today, you never have to worry about stinky shoes ever again.