One of the most successful and well-known comedians of the last few years is John Edmund Mulaney.
He got an early start in comedy, teaming up with fellow comics Nick Kroll and Mike Birbiglia in Georgetown University's improv group, and went on to land a job as an office assistant at Comedy Central straight out of college.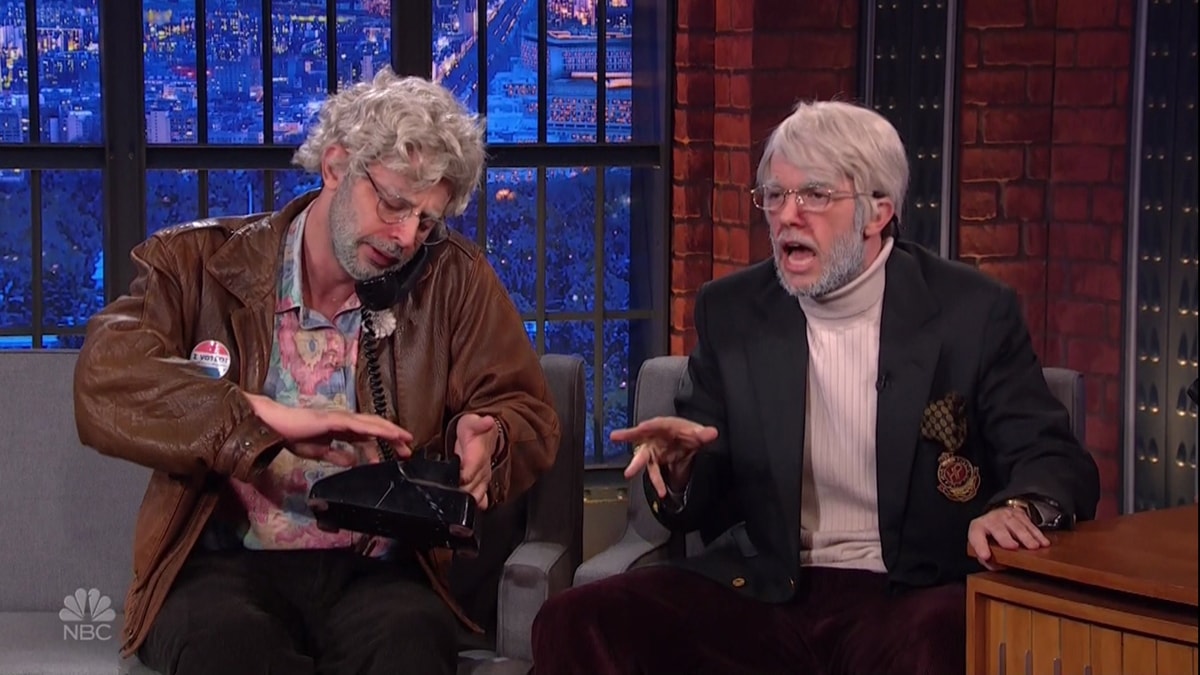 Nick Kroll and John Mulaney in character as The Oh, Hello Show stars Gil Faizon and George St. Geegland during an appearance on NBC's Late Night with Seth Meyers on October 11, 2016 (Credit: NBC / WENN)
However, despite his successful beginnings in show business, Mulaney had a dark side he was grappling with.
In a 2019 interview with Esquire, Mulaney shared that he started drinking at the age of 13 and started abusing drugs around the same time.
He started using cocaine and other prescription drugs at a very young age, and his addiction would turn into a decades-long battle for sobriety.
In a 2014 interview with Marc Maron, Mulaney said that although he had struggled with substance abuse in the past, he had been sober since 2005, at the age of 23. But in 2020, he found himself relapsed.
John Mulaney with his wife Annamarie Tendler outside Jimmy Kimmel Live on November 17, 2014, in Los Angeles, California (Credit: Michael Wright / WENN)
Mulaney initially checked himself into rehab in September 2020 but left before having a handle on his addiction.
Although Mulaney seemed to hide the relapse fairly well, a November 2020 appearance on Seth Meyers raised some eyebrows. The appearance came not long after Mulaney hosted Saturday Night Live in October of 2020.
Mulaney wore a rumpled coat and sunglasses for his appearance on Late Night with Seth Meyers and rambled in nonsensical monologues, the largest part of which railed against Prince Harry and Meghan Markle.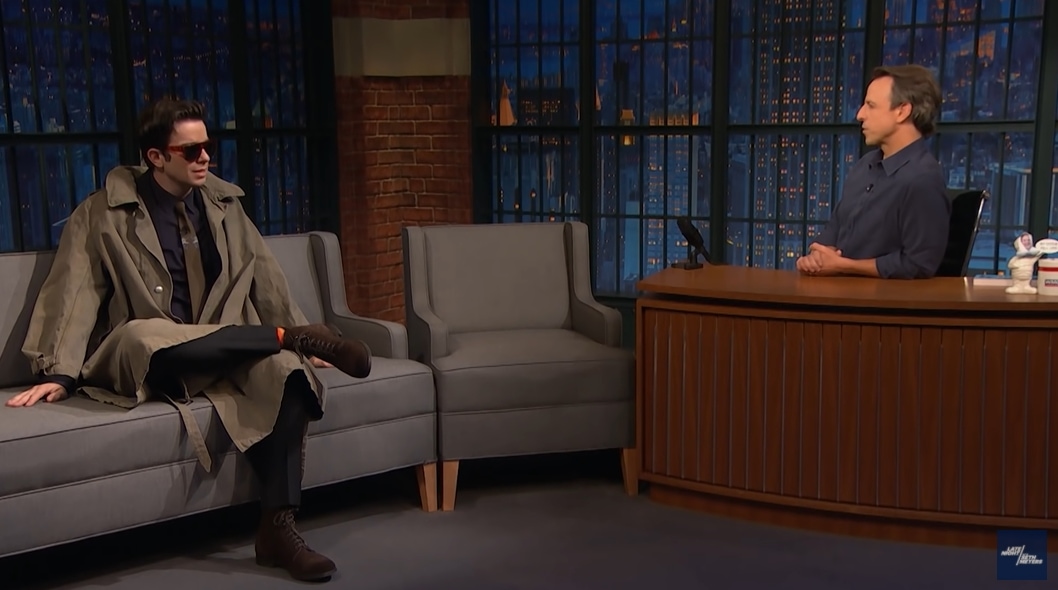 John Mulaney can't remember that he appeared on Late Night with Seth Meyers in November 2020 to discuss Prince Harry, Meghan Markle, and Netflix's The Crown (Credit: NBC)
The interview was so alarming that some viewers even took to Twitter to posit whether Mulaney was back on drugs.
Shortly after Mulaney's appearance on Late Night, some of his fellow comedians staged an intervention with him, reportedly including Seth Meyers, Fred Armisen, Pete Davidson, and Lorne Michaels.
Mulaney shared that the COVID-19 pandemic pushed him into relapse. Following the intervention from his friends, Mulaney checked himself into rehab in December 2020.
Mulaney checked out of rehab in February 2021 and seems to be doing very well. He made another appearance on Late Night with Seth Meyers in September 2021 and revealed he does not remember the November 2020 appearance at all.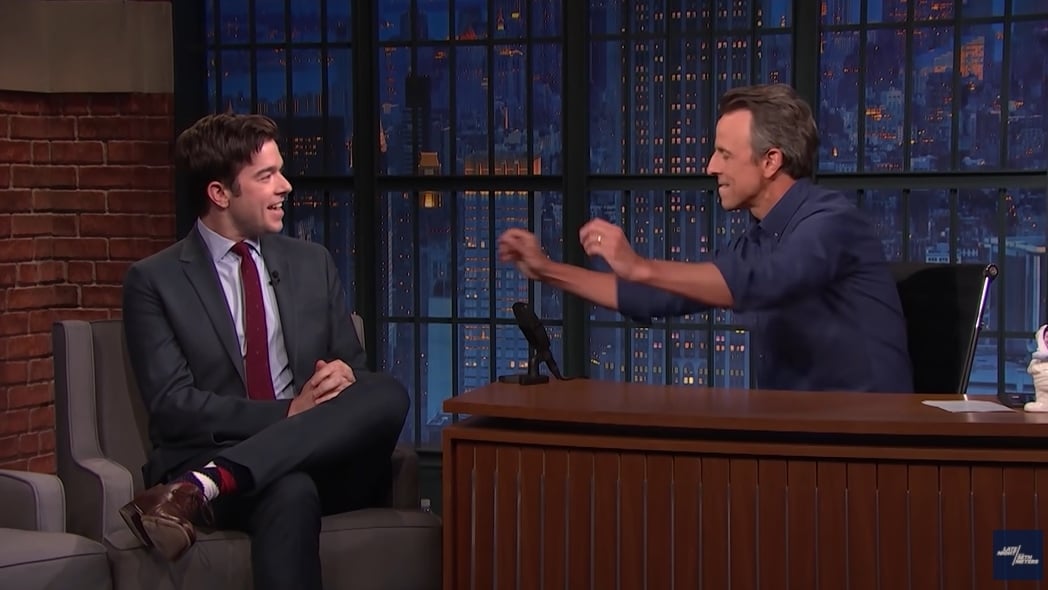 John Mulaney discussed his relapse on Late Night with Seth Meyers in September 2021 (Credit: NBC)
Mulaney told Meyers that he has no memory of being there, only that he was told by others he had made an appearance on the show at that time.
In the same interview, Mulaney told Meyers that he had checked himself into rehab later the same night his friends staged an intervention.
"When I opened the door," Mulaney recalled, "I knew right away it was an intervention. That's how bad of a drug problem I had, that when I opened the door and saw people I went, 'This is probably an intervention.'"
"So you were the first person I saw as I walked through the doorway where I knew this was an intervention," Mulaney told Meyers about his assumption that he was going to a college friend's apartment for dinner.
"So, 'I'm going to dinner with a friend from college, going to dinner with a friend from college, going to dinner with a friend from college, what's Seth Meyers doing here? F*ck! F*ck!'"
"I had been under the influence the day before, and the day after I probably was under the influence. But while on the show, trying to update the audience on the 'Royal Watch,' at your insistence, I was more sober than not. However, a lot of people were then saying 'Something's wrong with John Mulaney' and I was sitting at home going 'Indeed something is,'" Mulaney said of his "Royal Watch" segment that aired on November 24, 2020.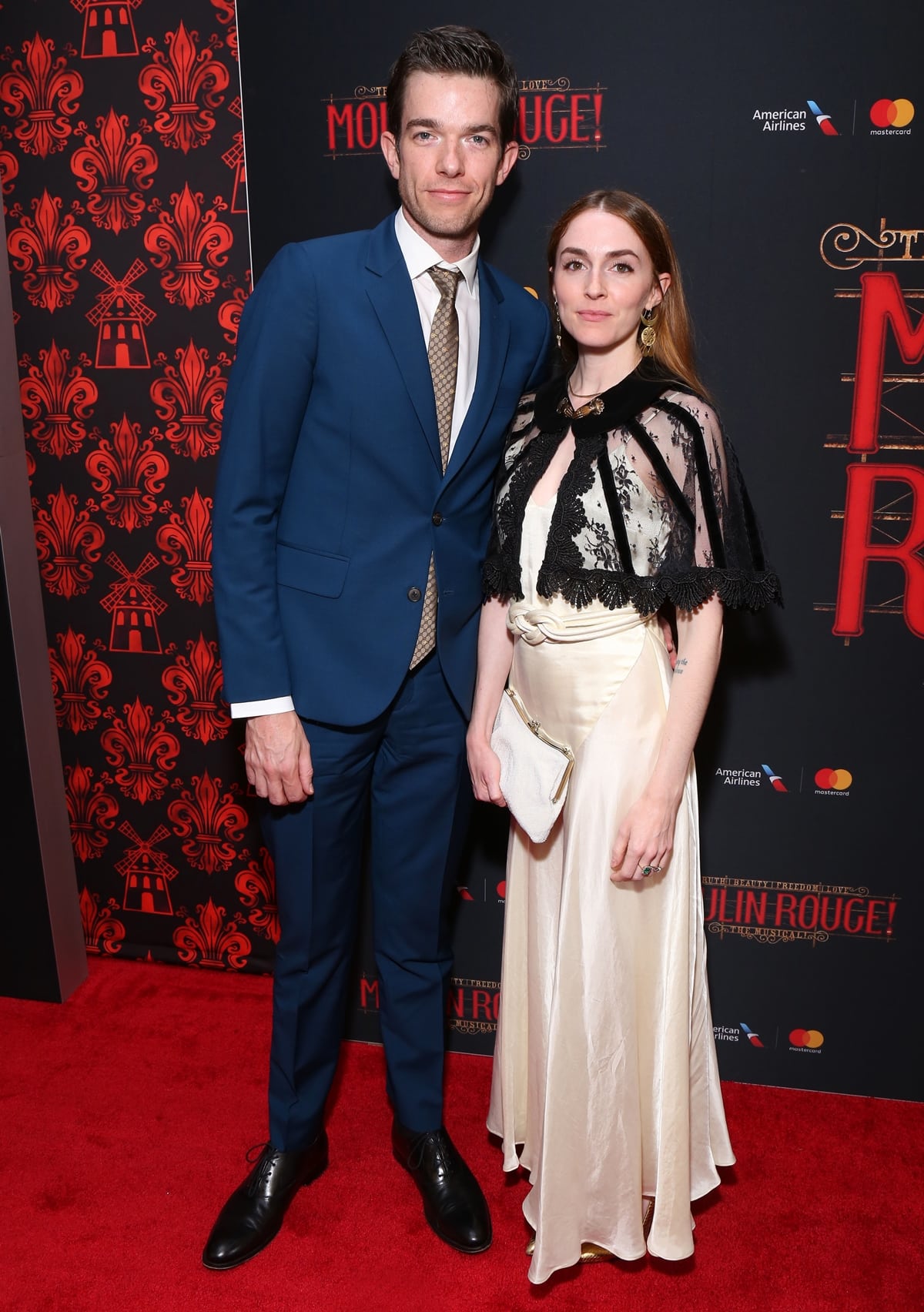 John Mulaney and Annamarie Tendler split in May 2021 after six years of marriage (Credit: Joseph Marzullo / WENN)
Following his completion of rehab in February of 2021, Mulaney revealed that he and his wife Annamarie Tendler had proceeded with divorce and that he was in a relationship with Olivia Munn, whom he credits with helping him get clean. The two are expecting their first child together.
"Olivia and this baby have helped save me from myself in this early journey out of recovery," he said on Late Night With Seth Meyers.